7 Healthiest New Snacks At America's Largest Grocery Chain
These new snacks are not only delicious, they're nutritious!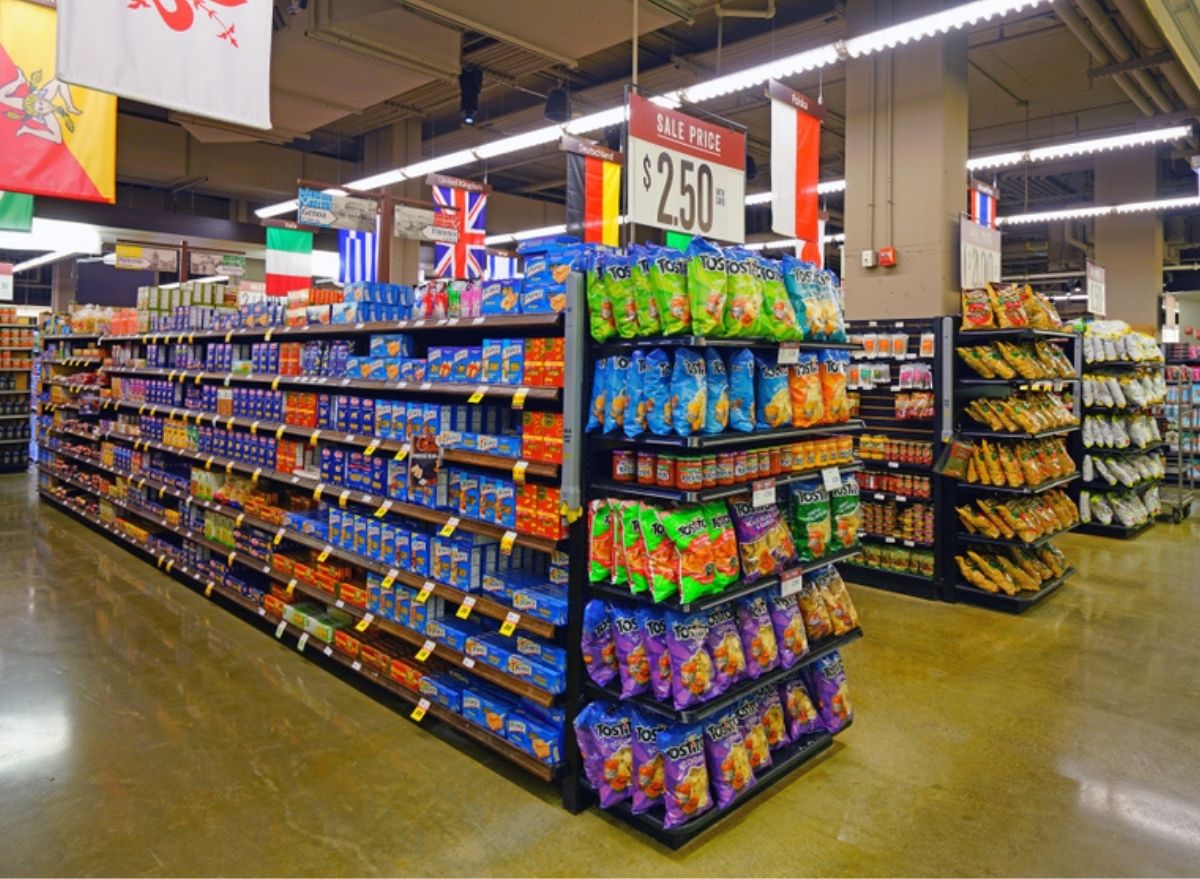 Are you looking for healthy snacks to keep on hand for those afternoon cravings? Unfortunately, it can be challenging to find nutritious oness because many are loaded with sugar and salt and don't provide much nutritional value. So we scoured Kroger's new snack section and consulted two dietitians to help choose the best ones.
Lisa Ellis, registered dietitian for Integrating Nutrition, and Kristin AR Gustashaw registered dietitian and instructor at the Department of Clinical Nutrition, College of Health Sciences at Rush University, helped by choosing the healthiest options from America's largest grocery chain's recent snack lineup. Read on for some nutritious snacks to add to your pantry.
Bare Baked Crunchy Gluten-Free Granny Smith Apple Chips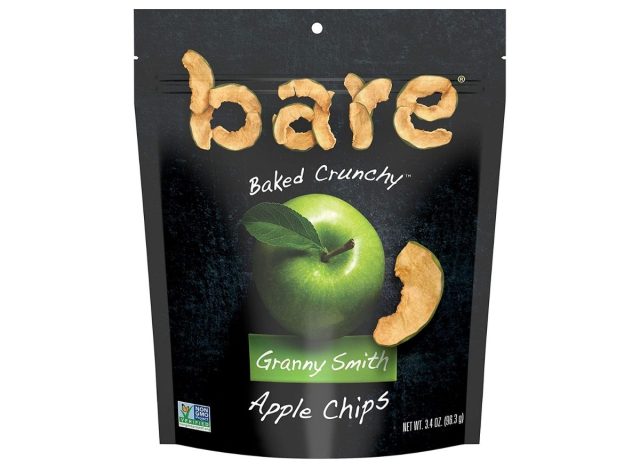 1/2 CUP
: 110 calories, 0 g total fat, 0 mg cholesterol, 0 mg sodium, 27 g carbs (5 g fiber, 18 g sugar), 1 g protein
You can't go wrong with a snack with just one ingredient like these baked apple chips that just debuted at Kroger. Ellis agrees, noting the 5 grams of fiber, no added sugar, and small amount of potassium. They also have a bit of iron. These are a great grab-and-go snack for lunches and after school or work.
Turkey Snack Mates for Kids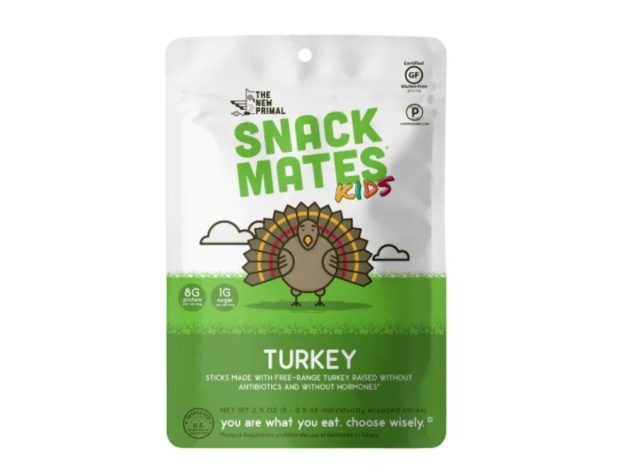 2 STICKS
: 45 calories, 1 g total fat, 20 mg cholesterol, 190 mg sodium, 2 g carbs (0 g fiber, 1 g sugar), 8 g protein
"It is tricky to find good shelf-stable proteins that kids (or adults for that matter) will eat at room temperature for lunches, after-school activities, sports, or snacks on the go," says Gustashaw. "While this product does have 200 mg of sodium per ounce of protein, typical deli meat has about the same. They have a minimal amount of added sugar, fat or other ingredients."
Ellis agrees, citing the 8 grams of protein, just one gram of sugar, and containing a small amount of iron and potassium. In addition, Turkey Snack Mates for Kids is a great on-the-go snack.
Simple Mills Rosemary & Sea Salt Almond Flour Crackers
17 CRACKERS
: 150 calories, 8 g total fat, 0 mg cholesterol, 180 mg sodium, 17 g carbs (2 g fiber, 0.5 g sugar), 3 g protein
Crackers are a basic snack food, and one of the newest additions to Kroger's assortment has some raving reviews praising the taste. Ellis thinks these are a win with little saturated fat, no added sugar, 3 grams of protein, and 2 grams of fiber. These are made with a nut and seed blend with many spices for flavor. Simple Mills has a wide variety of other flavors to choose from, like sun-dried tomato basil, cheddar, and cracked black pepper, to name a few.6254a4d1642c605c54bf1cab17d50f1e
The New Primal Beef Thins BBQ Recipe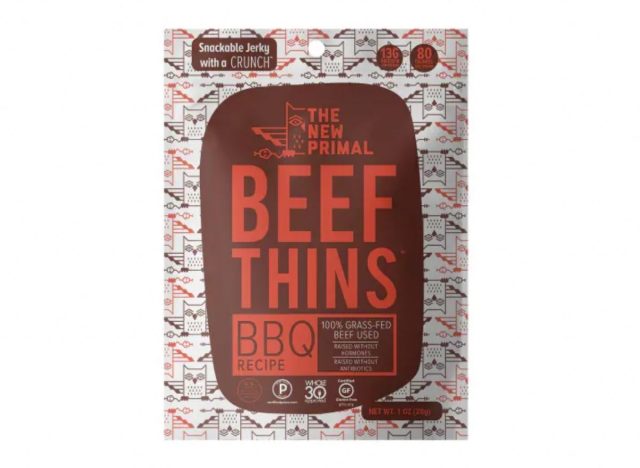 1 OUNCE
: 80 calories, 1 g total fat, 35 mg cholesterol, 240 mg sodium, 6 g carbs (0 g fiber, 4 g sugar), 13 g protein
Another new snack from New Primal, Ellis chose these for the 13 grams of protein, low sugar, and because it's great for anyone on a gluten-free diet. "It's like a protein-rich chip," says Ellis.
Gustashaw agrees, "Like these for the same reasons as the Snack Mates. 1 serving per package makes it easier to monitor intake and potentially feel more satisfied."
Fruit Fast Unsweetened Dried Cherries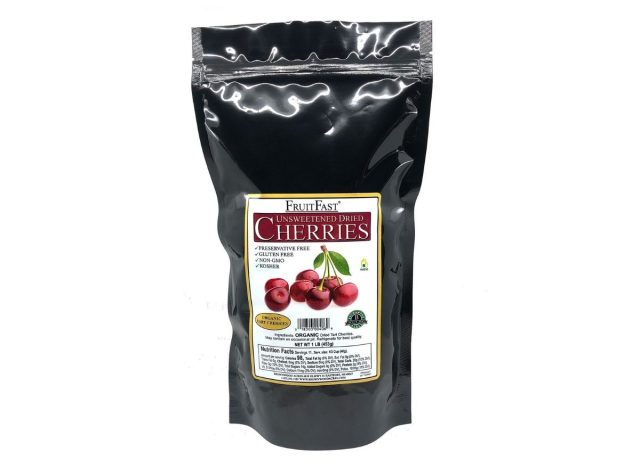 1/3 CUP
: 130 calories, 0 g total fat, 0 mg cholesterol, 5 mg sodium, 30 g carbs (3 g fiber, 19 g sugar), 2 g protein
Here's another nutritious, one-ingredient snack debuting at Kroger. Fruit Fast Dried Cherries contain cherries and nothing else. Ellis notes the fiber content, no added sugar, and small amount of calcium and potassium for the reasons she chose this one.
Gustashaw chose this one, too. "Cherries are an amazing food loaded with nutrients. They are known to be high in antioxidants and anti-inflammatory compounds are cardio protective and have even been shown to improve exercise recovery time. These have no added sugar and have 3 gm of fiber in just 1/3 of a cup," she says.
Gustashaw recommends enjoying dried cherries alone or in a homemade trail mix, baked goods, or hot or cold cereals.
Siete Grain-Free Mexican Wedding Cookies
5 COOKIES
: 150 calories, 9 g total fat, 0 mg cholesterol, 105 mg sodium, 17 g carbs (1 g fiber, 8 g sugar), 1 g protein
Sometimes you need some good and tasty cookies, and this new option at Kroger has a decent serving size. No need to wait for a wedding to munch on this snack.
"Alternative flours are becoming more popular, but it is hard to sell someone on trying to adapt a recipe they have used for years, so I often look for 'foods done right' using these new ingredients and suggest people try them first," says Gustashaw.
She also cites the grain-free flours that can be excellent alternatives for food allergies or those who want more nutrient-dense foods. Plus, there are no added sugars.
Newman's Own Organics Butter Popcorn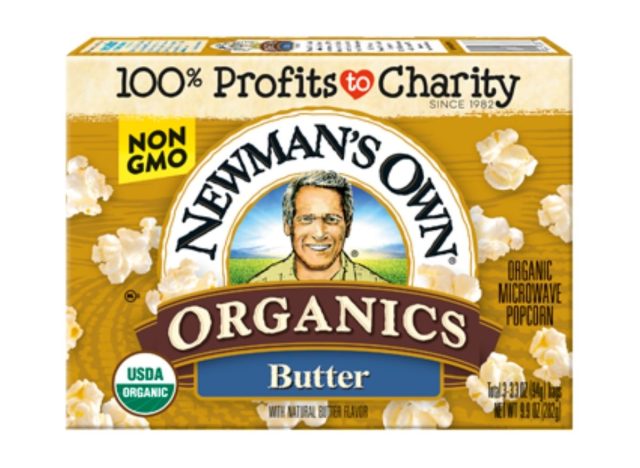 1/3 BAG
: 130 calories, 4.5 g total fat, 0 mg cholesterol, 250 mg sodium, 21 g carbs (5 g fiber, 0.5 g sugar), 3 g protein
Nothing goes better with movie night than a buttery popcorn. Gustashaw chose Newman's Own Organics Butter Popcorn, noting the 5 grams of fiber, 130 calories, and 1 gram of sugar per serving.
Gustashaw recommends choosing this popcorn over chips. "I often hear people say they avoid microwave popcorn because it lacks taste and just grab a bag of chips instead not realizing if they chose a popcorn with a bit more flavor, they would not be scarifying health in relation to what they would have picked instead and still be gaining a ton of fiber," she says.
For more inspo on what to include on your next grocery list, here are 15 Cleanest Foods on Grocery Store Shelves, According to an Expert.
Nicole LaMarco
Nicole has a first-degree black belt in Taekwondo and is passionate about everything health-related.
Read more about Nicole