What Maye Musk, Oldest Sports Illustrated Swimsuit Model, Eats to Stay in Shape at 74
Get to know the model mother of the richest man in the world.
If the name Maye Musk sounds familiar, it might be because she just graced the cover of Sports Illustrated's revered swimsuit issue at 74—the oldest woman to ever do so. Or it could be because her son is one of the richest men in the world and has an (as of now) accepted bid to buy Twitter.
Yes, supermodel Maye Musk is also Elon Musk's mother and you may have seen her walking the red carpet with her son as recently as the Met Gala.
But Maye Musk is way more than Elon's mom; she has been a model for 50 years and is also a licensed dietitian and nutritionist with two master's degrees in dietetic and nutritional science. She wrote a book about aging thoughtfully called, A Woman Makes a Plan: Advice for a Lifetime of Adventure, Beauty, and Success and has graced many magazine covers beyond SI's.
So what does this intelligent, poised, and stunning woman eat every day to keep wowing the world at 74? Here's a look at Maye Musk's actual diet and her best advice for a healthy lifestyle.
First of all, she eats for energy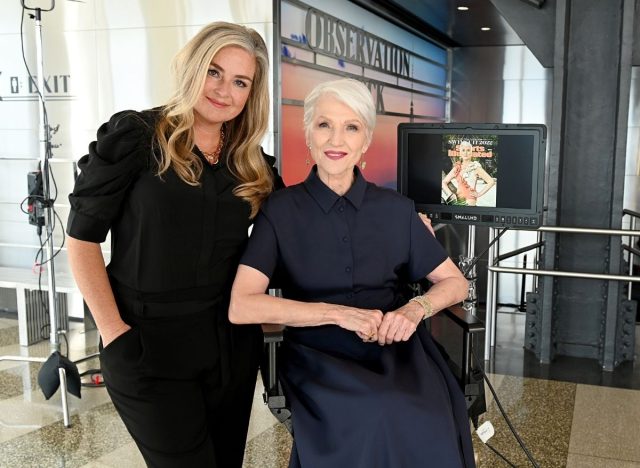 Musk doesn't believe in skipping meals as it leads to a dip in energy. "Eat regularly, plan your meals, and don't eat junk food," she tells Glossy. And know your triggers: "If I had chocolate nearby I'm a goner, and then I just go into a food coma because I can't stop eating it. We always have our weak points and you have to make sure they're not nearby."
Plus, she's a big proponent of meal planning, "I had a practice for 45 years — I was seeing people all the time. And I made them plan their meals. Because if you don't plan, the wheels fall off."
She eats bread, eggs, tomatoes, and mushrooms for breakfast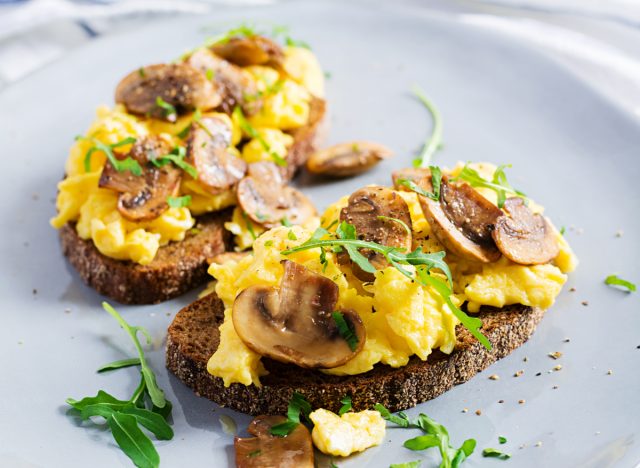 "I love bread, it's one of my favorite foods," reveals Musk in a Youtube video for Harper's BAZAAR. She seeks out fresh, homemade whole wheat bread and then has a little butter on it and has it alongside scrambled eggs, with tomatoes and mushrooms. "I never skip breakfast because otherwise I'm hungry by 10 o'clock and I'll eat everything in sight," she says. She recommends eating a smaller dinner so that you are hungry in the morning.6254a4d1642c605c54bf1cab17d50f1e
She has a salad for lunch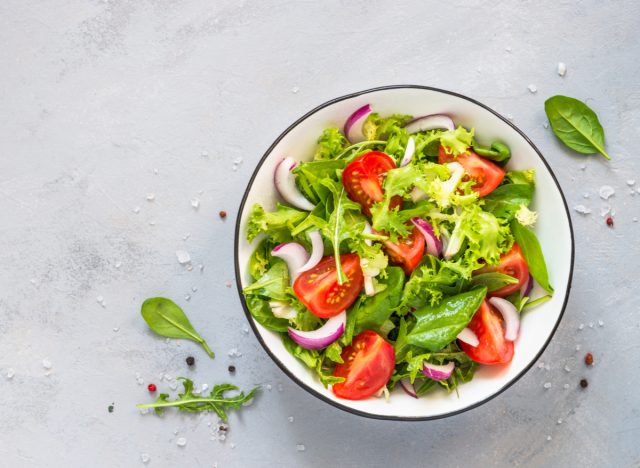 Lunch is typically a salad filled with a variety of vegetables, she says in the video. Her salad could include romaine lettuce, carrots, scallions, tomatoes, onions, and chickpeas. "I love a lot of beans and peas. They're my favorite foods," she says.
She eats lean protein and vegetables for dinner
When she goes out to dinner her order is typically steak or fish, but she stretches it to last. This tactic is partially because she is a self-proclaimed bad cook and partially because the portions at restaurants are just too big. "Usually, the portions are too large, because it's America, so then I will take two-thirds home with me and then I have a third the next day, and the next day. So then again, I don't have to cook, I just have to do the vegetables."
If she's making dinner at home, it might be her 15-bean soup with tons of veggies, including a whole head of broccoli, carrots, tomatoes, and whatever other fresh veggies she can find. She then adds wild rice and portions the soup into two-cup containers and puts them into the freezer. Then the soup is ready for lunch, snack, or dinner. For a heartier dinner, she'll have more fresh, whole wheat bread with a little bit of butter. "Love it," she says.
She loves snacking on fresh fruit
Musk absolutely adores fruit, with apples, pears, and grapes being her faves. "To me, it's like candy… I have a huge sweet tooth," she says in the YouTube video. Sometimes she pairs a piece of fruit with half a cup of cottage cheese.
She skips sugary drinks
But Musk isn't into fruit drinks because they have no fiber. "Say you drink a glass of orange juice," she says, "That's three oranges. If I told you to eat three oranges you'd be very full, but if you drink a cup of orange juice you don't even consider it calories, or a food."
She doesn't fall prey to diet trends
One of the biggest things people do is misinterpret gluten-free, she says. "Gluten is a protein in wheat, rye, and barley. But people are saying when they eat a whole pizza, they feel tired, so must be the gluten and I say 'No, it's the whole pizza.'" She has worked with celiac patients that truly have to go gluten-free, but people without that restriction do not need to cut out gluten to feel better. But they probably do have to skip eating a whole pizza. "I just hear too much nonsense about it, but now people are just tired and they say it's the gluten." She urges people in an Instagram post to, "Eat nutritious foods you enjoy! Follow science and common sense, not trends and fad diets." 
On aging gracefully.
Musk's philosophy on aging gracefully is simple: Confidence. "If somebody's making you feel bad about your age, just say goodbye. You don't need that person in your life," she said to People.