6 Most Expensive Pizzas at Popular Fast-Food Chains
These pies are true stunners!
There are as many fast-food pizzas out there as there are stars in the sky (and we're only partially kidding). If you start digging into the world of pizza chains, you'll soon get lost in a myriad of crusts, toppings, and specialty concoctions—not to mention prices.
While most fast-food pizza chain offerings run anywhere between $10 and $18, we wanted to search high and low to discover just how pricey pizzas can get—and what exactly you get with a pie that sets you back more than $20. (We've previously done the same with burgers, chicken sandwiches, and fries).
Customizations aside, we scoured the largest pies from the 18 biggest pizza chains in the country to found those that stood out for their ingredients, size, and ultimately price. Without further ado, here are America's most expensive fast-food pizzas.
For more the latest on pizza, check out We Tried the Most Popular New Fast-Food Pizzas and This Is the Best One.
Hungry Howie's Works Pizza, XL
Of the five biggest national pizza chains, this specialty pie from Hungry Howie's is also among the priciest. The XL Works Pizza is a 16-inch pie that features pepperoni, ham, mushroom, green pepper, onion, Italian sausage, beef, black olive, and extra mozzarella. At $21, it's the most layered and expensive specialty pizza on the chain's menu.
Papa John's Handcrafted Specialty Pizza, XL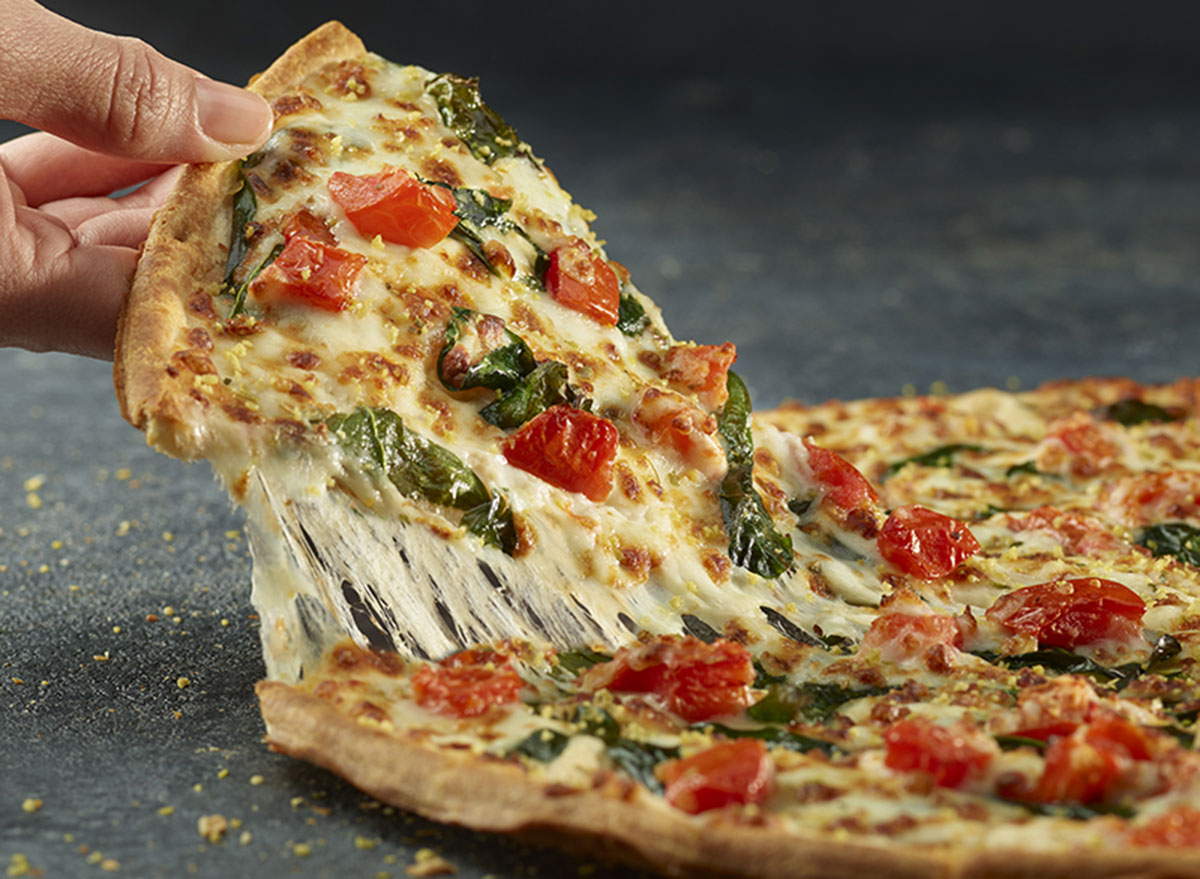 The Handcrafted Specialty Pizzas at Papa John's are some of the chain's most popular items. They come in several varieties, including Ultimate Pepperoni, Super Hawaiian, and Fiery Buffalo Chicken, all of which will set you back $21.99 for an extra-large, 16-inch pie. And if you're looking for the recently launched and much advertised Epic Stuffed Crust, you can add it to a large specialty pie—the chain doesn't offer it in the extra-large size—and you'll still end up with the same total of $21.99.
Mellow Mushroom Specialty Pizza, L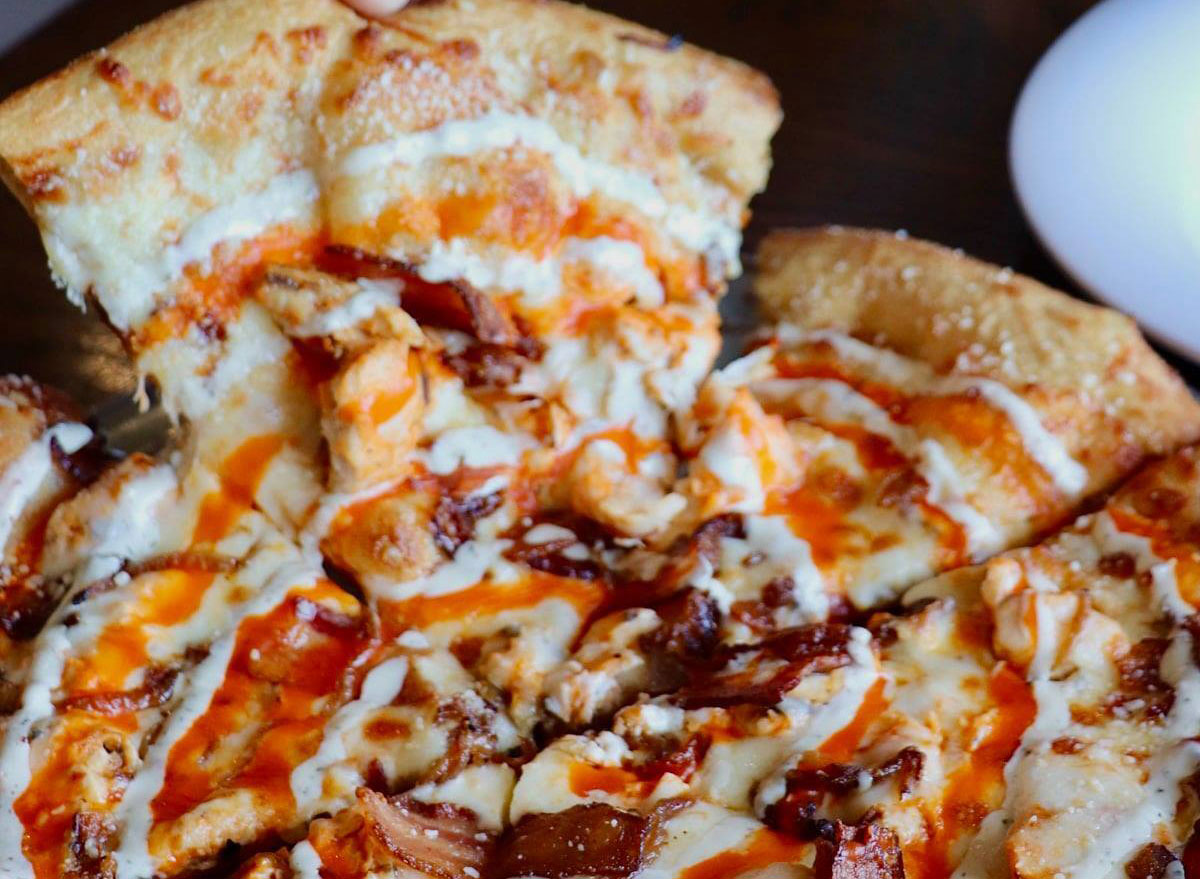 Mellow Mushroom may not have a nationwide presence, but this 177-location regional chain has a loyal fanbase. In fact, consumers rated the chain's pizza as the second most craveable in the country in 2020. And you'll definitely pay more for its delicious crust and gourmet toppings, all of which can be found on their Stone Baked Specialty Pizzas. The chain's large pie is 16-inches long, which corresponds to extra-large sizes at most other chains, and goes for $25. Try creations like the Kosmic Karma, Holy Shiitake, and Backyard BBQ.
Round Table's Premium Pizza, XL
This popular 450-location chain is primarily found across the West, but it's actually headquartered in Atlanta. And its Premium pies are right up there with some of the most expensive fast-food pizzas in the country. For some, like King Arthur's Supreme and Chicken & Garlic Gourmet, you'll shell out $26.99 when you order an extra-large, 16-inch pie.
Jet's Specialty Pizza, XL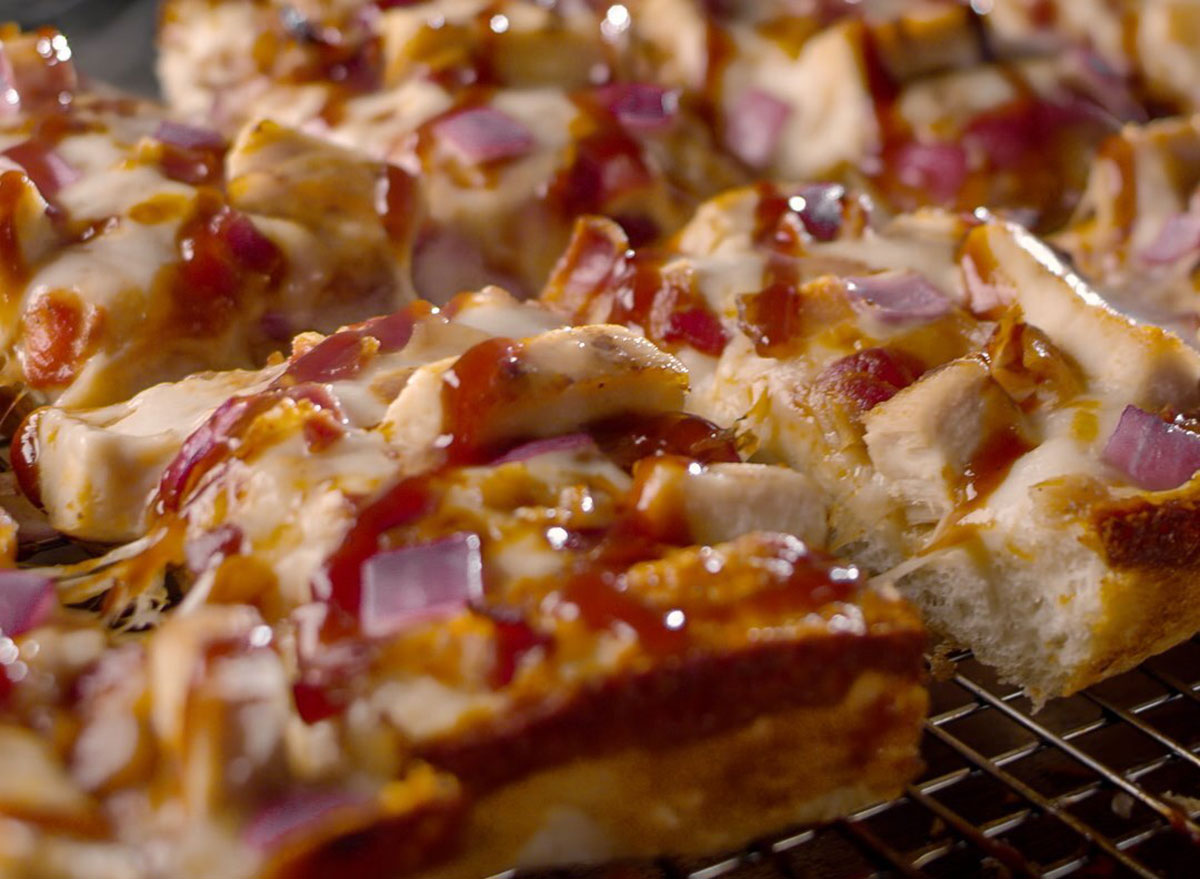 Jet's pizzas are hefty, especially when looking at the Detroit-style offering and its chunky, bread-like crust. So it's no surprise that some of their Speciality Pizzas, which include 15 square slices and can feed a small army, go for around $31. And guess what? The XL isn't even their biggest size! The chain also offers a Party Tray size, which contains 30 square slices. Essentially double the size of an extra-large pie, it comes out to more $56.6254a4d1642c605c54bf1cab17d50f1e
Mountain Mike's Specialty Pizza, Mountain size (XL)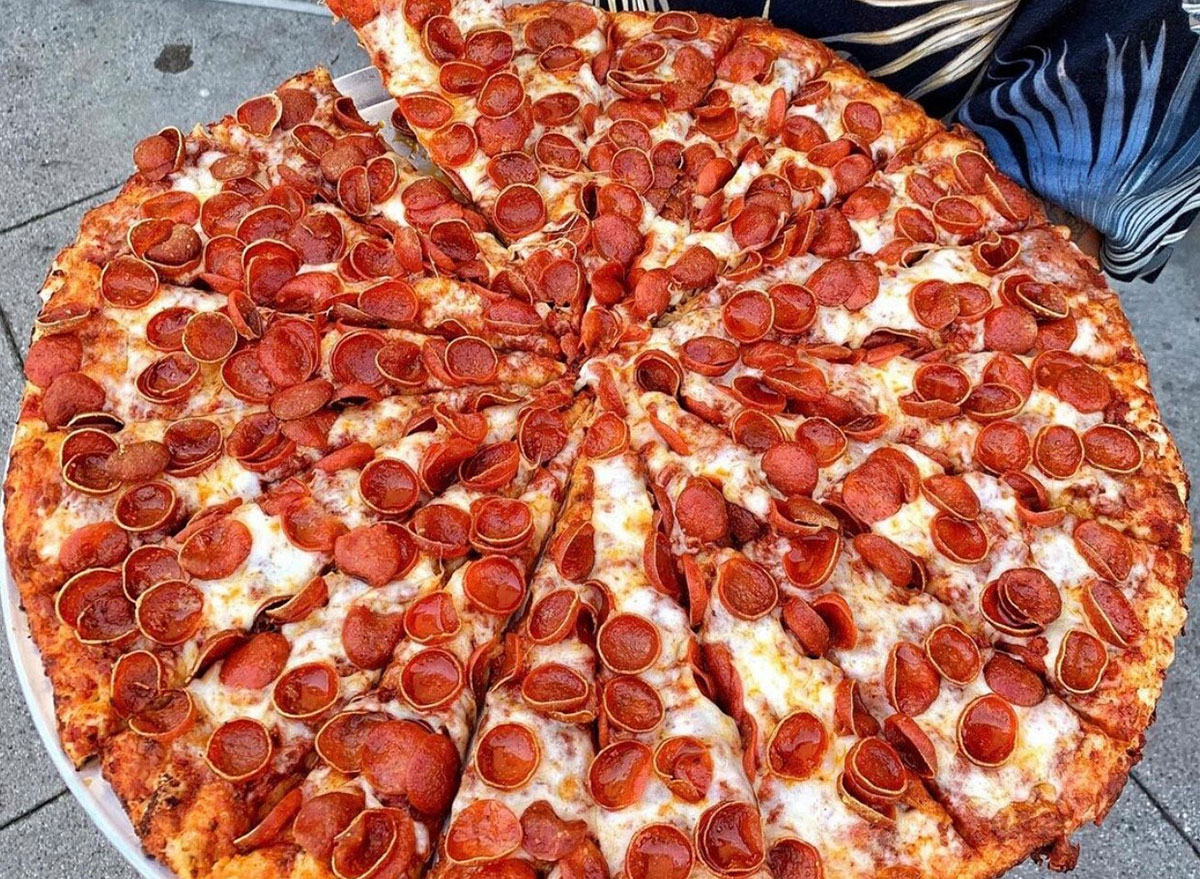 Mountain Mike's Mountain-sized pizza is the stuff of legends. At a whopping 20 inches, it's the biggest fast-food pizza out there—and just looking at it makes you feel like you should climb a mountain after indulging to burn off some calories. In this giant size, the chain's Specialty Pizzas, like The Everest, Mt. Veggiemore, and Snowy Alps, will set you back a cool $39.99.
For more, check out the 108 Most Popular Sodas Ranked By How Toxic They Are.
Mura Dominko
Mura is ETNT's Executive Editor, leading the coverage of America's favorite restaurant chains, grocery stores, and viral food moments.
Read more about Mura