6 Most Expensive Fries at Popular Fast-Food Chains
These options give a new meaning to "a side of fries."
Fries are an inevitable part of any fast-food experience. Nearly every fast-food restaurant offers at least one version, from the simple, classic French fry, like the ones served at McDonald's, to all kinds of loaded spud creations featuring layers of ingredients and different flavors. And while your typical French fry doesn't vary much in price from chain to chain, the more elaborate creations are the ones that can get into the $5+ territory.
We did a deep-dive into all of the current fries offered at most popular fast-food chains to determine the fanciest, most expensive options out there. Here's how they ranked, all the way up to the priciest item. And for more, check out the 6 Most Expensive Chicken Sandwiches at Popular Fast-Food Chains.
In-n-Out's Animal Style Fries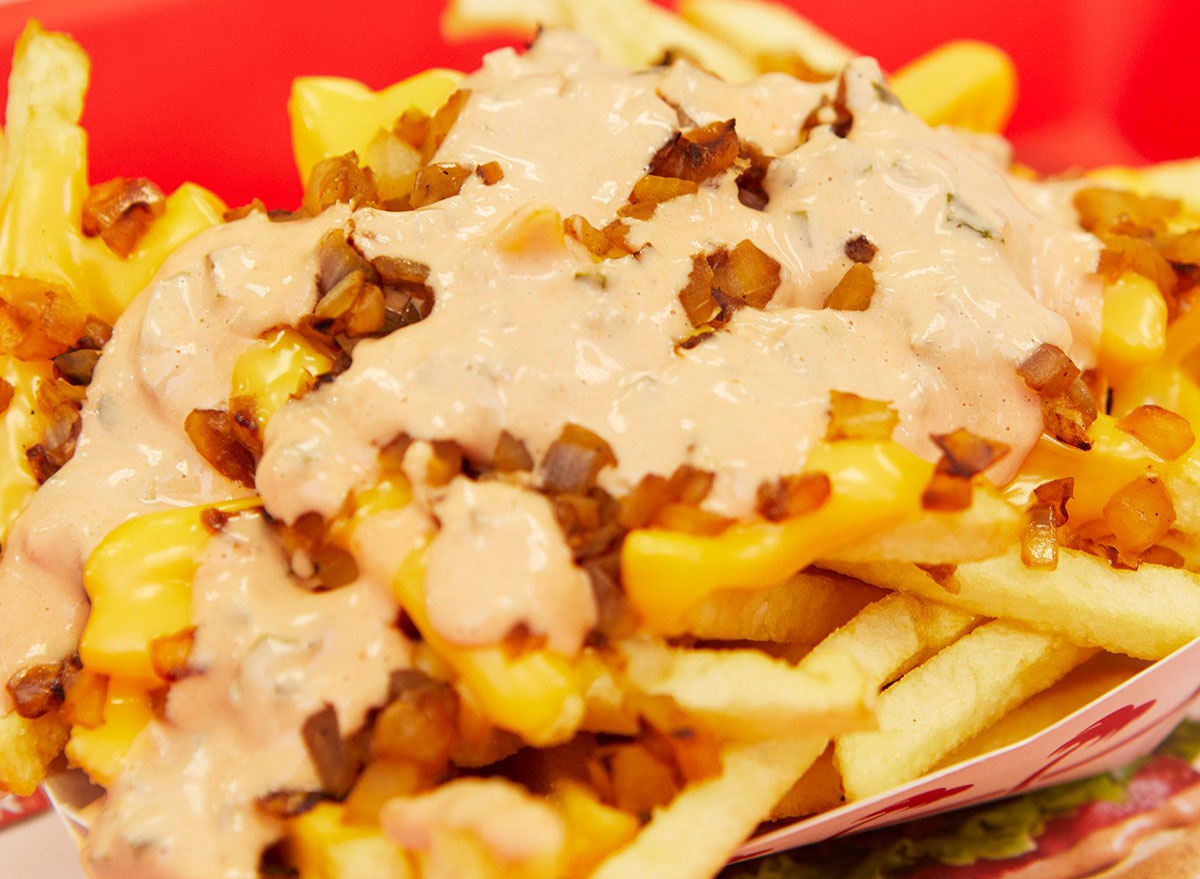 In-n-Out's Animal Style Fries are a true secret menu classic, so don't be deterred by the fact that you won't find them on the chain's regular menu. These fries are a far cry from your average fast-food spud. For $3.40, you're getting fries that are smothered in melted American cheese, grilled onions, and the chain's secret sauce rumored to be a Thousand Island–type spread. There's no question, In-n-Out takes "loaded fries" to a whole new level. For more off-the-menu gems at the beloved burger chain, check out Secret In-N-Out Menu Items You Have to Try at Least Once.
Don't forget to sign up for our newsletter to get the latest restaurant news delivered straight to your inbox.
Popeyes' Cajun Fries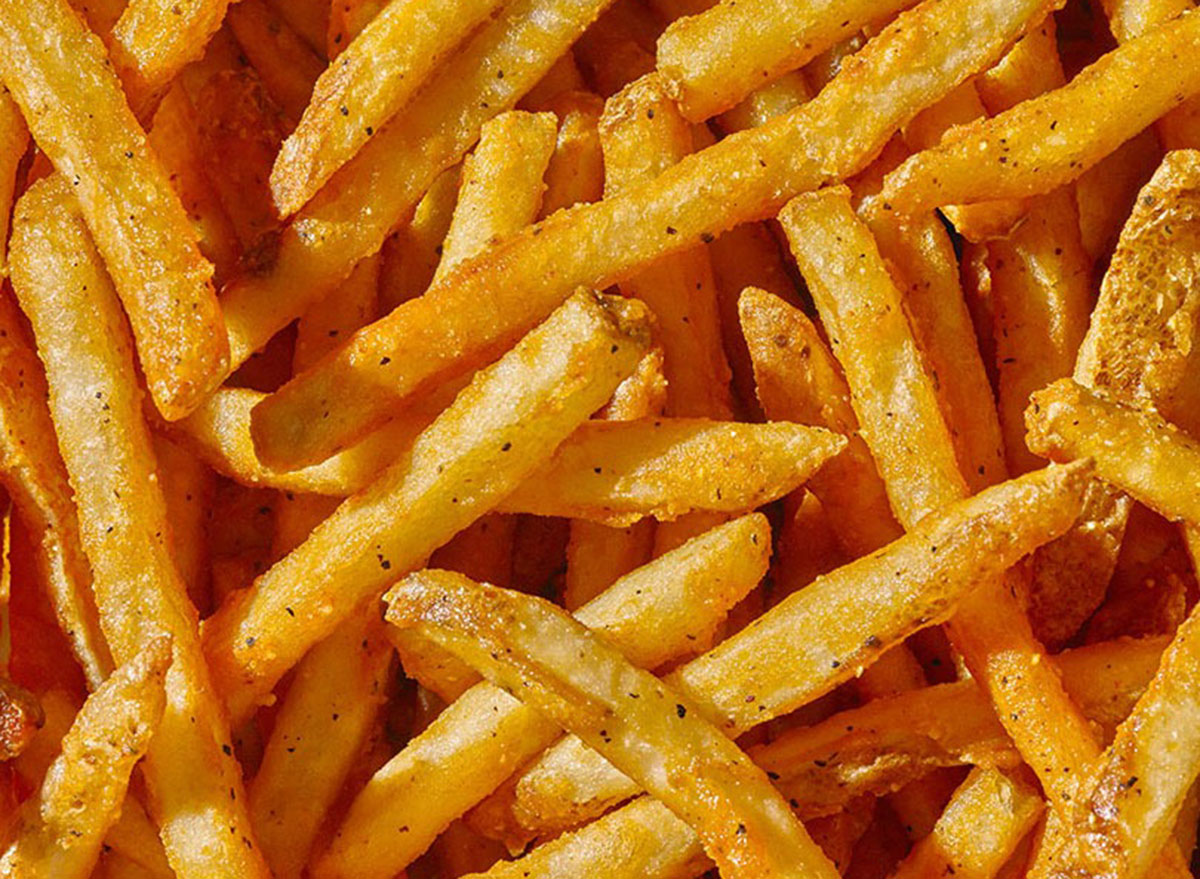 Just because these fries aren't loaded with extras doesn't mean they're not packed with flavor. Popeyes Cajun Fries come seasoned with the chain's famous Cajun seasoning, which they use on everything from rice to gravy to chicken sandwiches (and which you can apparently get more of on the side, too). The price for a large order of Popeyes fries clocks in at $3.99, which is more than you'll pay for a large order of "regular" fries at other fast-food chains. For more, don't miss 4 Major Menu Changes You'll See at Popeyes.
Steak 'n Shake's Chili Cheese Fries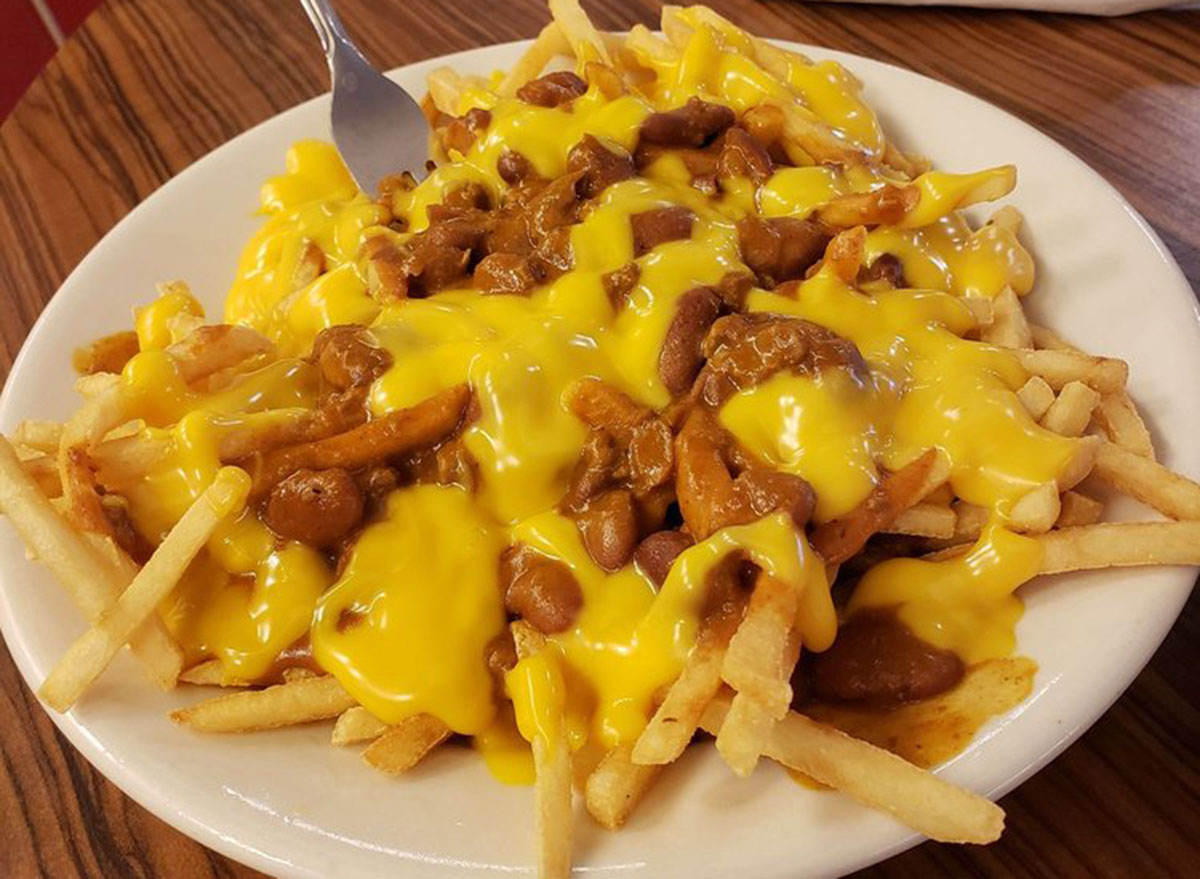 A large order of Chili Cheese Fries from Steak 'n Shake will set you back about $5.29. And while that's a lot for a side order of fries, you can think of these more as a whole meal in itself, and the value will start to make sense. These babies are piled high with chili and melted cheese and clock in at over 1,000 calories, which is why they're deemed one of the unhealthiest side dishes on the Steak 'n Shake menu. You'll definitely want to share them family-style or indulge in them only on occasion.6254a4d1642c605c54bf1cab17d50f1e
Del Taco's Carne Asada Fries
Del Taco loves to load its fries like they were nachos, and this steak-adorned version is the chain's most expensive take on nacho fries. Here's what really makes them worth the $5.49 price tag: Starting with a base of crinkle-cut fries, this item is topped with grated cheddar cheese, guacamole, diced tomatoes, Del Taco's secret sauce, and freshly grilled carne asada. All in all, a true explosion of Tex-Mex flavors on a bed of crispy spuds!
Shake Shack's Bacon Cheese Fries
We all know those crinkle-cut beauties Shake Shack serves as their French fry side of choice—well picture those, but covered in a melted, gooey cheese sauce and applewood-smoked bacon bits. And don't think this is just some low-effort price gouging type of situation. The cheese sauce on this side dish is actually golden, extra smooth, and creamy, and the bacon is high-quality and extra crispy, which is probably why the chain charges $5.09 for an order of these. However, if you're looking to recreate the cheese sauce yourself, you can get the famous Shake Shack recipe here.
BurgerFi's Family Size Hand Cut Fries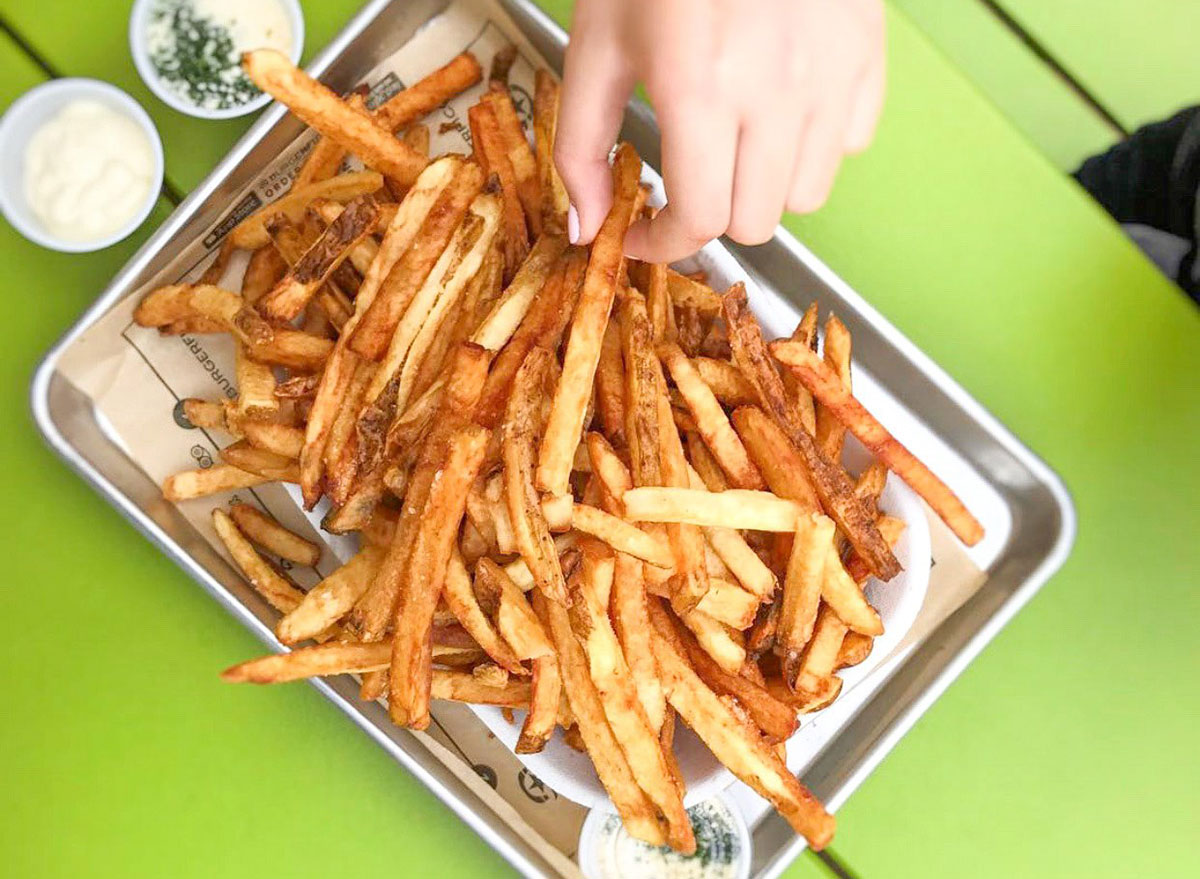 BurgerFi may have one of the largest sizes of French fries available in all of fast food. The chain's family size order of hand-cut fries feeds several people, aka a family, and is accordingly priced at just under $8 at most locations. But the fries themselves are worth the hype because of their perfectly crispy texture, and the fact that you can adorn them with an added flavor of your choice—Cajun, Urban, Parmesan and Herb, or Truffle— for a small upcharge.
For more, check out the 108 Most Popular Sodas Ranked By How Toxic They Are.
Rachel Linder
Rachel is an Associate Editor responsible for compiling the daily Eat This, Not That! newsletter, making TikTok and YouTube videos for the brand, writing articles for the site, creating original graphics and providing direct assistance to the editors when needed.
Read more about Rachel