The Most Unique Chick-fil-A Location in America Just Opened Here
You can think of it as a Chick-fil-A museum.
It might be called the Dwarf House, but at this point, there is nothing small about Chick-fil-A's newly renovated landmark location.
After nine months of work, the iconic Chick-fil-A location in Hapeville, Ga., has reopened with a new, more modern flair. The unique diner-style restaurant was always known for its sit-down, counter, and drive-thru services, and all of those options are still available to Chick-fil-A fans who come from near and far to visit. However, as of the end of February, the Dwarf House's draw goes beyond just the dining experience.
For more fast-food news, check out 8 Worst Fast-Food Burgers to Stay Away From Right Now.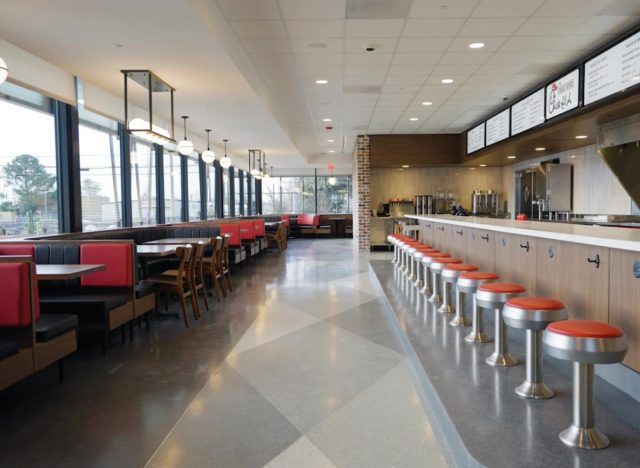 This historic location, which was the birthplace of the chain's popular chicken sandwich and is considered a predecessor to the first Chick-fil-A, is now double the size. It is styled in a mid-century modern aesthetic and houses as many as 16 artifacts from the original location. For fans familiar with the Dwarf House, yes, the Little Red Door is still prominently featured.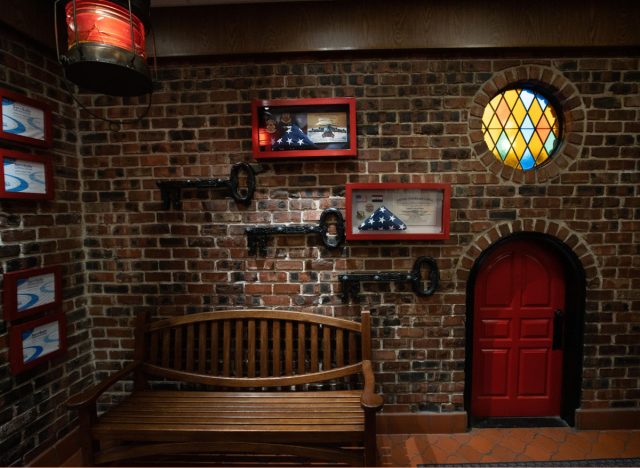 The multicolored stained-glass windows that the former Dwarf House was known for have been repurposed in windows of this location, as well as some of the same bricks that have been holding it all together since 1946 remain.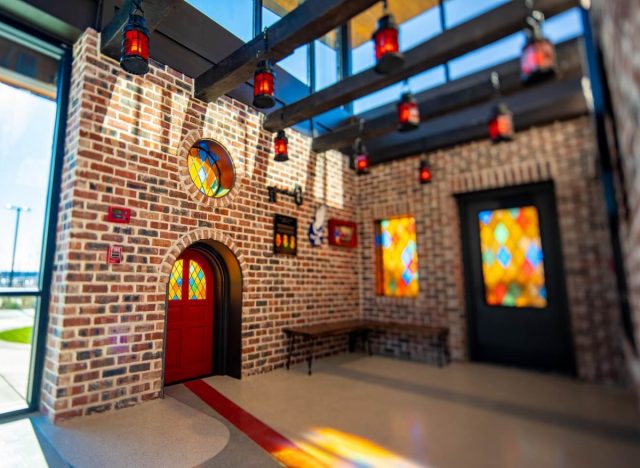 When Chick-fil-A decided to update its original brick-and-mortar, the chain spent more than 500 hours researching its own history in order to incorporate a storytelling element into the Dwarf House's redesign. The location is not just a functional diner, but also a "destination" that captures the entire Chick-fil-A evolution—kind of like a museum.
The company interviewed team members and customers and used some of those stories as part of the actual wallpaper in the location. People shared significant memories about the brand, which are now displayed on the walls in their own handwriting. There are also unique murals for customers to view (and, perhaps, snap a picture in front of), larger-than-life waffle fries and chicken sandwich ingredients to climb on, and of course, a collection of exclusive Dwarf House merchandise to commemorate the experience.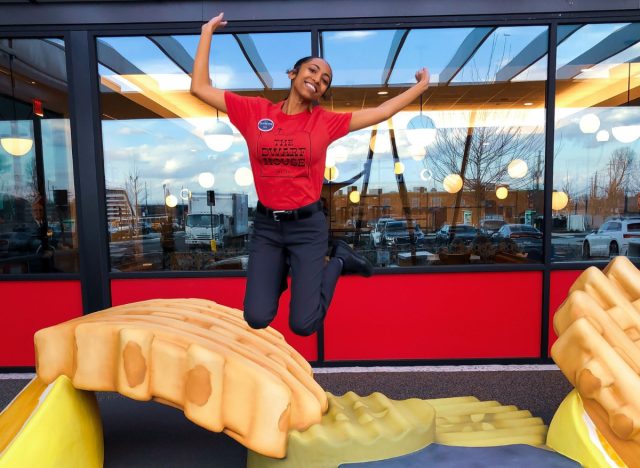 The cherry on top of this immersive Chick-fil-A experience is the on-site pie shop, which serves slices that are inspired by the brand's iconic pie chef, Zelma Calhoun. For true fans of the chicken brand, there might not be a holier place to visit—and Chick-fil-A is prepared for the pilgrimage. The updated Dwarf House has a large room for events, a parking lot for cars and electric vehicles, as well as charter buses.6254a4d1642c605c54bf1cab17d50f1e