The Real Number of Steps You Should Walk Every Day, Say Health Experts
Science debunks the notion that "10,000 steps" should be your daily goal.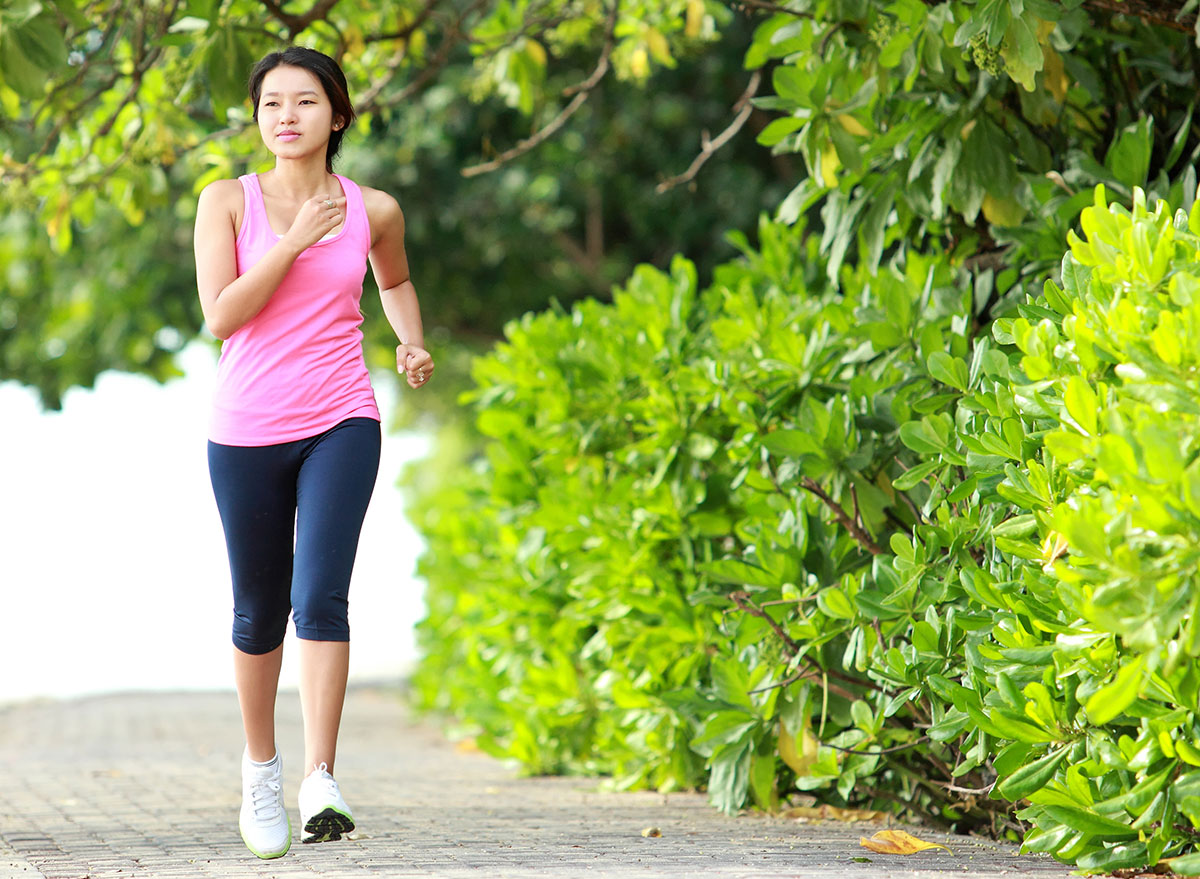 The Nike running coach and Instagram influencer Knox Robinson once gave some great advice to runners who are looking to maximize their workouts: "Think about running in terms of 'minutes' versus 'miles,'" he said. "It sounds super-basic, but it's a total shift in how you view your training." In other words, if you focus on running for 45 minutes, you'll likely get a longer and more fruitful workout than if you simply focused on running exactly four miles. "Also, on a physical level it's good to focus on what elites sometimes call 'time on feet:' the idea that it's the clock, not simply the distance or pace, that informs our running and the impact it has on the body and the mind," he said.
According to many leading health experts and several studies—including one published in 2018 in the journal Scientific Reports—the same thinking could be applied to walking, and this approach debunks the popular notion that you should always aim to walk for 10,000 steps every day.
"The number of steps a person takes in a day is not an ideal benchmark nor is it an accurate indicator of physical health," former Surgeon General Kenneth P. Moritsugu, MD, recently told SFGate. "In fact, the concept of walking 10,000 steps a day as the minimum for good health was inspired by marketing, not science, when a Japanese company launched a new pedometer named the '10,000-step meter' with the slogan, 'Let's walk 10,000 steps a day.'"
According to a study conducted by the Harvard University-affiliated Brigham and Women's Hospital and published in the journal JAMA Internal Medicine, you only need to take 4,400 steps a day to "significantly" lower your risk of death. "Risk of death continued to decrease with more steps taken but leveled off at around 7,500 steps a day—less than the default goal in many wearables." What's truly important, say the researchers, is that you supplement your walks with more energetic bouts of exercise.
"Regular exercise should be the goal, even if it is just 20 minutes per day," Moritsugu notes.
If you want to fully maximize the health benefits of your walks, however, a new report published by The Wall Street Journal indicates that you should be, to echo Robinson, focusing on the time you're walking outside rather than the distance or steps taken. After all, this will help you soak in all of the inherent health benefits of being in nature. "Spending time in the woods—a practice the Japanese call 'forest bathing'—is strongly linked to lower blood pressure, heart rate and stress hormones and decreased anxiety, depression and fatigue," observes the WSJ.
In the aforementioned study published in Scientific Reports, 20,000 people were "significantly more likely to report good health and well-being when they spent 120 minutes or more in nature a week," says the WSJ report. "The good vibe peaked at 200 to 300 minutes a week. Anything less than two hours didn't make a difference."
So if you're walking for your exercise, make sure you walk for longer, and focus more on the time you're outside and less on the number of steps you're taking. If you really want to be healthier, add 20 minutes of more hardcore exercise, as well. And for more science-backed news you can use, make sure you're aware of The Major Side Effect of Sitting on the Couch Too Much, Say Experts.
More Great Healthy Living Stories From Eat This, Not That!
William Mayle
William Mayle is a UK-based writer who specializes in science, health, fitness, and other lifestyle topics.
Read more about William