7 Salad Chains That Use the Highest Quality Ingredients
These chains boast the crispest veggies and partnerships with local farms.
More so than almost any other type of food, salad is something that requires the very best in terms of ingredient quality in order to succeed. Unlike burgers, sandwiches, and steaks, which can all benefit from breads, condiments, and lavish steakhouse-style accoutrements, salad is a menu item that puts its ingredient quality front-and-center—so they'd better be top-notch.
Lackluster ingredients can sink a salad like a fast-food Titanic, and while salad dressing can help lend flavor and texture on its own, there's only so much heavy lifting a vinaigrette or ranch can do. That's why it's imperative that, in order for a salad to go from meh to wow, restaurants invest the effort into diligent sourcing, seasonality, and top-shelf produce.
Fortunately, for every sad drive-thru salad, there's a salad chain doing it right—going the extra mile to ensure the freshest vegetables, crispest greens, and most vibrant and flavorful toppings that won't leave you wishing you ordered a chicken sandwich instead.
These are the salad chains where you can bet on a great salad.
What Shake Shack is to burgers and Chipotle is to burritos, Sweetgreen is to salads. As one of the fast-casual chains using the best quality ingredients in America, the 550-unit salad chain sets itself apart through rigorous sourcing practices, oft-organic products, and unique salads and bowls that sing with seasonal vitality.
The company is transparent and deliberate in its mission statement, which is all about "building healthier communities by connecting people to real food," and backs it up with an ethos of "reimagined fast food for a new era." This includes building a transparent supply network and cooking everything from scratch, per the company website.
After launching in 2007, founded by three students eager for healthier dining choices, the company has sought to bridge the gap between food that's expensive but fresh, and cheap but unhealthy. By breaking down those fast-food stereotypes (the only added sugars on the menu come from maple syrup, palm sugar, and honey), Sweetgreen became a brand that was all about affordable quality.
By using primarily plants for its dishes, the sustainably-minded business is already about 30% less carbon-intensive than most fast-food chains, and the restaurant is aiming to become completely carbon neutral by 2027.
Sweetgreen works with suppliers to source ingredients from small farms as much as possible, for seasonally inspired medleys like chicken chimichurri bowls with hot roasted sweet potatoes, lemony asparagus, shredded cabbage, and za'atar breadcrumbs, and blackened catfish with raw carrots, red onions, basil, sunflower seeds, wild rice, and baby spinach.
A health-conscious chain that talks the talk and walks the walk, Just Salad is the kind of place that goes above and beyond with climate labeling on its menu items (the first U.S. restaurant chain to do so). Additionally, the chain highlights "craveable, accessible, plant-centric meals made with prepped-daily produce and fresh, flavorful ingredients," says a company spokesperson.
The 50-unit brand eschews canned items, additives, and shortcuts for its batch-cooked proteins, housemade dressings, and from-scratch recipes (like oven-roasted chicken that marinates for 24 hours in red wine vinegar, oil, and spices).
Ingredients—from cheese and cage-free eggs to tomatoes and cilantro—are sourced from local farms in New York, Florida, and Pennsylvania, depending on the season. In the near future, Just Salad will partner with SIMPLi to procure regenerative organic certified Peruvian white quinoa, which will be added to the summer menu.
"At Just Salad, we seek high-quality ingredients from producers who share our commitment to everyday health and sustainability," explains a spokesperson. "We're proud to work with leading-edge suppliers, including SIMPLi, a provider of Regenerative Organic Certified ingredients; Gotham Greens, an operator of sustainable greenhouses across the U.S.; and Lipman Family Farms, a network of local farms providing fresh produce."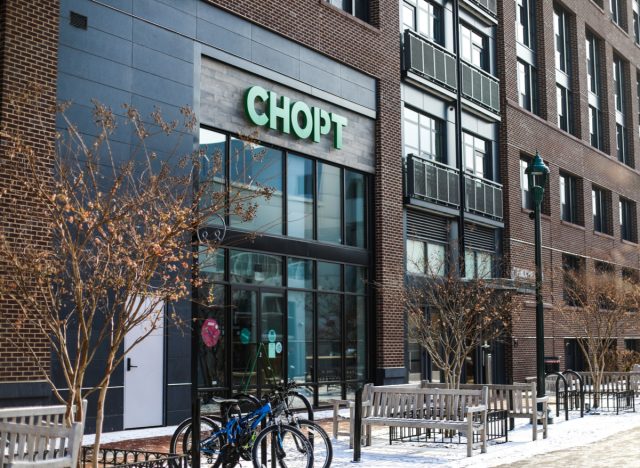 According to Business Insider, Chopt is another prime example of how high-quality ingredients are driving the nationwide popularity of salad chains. An early adopter of the health-minded fast-food craze, much like Sweetgreen, Chopt has seen a rapid ascent in popularity and profit in recent years, largely thanks to its ingredient quality and accessible menu prices in a fast-casual format.
The New York-based chain, which now has 75 locations across a handful of southeastern states, was founded by college students hankering for healthier alternatives to stereotypical dorm-room fare. On a mission to popularize salads as a fast-food option, founders Tony Shure and Colin McCabe have gone to great lengths to ensure everything on the menu is as good as it can be—even the indulgent options like panko-breaded chicken.
"At Chopt, we pride ourselves on the high-quality ingredients that make up our salads and bowls," says Shure. "We focus on working with partners who share our vision of 'Better Tastes Better,' and who help provide locally-sourced ingredients that we know our customers will love. As a founder-led brand, and as salad specialists, Chopt recognizes the value in working with other food experts to deliver creative, flavorful offerings to our daily menu, and to our rotating Destination menu, which highlights flavors from across the globe."
The current Destination, for example, spotlights California and showcases limited-time offerings like a spicy Sonoma Caesar and a verde pork pozole bowl. In line with that philosophy, the company launched its own travel blog, Chopt Travels, that traverses the globe in search of the best seasonal ingredients, spotlighting family-run farms and farmers' markets, for their chef-driven recipes.
From free-range chicken and farm-fresh lettuce to grass-fed beef, honey-sweetened lemonade, and lemon tahini made with Ethiopian sesame seeds, menu items at Chopt are not only unique, but they're the cream of the crop.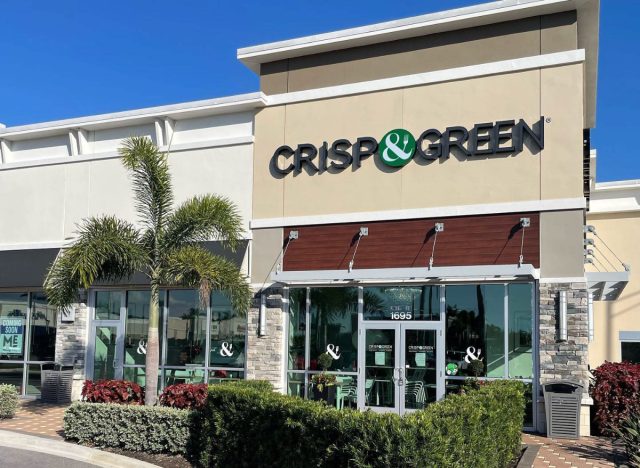 At Crisp & Green, a salad chain with a handful of locations in the Minneapolis–St. Paul area, whose name exudes a sense of pristine freshness, it's all about serving food that not only tastes good but leaves you feeling downright holistic.
"We believe every community should have access to convenient, healthy choices and resources that make a positive impact on their lives," proclaims the company.
"'Healthy' means that food actually comes from a farm, it comes raw," said founder Steele Smiley. "We receive our food in raw form. We make it and prepare it back-of-house, just like a full-service restaurant."
Menus at the chain are chef-crafted, seasonal, wholesome, and hearty, with ingredients from local farms in items like a mixed greens salad with roasted chicken, roasted cauliflower, radicchio, candied pecans, marinated golden raisins, bleu cheese, and peppercorn-tahini yogurt dressing.
Beyond serving ingredients that are indeed crisp and green, the company provides wellness resources and events (like outdoor barre classes and yoga) to further its mission of creating healthier, more flavorful lives for its customers and employees.
It takes gumption for a restaurant to put the word "fresh" right in its name, which says a lot about East-Coast brand Fresh & Co On a mission to create "fresh, creative, and healthy meals that excite the mind, heart, and palate," the family-owned business partners with local farmers—and even has its own farm on Long Island—for a menu of distinguished freshness.
"We utilize local farmers within a 100-mile radius whenever possible," says a company spokesperson. "As for our proteins, we use antibiotic-free chicken and turkey, line-caught salmon, as well as organic falafel. Our dressings are all made in-house in small batches, using fresh, quality ingredients."
By sourcing 100% vegetarian-fed, hormone-free proteins and farm-fresh produce from places like Plainville Farm, Latham Farms, and Satur Farms, Fresh & Co is able to serve up chef-inspired meals, each one made to order and from scratch, for a dynamic menu of unique items like the gaucho salad with avocado, kidney beans, corn, cucumbers, scallions, kale, romaine, and avocado chimichurri, or the falafel salad with grape tomatoes, cucumbers, carrots, chickpeas, kale, romaine, and lemon tahini dressing.6254a4d1642c605c54bf1cab17d50f1e
Most fast-food chains found inside Walmart stores aren't exactly known for their healthfulness and quality, but Saladworks is changing preconceived notions one salad bowl at a time.
The rapidly growing 150-unit chain, which has been on an expansion tear through Walmarts and beyond, adheres to diligent quality standards no matter the location. The company's mission statement is all about fresh over fad, healthy over hype, and good over guilt, using more than 60 ingredients for customizable menu items that are as flavorful as they are fresh.
"At Saladworks, our goal has always been to make good food more accessible and we are proud to always prepare fresh food daily for our customers," says the company in its animal welfare statement, which highlights the importance of sourcing ingredients from reputable purveyors.
By 2025, Saladworks promises that all of its chicken will be Global Animal Partnership certified and processed humanely. The same ethos applies to its other proteins, as well as its seasonal produce, tossed and dressed for bright and fresh bowls like the farmers market salad with super greens, roasted turkey, roasted butternut squash, roasted Brussels sprouts, bacon, feta, and red grapes.
Far beyond the call of fast-food duty, California-based Tender Greens takes its ingredient quality—and scratch-made recipes—so seriously that each restaurant location employs its own chef, who sources products from nearby farms and markets for an ever-changing roster of pristine dishes.
Just how serious is the brand about its ingredients? So serious that it doesn't pre-chop lettuce for salads, "because it keeps the quality of the lettuce fresher."
"We're always mindful of the bigger picture—our food, environment, and social responsibility," the company says. "That means thinking about our food's production, transportation, and social impact before giving anything our thumbs up." All farmers and partners align with those standards, which means chicken is free-range and vegetarian-fed, and beef is free of hormones and antibiotics. Produce and lettuce are also grown using organic and natural methods.
Considering each location has its own chef (and farm proximity), the various California locations offer different menu items, but each salad exhibits Tender Greens' commitment to biodiversity, ethics, and quality. These include the harvest chicken salad with strawberries, citrus, slivered almonds, tahini yogurt, aged goat cheese, and charred onion vinaigrette, and the happy vegan salad with farro, cranberries, almonds, quinoa, cucumbers, beets, green hummus, tabbouleh, baby greens, and lemon vinaigrette.
Matt Kirouac
Matt Kirouac is a travel and food writer and culinary school graduate, with a passion for national parks, all things Disney, and road trip restaurants.
Read more about Matt