The Best & Worst Fast-Food Salads
Though some fast-food joints may carry salads, not all are as nutritious as you might assume.

BY
Julie Upton, MS, RD, CSSD
MEDICALLY REVIEWED
You're probably already familiar with the many health risks associated with eating ultra-processed, fried foods. Also, you're likely well aware that most fast-food menus are riddled with these unhealthy (yet tempting) options. But sometimes, when you're out on the go, short on time, and your belly starts a-rumblin', hitting up the nearest drive-thru for a quick fast-food bite is the only reasonable option at your disposal. Although most menus are overrun with those beloved less-than-healthy classics (i.e., French fries, burgers, shakes, fried chicken), some of these convenient watering holes also offer hungry customers an assortment of fast-food salads to choose from.
On the surface, most of the fast-food salads featured on these menus may appear like another regular-schmegular, nutritious pick. But look a little more closely at the nutrition information, and you may find that some of these items are overloaded with calories, sodium, sugar, saturated fat—and even trans fat, in some cases. Some fast-food salads can tip the "unhealthy for you" scales so much that you may start to wonder if you're better off getting opting for an order of nuggets and fries instead.
To help you discern which fast-food salads are genuine healthy choices and which are worth skipping, we've rounded up some of the best and worst options you could eat. Keep reading to find out if your favorite bowl of green goodies made the cut—and for more healthy eating advice to help better inform your eating habits and choices while on the go, be sure to check out The 15 Best High-Protein Fast Food Meals.
Wendy's
Per salad
: 450 calories, 25g fat (11g saturated fat, 0g trans fat), 1,230mg sodium, 28g carbs (5g fiber, 19g sugar), 32g protein
With ingredients like apples, grilled chicken, roasted pecans, blue cheese, romaine lettuce, and dried cranberries, this fresh-made salad is a medley of bold, crisp, flavorful goodness. In addition to providing a whopping 32 grams of protein in one salad, it also accounts for 25% of the recommended amount of calcium you need daily. As the NIH notes, calcium is an essential nutrient that can support weight management, bone health (especially for older adults), and also help reduce the risk for cancer, cardiovascular disease (CVD), preeclampsia, and metabolic syndrome. Just be mindful of the sodium in this one, especially if you know you're prone to high blood pressure. Though this choice is the healthiest salad on Wendy's menu, at 1,230 milligrams of sodium per salad, eating it will account for over 50% of your recommended daily intake of this mineral.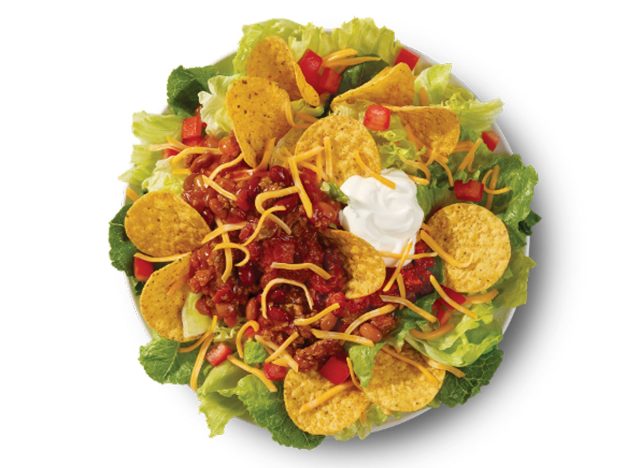 Per salad
: 690 calories, 34g fat (13g saturated fat, 1g trans fat), 1,870mg sodium, 68g carbs (12g fiber, 16g sugar), 30g protein
Although the Romaine lettuce and tomatoes are a nice nutritious touch, unfortunately, these fruits and veggies are not enough to counteract the saturated and trans fats courtesy of this salad's sour cream, shredded cheddar, and taco chip ingredients. Of all the salads on Wendy's menu, this one comes in with the highest calorie count—in fact, you could eat a dozen of Wendy's chicken nuggets—which are 45 calories per chicky nug—and still have taken less of a caloric hit than if you were to order this fast-food salad.
Chick-fil-A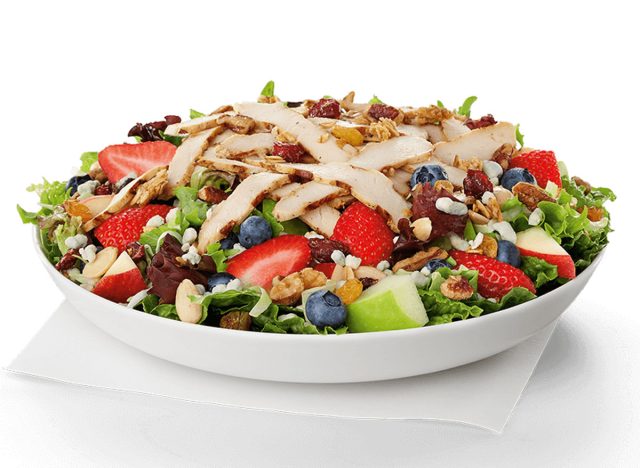 Per salad
: 540 calories, 31g fat (6g saturated fat, 0g trans fat), 1,010mg sodium, 41g carbs (5g fiber, 26g sugar), 28g protein
Chik-fil-A's Market Salad is a tapestry of color and quality ingredients. Topped with blueberries, strawberries, almonds, blue cheese crumbles, a mix of red and green apples, and grilled chicken, and tossed with mixed greens, this fast-food salad offers a little bit of that everything your body needs to keep on keepin' on, especially if trying to avoid a midday slump. The carbs in this salad will charge you up with energy, while the protein from the grilled chicken will fill you up, tiding you over till it's time for your next meal.
Per salad
: 910 calories, 63g fat (13g saturated fat, 0g trans fat), 1,880 mg sodium, 40g carbs (5g fiber, 10g sugar), 45g protein
Though on its own, Chick-fil-A's Cobb Salad isn't all that terrible. Like many other Cobbs, it includes a blend of shredded Monterey jack and cheddar cheeses, bacon bits, hard-boiled eggs, grape tomatoes, and also roasted corn kernels as an added unique touch—all of which aren't inherently terrible to consume in moderation. However, the "freshly breaded and pressure cooked" Chick-n-Strips® is an unhealthy game-changer, upping the caloric content of this salad by over 300 calories. This salad eclipses the caloric content of every single one on Chik-fil-A's menu.
"This would be more than half of the calories most adults need in a day—in a salad!" says Julie Upton, MS, RD, CSSD, a registered dietitian on our Medical Expert Board.
At this rate, you're almost better off eating one of the franchise's crispy chicken sandwiches.
Panera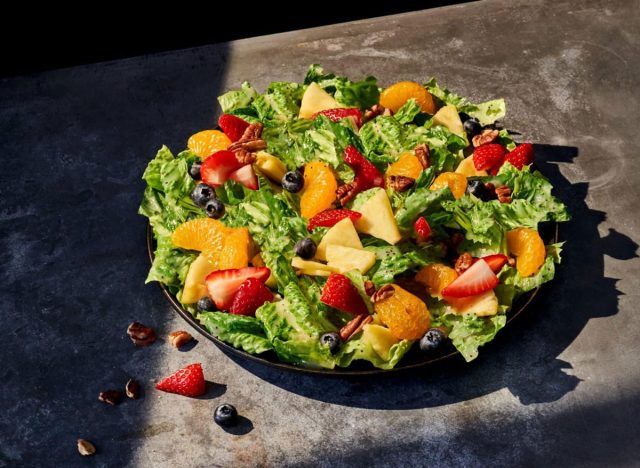 Per salad
: 240 calories, 110g fat (12g saturated fat, 1g trans fat),140 mg sodium, 34g carbs (8g fiber, 25g sugar), 5g protein
Panera's Strawberry Poppyseed salad is essentially summer in a bowl! Loaded with romaine lettuce; fresh strawberries, blueberries, and pineapple; Mandarin oranges; and toasted pecans, this salad is tossed with a refreshingly light poppyseed dressing, giving you various bright flavors along with a host of vitamins and nutrients packed into a mere 240 calories.
"Berries are a rich source of mood-boosting antioxidants and are incredibly rich in fiber which is excellent for gut and heart health," says Sydney Greene, MS, RD, a registered dietitian on our Medical Expert Board.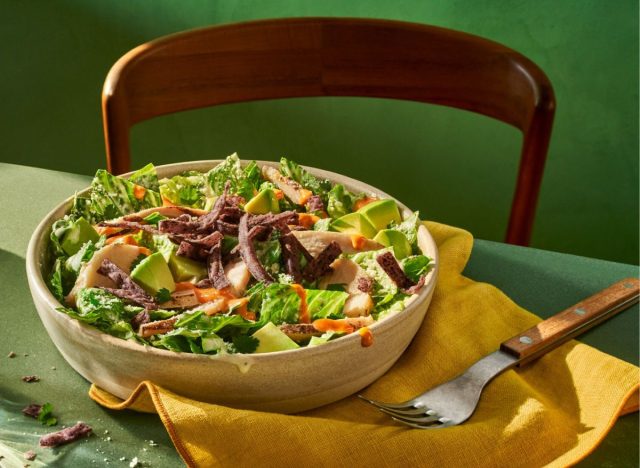 Per salad
: 630 calories, 48g fat (10g saturated fat, 1g trans fat), 980mg sodium, 22g carbs (8g fiber, 4g sugar), 32g protein
At first glance, Panera's Southwest Caesar with chicken salad may not seem like an unhealthy meal. Compared to this zesty combination of romaine lettuce, cilantro, avocado, and grated Parmesan cheese, there are plenty of worse things for your body that you could eat. Where this salad seems to really fall short and go off the nutrition rails stems from the "drizzle" of chipotle aioli, Caesar dressing, and blue corn tortilla strips. So if you're really craving this particular salad, do your body a favor by opting for a lighter choice. For instance, Panera's Poppyseed dressing is 30 calories and only contains 60 milligrams of sodium, which is only a little over 2.5% of your daily value of this blood pressure-elevating mineral.6254a4d1642c605c54bf1cab17d50f1e
"This salad is too much of nearly everything—calories, fat, sat fat, trans fat, and sodium," says Upton.
Jack in the Box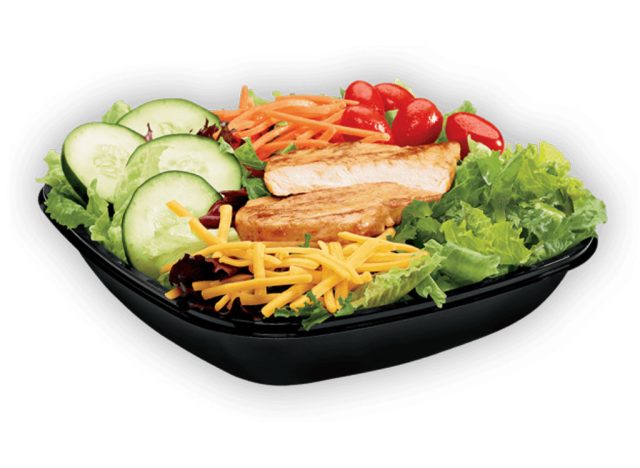 Per salad
: 220 calories, 80g fat (Saturated Fat 9g, 0g trans fat), 520mg sodium, 14g carbs (4g fiber, 3g sugar), 23g protein
While Jack in the Box may have cultivated a reputation for being "the most popular burger joint known for its tacos," the salad segment of its menu also deserves some props for its wide variety of healthy ingredients. Its affordable, convenient menu offerings certainly help fill the fast-food salad-shaped hole in our hearts left behind following the discontinuation of all McDonald's salads during the height of the COVID-19 pandemic. Coming in at less than 250 calories, the Grilled Chicken Salad, in particular, is a simple yet delectable healthy entree combining lettuce, grilled chicken strips, shredded cheddar cheese, grape tomatoes, cucumbers, carrots, croutons, and balsamic vinaigrette dressing. If you are interested in scaling back the calories, fat, and carbs even further for this fast-food salad, feel free to forgo the croutons and shredded cheddar.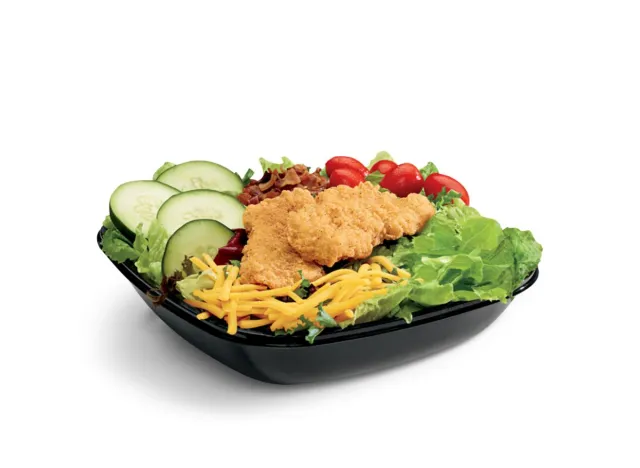 Per salad
: 540 calories, 31g fat (9g saturated fat, 0g trans fat), 1,620mg sodium, 29g carbs (59g fiber, 4g sugar), 37g protein
Similar to the aforementioned Cobb salad from Chik-fil-A, this salad has the foundational making of a healthy fast food menu item—that is until the crispy chicken strips come into play. Additionally, this salad includes iceberg lettuce among its ingredients, which—granted, is still low in calories—but also only offers only teeny amounts of vitamins and nutrients compared to other kinds of lettuce due to its high water content.
Au Bon Pain
The Best Salad: The Chicken Caesar Asiago
Per salad
: 260 calories, 8g fat (3.5g saturated fat, 0g trans fat), 580mg sodium, 21g carbs (4g fiber, 3g sugar), 27g protein
Of all the fast-food Caesar salads out there, Au Bon Pain's is definitely among the "better-for-you" choices. At only 260 calories, you're also getting a whopping 27 grams of satiating protein. Best of all, its Caesar dressing is gluten-free, too!
The Worst Salad: The Chicken Cobb Avocado Salad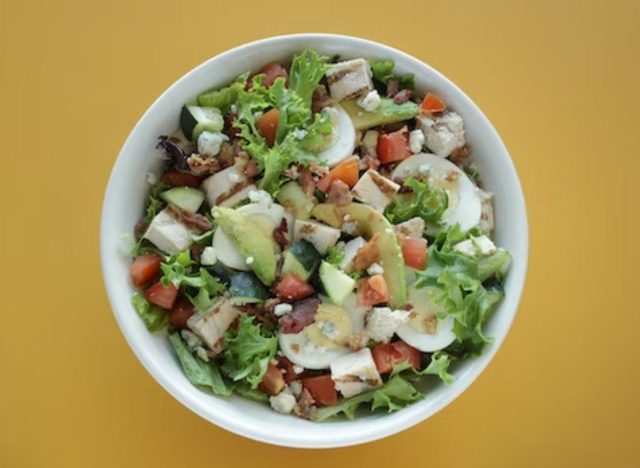 Per salad
: 440 calories, 24 fat ( 9g saturated fat, 0g trans fat), 1,050mg sodium, 17g carbs (6g fiber, 7g sugar), 40g protein
To be fair, this is considered the "worst" salad compared to the other salad options on Au Bon Pain's menu. Again, although the ingredients in the Cobb aren't inherently terrible, wasting 440 calories on something like a salad is a bit excessive—that's nearly as much as eating two of Au Bon Pain's Chewy Marshmallow Bar desserts, which are 230 calories each. While this salad does offer lean proteins and healthy fats via fresh ingredients, it's also a sodium bomb, accounting for almost 50% of your daily value for sodium in one salad.
Sources referenced in this article