10 Ways to Look 10 Years Younger, Say Experts
Look and feel younger by doing a few simple things.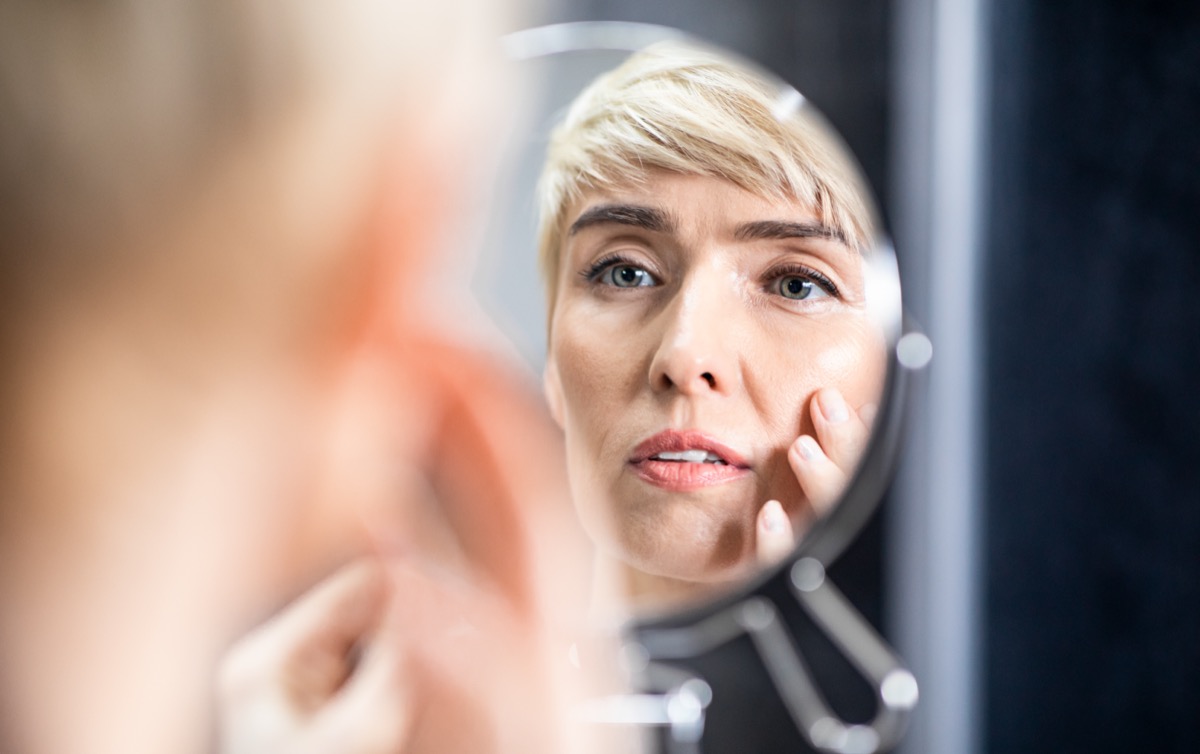 There is no way to stop the hands of time and prevent the aging process from actually happening. However, there are a number of ways to help improve longevity and even look much younger than you are. Eat This, Not That! asked a variety of experts the question everyone wants answered: what can I do to look 10 years younger? Read on to find out what they had to say—and to ensure your health and the health of others, don't miss these Sure Signs You May Have Already Had COVID.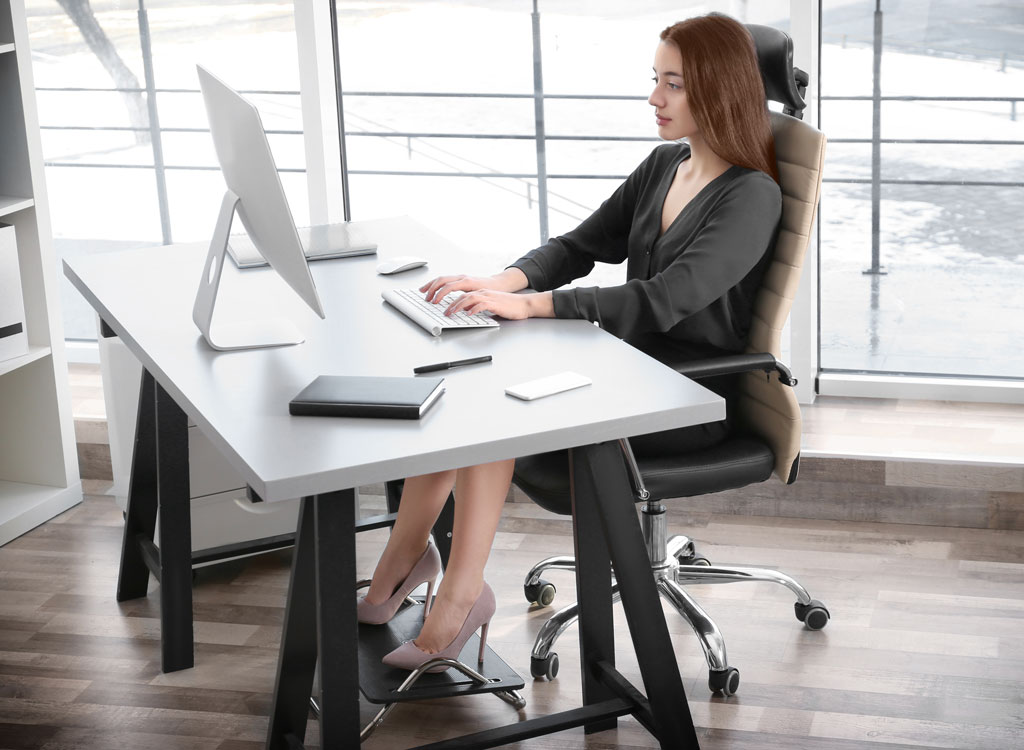 Good posture makes you look taller, thinner, and younger, Gbolahan Okubadejo, MD, NYC Area Spinal and Orthopedic Surgeon, maintains. "Unless a conscious effort is made to maintain good posture, we spend so much time hunched in front of our phones and desks, and thus we are training our bodies to slouch," he tells Eat This, Not That! "Improving your posture as you age not only makes you look younger but has multiple health benefits." Good posture is also linked to increased self-confidence, and confidence projects a positive, youthful appearance. 
2
Don't Forget to Wear Sunscreen on Your Hands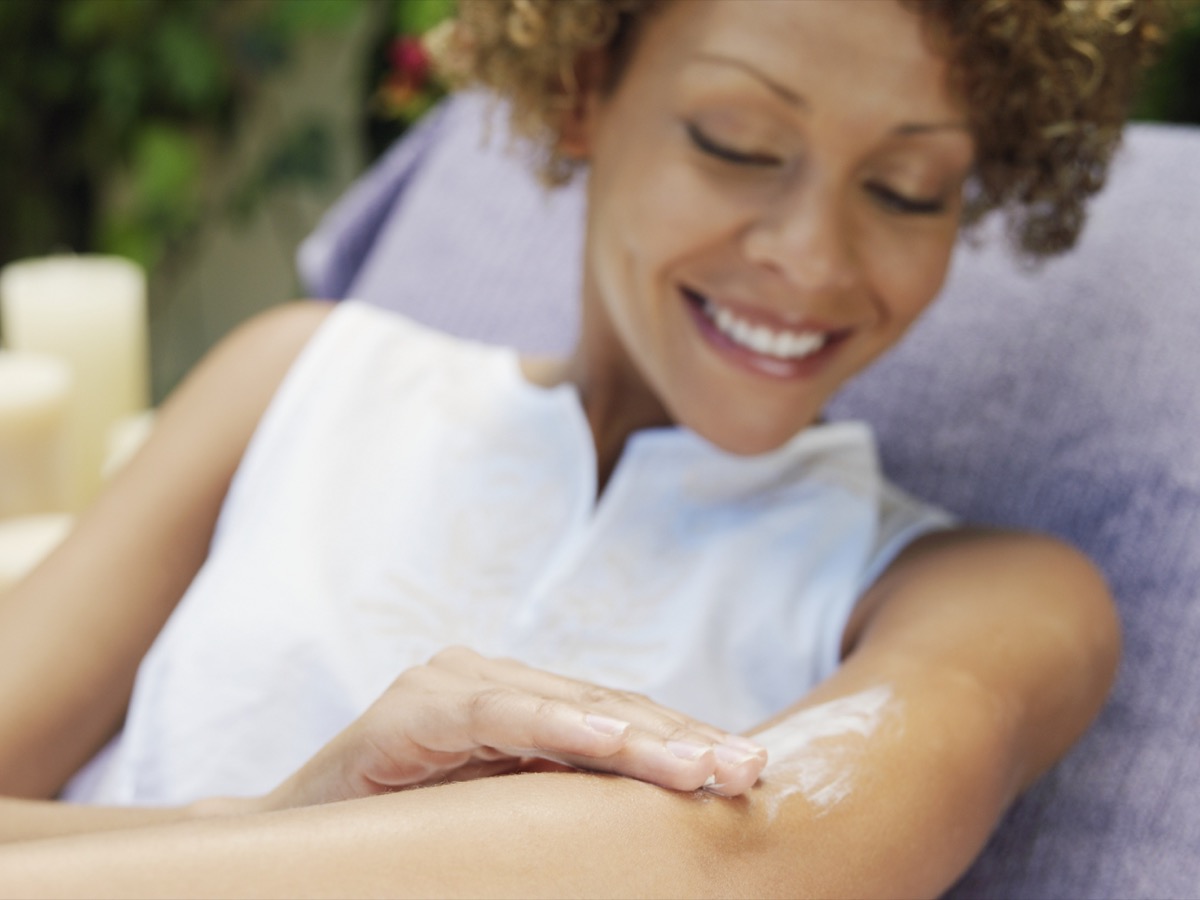 Unprotected UV exposure accelerates age related changes such as wrinkles, skin coarseness, and age spots, reveals Annie Gonzalez, MD, Miami Board Certified Dermatologist of Riverchase Dermatology. "Wearing sunscreen protects against skin aging, and decreases age spots, wrinkles, and other premature skin aging," she explains. While most of us don't forget to wear it on our face, we often neglect our hands. "Even if our face looks young, aged hands will reveal our chronological age," she points out.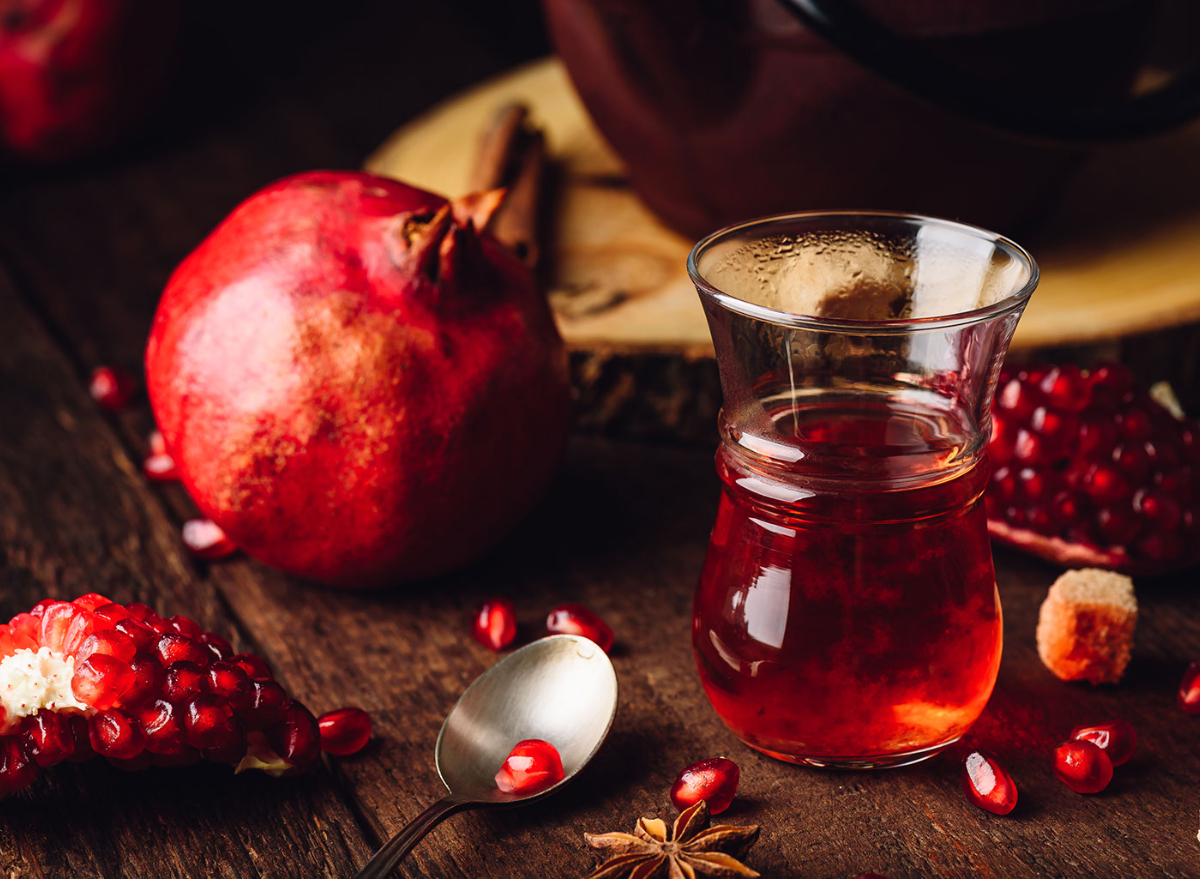 Debra Jaliman, MD, board-certified NYC dermatologist, Assistant Professor of Dermatology Icahn School of Medicine at Mount Sinai and author of the book, "Skin Rules: Trade Secrets from a Top New York Dermatologist," (St. Martin's Press), explains that eating specific types of food can have anti-aging powers. "Eating foods with antioxidants will make your skin glow," she says, suggesting pomegranates, blueberries, goji berries, black berrries, and cranberries. Also, avoid packaged foods also known as processed foods and sugar. "It is important to have a healthy diet and to limit the amount of sugar that you eat. Processed sugar glycates the collagen which stiffens and ages it," she says. 
RELATED: Forgetting This One Thing Can Mean You Have Dementia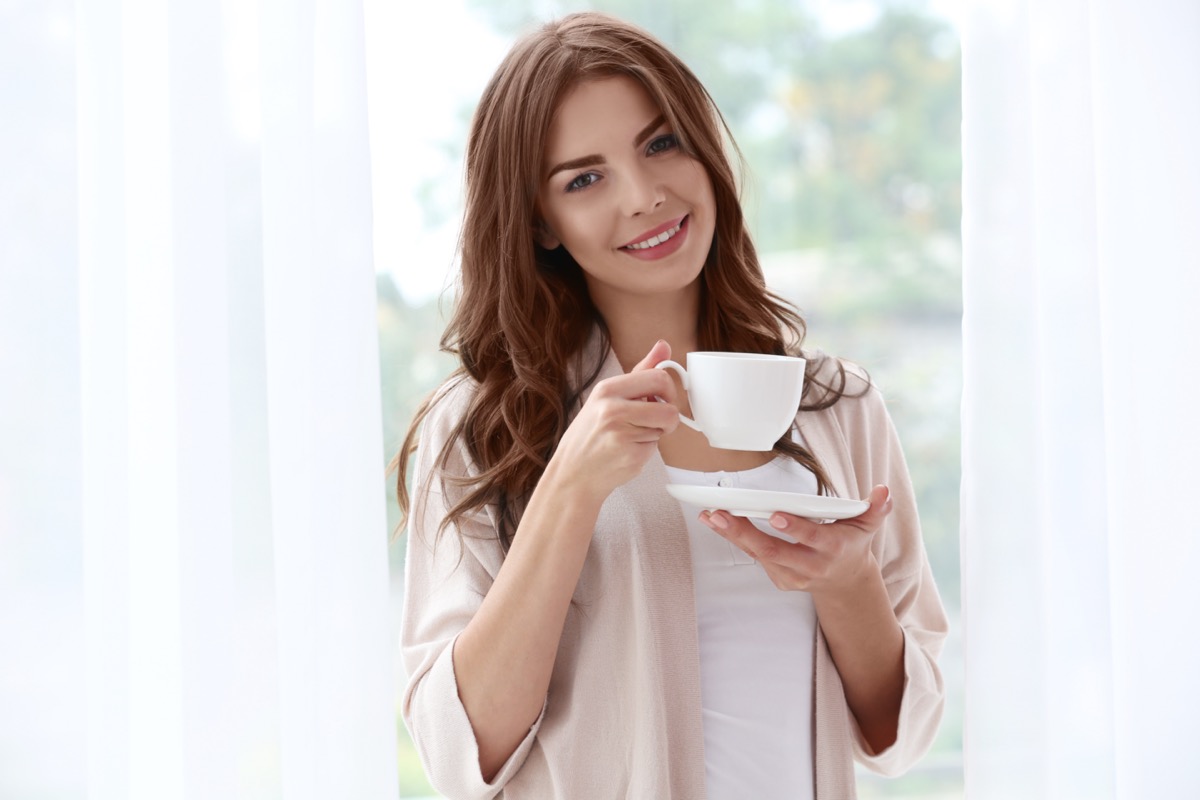 According to Sanam Hafeez, MD, NYC Neuropsychologist and Faculty Member Columbia University, smiling can instantly make you appear a decade younger. "People who smile more are often perceived as younger than their actual age, and a genuine smile gives you a youthful appearance," she says. "When you are happy, your face glows, as opposed to an angry face, which can make you look grumpy and older. Smiling also boosts overall health and makes you feel happier. "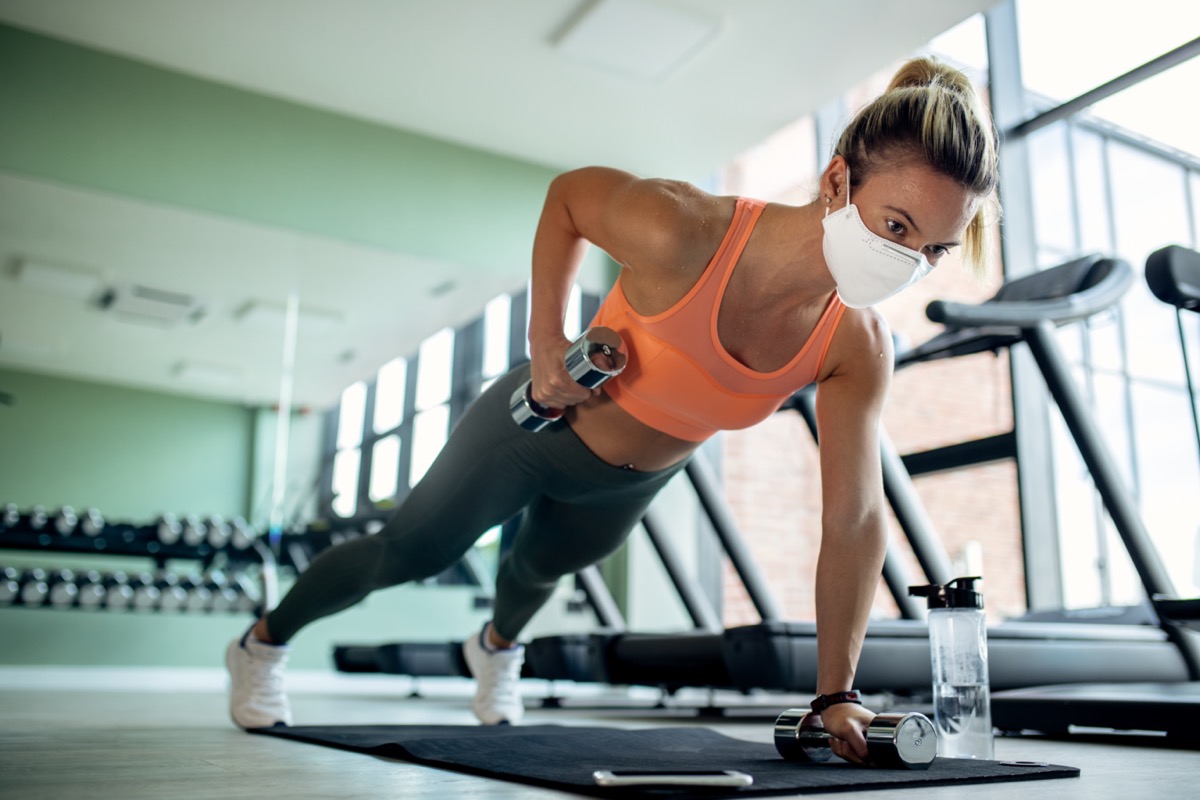 How you walk says a lot about your age, explains Jessica Mazzucco, NYC Certified Fitness Trainer. "Staying fit and exercising daily can help you avoid age-related changes in gait and puts a little pep in your step. Focusing on core-related exercises will also improve your posture and won't leave you in a hunched body position that will make you look older." 
RELATED: The #1 Cause of Diabetes, According to Doctors
6
Get A Good Night's Sleep
Sleep is one of the best anti-aging treatments, explains Niket Sonpal, MD, NYC Internist and Gastroenterologist. "Skin ages faster and doesn't recover as well from environmental stressors like sun exposure when you have poor sleep. Poor sleep also can cause wrinkles and fine lines, swollen eyes, and paler skin, all characteristics that make you look older," he notes. "Beauty sleep is not a myth, your body repairs itself while you sleep, and good sleep leads to a long list of benefits that will make you look younger."
Stacy Chimento, MD, board certified dermatologist of Riverchase Dermatology in Miami suggests memorizing the ABC's of anti-aging. "'A' use antioxidants daily to prevent signs of aging, 'B' use sunscreen daily to create a barrier from the sun's damaging UVA/B rays, and 'C' use vitamin C serum to strengthen skin and repair sun damage," she says. 
RELATED: Everyday Habits That Age You Faster, According to Science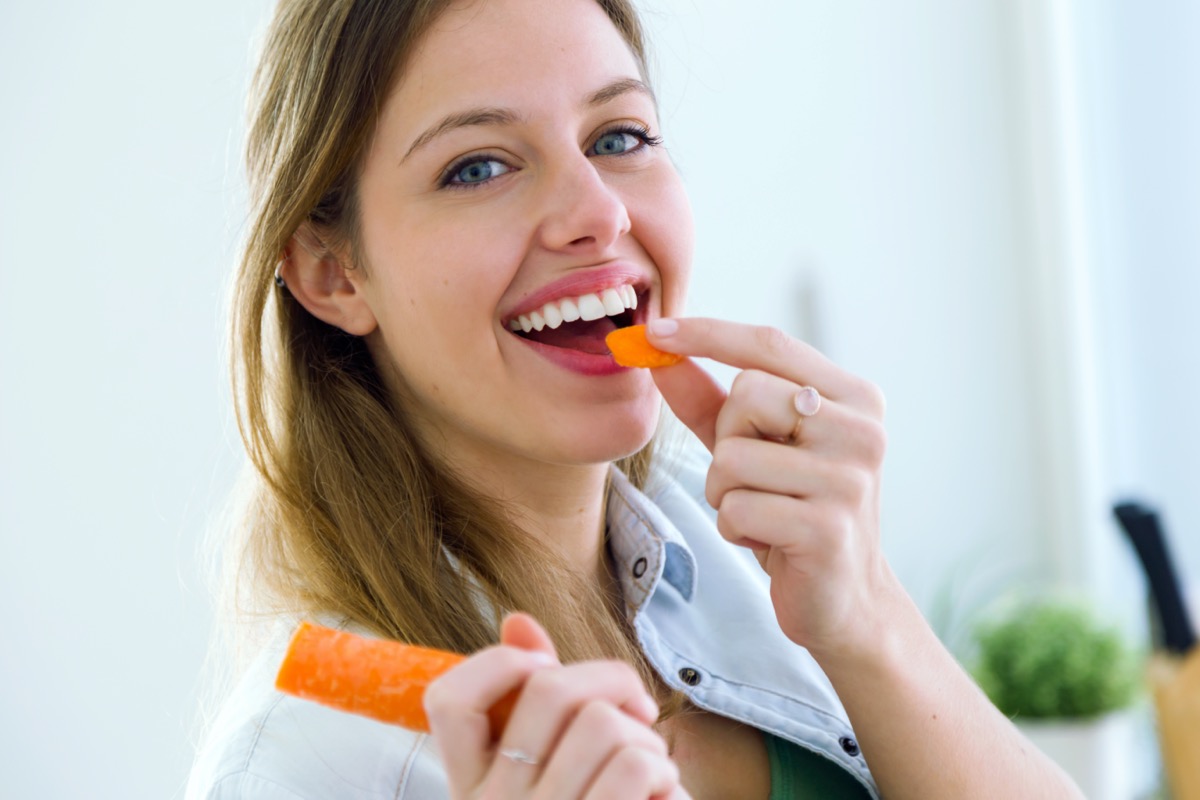 Dr. Chimento also suggests improving skin health via diet. "Increasing one's consumption of healthy fruits and vegetables along with a balanced diet will provide nutrition for skin health," she says. "Having a diet rich in antioxidants helps to promote healthy collagen, fight free radicals, sun damage and improves inflammatory conditions such as psoriasis, acne, and rosacea."
No more cancer sticks, says Dr. Chimento—not only can they cause cancer but premature aging. They "contain harmful chemicals, including carbon monoxide which displaces oxygen in the skin," she explains. "The nicotine component reduces healthy blood flow creating a dry and dull appearance of the skin. It can interfere with vitamin C which is an important antioxidant in reducing free radical formation."6254a4d1642c605c54bf1cab17d50f1e
RELATED: One Major Effect of a Multivitamin, Say Experts
10
Keep Yourself—and Your Skin—Hydrated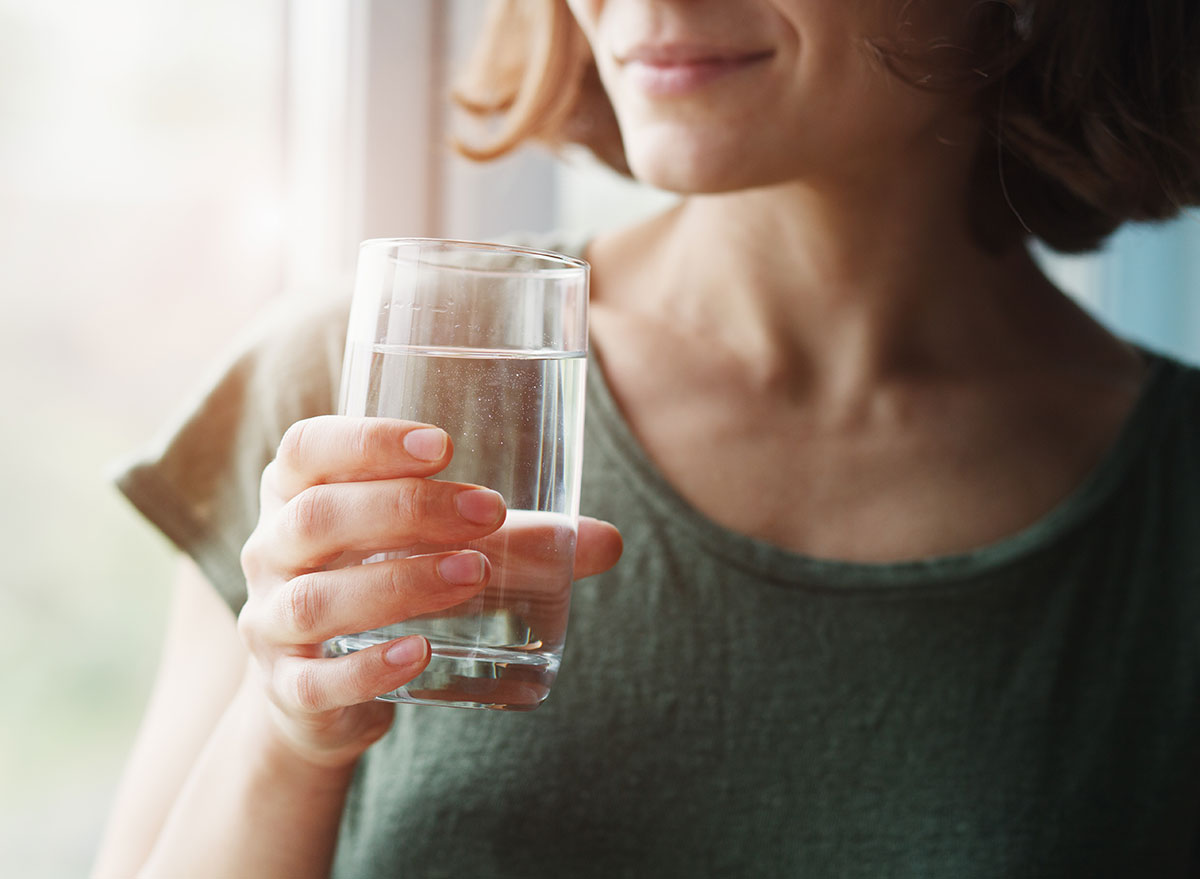 One way to immediately freshen up your face is to hydrate, according to Dr. Chimento. "The skin should always be in a good PH balance. Dehydrated skin is more prone to inflammatory conditions such as acne, rosacea, rashes, etc.," she explains. In addition to drinking enough water, seek out hydrating skincare. "Many of my acne patients are scared to use moisturizers as they are afraid they will 'break out' or make them oilier. If the skin is too dry, then it will make more oil as a response," she says. "I love products that contain hyaluronic acid and ceramides as they improve texture and restore the lipid barrier of the skin. One great way to hydrate your skin is by getting a HydraFacial treatment. Although the face is the most common area for a HydraFacial, this can be used also on the neck and décolletage areas." And to get through this pandemic at your healthiest, don't miss these 35 Places You're Most Likely to Catch COVID.
Leah Groth
Leah Groth has decades of experience covering all things health, wellness and fitness related.
Read more about Leah