6 Ways to Make Healthy 'Beef' Jerky
Our friends at Meatless Monday compiled a list of six delicious plant-based recipes!
People have relied on jerky for centuries as a way to preserve meat from spoiling. There are two main components necessary for making jerky: salt and heat. The salt draws out water, reducing the occurrence of bacterial growth, while the heat evaporates the water. The result is a portable, high-protein snack that's convenient to take while on the go.
But the process of making jerky can also be used to enhance the flavor, texture, portability, and shelf life of non-meat ingredients, like fruits, vegetables, and soy-based proteins.
RELATED: Restaurants Are Being Told To Majorly Reduce How Much Salt They're Using
By using ingredients like maple syrup, soy sauce, liquid smoke, and other spices, any home cook can recreate the essence of jerky without any meat. Plant-based jerky is perfect for lunch boxes, camping trips, picnics, or as a snack to slip into your bag. Another bonus is that plant-based jerky is pretty simple to prepare and totally customizable based on your own taste preferences. But if you don't feel like cooking, there are dozens of different brands offering a variety of interesting plant-based jerky options.
Our friends at Meatless Monday compiled a list of six recipes to help get you started. Then, don't forget to sign up for our newsletter!
Eggplant Jerky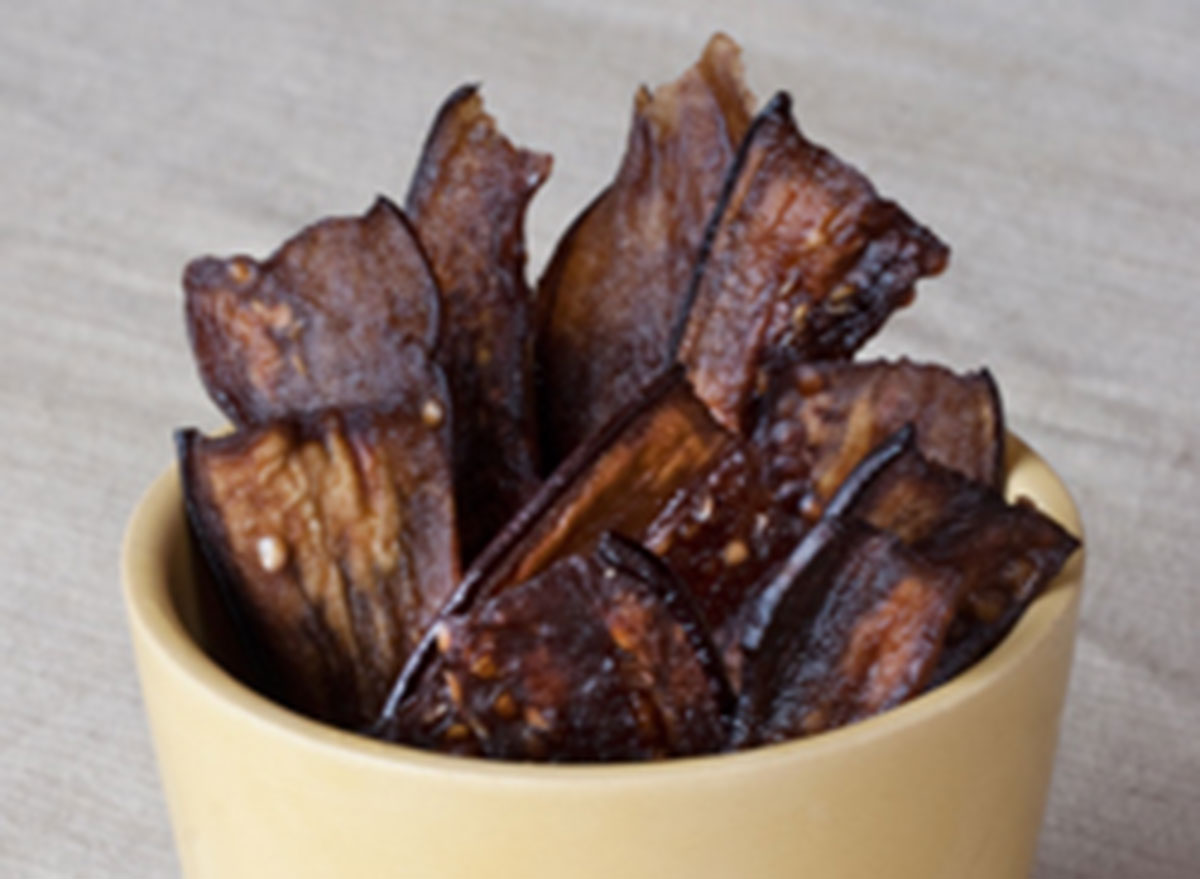 Eggplant is a great beef alternative thanks to its meaty texture and ability to absorb a lot of flavors. You can easily turn eggplant into bacon or "steaks" but you can also cook it low-and-slow to make jerky. This recipe for eggplant jerky from Eileen's Everyone Eats Right calls for marinading the eggplant in a mixture of balsamic vinegar, maple syrup, and paprika, and then dehydrating for 10-12 hours in the oven on low.
Don't miss 21 Delicious Eggplant Recipes for a Vegetable-Centric Dinner for more ideas!
Jackfruit Jerky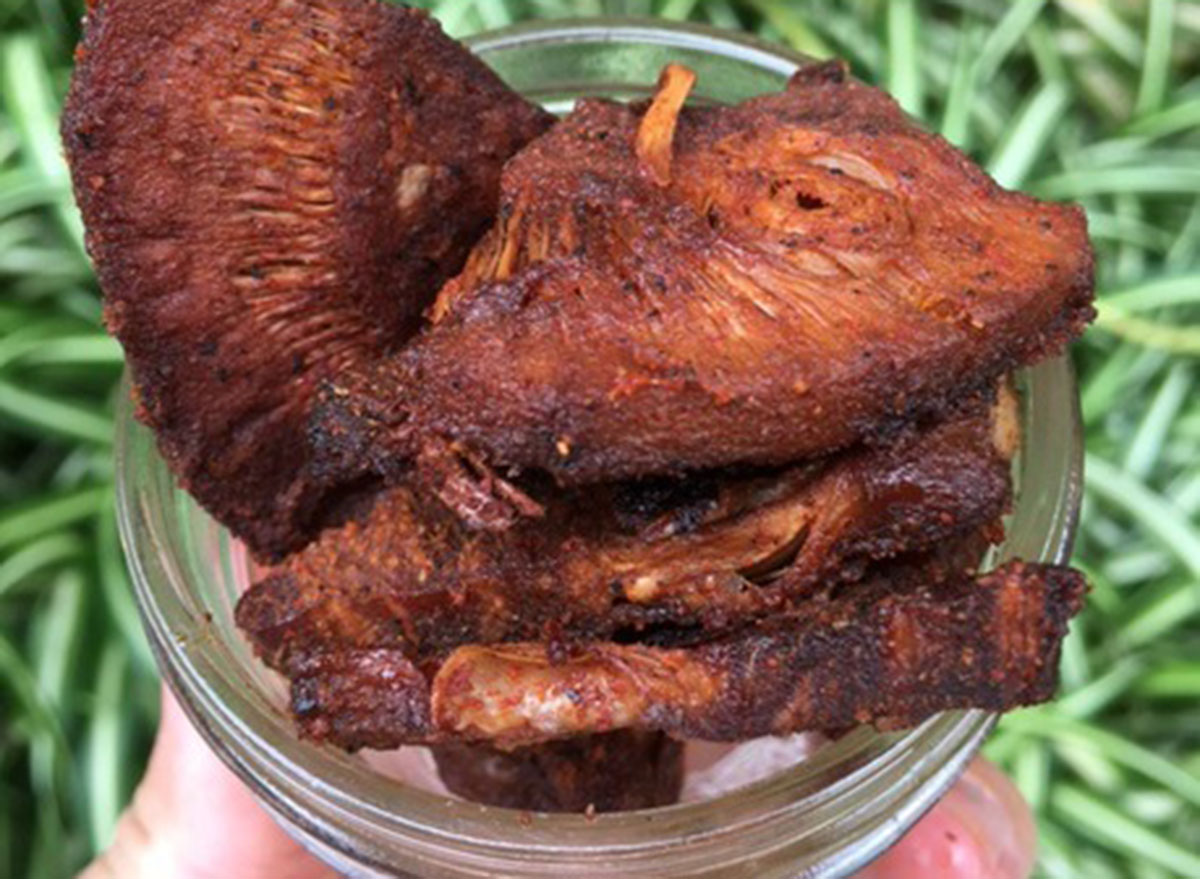 In its raw form, jackfruit is not so common, but you can usually find it canned or in the refrigerated section at many supermarkets. This recipe from Kitchen Gadget Vegan recommends mixing canned jackfruit with maple syrup and liquid aminos (and a few other spices) before roasting the slices in a 350-degree oven for a little less than an hour.
Peppery Beet Jerky
Beets have a pleasantly earthy taste that pairs well with smoky, sweet, and spicy flavors. When it comes to flavor, Punchfork's recipe for beet jerky knocks it out of the park. With a blend of garlic, onion, and black pepper, and a coating of vegan Worcestershire sauce added to the raw beets before cooking, it's no question you'll be snacking whenever hunger strikes.
Be sure to check out One Major Effect of Eating Beets, Says Science!
Pumpkin Pie Fruit Leather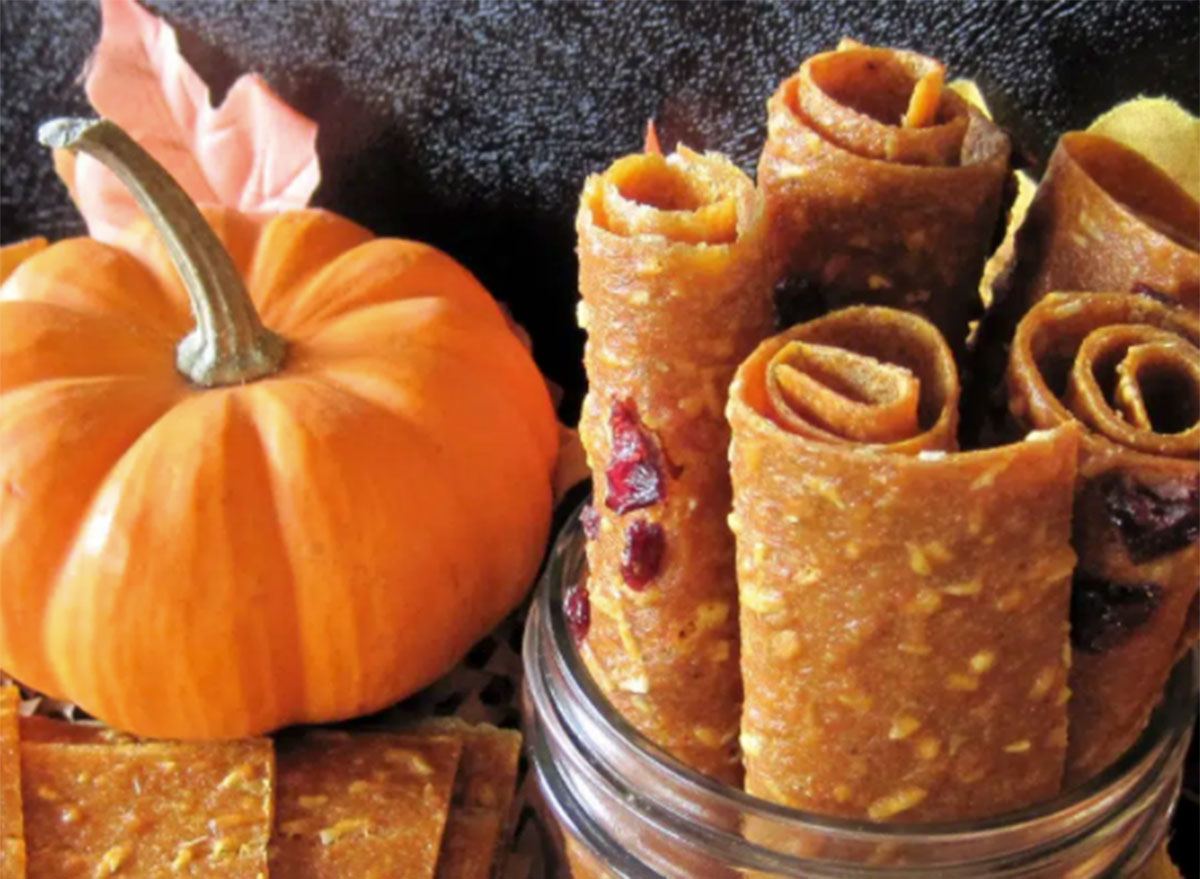 This recipe from Common Sense Home has a texture more like fruit leather than traditional jerky, but it's still a great snack to take on the road or on nature hikes. Using canned pumpkin, coconut milk, apple sauce, and pumpkin pie seasonings gives this snack a uniquely sweet and satisfying flavor. To store the fruit leather, wrap the sliced strips in plastic wrap and seal in an air-tight container.6254a4d1642c605c54bf1cab17d50f1e
Smoky-Sweet Tofu Jerky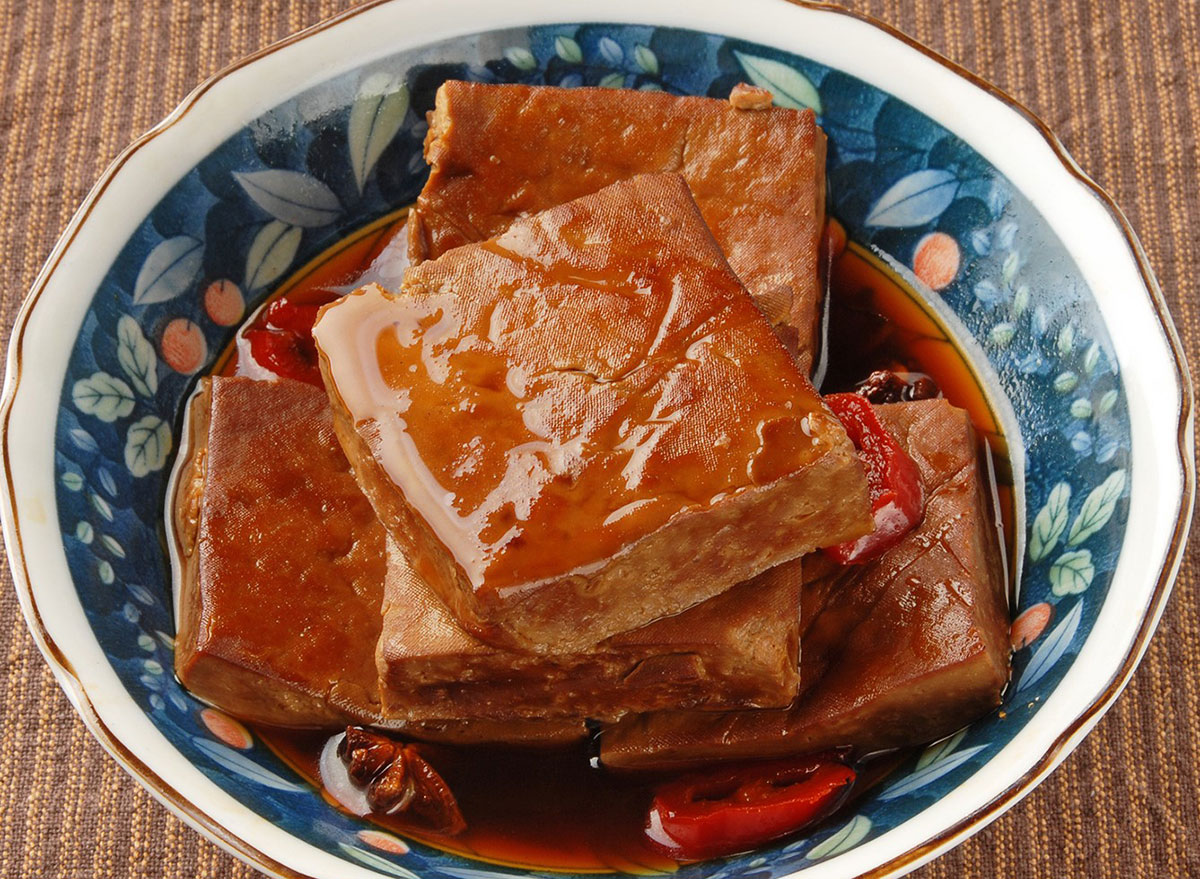 Tofu is another protein-rich ingredient that serves as a good substitute for meat. When marinated in barbecue sauce, maple syrup, and other seasonings and baked in the oven, it takes on that chewy, leathery quality synonymous with traditional Jerky. Try this recipe from Life Currants for some inspiration.
For the Smoky-Sweet Tofu Jerky recipe, click here.
Shiitake Mushroom Jerky
Mushrooms of all types are praised for their satisfying meaty texture and rich, umami flavor.
This recipe from The Mushroom Council is super easy to make: just toss shiitake mushrooms in a marinade of coconut aminos, apple cider vinegar, and chile-garlic paste overnight and bake for an hour the next day. You'll have a munchable snack that will fulfill your jerky fix.
For more, be sure to check out The Best Plant-Based Bacons for Bacon Lovers—Ranked!