The Best Plant-Based Bacons for Bacon Lovers—Ranked!
Yes, even bacon fanatics are going to love these!
Additional reporting by Rachel Linder.
Plant-based meats are all the rage right now! Between the Beyond Burger and the Impossible Burger, foodies are going crazy over this new trend. Even McDonald's is hopping on board! But while plant-based burgers are the talk of the town, plant-based bacon also exists—even in the grocery store!
What is plant-based bacon made of?
Jill Edwards, Director of Education at The T. Colin Campbell Center for Nutrition Studies, was able to give us some insight on what plant-based bacon is actually made of.
"It sort of depends on what spectrum you're going," says Edwards. "If you're going the whole foods, plant-based route, which would be from all whole foods and ingredients, [there's] no plant fragments, no added oils, no isolated proteins. Then, there are so many delicious plant-based bacon opportunities out there! They're made from tofu, which is soy, tempeh, eggplant, mushrooms, even beets."
When making a bacon from a whole-food source—like eggplant—typical ingredients used to make the bacon include maple syrup (or date syrup), soy sauce (or low-sodium tamari), garlic powder, liquid smoke, onion powder, and water. It may sound complicated, but according to Edwards, "it's just really easy to do." It really is! Check out: 6 Ways to Make Bacon Using Only Plants.
While these are the types of bacon you may see at a restaurant, most of the bacon on the market comes from another category.
"The only [plant-based bacon] I see out there currently are the ones made from processed plant fragments, such as soy protein isolates, soybean oil, etcetera," says Edwards. "But I'm sure since there are whole-foods plant-based burgers, I'm sure a whole-foods plant-based bacon will be to follow."
Here are some of the best plant-based bacon you can get at the store, ranked by sodium content per serving.
Upton's Naturals Bacon Seitan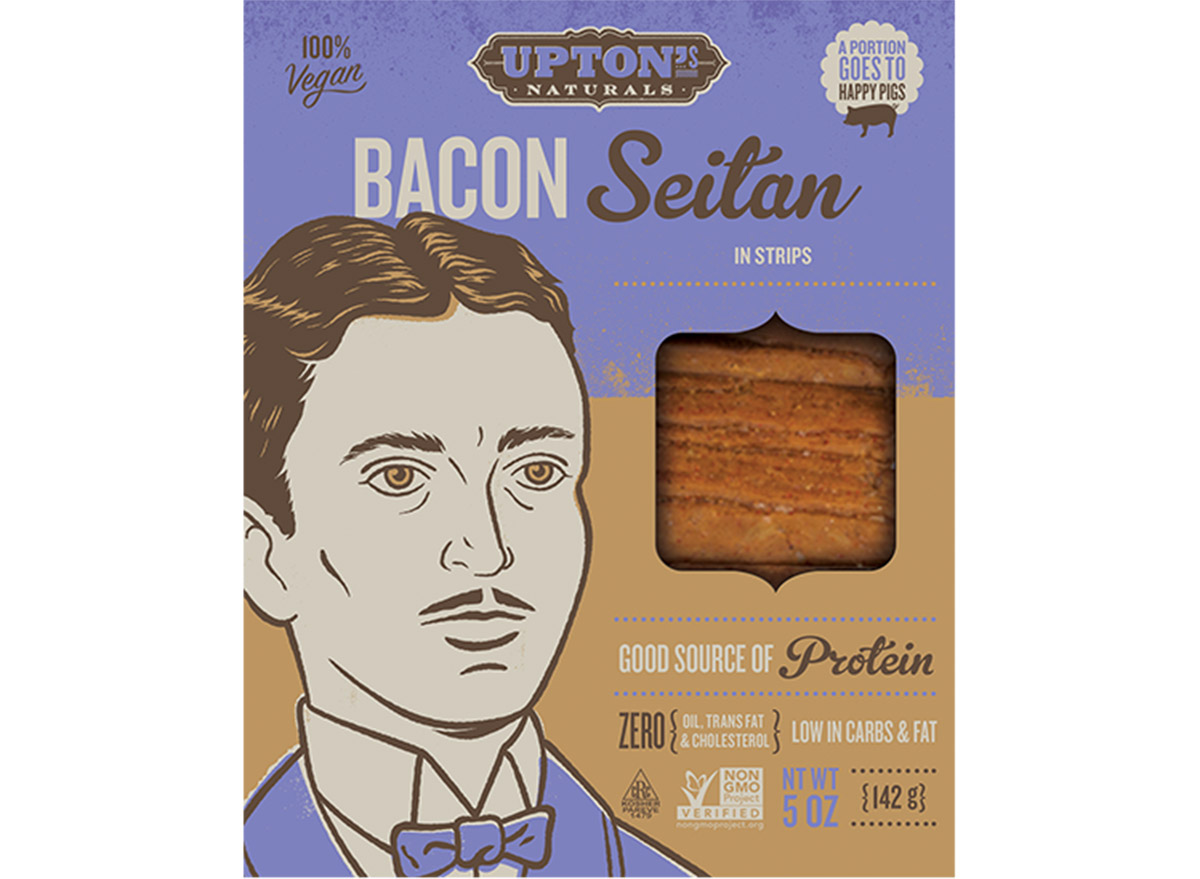 Per 2 oz. serving
: 100 calories, 0.5 g fat (0 g saturated fat), 400 mg sodium, 7 g carbs (1 g fiber, 0 g sugar, 0 g sugar alcohol), 15 g protein
While Upton's Bacon Seitan is 100 percent vegan and low in carbs and fat, it's still higher in sodium with 400 milligrams. However, it's still a great plant-based bacon option if you're looking to swap it out.
Tofurky's Smoky Maple Bacon Marinated Tempeh
6254a4d1642c605c54bf1cab17d50f1e
Per 6 slices
: 160 calories, 4.5 g fat (1 g saturated fat), 370 mg sodium, 15 g carbs (3 g fiber, 4 g sugar, 4 g sugar alcohol), 13 g protein
Made of tempeh, this plant-based bacon has a smoky maple flavor. You can have six slices with every serving—which is high in protein at 13 grams—but beware! The sodium content is pretty high at 370 milligrams.
Sweet Earth Benevolent Bacon
Per 1 slice
: 50 calories, 4 g fat (0 g saturated fat), 250 mg sodium, 7 g carbs (1 g fiber, 2 g sugar, 0 g sugar alcohol), 10 g protein
Hickory and sage to flavor this plant-based bacon? Yes, please! One slice of Sweet Earth's Benevolent Bacon will give you a whopping 10 grams of protein for only 50 calories. While the sodium content is still high at 250 milligrams of sodium, it's still not as much as some of the regular store-bought bacon options you would find.
Morning Star Farms Veggie Breakfast Bacon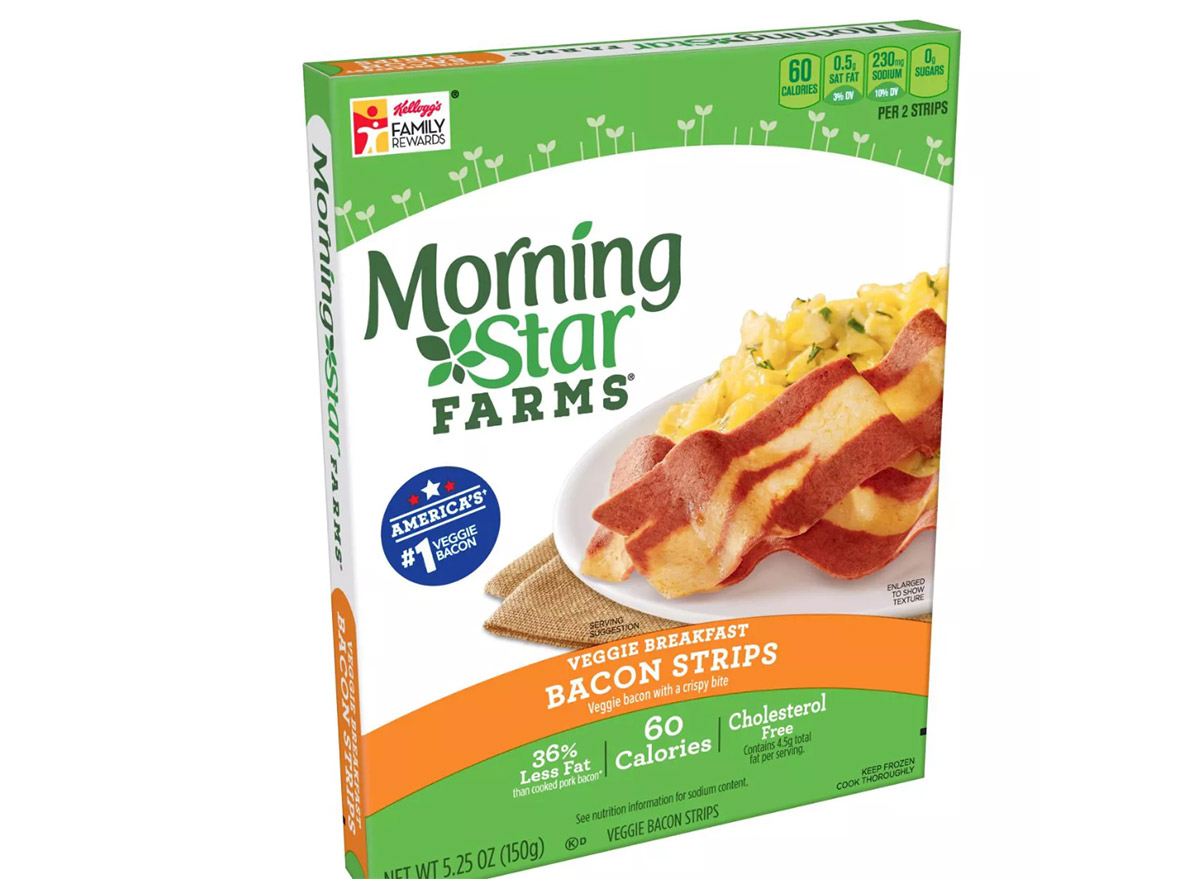 Per 2 slices
: 60 calories, 4.5 g fat (0.5 g saturated fat), 230 mg sodium, 2 g carbs (1 g fiber, 0 g sugar, 0 g sugar alcohol), 2 g protein
Morning Star Farms is known for providing some of the best frozen vegetarian foods, and their plant-based bacon is one of the best! You can have two slices for just 6 calories and 230 milligrams of sodium. However, it is lower in protein compared to other plant-based bacon options with just two grams.
Organic Matters Vegan Bacon Bits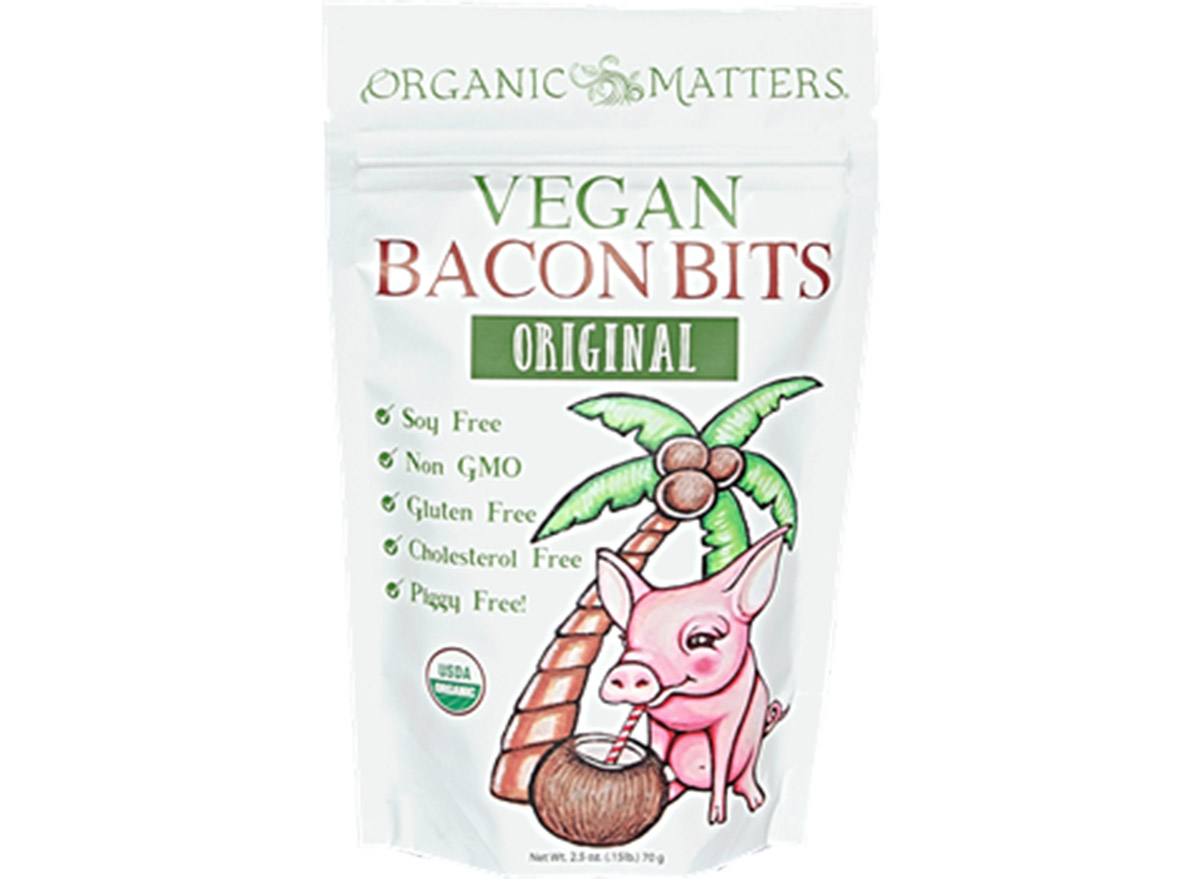 Per 2 tbsps
: 50 calories, 4.2 g fat (3.5 g saturated fat), 184 mg sodium, 2.7 g carbs (0.9 g fiber, 1.1 g sugar, 0 g sugar alcohol), 0.5 g protein
Need some delicious plant-based bacon bits for your salad? Try these Vegan Bacon Bits from Organic Matter! These bits are soy-free, gluten-free, and non-GMO. Plus, it's only 50 calories for two whole tablespoons.
Lightlife Smart Bacon Veggie Bacon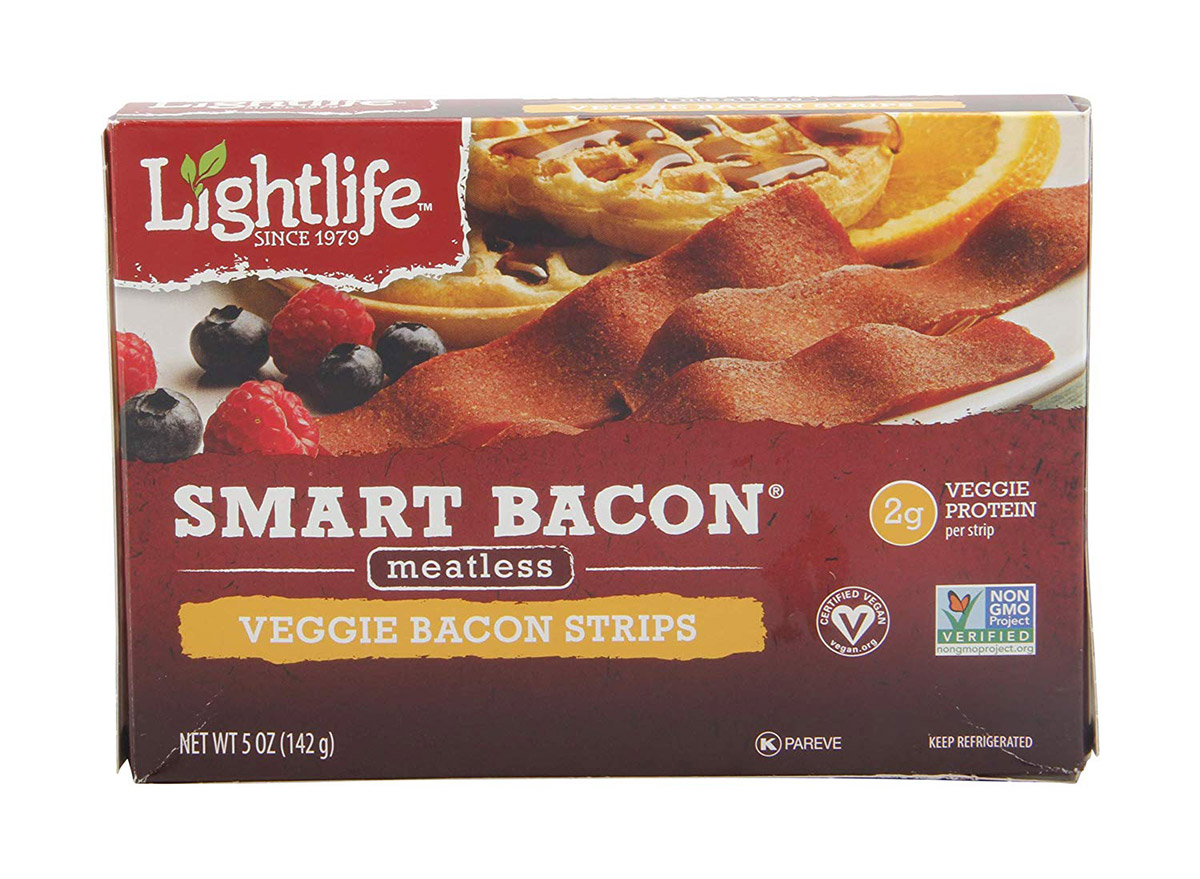 Per 1 slice
: 20 calories, 1 g fat (0 g saturated fat), 150 mg sodium, <1 g carbs (0 g fiber, 0 g sugar, 0 g sugar alcohol), 2 g protein
If you're looking for a low-calorie bacon option, Lightlife may be your new go-to! Their meatless Smart Bacon Veggie Bacon Strips are only 20 calories per slice and keep the sodium low at 150 milligrams.
Phoney Baloney's Coconut Bacon
Per 2 tbsps
: 25 calories, 2.3 g fat (1.7 g saturated fat), 146 mg sodium, 1.2 g carbs (0.5 g fiber, 0.6 g sugar, 0 g sugar alcohol), 0.3 g protein
Yes, bacon made of coconut! These vegan bacon bits are gluten-free and have zero sugar alcohols. For only 15 calories, they are the perfect crunchy addition to your lunch salad.
Betty Crocker Bac-Os Bacon Bits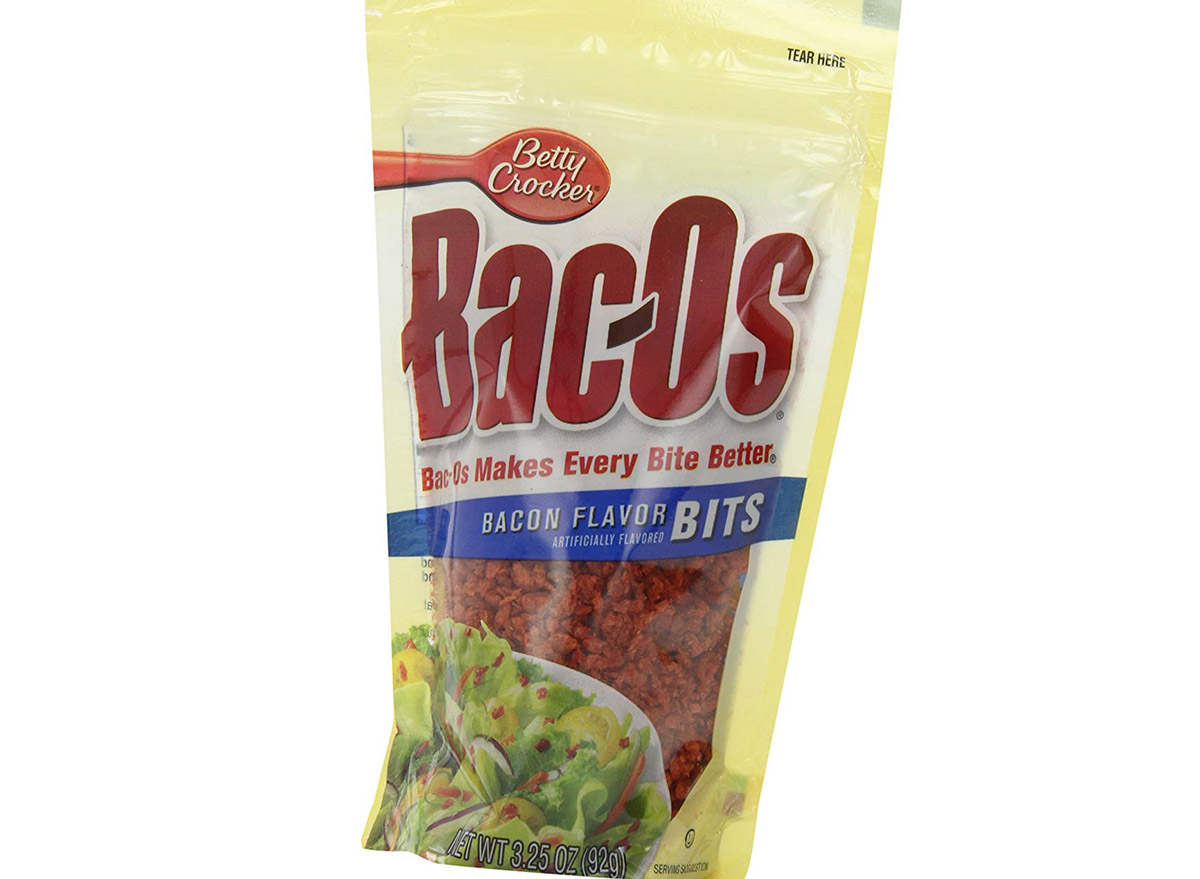 Per 1 1/2 tbsps
: 30 calories, 1 g fat (0 g saturated fat), 115 mg sodium, 2 g carbs (1 g fiber, 0 g sugar, 0 g sugar alcohol), 3 g protein
That's right! In terms of sodium, Betty Crocker's Baco-I's are the best option for plant-based protein. These bacon-flavored bits are 30 calories for 1.5 tablespoons, have 3 whole grams of protein, and only 115 milligrams of sodium.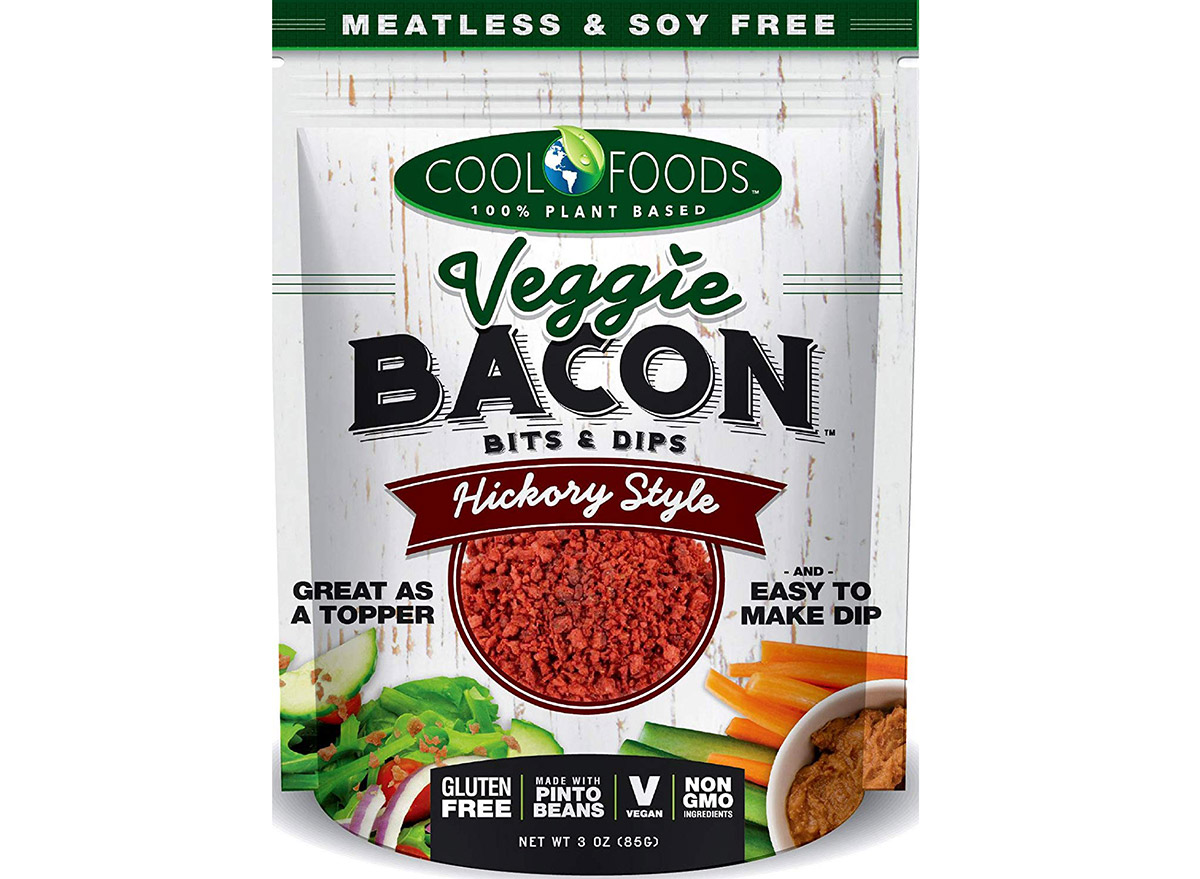 Per 1 1/3 tbsps
: 27 calories, 1 g fat (0 g saturated fat), 86 mg sodium, 4 g carbs (1 g fiber, 0 g sugar, 0 g sugar alcohol), 1 g protein
The best of the best? Cool Foods Veggie Bacon Bits & Dips! These Hickory Style bits are great as salad toppers, are thrown into a fun party dip for your next gathering. It's the lowest in sodium with only 86 milligrams, and 27 calories per serving.
Get even more healthy tips straight to your inbox by signing up for our newsletter!
Read more: