What Happens to Your Body When You Drink Oat Milk
There are some hidden downsides lurking amongst the myriad of benefits.
Interest in plant-based milks is higher than ever before, and oat milk has quickly emerged as one of the non-dairy favorites thanks to its creamy taste and dietary appeal. In fact, oat milk has become so popular that Starbucks announced the vegan alternative will be available in all U.S. locations by spring 2021. Dunkin' made a similar move in August 2020, and if oat drink pioneer Oatly's recent $10 billion valuation is any indication, there's much more to come from the oat milk industry.
But what exactly can you expect when you splash some oat milk in your coffee or smoothie? In short, the plant-based milk is healthy and is a great option for those who don't consume dairy, but if you're looking to give oat milk a try, it's crucial that you pick one without any added sweeteners, which can add calories and may have a negative impact on your overall health if consumed on a regular basis.
"[Oat milk] is a good choice for people allergic or intolerant to dairy. It's also low in saturated fat," says Lisa Young, PhD, RDN, and the author of Finally Full, Finally Slim. Dr. Young notes that oats are super healthy—for example, they're a good source of fiber—however, that fiber isn't really passed on to oat milk.
While generally good for you, there are some downsides to drinking oat beverages: "Oat milk has more carbs and less protein than cow's milk," Dr. Young adds.
There's even more to learn about this plant-based milk alternative, so keep reading to see what a team of doctors and dietitians had to say about how drinking oat milk can impact your health. And to clear up any confusion about which oat milk brands you should buy, don't miss our ultimate guide 7 Best Oat Milk Brands to Buy, According to Nutritionists.
Your serum cholesterol and LDL cholesterol may go down.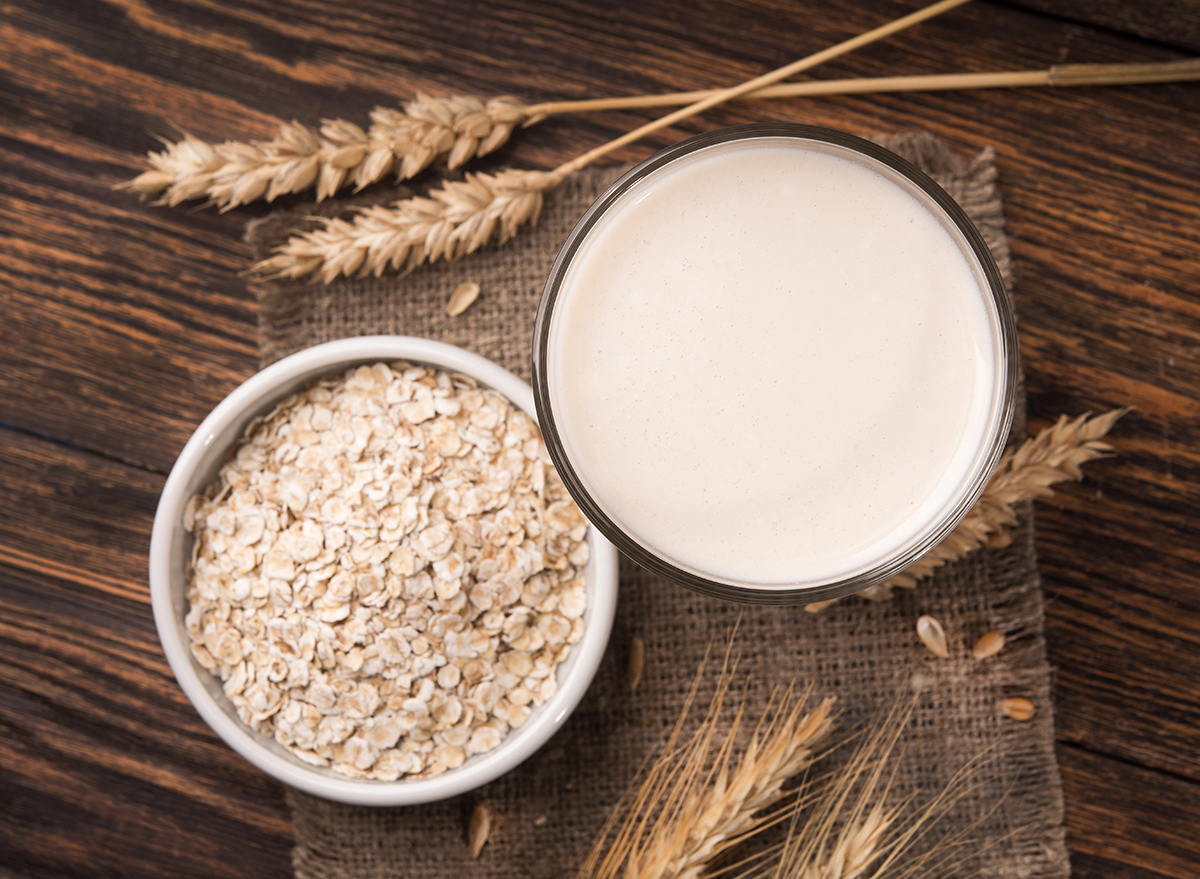 "According to studies, oat milk can effectively reduce serum cholesterol levels," says Dr. Rashmi Byakodi, a health and wellness writer and the editor of Best for Nutrition.
The dairy-free milk can also be effective in lowering your "bad" cholesterol. "Beta-glucans present in oat milk helps to decrease plasma cholesterol and LDL cholesterol concentrations," Byakodi adds. "Also, it is believed that oat milk replaces saturated fat [typically found in dairy milk] with unsaturated fat."
You'll get a boost of B vitamins.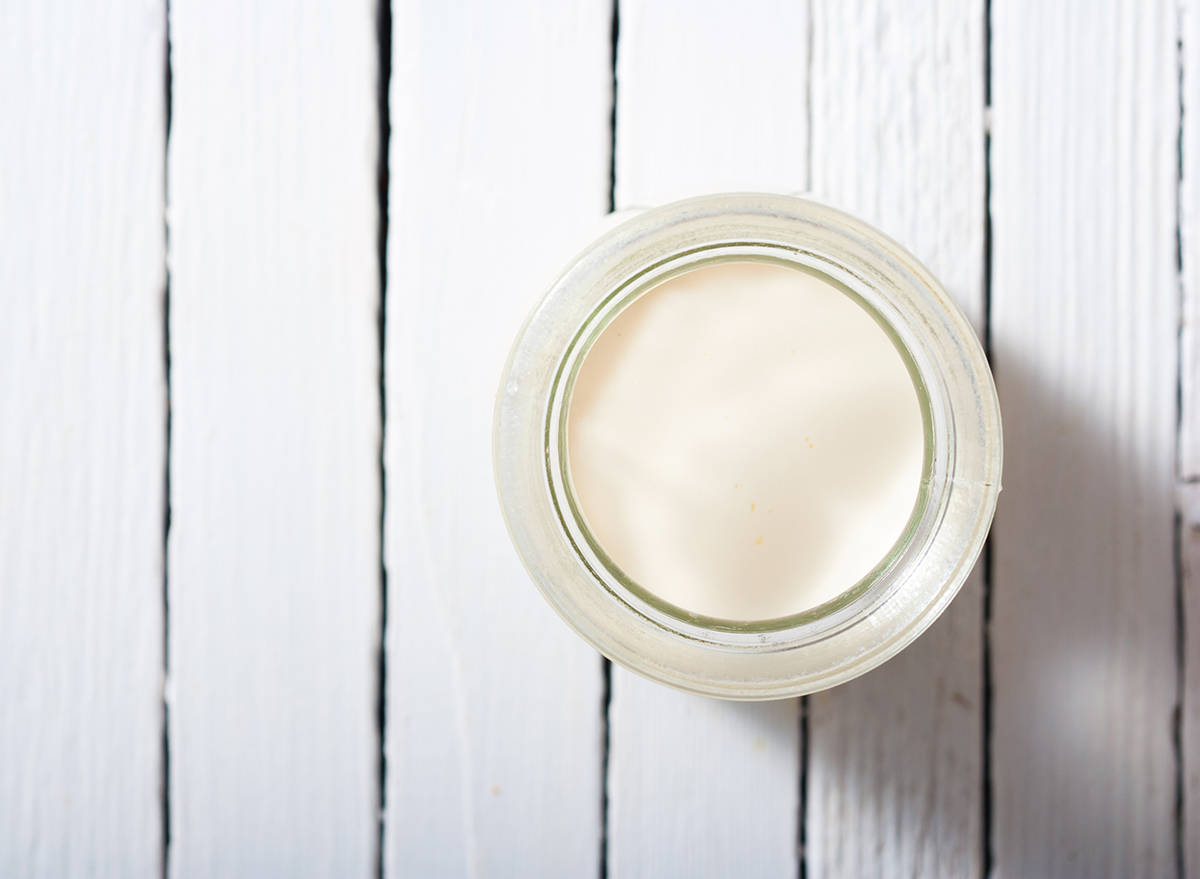 "Oat milk is typically fortified with riboflavin (aka Vitamin B2) and vitamin B12, two vitamins you'd find in cow's milk. The amounts added can vary quite a bit, and you'll typically find between 25-100% of the percent daily value in an 8-ounce cup of oat milk," explains Megan Wong, RD, a Registered Dietitian at AlgaeCal. "Both these B vitamins help with generating energy from the foods we eat. Vitamin B12 is also crucial for healthy red blood cells as well as brain and nerve cells." This B vitamin is also one of the best supplements for vegan or vegetarian diets as it's typically only found in animal-based products but is an essential vitamin for a healthy body.
You'll keep your bones healthy.
"A typical 8-oz cup of oat milk provides around 300-400 milligrams of calcium, some vitamin D, and other bone-healthy minerals like potassium and possibly magnesium. These vitamins and minerals all work together to keep your bones strong and healthy," Wong adds. "For example, vitamin D and magnesium help with calcium absorption while potassium reduces bone breakdown and may help with calcium retention."
It might not be suitable for people with celiac disease or gluten sensitivities.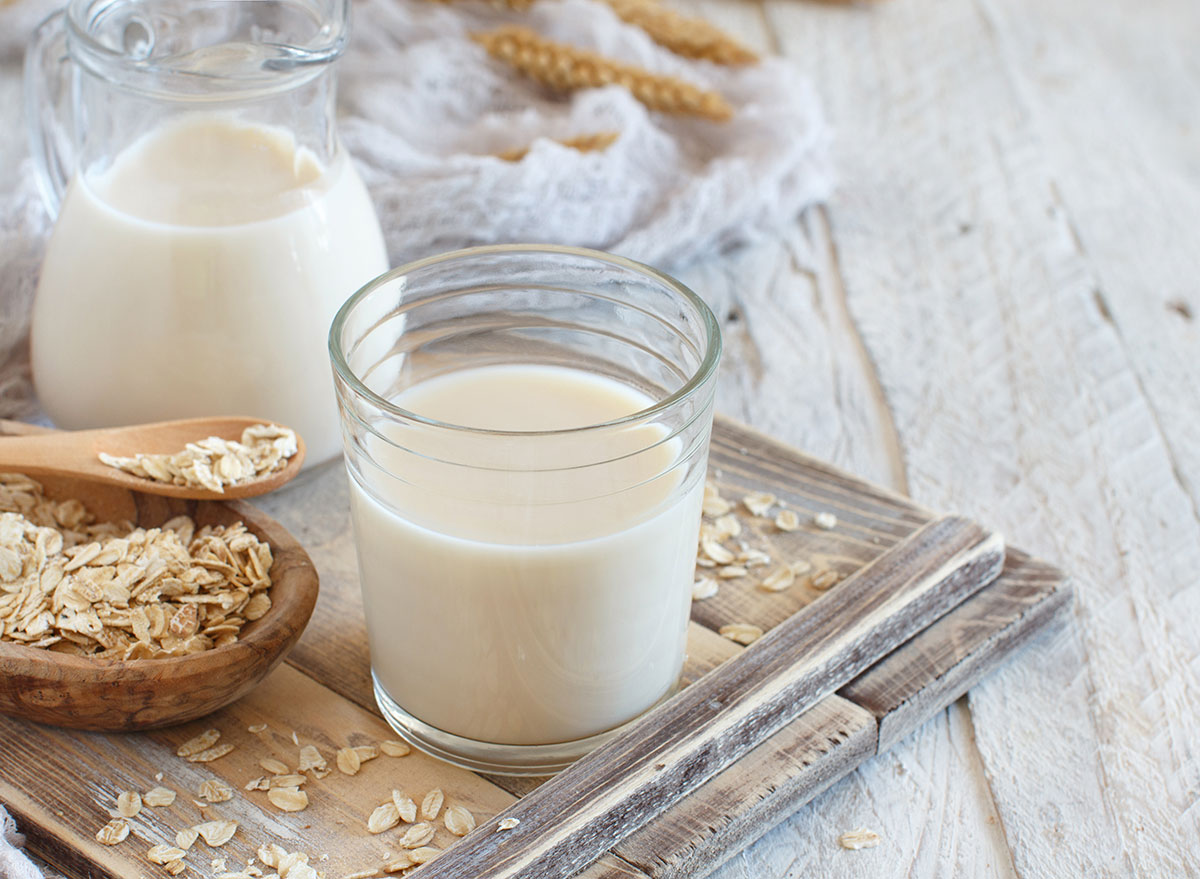 "Oat milk might not be safe for people needing to live gluten-free for celiac disease depending on if the milk is certified gluten-free or uses purity protocol oats," notes Tayler Silfverduk, RD, a registered dietitian specializing in helping people with celiac disease. "Additionally, a small subset of people living with celiac disease react to the protein in oats like they do gluten, and can't tolerate oats at all."
Alicia Galvin, RD, a Dallas-based resident dietitian to Sovereign Laboratories adds: "Oat milk for some people can be an issue if they are gluten sensitive. Oat is very similar in molecular structure to gluten, so the body can get confused and react to the oats as it would to gluten. If someone is gluten sensitive, oats have a high cross-reactivity rate, so you would want to make sure the oat milk is certified gluten-free."
You might not feel satiated.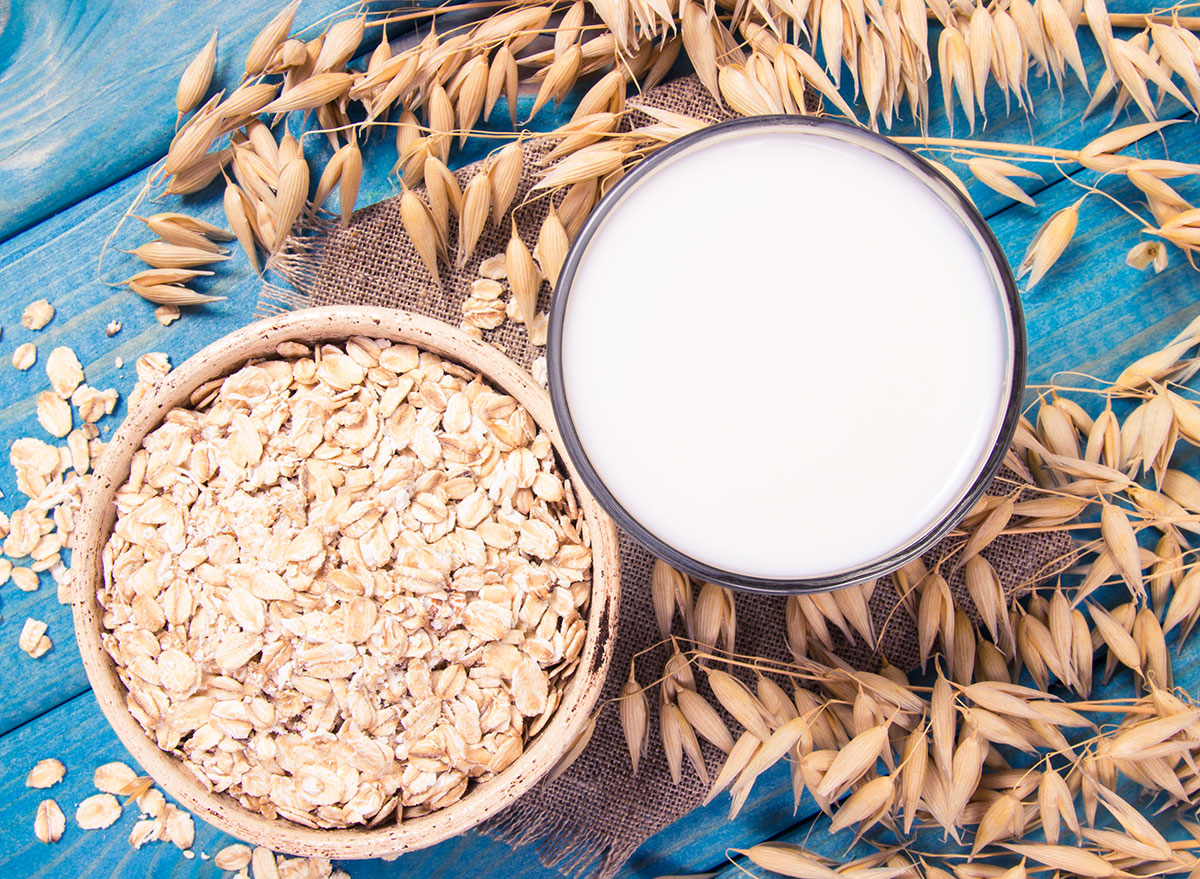 "Oats aren't naturally rich in protein, so neither is oat milk. One cup of oat milk will contain around 3 grams of protein or less per cup, while cow's milk is naturally protein-rich with around 8 grams of protein for the same serving," explains Diana Gariglio-Clelland, RD, CDE, a certified diabetes educator and registered dietitian with Next Luxury.
Lauren Manaker, MS, RDN, a registered dietitian based in Charleston, South Carolina, adds: "When you drink oat milk, you may not feel satisfied. This is because oat milk often does not have the same amount of protein as dairy milk does. Since taking in enough protein is linked to increased satiety, choosing the lower-protein beverage may result in your tummy grumbling shortly after you enjoy it."
Gariglio-Clelland has a solution for the lack of protein in oat beverages: "Adding oat milk to a smoothie with Greek yogurt, protein powder or other protein-rich foods can help stave off hunger and boost satiety."6254a4d1642c605c54bf1cab17d50f1e
It may lead to a sugar spike.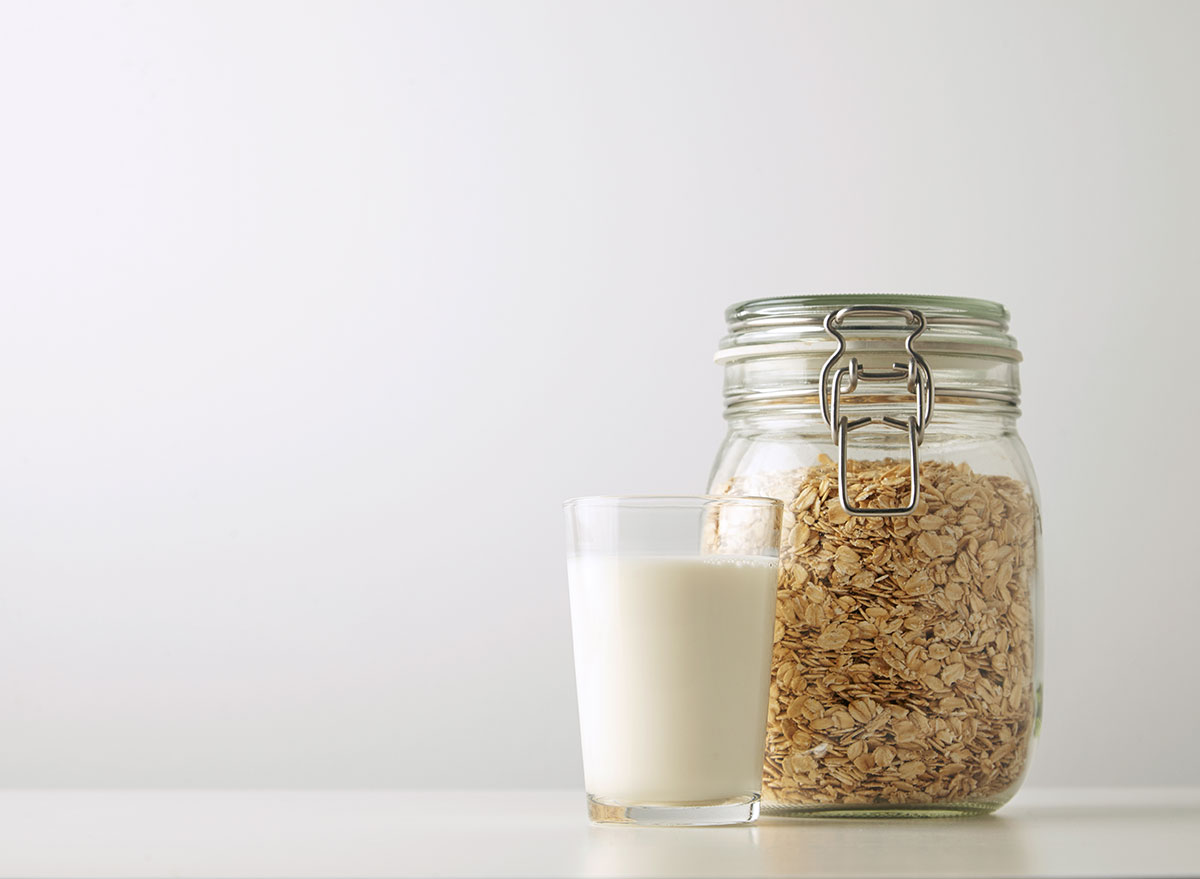 "Oat milk may lead to a sugar spike because oats are high in carbohydrates, and when they are in liquid form (such as milk) they are very high in sugars coming from the carbs when broken down in the body," says Kylie Ivanir, MS, RD, a registered dietitian with Within Nutrition. For example, some oat milk brands may have as much as 13 grams of sugar per serving—even without added sugars. "It is best to choose an option that is unsweetened because it won't have added sugars and sweeteners added to the product." And because oats naturally contain sugar, you should check the nutrition facts panel in addition to making sure the label reads "unsweetened."
And for more, don't miss 7 Healthiest Foods to Eat Right Now.