8 Secrets About Wingstop You Need to Know
There are some things Wingstop would rather keep out of the conversation.
Since its founding in Garland, Texas back in 1994, Wingstop has grown to be one of the most successful fast-casual chain restaurants in America, boasting more than 1,400 locations in this country, according to Rentech Digital. And in fact, the chain has grown well beyond the borders of the United States as well and now has locations in countries ranging from the UK to Saudi Arabia to Panama to Singapore and beyond, and that's not to mention the 100-plus Wingstops slated for development in Canada alone in coming years. While that growth and reach and the diehard love Wingstop fans show for their ranch dip may paint a rosy picture, there are indeed a few secrets about Wingstop you need to know.
Plus, don't miss 10 Secrets Buffalo Wild Wings Doesn't Want You to Know, and skip these 8 Worst Fast-Food Burgers to Stay Away From Right Now.
Wingstop does not want your ideas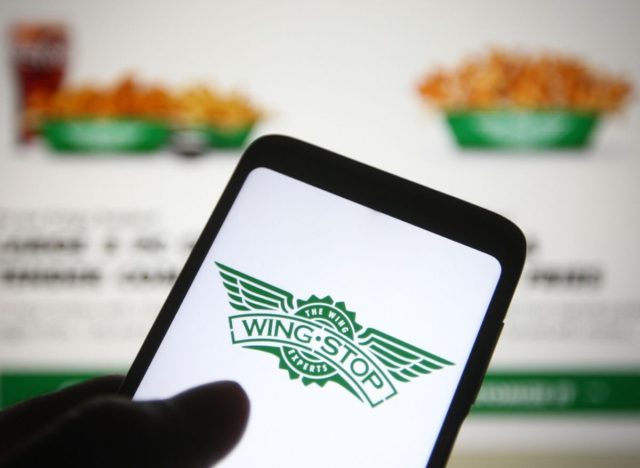 Got a great idea for a new sauce or breading or combo meal? Well, keep it to yourself. Wingstop has an actual written policy against even reviewing and considering "unsolicited ideas" for new menu items or updates from any outside parties. According to their onsite FAQ, the purpose is to protect themselves from liability in case they "create a new concept through our internal experts" only to have "a customer/fan submit a substantially similar idea." So keep your ideas to yourself. Or share them elsewhere.
It's easy to get free fries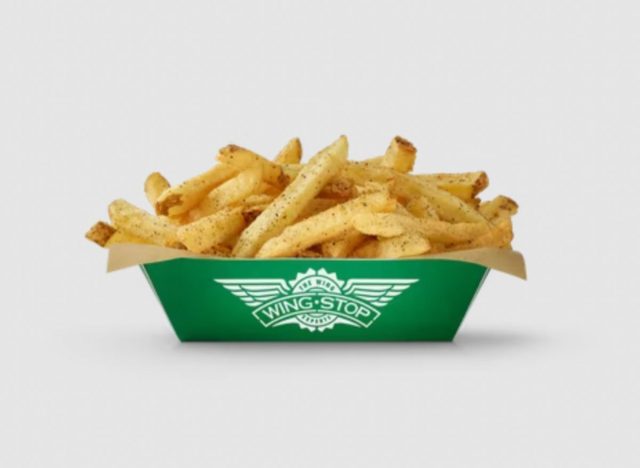 According to a Wingstop employee who conducted an Ask Me Anything" question-and-answer session on Reddit, it's easy to get a free order of fries from Wingstop. All you need to do is fill out a brief survey indicated on the bottom of your receipt for a voucher.
You are supposed to get an extra wing per 10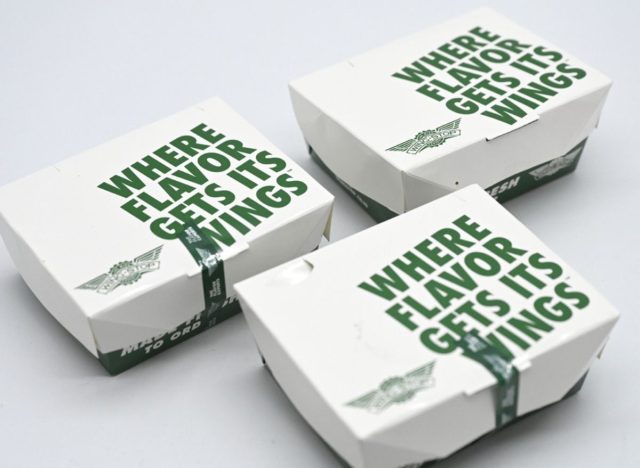 According to the same Wingstop employee's Q&A on Reddit, the chain's policy is to add an extra wing per order over 10 pieces, so a 10-piece order should have 11 wings, a 20-piece order 22, and so on. If you miss out on these bonus wings you can ask about the policy.
Wingstop employees have done some pretty gross stuff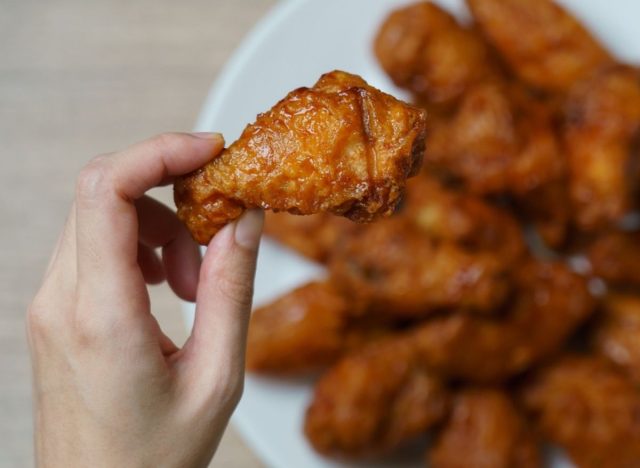 Wingstop has dealt with several controversies over the years following revelations of improper employee behavior. In 2016, Wingstop was in the headlines after an employee at a Colorado location allegedly put her face into a bucket of raw chicken, reported FOX 13 Memphis. Last year, in 2021, according to Daily Dot, video captured a Wingstop employee and manager getting into a heated shouting match that ended with the worker fired on the spot. And also last year a video emerged showing an employee handling food without gloves, though many came to the worker's defense, saying clean hands are safe for food handling.
Their "boneless wings" aren't wings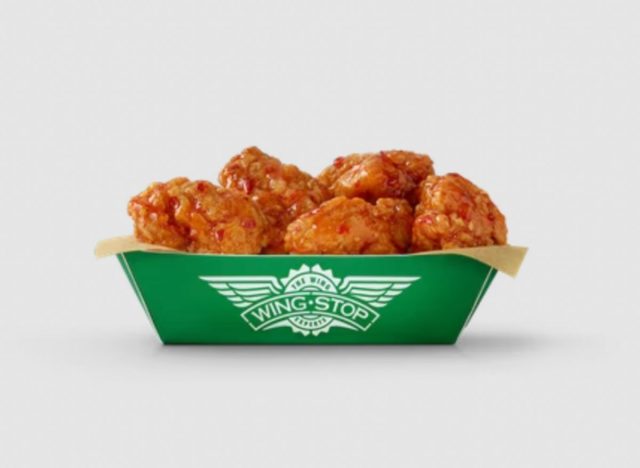 Wingstop's "boneless wings" are not actual 'wings' at all. According to Business Insider, they are chicken nuggets made using breast meat. And they are a whole lot cheaper than actual wings, of which the supply is especially tight right now, thus a great profit driver.
The wings are sodium and fat bombs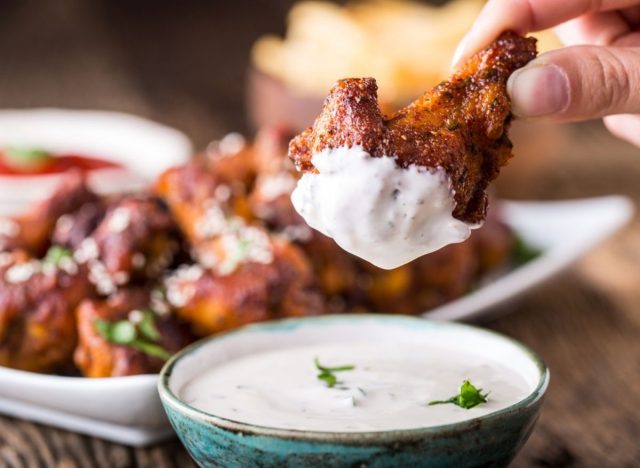 Not that you thought chicken wings were a health food or anything, but the stats are still pretty grim. One Cajun Wing, for example, has 310 milligrams of sodium. So a serving of 10 wings? That's 3,100 milligrams of sodium, and that's more than you should have in a whole day, according to the FDA. Plus, a single Garlic Parm Wing or Lemon Pepper Wing will deliver eight grams of fat, so eat 10, and that's 80 fat grams, and that's over the daily max, says the Cleveland Clinic. Add any sides and the frightening numbers just keep going up.6254a4d1642c605c54bf1cab17d50f1e
Wingstop's stock prices have plummeted
From an all-time high price of more than $183 per share in mid-September of 2021, the value of a share of Wingstop has fallen precipitously of late, says Yahoo! Finance. Wingstop stocks were selling in the $170 range as of the start of 2022, but as of the time of this writing are far down in the $120 range. That said, seven years ago around the time of the chain's IPO, the stock was only worth about $30 per share.
Wingstop is owned by a hedge fund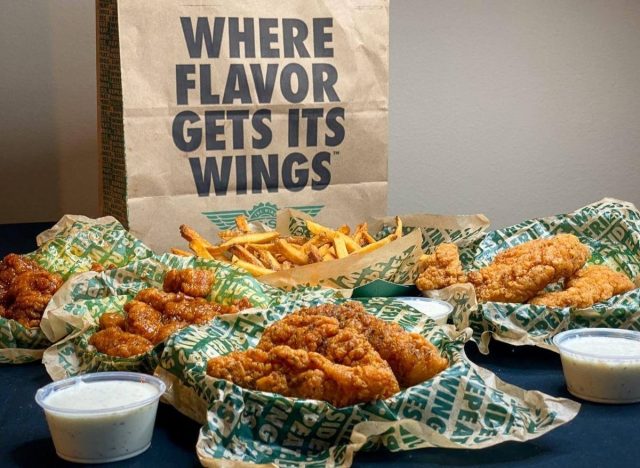 The people who own Wingstop are primarily intent on making money, not making meals. The company was acquired by one investment group nearly 20 years ago, then bought by its current owner, Roark Capital Group in 2010, according to National Restaurant News. Roark Capital Group also owns The Cheesecake Factory, Orange Theory Fitness, Massage Envy, and many more seemingly disparate brands.
READ MORE: The Best and Worst Menu Items at Wingstop
Steven John
Steven John is a freelancer writer for
Eat This, Not That!
based just outside New York City.
Read more about Steven