The #1 Worst Item at Taco Bell, According to a Nutritionist
Stay away from this salt and carb bomb.
Taco Bell might satisfy those late-night cravings for something meaty, crispy, and greasy, and it's okay to indulge on occasion, but you don't want to make ordering from the chain a regular habit. Unfortunately, almost all of Taco Bell's menu items are less than ideal for you health-wise as they're super high in calories, refined carbs, saturated fat, and sodium, so you'll likely feel bloated and hungry shortly after eating. While the chain offers two power bowls (or salads) to choose from, the whole menu itself lacks nutritional value.
Plus, portion control is challenging here. One very basic taco alone has around 200 calories, and you'll likely end up eating two or three in one sitting, along with a side and drink, too.
While there are some major diet busters on this menu, there's one Taco Bell item is you should avoid at all costs.
RELATED: The #1 Worst Burger to Order at McDonald's
The #1 Worst Item at Taco Bell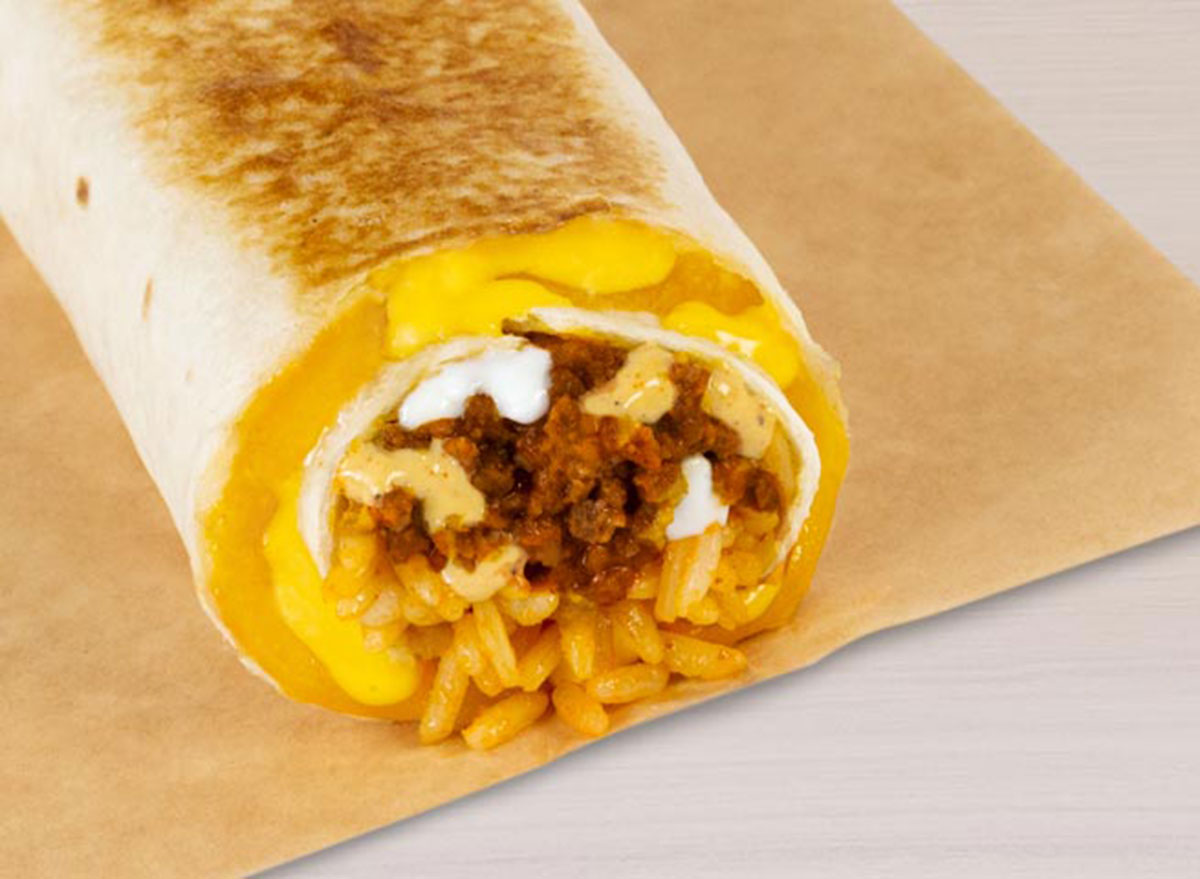 PER SERVING (QUESARITO)
: 650 calories, 33 g fat (12 g saturated fat, 0.5 g trans fat), 1,390 mg sodium, 67 g carbs (6 g fiber, 5 g sugar), 22 grams protein
"There are several menu items at Taco Bell that have a concerning nutrition panel, but the Quesarito is the worst item in my professional opinion," says Lisa Richards, certified nutritionist and author of The Candida Diet. "It has some hidden nutritional concerns, from calorie amount to fat content."
Richards says that burritos often get a good nutritional rap, but that doesn't mean all burritos are good for you. "Burritos are generally seen as a healthier option because they can be packed with nutrient-rich ingredients," she explains. These seemingly redeemable ingredients include avocado, proteins like eggs or chicken, and vegetables.
However, some burritos, like the Quesarito, bypass veggies and lighter ingredients for fat-loaded ones including beef, sour cream, cheese, beans, and rice. Yes, the Quesarito is stuffed with yet another carbohydrate source alongside an already carbohydrate-laden burrito wrap. Yikes.
The ingredients within this burrito are all high in fat, calories, and sodium. Sour cream, beef, and cheese pack on the fat, especially saturated fat, which can heighten the risk of cardiovascular disease, high blood pressure, high cholesterol, and stroke, according to research. So, the Quesarito surely isn't doing your ticker any favors.
It also packs a whopping 1,390 milligrams of sodium per serving, which is pretty close to FDA's recommended daily maximum of 2,300 milligrams. And this is in just one burrito, mind you!
What's a better option?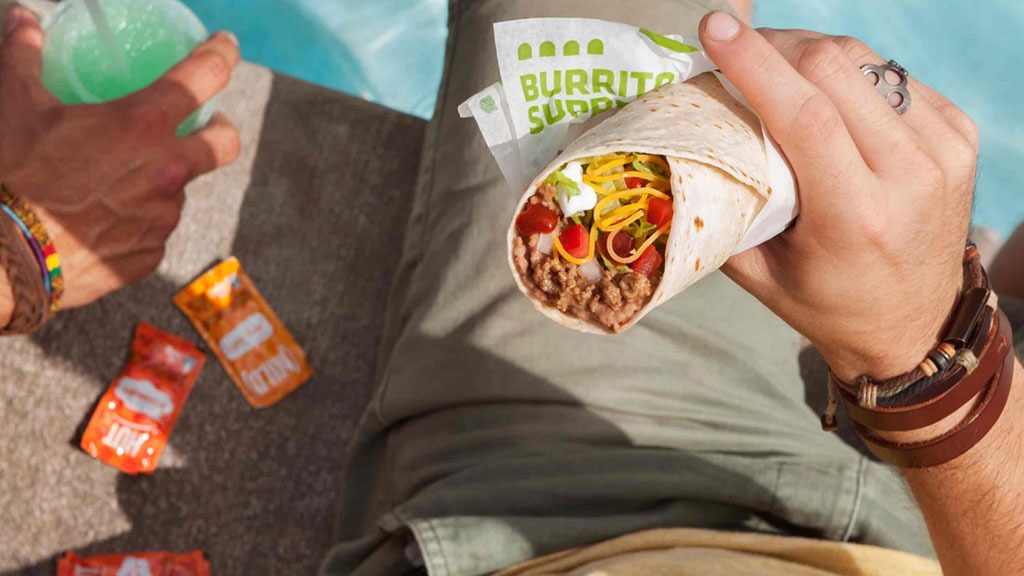 PER SERVING (BURRITO SUPREME WITHOUT SOUR CREAM)
: 370 calories, 11 g fat (6 g saturated fat, 0 g trans fat),1,110 mg sodium, 51 g carbs (9 g fiber, 4 g sugar), 16 grams protein
Richards recommends the Burrito Supreme without the sour cream as a better alternative that's still pretty close in satisfaction factor.
"This option has vegetables, and by removing the sour cream, the fat and calorie content drops significantly," she says.
Another solid option might be a power bowl, where you can ditch that wrap. Or you can even just eat one plain taco and add a side of beans and rice, which will provide some fiber and a bit of extra protein.
But if you're having one of those days when nothing but a Quesarito will do, that's okay–you can still lighten the caloric load. "For anyone wanting to stick with the Quesarito, it can be made healthier by making it Fresco, which is a menu option where fresh vegetables like lettuce and pico are added," Richards recommends. Swap out the dairy for the "fresco" option and you're already eating better.
This will increase the nutritional value of the meal, adding in more fiber, vitamins, and minerals, to keep you fuller longer. And without the sour cream, it'll cut down slightly on calories and fat.
For more, check out:
And don't forget to sign up for our newsletter to get the latest restaurant news delivered straight to your inbox.
Isadora Baum is a freelance writer, certified health coach, and author of 5-Minute Energy.
Read more