8 Non-Dairy Milks Made With the Highest Quality Ingredients
Here's how to spot a plant-based milk that's actually good for you.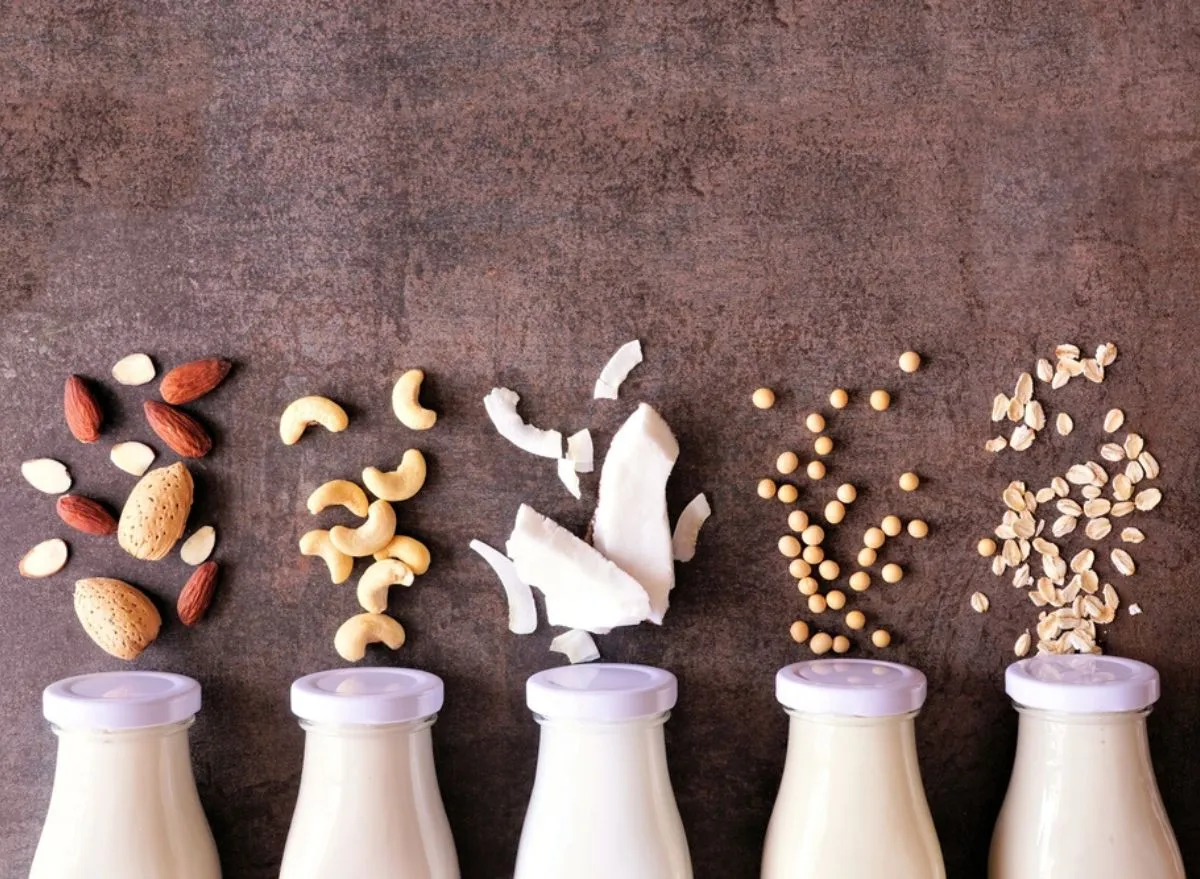 This post contains affiliate links. If you use these links to buy something, we may earn a commission.
Whether it's your morning bowl of cereal or fruit smoothie, you may be looking for a non-dairy milk alternative to use. If you're lactose intolerant or looking to decrease calorie consumption from this popular kitchen staple, non-dairy milks may be the way to go. With that said, there are dozens available at the grocery store—however, they aren't always the best for you and might not be made from the highest quality ingredients.
According to Euromonitor International, the popularity of non-dairy milks has skyrocketed over the past few years as many are looking to manage their digestive health or because it simply makes them "feel healthier."
"Plant-based milk brands often rely on oils and gums to stabilize and thicken the product while using less of the high-quality ingredients, like nuts or oats," says Danielle McAvoy, Senior Manager of Nutrition for Territory Foods.
Additionally, you'll want to look for simple ingredients that you can read. "Finding a nut milk with only two to three ingredients—like filtered water, organic nuts, and possibly sea salt, would be an optimal choice," says Sarah Koszyk, MA, RDN, and co-founder of MIJA.
Keeping all of this information in mind, here are eight non-dairy, plant-based milks that use the highest quality ingredients that you can pick up on your next trip to the grocery store. Plus, don't miss 8 Granola Bars Made With the Highest Quality Ingredients.
Táche Original Blend Pistachio Milk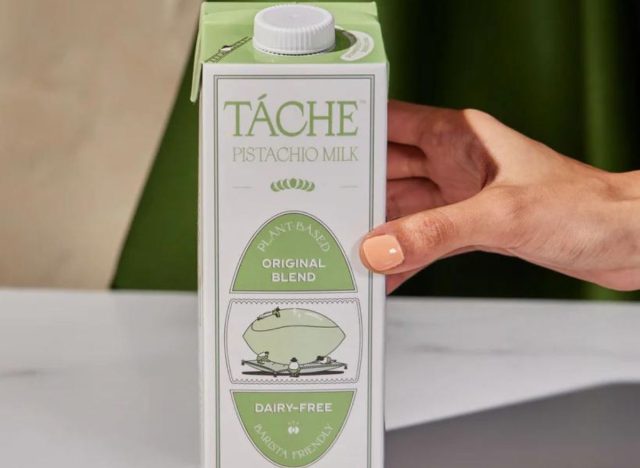 McAvoy recommends opting for non-dairy milks with high-quality ingredients like nuts. As the name suggests, this non-dairy milk has pistachios listed as its second ingredient right next to filtered water. Plus, this milk alternative has no added oils like canola/rapeseed that are typically found in other plant-based milks.
Silk Organic Unsweetened Soy Milk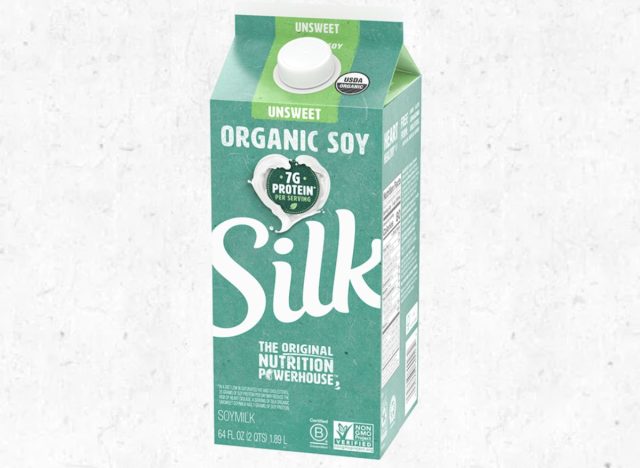 Soy milk is a great non-dairy option for your morning cup of coffee or strawberry-banana smoothie. "If you're vegetarian or vegan, you'd likely benefit from a non-dairy milk that is higher in protein, like soy or hemp milk," says Breanna Woods, RD, registered dietitian for Blogilates. This soy milk has 7 grams of protein per serving which is more in alignment with regular dairy milk which has an average of 8 grams.
Mooala Original Bananamilk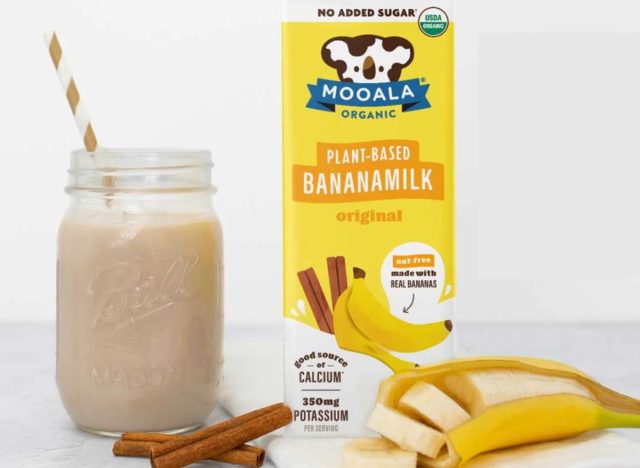 If you're a fan of bananas, then you'll probably fall head over heels for this banana milk. With less than five ingredients including filtered water, organic bananas, and organic sunflower seeds, this non-dairy milk is ideal for those looking to get a significant amount of calcium with roughly 25 percent per serving. Although it may not have as much protein as soy milk, it's an optimal choice if you're looking for something more flavorful.
Elmhurst 1925 Cashew Milk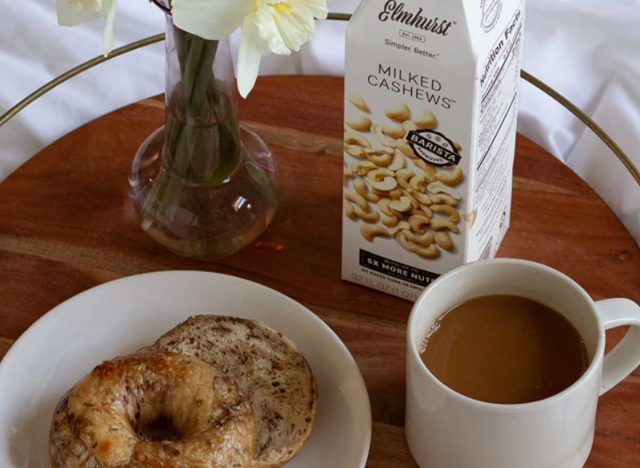 It seems like there are non-dairy milks from nearly any type of nut you can think of and cashews are no exception. McAvoy recommends finding a non-dairy milk with a simple high-quality ingredient list and this cashew milk has just five easy-to-read ingredients: filtered water, cashews, cane sugar, salt, and natural flavors. There's even a decent amount of protein with 4 grams per serving making it a popular staple in many households.
Thrive Market Organic Coconut Milk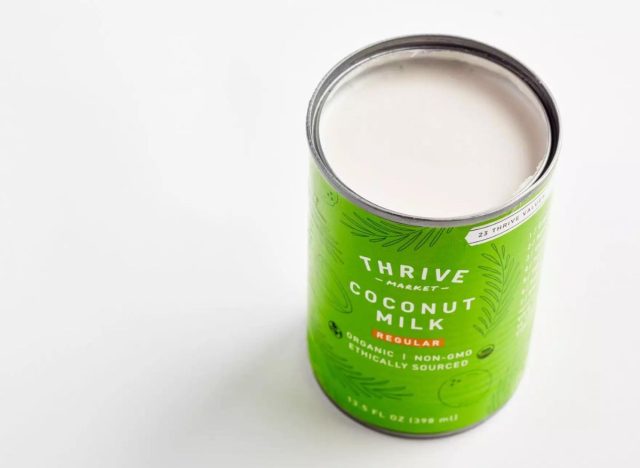 While coconut milk typically has more total fat and saturated fat than other non-dairy milks, it does have just two ingredients—water and organic coconut extract. McAvoy suggests choosing options that have no added sugars and artificial flavors and this non-dairy milk adheres to those recommendations. It doesn't have any protein though, so you may want to add a more protein-dense food to your meal.
Elmhurst 1925 Almond Milk
McAvoy recommends Elmhurst products when looking for non-dairy milks with high-quality ingredients. Almond milk is a popular choice, especially for cereal, tea, and coffee. This almond milk has two ingredients: filtered water and almonds—that's it. You can't really get much better than that in terms of ingredients in addition to its 5 grams of protein.
Elmhurst 1925 Walnut Milk
You've probably never heard of walnut milk before and that's quite alright. With just two high-quality ingredients (filtered water and walnuts), it's safe to say that this non-dairy milk has a nutrition label you can feel good about. Plus, it has a rich, oaky flavor making it ideal for a cup of coffee.6254a4d1642c605c54bf1cab17d50f1e
Vanilla Almond Non-Dairy Milk
Pour yourself a cup of vanilla almond milk for a sweet flavor profile that'll bring a smile to your face. With just five high-quality ingredients (almond milk, dates, sea salt, and vanilla extract), this non-dairy milk is a great option for cereals and smoothies.
Casey Clark
Casey Clark is a current journalism student at Hofstra University with a passion for food, beauty, and entertainment.
Read more about Casey