13 Old-Fashioned Seafood Recipes To Make Tonight
There's a reason these classic seafood preparations have stood the test of time.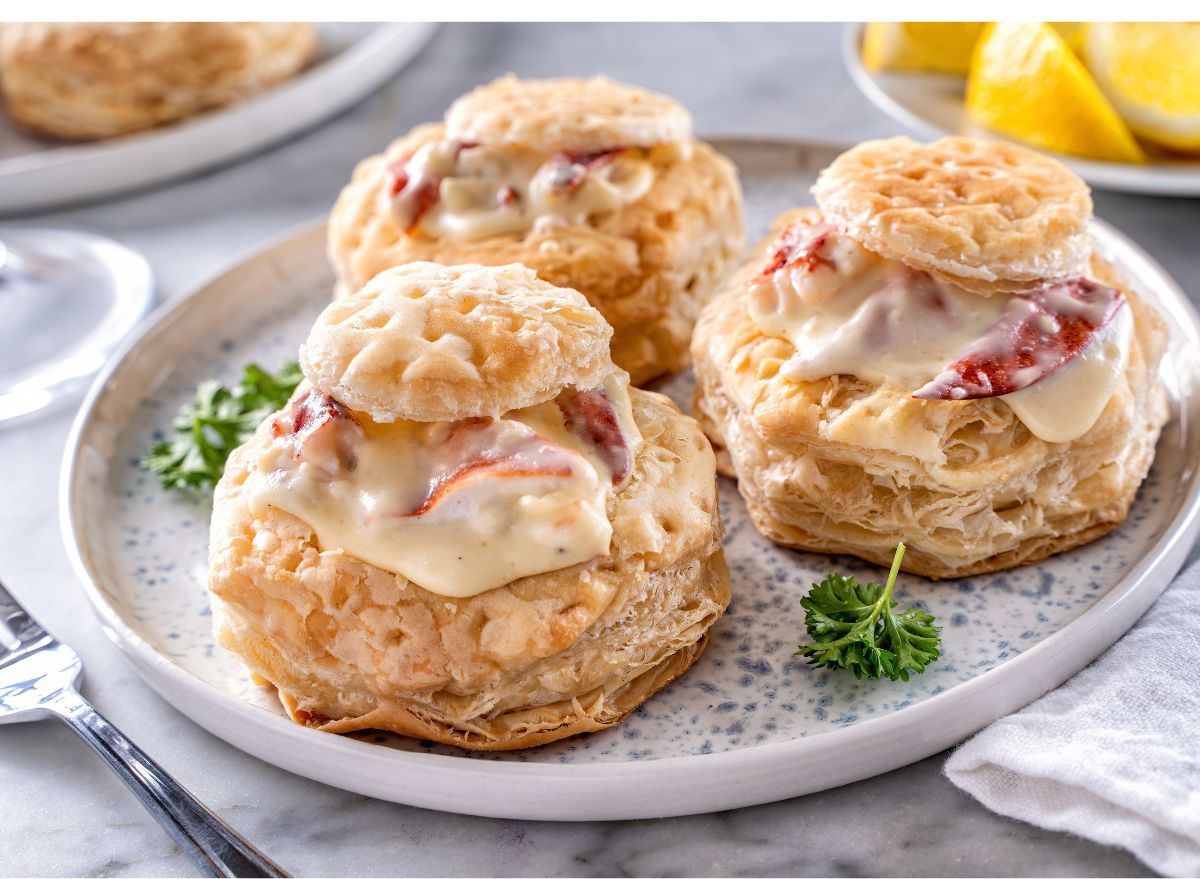 A dinner or afternoon filled with seafood is considered a luxury. What evening isn't made better with a buttery shrimp scampi or a lobster tail or two? And, when you want to splurge at the beach, a lobster roll is a guilty pleasure that few can resist. But when you've run out of recipes—or have made too many rounds of baked salmon or shrimp stir-fry—it's time to lug out the old cookbooks and find out what old-fashioned seafood recipes from the past you're been missing.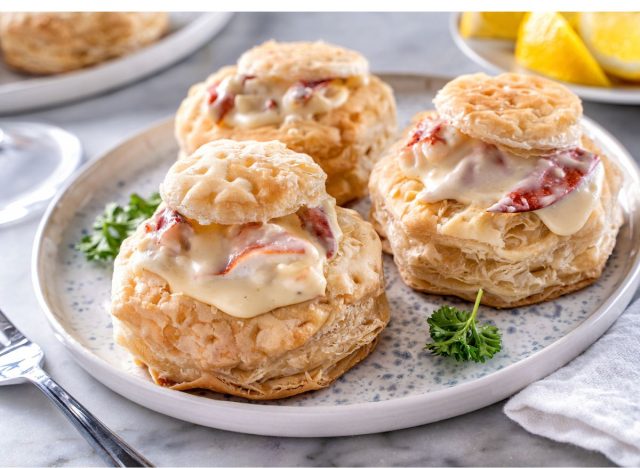 This classic dish is rumored to have been dreamed up in the late 1900s at Delmonico's Restaurant in NYC, though a few origin stories abound, according to What's Cooking America. To make it, take cooked lobster and bathe it in a luscious cream, egg, and cognac sauce, then pile that all in an edible puff pastry bowl.
Get Tasting Table's recipe for Lobster Newburgh.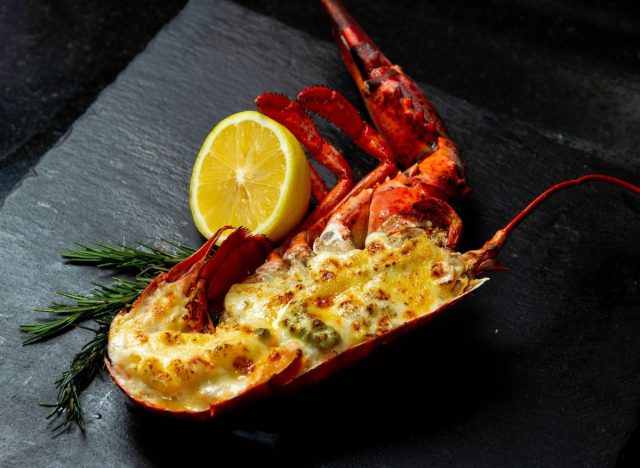 Classic Lobster Thermidor is a delicate dish of cooked lobster tossed with a wine and cream sauce that is similar to the one used in Lobster Newburgh. Instead of tossing the meat in a puff pastry shell, the delicious mixture is returned to its split shell, topped with Parmesan cheese, and broiled until bubbly. If you want to impress someone, this is the dish to make.6254a4d1642c605c54bf1cab17d50f1e
Get Food and Wine's recipe for Lobster Thermidor.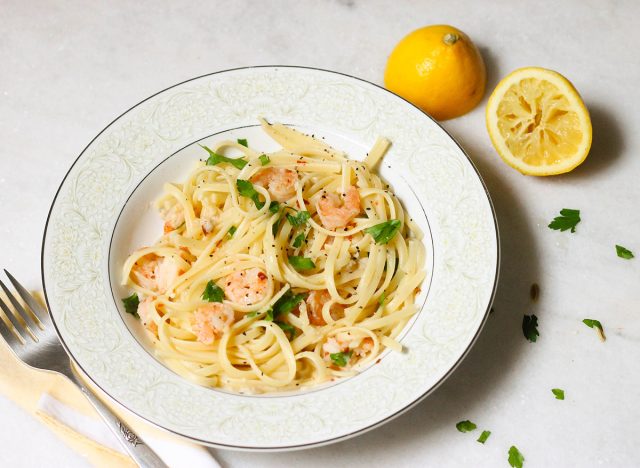 Okay, this one isn't exactly obscure. You'd be hard-pressed to find someone that doesn't love this garlic-butter-tinged shrimp dish. Whether tossed over traditional linguini or lightened up with zucchini noodles, you can't go wrong with classic shrimp scampi. Here is a great lightened-up shrimp scampi recipe that you can feel good about enjoying any time.
Get our recipe for Shrimp Scampi With Linguine Pasta.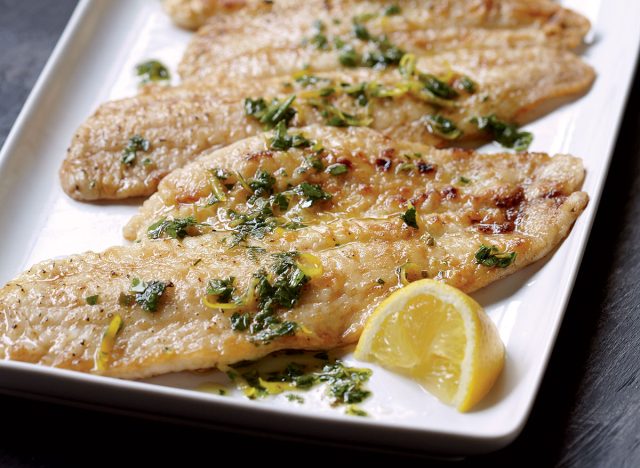 Meuniere is a style of cooking and also a French sauce that, like many other French dishes, just sounds complicated. You can use sole or any mild white fish—like trout—to make this dish. Simple coat it in flour and saute it in butter, then remove the fish and create a sauce in the pan with brown butter, lemon juice, and parsley. By the way, you can turn this dish into 'almondine' with some roasted almond slivers.
Get our recipe for Sole Menuière.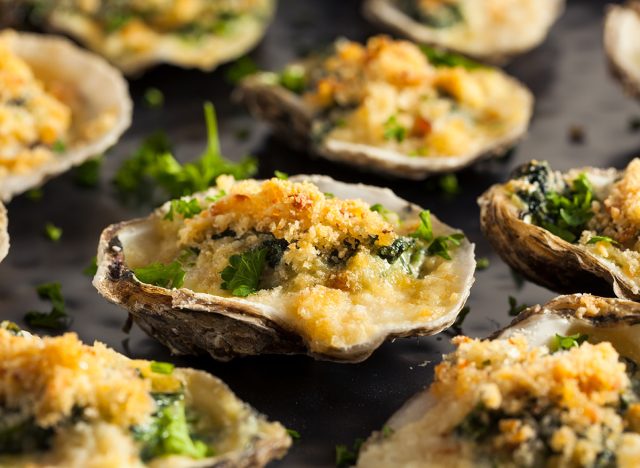 The rich-sounding dessert—named after wealthy oil magnate John D. Rockefeller—lives up to its name. The dish consists of oysters on the half shell with a garlic-butter sauce and breadcrumbs. Many modern takes, like this one from Tyler Florence, add spinach and cheese. Fun fact: Oysters Rockefeller was created as a substitute for one of the other classic seafood dishes on this list, escargot.
Get Tyler Florence's recipe for Oysters Rockefeller.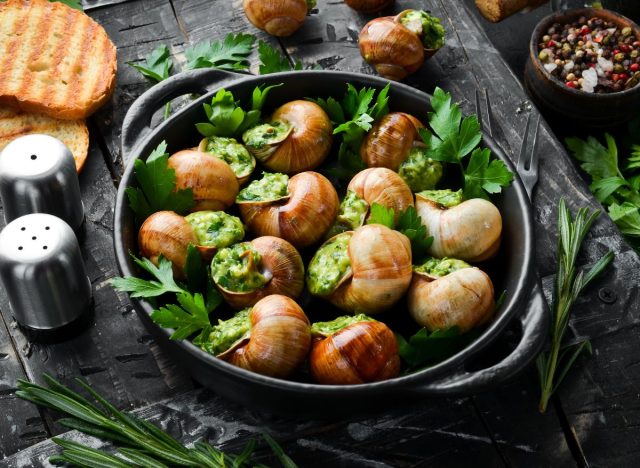 You either love or loathe escargot, French for snails. Many cultures eat these invertebrates—which are considered seafood even though some species dwell on land. They are best bathed in a white wine-garlic sauce and have a very mild flavor.
Get Bon Appetit's recipe for Escargot.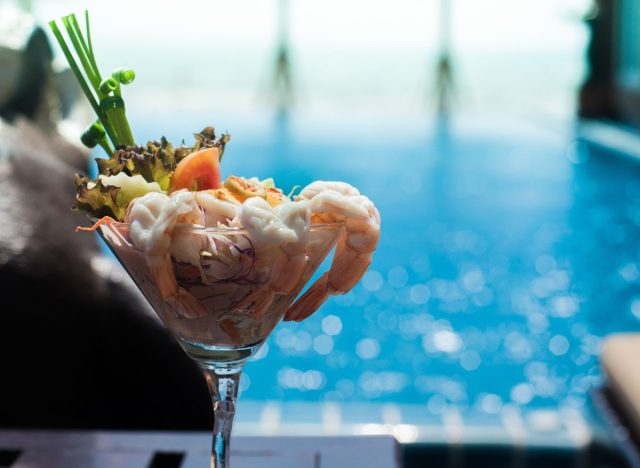 This cold crab salad is thought to have been whipped up in the West, most likely in California or Seattle, where Dungeness crab is popular and plentiful. The cold crab meat is tossed with a pink mayonnaise sauce flavored with ketchup, onions, garlic, and pickles or relish.
Get EatingWell's recipe for Crab Louie.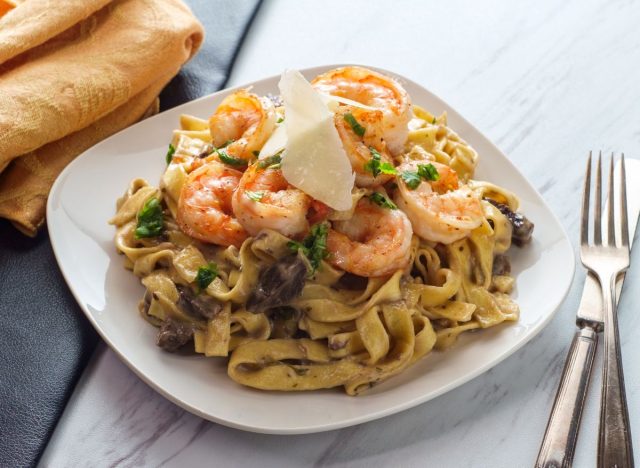 Shrimp Victoria was served at all of the big old-school New Orleans restaurants like Brennan's and Commander's Palace. The dish generally consists of sauteed shrimp in a light sour cream and mushroom sauce with fresh basil and is often served over rice.
Get Nola.com's recipe for Shrimp Victoria.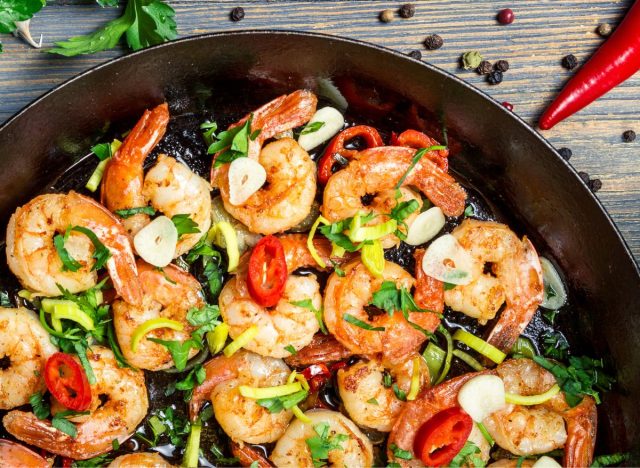 Head to New Orleans again for a taste of this old-school classic shrimp dish. Obviously big Gulf shrimp work best for this as the shrimp are the star in this dish. Round everything out with roasted potatoes, mushrooms and veggies tossed in a lemon butter sauce.
Get Serious Eats' recipe for Shrimp Clemenceau.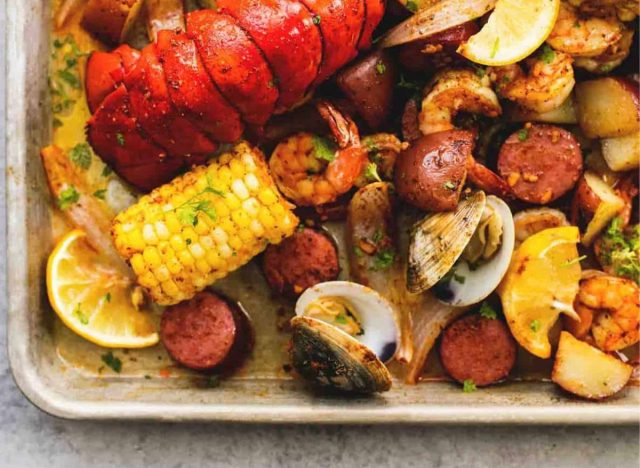 From the list above you might assume that old-fashioned seafood dishes are fancy, but that is not so. Originating in Gulf and Atlantic coastal regions, all kinds of seafood can be tossed in a huge pot and boiled with vegetables, but traditionally crawfish or shrimp are the most plentiful. Seafood boils are meant to casually feed a crowd and, while they can be held anywhere, a beach at dusk is hard to beat. Don't forget to pair with a cold beer! Hint: Use a sheet pan like the recipe below does to make a clam boil or bake right at home any night of the week!
Get Creme de la Crumb's shortcut recipe for Sheetpan Clam Bake.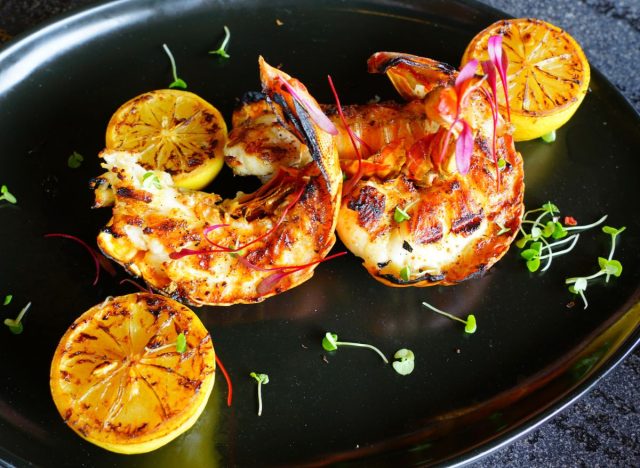 This preparation of lobster is decadence at its finest. Watch Chef Ludo, born and raised in France, prepare this dish perfectly. He takes lobster tails, then curls them onto themselves, wraps them with bacon, and ties them together with kitchen twine. He makes an over-the-top sauce with red wine, truffles, and foie gras. After searing the lobster rounds or tournedos, he drapes the sauce over. You won't find many dishes as luxurious as this one!
Get Chef Lufo's recipe for Lobster Tournedos.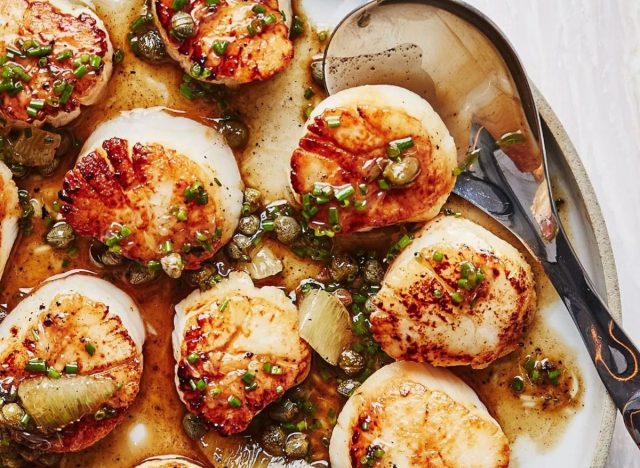 Grenobloise sounds fancy but it is really just a classic French sauce made with lemon and capers hailing from the city of Grenoble, explains Food and Wine. Getting the best quality scallops for this dish is essential because the delicate sauce lets the seafood shine. P.S. this sauce can also work with other types of fish.
Get Food and Wine's recipe for Scallop Grenobloise.
Bouillabaisse and Cioppino
Bouillabaisse is a classic French seafood stew. Typically clams, shrimp, and flaky white fish are simmered in a fish stock broth of garlic, fennel, and tomatoes with a touch of saffron. The California nod to this dish is a more tomato-heavy dish called cioppino, which you absolutely also must try.  If you want to make either of these dishes, take the advice from Serious Eats and use whatever is freshest. When you cannot use Mediterranean fish or Dungeness crab from the San Francisco bay, use the freshest, most affordable fish you can find.
Get our recipe for Classic Cioppino.
The trick to all of these old-fashioned seafood recipes is to use the freshest seafood available to you. Don't be afraid to use substitutes when necessary. Maybe you can't spring for fresh Maine lobster for Lobster Newburg; use shrimp instead! And classic sauces like Grenobloise and Meunière will work great with sauteed chicken breasts. Sometimes true beauty of the classics, in the end, is the simplicity.