10 Most Overrated Items at Trader Joe's, According to Customers
Fans often swoon over the many specialty products at Trader Joe's—but not all of them live up to the hype.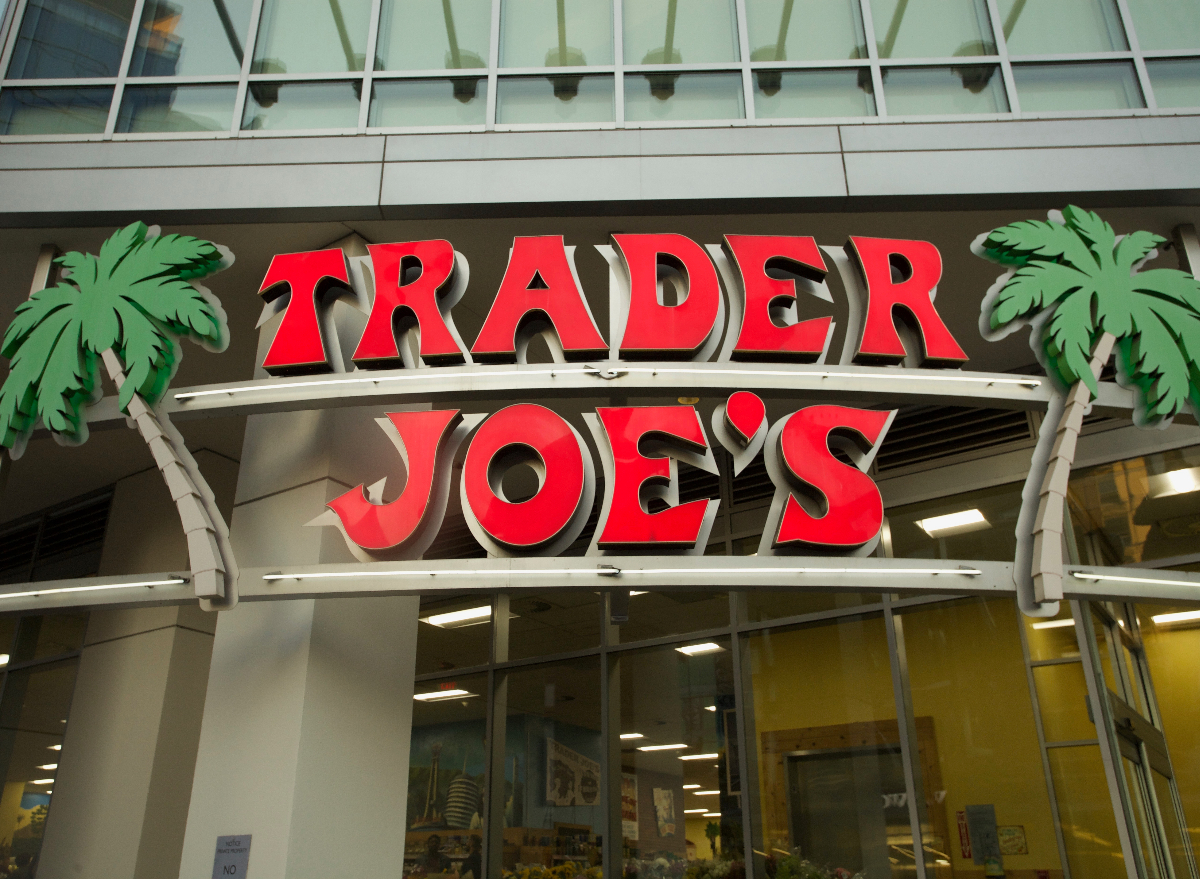 Fans are enamored with Trader Joe's for so many reasons. Perhaps the biggest one is the beloved grocer's revolving door of new, unique, and intriguing food products, which routinely get the internet buzzing.
Thousands of faithful Trader Joe's shoppers vote on their favorite items every year during the retailer's Customer Choice Awards, but the chatter about products runs non-stop on fan pages across Instagram, TikTok, and Reddit.
The level of hype can have various effects beyond just attracting big crowds to the store. In some cases, scalpers start buying up the hottest items and selling them for higher prices on eBay!
Then there's the inevitable backlash. Some products become so glorified that the real-life experience can easily fall short of expectations, leaving customers disappointed and wondering what all the fuss was about.
Social media provides plenty of space to vent these frustrations, too, and digitally savvy shoppers often take full advantage.
These are some of the most coveted Trader Joe's products, which have garnered a lot of praise over the years—maybe too much praise for what they're really worth, according to critics.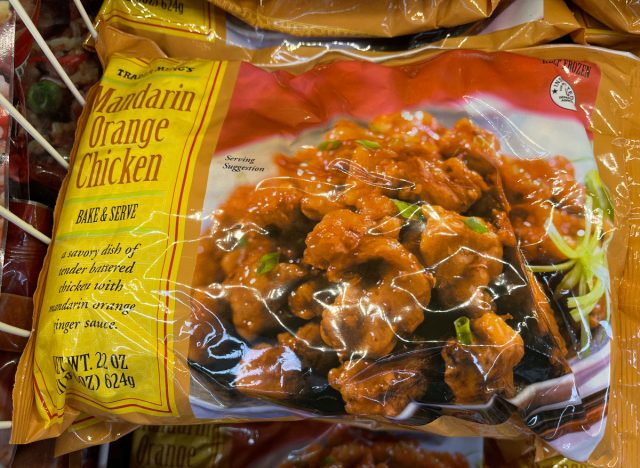 If you are a frequent Trader Joe's shopper, then you probably know all about the Mandarin Orange Chicken. The popular freezer-aisle meal has won the yearly customer-choice poll so many times that Trader Joe's decided to take it out of contention in 2023 and elevate it to "Hall of Fame" status instead. But some customers just don't understand the lofty pedestal treatment at all. "To compare this to Panda Express Orange Chicken is a crime," wrote one reviewer for The Vindicator. "The chicken is dry with a strange texture and I didn't like how overly sweet the sauce is." A Redditor called the dish "practically inedible," adding, "The meat quality sucks!"
Everything but the Bagel Seasoning
An instant hit when it debuted in 2017, Everything but the Bagel Seasoning got all of the hype in the world, with Instagrammers sprinkling the stuff on virtually every kind of food you can imagine. Trader Joe's soon started doing the same, launching a whole line of new Everything-seasoned products from chips to nuts to yogurt dip. It's all become too much. This writer personally believes the seasoning is way too garlic heavy. One reviewer on She Speaks agrees, writing that it's "great if you like salt and are anti-vampire."6254a4d1642c605c54bf1cab17d50f1e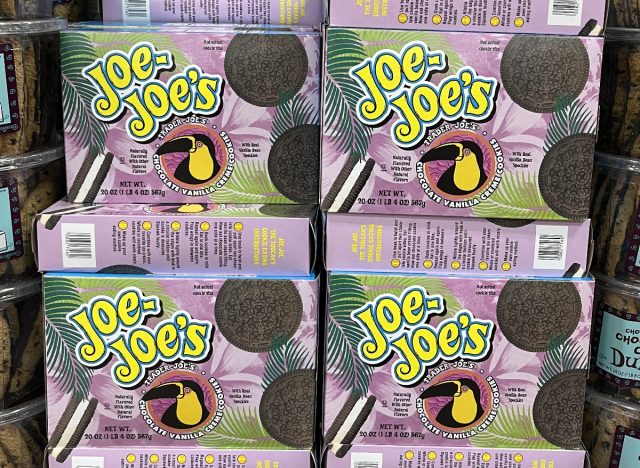 Trader Joe's answer to the Oreo now comes in many flavors from the classic chocolate to peanut butter, mango, and even seasonal varieties like pumpkin and candy cane. Instagram's @traderjoeslist recently spotted a new cinnamon bun flavor. Purists insist, however, that the cream-filled cookie dupe will never live up to the original. "[I] tried Joe-Joe's a few times and they (unlike Oreos) are not worth the sugar/calories," wrote one Redditor. Another complained that the product is "drier" than the original Oreo, adding that "Trader Joe's brand offers no point of differentiation."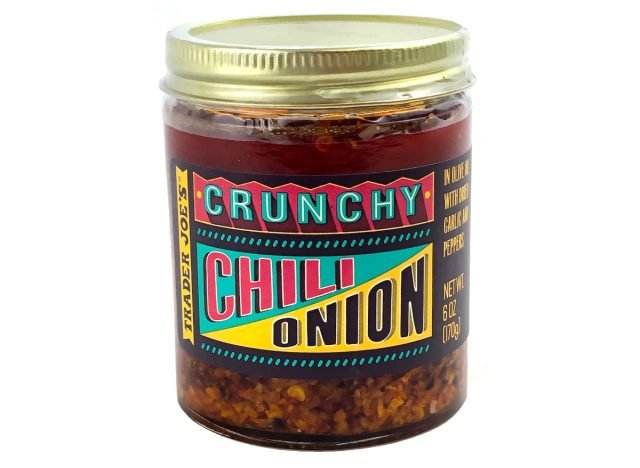 Trader Joe's claims its "crispy, crunchy, dried garlic and onion" condiment is "similar" to the kinds you commonly find "on the table of many Chinese restaurants," according to its website. Some customers, meanwhile, say it's a far cry from the genuine article. One Redditor wrote, "I love a chili garlic crunch from the Asian market but the TJs one was gross. Tasted…stale?" Another disappointed customer wrote, "what a fail. I finally bought some after all the hype and 1st taste, I was like wtf lol?!? It's not good on anything, not even bagels or eggs. And nowhere near as good as other Onion Crunches."
What's wrong with Trader Joe's Kringles, you ask? Call it a problem of expectations. The Danish-style ring-shaped pastries sure generate a lot of buzz. "[W]ith the level of hype and excitement that get posted every time they come in stock, I was expecting something that would completely blow my mind," wrote one Redditor. "Unfortunately, I just thought they were good, but nowhere near as mind-blowing as the first times I've had other pastries." Another writer piled on, "It was fine. Like any other pastry out there. I thought, given the hype, that I would be out of my mind with delight. NOT." Others complain that the sweet treats are, well, just too sweet. One wrote, "I enjoy sweets, but good lord those things would gag even a sugar addict."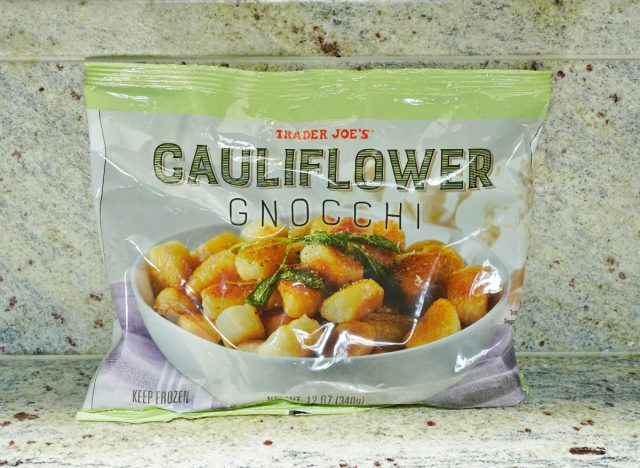 The cruciferous Italian-made dumplings regularly earn a spot among customers' favorite picks for best vegetarian-vegan item at Trader Joe's. Of course, not everyone is a fan. (I've tried it and let's just say that the other half of the bag is still sitting in the freezer from months ago.) It's probably unfair to compare any cauliflower-based gnocchi to an authentic potato version. A Cooking Light reviewer described it as "a bit sticky and gummy" and "slightly chemical tasting." The dish definitely needs to be dressed with butter, cheese, or other seasonings to improve the taste. One customer on Reddit called it "so gross and I've tried it so many ways," adding that a "much firmer and better" version is available at the Northeast regional grocer Wegmans.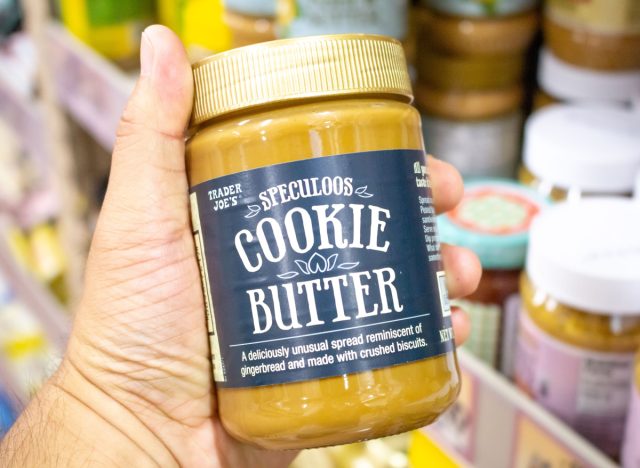 While loads of customers enjoy consuming Trader Joe's Speculoos Cookie Butter by the spoonfuls, others are not sure why it's so popular. "I truly don't understand people's obsession with this," a shopper wrote on Influenster, adding that "it doesn't taste good" and she was "underwhelmed by the flavor." The cookie butter is supposed to taste like a spread of gingerbread and crushed biscuits, but one customer on Reddit reported that's "it's a huge calorie and sugar bomb for something that's 'meh.'"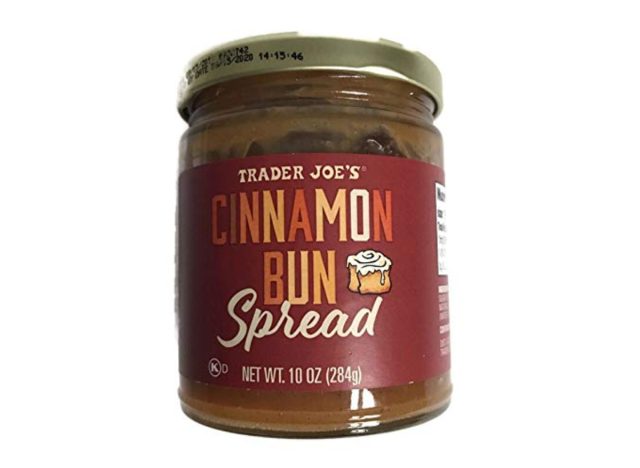 Remember the cinnamon bun spread that went viral a few years back? Well, apparently, it's missing something important: the cinnamon. "Not what I was expecting at all, and has very little cinnamon flavor," griped one reviewer on Amazon, which now sells the Trader Joe's-branded product. The same reviewer compared the texture to "melted gummy bears." Commenters on Reddit were similarly underwhelmed. "[I]t definitely didn't live up to my expectations," wrote one. "The cinnamon flavour is way too subtle for a product that literally has cinnamon in its name."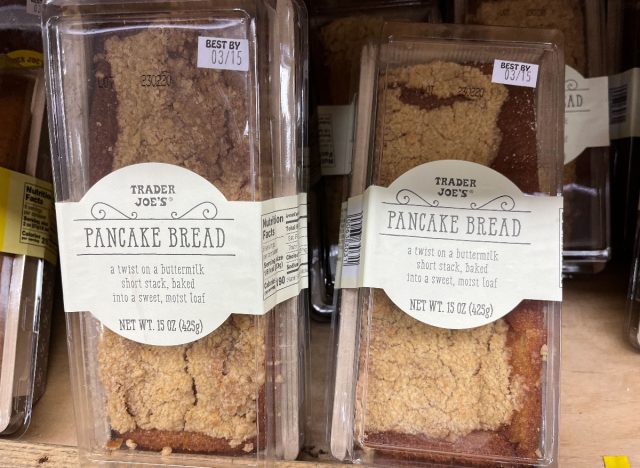 When it first came out in 2019, Trader Joe's Pancake Bread drew rave reviews from Refinery29, The Kitchn, and Delish. There was even an entire Reddit thread dedicated to the product. But not everyone felt it lived up the hype. One Redditor found it "bland and dry." Another called it a "crumbly mess." Yet another described it as "hit or miss," noting, "The first time I bought it, it was super moist and delicious. The second time I got it, it was dry and almost flavorless." For best results, one reviewer recommended warming it up in the microwave and adding a scoop of vanilla ice cream.
Anything truffle-flavored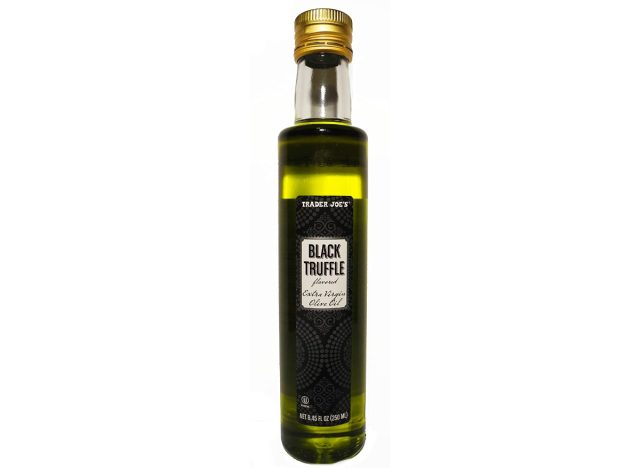 Of all the complaints about overrated items at Trader Joe's, perhaps the most common involves truffle—basically, any product that contains the pungent tuber flavoring. "There was a huge hype about the white truffle potato chips," wrote one Redditor. "[T]hey were disgusting. I literally thought they had gone bad, thats how bad they were." Another writer also "hated the truffle chips & wound up tossing them out." Commenters had similar gripes about other truffle-themed items. One wrote, "The truffle hot sauce is terrible. People were raving about it. There was zero heat and or flavor to it." Added another: "I LOVE truffle flavor, so I continue to try anything new—and am heartbroken when I get that same, weird, chemically aftertaste." 
One customer offered a possible explanation of the troubles with TJ's truffle products: "I believe it's because most are made with truffle oil and not actual truffle." In fact, a lawsuit in 2017 made similar claims against the retailer, alleging that its Black Truffle Flavored Extra Virgin Olive Oil doesn't actually contain truffles at all, according to Top Class Actions.
Olivia Bria
Olivia has a bachelor's degree in communications and political science from the University of Connecticut. She is a foodie, traveler, journalist, and celebrity interviewer.
Read more about Olivia