20 Mouth-Watering Panini Recipes to Break Up the Sandwich Routine
Yes, there's a Nutella panini in here, too.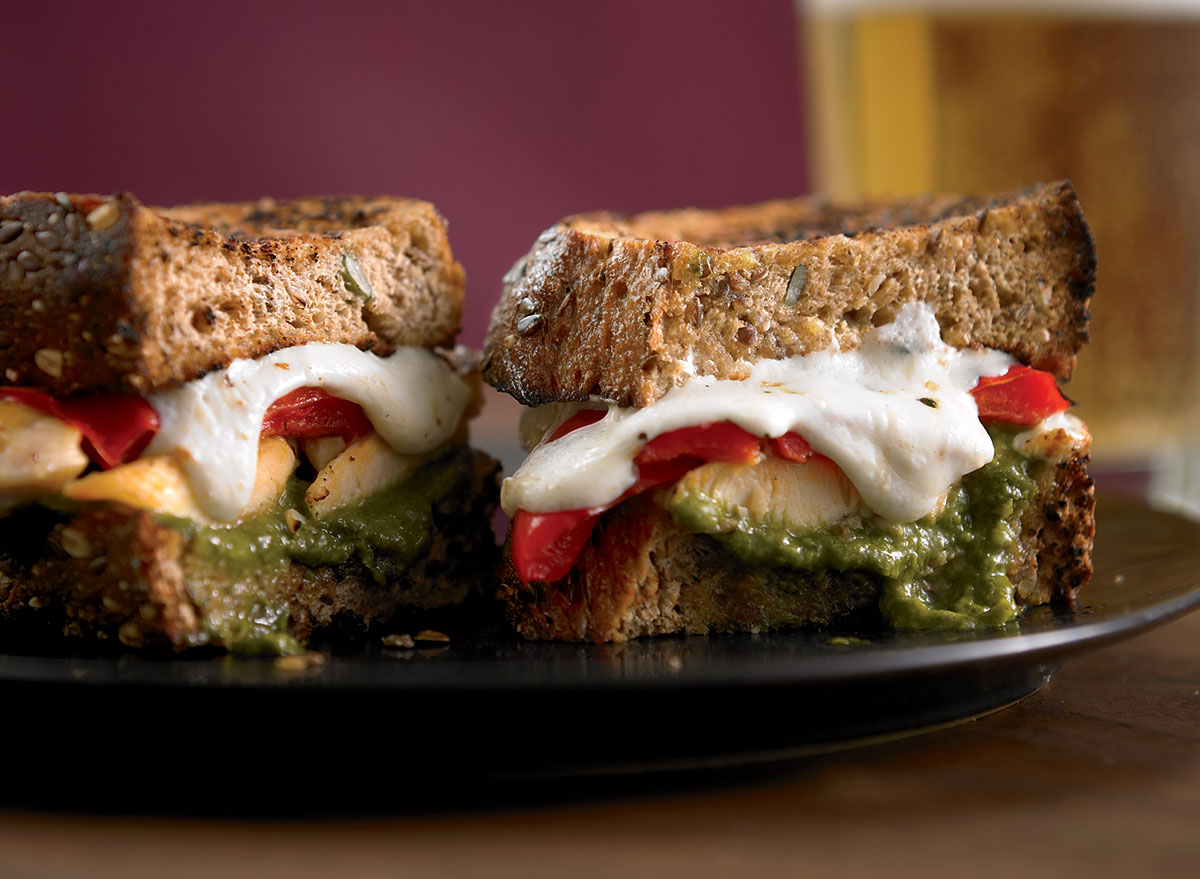 The beauty of a good hot sandwich is that once you pick your all your fixin's to put in it, there's really no work for you to do—the panini press (or a hot pan) will take those cold slices of meats, cheeses, and veggies, and turn them into a decadent, gooey creation that's greater than the sum of its parts.
But step out of your comfort zone and experiment with fruit and cheese combos (raspberry or fig jam go well with a light cheese like Provolone, apples love a sharp cheddar), sweet things you can put in a hot sandwich (Nutella or honey, for example), and even the different breads that will provide optimal support for your ingredients (from rye bread to torn pieces of naan).
Here are some of our favorite non-boring panini recipes that explore the limits of what a hot sandwich can do.
Panini with Provolone, Peppers, and Arugula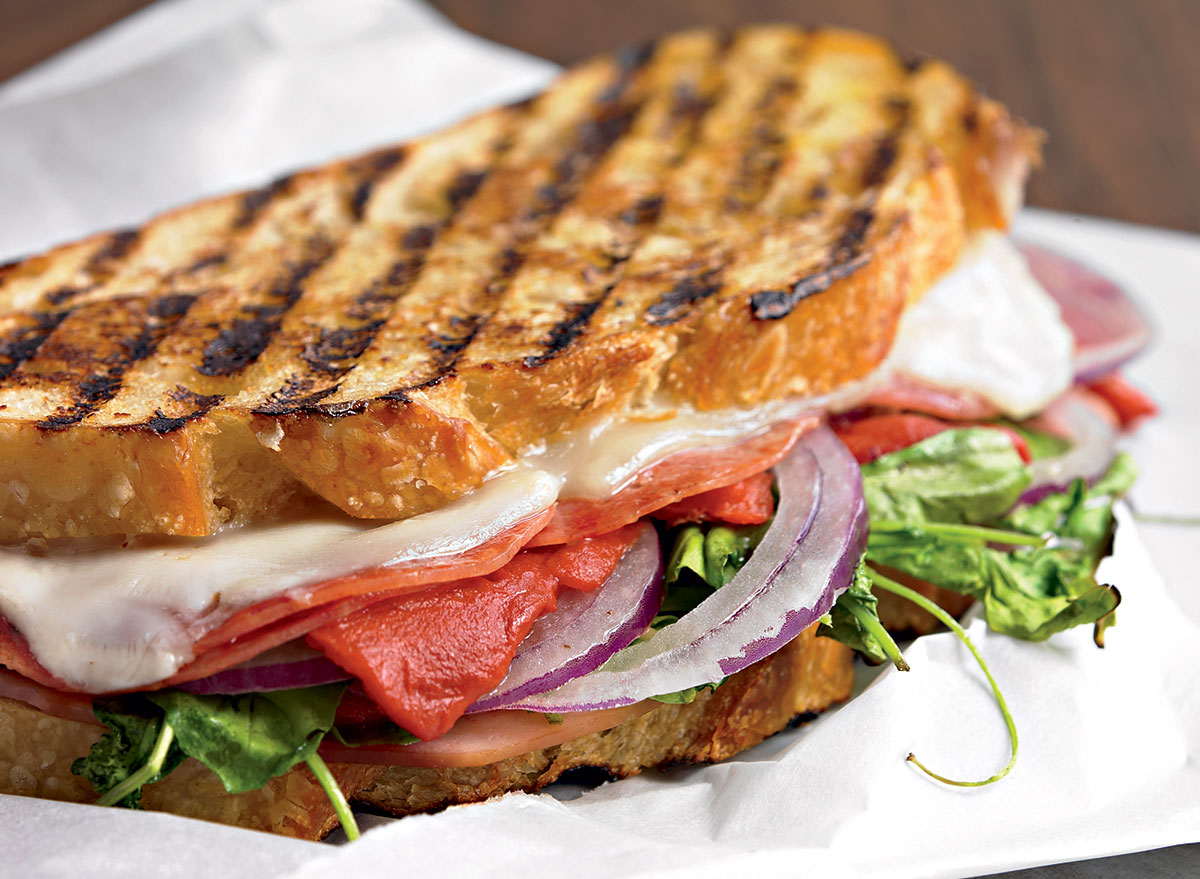 A healthier take on an Italian hoagie, this simple panini packs on the classic combo of flavors—salami, provolone, onions, roasted peppers, and elevates it with the addition of arugula. And it won't set you back 1000 calories like a hoagie would!
Get our recipe for a Panini with Provolone, Peppers, and Arugula.
Grilled Cheese with Sautéed Mushrooms
This grown up version of grilled cheese is worthy of being your next healthy lunch. Pile some Swiss cheese, mushrooms, and caramelized onions on healthy slices of rye bread—and skip out on low-quality American cheese singles and nutritionally empty white bread.
Get our recipe for Grilled Cheese with Sautéed Mushrooms.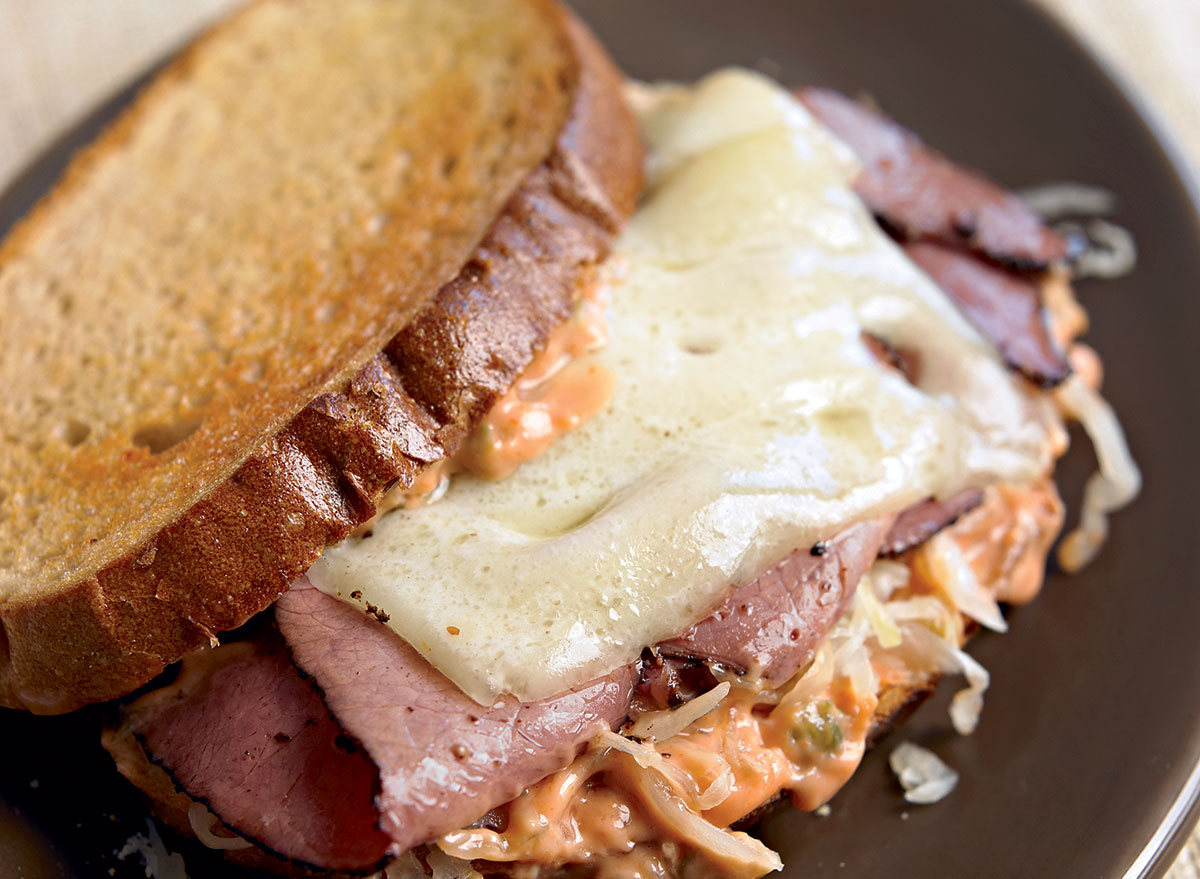 We've taken the indulgent essence of the Jewish deli staple and distilled it to a sandwich with substance and soul, but without half a day's calories and a day and a half's worth of saturated fat.
Get our recipe for a Turkey Reuben Sandwich. 
Egg Sandwich with Pastrami and Swiss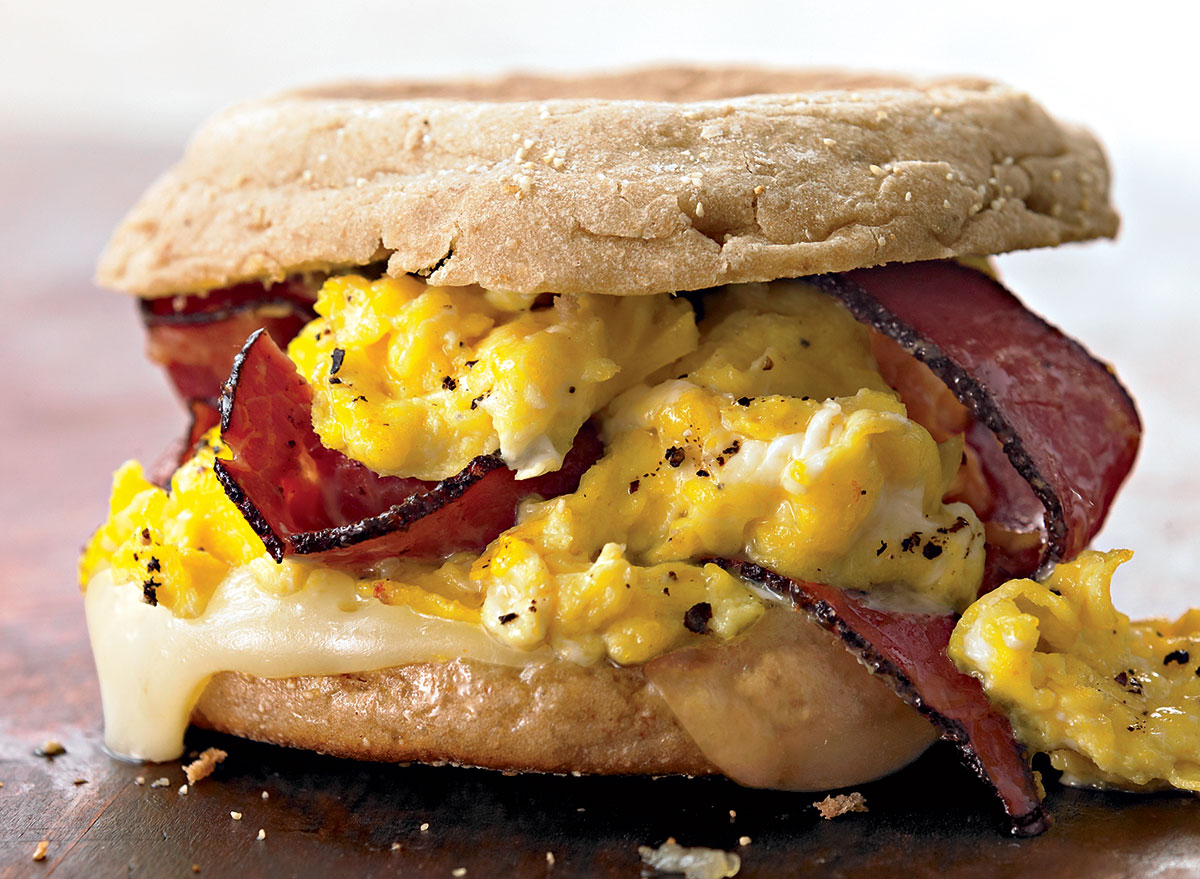 Because we love the combo of pastrami and Swiss so much, we add it to scrambled eggs for a healthy breakfast on an English muffin. And not for naught, pastrami beats out both bacon and sausage in the low-calorie department!
Get our recipe for an Egg Sandwich with Pastrami and Swiss. 
There's nothing like taking a classic and making it better. We lighten up the tuna salad with lemon juice, pesto, olives, and onions, so you're not relying on mayo for flavor.
Get our recipe for an Italian Tuna Melt. 
Apple and Bacon Infused Grilled Cheese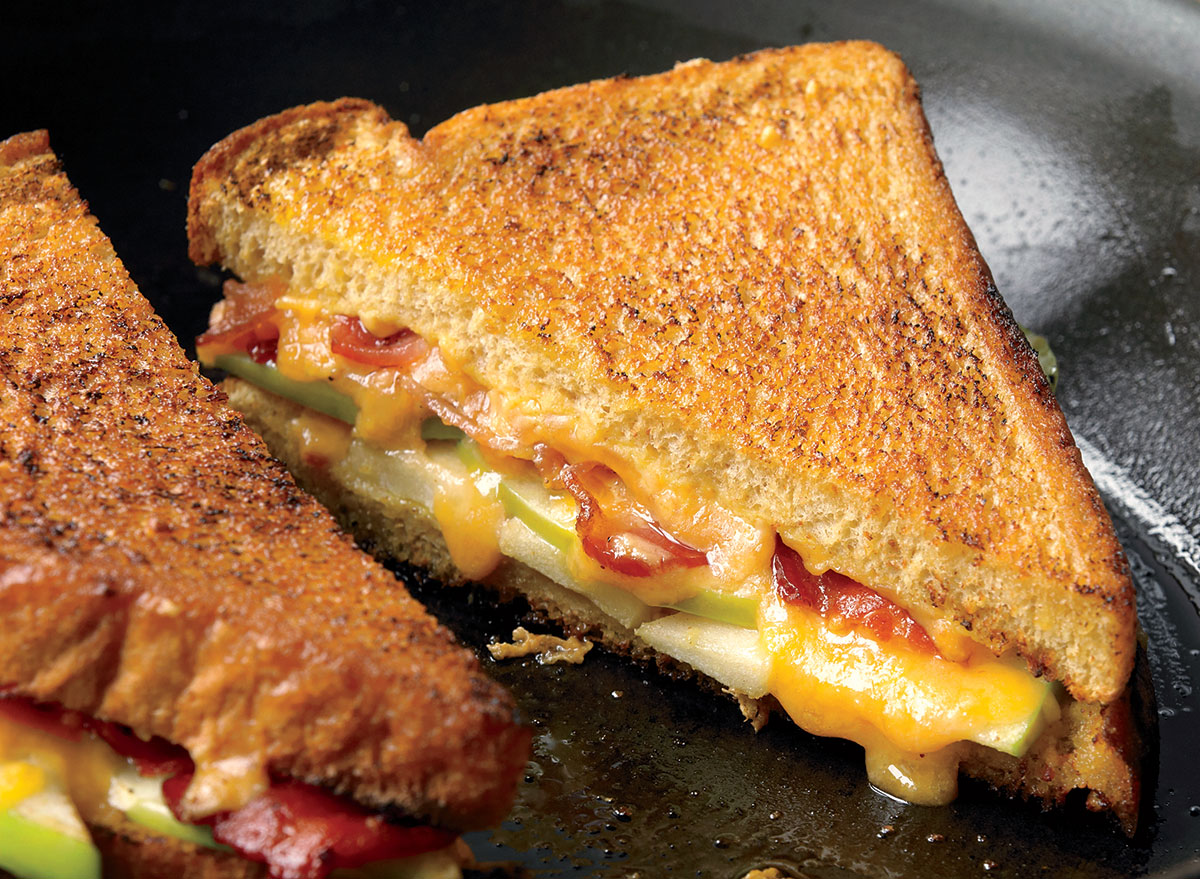 Apples and cheese go together surprisingly well, as does bacon and cheese. We bring them all together for a dynamic grilled cheese that's not only delicious, but is cutting your grilled cheese calories in half.
Get our recipe for Apple and Bacon Infused Grilled Cheese. 
Chicken Panini with Pesto and Peppers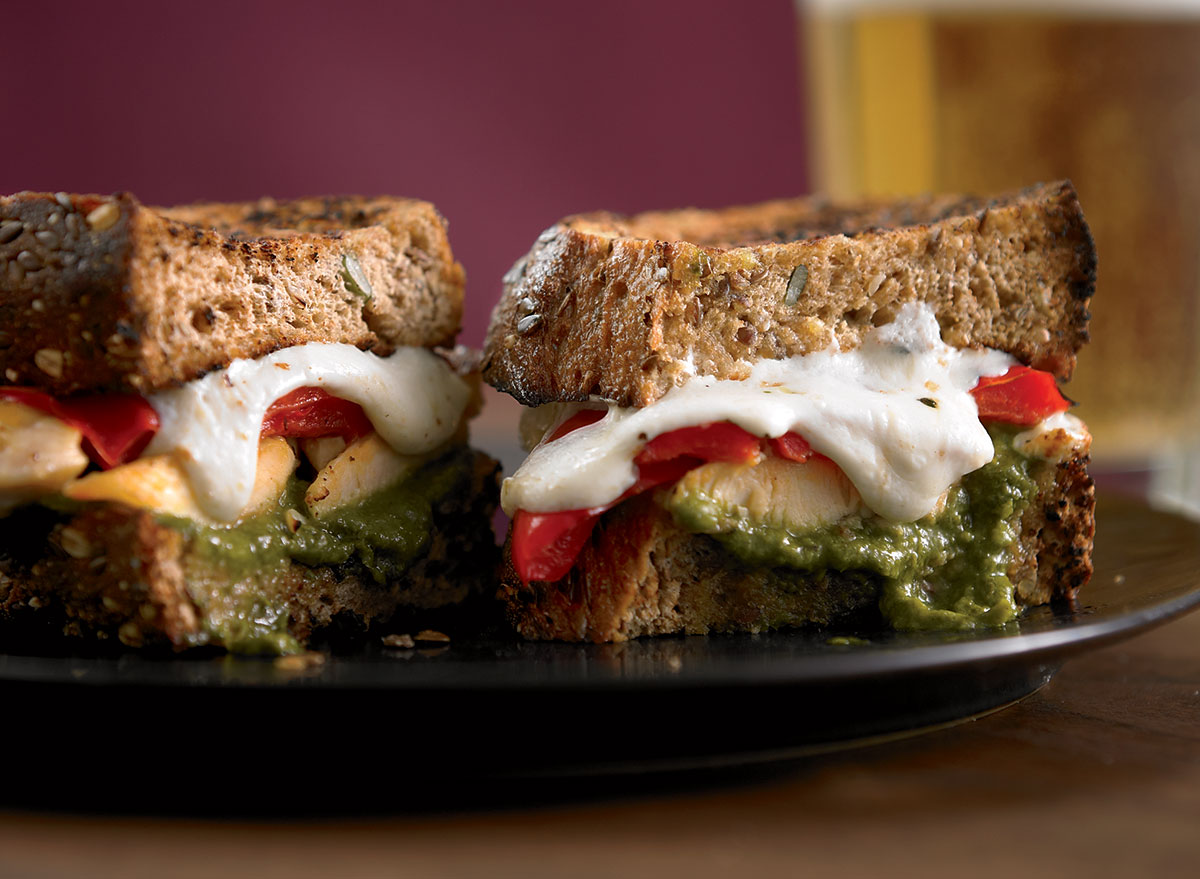 Keep it simple with this chicken panini recipe: A light, healthy spread like pesto, a low-calorie cheese like fresh mozz, and a layer of lean white meat like chicken deliver all the same flavors as a fast casual restaurant version, but for a fraction of the calories.
Get our recipe for a Chicken Panini with Pesto and Peppers.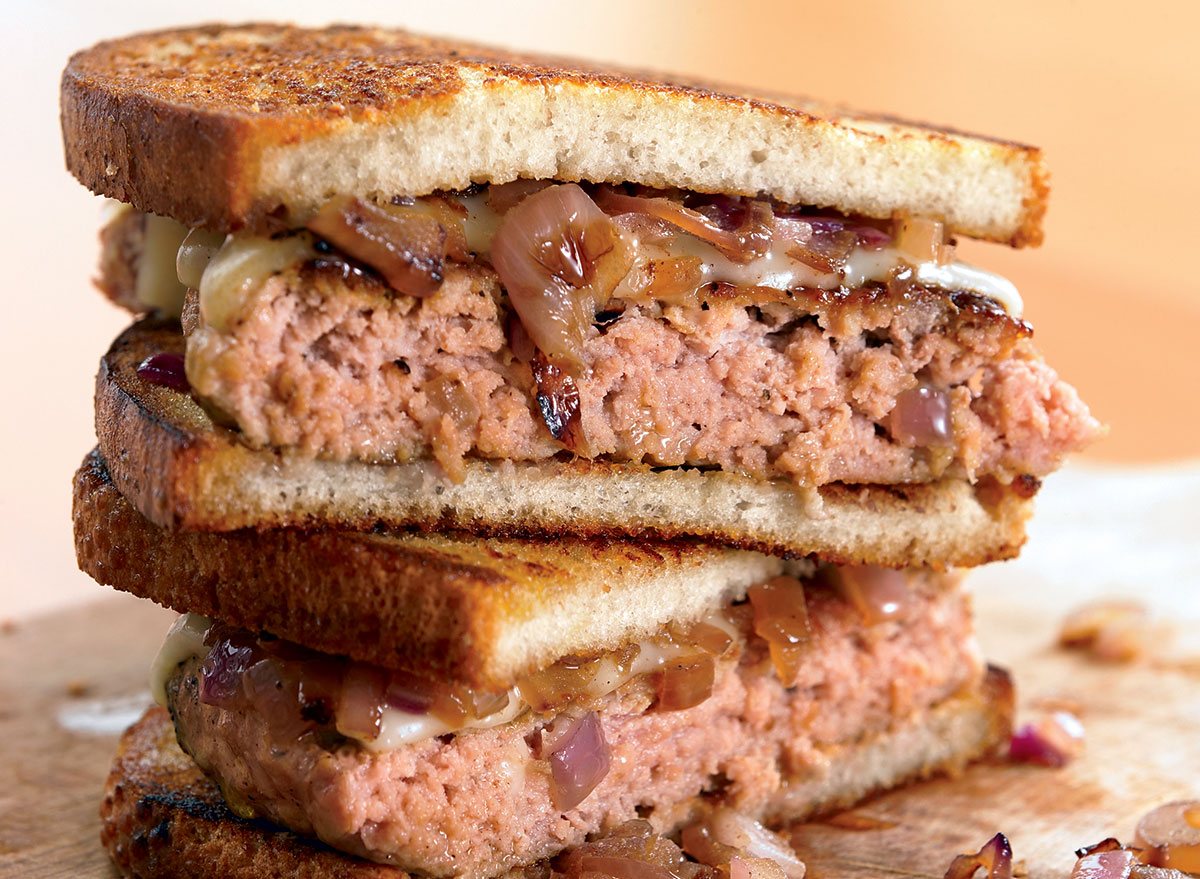 This classic diner dish may be the most satisfying of all hamburger iterations: a thin, crusty patty crowned with a melting veil of cheese and plenty of sweet griddled onions, all held together between warm, crunchy slices of toasted rye. Yum!
Get our recipe for the Ultimate Patty Melt.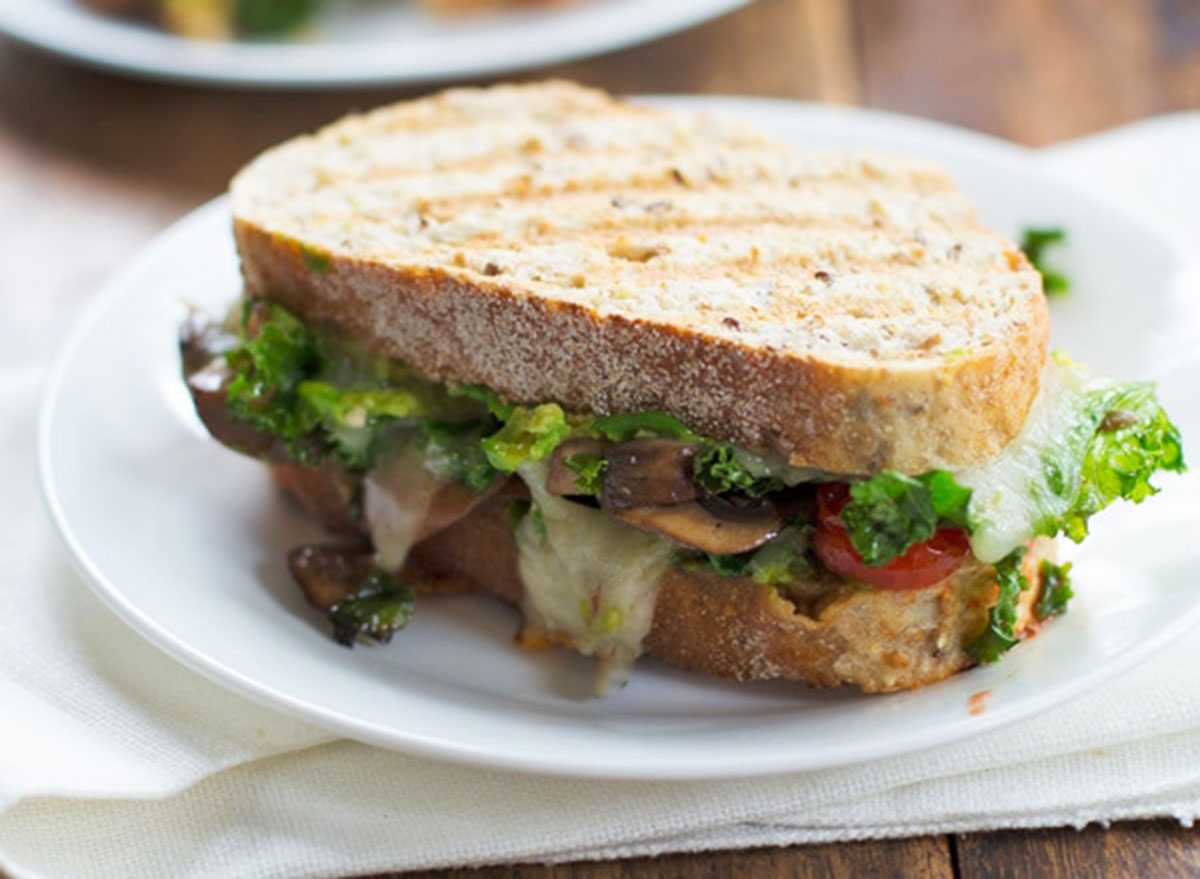 This delicious vegetarian panini cranks up the power of green—avocado and kale lead the veggie pack, joined by portobello mushrooms and grape tomatoes.
Get the recipe from Pinch of Yum.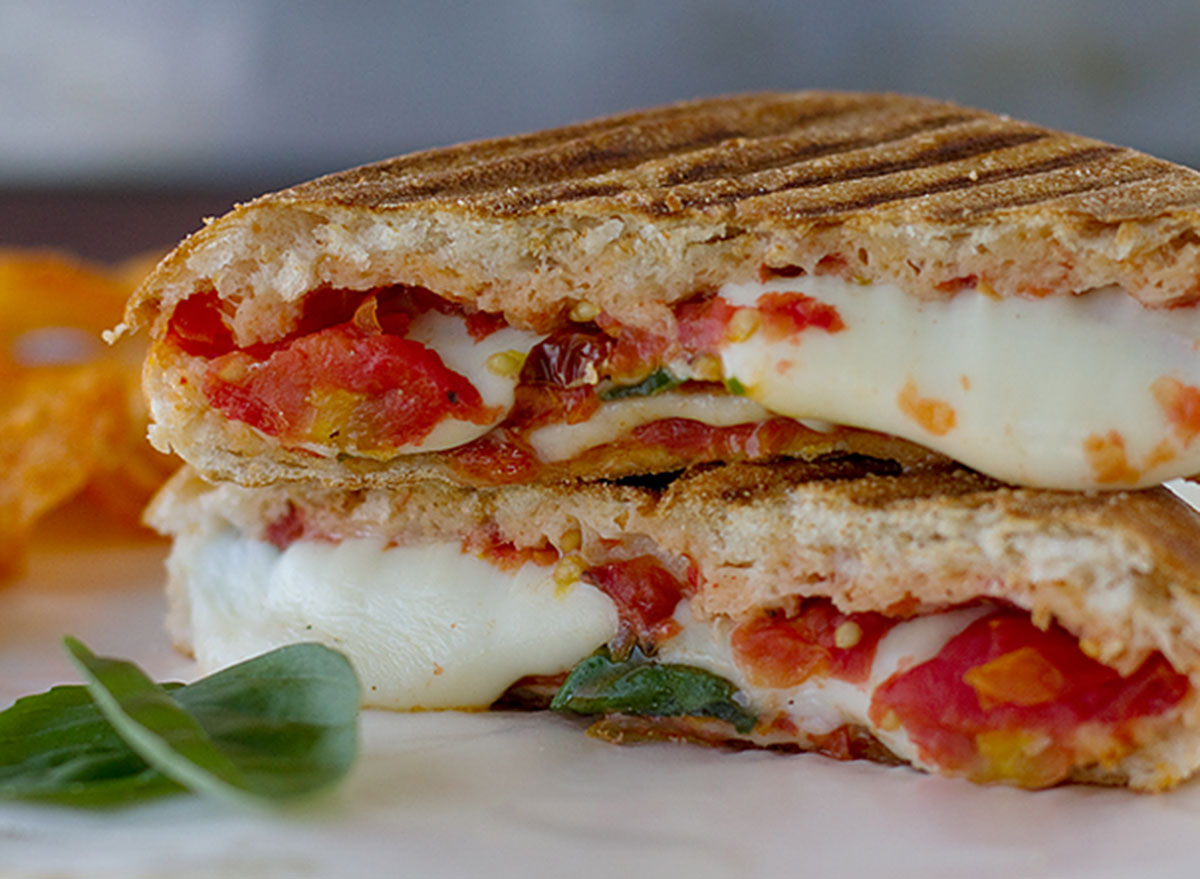 You'll make your own roasted tomato sauce for this pizzanini, and it'll be totally worth it. Then you'll smother it with melty mozzarella to achieve the best pizza qualities.
Get the recipe from Taste & Tell.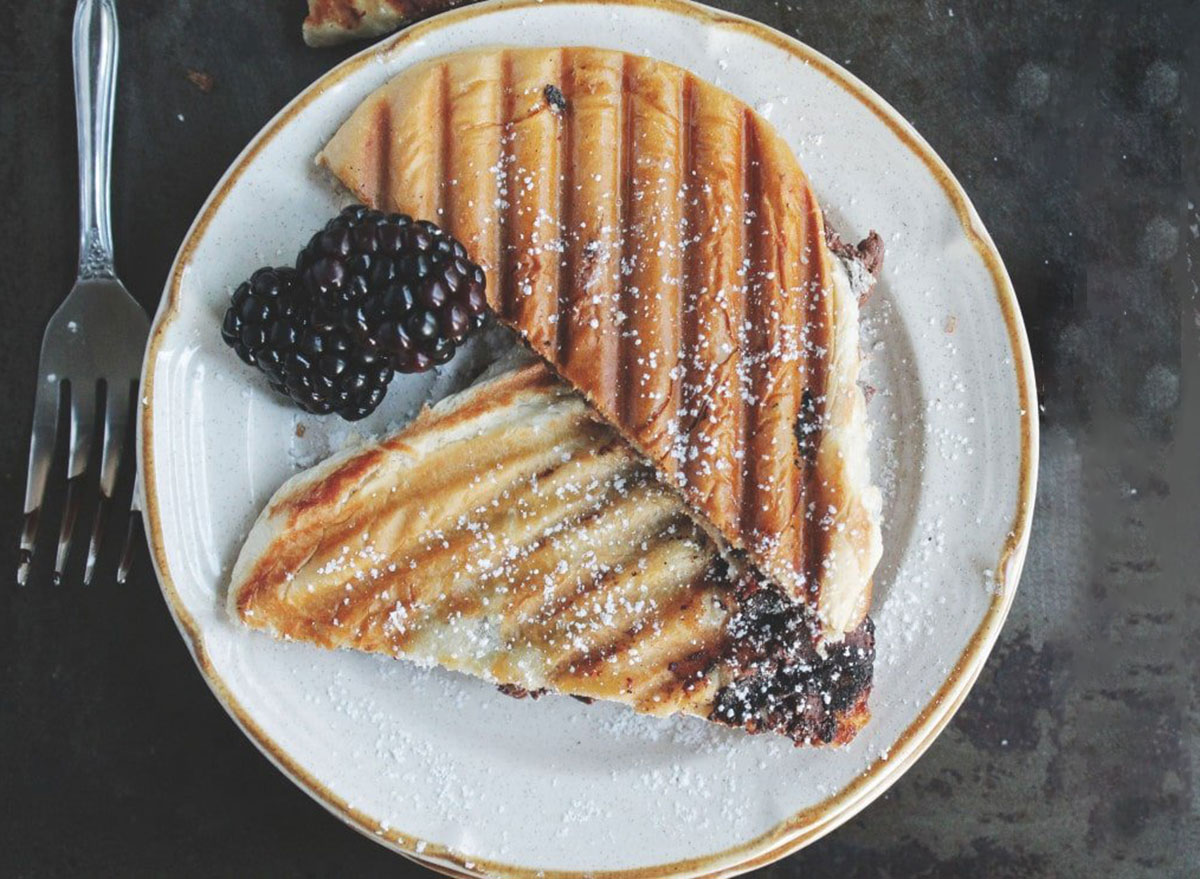 The only thing better than a piece of bread with Nutella, is a hot piece of bread with Nutella. Use any type of bread you have on hand, and leave some room for strawberries or bananas in there, too.
Get the recipe from Diethood. 
Roasted Butternut Squash Panini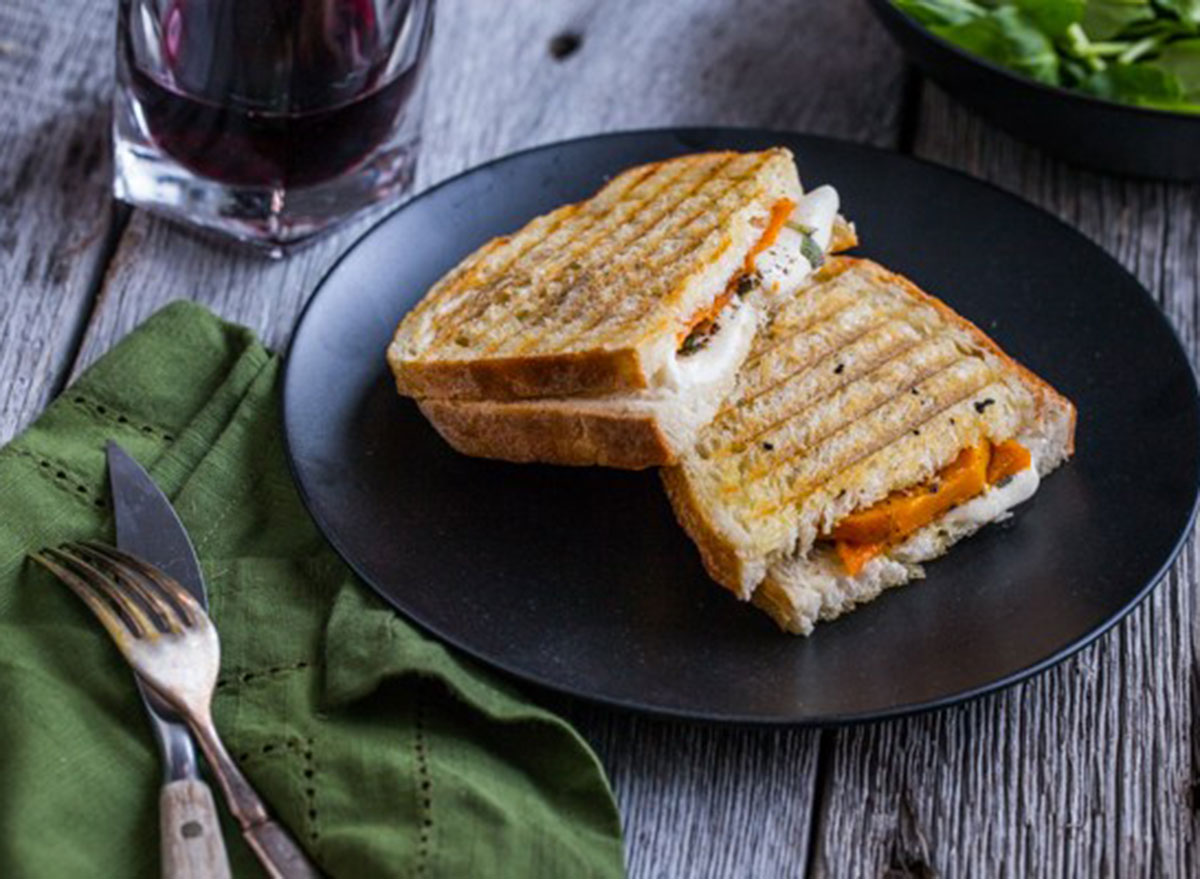 This is another great idea for a vegetarian panini. The roasted caramelized squash slices blend in nicely with mozzarella cheese, and provide an extra dose of vitamins A, B, and C to your lunch.
Get the recipe from Oh My Veggies. 
Chickpea Tahini Salad Sandwich
This panini is vegan, and packed with a ton of protein. You'll treat the chickpeas like tuna in a tuna salad, and mix them with onions, spices, celery, and pecans.
Get the recipe from Veganricha. 
Honey, Peach, and Brie Panini with Bacon Butter
Whoever's still skeptical about adding fruit to a hot sandwich, hasn't experienced the full glory of sweet things combined with cheese. Is this a dessert or just a sweet lunch? You don't have to decide. For best results, save this one for when peaches are in season.
Get the recipe from Half Baked Harvest. 
Chopped Chicken Raspberry Panini
This recipe takes the idea of a fruit and meat combo and runs with it. Chicken is combined with apples—a pretty classic pairing when it comes to chicken salad—but the pro move is the addition of raspberry jam. Yes, two fruits, chicken, and cheese, and the results couldn't be more delicious.
Get the recipe from Macheesmo. 
Spicy Falafel and Roasted Veggie Naan-wich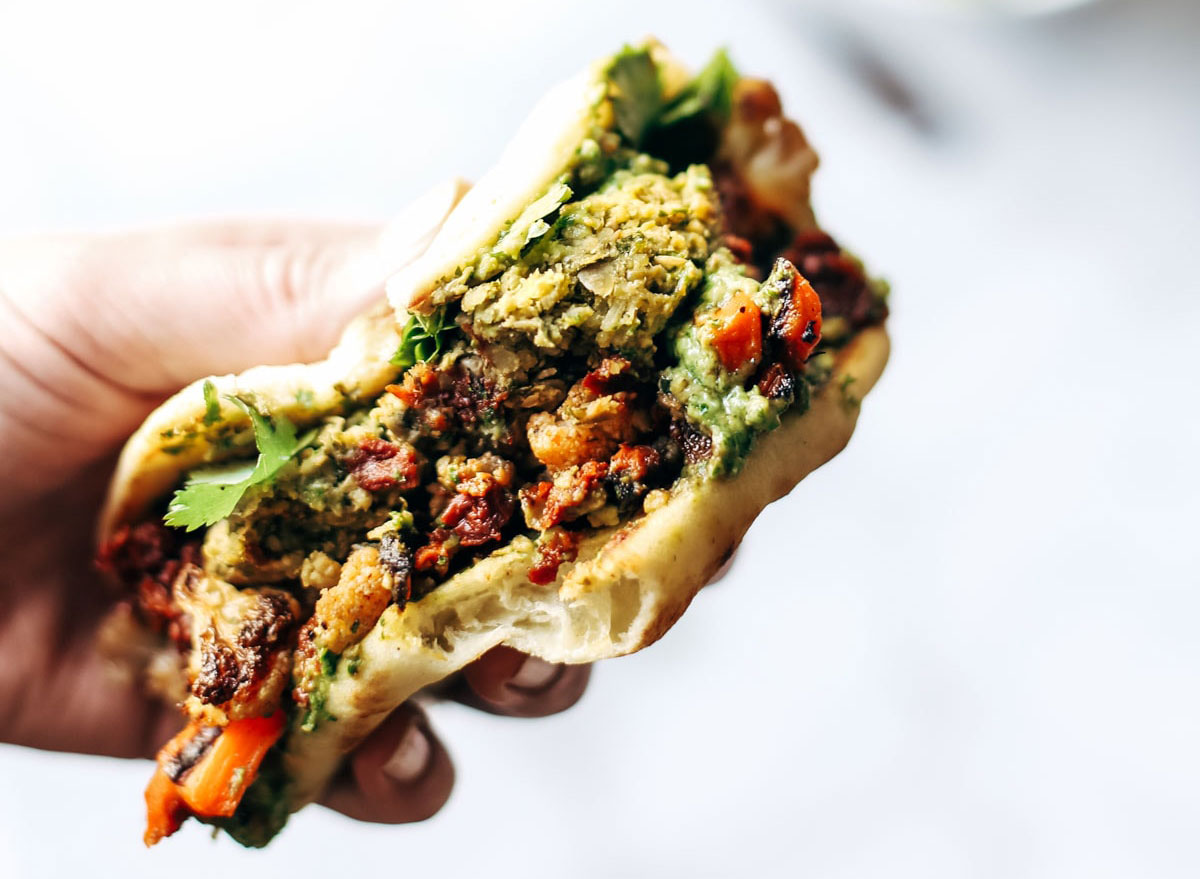 Not all paninis wear bread slices. This one comes nestled in warm pieces of garlic naan, and features roasted cauliflower, carrots, falafel, and a hint of Magic Green Sauce (spoiler alert: it's your new favorite sauce).
Get the recipe from Pinch of Yum. 
Tomato, Jam, and Mozzarella Panini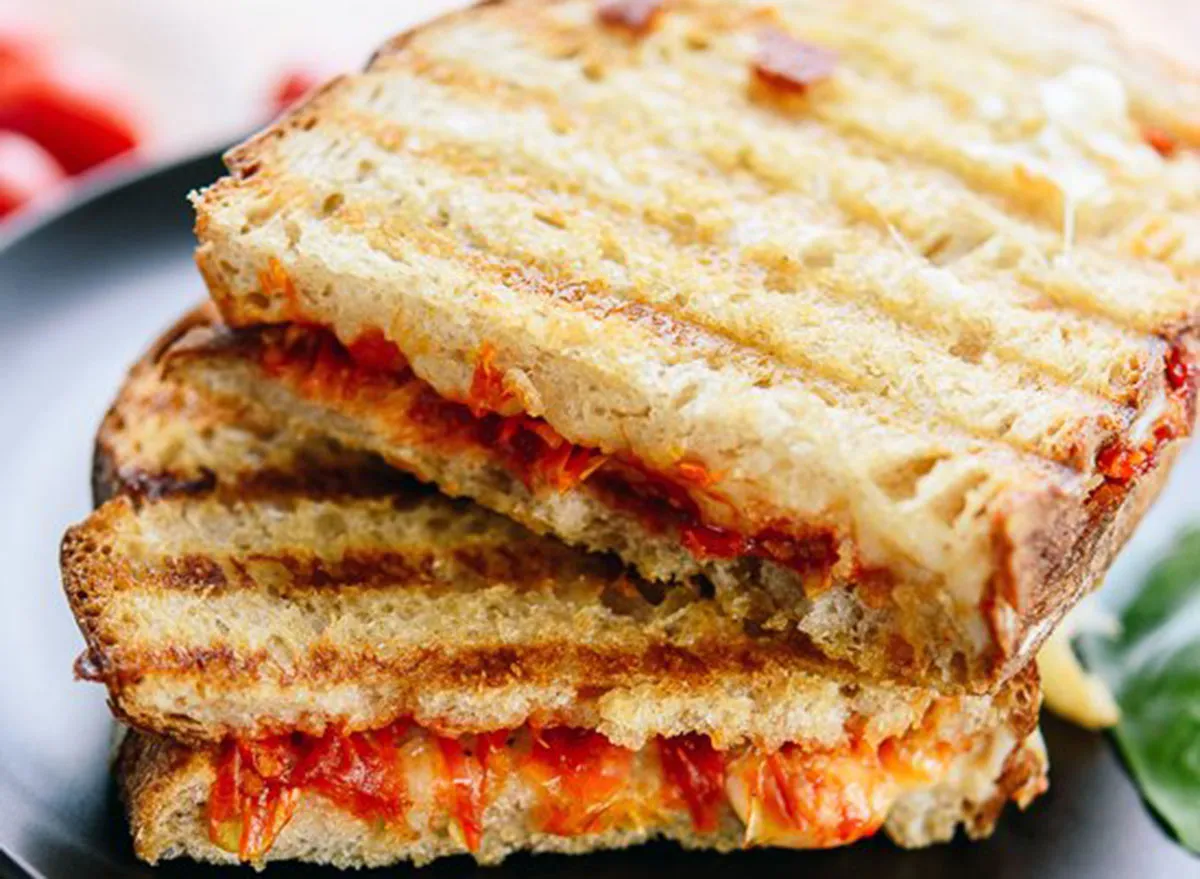 Sometimes the best creations in the kitchen are the simplest ones. Get the crustiest sourdough you can find and smother it with mozzarella, Parmesan, and tomato jam, for a finger-licking lunch.6254a4d1642c605c54bf1cab17d50f1e
Get the recipe from Cookie and Kate.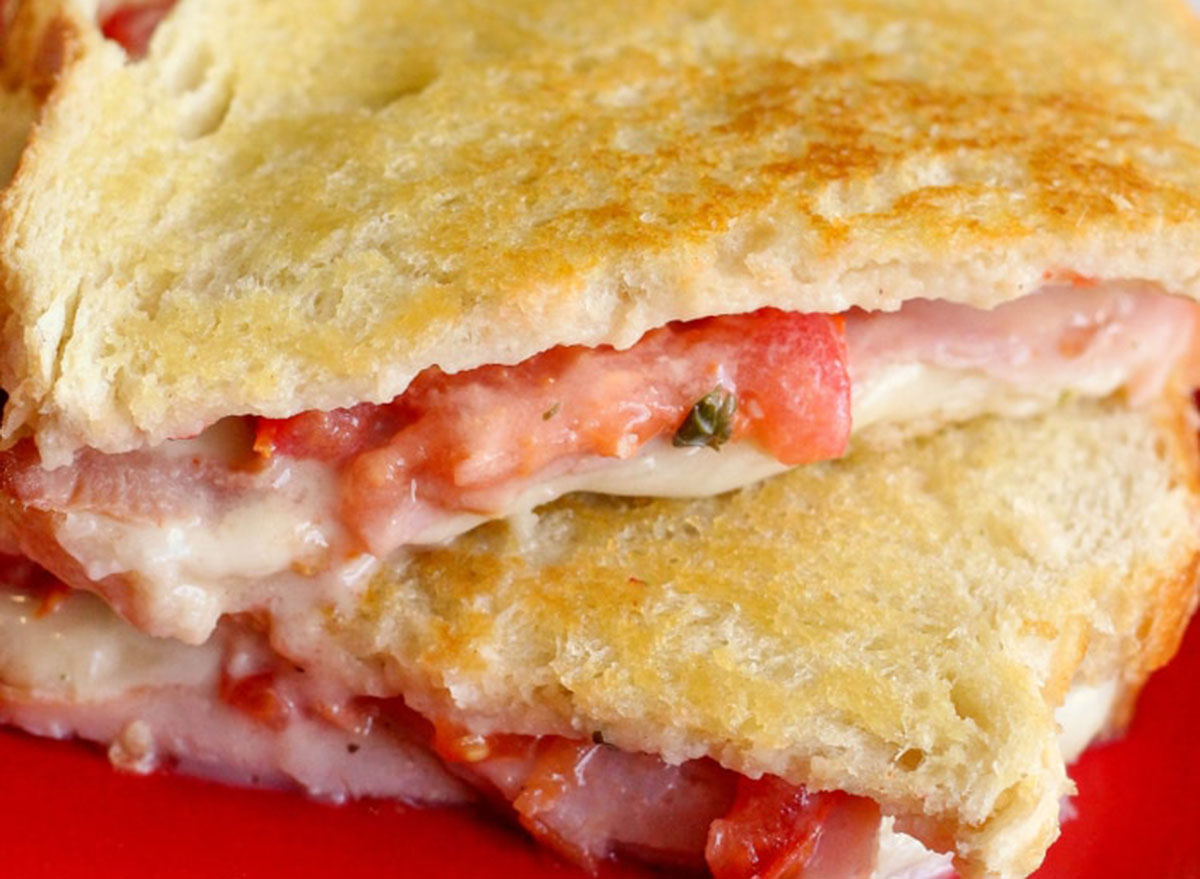 This hot sandwich elevates a boring old ham and cheese and dressed it up with some garlic and tomatoes. It may not sounds like a big difference, but trust us, it is. You'll be craving this panini for days after trying.
Get the recipe from Lil Luna.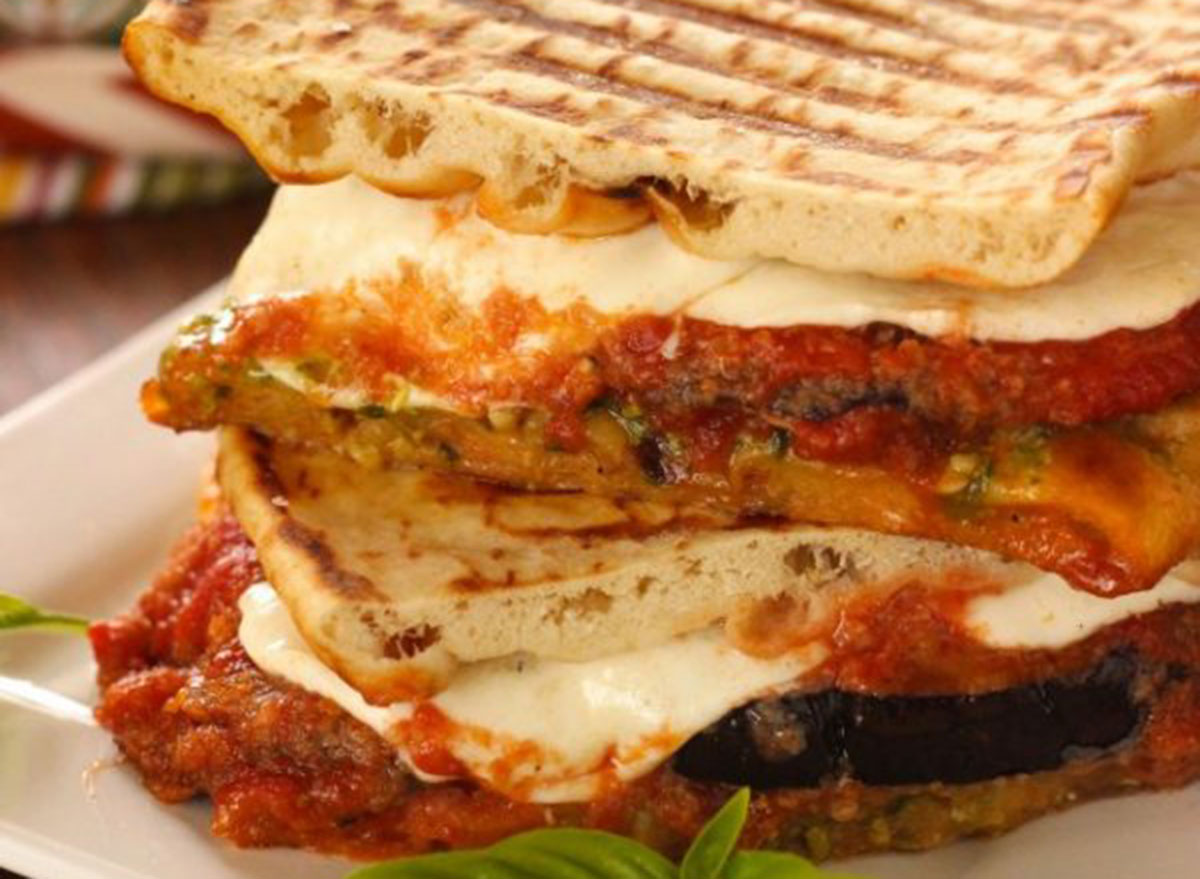 This eggplant parm naanini (what we're calling paninis made with naan bread now) is made with pantry staples and gets a little time-saving help from the use of frozen eggplant cutlets. That simply means you'll be eating dinner in no time.
Get the recipe from Craving Something Healthy. 
Shiitake Panini with Roasted Asparagus Pesto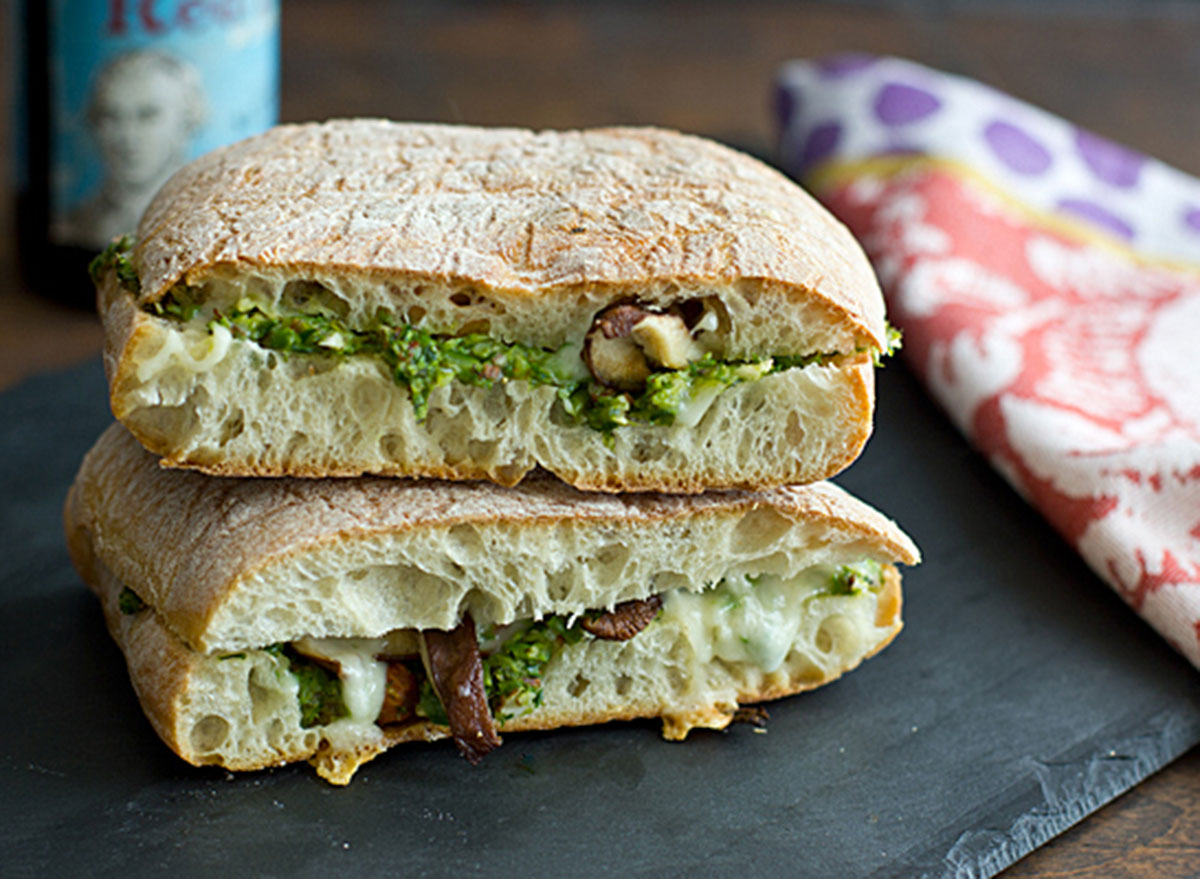 If you're feeling ambitious, make your own pesto from roasted asparagus. Slather it on pieces of ciabatta bread, and layer with roasted shiitake mushrooms and cheese, for a delicious veggie-forward panini that packs a nutritional punch.
Get the recipe from Oh My Veggies. 
STAY INFORMED: Sign up for our newsletter to get the latest coronavirus food news delivered straight to your inbox.
Mura Dominko
Mura is ETNT's Executive Editor, leading the coverage of America's favorite restaurant chains, grocery stores, and viral food moments.
Read more about Mura