11 Genius Peanut Butter Hacks You've Never Thought Of
Never let that jar of peanut butter go to waste with these clever tips and tricks!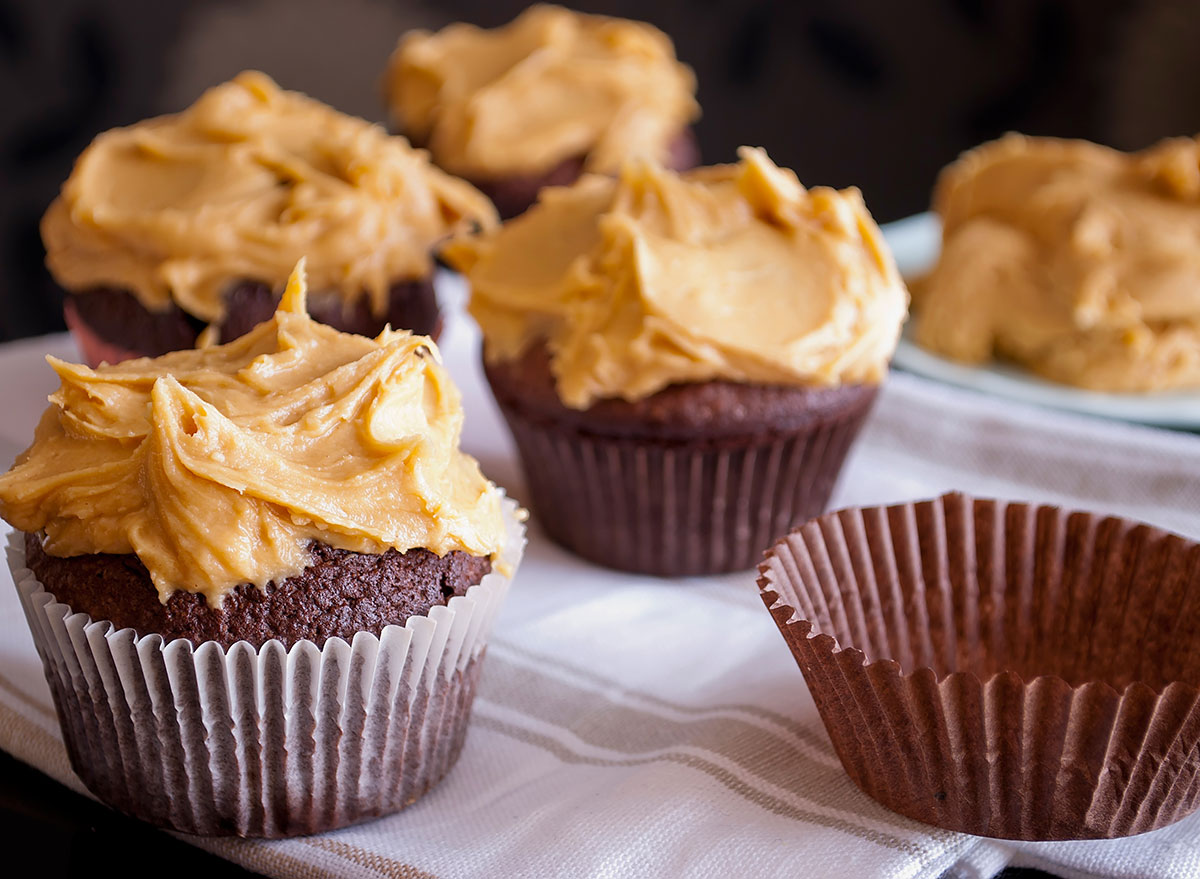 A jar of peanut butter can seriously go a long way! While spreading some peanut butter on a piece of toast is a great snack, peanut butter can be used in so many different ways—and can even enhance some of your favorite dishes. With these peanut butter hacks, you'll learn how you can store peanut butter and use it for all kinds of easy treats. Plus, with some of these clever hacks, you can even cut down the sugar and make some of your favorite snacks even healthier.
From making overnight oats to subbing in peanut butter for some of your favorite dishes, here are our favorite genius peanut butter hacks. And for even more clever tricks, be sure to sign up for our newsletter.
Store peanut butter upside down
Frustrated with having to stir your natural peanut butter? What if we told you stirring can be a thing of the past? If you store your peanut butter upside down in the fridge, you'll never have to deal with oily peanut butter again. Slowly open the jar and there you have it, perfectly creamy peanut butter. It's no wonder this is still one of our top peanut butter hacks of all time!
Dip chocolate in peanut butter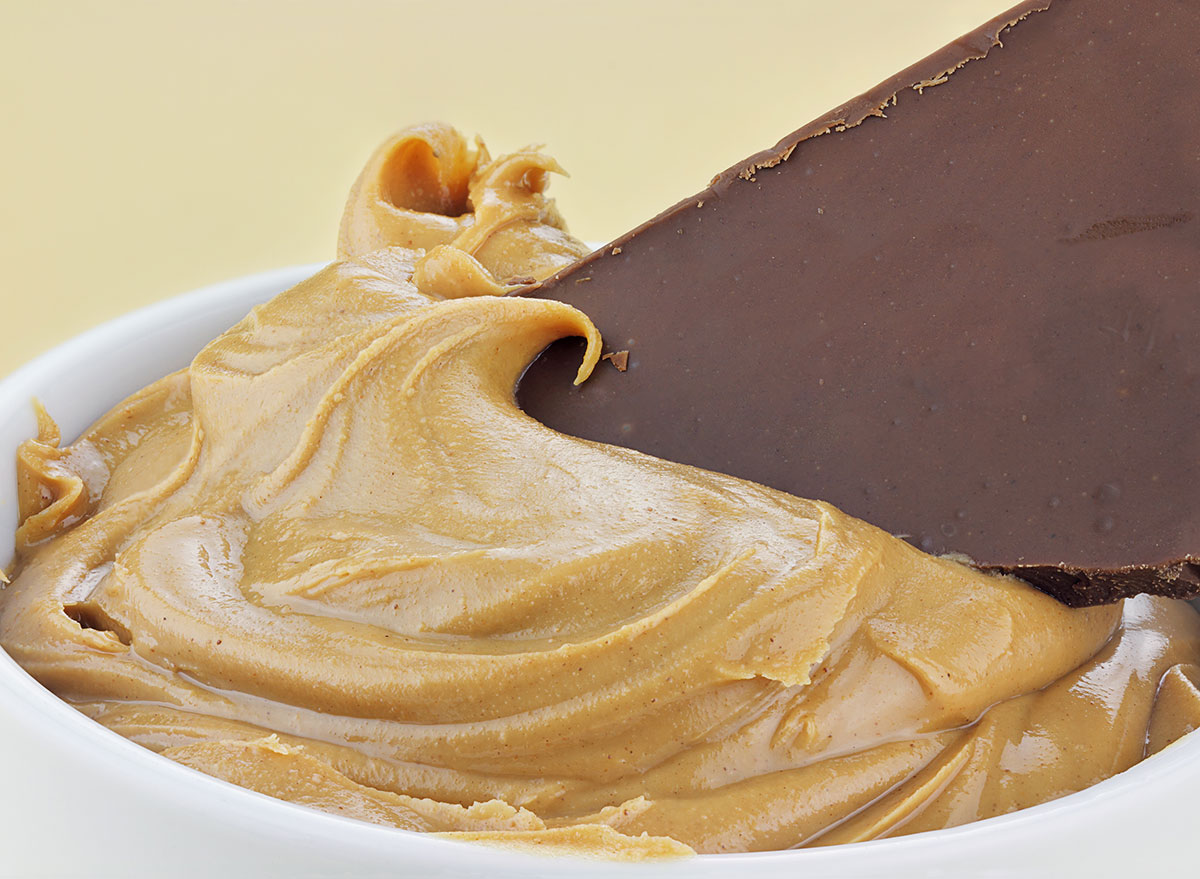 If you're a lover of all things chocolate and peanut butter, you're going to love this easy-to-make snack. Simply dip some dark chocolate into peanut butter and place it on a baking sheet or plate covered with wax paper. Put it in the freezer for about 30 minutes, then enjoy later as a snack—or dessert.
Mix peanut butter and yogurt for an easy fro-yo
Make the easiest homemade frozen yogurt ever with that jar of peanut butter. Mix together peanut butter and yogurt and place it in the freezer to set. After about an hour or two, scoop and enjoy.
Melt it in the microwave
Skip the hot fudge or sugary sauce and use peanut butter instead. Melt a little peanut butter in a bowl for 30 seconds in the microwave. You can drizzle it on all kinds of things! Popcorn, ice cream, the list goes on.
Spread it on your s'mores
S'mores are great and all, but have you had peanut butter chocolate s'mores yet? Spread some peanut butter on a graham cracker before placing down a piece of chocolate. Between the peanut butter, toasted marshmallow, and melty chocolate, you probably won't go back to the original s'mores combination ever again.
Create an easy peanut butter frosting
Why use white frosting on a chocolate cake when you could have peanut butter frosting instead? Add a few tablespoons of peanut butter to a jar of white frosting to make the easiest, creamiest frosting for your cake ever. Need an easy cake recipe? Here's one of our favorites!
Make a fruit dip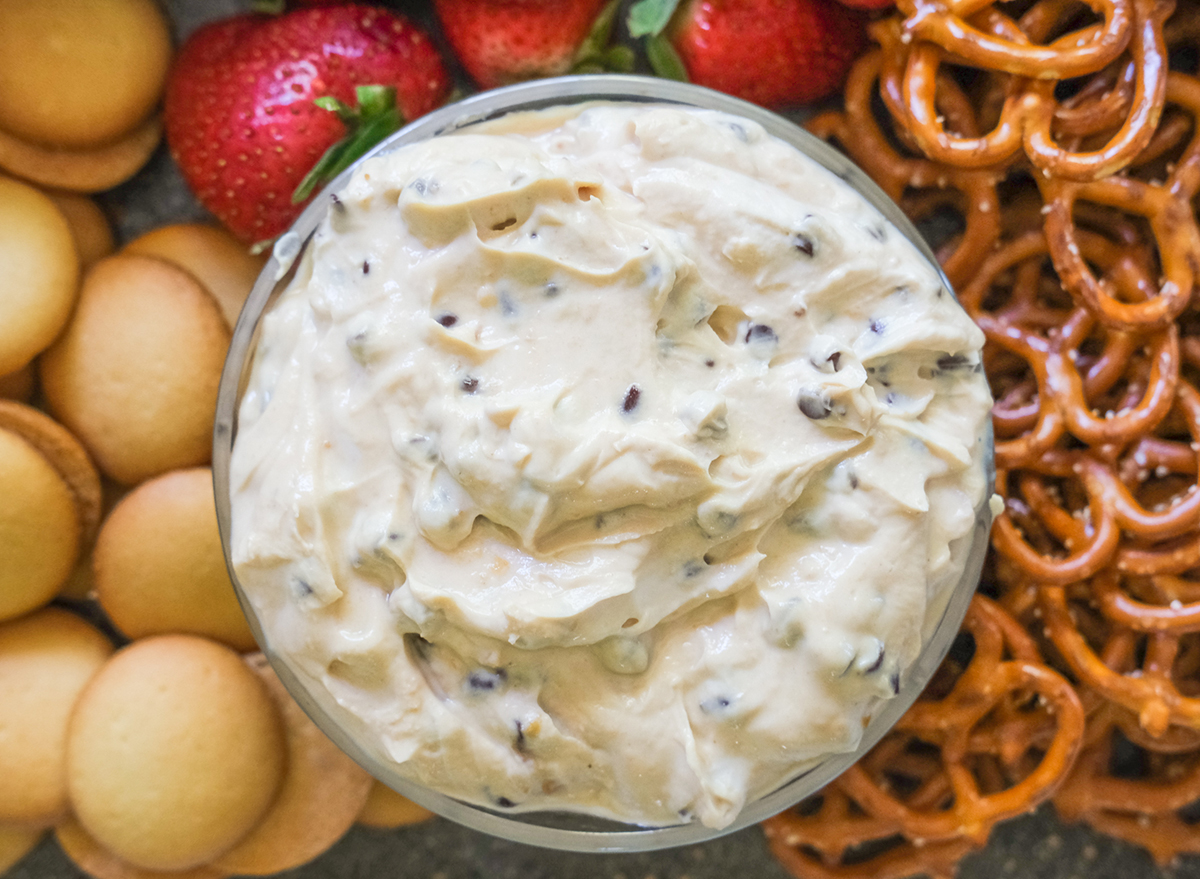 Peanut butter goes well with all kinds of fruits, so why not make a fancy fruit dip with it? Mix yogurt, honey, and chocolate chips for a fun dessert dip to serve to friends. Or just make it for yourself!
Use leftover peanut butter in a jar to make overnight oats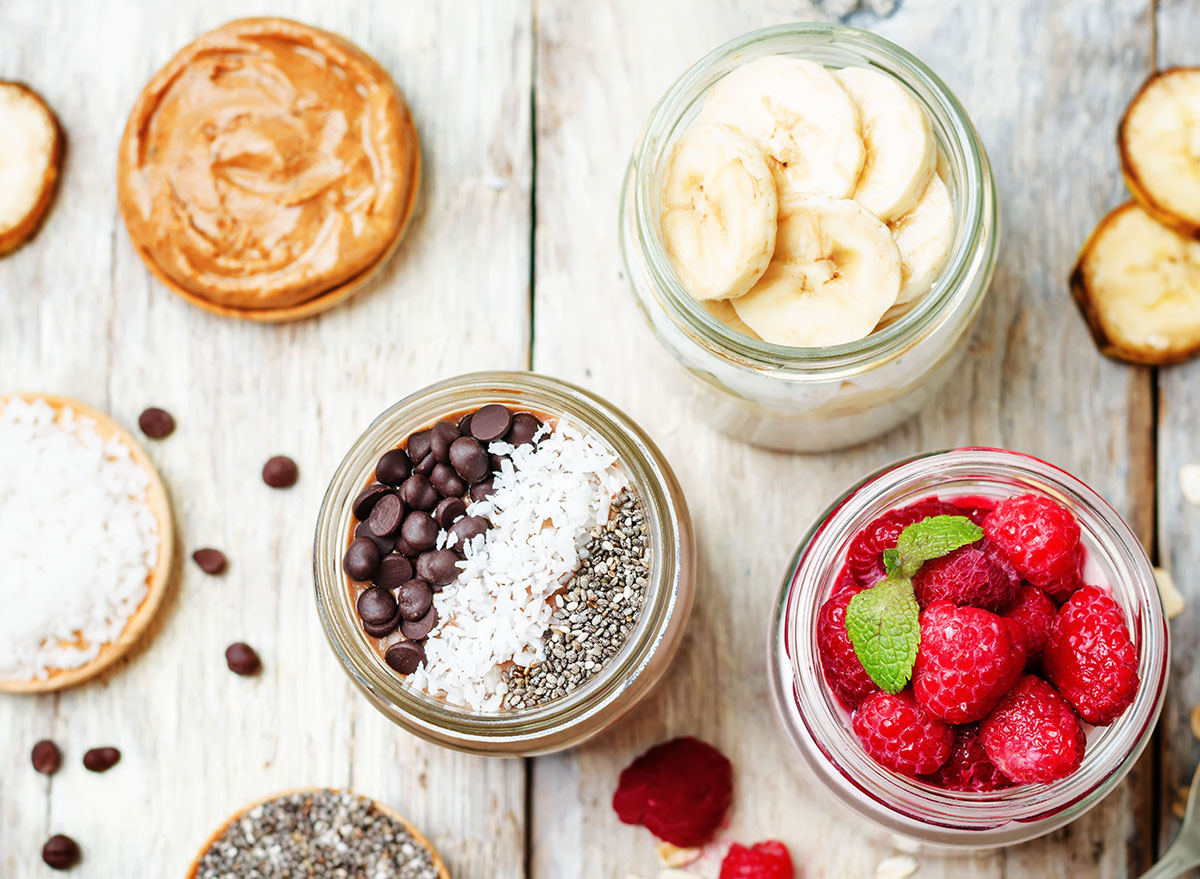 It's difficult to scrape out the rest of the peanut butter in a jar, so get crafty with it! You can easily make peanut butter overnight oats in the jar. To do so, add the milk first and shake the jar so some of the peanut butter comes off. Add in the rest of the ingredients (besides peanut butter, you probably have enough in there!) and leave it in the fridge overnight.
Make chocolate hummus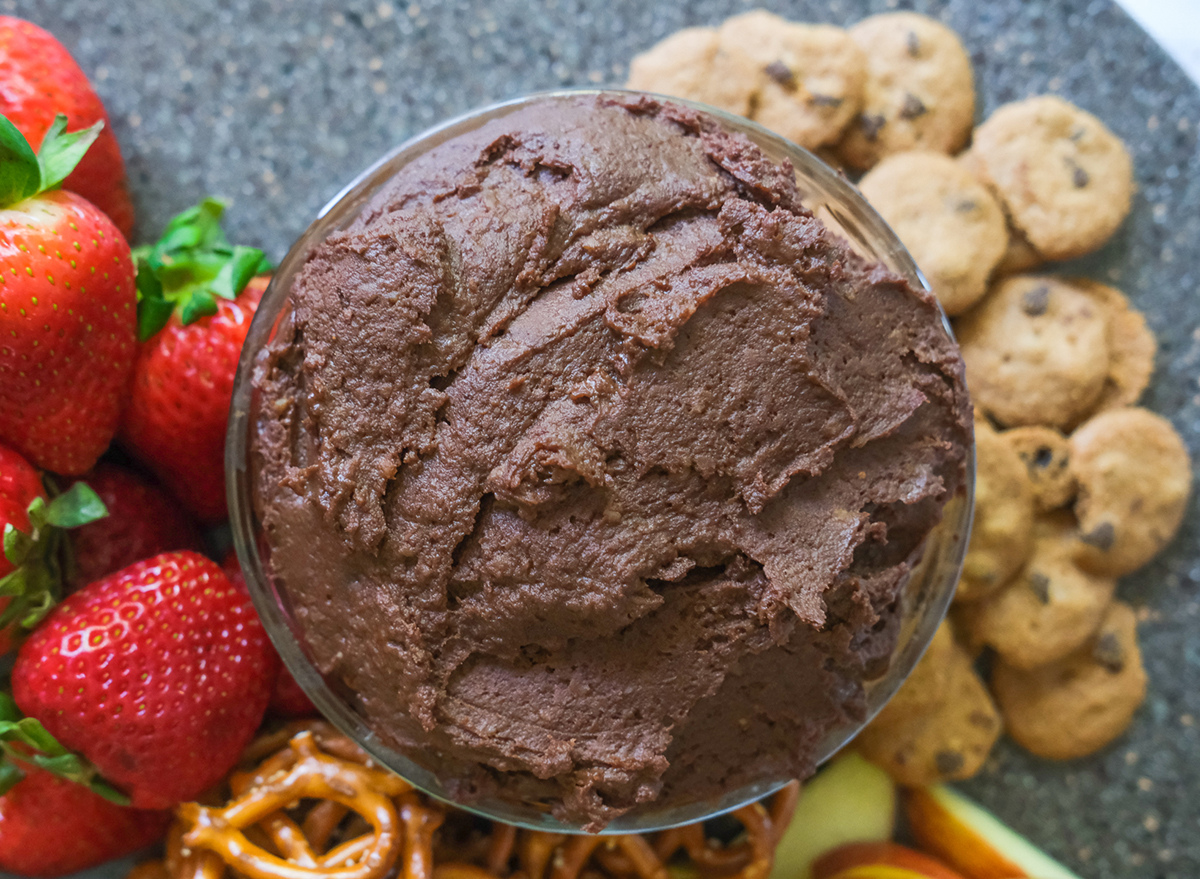 Hummus typically is made with tahini to give it that creamy, tangy flavor. But did you know peanut butter also works well in a hummus? Especially if you make a chocolate hummus!6254a4d1642c605c54bf1cab17d50f1e
Spread it on pancakes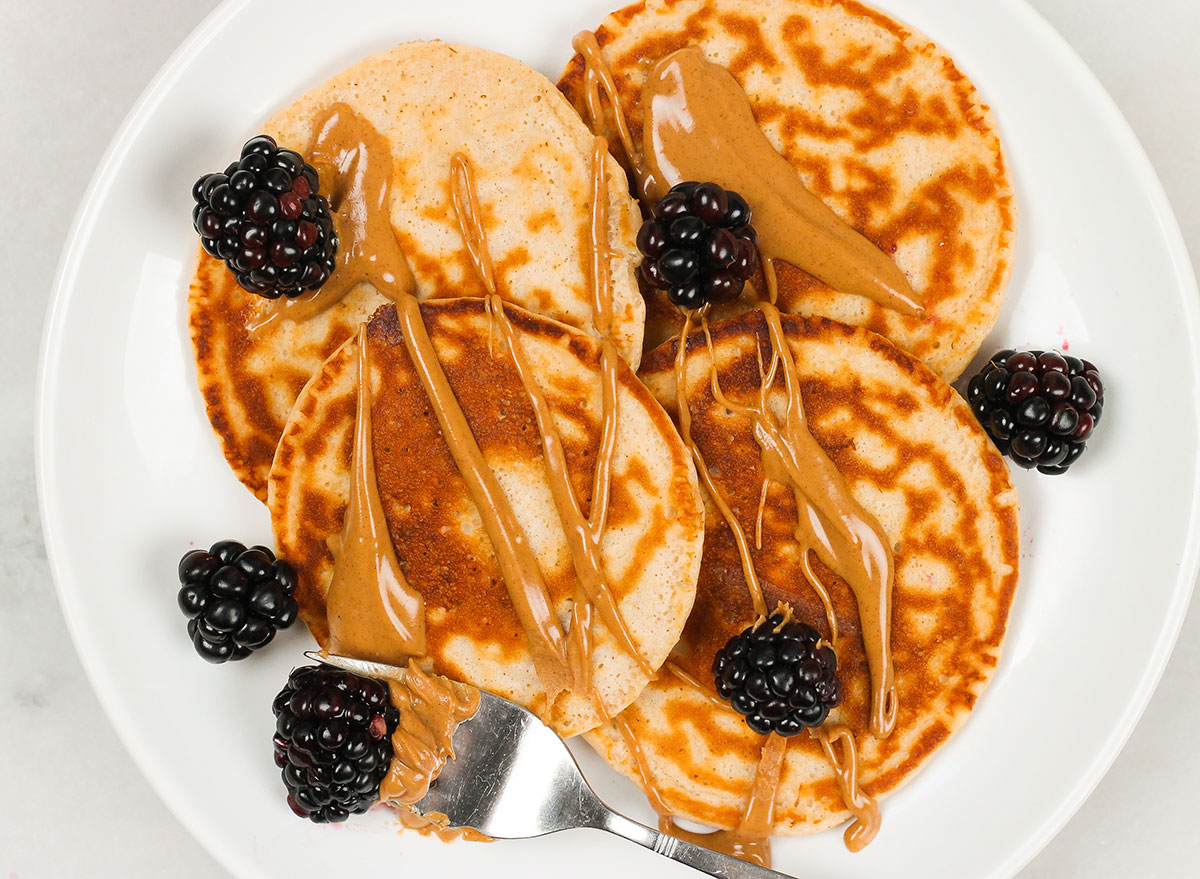 Maple syrup is cool and all, but have you tried drizzling peanut butter on them instead? It's an easy, low-sugar alternative to your usual syrup, and gives your pancakes a boost of extra protein and healthy fat.
Add peanut butter to your hot chocolate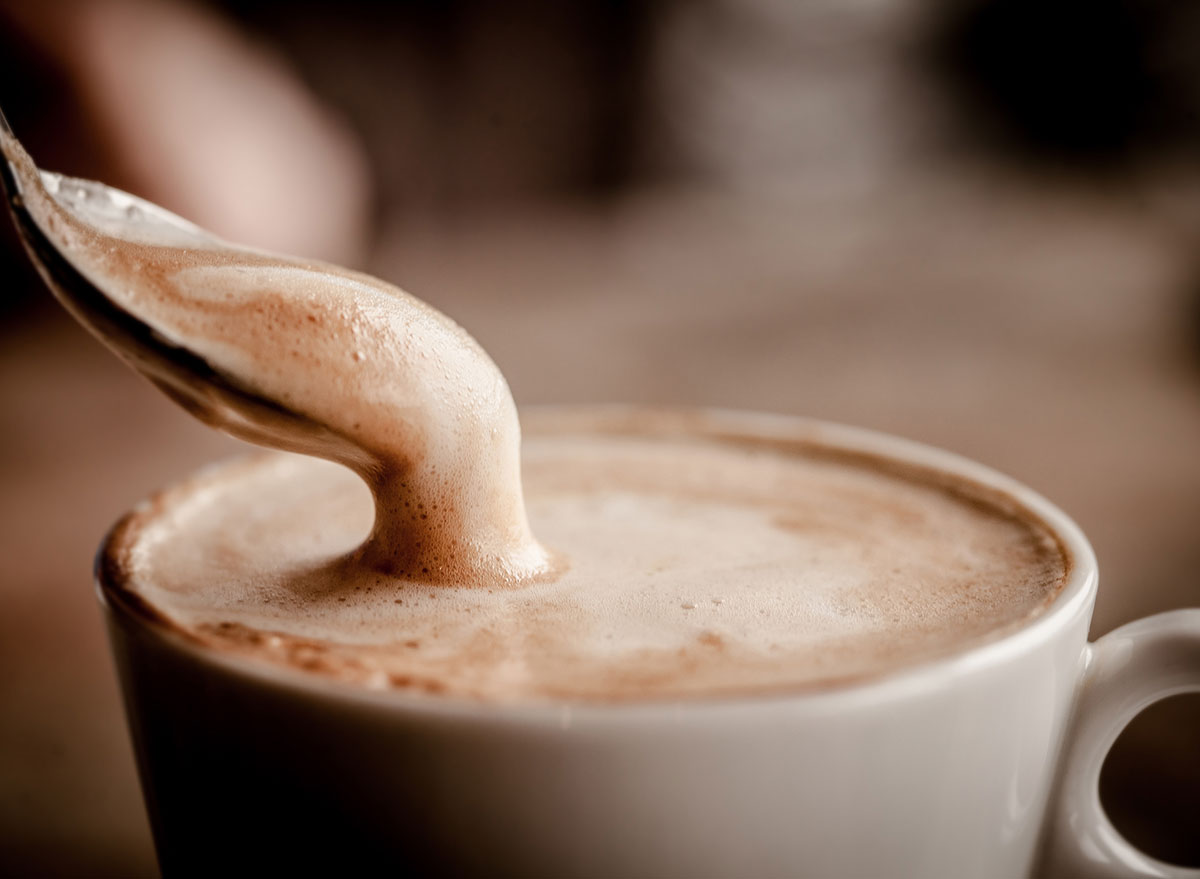 To give your hot chocolate some extra flavor, stir in a teaspoon of peanut butter. You can even do the melted peanut butter trick in the microwave to drizzle on top of with those marshmallows!