The Best & Worst Menu Items at Pei Wei
We break down the best dishes to grab at this popular chain.
This Asian fast-food staple just recently disconnected from parent restaurant P.F. Chang's. With almost 150 locations across the country (and five internationally), Panda Express' challenger has served pad thai, rice bowls, and mandarin orange green tea to customers since 2000. So, what are the best and worst items on the Pei Wei menu? We spoke to Hillary Cecere, MS, registered dietitian of Eat Clean Bro, and found out which dishes on the Pei Wei menu have a lot of hidden sugar and which ones will give you more nutrients without sacrificing flavor.
Small Plates and Sharables
Best: Edamame (large)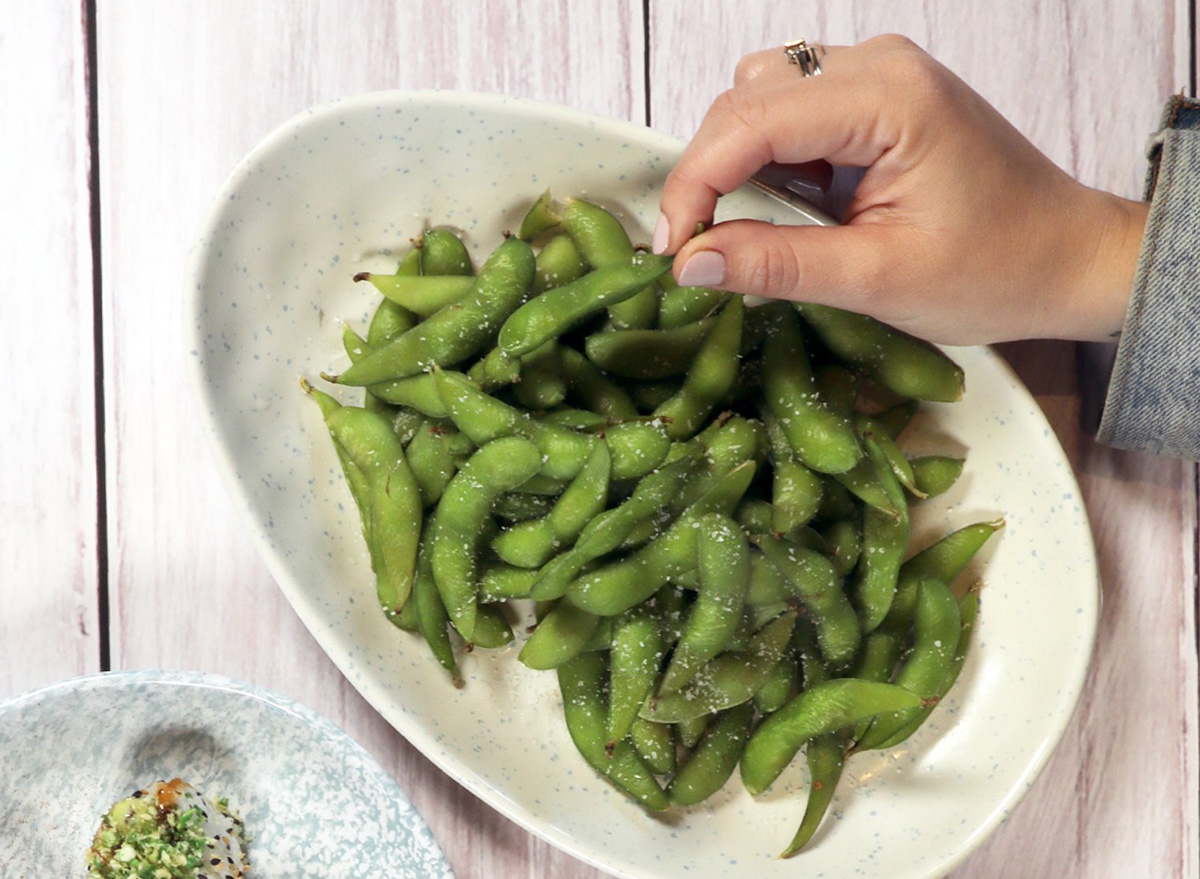 320 calories, 13 g fat (3 g saturated fat), 27 mg sodium, 19 g carbs (19 g fiber, 1 g sugar), 30 g protein
This option has calcium, folate, vitamin K, and iron, making it a great addition to a meal. "The combo of fiber and plant-based protein make it a satisfying app that is perfect for sharing," says Cecere.
Worst: Signature Lettuce Wraps
810 calories, 46 g fat (9 g saturated fat), 2,540 mg sodium, 66 g carbs (7 g fiber, 21 g sugar), 34 g protein
Skip this starter, or at least share them. "They are the menu item that's highest in saturated fat," says Cecere. "Lettuce wraps sound healthy, but with 46 grams of fat and 2,540 mg of sodium, these are far from it."
Soups
Best: Hot and Sour Soup (cup)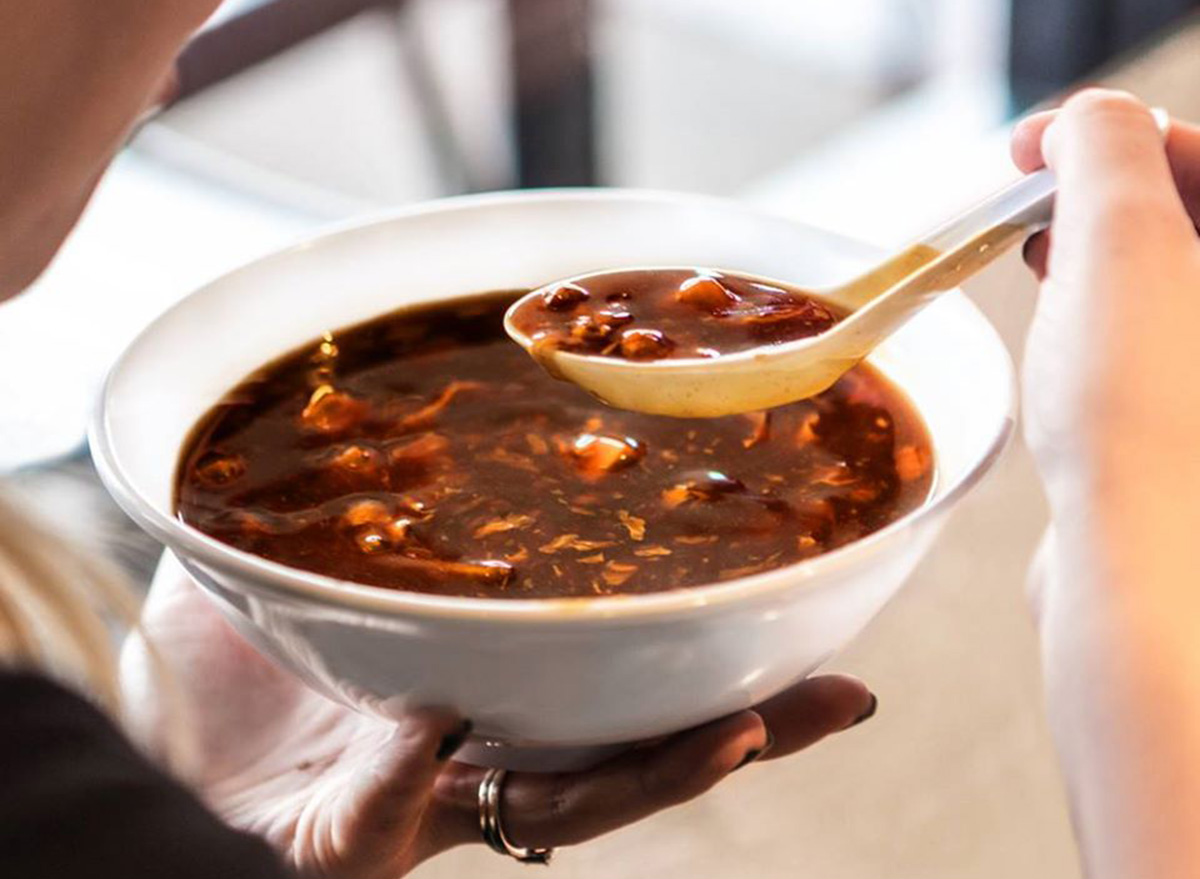 70 calories, 3 g fat (1 g saturated fat), 1,630 mg sodium, 6 g carbs (1 g fiber, 1 g sugar), 5 g protein
"Eating a lower-calorie soup, like the Hot and Sour, before a meal can reduce calorie consumption when it comes time for your entrée," says Cecere. This Pei Wei menu item also has 5 grams of protein.
Worst: Wonton Soup (cup)
70 calories, 2 g fat (0 g saturated fat), 780 mg sodium, 17 g carbs (0 g fiber, 0 g sugar), 6 g protein
Even though this soup option has the same amount of calories and less sodium than the Hot and Sour Soup, it has no fiber and significantly more carbs. Having this soup before an entrée could rack up a high carb count.
Noodles and Salad Bowls
Best: Asian Chopped Chicken Salad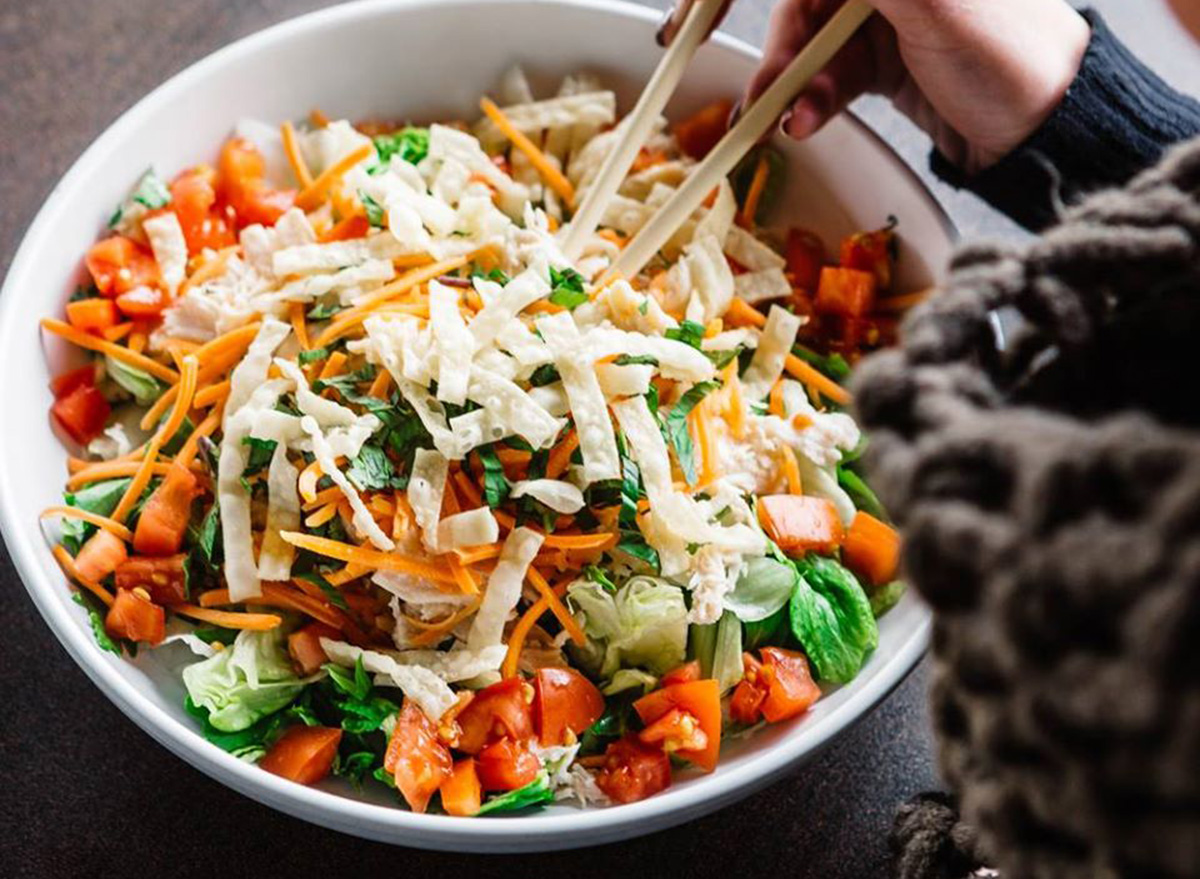 660 calories, 35 g fat (5 g saturated fat), 1,850 mg sodium, 44 g carbs (6 g fiber, 135 g sugar), 46 g protein
Pick this option for a colorful salad filled with red bell peppers, carrots, tomatoes, cilantro, and mixed greens. The combination of the protein from the chicken plus the nutrients and fiber from the veggies will keep you full for hours.
Worst: Chicken Pad Thai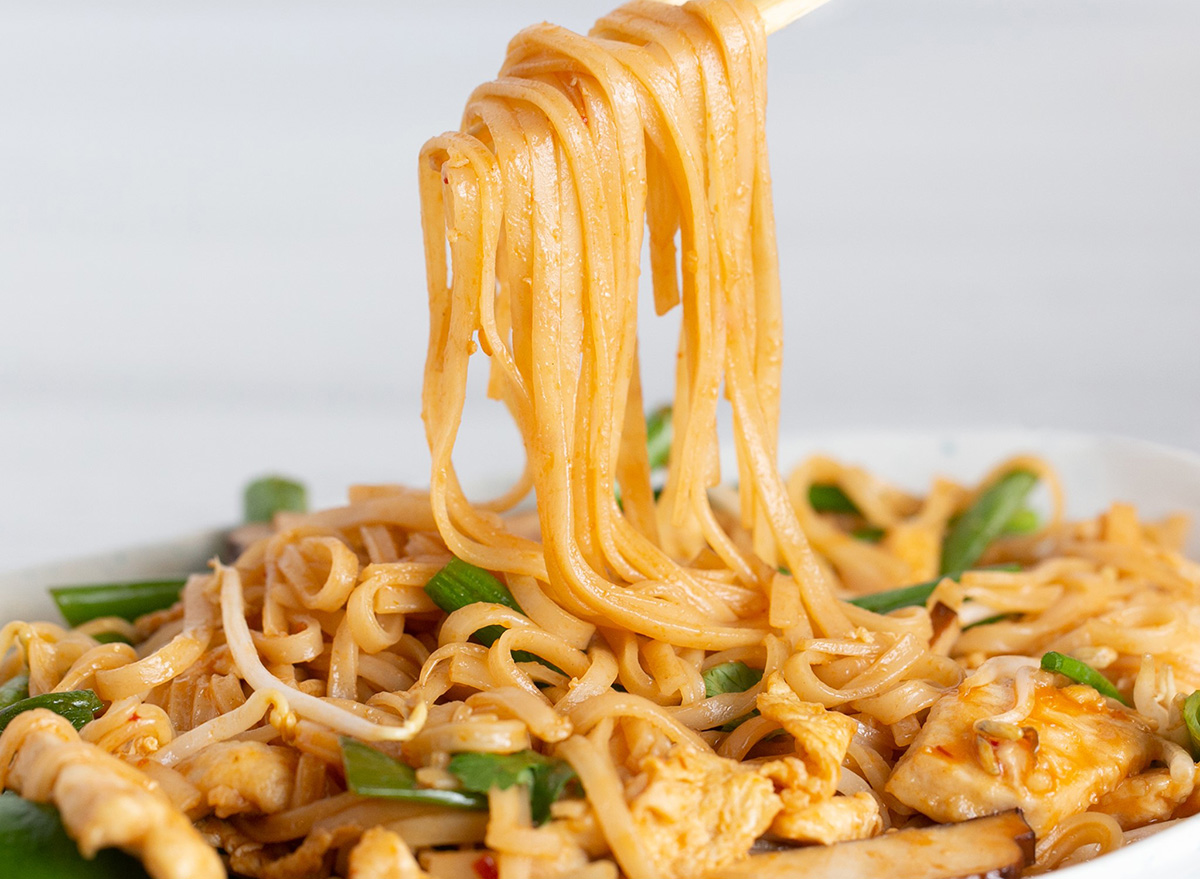 1,490 calories, 42 g fat (7 g saturated fat), 4.720 mg sodium, 167 g carbs (14 g fiber, 50 g sugar), 82 g protein
"While the Pad Thai does supply a lot of protein and fiber, the fat, sodium, and sugar content are all insane," says Cecere. Pick this Pad Thai, and you'll have as much sodium as almost five Whoppers.
Rice Bowl Toppings
Best: Thai Dynamite (small)
240 calories, 15 g fat (3 g saturated fat), 1,220 mg sodium, 24 g carbs (2 g fiber, 20 g sugar), 3 g protein
"By choosing the small Thai Dynamite over the small Pei Wei, you are saving 44 grams of sugar," says Cecere.
What is the ideal combination for a bowl? "My choice here would be the small Thai Dynamite with steamed chicken and cauliflower rice," she says. "This meal comes in at 516 calories, 26 grams of fat, 1,385 milligrams sodium, 36 grams of carbohydrates, 7 grams of fiber, 25 grams of sugar, and 25 grams of protein."
Best: Spicy General Tso's (small)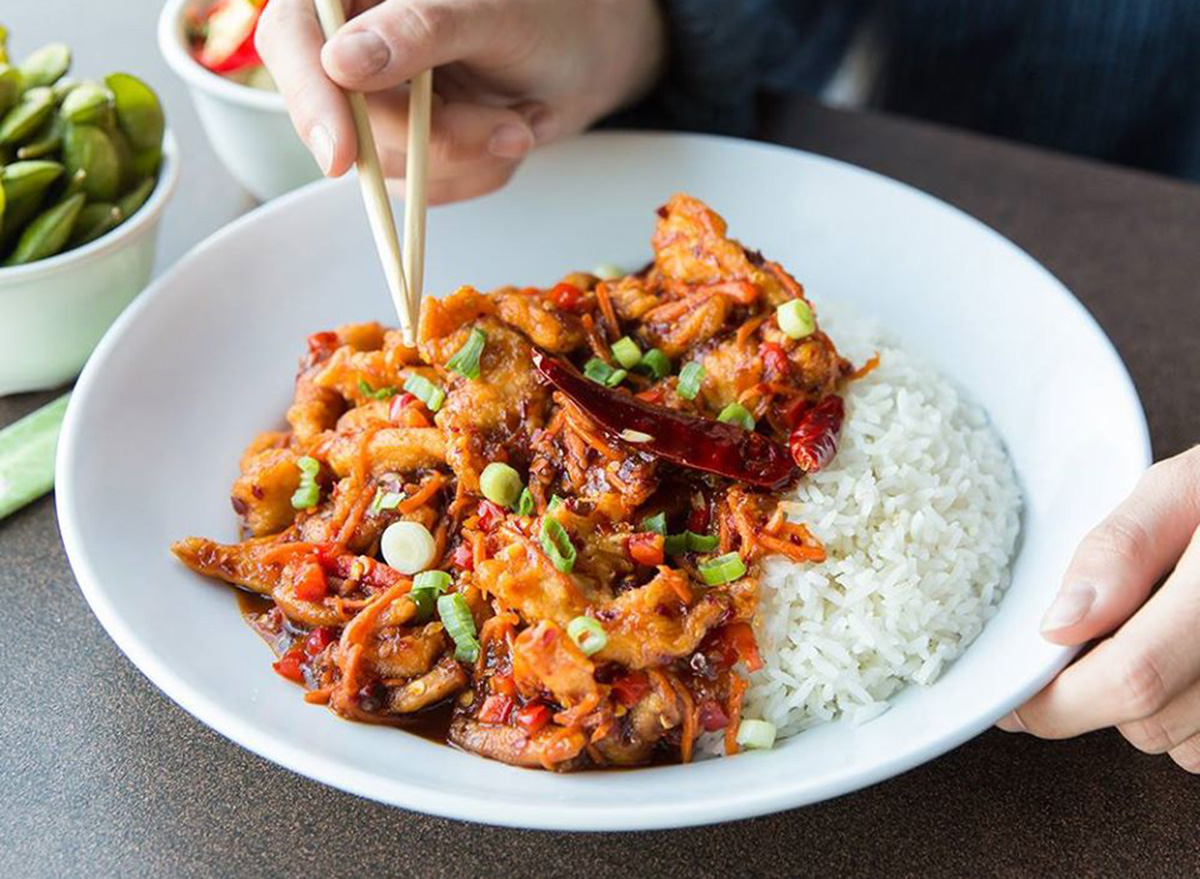 250 calories, 16 g fat (3 g saturated fat), 1,130 mg sodium, 26 g carbs (2 g fiber, 16 g sugar), 3 g protein
This is another great low-calorie option. For other topping varieties, take note of how they are prepared. "Opt for the steamed proteins over the fried or crispy versions," says Cecere. "This lowers fat content substantially." Her choices? Small sizes of steamed shrimp or steamed tofu and vegetables.
Worst: Pei Wei (regular)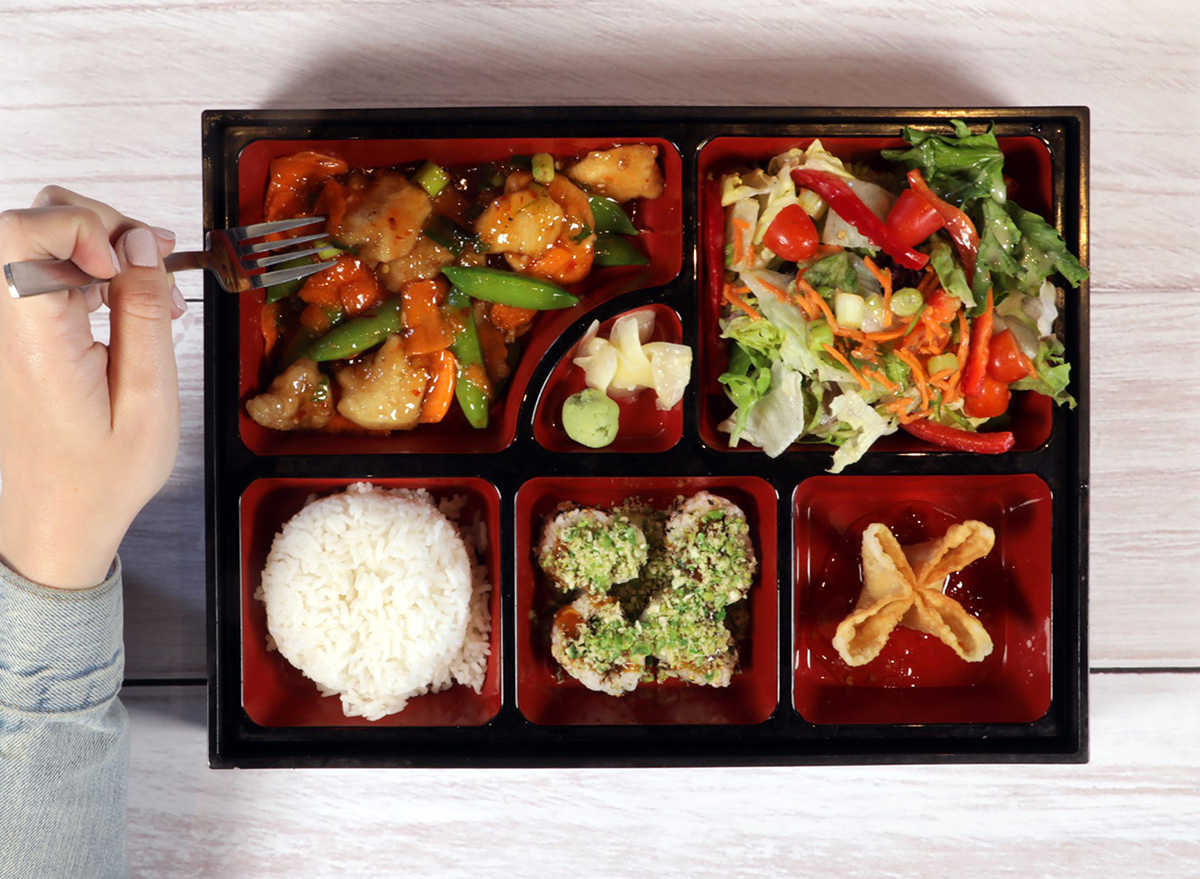 570 calories, 30 g fat (3 g saturated fat), 770 mg sodium, 97 g carbs (3 g fiber, 87 g sugar), 3 g protein
If you go with this sweet and spicy entrée, you are starting out with 570 calories. That's already more than 50 calories over Cecere's suggested build-your-own rice bowl. While there is room to add a good amount of protein (again, go for the steamed options), more sodium, carbs, and sugar will also be tacked on.
Worst: Honey Seared (regular)
520 calories, 26 g fat (4 g saturated fat), 850 mg sodium, 60 g carbs (0 g fiber, 45 g sugar), 1 g protein
"The Pei Wei and Honey Seared options are both just sweet sauces loaded with sugar," says Cecere. This means you'll probably feel hungry pretty soon after eating this Pei Wei menu item.
Rice Bowl Base
Best: Cauliflower Rice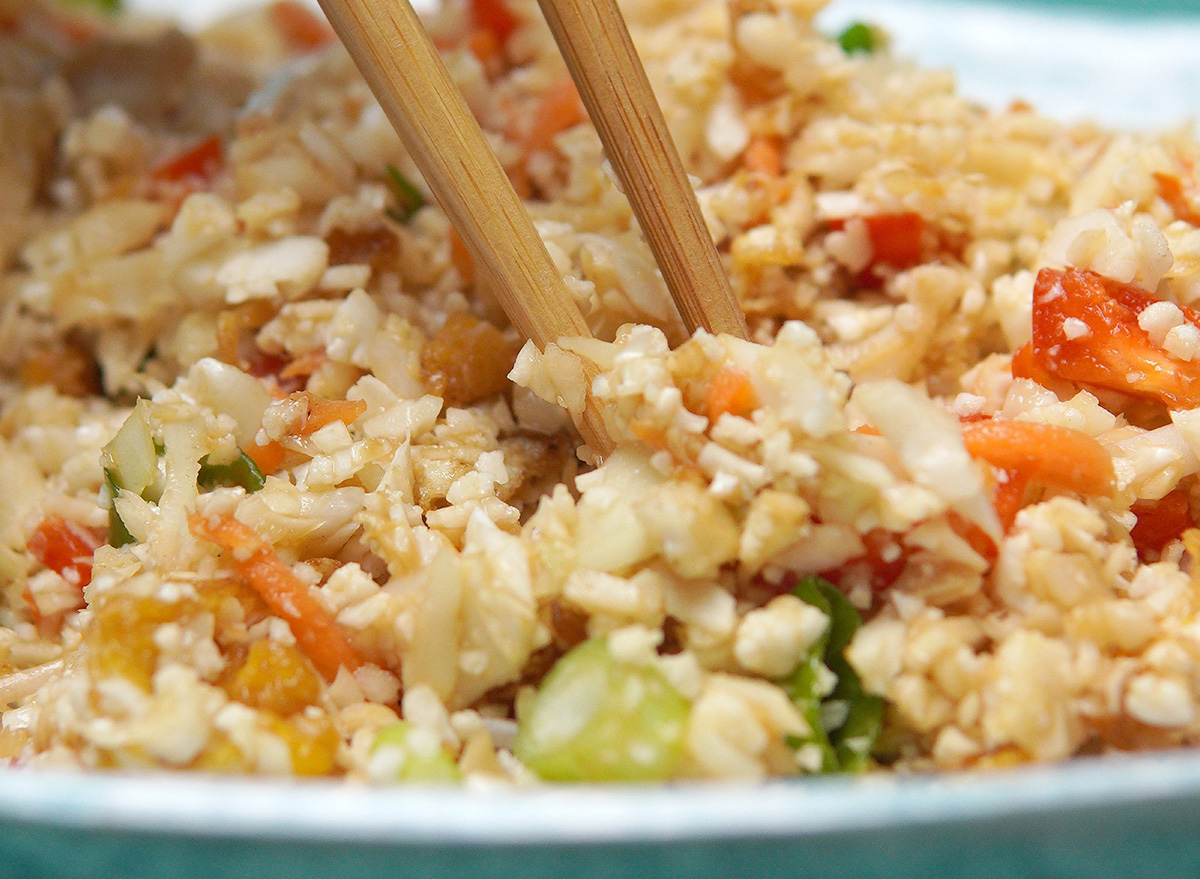 120 calories, 8 g fat (1 g saturated fat), 70 mg sodium, 11 g carbs (5 g fiber, 5 g sugar), 5 g protein
Still not over this food trend? Neither are we! Pick this rice alternative to save just about everything—from calories to sodium, carbs, and fat. According to Cecere, "Cruciferous veggies, like cauliflower, provide vitamin C, phytonutrients, and fiber."
Worst: Fried Rice (regular)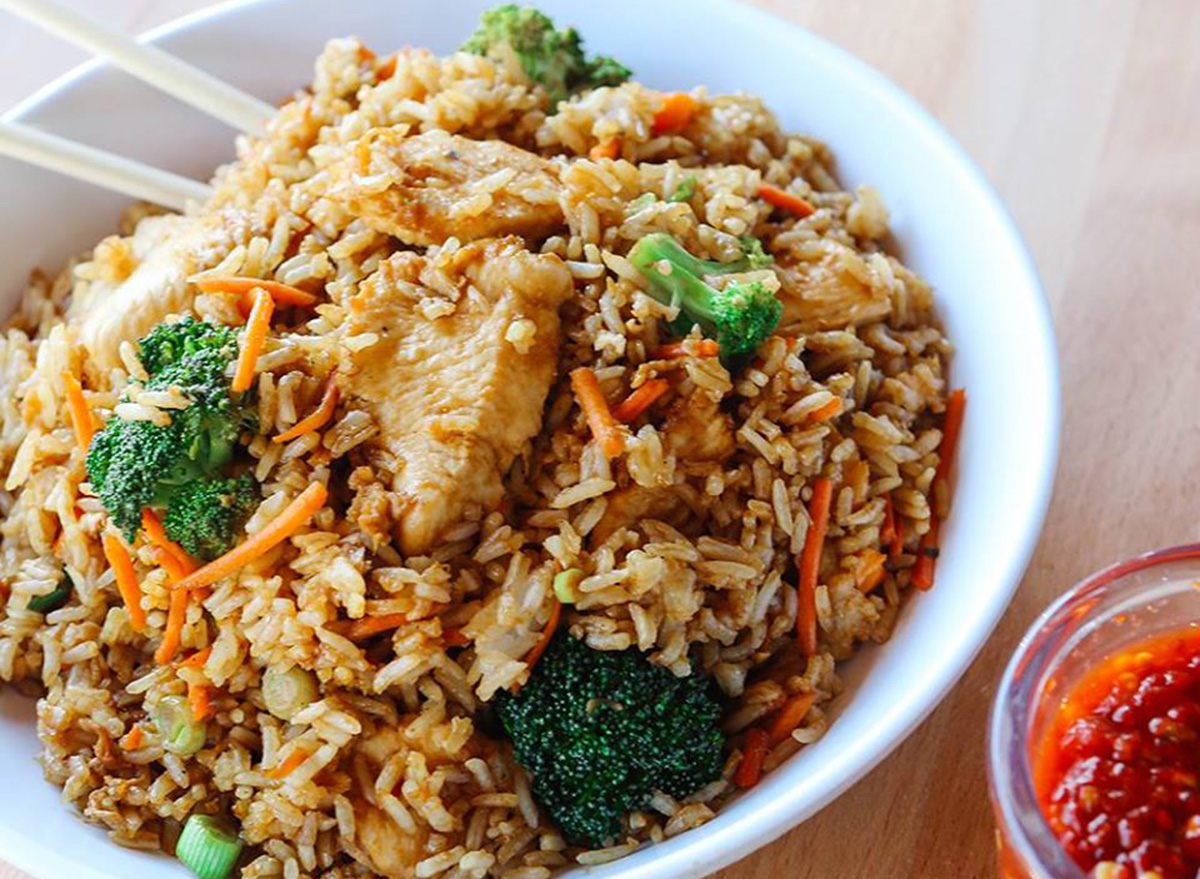 750 calories, 20 g fat (4 g saturated fat), 2,360 mg sodium, 118 g carbs (4 g fiber, 25 g sugar), 18 g protein
"The large Fried Rice has 630 more calories than the Cauliflower Rice," says Cecere. "It also has about 11 times more grams of carbohydrates and 33 times more milligrams of sodium!" So if you pick this option with the Honey Seared topping, you'd have a 1,270-calorie meal with over 3,000 milligrams of sodium, which is almost double your daily recommended amount.
Desserts
Best: Fortune Cookie
25 calories, 0 g fat (0 g saturated fat), 0 mg sodium, 5 g carbs (0 g fiber, 2 g sugar), 0 g protein
You can't go wrong with choosing this iconic dessert made from flour, sugar, vanilla, and sesame oil and totaling in at only 25 calories. "Although it might not feel like dessert," says Cecere. "It could provide a crunchy sweetness most people crave after a meal!"6254a4d1642c605c54bf1cab17d50f1e
Worst: Thai Donuts with Dipping Sauce
760 calories, 25 g fat (7 g saturated fat), 620 mg sodium, 118 g carbs (2 g fiber, 92 g sugar), 15 g protein
With their low $1.99 price, it can be hard to resist a serving, but the 92 grams of sugar in just six of these equals almost four vanilla ice cream cones from McDonald's. "If you really can't say no to the fried donuts, share them and skip the sweetened condensed milk dipping sauce," says Cecere.
Amanda McDonald
Amanda has a master's degree in journalism from Northwestern University and a bachelor's degree in digital journalism from Loyola University Chicago.
Read more about Amanda