Here's Exactly How a Plant-Based Diet Can Protect You From Disease, According to Experts
Two registered dietitians explain how eating more plants can reduce inflammation and support your immune system.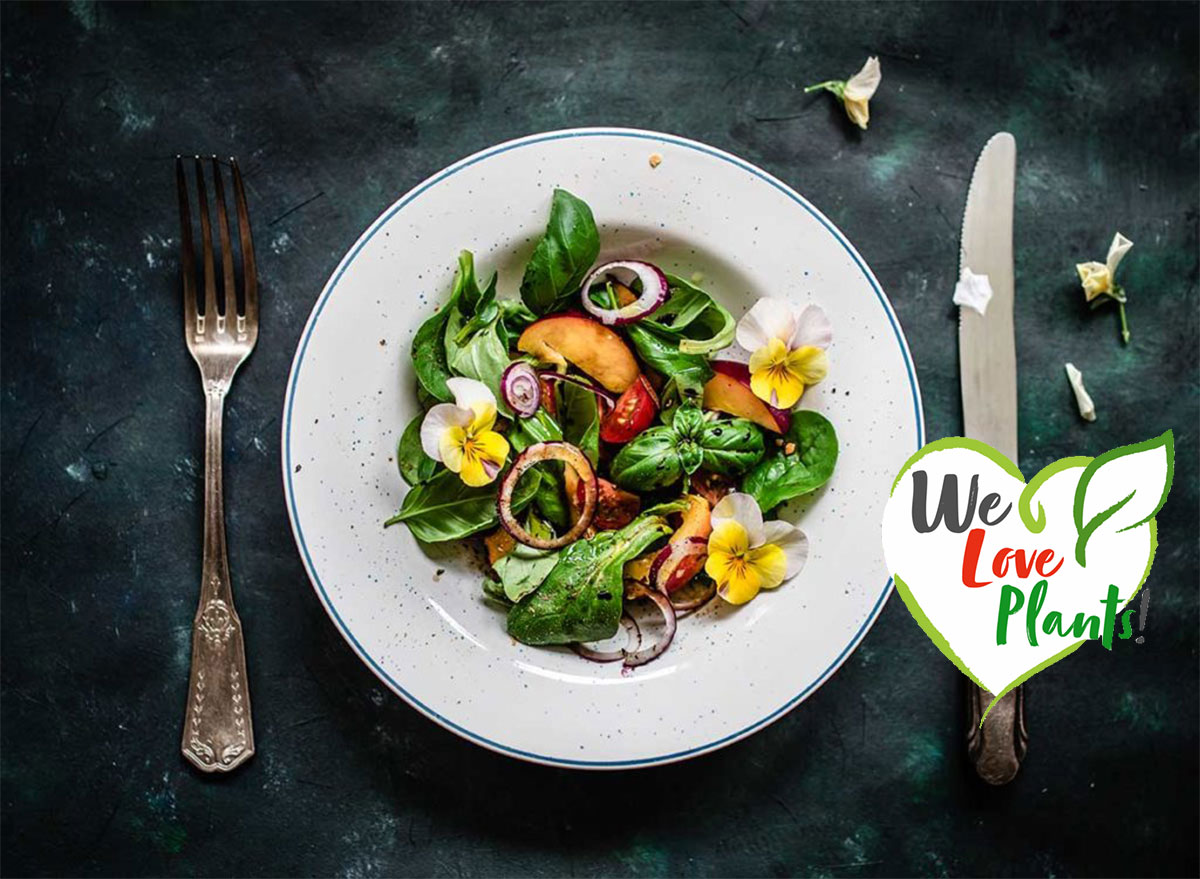 During these unprecedented times, the need to support your immune system is proving to be critical for survival, and what you're eating matters now more than ever before.
Consuming a diet that's rich in fruits and vegetables not only enables you to stay lean but it, more importantly, also may help you to fend off both chronic and infectious diseases. We called on the experts, Ashley Kitchens, MPH, RD, LDN and Sydney Greene, MS, RD, to explain the relationship between a plant-based diet and disease.
Can you explain how a poor diet may be contributing to adverse health complications with COVID-19?
To be clear, we're not suggesting that an unhealthy diet is what's causing people to have adverse health complications with COVID-19—there are many risk factors that doctors and epidemiologists still don't know about the disease. However, it's become clear that those with underlying conditions, some of which are attributable to bad eating habits, are at higher risk of fatality from COVID-19.
"Individuals who have serious heart conditions, like cardiovascular disease, and a body mass index [BMI] of 40 or higher fall under the category of those who are at a higher risk for severe illness and adverse complications from COVID-19," says Kitchens. "Poor eating habits and other lifestyle factors can play a large role in determining one's risk of heart disease and BMI, which in turn puts people in the high-risk group for severe illness from COVID-19."
How can diet affect immune function?
Greene says that one of the key signs that your diet is negatively affecting your immune system is inflammation.
"Inflammation is part of the body's defense mechanism and plays a role in the healing process," she says. "Chronic inflammation has been shown to play a role in various diseases such as diabetes, allergies, and cardiovascular disease."
With that said, there are specific foods that cause inflammation and there are others that work to reduce it. The latter are referred to as anti-inflammatory foods, which include an array of plant-based foods such as fruit, vegetables, legumes, as well as seeds and nuts, which are rich in inflammation-fighting omega-3 fatty acids.6254a4d1642c605c54bf1cab17d50f1e
"All of the nutrients and chemical compounds found in plants do wonders to restore balance in the body," she says.
Kitchens adds that eating foods derived from plants have essential nutrients such as vitamins, minerals, phytochemicals, and antioxidants, that you can't get from other types of food.
"Plant-rich foods help to strengthen your immune system and the essential nutrients in plants work to resolve inflammation in your body," she explains. "Phytochemicals and antioxidants boost your immune system and help neutralize toxins from pollution, processed foods, bacteria, viruses, and more."
Foods that can provoke an inflammatory response in the body are ones that are heavily processed, so think Velveeta, Little Debbie snacks, and Cheetos. It's these foods that could be causing you to become more susceptible to both chronic and infectious diseases because of how they can weaken your immune system.
"Processed foods, with their high sugar levels, omega-6 fatty acids, excess sodium, and junky additives, on the other hand, can stoke the fire of inflammation," says Greene. "When inflammation is high, it taxes the immune system leaving us more susceptible to disease and illness."
How might adopting a plant-based diet help those with underlying conditions fend off disease?
"A plant-based diet can be a powerful tool in your toolbox," says Kitchens. "It's been shown to help improve several risk factors for heart disease including high cholesterol, high blood pressure, and inflammation. A plant-based diet can help lower the risk of these health conditions that are placing people in the high-risk group for COVID-19."
In other words, the time to adopt a diet that includes more plant-based foods is now, and not because it will cure you of COVID-19, but because it may help treat those underlying chronic conditions (cardiovascular disease and type 2 diabetes, especially) that are putting so many people at high risk of having adverse complications with the novel coronavirus.
"We can't ignore the power of plants," says Kitchens. "If we look at pockets of people around the world with the highest life expectancy, they're consuming a diet that is centered around plants."
Greene also points out another important aspect of plant foods—they are a tremendous source of polyphenols.
"Polyphenols are a form of micronutrients that are packed with antioxidants as well as other chemical compounds that can fight off disease," she says.
To ensure that you're getting a wide variety of beneficial nutrients, Greene suggests eating at least four different colors of fruits and vegetables each and every day. For example, you could top your morning bowl of oatmeal with raspberries and blueberries and then, for lunch, part of your meal could include a handful of garlicky, sautéed greens as well as carrots with hummus. There you have it, four colors (red, blue, green, orange) all ingested before 1 p.m.
Do you think we will see a shift in people moving toward a plant-based diet during or after this pandemic?
This is a difficult question to answer because it heavily depends on whether people are willing to change their current diet. However, both Kitchens and Greene are optimistic that this change could potentially occur naturally.
"I think people are being forced to get creative in their kitchens as well as in the grocery store," says Greene. "With the lack of available animal proteins, consumers are now having to try out plant-based protein sources such as beans and grains."
It's true, some of the nation's largest meat-processing facilities have temporarily shut down due to many workers testing positive for COVID-19. As a result, it's possible that there could be a meat shortage in the near future—especially if this pandemic persists.
If anything, health experts hope that this pandemic will help people realize how crucial it is to fuel your body with nutritious, immune-supporting foods.
"With this pandemic, we've come to realize the importance of our health and what we can do to protect it and support it as much as possible," says Kitchens.
Not to mention, reducing your meat and cheese intake will not only help to lower your cholesterol, but it will also likely make your grocery bill a little less expensive.
"Throwing together a veggie salad or cooking up a stew with lots of beans and vegetables is a very simple, cheap, and effective way to nourish our bodies," says Greene. "I hope people are realizing that."