Plant-Based Weight-Loss Secrets Omnivores Need to Know
A top RD spills her secrets for eating a delicious plant-based diet—without ditching meat completely.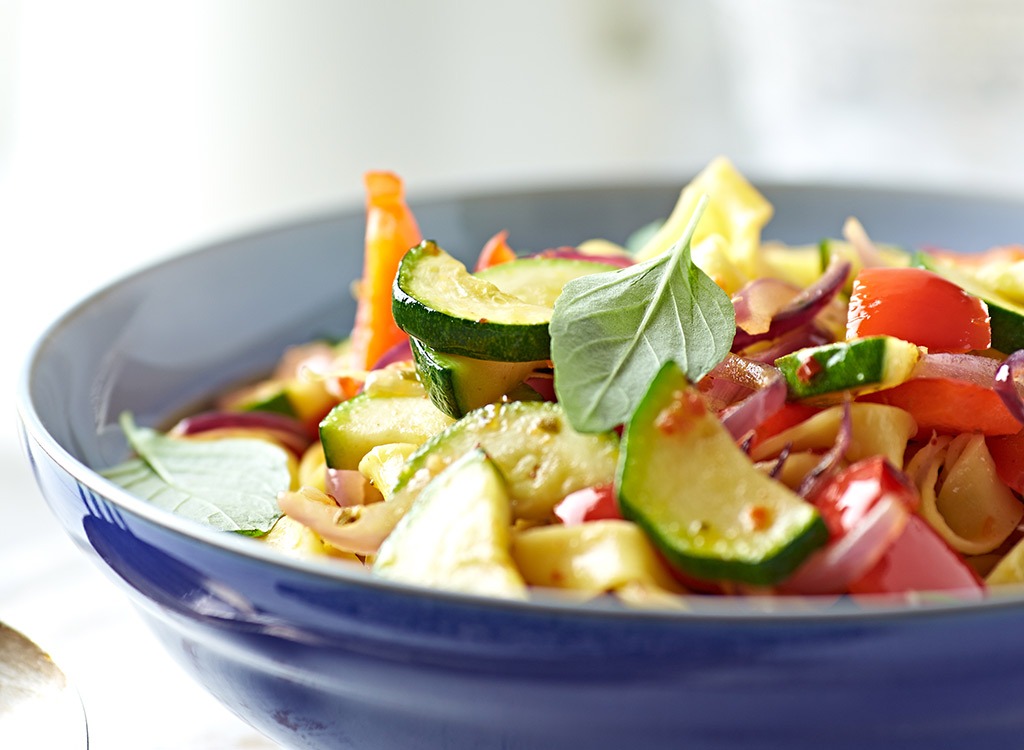 People assumed the differences between a vegan lifestyle and an omnivorous one were so big that debate-worthy fights would break out. But now science is stepping in as the moderator. While a study cited veganism as the most effective weight loss diet, research also shows it's possible — and beneficial — to have a moderate stance and diet. Turns out, you don't have to give up meat full-time to milk the health and weight loss benefits of being a vegan. From scheduling Meatless Mondays to adopting Mark Bittman's popular VB6 plan — in which you eat vegan until dinnertime each day — there are many ways to make a partially plant-based diet work for you, all the while shedding weight — and keeping bacon on the menu.
We wanted to know the best healthy eating and weight loss secrets (without giving up the occasional frozen pizza) so we tapped Wendy Bazilian, DrPH, RD, and author of The SuperFoodsRx Diet for her top tips on working towards a more plant-based diet.
Add, Don't Subtract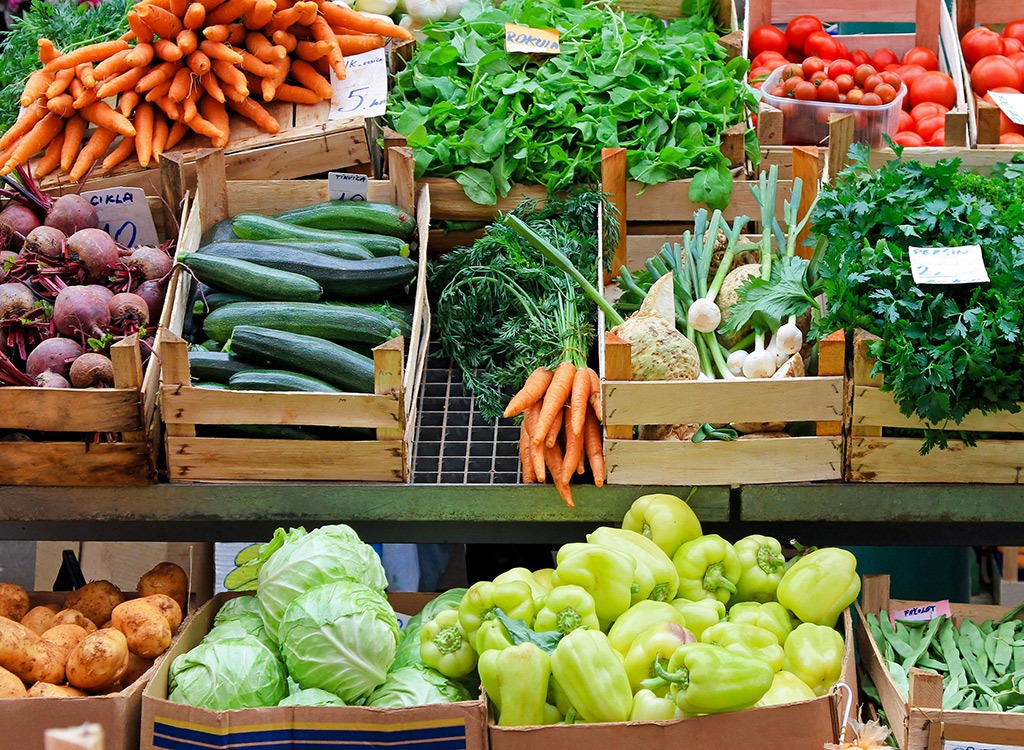 "Focus on adding fruits, veggies, beans, nuts, seeds, whole grains, tea, and water…not on reducing meat," Bazilian recommends. In the beginning, a plant-based diet should simply mean "eat more plant foods." An easy way to do this that Bazilian suggests is starting your meal with a soup or salad. "This ensures your meal features veggies, and it's also a good strategy for slowing down the meal pace," she explains. Spending more time over a healthy meal means your body has longer to register satiety signals, so you'll likely end up eating less overall.
Eat This! Tip
Legumes are the smartest place to start if you want to ease into plant-based eating gently. You'll not only pack plenty of protein into your diet but also ward off cravings by staying fuller for longer. Regular consumption of legumes can, in fact, make you feel 31% fuller than passing on the fiber-packed beans, a St. Michael's Hospital study found. It gets better: upping your plant-based protein consumption may even play a role in preventing obesity, one study in Nutrition Journal found.
Don't Call This Diet Vegetarian
"While a person that follows a vegetarian diet likely also follows a plant-based diet, you can be a meat, poultry, or fish eater and still be plant-based in your approach," says Bazilian. "Plant-based eating is inclusive—we all can benefit and have that in common, even if we differ on certain fine details," she adds. Focusing on the delicious foods you can eat—rather than worrying about what you have to "give up"—ensures you'll stay plant-based longer.
Eat This! Tip
Avoid the newbie mistake of trying to swap non-veg favorites for vegan meat alternatives. Those vegan chicken nuggets can be loaded with nasty additives and sky-high amounts of sodium — and they probably won't quench your hankering for the real deal. Try dabbling in ethnic cuisines, instead. Indian food offers spicy and filling curries, Japanese food boasts a dizzying array of weight-loss-friendly seaweed salads and veggie sushi rolls and Mexican is great for diet-pleasing veggie fajitas and guacamole.
Take Meat off the Menu Once a Week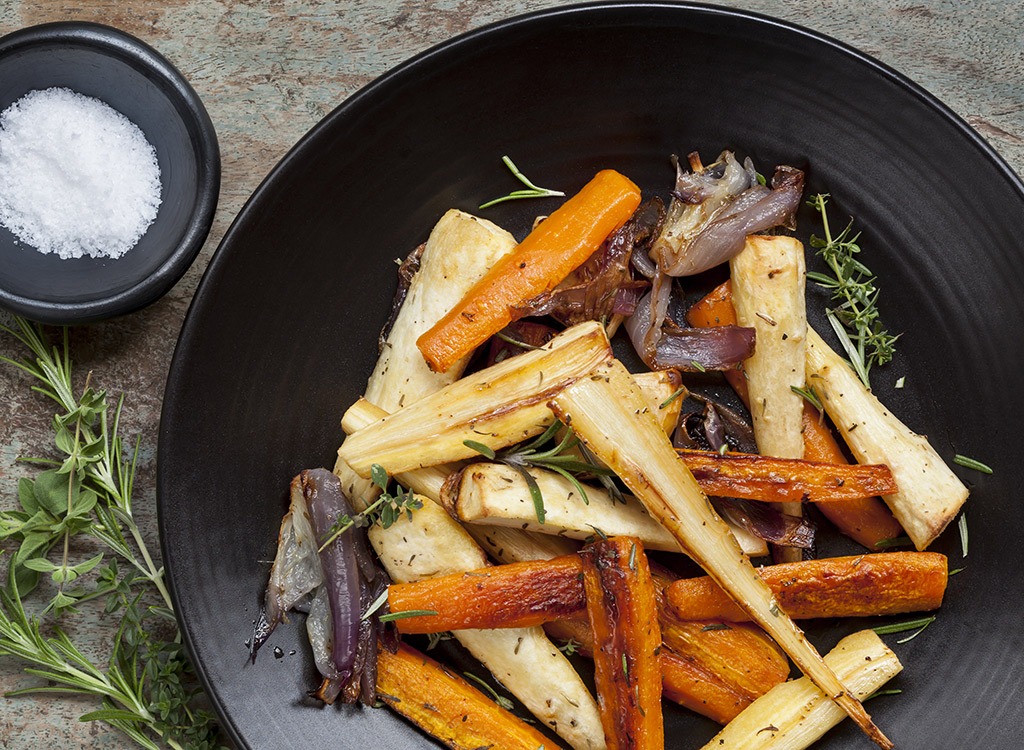 It's time to finally add Meatless Monday to your schedule — any day of the week. If the start of your week is typically swamped and you know you won't have time to plan ahead, simply choose another day. "Think about identifying one day each week where plant-foods are front and center at every meal, all day," says Bazilian. An easy way to shift to plant-based food is to focus on a single type of change. Bazilian suggests trying Tofu Tuesday or even Fruit-Forward Friday. Get creative and try new approaches each week; even the once-a-week cut back on meat is good for your health, according to the Mayo Clinic.
Eat This! Tip
Smart meal prep will help with your weight loss success. Over the weekend, try making a large batch of grains (like brown rice or quinoa) and a big batch of beans so you can quickly pull together healthy meals throughout the week.
Slip More Nuts into Your Diet
Get to know how nuts fit into your diet beyond your mid-afternoon snack. They can be a boon for weight loss and they help ensure you're getting enough protein when you're cutting back on traditional, animal-based sources. Get creative and they're easy to slip into your meals and snacks throughout the day. "Add a few walnuts to your morning oatmeal or your salad at lunch. Use nuts in a trail mix at snack time or as the coating for salmon or chicken or mixed in a bean-based burger or stir-fry at dinner," suggests Bazilian. Don't ax them from the office snack drawer, though, especially walnuts. This variety is an excellent source of omega-3 fatty acids and packs enough protein and fiber to keep you feeling fuller for longer, which is key when it comes to promoting efficient weight loss.6254a4d1642c605c54bf1cab17d50f1e
Eat This! Tip
If you're a fan of snacking, we suggest picking up a package of pistachios, one of our favorite high-protein snacks. Sometimes called the "skinny nut," they earn their nickname by packing only 100 calories into a generous 30-nut serving. Make sure you look for unsalted varieties to avoid bloat. Pro-tip: If you accidentally picked up the salted variety and are in a pinch, give the nuts a quick rinse to slash some excess sodium.
Befriend Herbs and Spices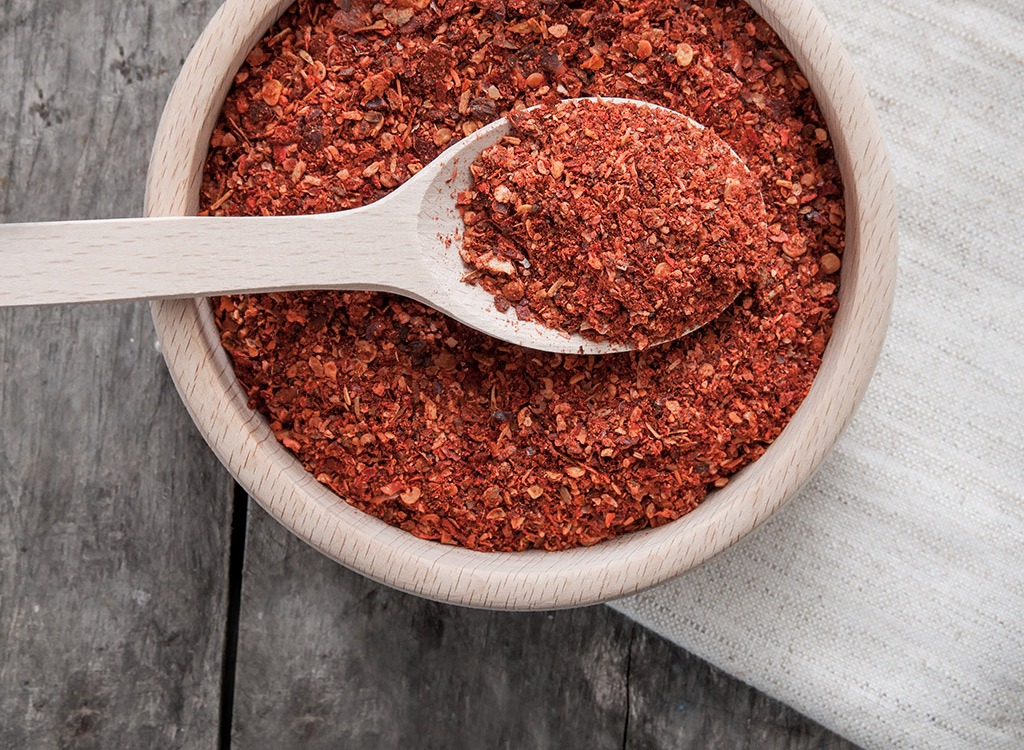 When you tell someone you're on a plant-based diet, they're far more likely to think "tofu steak" than "chickpea curry." Vegan and vegetarian diets have a reputation for being, well, less than spicy — a reputation that's entirely unwarranted. Your best friends in the battle against bland tofu: herbs and spices. "They are plants and they are flavor! That's a win-win," says Bazilian. Sure, a meat-centric diet can boast satisfying umami, but much of that comes from fat and sodium-laced marinades and sauces — recipe additions that can add inches to your waist. Herbs and spices, on the other hand, are low on calories, but high in flavor; they help transform a blah meal without packing on pounds like a cheese sauce or fattening dressing would. To get started, try a handful of mint in your morning weight loss smoothie to wake up your taste buds, or a generous sprinkle of fat-burning cayenne pepper on a stir-fry.
Eat This! Tip
Put the best spices for weight loss front and center on your spice rack so they become your go-tos when cooking.
Rethink How You Food Shop
There's no disputing that the produce section should be your primary stop at the supermarket, but there's no reason to skip the other aisles entirely. Canned, jarred and frozen foods are all fair game and can bolster your daily diet as long as you follow this simple tip from Bazilian: look for products that use whole foods and have short and simple ingredient lists. Also, challenge yourself to think creatively about how you update your regular grocery store routine. Instead of meat, look for vegan hits of umami flavor like kalamata olives, mushrooms, and miso paste, all of which can enhance whole-grain pasta dishes or liven up bean- and tofu-based meals. In addition to eating healthier and promoting your weight loss goals, you'll also probably see your bill go down without the expense of meat, fish, and dairy.
Eat This! Tip
When starting out on a plant-based diet, make a pact to try one new food each week. Vegan eating has no shortage of weight loss foods to slip into meals. Start by challenging yourself with staples like protein-dense seitan. You'll slowly broaden your culinary comfort zone without having to worry about unused food going to waste.
Keep it Simple

Save the pressure cooking for your crockpot, and take it easy on yourself as you change your diet. Bazilian warns against overthinking the changes or trying to overhaul your whole diet. "Take simple steps toward more plant-based foods in your day," she suggests. That can be as simple as replacing your afternoon snack of Greek yogurt and a piece of fruit with almond butter toast with sliced banana or just slipping more greens onto your dinner plate. Work on making little tweaks to your daily diet until they become a habit. Then move on to another small change.
Eat This! Tip
Stow a jar of one of these healthy nut butter options at work so that all you have to do is pack a piece of fruit to have a balanced mid-afternoon snack.