10 Costco Finds That Customers Are Currently Raving About
*Immediately adds to cart*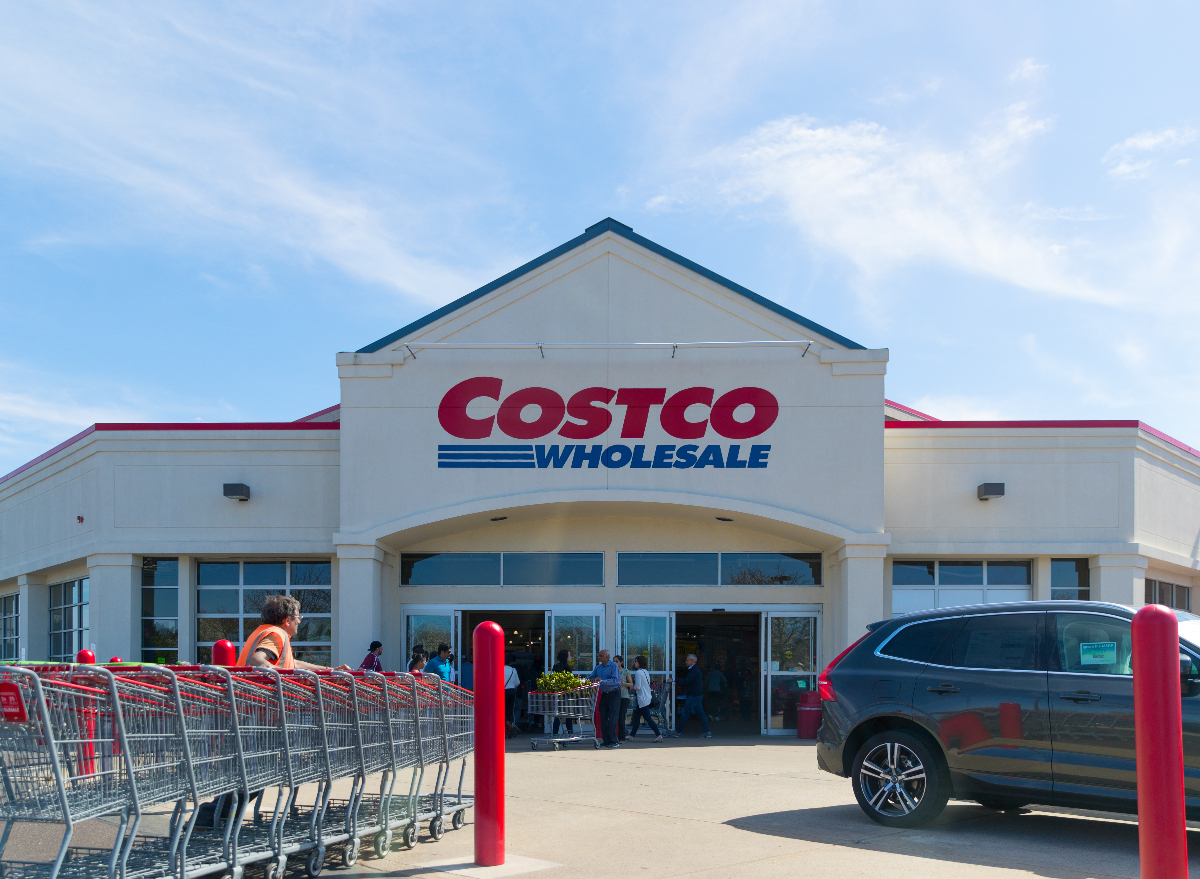 The product recommendations in this post are recommendations by the writer and/or expert(s) interviewed and do not contain affiliate links. Meaning: If you use these links to buy something, we will not earn a commission.
Do you ever just wander into Costco and let the warehouse tell you what you need? It can be such a freeing experience, but it can also open you up to a whole new world of amazing foods and products that you never knew existed back when you stuck rigidly to your grocery list.
Of course, you should continue to take advantage of Costco's unbeatable prices on standard bulk items like dried beans and lentils and frozen produce or poultry. But, make sure to keep an eye out and keep an open mind about the warehouse's rolodex of other items that just might become a new household favorite. Read on to learn about a few products which other members are currently discovering and loving, and be sure to include them in your next Costco haul.
Goodles Cheddy Mac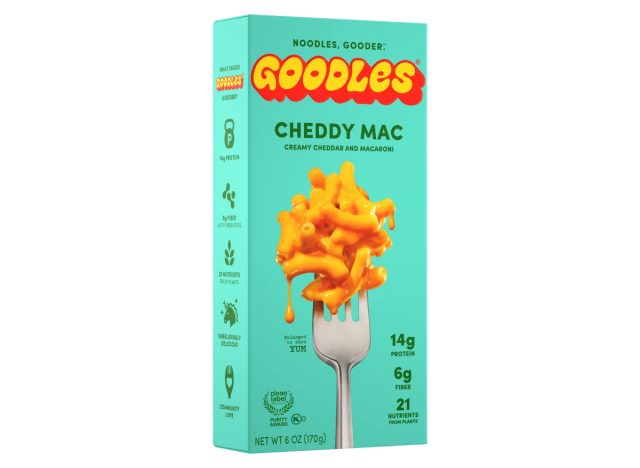 Boxed macaroni and cheese with real cheese and no artificial flavors or preservatives? It's like a cheesy dream come true. Costco is now selling the Goodles Cheddy Mac in sets of 8 boxes—each containing 14 grams of protein, 7 grams of fiber, and 21 nutrients from plants. Customers on Instagram describe the product as the best of the best and "an upgraded version of Kraft." Others also show their support and hope this arrival means that Goodles' other unique flavors—such as Creamy Black Truffle Cheddar and Shells and Asiago and Parmesan with Spirals—will soon be gracing warehouse shelves as well.
Touchscreen Sur La Table Toaster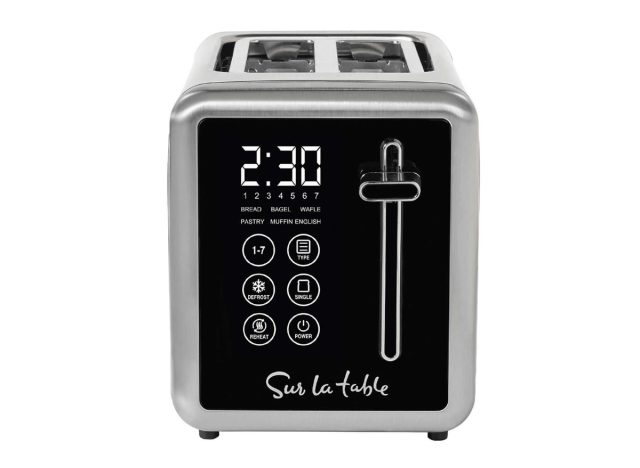 The toaster of the future is here, and is currently on sale at Costco.com! News of the deal has been popping up all over social media along with images and videos of the sleek and high-tech Sur La Table Touchscreen 2 Slice Toaster. The Instagram account @costcodeals additionally shares that the appliance comes with seven different shade settings and toast functions including defrost, reheat, bread, bagel, waffle, pastry, and English muffin, "making breakfast routines a breeze!"
Fans in the comment section show their support. One member says, "Got ours at this terrific price! We love it!" Another adds, "🙌Got it! Looove it!! Looks soo good on my kitchen counter! Plus it's on sale so no brainer!" Snag yours for just $28.99—a cost savings of $11—until February 20.
Wild Whole Dungeness Crab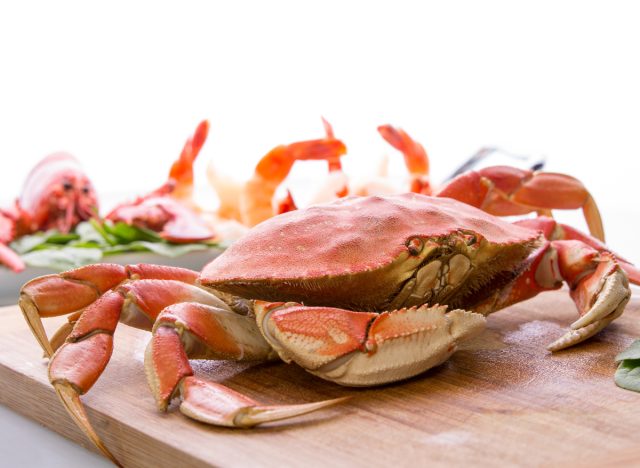 The crab shortage of 2022 doesn't seem to be affecting Costco's current supply, and members are taking notice. On Reddit, one customer posted, "I couldn't be happier to see wild whole Dungeness crab at that price. I'm in PNW, Oregon state but I'm not sure about other Costco locations though." In the included picture, you can see the meaty crabs priced at just $4.99 per pound, and judging by the comments, you definitely get your money's worth. There is one unfortunate downside, however. The crustaceans appear to only be available along the Pacific coast, and most abundantly in both Washington and Oregon. So, those farther east, and especially in more landlocked states, may be crabby when they find out it's unavailable in their region.
The Wand Wine Filter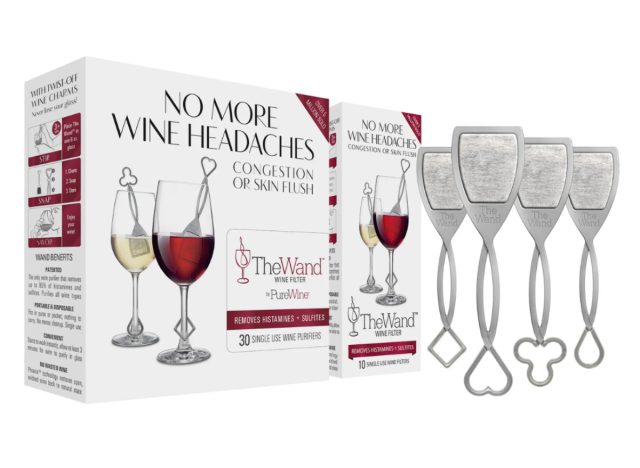 If you're a warehouse member, you likely already know about Costco's wide assortment of well-priced wines. But, have you heard of this handy dandy gadget now on sale in the wine section as well? It's called The Wand Wine Filter by PureWine and according to Costco's Facebook post, it allows you to "Sip and savor wine without the side effects"—such as headaches, congestion, or skin flush. And, it is already stirring up plenty of conversation. While some say they didn't notice much of a difference after swirling it in their wine, others say it works miracles.
In one Facebook comment, Kimberly R. Green says, "I just tried this last night and it worked so well! I didn't get flushed and I didn't get the immediate headache I normally get." Missie Faubert Anderson adds, "Oh good to know they sell these. They work wonderful for me and handy to have in my purse." Sounds like these magic wine wands are definitely worth a try!
Kirkland Supreme Cauliflower Crust Pizza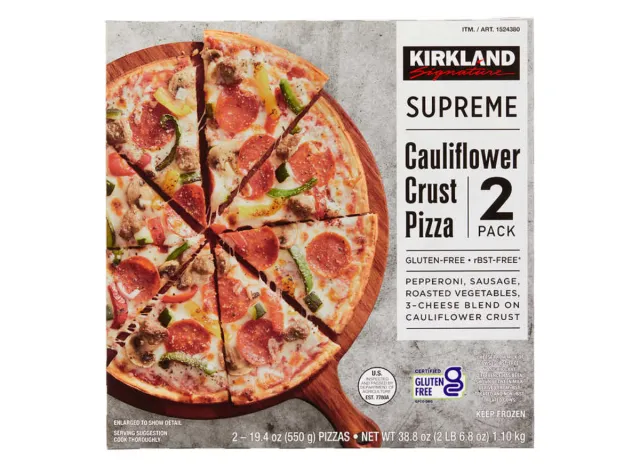 Kirkland, Kirkland, Kirkland—will you ever disappoint? The Costco exclusive brand offers a diverse line of fan-favorite products from batteries to wine, and now we can add its Cauliflower Crust Pizza to the list as well. Redditor U/Strict-Mix-1758 shares, "Would eat Costco's cauliflower pizza over normal pizza. It's light on my stomach." The post received nearly 500 upvotes and had commenters in a tizzy over the pie—something truly rare for a gluten-free food. Someone else even commented, "No kidding. It's not that it's a great alternative crust frozen pizza, or even a frozen pizza. It's a great pizza. I think my wife and I prefer this crust to regular crust now."6254a4d1642c605c54bf1cab17d50f1e
The Kirkland pizza sensation is served up in the flavor of Supreme topped with pepperoni, sausage, roasted vegetables, and a three-cheese blend. Plus, it's sold in a pack of two for double the yum.
Deep Indian Kitchen Butter Chicken
Costco shoppers on Reddit are obsessing over this easy-to-make and satisfying single-serve Butter Chicken from Deep Indian Kitchen. According to commenters, it's the real deal and an authentic Indian food brand. User U/RedVelvetCake425 says, "Did not think I would see the day when Costco carries a brand that I can only find at an Indian store. This is awesome." In terms of flavor, another commenter describes the Butter Chicken as, "Not spicy. Just savory deliciousness with a little heat." They add, "I would have bought more boxes if I had the freezer space."
The dish includes chicken, creamy sauce, and cumin basmati rice, and is ready in just minutes in the microwave—yet another Costco hot find!
Eastern Standard Provisions Co. Artisanal Soft Pretzels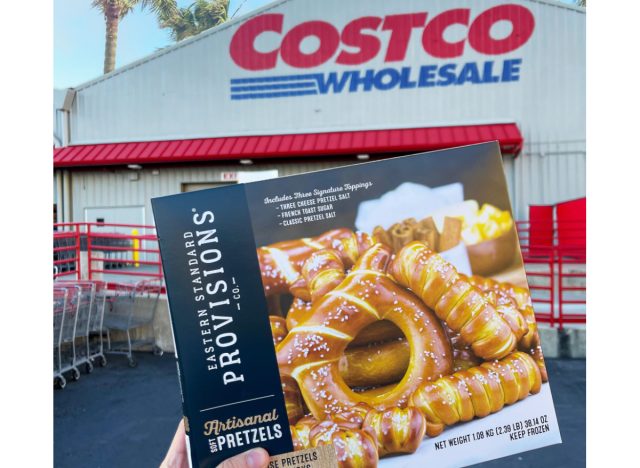 Instagrammer @costcohotfinds received nearly 18,000 likes on her post about these snackable Artisanal Soft Pretzels from Eastern Standard Provisions Co. The pillow-like pockets of dough come in three different shapes—twists, sticks, and nuggets—and three different salt types to satisfy cravings of all kinds including Three Cheese Pretzel Salt, French Toast Sugar, and Classic Pretzel Salt. And, according to many commenters on the post, the product comes in at just the right price. "Ordered online from same company – this will be far more cost friendly – yum and thanks for heads up," one happy customer writes. Others agree that at just around $11.99 (depending on where you live), buying the product at Costco is an absolute steal compared to purchasing straight off the brand's website.
Signature Stoneware Bowl Set with Lids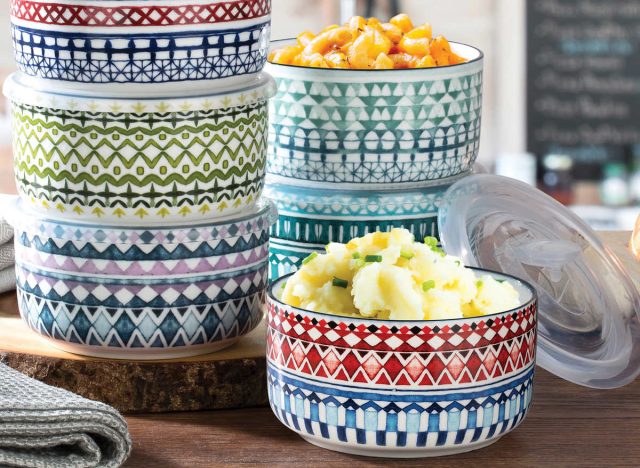 Plastic bowls and tupperware are out, stoneware is in. These trendy, patterned bowls from Signature Housewares were recently spotted on Costco's shelves by Instagrammer @costcobuys, and for just $18.99 the set of six is receiving some major attention. What's so great about them? They each come with their own vented lid, they are both microwave-safe and dishwasher-safe, and not to mention they are chip-resistant. Sounds like the perfect convenient and long-lasting addition to your kitchen.
Chicken Chipotle Flautas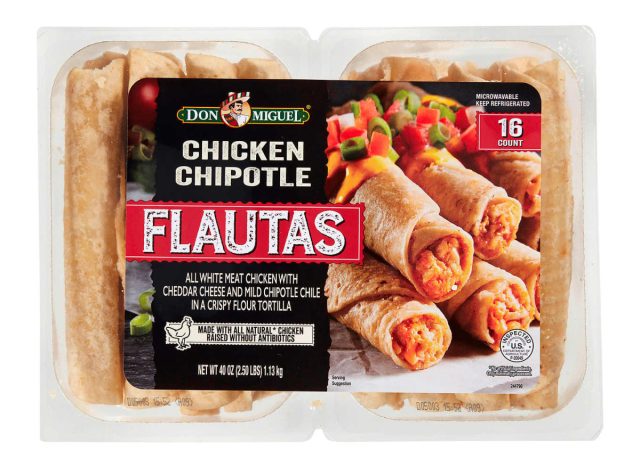 The recent sale on these Chicken Chipotle Flautas from Don Miguel is sadly over, but they are still an incredible deal at just $12.89, or just over $0.80 for each flauta. @costcodeals points the product out on Instagram saying, "These flautas are great for a quick snack! Kiddos love them for lunch or after school bite!" Many Costco members agree in the comments that the tortilla-rolled treats are a definite hit among both kids and adults alike. And, others chime in to add that cooking them up in the air fryer is a must to get that perfect crisp texture. Be careful though, apparently they can be quite addictive!
Reese's Dipped Animal Crackers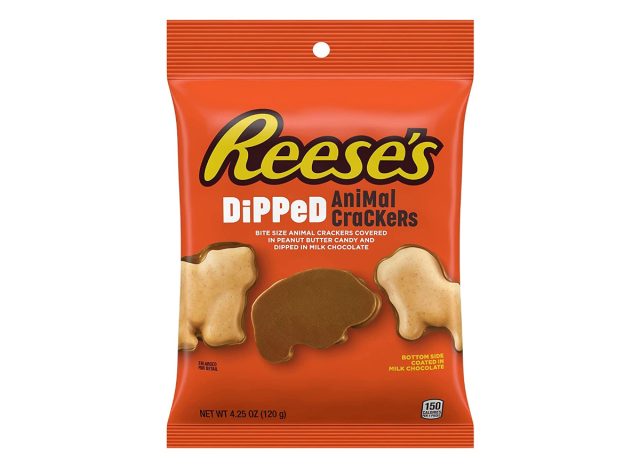 Sweet tooths might want to sit down for this one. These chocolate and peanut butter animal crackers are not only new to Costco, but are a brand new addition to the Reese's family as well. On the brand's website, customers are invited to, "Take a walk on the wild side with REESE'S DiPPeD Animal Crackers. We've coated your classic animal-shaped cookies with our peanut butter candy and smooth milk chocolate to make a snack that's perfect for monkeying around or just chinchilling out."
Of course, at Costco, the wild treats are sold in monster-sized 1.5-pound bags—and it appears that some members are already stocking up. One Reddit user shared, "While at the checkout today the cashier told us that earlier today a man bought six bags because he was afraid Costco would quit selling them. They are just that good! We bought two bags ourselves." That's enough to start your own chocolate zoo!
The Reese's Animal Crackers are starting to graze about at many Costco locations nationwide, so make sure to corral them if you see them.