These Are the Top Food Products of 2020
Over 40,000 consumers like you completed a survey and said these are the best food products on the market.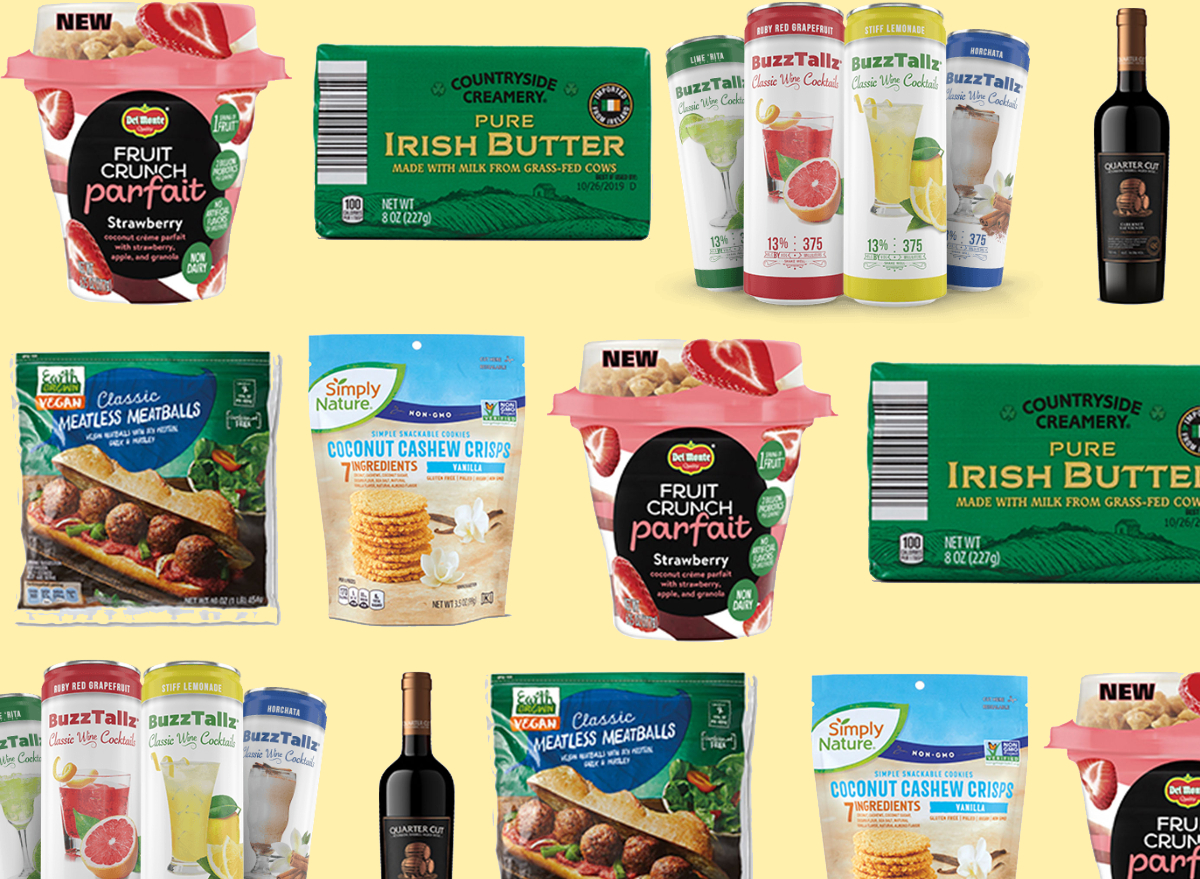 Product of the Year USA is the largest consumer-voted award for innovation. Each year they co-conduct a nationwide online study of 40,000 consumers with Kantar TNS, a global market research company, to determine the top new products (from food to household items). To be eligible, the products must have launched after Jan. 1, 2018, be available nationwide for purchase, and "demonstrate meaningful consumer innovation" in one of four areas: function, design, packaging, and ingredients.
We chose to only look at the top food and beverage choices for 2020, so get ready to fill up your shopping cart (or online cart) with these top-notch products.
Here are the top-rated food and beverage products from 14 different categories.
Aunt Jemima's Pancake On The Go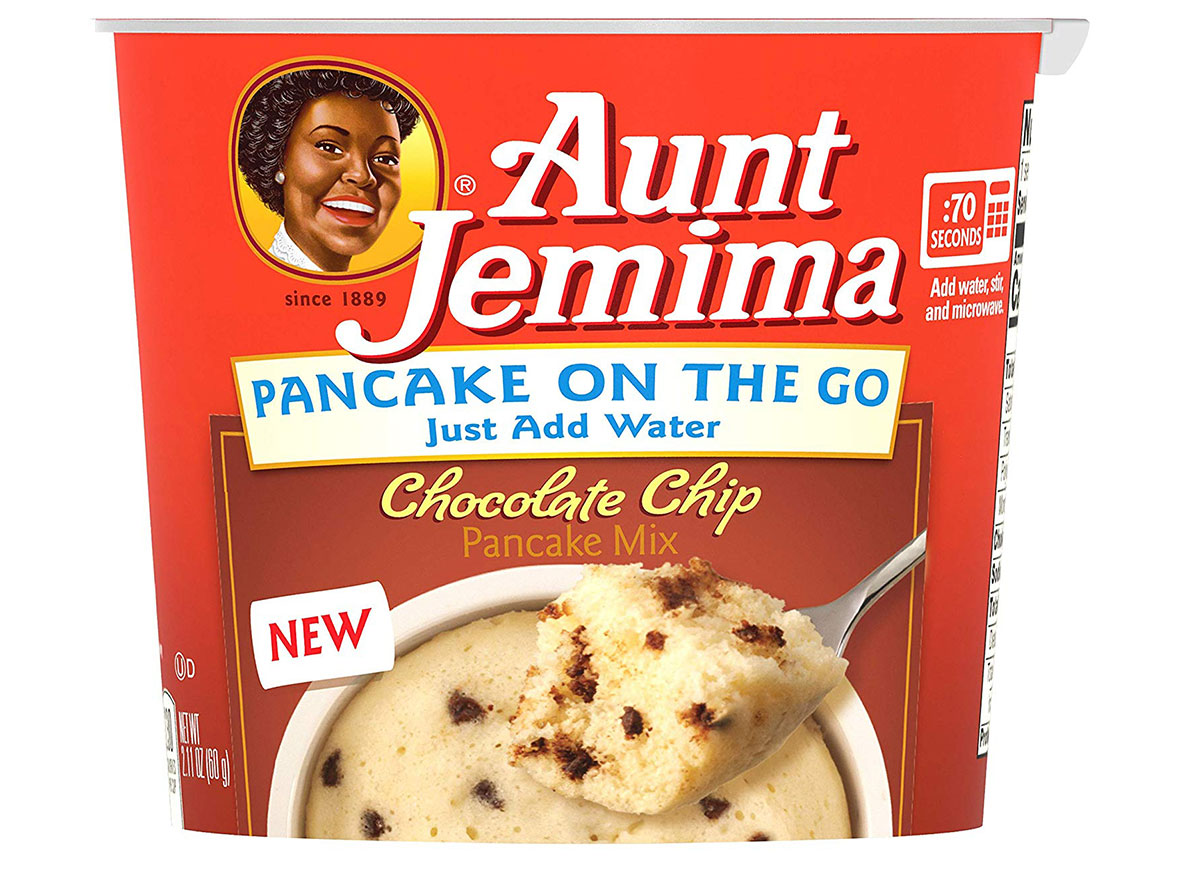 It's not every day you get to have delectable, fluffy pancakes for breakfast. Luckily, Aunt Jemima makes your morning meal preparations even easier with these on-the-go pancake cups. As long as you are close to a microwave and have access to clean water, you can whip up either one of two pancake flavors—buttermilk and maple or chocolate chip—in just one minute.
You can buy a pack of 12 for about $15 on Amazon.
Baby Ruth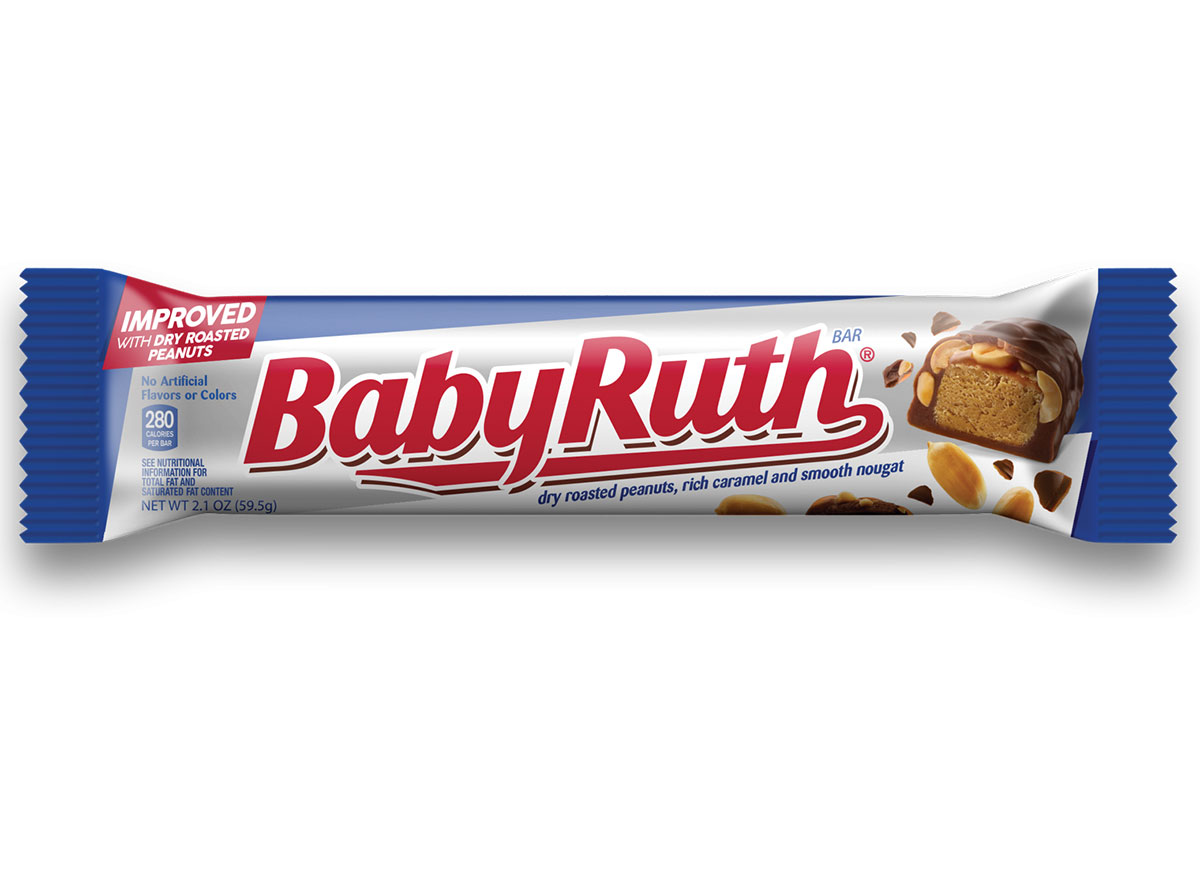 The iconic candy bar is back and better than ever. For all of the peanut lovers out there, the new candy bar recipe offers an even more robust peanut flavor to go along with the caramel and nougat decadence. The best part? They also come in mini sizes.
You can order a pack of 24 for just under $24 on Amazon.
Aldi's Happy Farms Deli Sliced Cheese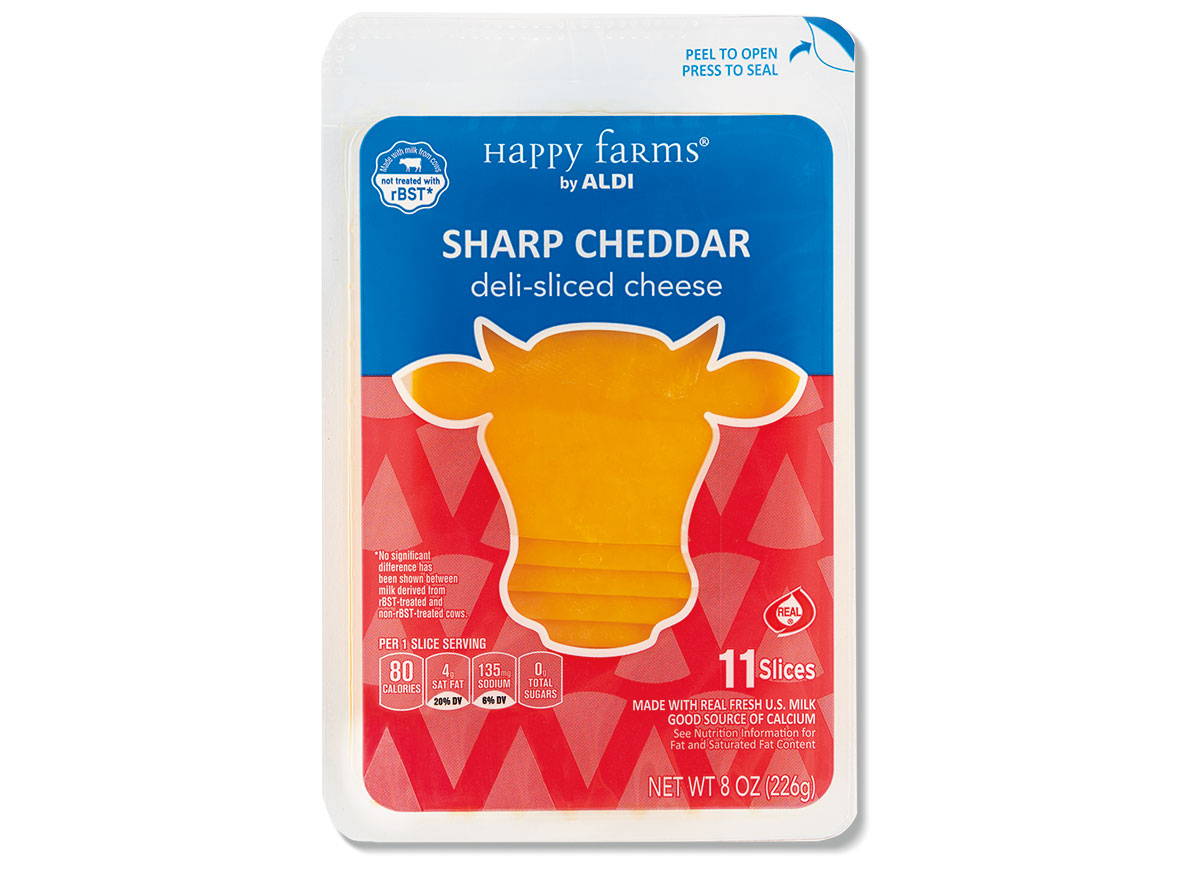 Sliced cheese is an item that you always need in the fridge. How else would you enhance a burger or sandwich? Aldi offers Swiss, Provolone, Colby Jack, Muenster, Mild Cheddar, Pepper Jack, Sharp Cheddar, Mozzarella, and Medium Cheddar sliced cheese to help you fulfill your daily calcium needs.
This item goes for $1.99 at Aldi.
Nice! Premium Vanilla Latte Cold Brew
Nice! is making the mornings a little easier with its canned cold brew lattes. The premium vanilla latte cold brew has 60 milligrams of caffeine per serving (a cup of coffee has on average 95 milligrams of caffeine) and only 170 calories. Ditch Starbucks' high prices and crack open one of these instead to get your latte fix—and save a couple of bucks, too.
This item goes for $1.79 at Walgreens.
Aldi's Simply Nature Coconut Cashew Crisps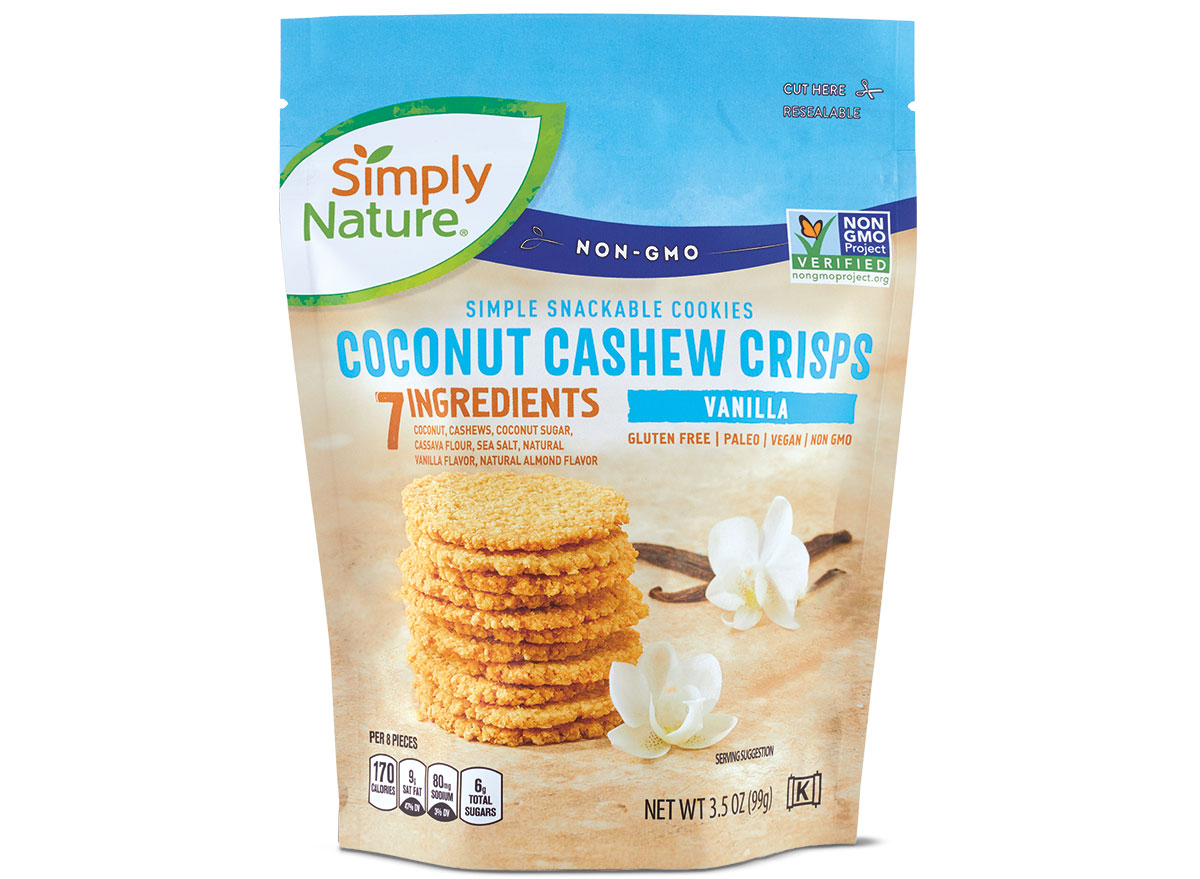 These gluten-free and vegan cookies are exclusive to Aldi and come in the following flavors: chocolate, sea salt caramel, and vanilla. With only 170 calories per eight cookie-serving, indulging never tasted so low-cal.
Contadina Pizzettas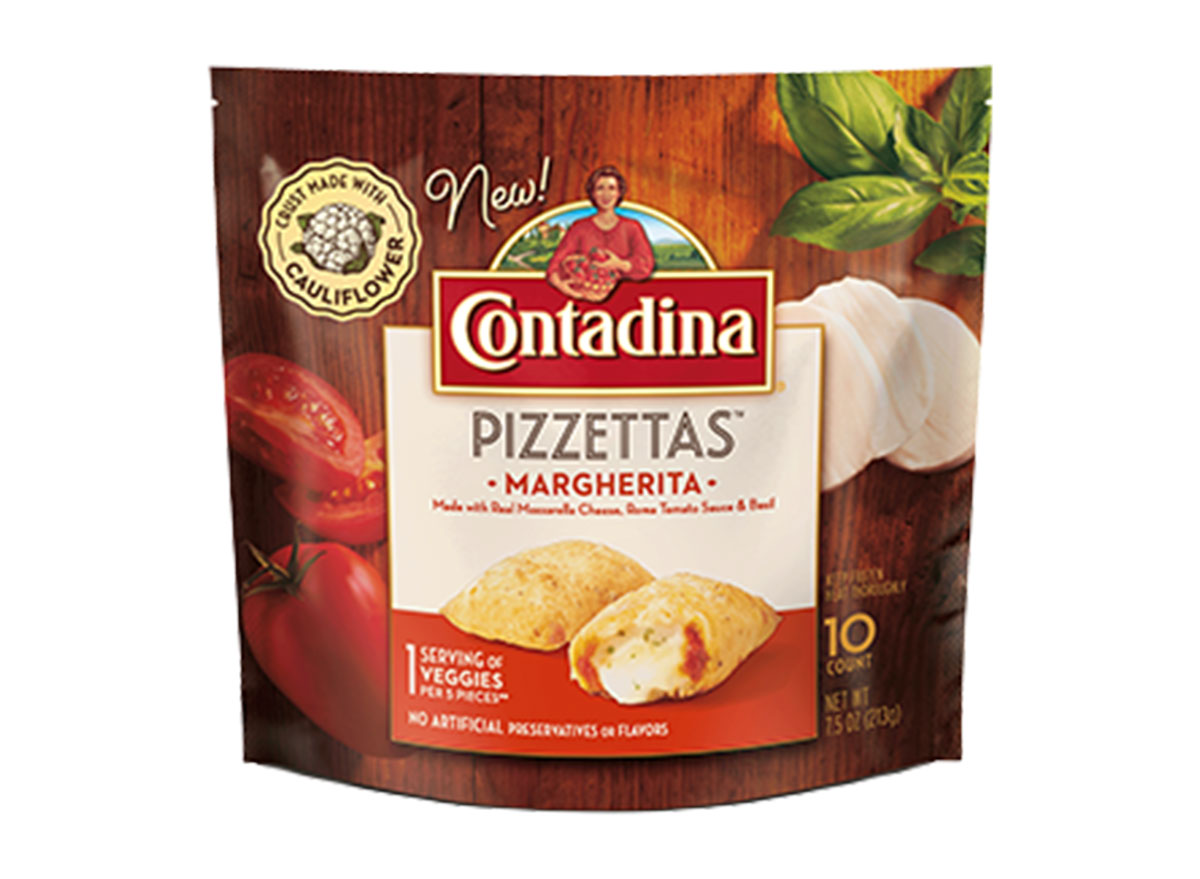 Contadina is giving Totino's pizza rolls a run for its money. The brand recently debuted gluten-free pizza bites made with cauliflower. As of now, these bites come in three flavors: Margherita, Four Cheese, and Garden Vegetables. The most impressive aspect of this frozen food? Five of these tasty pizza bites pack a full serving of vegetables.
The suggested retail price for this product is $6.97 per bag.
Aldi's Earth Grown Meatless Meatballs
Aldi's meatless, soy-based vegan meatball is the best plant-based protein product of the year. If you're trying to cut down on your consumption of red meat, this might just become your new go-to meatball alternative for when you make a heaping plate of spaghetti.
This product goes for $8.97 per bag.
Nice! Premium Cashew and Macadamia Nut Blend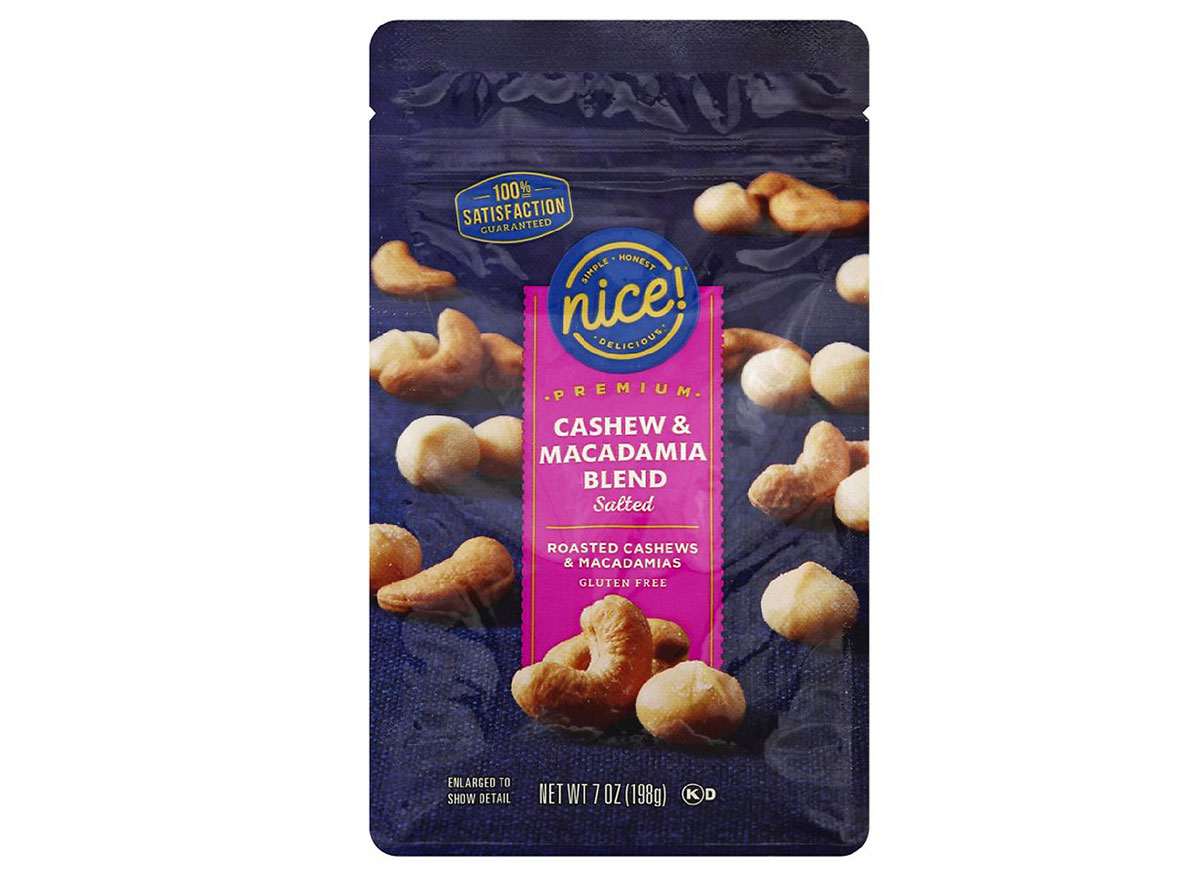 Upgrade your simple bag of homemade trail mix by swapping out the peanuts and almonds for this salty blend of creamy cashews and macadamia nuts. A simple yet satisfying snack for when you're on the go or powering through your workday.
This product goes for $5.99 a bag at Walgreens.
Aldi's Park Street Deli Snack Selects Three Pack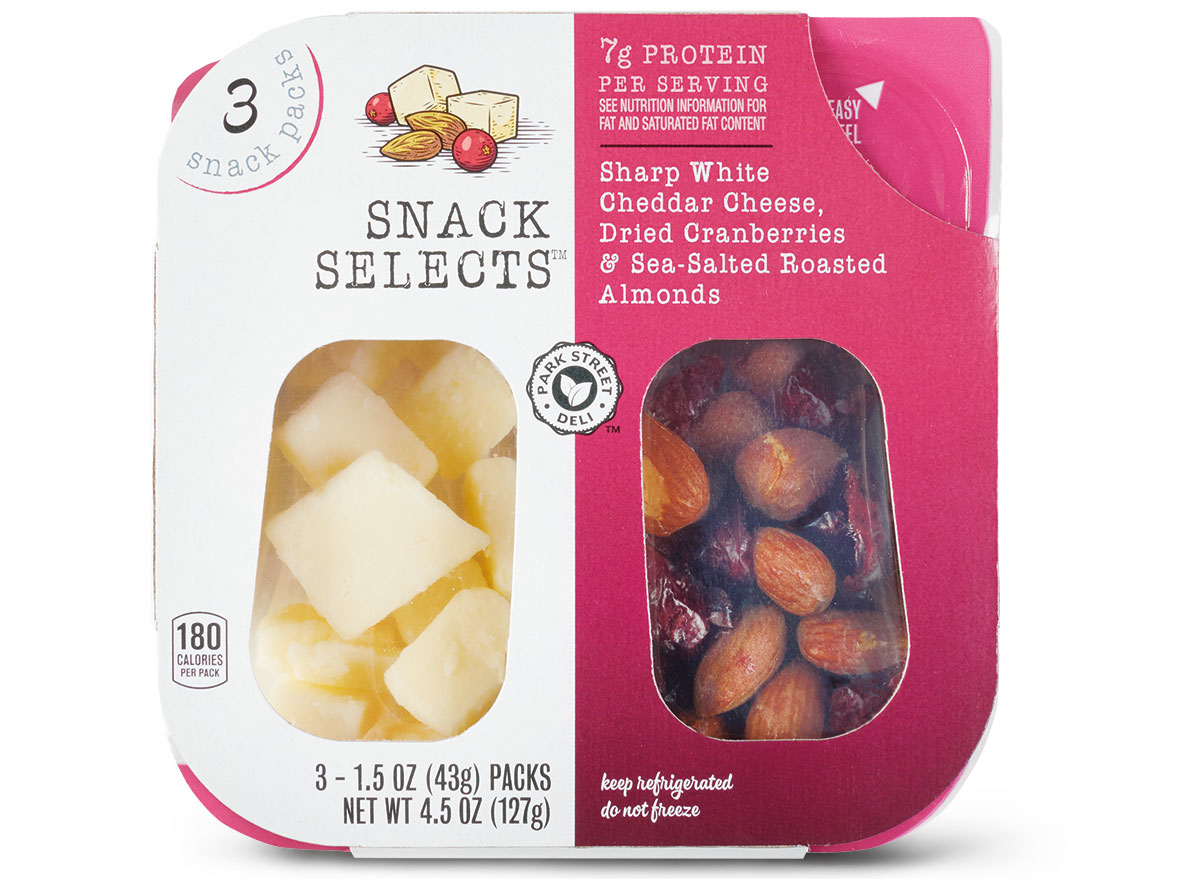 This snack pack is bound to help you quell hunger pangs and keep you energized, and all for a low cost. As of now, there are three different combinations of cheese, nuts, and dried fruit to pick and choose from, all of which boast 7 grams of protein per serving.
You can get this product at Aldi for $2.49.
Del-Monte Fruit Crunch Parfait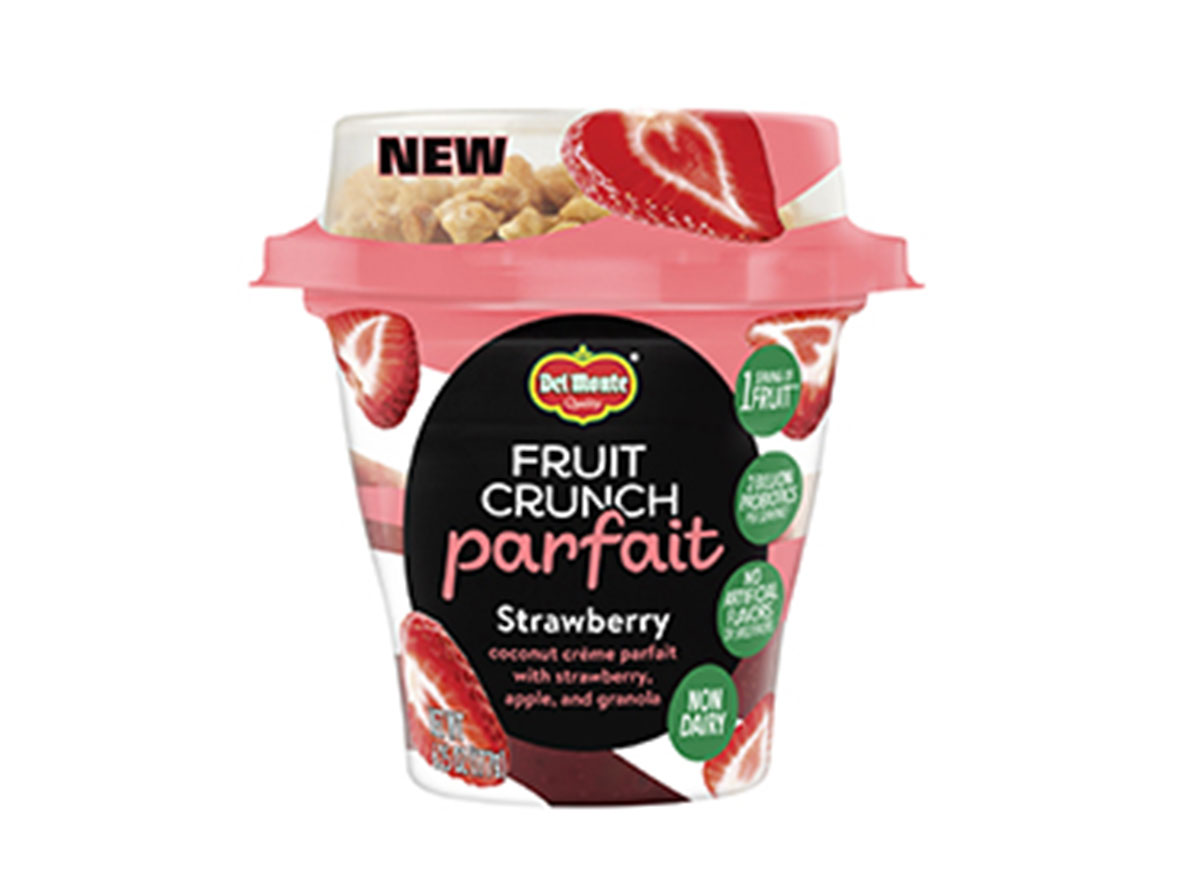 6254a4d1642c605c54bf1cab17d50f1e
Ditch the basic fruit cocktail cups and, instead, dip your spoon into one of Del Monte's flavorful Fruit Crunch Parfaits. With four flavors to choose from—strawberry, blueberry, mango, and pineapple coconut—there is one for every kind of fruit fan to nibble on. Each cup ranges from 180-200 calories, but who's really counting when you get a mix of creamy yogurt, crunchy granola, and soft fruit all in one cup?
The suggested retail price for this product is $2.49 per cup.
Buzztallz
This company is offering you a more accessible way to swig on a cocktail. Buzztallz consists of a blend of wine and cocktail juice, which explains why each can has an impressive ABV of 13 percent. Currently, there are six flavors: Lime 'Rita, Ruby Red Grapefruit, Lotta Colada, Chocolate Tease, Stiff Lemonade, and Horchata.
Each can costs $3.39.
Aldi's Countryside Creamery Pure Irish Butter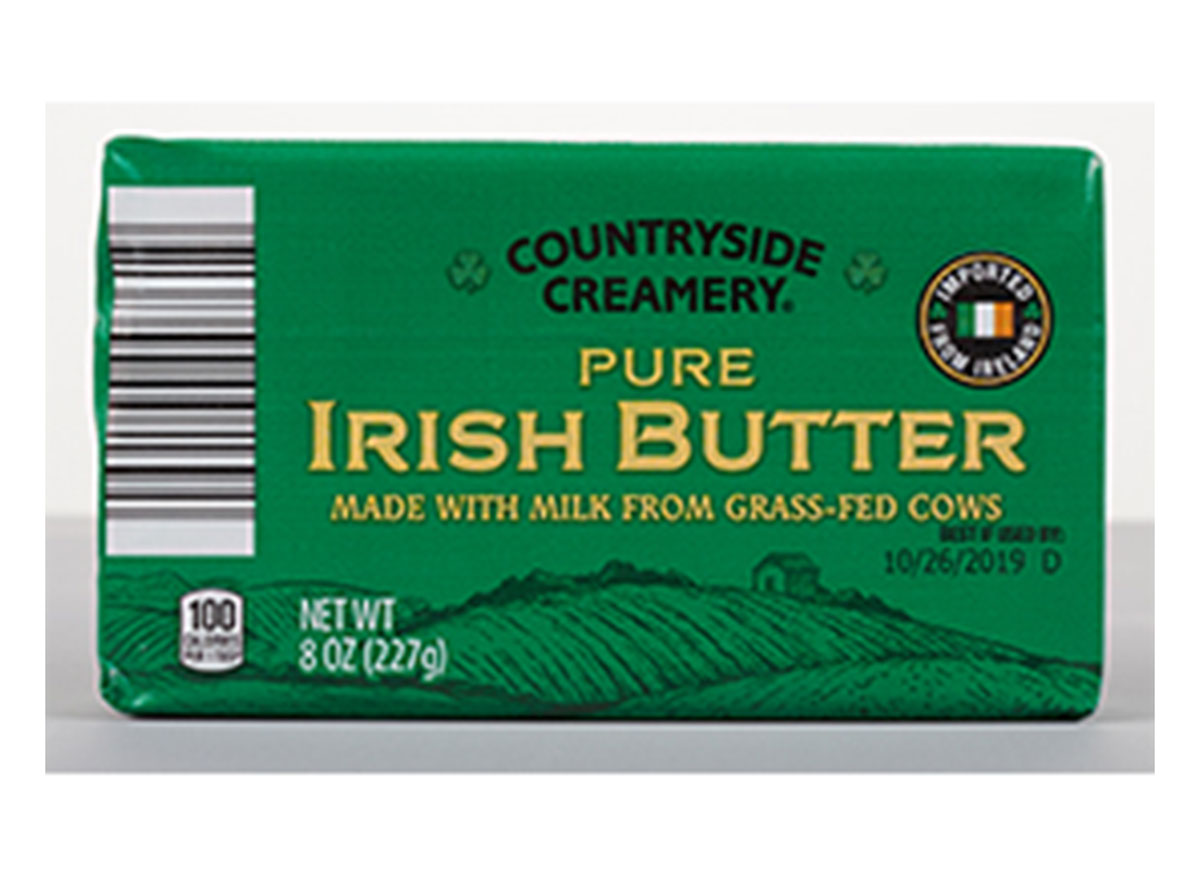 Like Kerrygold, Aldi's Pure Irish Butter is imported from Ireland but you can purchase it for half of the cost. The spreadable butter is made from grass-fed cows, which inherently lends a richer, creamier taste. Your morning piece of toast is in for a makeover.
Aldi sells this product for $2.49.
Vega Sport Premium Protein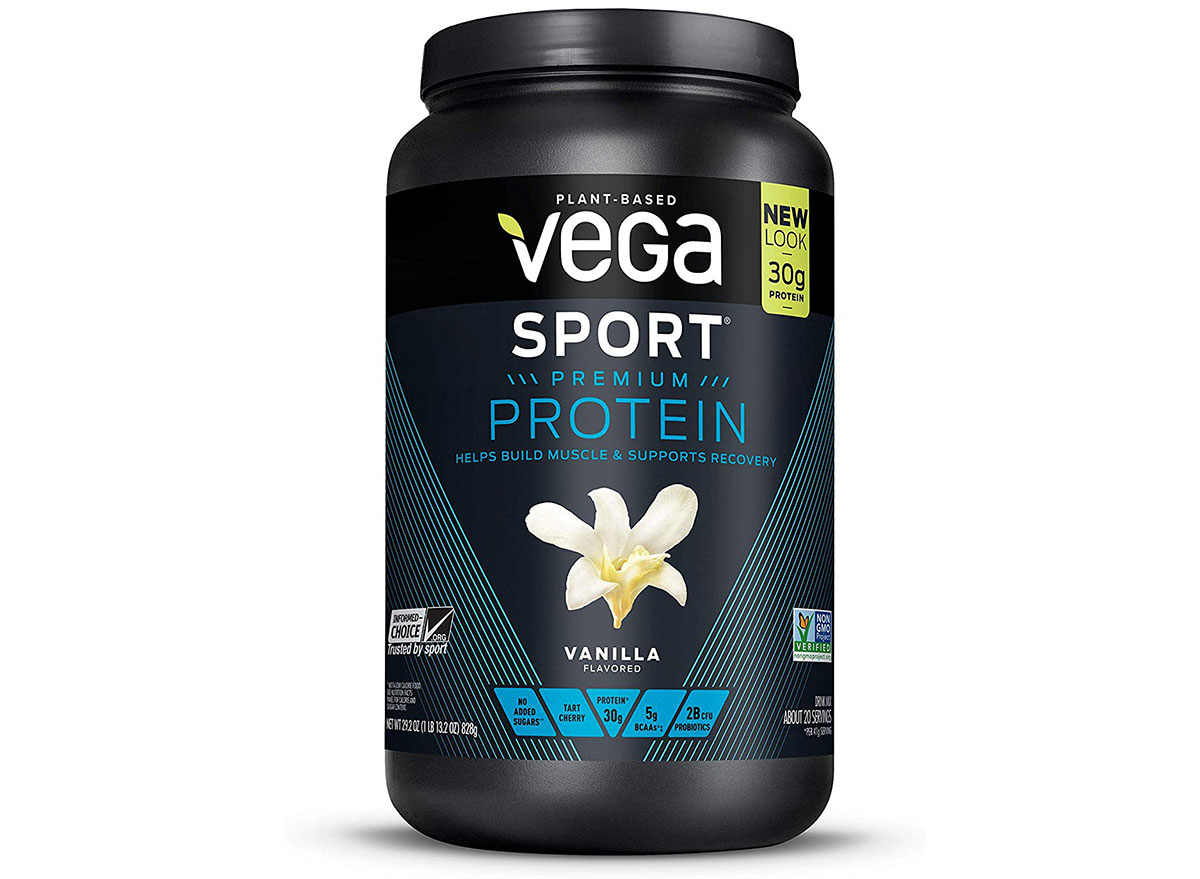 It can be challenging to choose among the array of protein powders that are offered in most grocery stores. However, vegans can also enjoy Vega Sport Premium Protein powder as it boasts a whopping 30 grams of plant-based protein. You can try one (or all) of the five delicious flavors—berry, chocolate, vanilla, peanut butter, and mocha—all of which are free of GMOs and gluten.
Aldi's Quarter Cut Bourbon Barrel-Aged Cabernet Sauvignon
Enhance your wine nights with Aldi's Quarter Cut Bourbon Barrel-Aged Cabernet Sauvignon, which is aged in barrels that formerly aged whiskey. One glass contains 14.5 percent ABV, so savor the prominent flavors of vanilla, black cherry, and dried herbs by taking little sips.
On the prowl for more grocery content? Here are the Most Popular Grocery Items at America's Biggest Stores.
Keira Wingate
Keira graduated from DePaul University with a BA in Journalism and is a freelance writer based in Brooklyn, NY.
Read more about Keira