The Most Popular Items at America's Biggest Grocery Stores
We found the most popular brands in America's grocery stores and pinpointed the most popular items.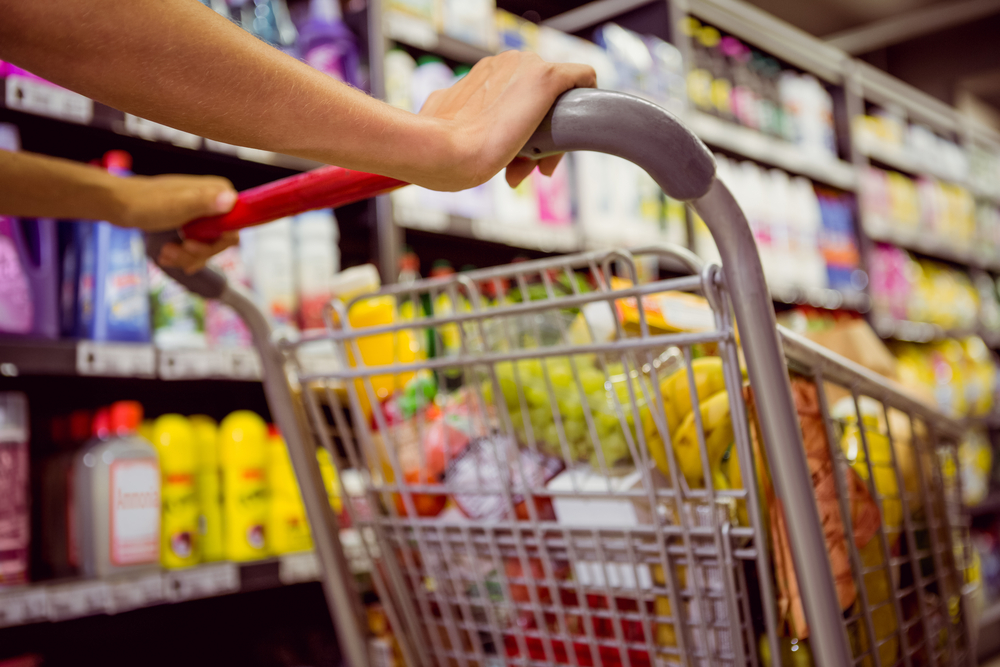 People are loyal to their snacks! From chips to cookies to candy, some brands have more power to sway consumers than others—and we know which they are. A recent study from YouGov highlighted the most popular grocery items across the nation. While the study, which used data collected from July 2020 to October 2020, specifically highlighted certain brands, we selected the most iconic foods produced by each label and combined them with results from a Trader Joe's consumer survey to bring you this list encompassing all of the most popular items in America's biggest grocery stores. How many of your favorites are on this list?
And for more, check out these 15 Classic American Desserts That Deserve a Comeback.
Frozen foods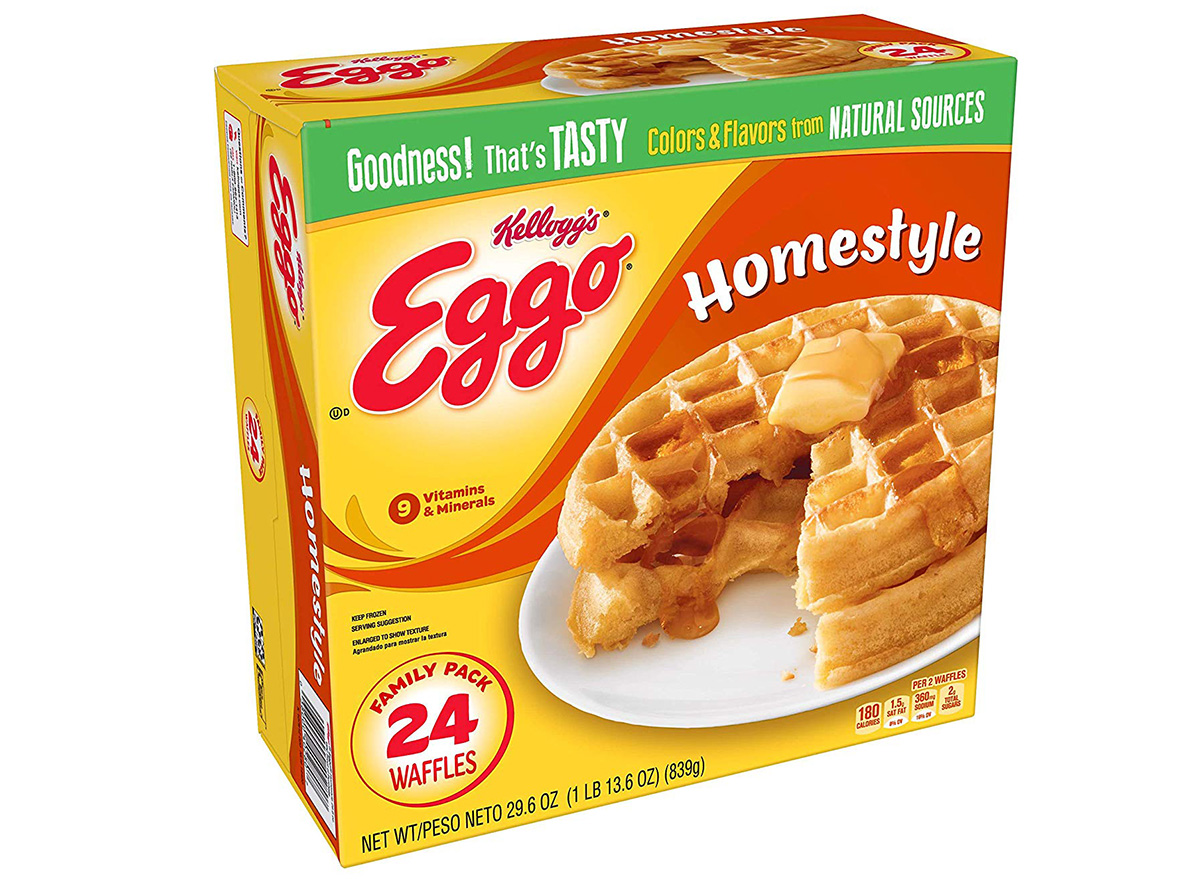 "Leggo my Eggo!" Who doesn't remember this iconic tag line for frozen waffles? While Eggo also makes pancakes, French toast, and even breakfast sandwiches, the toaster waffles from this company have long been the ideal quick-and-easy breakfast for a weekday morning. It's a popular item in the freezer section, and one of the most popular grocery items at every store.
Stouffer's Mac and Cheese
Stouffer's is a Nestlé brand known for frozen American comfort food items like lasagna and meatloaf, but there's no question that its top product is the creamy, cheddar-based mac and cheese. And it's no surprise, seeing as Stouffer's first got its start as a creamery and dairy stand in 1914 in Ohio.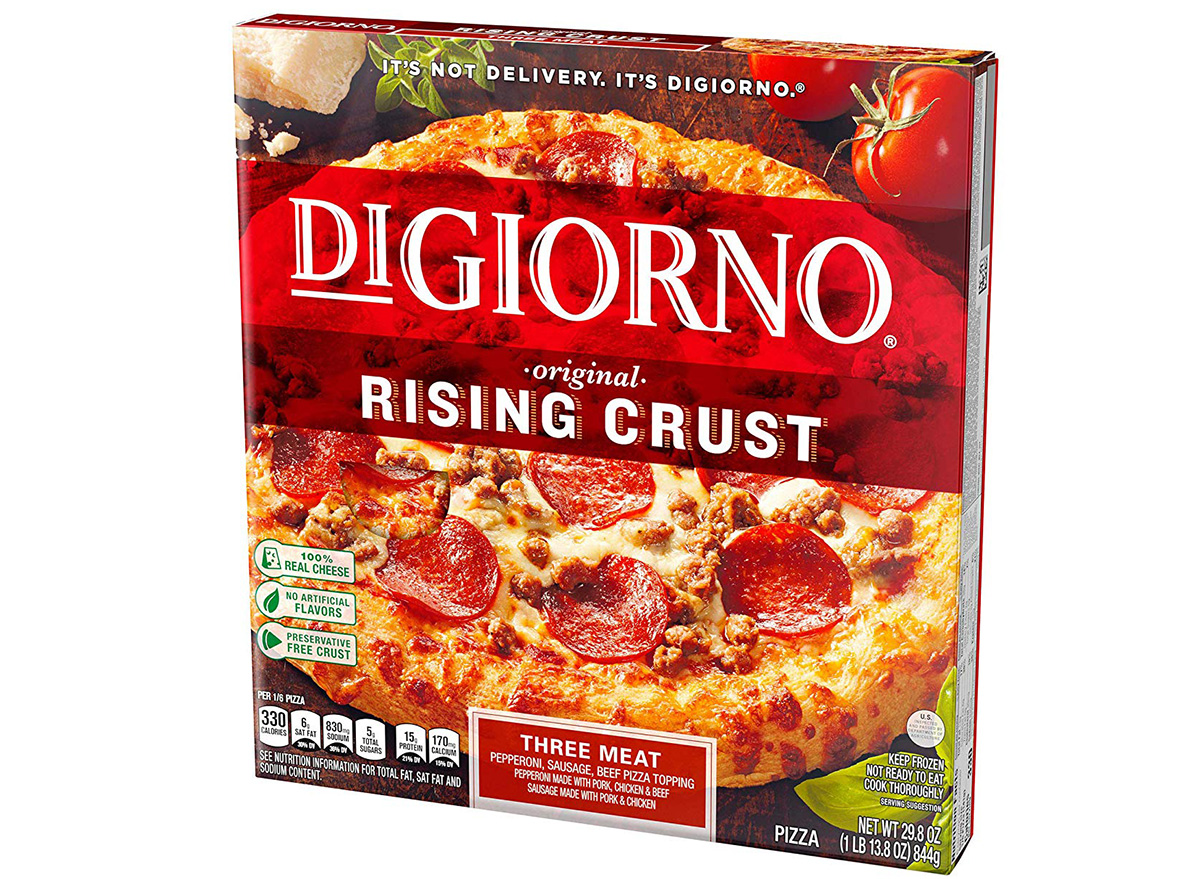 This brand has long framed itself as a competitor whose products are just as delicious as delivery pizza, and for many, the ease of this frozen option makes it a champion of nights when a no-hassle dinner is on the menu.
Frozen pizzas are only the beginning of what the freezer can offer in terms of Italian-adjacent delights. Even more popular than pizza bagels and pizza pockets are pizza rolls, the snack so popular it spawned a series of fake-out commercials on Saturday Night Live.
Ore-Ida Frozen French Fries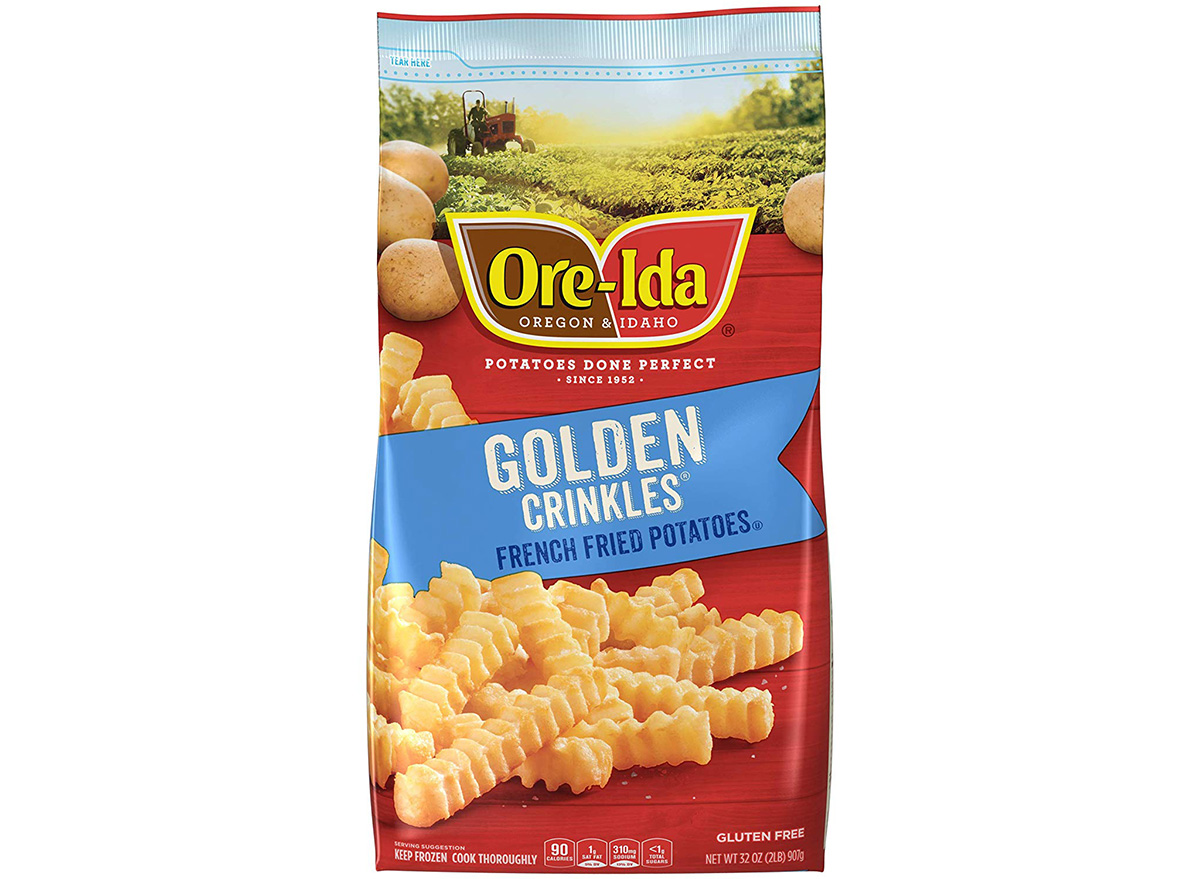 Ore-Ida has been bringing frozen Oregon and Idaho potatoes to American families for more than 60 years. The company's oven fries are easy to cook up for a crowd and manage to get fried potato flavor on the table without the mess and hassle of deep-frying.
Cookies
Milk's favorite cookie is one of the most popular grocery items in the U.S., and while Double Stuf, Golden, and even special holiday versions of this cookie also appear on store shelves, the classic is still going strong. First introduced in 1912, Oreo remains the best-selling cookie in the world.
Chips Ahoy! Chocolate Chip Cookies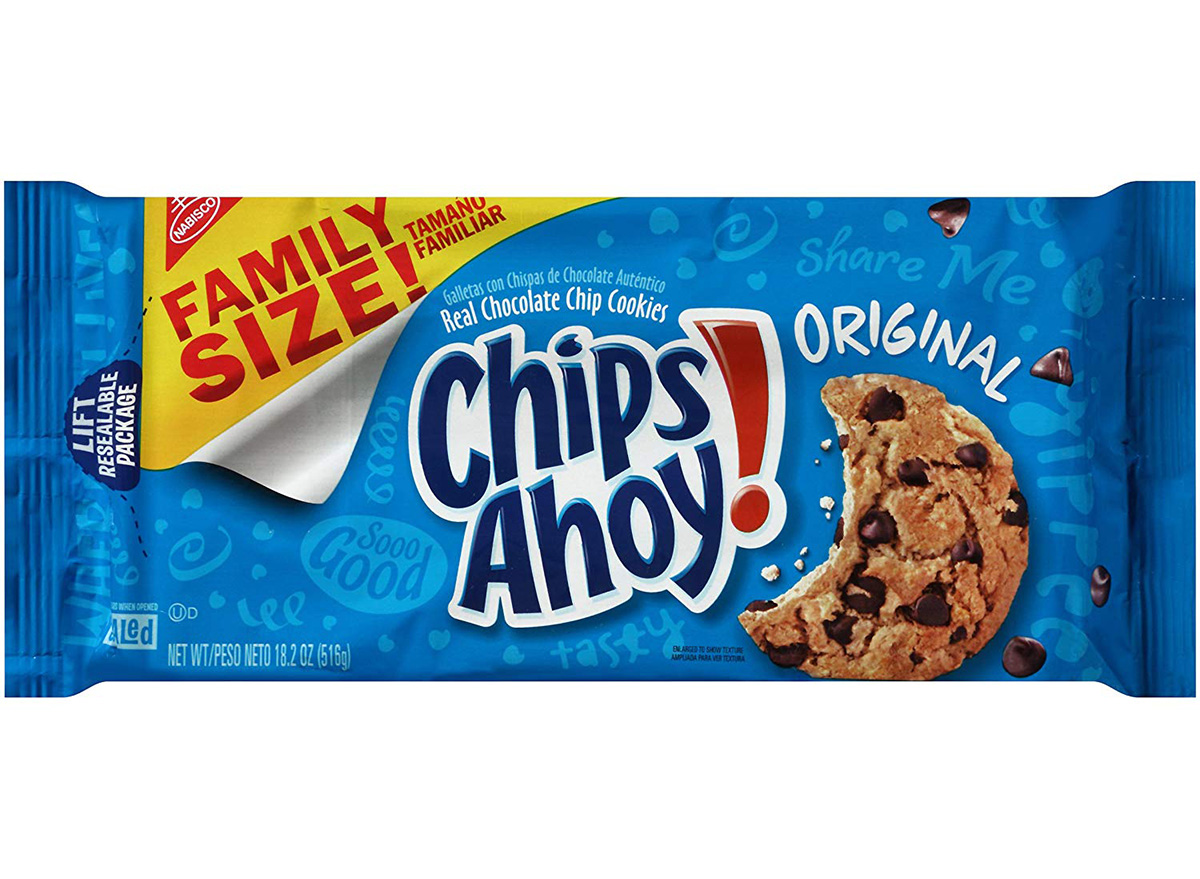 This punny brand from Nabisco is known for its crunchy chocolate chip cookies, though chewy versions (and versions with flavored or candy-coated chocolate morsels) have also become popular in recent years.
Pillsbury Slice and Bake Cookies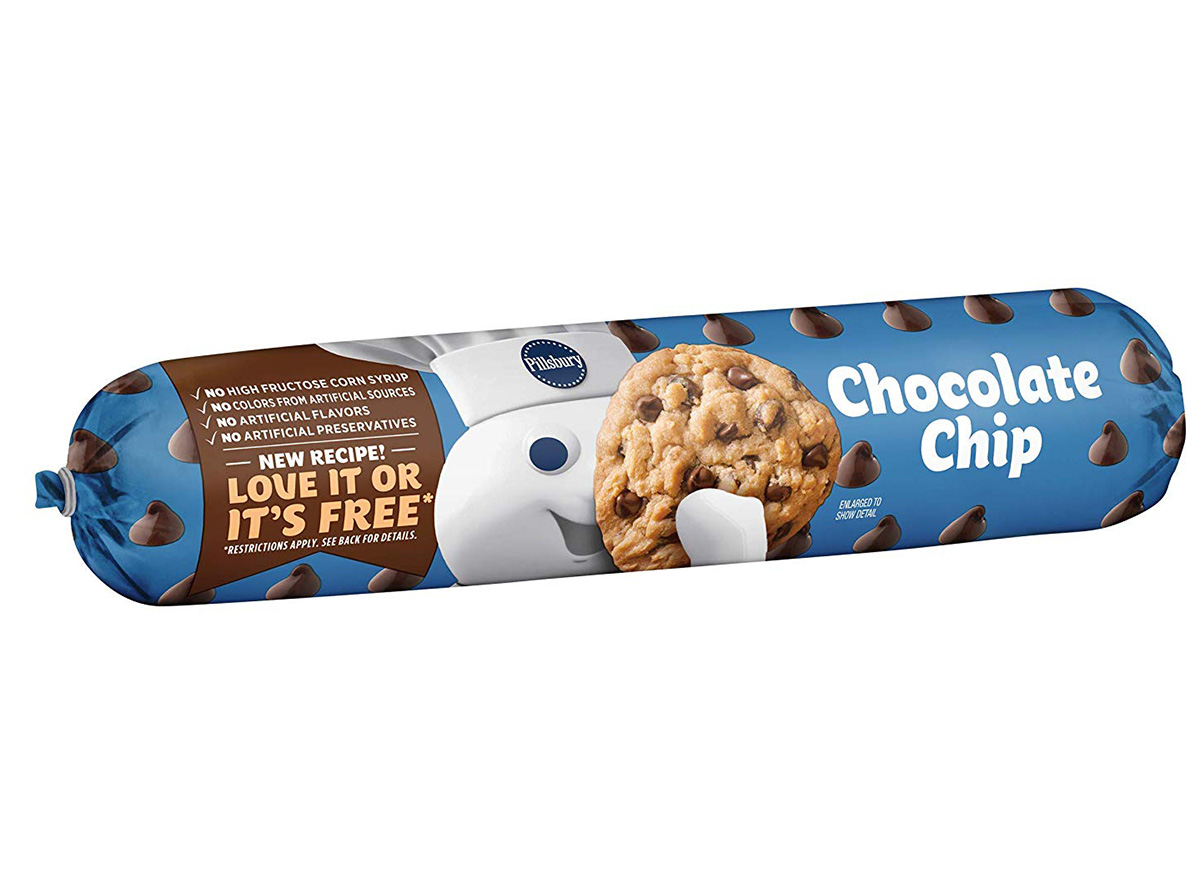 While these cookies require a bit more effort than some of the other brands on this list, they're comparatively super easy to prepare, and freshly baked, gooey, slice-and-bake cookies are an essential component of many childhood memories.
Nestlé Toll House Cookie Dough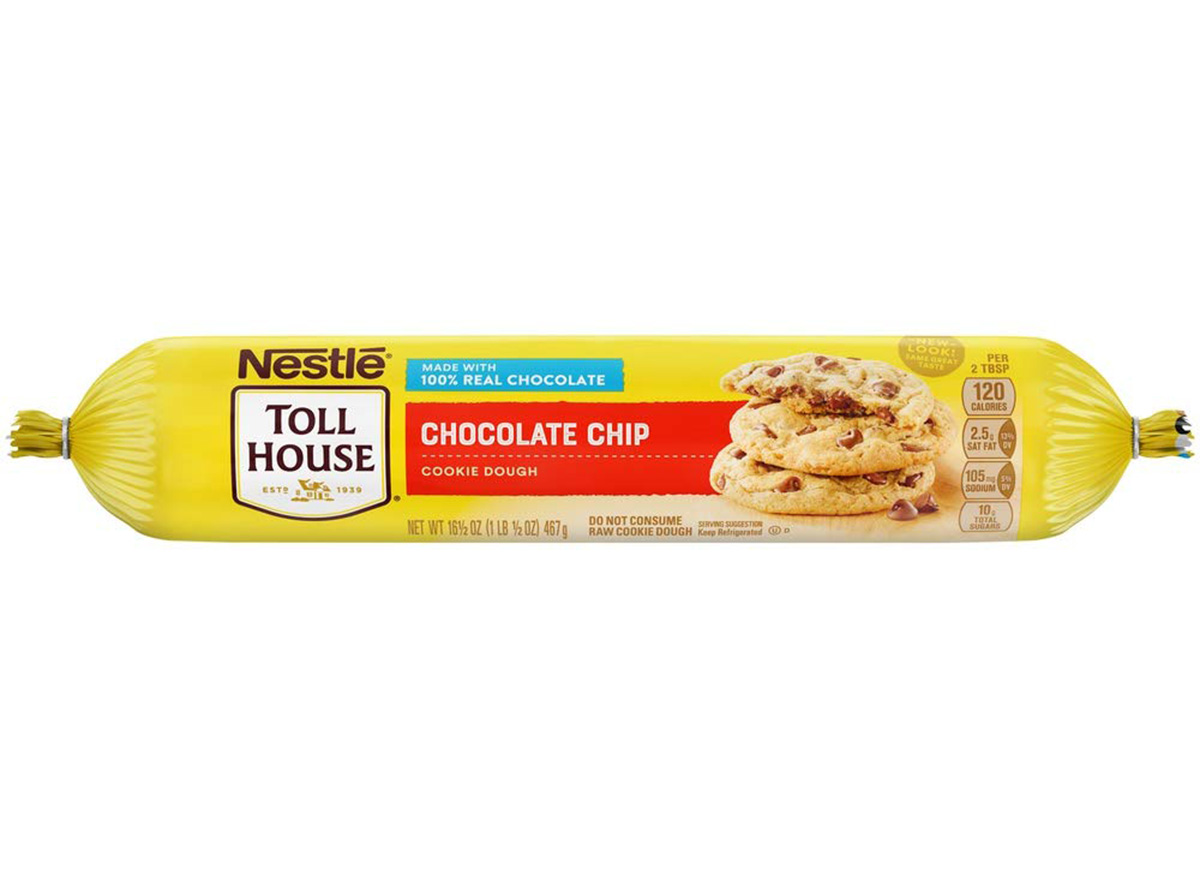 Nestlé Toll House is also better known for its cookie dough than for its cookies. It gets its name—and recipe—from the purported inventor of the chocolate chip cookie: Ruth Wakefield, operator of Massachusetts' Toll House Inn in the 1930s.
It's no surprise that Nabisco–an abbreviation of National Biscuit Company—is well-known for its cookies. While there are tons of individual products to choose from (including both Oreo and Chips Ahoy!), it's hard to argue with the nostalgia factor of bear-shaped Teddy Grahams.
Chips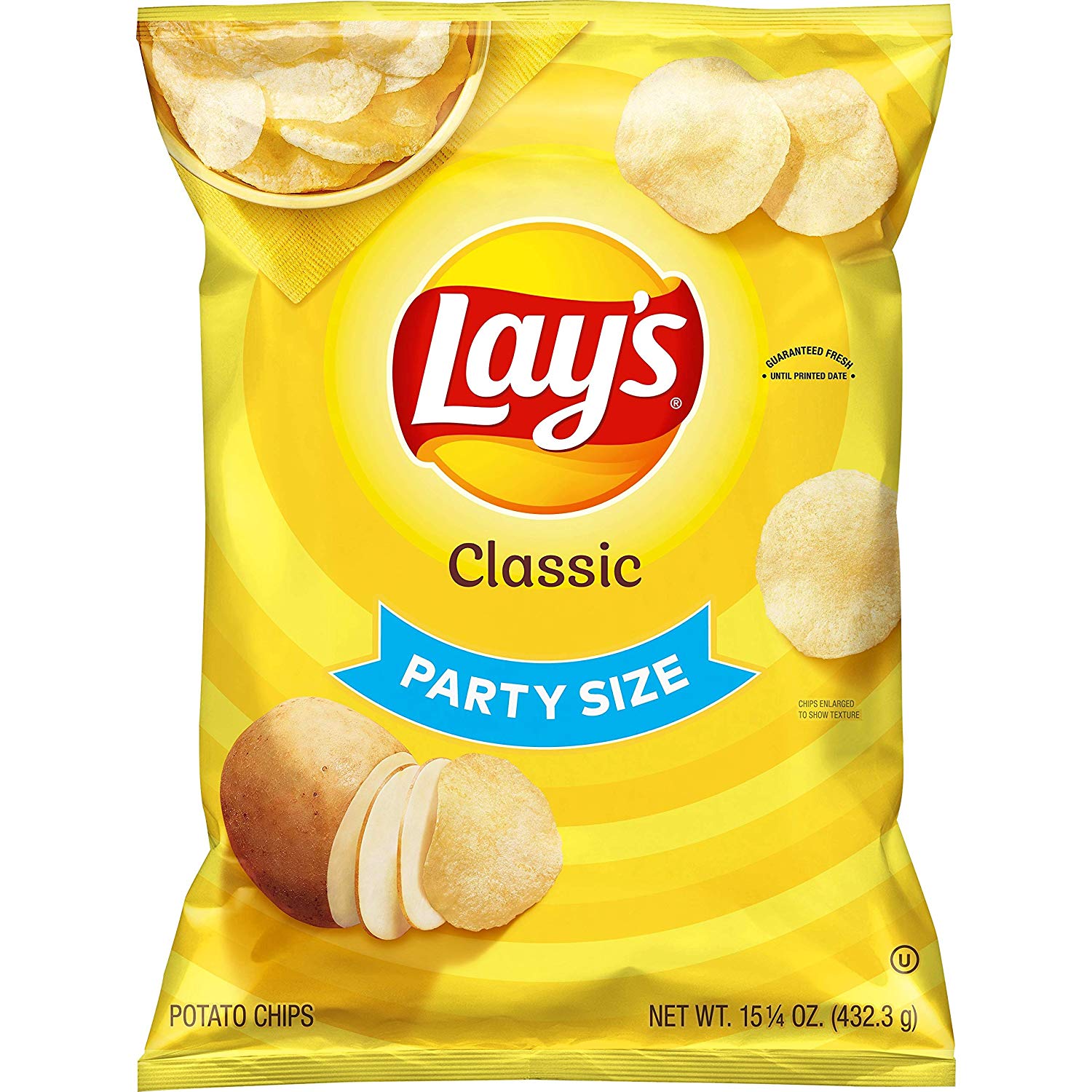 Lay's may be one of the popular grocery items today, but originally, traveling salesman Herman Lay sold these chips out of the trunk of his car across the American South in the 1930s. Today, the chips are available in a variety of flavors, including Sour Cream & Onion, Hidden Valley Ranch, and Barbecue.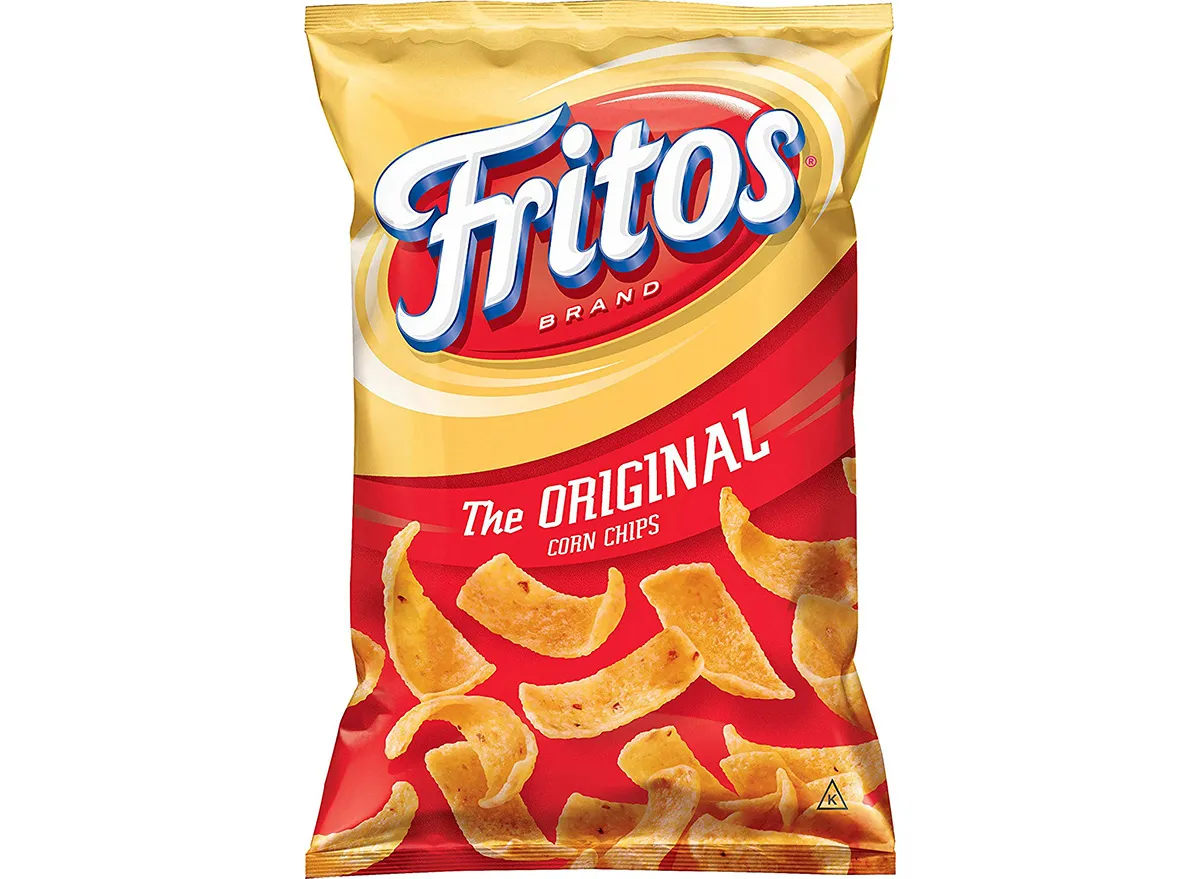 These crunchy corn chips are an essential ingredient in Frito pie, a popular Southern dish comprised of chili, cheese, and corn chips. While the dish is sometimes baked as a casserole, it can also be served directly out of a Fritos bag, as a single-serving treat.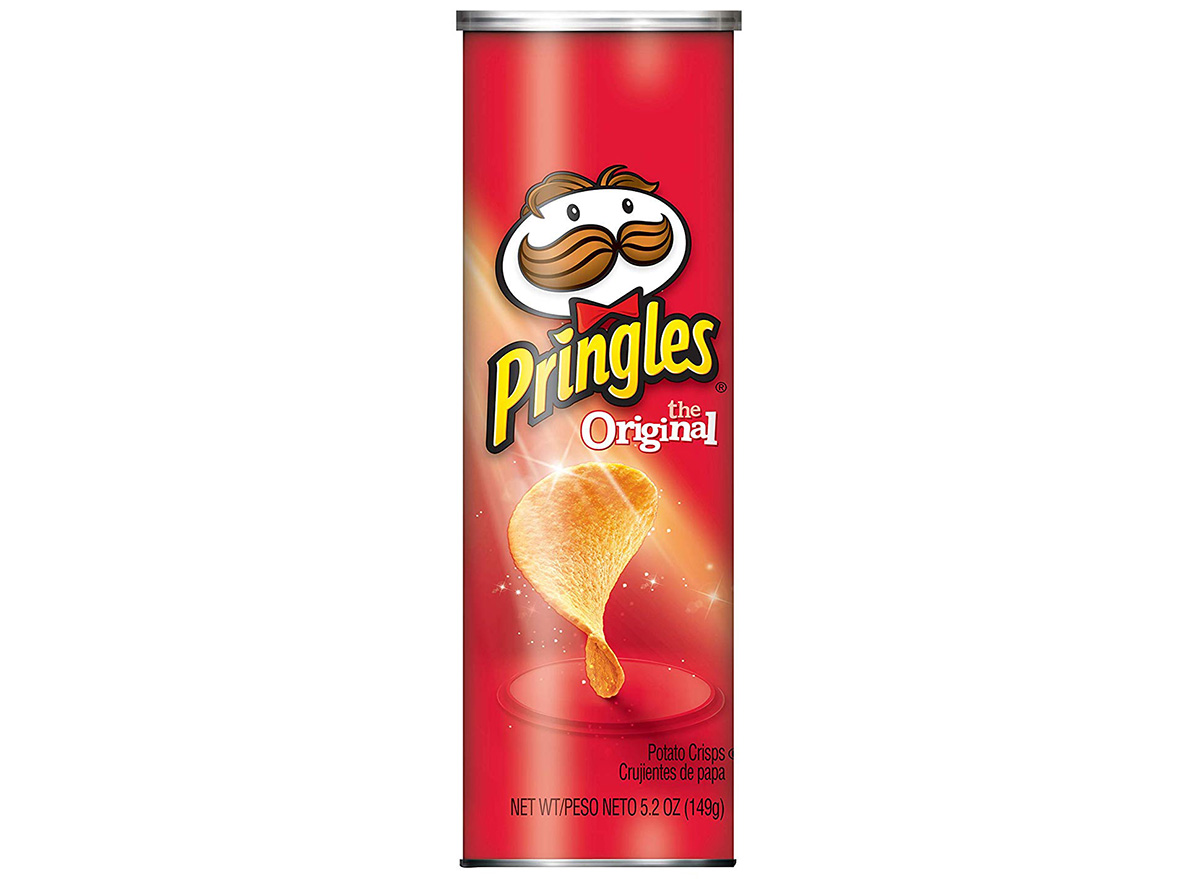 These stackable chips were first invented in the '50s to combat issues with broken and stale chips that stemmed from traditional bags. Sold in cardboard tubes, Pringles are only about 40% potato; the rest of the chip is made with wheat starch, other flours, and seasonings.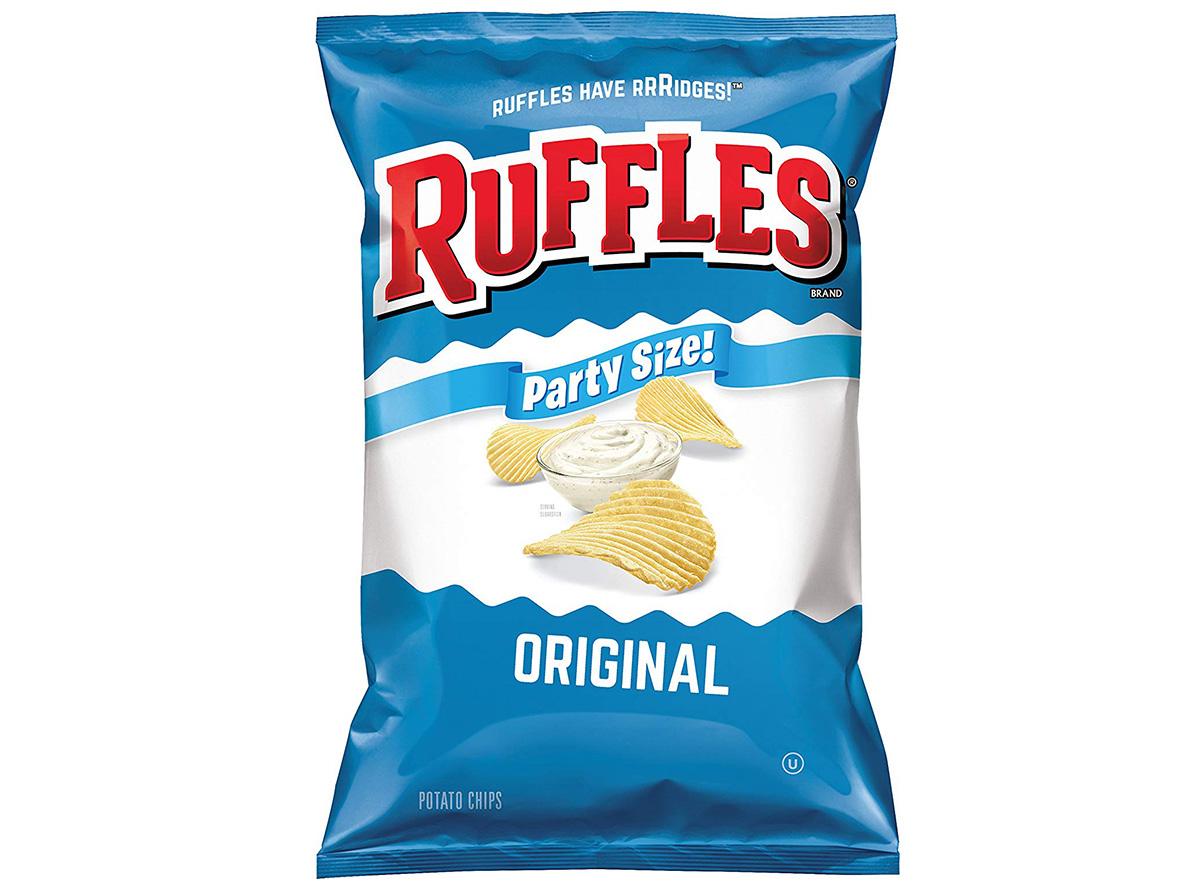 Frito-Lay is the powerhouse brand behind the first two chips on this list, but it's also known for Ruffles, the ridged potato chips that are sturdier and crunchier than their flat cousins and therefore less likely to break—either in the bag or when dipped in sour cream and onion dip.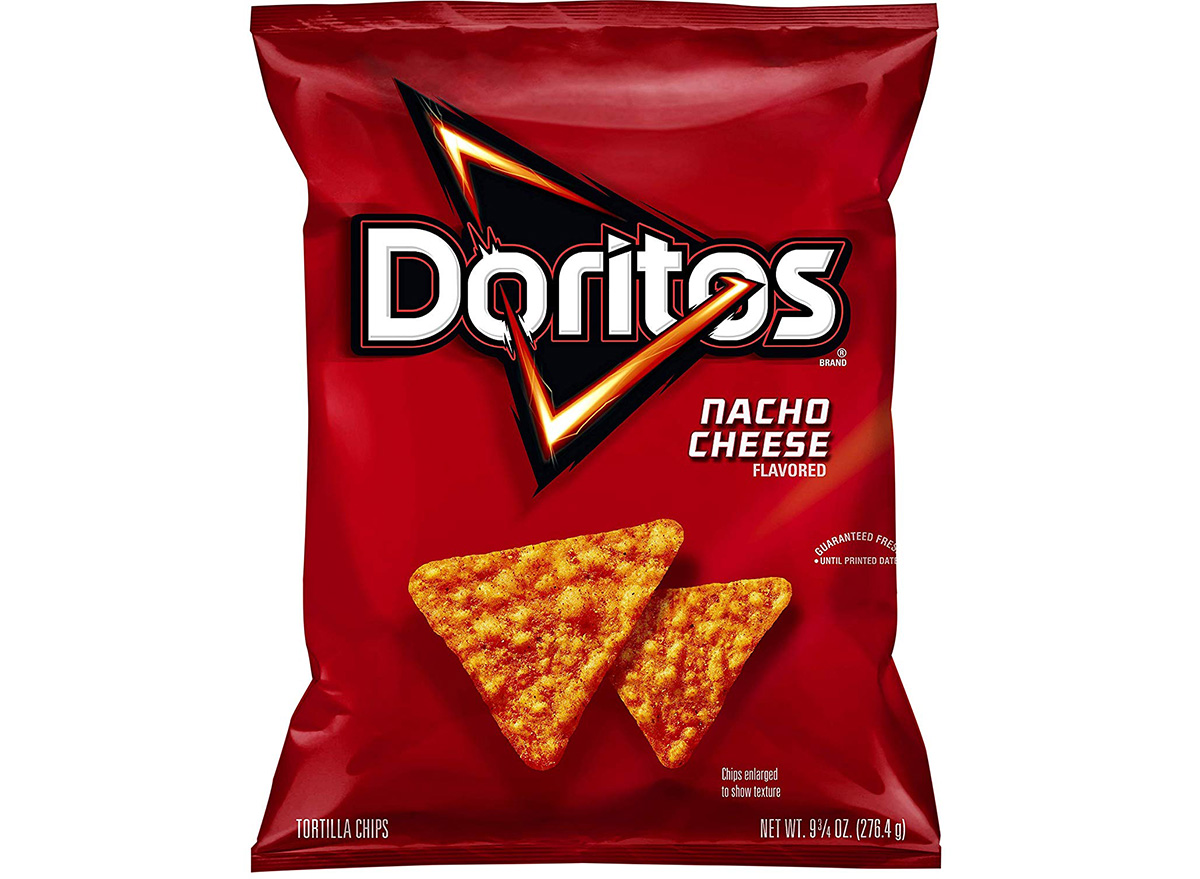 While this brand is best-known for boldly flavored Nacho Cheese, Flamin', or Cool Ranch varieties, the original Doritos were simple, unflavored toasted corn chips.
Canned goods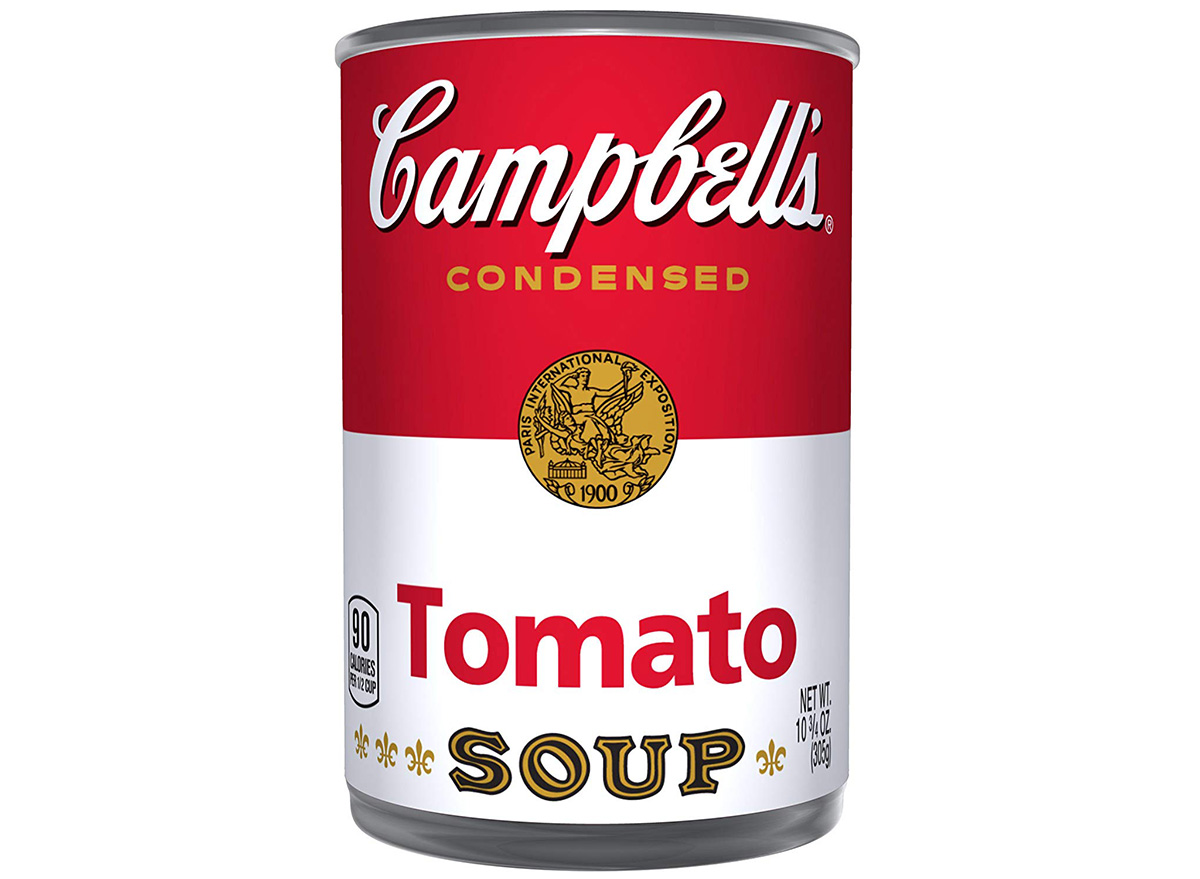 Immortalized in the work of Andy Warhol, Campbell's Tomato Soup is the flavor that started it all. Often served alongside a grilled cheese sandwich, this creamy condensed soup is a nostalgic treat.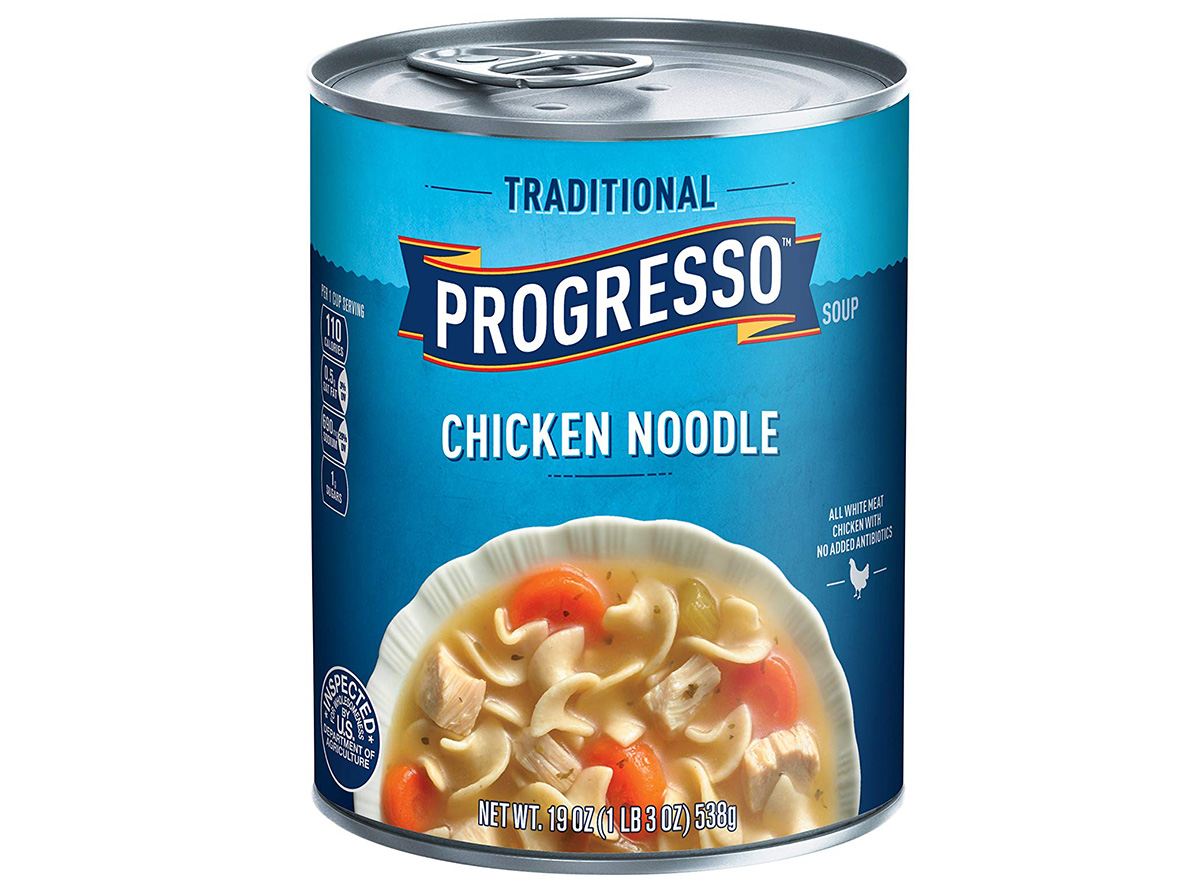 Progresso has often been framed as an upmarket alternative to Campbell, thanks to its canned soups that are sold ready to eat rather than condensed. Classic chicken noodle soup is a go-to from this brand.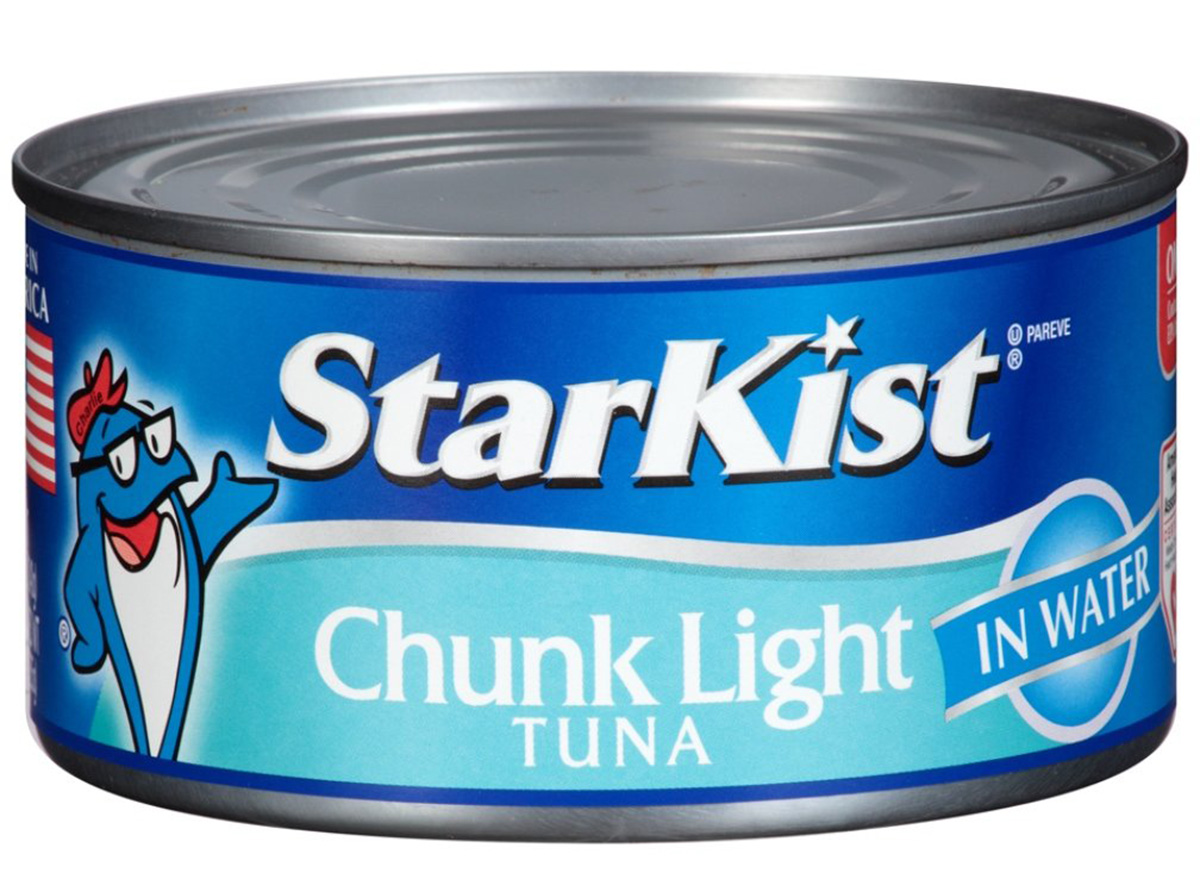 A pantry staple, StarKist's product line has expanded to include StarKist Selects: higher-quality tuna products often packed in flavored extra-virgin oil.
This pasta sauce brand from Campbell's now produces many varieties, including meat sauce and garlic-Parmesan, but the classic tomato-based pasta sauce is certainly the most famous.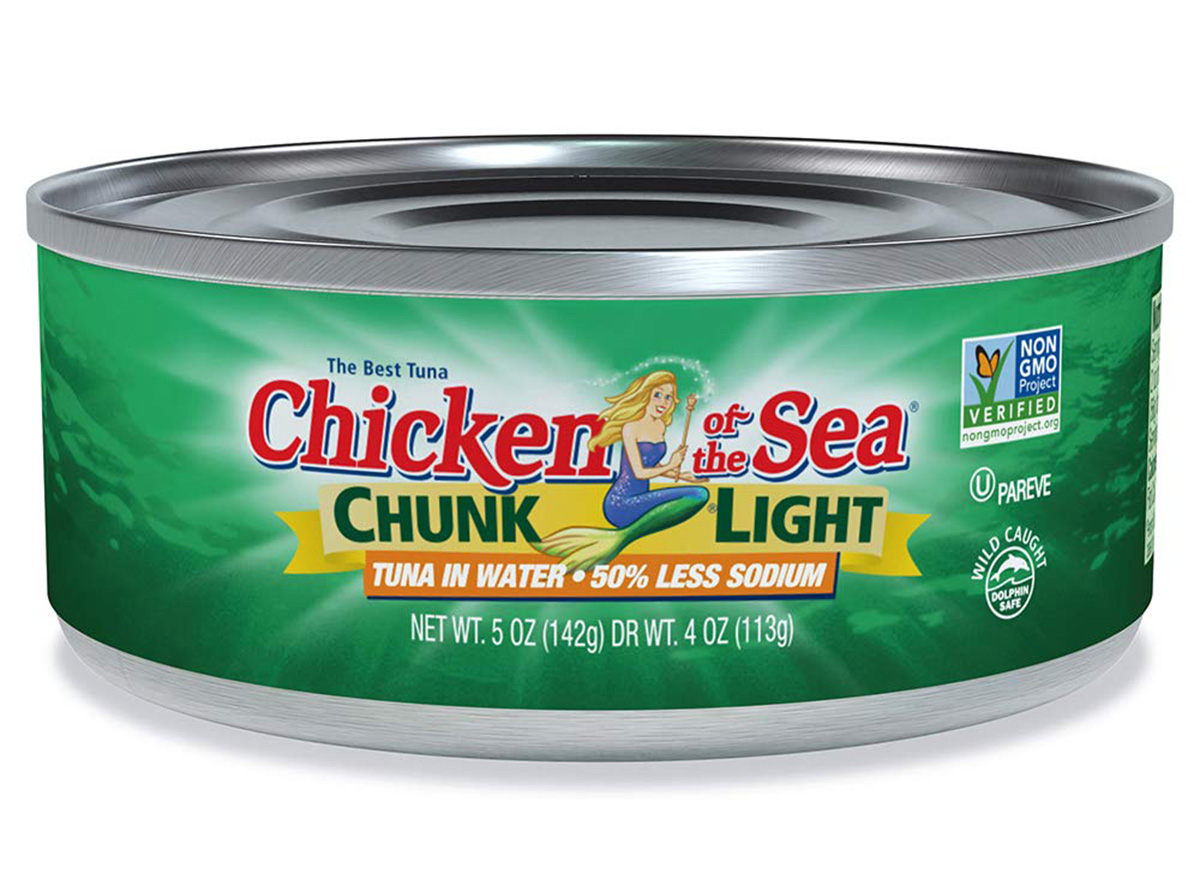 Jessica Simpson catapulted this brand to fame on her 2003 MTV reality show when she questioned whether the cans contained chicken or fish. It's the latter, FYI.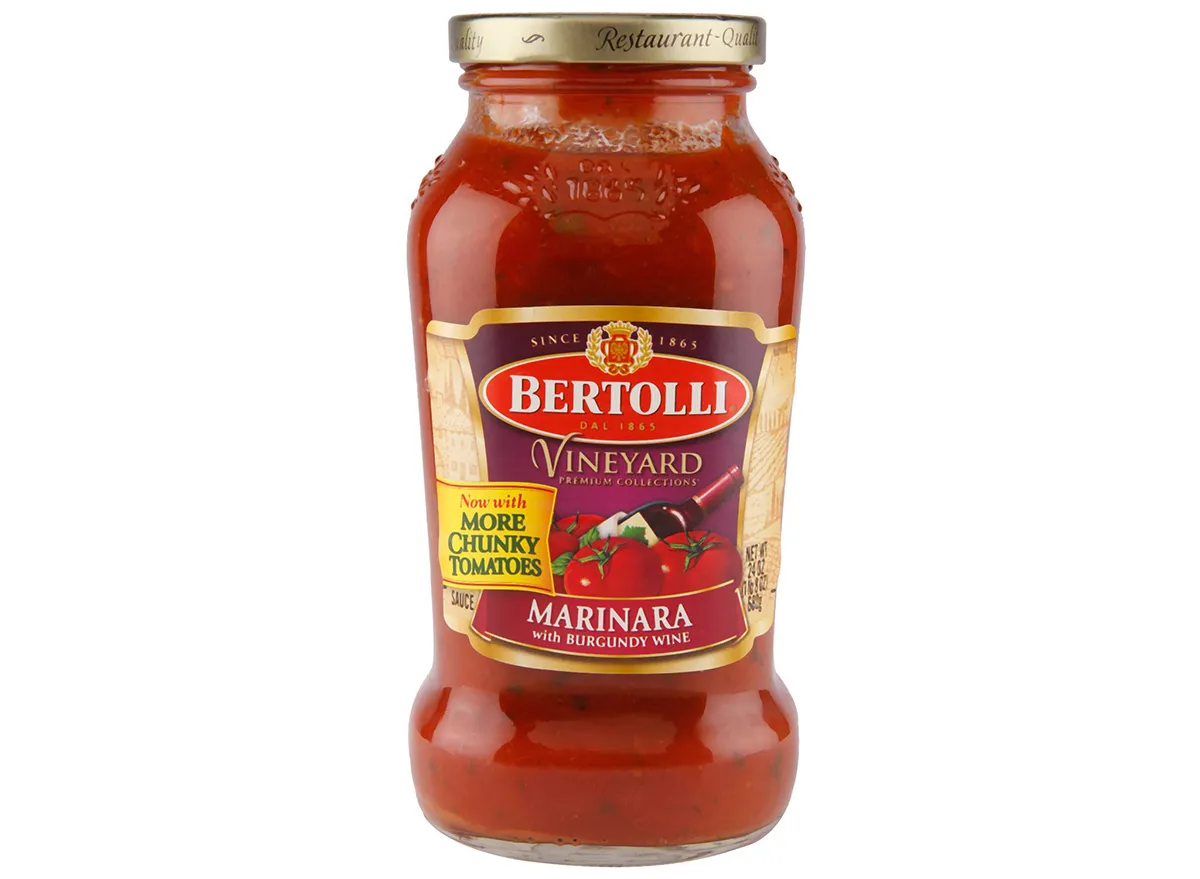 6254a4d1642c605c54bf1cab17d50f1e
This producer of Italian condiments including olive oil and balsamic vinegar is also known for its range of pasta sauces including alfredo, vodka, four-cheese, and more.
Dairy products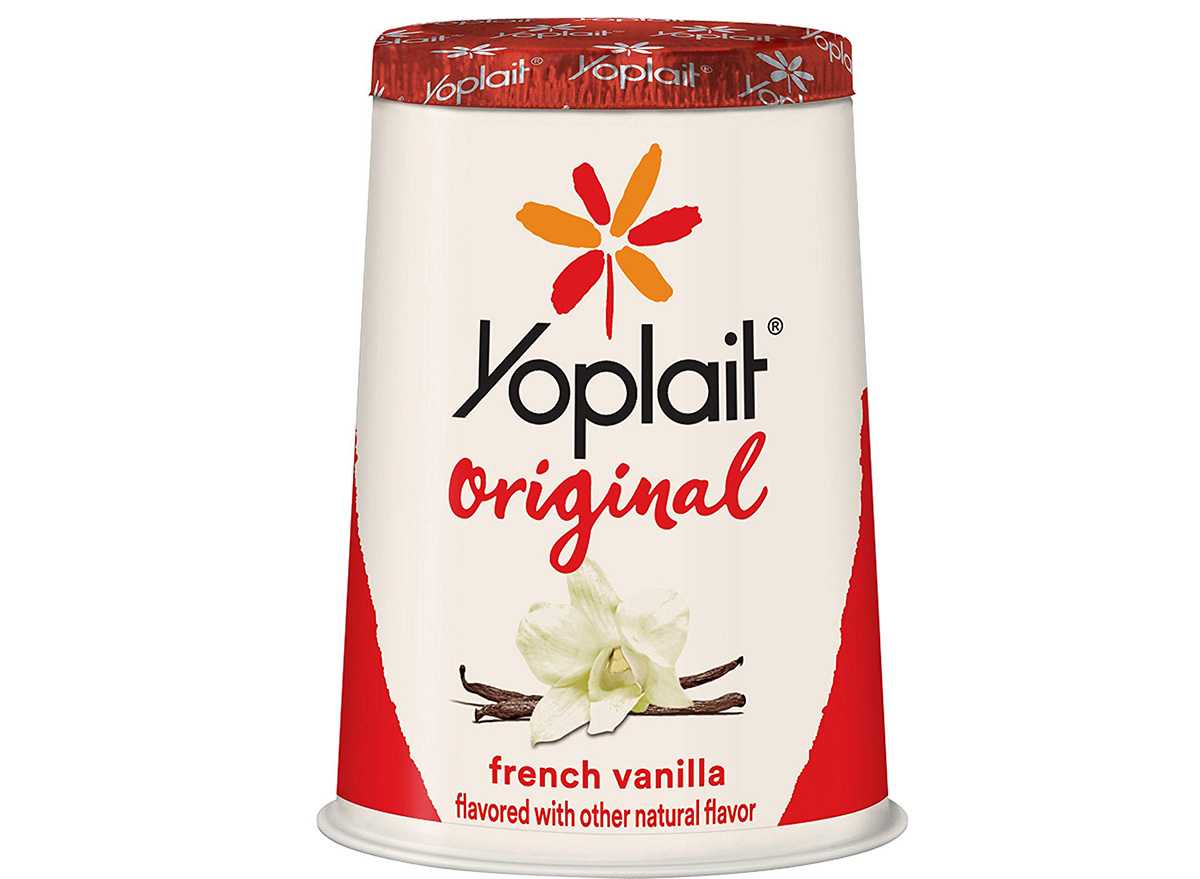 These yogurts now come in light, whipped, and even doughnut flavors, but the ultra rich-and-creamy originals, with flavors like strawberry, lemon, and peach, are decadent enough to be dessert in and of themselves.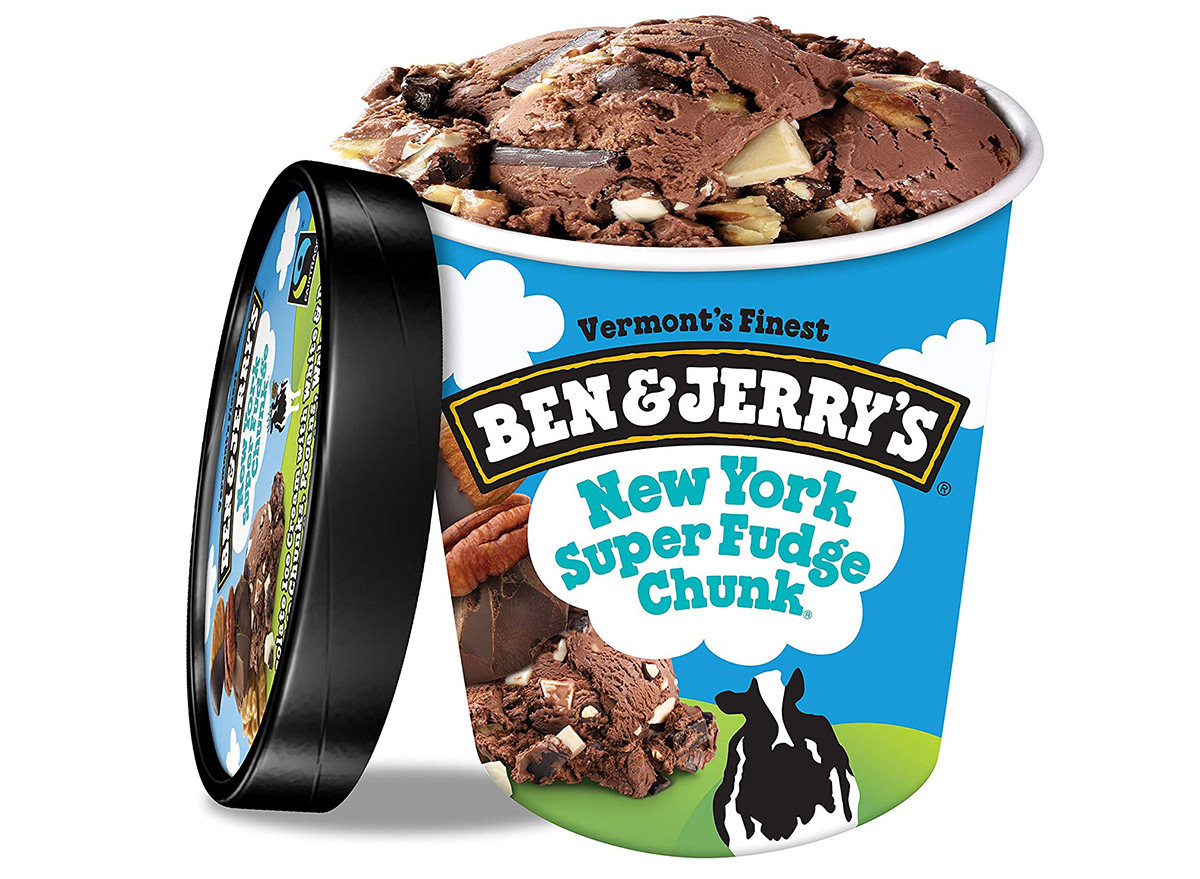 This Vermont-based company started by two friends has catapulted into an ice cream and sorbet empire. Ben & Jerry's is known for its chunky ice creams with tons of texture, which were developed in part due to co-founder Ben's anosmia, or lack of sense of smell. Flavors often boast clever names and include Cherry Garcia, Phish Food, and Half-Baked, a combination of cookie dough and chocolate fudge brownie.
An essential ingredient in many queso and mac and cheese recipes, Velveeta is a cheese product that is processed to have a soft, smooth texture that won't split or pull when heated.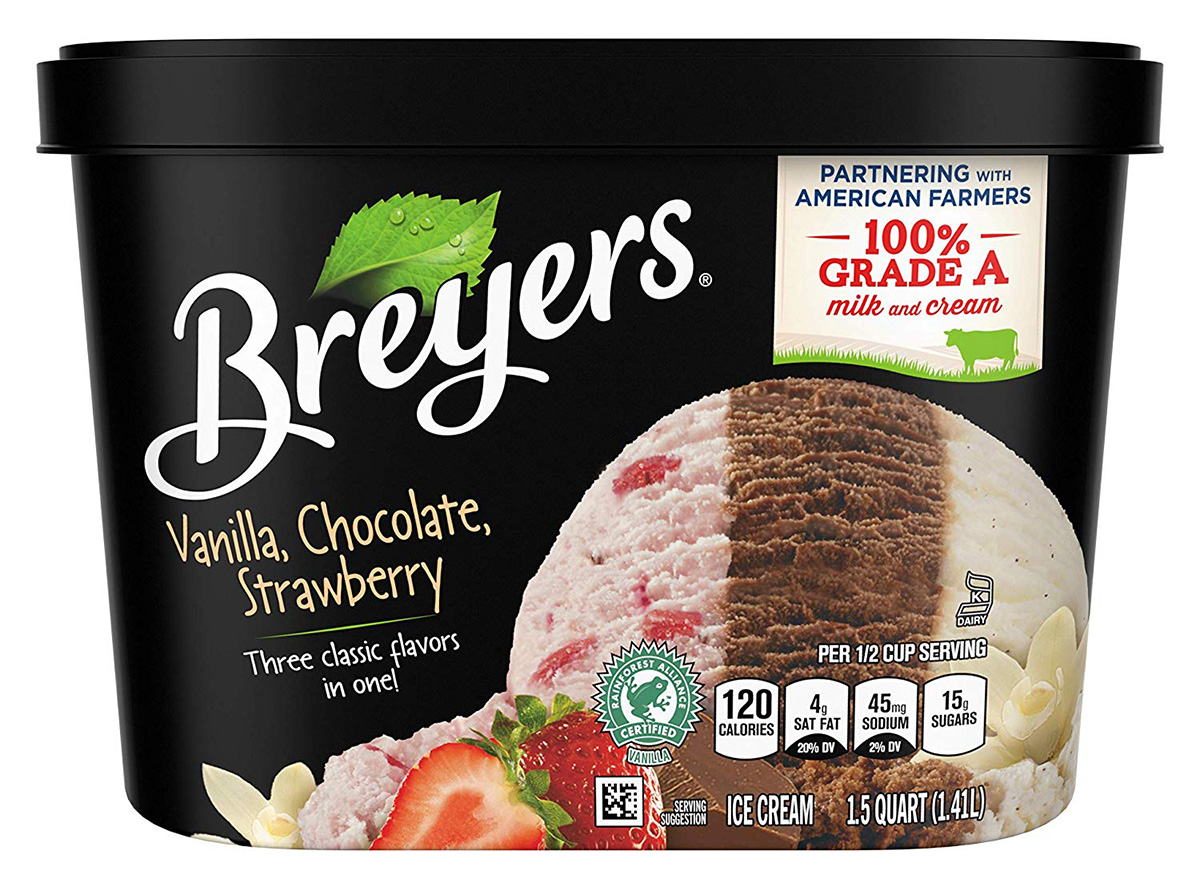 Pennsylvania-based Breyers may produce a number of different ice cream flavors, but its most famous is classic vanilla. In fact, the company sells four signature vanilla varieties and purports to be the leading seller of vanilla ice cream in the country.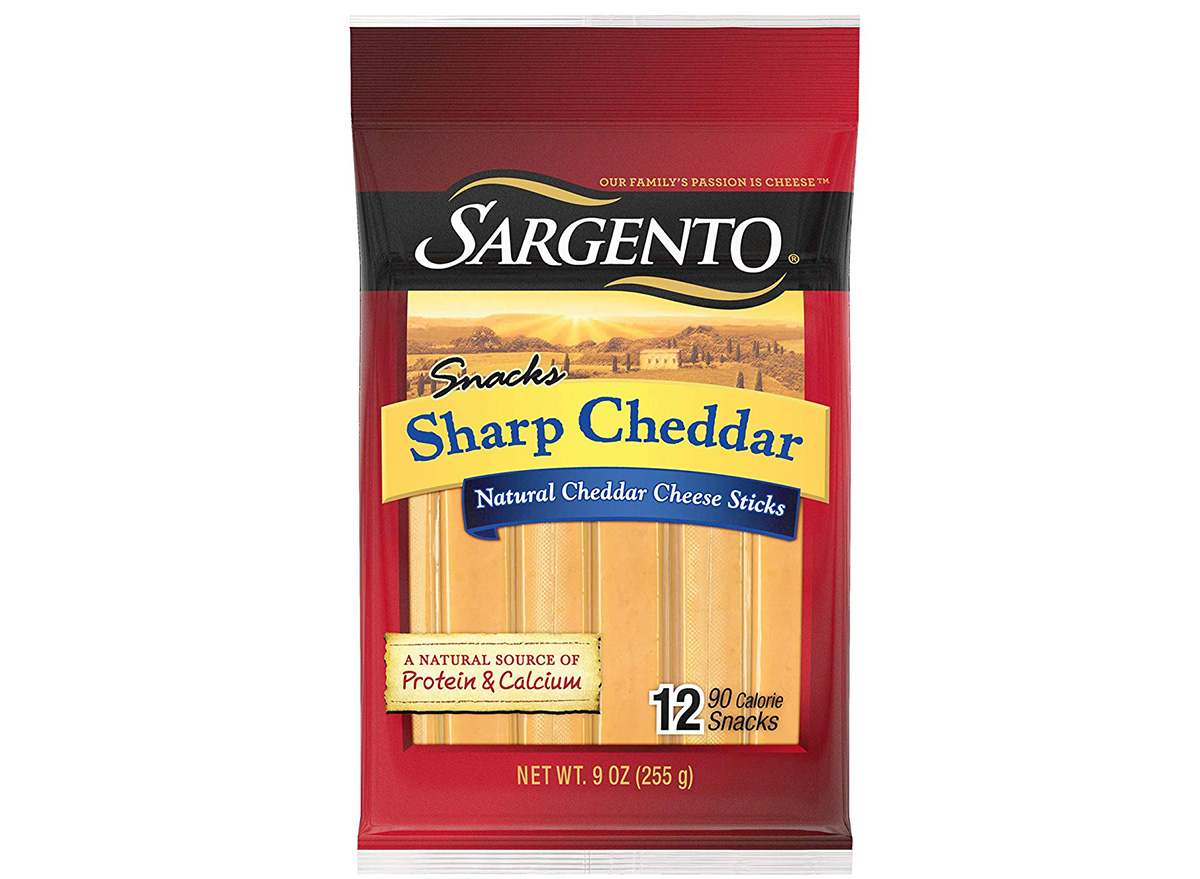 Sargento is the brand for all of your shredded cheese needs. With the catchphrase "Home of Real Cheese People," Sargento alludes to its Wisconsin roots. It's also the first company to have sold packaged shredded cheese in a zippered pouch, for easy reusability.
Cereal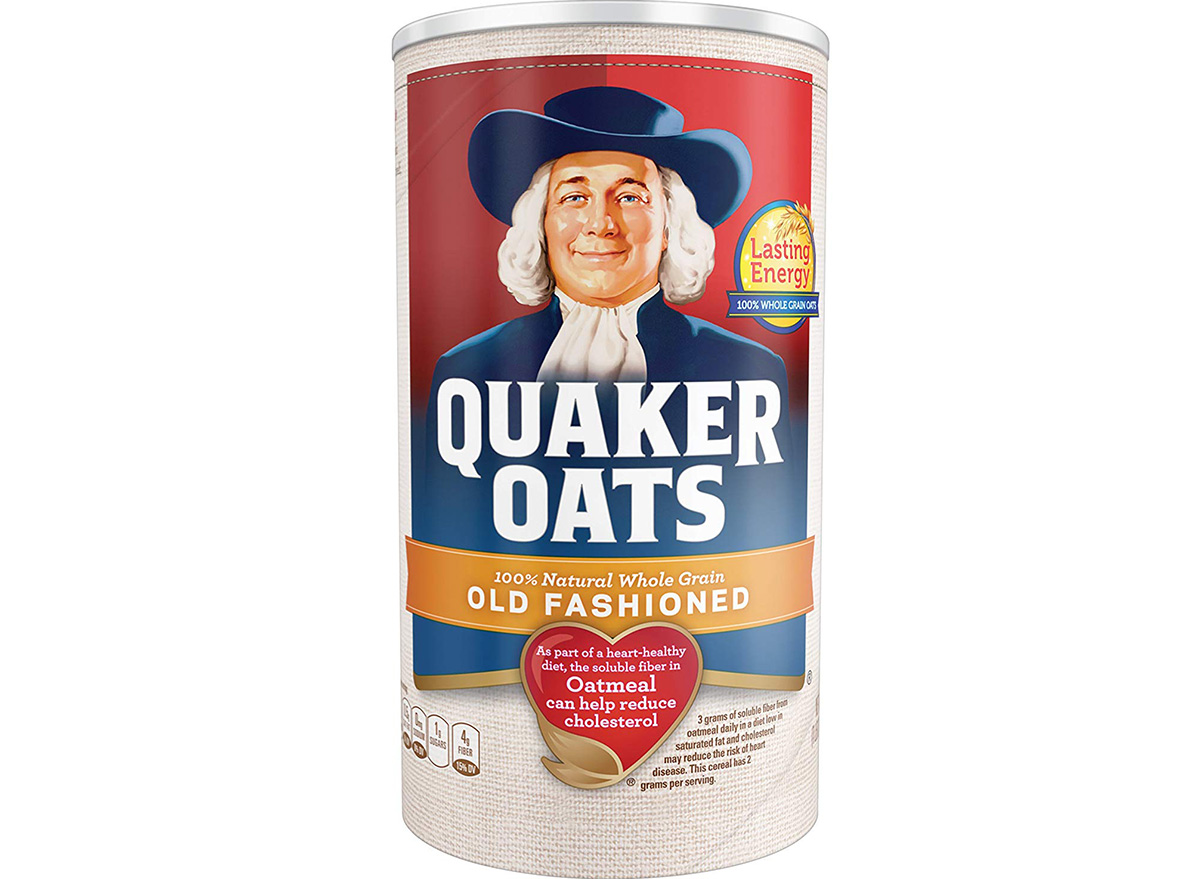 Quaker Oats is famous for good reason. First founded in 1877, the company is now known for its quick-cooking oats and microwaveable flavored oatmeal pouches, not to mention oatmeal-adjacent products like bars and squares.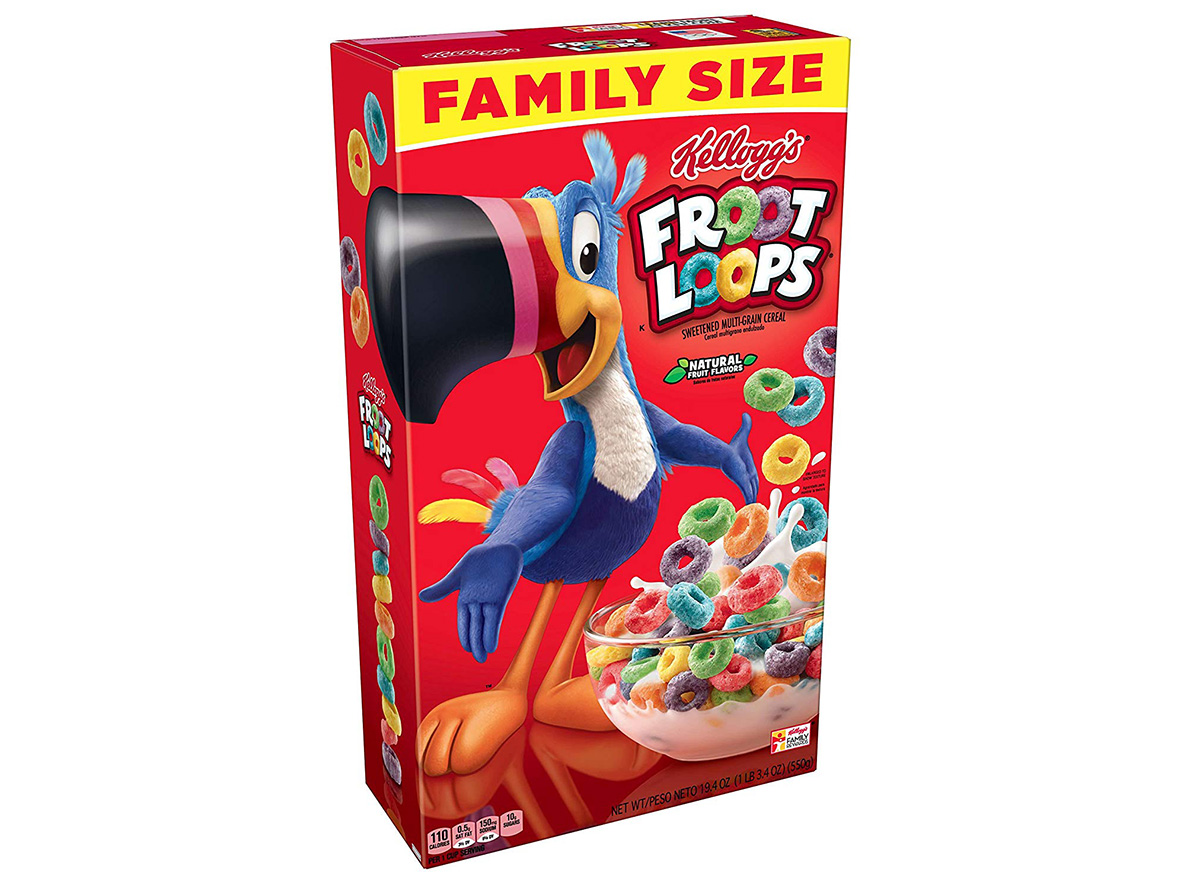 One of the biggest names in breakfast foods, Kellogg's produces a huge variety of cereals, including All-Bran, Apple Jacks, and Special K. After Frosted Flakes, Kellogg's multicolored Froot Loops are the company's top-selling product, according to IRI, a Chicago-based market research firm.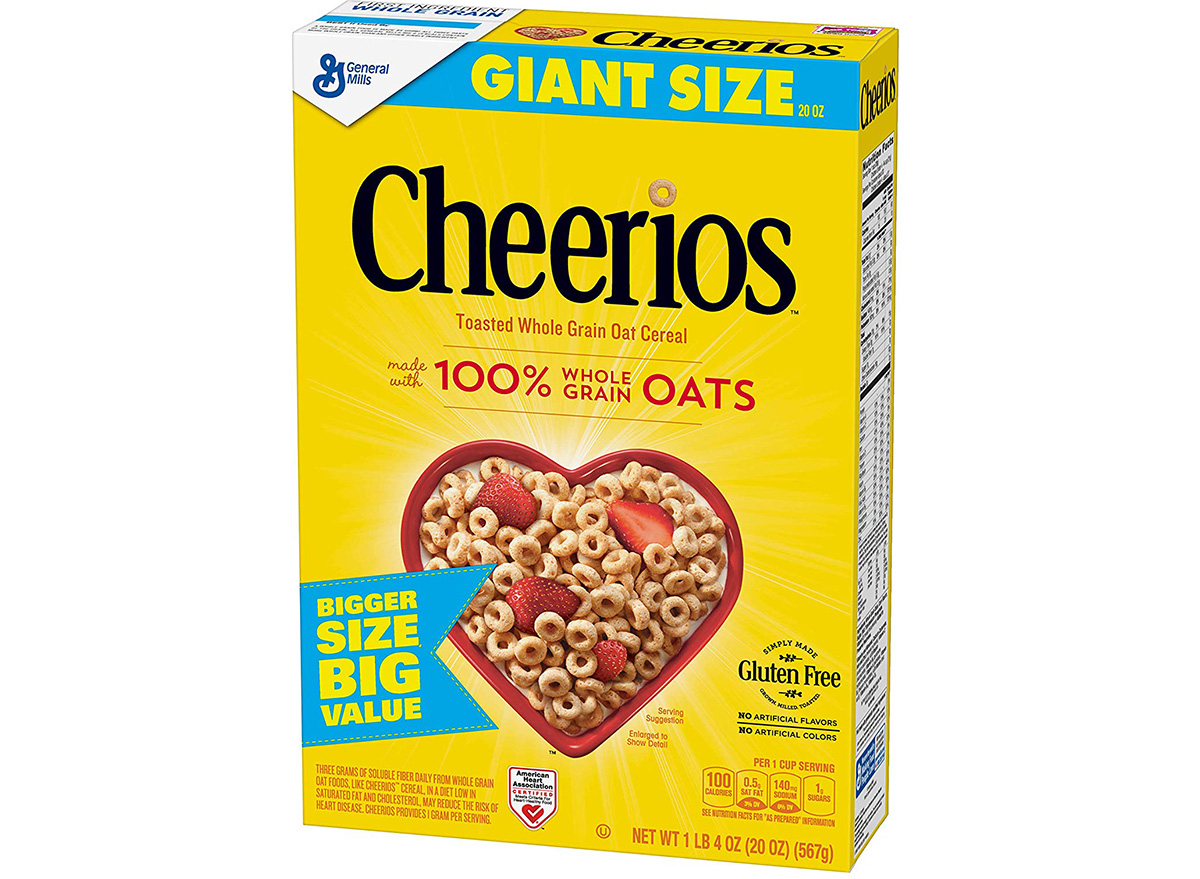 This cereal brand from General Mills spawned several flavored options, but the plain, oat-based classic remains the most famous (and a top choice for introducing solid foods to young kids).
Known for its longtime mascot Tony the Tiger, who has repped the brand since its inception in 1952, this sugar-frosted cereal is "Gr-r-eat!"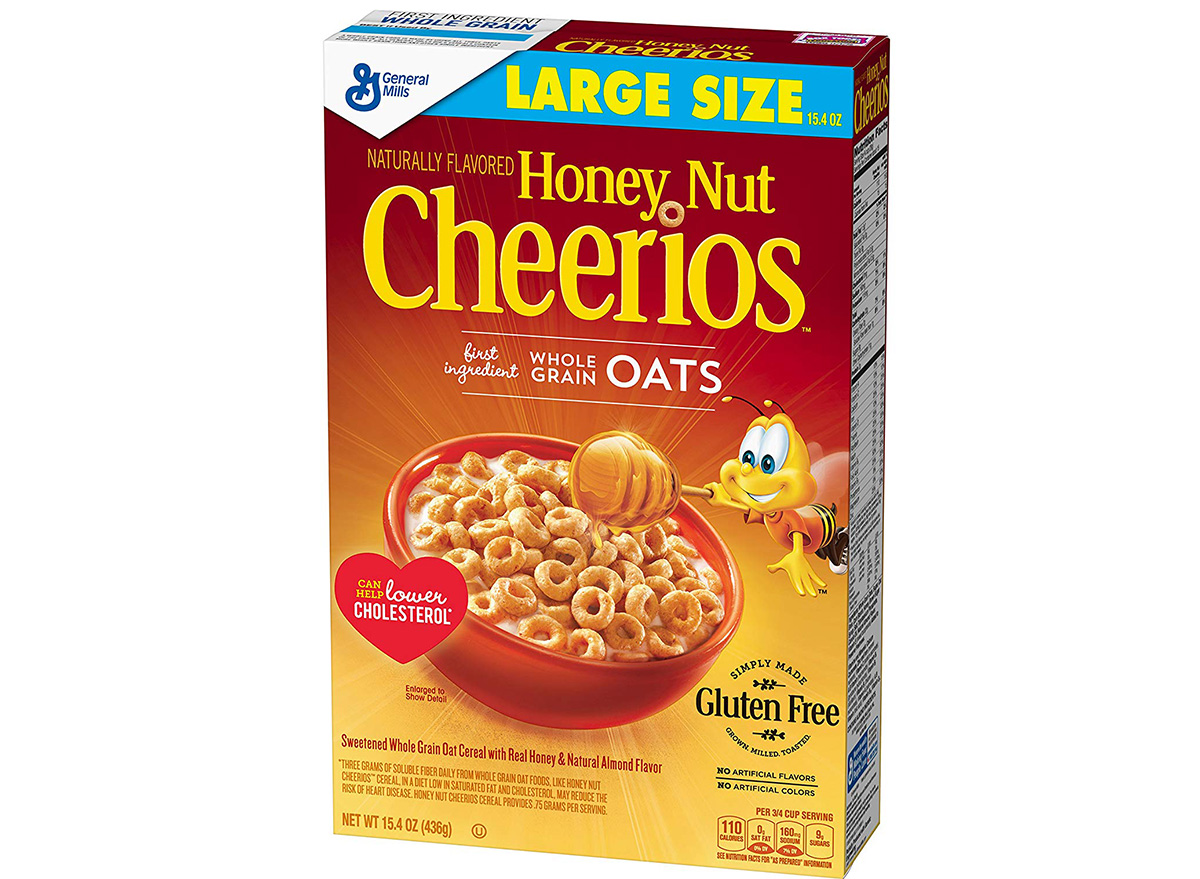 This variation on classic Cheerios used to be made with actual almonds, though as of 2006, it's actually made with natural flavoring from peach and apricot pits. In the face of colony collapse disorder, Honey Nut Cheerios has championed endeavors to save bees around the world.
Condiments
First introduced in 1869, Heinz now uses the slogan "America's Favorite Ketchup"—and for good reason. Heinz ketchup is so emblematic, it holds an over 50% market share for ketchup in the U.S.
I Can't Believe It's Not Butter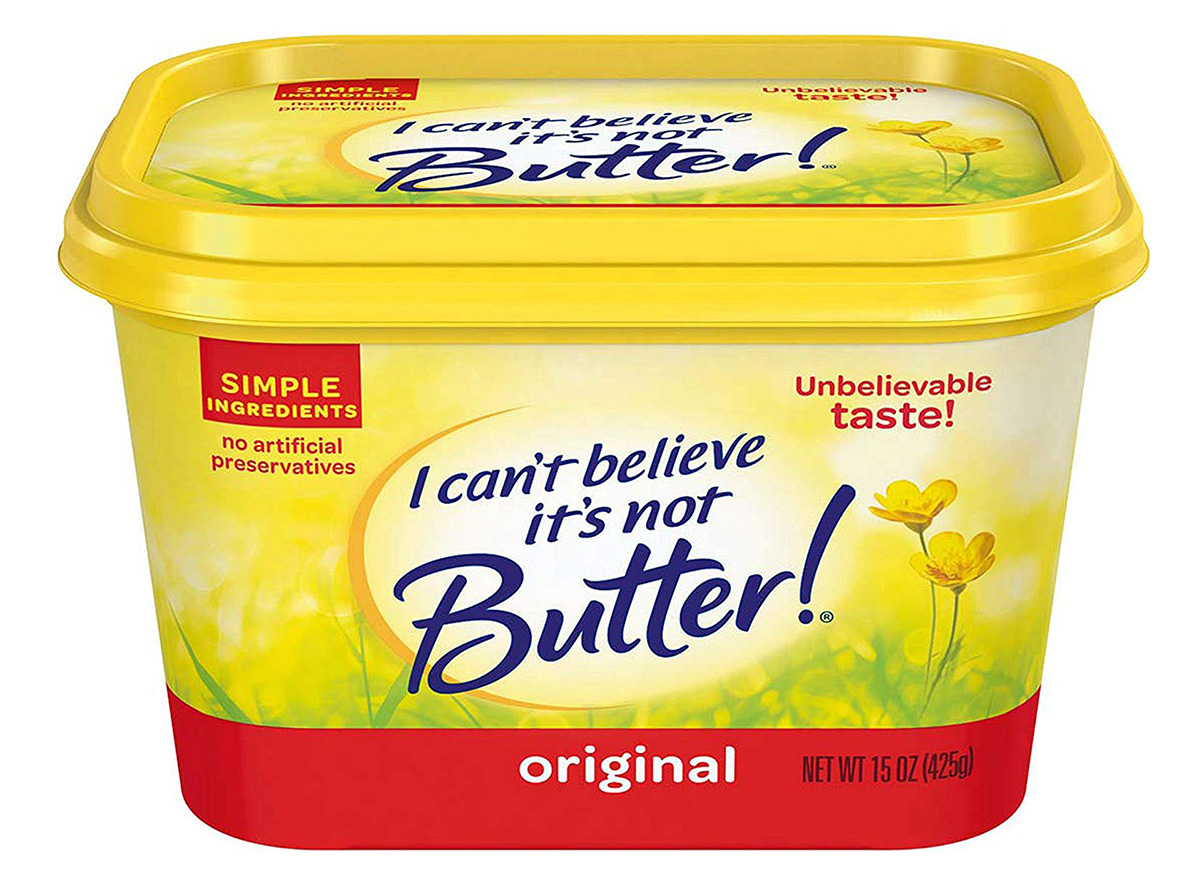 This butter substitute is actually made with vegetable oil and is now available in both spread and spray forms, as well as lighter, low-calorie versions.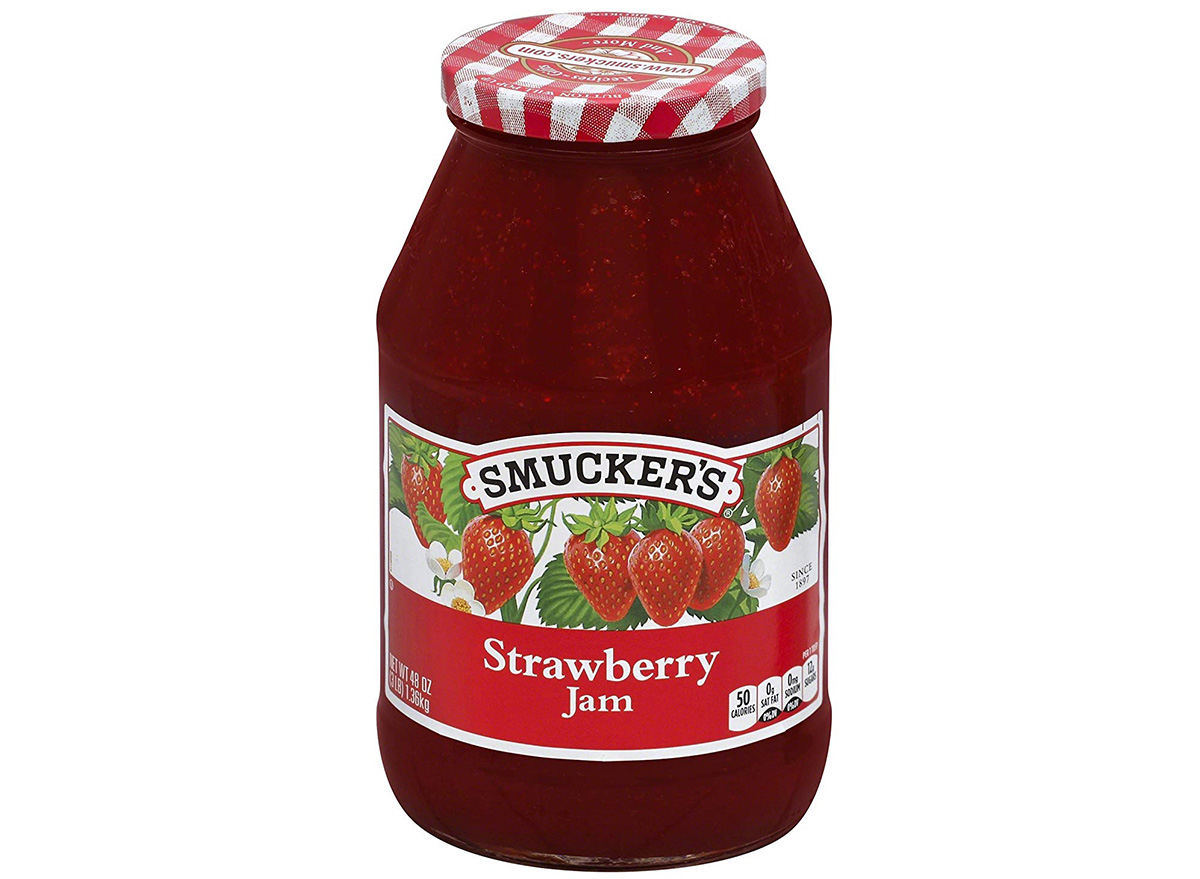 Founded in 1897, this company now produces an array of peanut butter, peanut-butter-and-jelly combos, and other products. Still, it's best known for its jams, jellies, and preserves. Smuckers also produces Uncrustables, sealed crustless PB&J sandwiches, which it patented in 2004.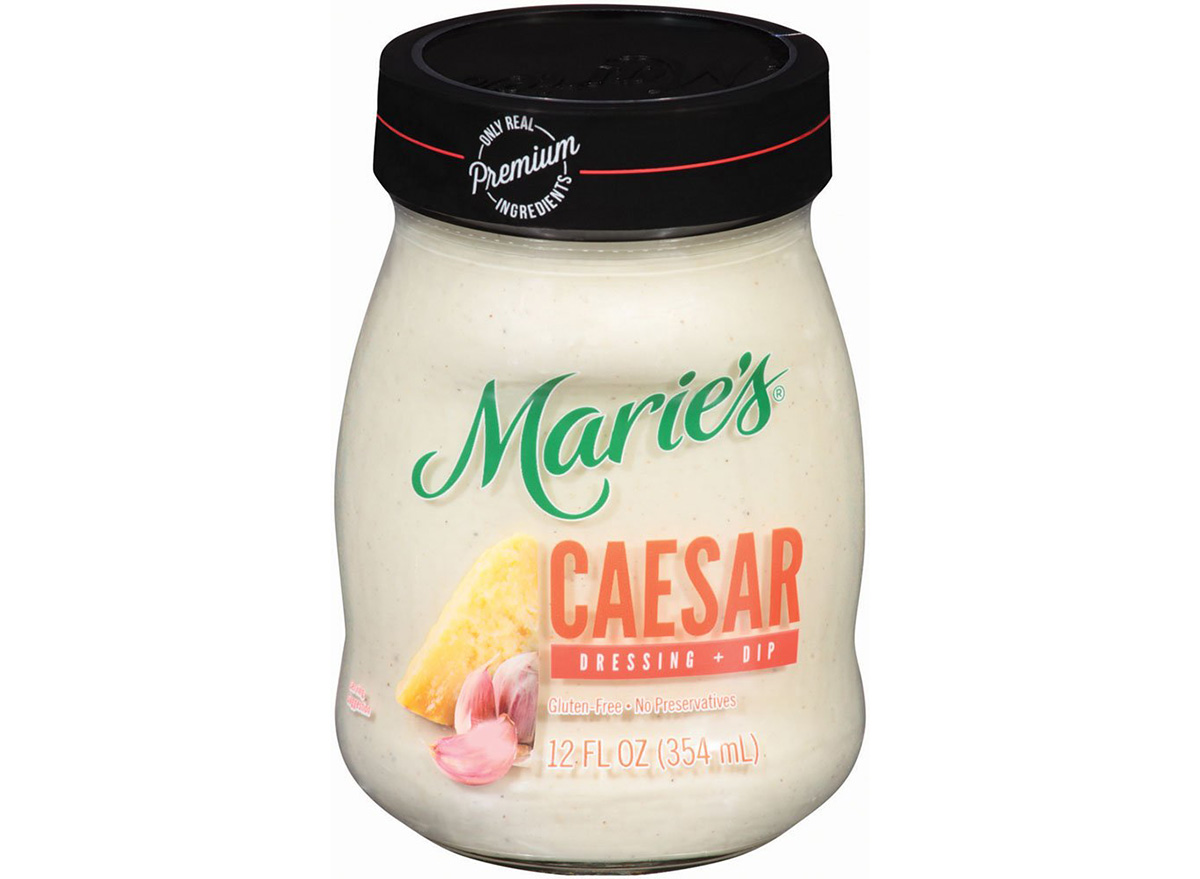 Seattle-based café Marie's was the birthplace of this range of salad dressings, of which the Chunky Blue Cheese is still the most famous. Made with non-GMO oils and packaged in BPA-free recyclable plastic, this company seeks to produce its dressings healthfully and sustainably.
Trader Joe's Everything But the Bagel Sesame Seasoning Blend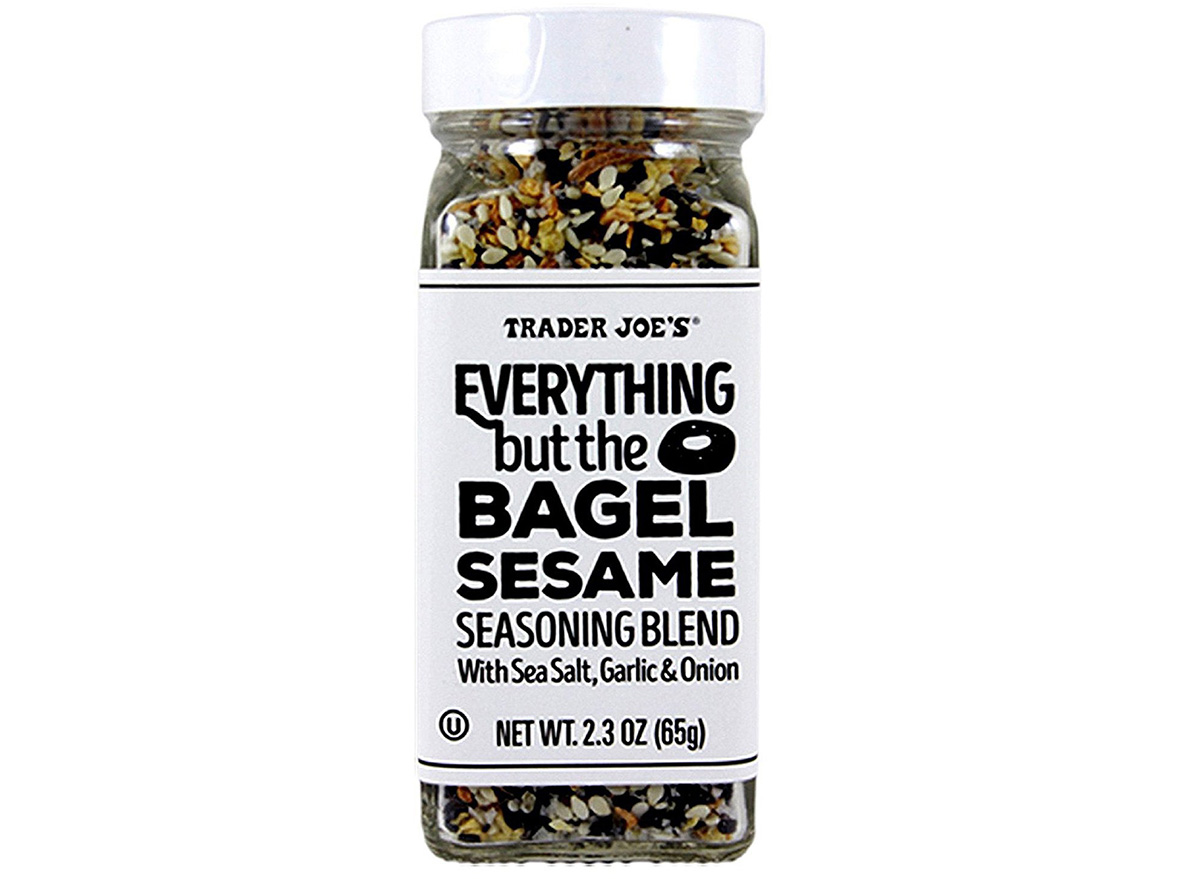 This everything bagel seasoning blend has become ultra-popular in recent years as a topping for everything from avocado toast to pasta. As its name suggests, the little bottle contains a whopping load of flavors, with white and black sesame seeds, poppy seeds, sea salt, garlic, and onion. It's certainly a favorite at Trader Joe's, as well as one of the most popular grocery items out there.
Drinks
This packaged flavored milk beverage was a childhood favorite, and while strawberry and vanilla options exist, the classic chocolate flavor, made with real cocoa, is the most emblematic of all.
This non-dairy creamer comes in more than 25 different flavors, but the original iteration, made of corn syrup, vegetable oil, and milk-derived casein, is certainly the most famous.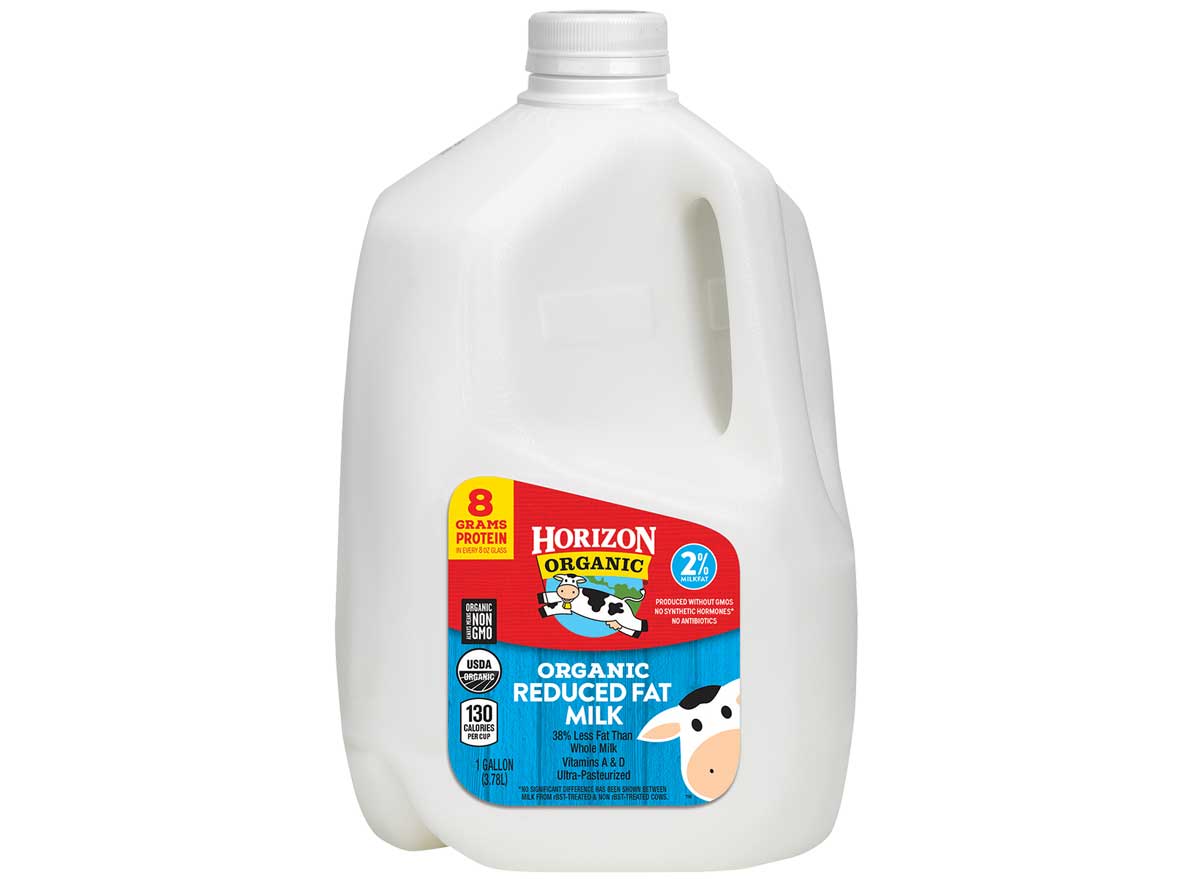 Maryland-based Horizon is the largest supplier of organic milk in North America. It buys milk from more than 700 dairies in 23 states across the nation to sell under one brand.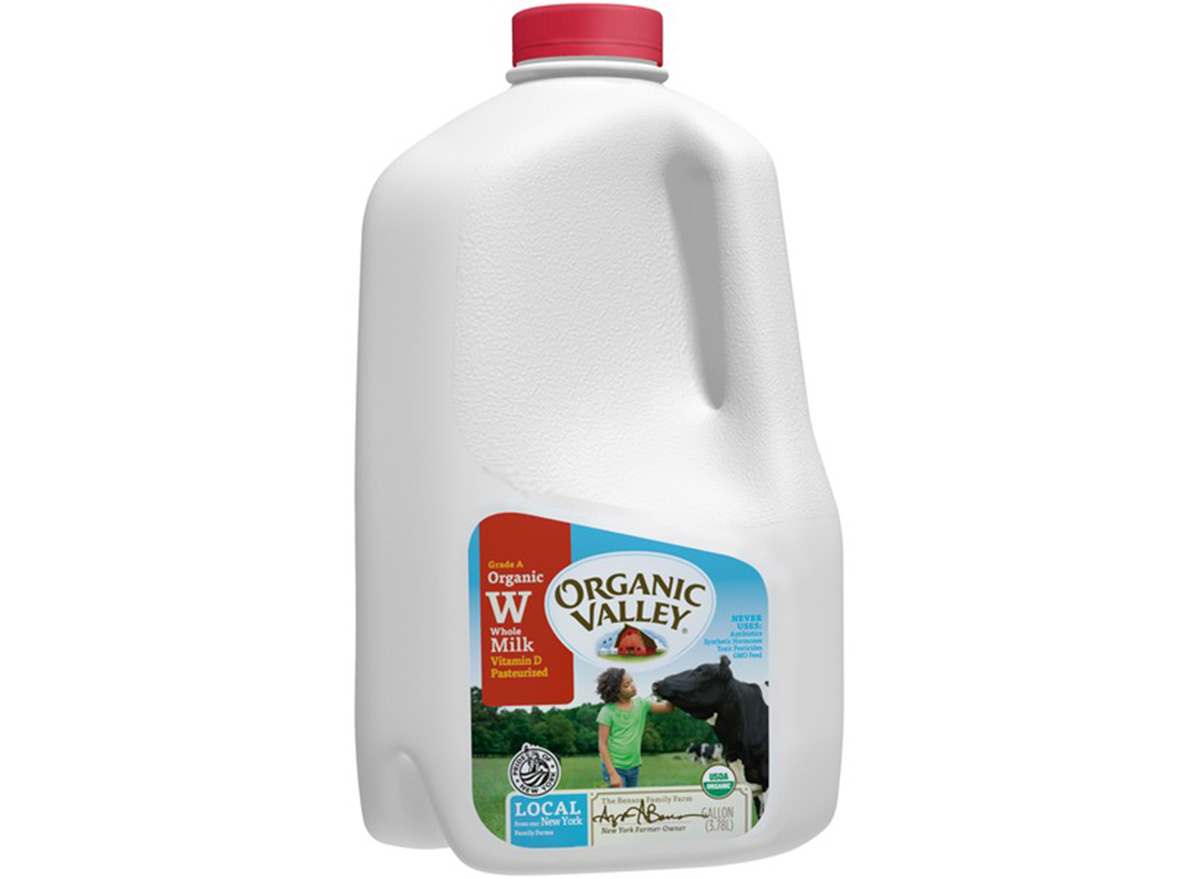 Organic Valley is the largest farmer-owned organic cooperative, producing a large variety of organic dairy products, including grass-fed butter and milk.
Trader Joe's Sparkling Mineral Water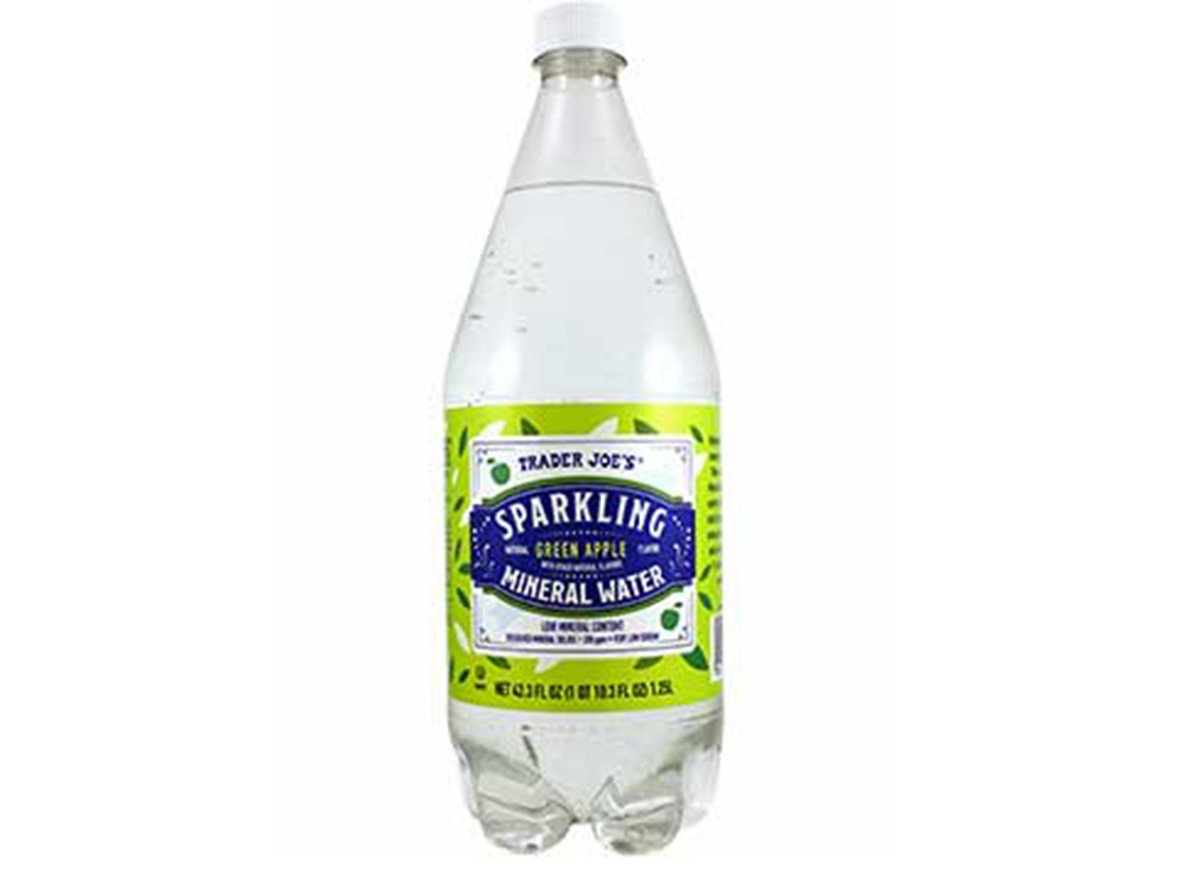 Since débuting in 2017, Trader Joe's flavored mineral waters have skyrocketed in popularity, surpassing other sparkling waters offered by the chain. The sugar-free waters come in several flavors, including grapefruit and island colada.
Candy
According to YouGov, M&Ms are the most popular and most famous food and snack brand in the country. First introduced by Mars in 1941, the colorful candy buttons are now available in a number of different flavors, like peanut, peanut butter, and pretzel. The company also markets seasonal M&Ms, with pastel-colored candies at Easter and a gingerbread flavor during the holidays.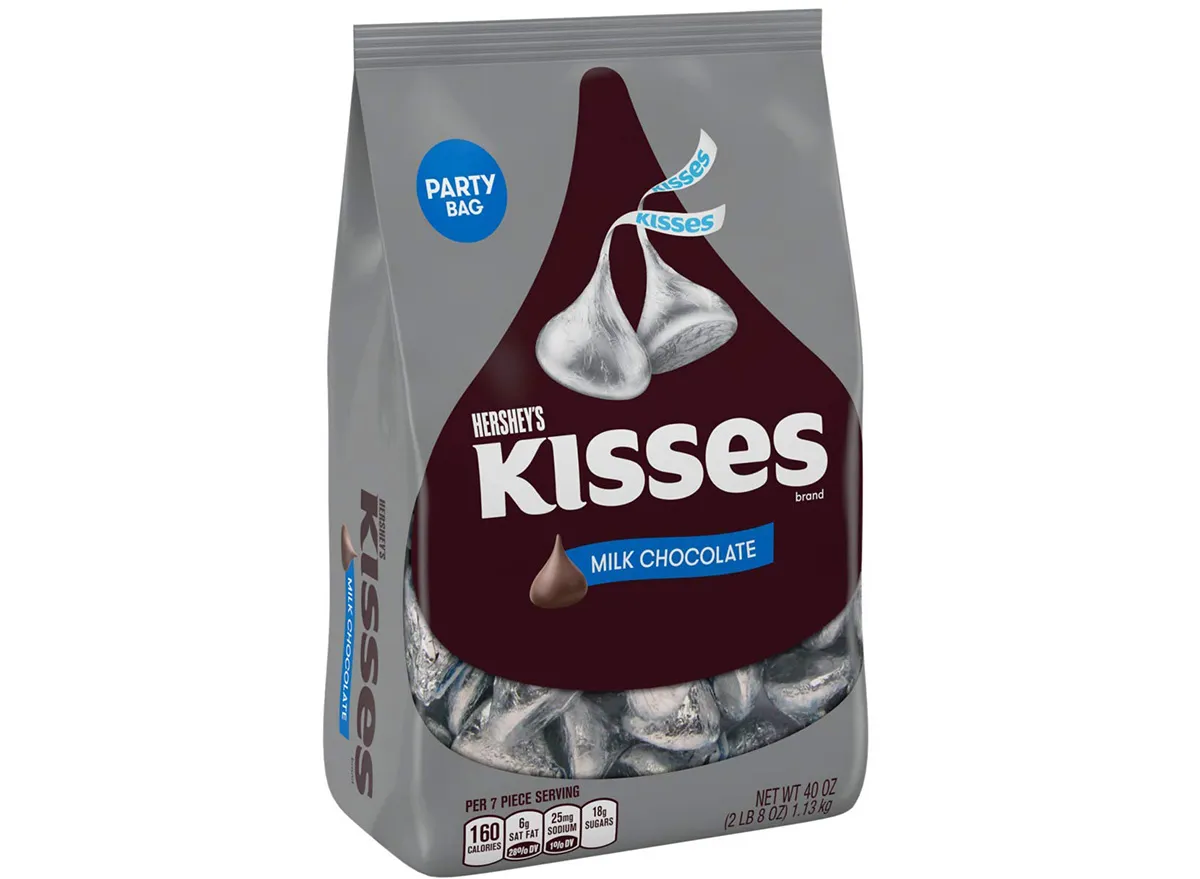 Hershey's is known for chocolate bars, chocolate syrup, and more, but the company's eponymous Kisses, introduced in 1907, may be the brand's most famous sweet treat—and one of the most popular grocery items.
Reese's Peanut Butter Cup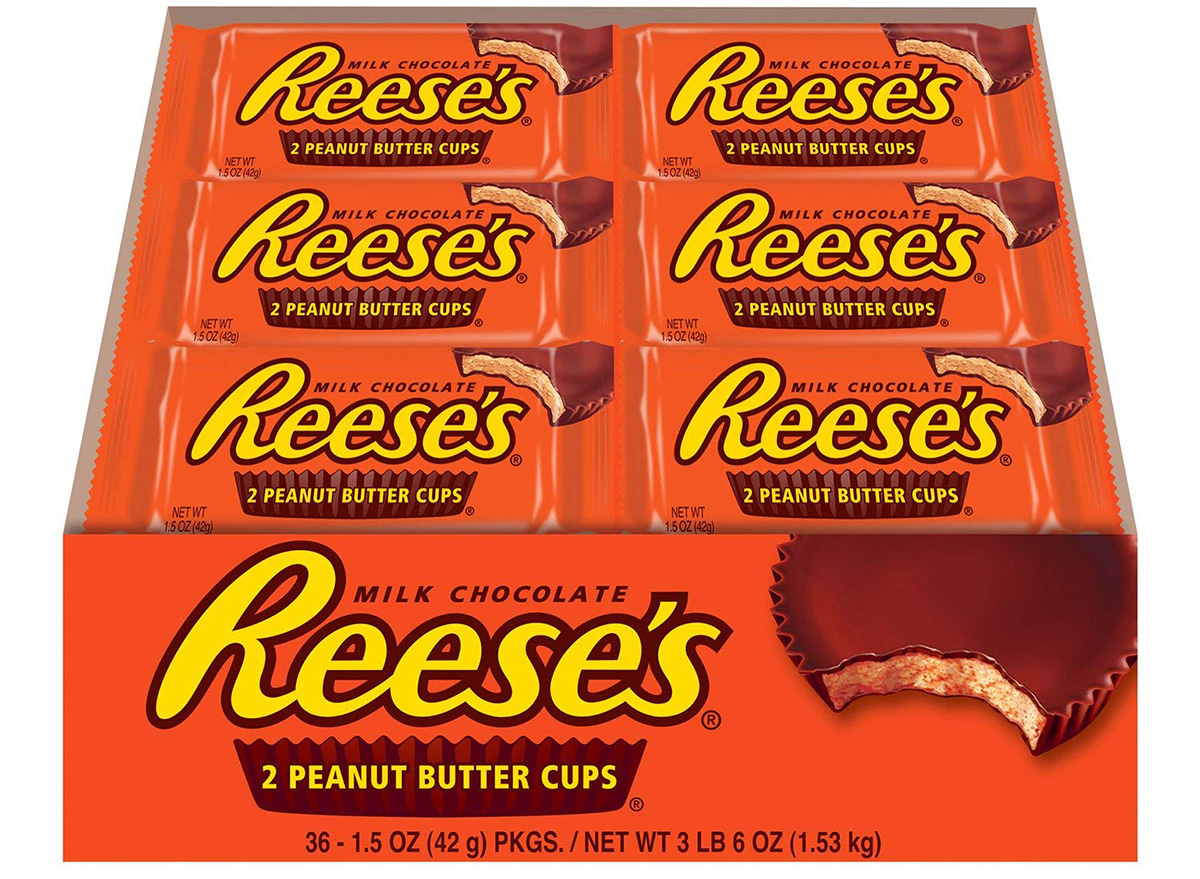 Created by H.B. Reese, a former worker at a Hershey dairy farm, these peanut-butter-and-chocolate confections were recently voted America's favorite Halloween treat in a poll from Monmouth University.
In the United States, Snickers is far more famous than the eponymous candy bar made by the Mars company. A combination of peanuts, nougat, and caramel covered in milk chocolate, this candy bar is a staple ingredient in Snickers salad, a popular combination of Snickers, apples, and whipped topping hailing from Iowa.
While the Reese's cup is the company's most famous product, Reese's Pieces skyrocketed to fame when they were featured in 1982's E.T. the Extra-Terrestrial. And to think director Steven Spielberg originally wanted E.T. to flip for M&Ms!
Meat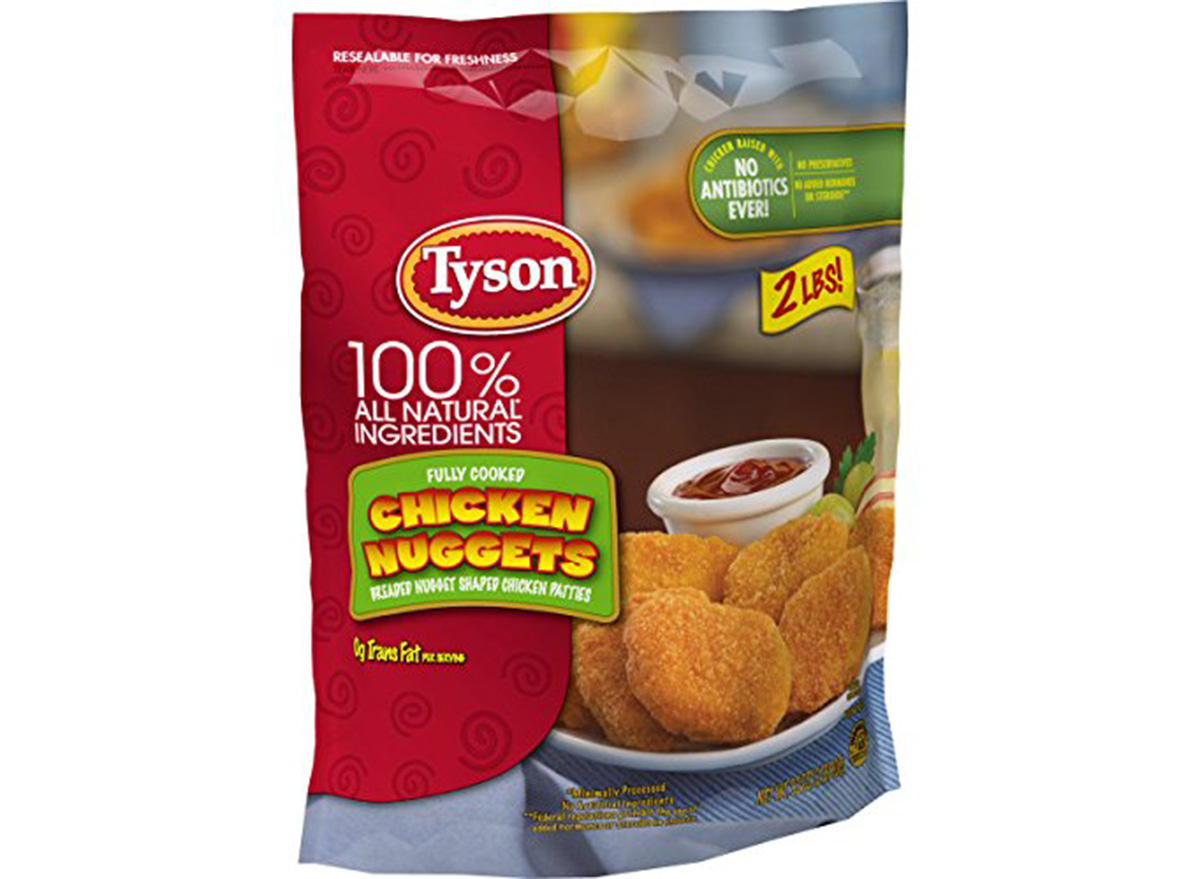 Arkansas-based Tyson is the world's second-largest processor of chicken, beef, and pork, but it's best-known for the former and has been since it was established in 1935, in a time when chicken fell outside of nationally-imposed rationing. Its value-added chicken products, including its chicken nuggets, are some of its most popular.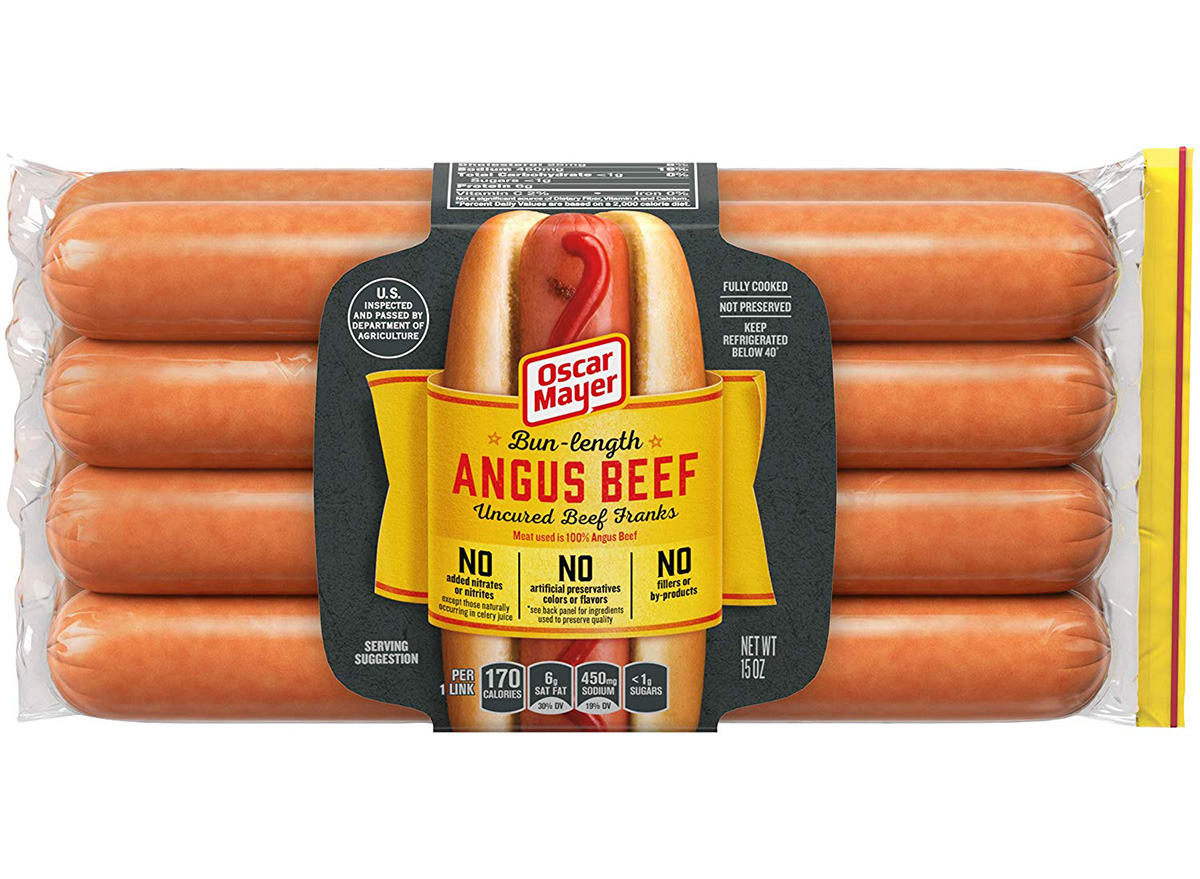 While Oscar Mayer produces a variety of meat products including bologna and Lunchables meal kits, the Oscar Mayer Wiener (and associated Wienermobile, which toured the U.S. for 70 years) is certainly the best known of the Kraft Heinz-owned company's offerings.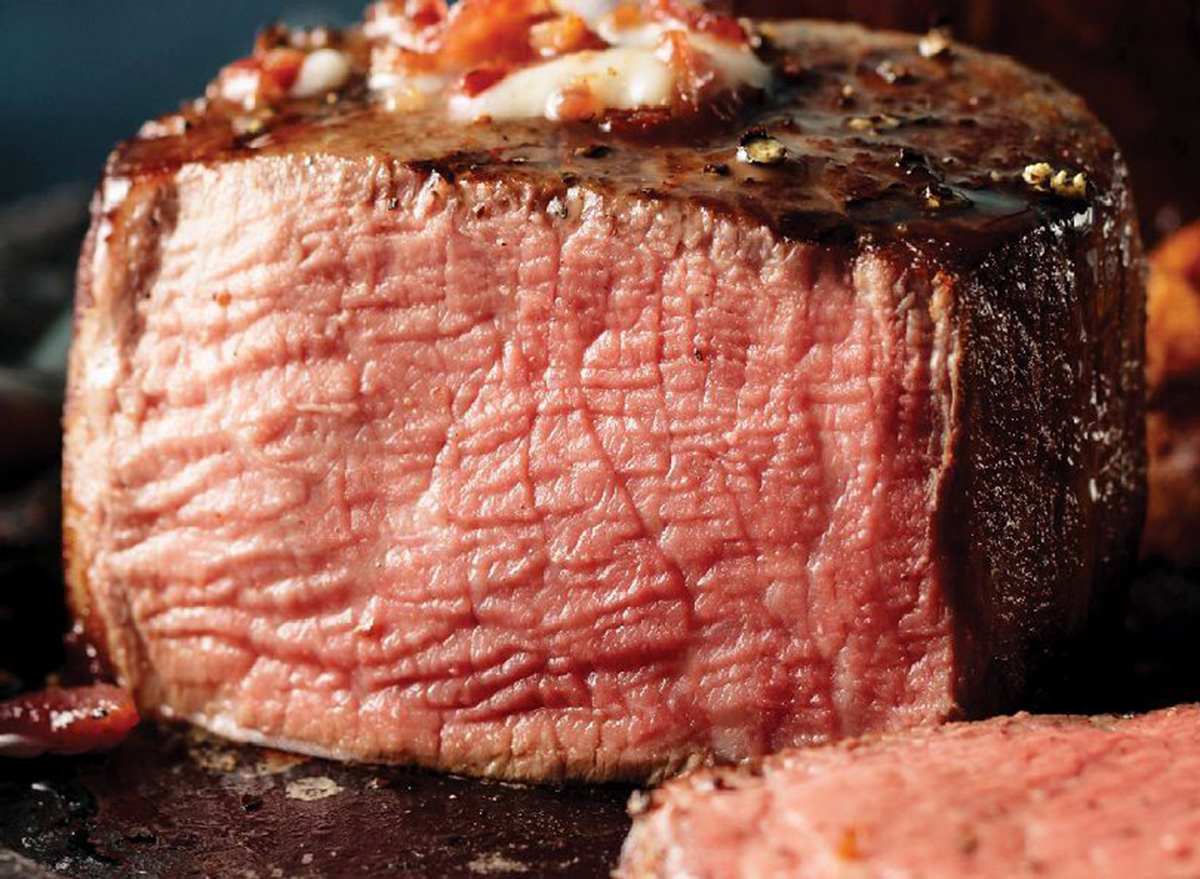 One of America's largest beef marketers, Omaha Steaks is known for its mail-order gourmet beef, pork, and chicken–and especially for its namesake flash-frozen steaks.
Johnsonville Sausage Brats
This Wisconsin-based company is the largest sausage brand by revenue in the country. It produces a large variety of sausage, including breakfast links and chicken sausage, but it's perhaps best known for its brats, the company's home state's favorite, and one of America's most popular grocery items.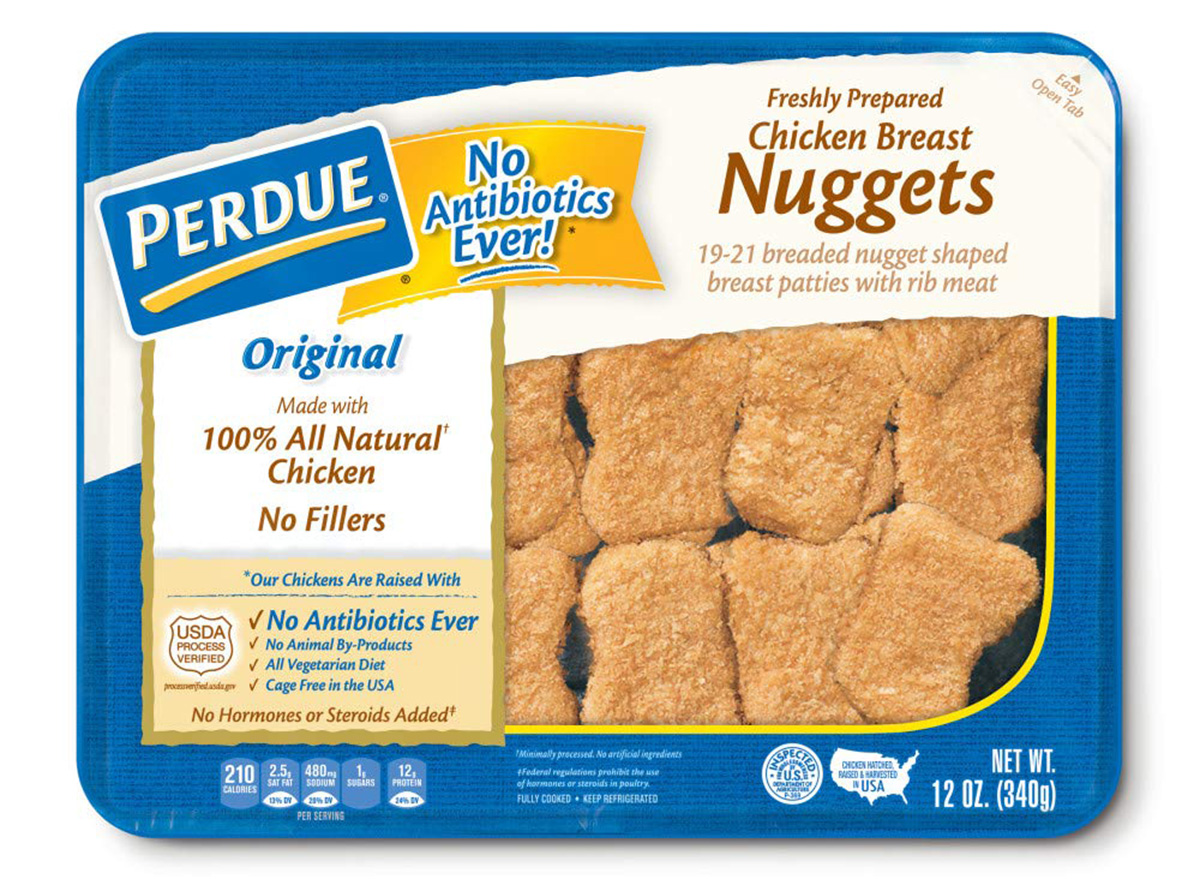 Known for a vast variety of cooked and ready-to-cook chicken products, Perdue was the third-largest producer of whole broilers in the country in 2013. Today, it's also known for individually-wrapped chicken pieces that are ready to cook and eat, perfect for cooking for one.
Baked goods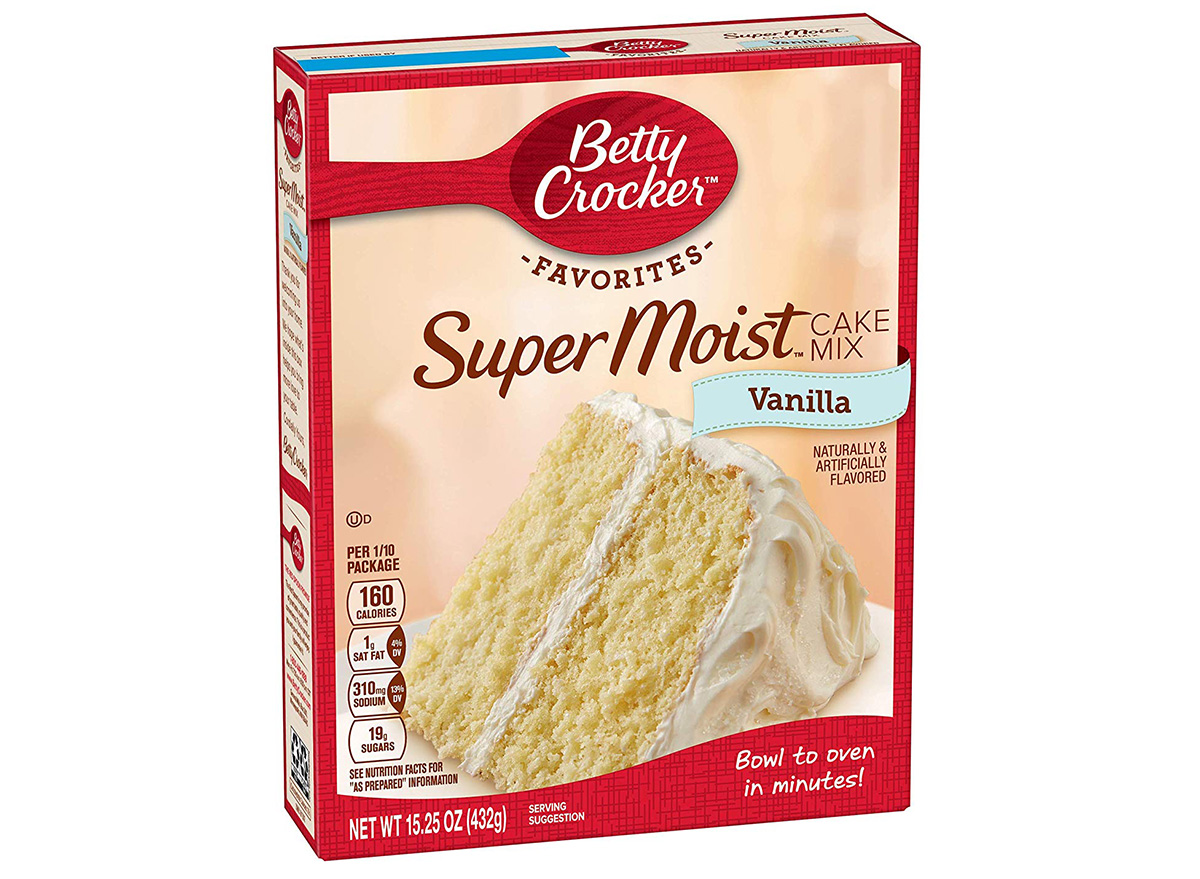 Both a brand and a fictional character, Betty Crocker has long been synonymous with boxed cake mixes and canned frosting. The company's baking mixes can be prepared according to on-the-box instructions, but are also co-opted into recipes like dump cake or diet soda cake.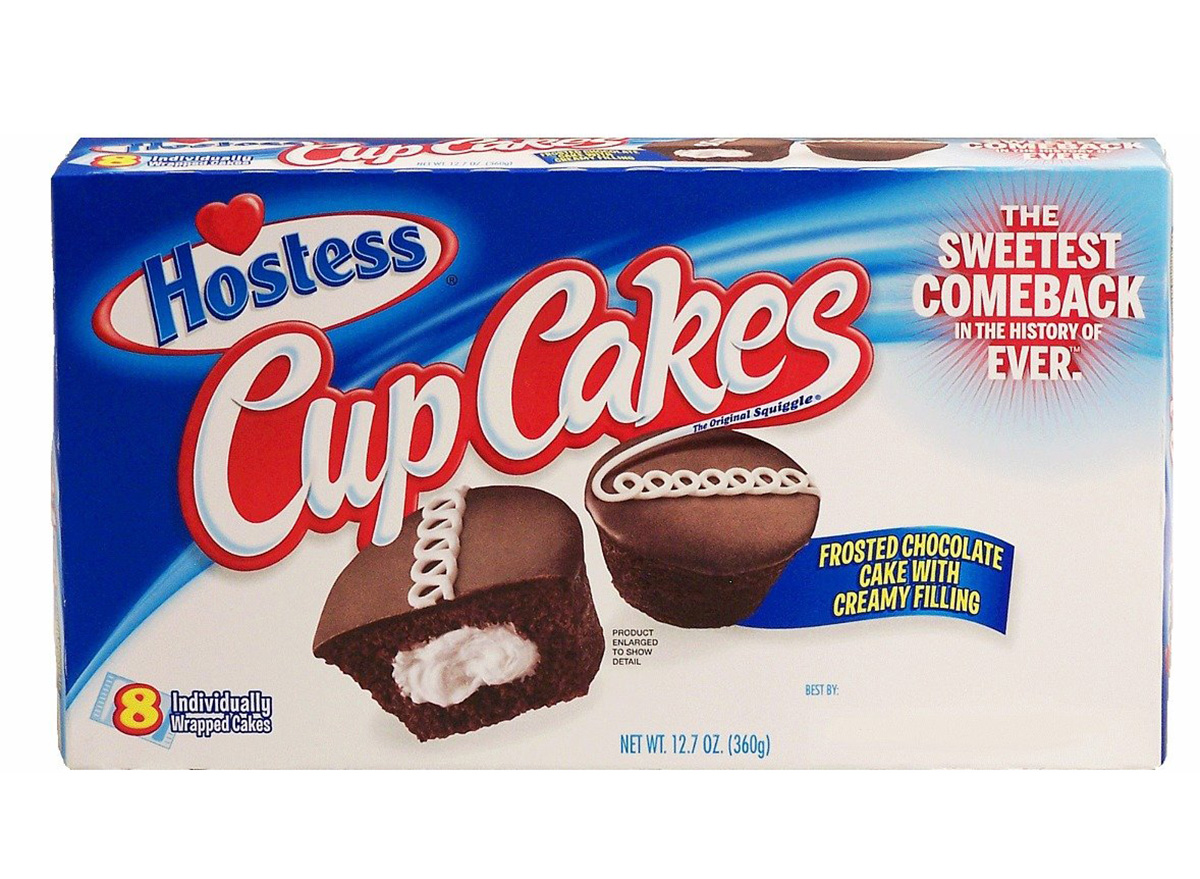 Hostess produces a vast variety of convenience store cakes like Twinkies and SnoBalls, but according to the YouGov survey, the most famous is the CupCake, a chocolate snack cake with a squiggle of white icing and a vanilla crème filling. You can almost find these beloved CupCakes anywhere—no wonder they are one of America's most popular grocery items.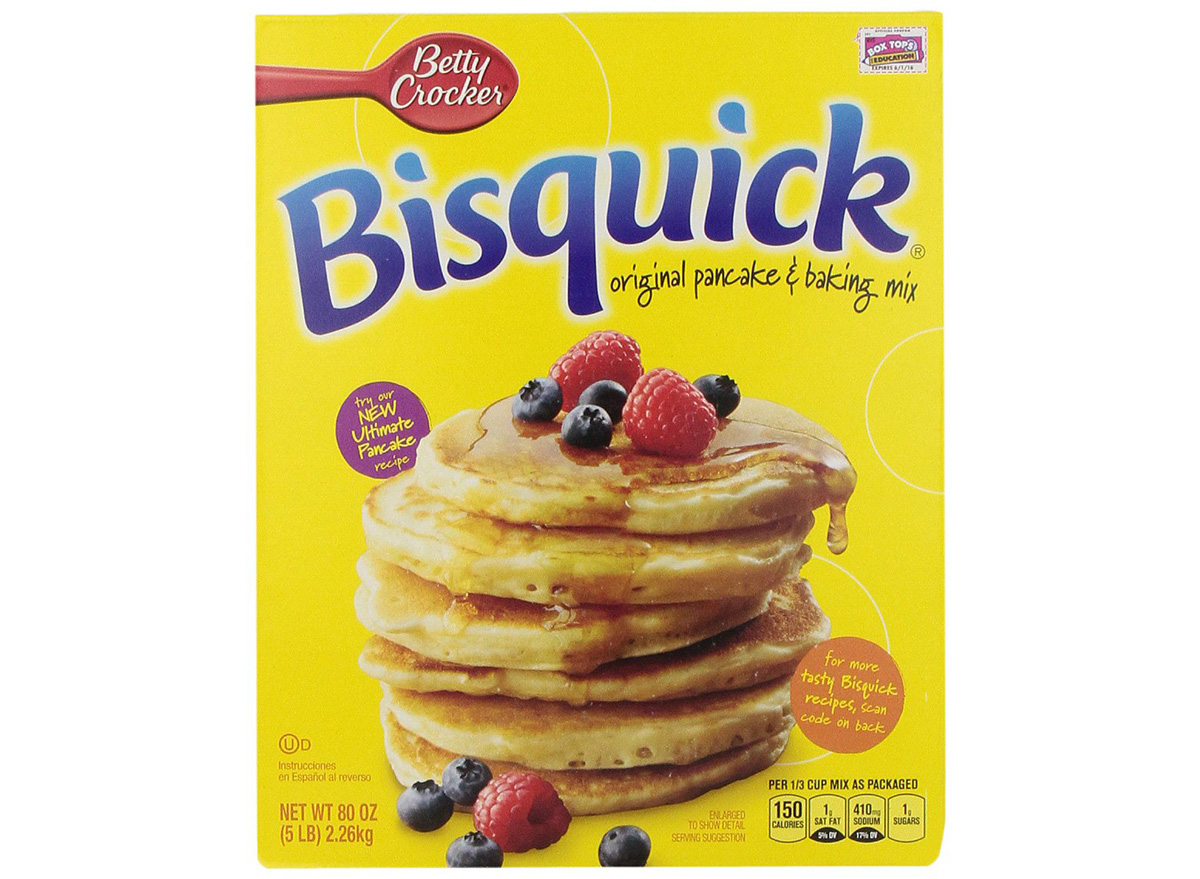 According to General Mills, the idea–and recipe–for Bisquick come from an innovative train dining car chef from the 1930s, who pre-mixed his biscuit dough to ensure train clients would always have access to fresh biscuits. The baking mix may get its name from biscuits, but it's also a popular pancake and waffle base for American home cooks.
Trader Joe's Danish Kringle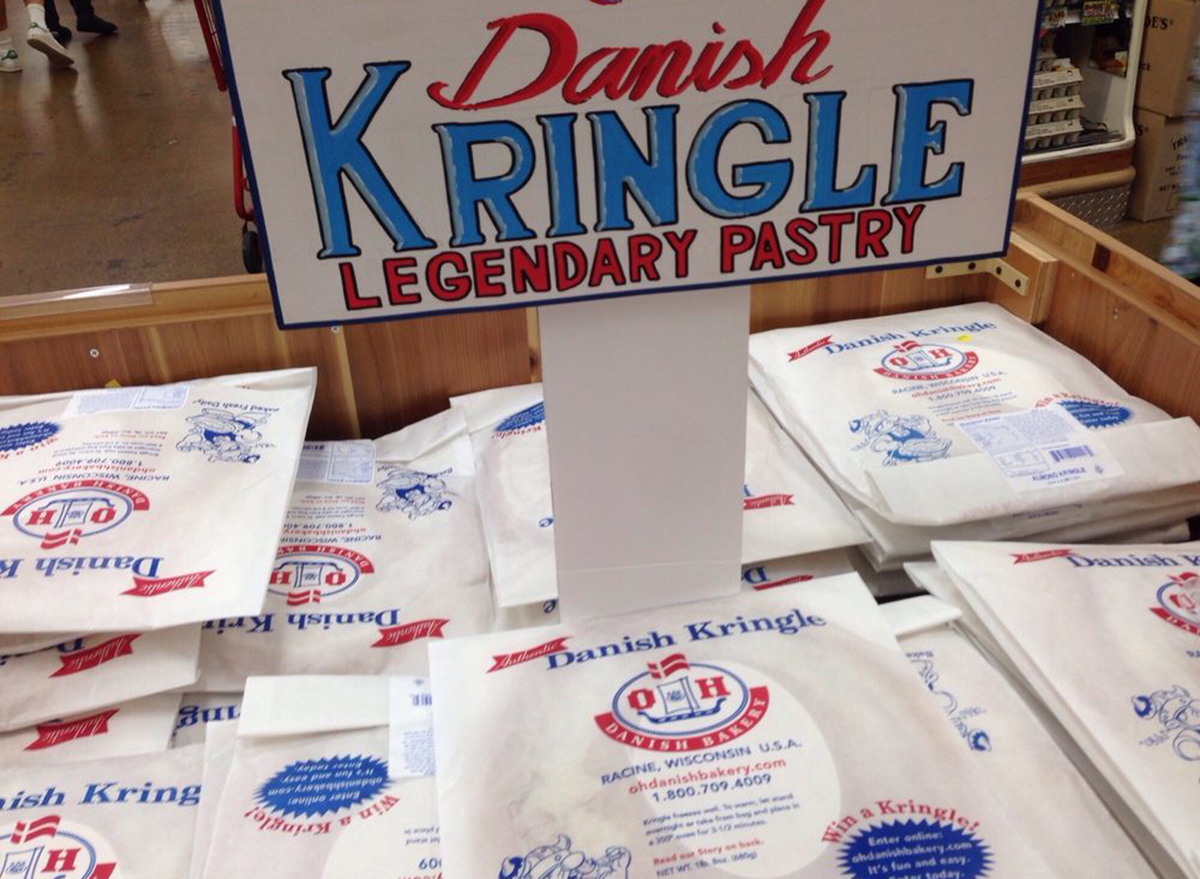 Regularly voted Trader Joe's most famous baked good, this Danish pastry is a seasonal offering sold in a variety of different flavors like almond, pumpkin, and raspberry.
Snacks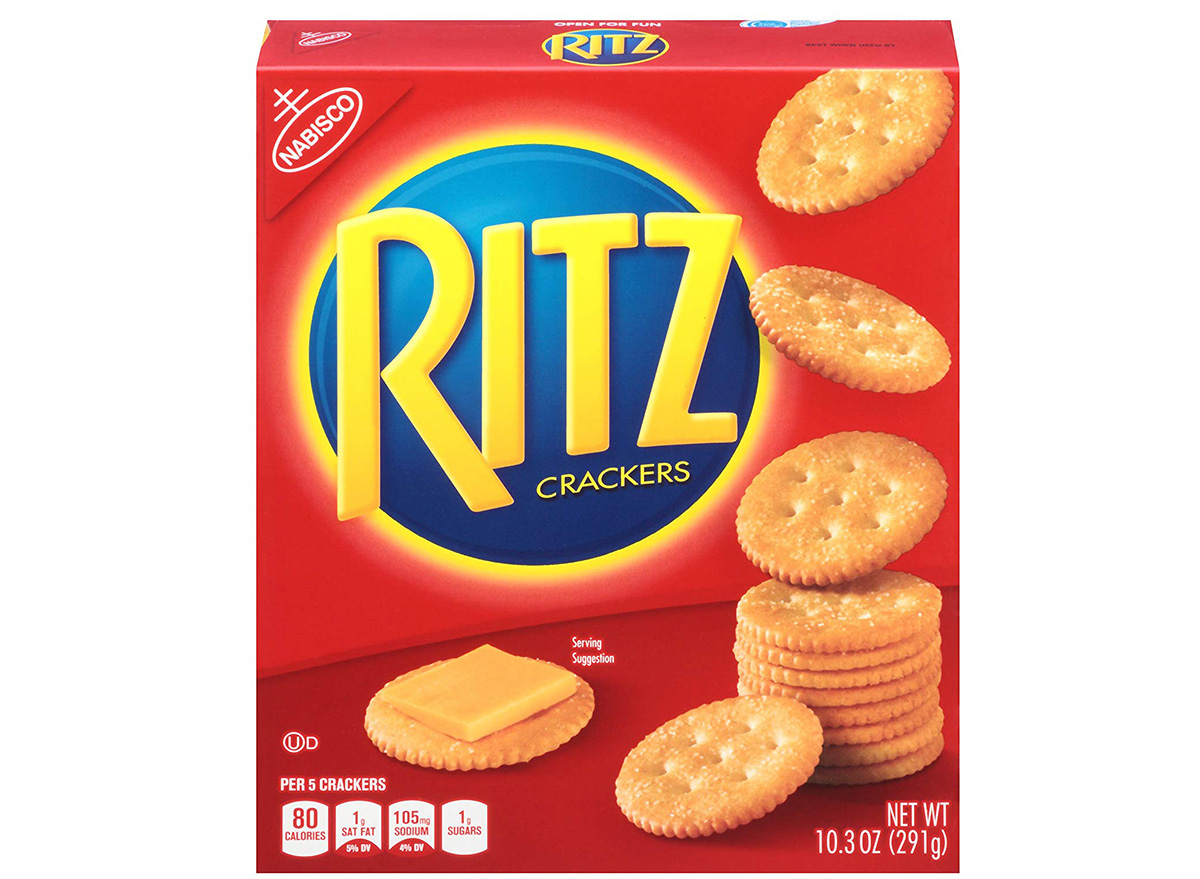 Buttery Ritz crackers are an American household classic. The oven-baked crackers are available in a variety of flavors and sizes and can even be purchased sandwiched around peanut butter or cheddar cheese spread.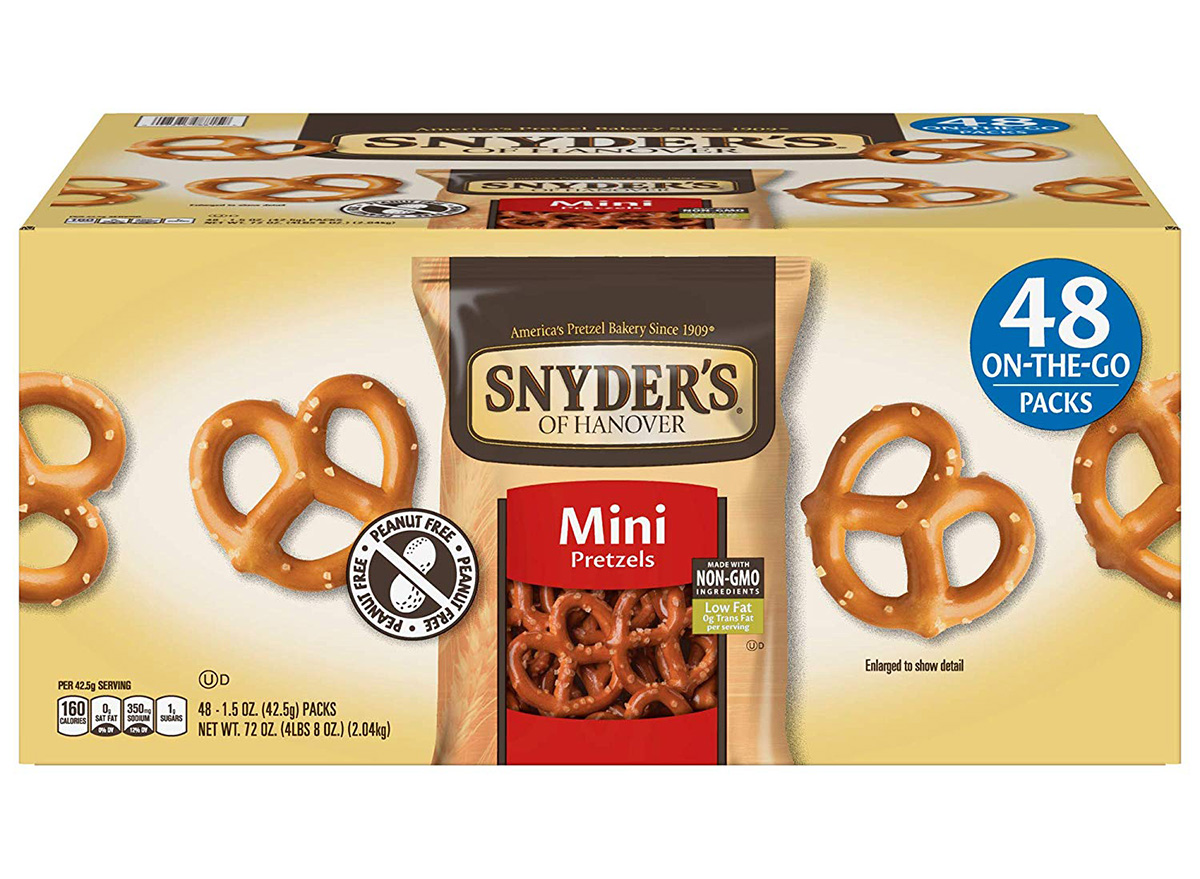 While a great variety of shapes and flavors are now produced by Snyder's, this Campbell's-owned company's classic slow-baked German pretzel is by far the most popular.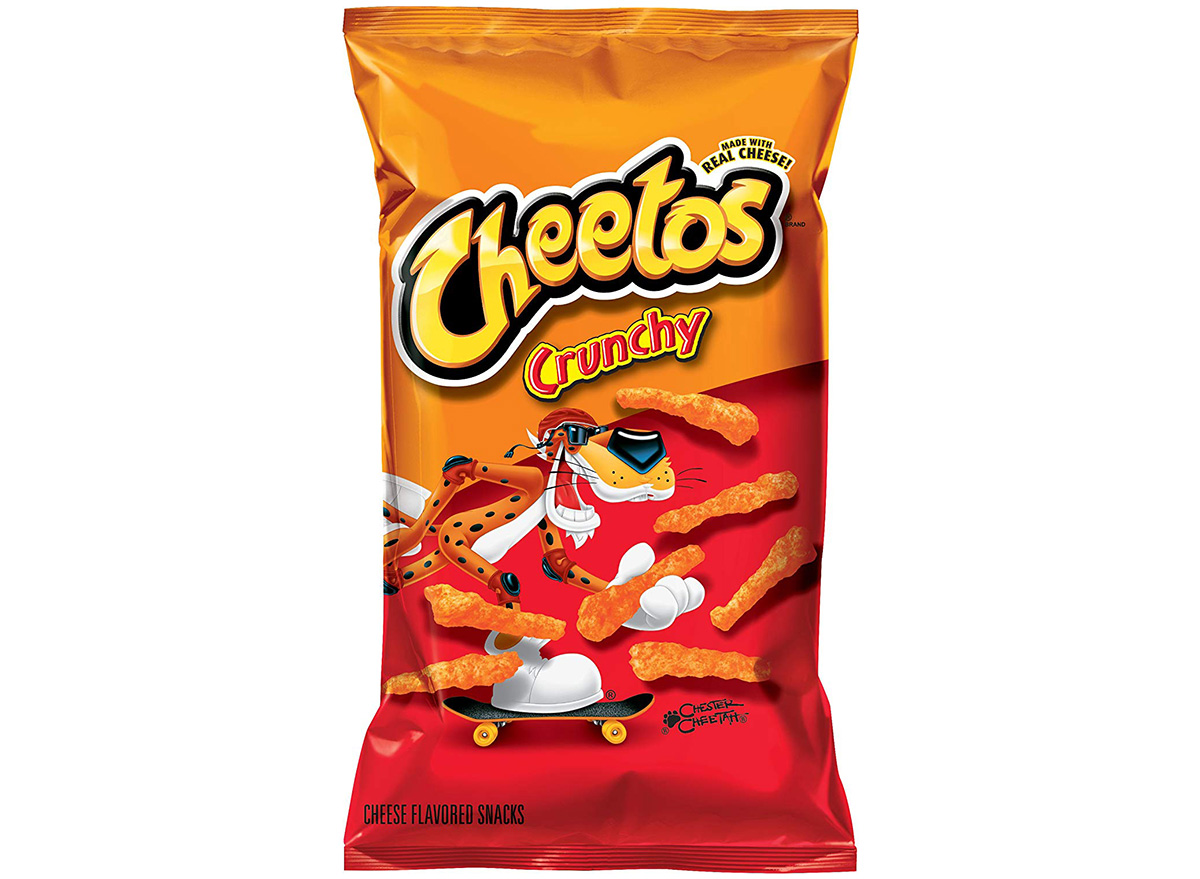 These crunchy, cheese-flavored corn snacks are divisive: are you team puffy, or team crunchy? Either way, these popular snacks (and their emblematic Chester Cheetah mascot) are a real crowd-pleaser.
These cheddar cheese-flavored crackers were originally marketed as "a baked rarebit," in an evocation of the popular Welsh dish of melted cheese on top of toast. Now they are a fan favorite, and one of the most popular grocery items in America!
There may be no snack more American than peanut butter, and, according to YouGov, Jif is the most famous. Made by Smucker's, Jif has been the leading peanut butter brand in the U.S. since 1981, according to the company.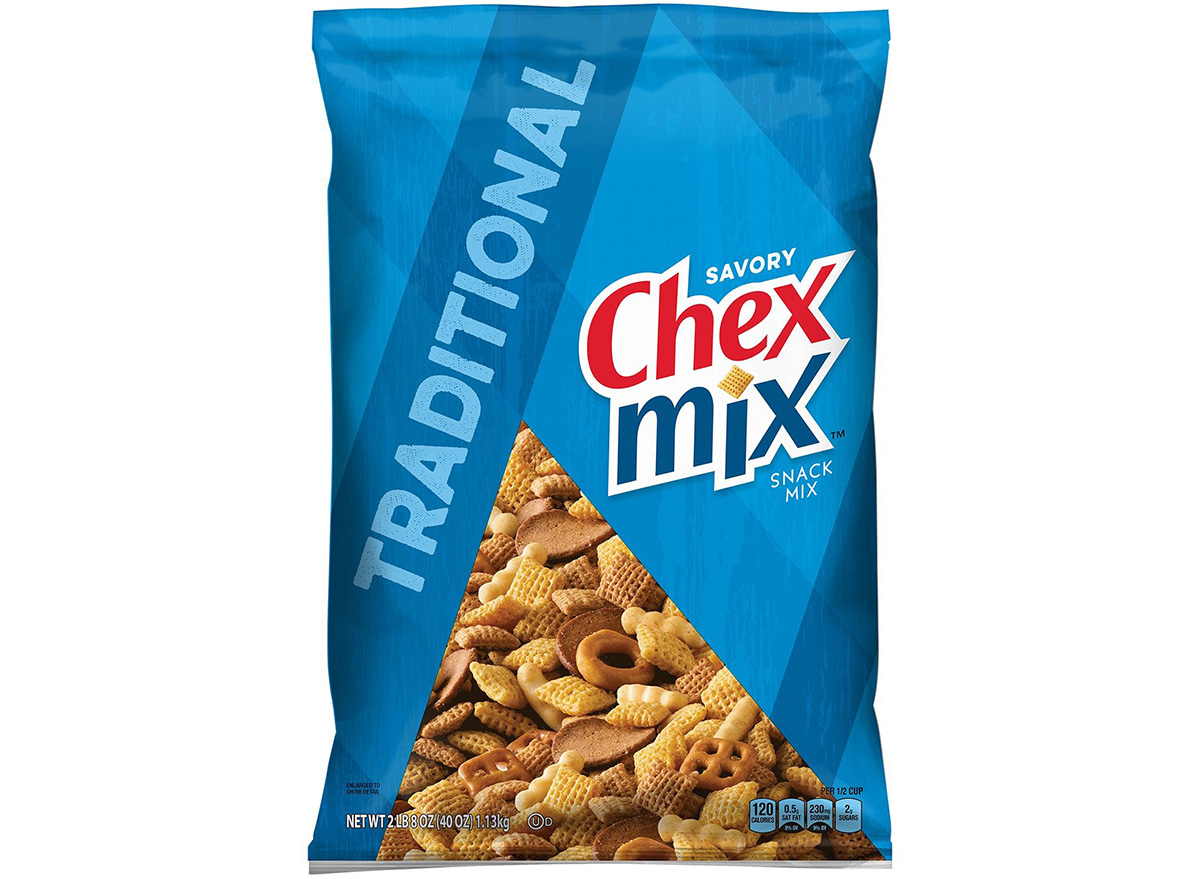 This party staple from General Mills combines Chex cereal with mixed nuts, pretzels, bagel chips, butter, and seasonings for a savory mix perfect to serve with drinks. While the company offers a recipe for Chex mix on the backs of its cereal boxes, it also pre-packages a variety of flavors of this snack mix.
For more, check out these 108 most popular sodas ranked by how toxic they are.