9 Secrets Red Lobster Doesn't Want You to Know
Here's why seafood prices can be kept so low.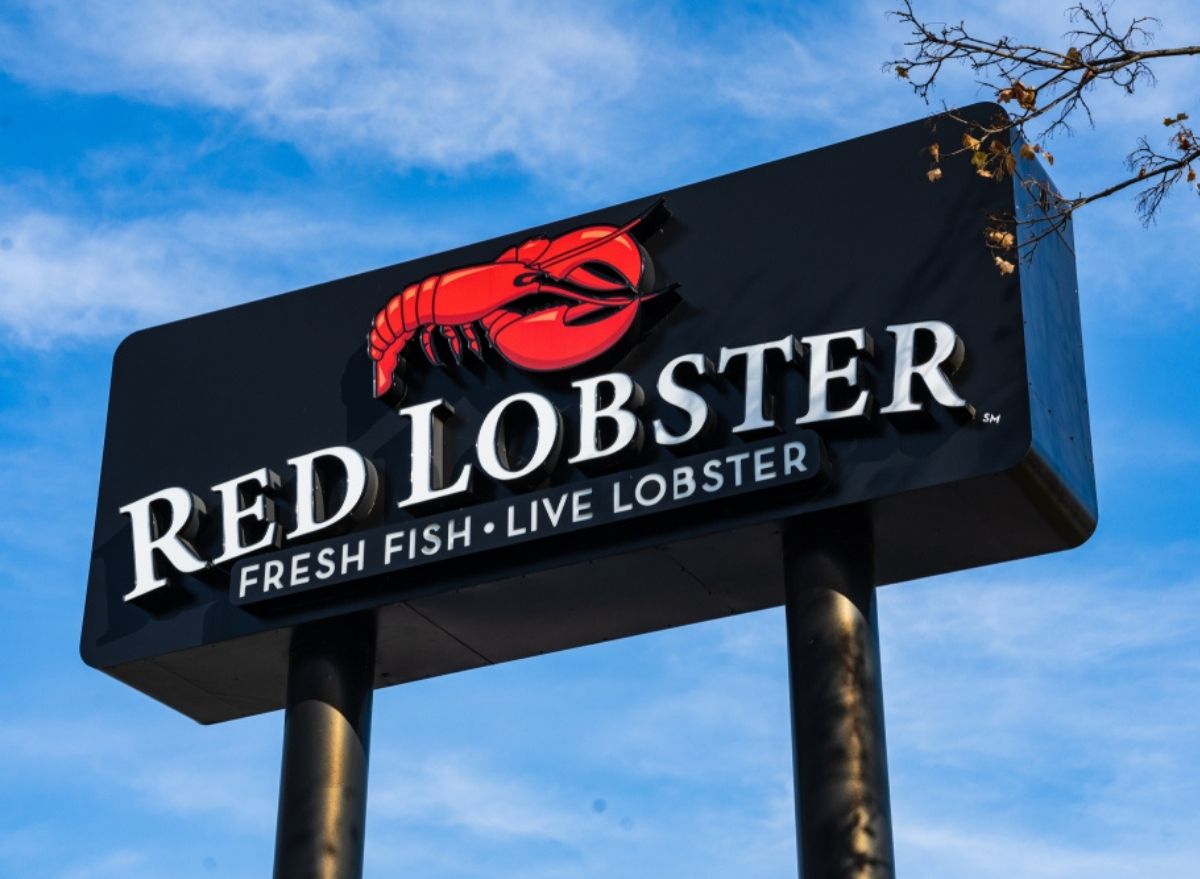 The ubiquitous seafood chain was born in 1968 out of Bill Darden's desire to make seafood accessible to everyone, not just people who lived along coasts. First, a piece of good news: Red Lobster does not boil lobsters alive—not anymore, at least. A statement on their FAQ section reads, "Unlike some seafood restaurants, Red Lobster does not boil lobsters alive. Our culinary professionals are trained to humanely end the lobster's life moments before they are cooked." So, though there is debate about whether lobsters feel pain, you can feel morally okay about eating the humanely dispatched sea creature that is central to this half-century-old seafood chain.
But you still might want to think twice before you start cracking those shells, drizzling that butter, and scarfing down shrimp and other sea creatures with those famous Cheddar Bay Biscuits. Here are seven secrets Red Lobster would just as soon keep submerged.
Red Lobster closed a bunch of restaurants over the past three months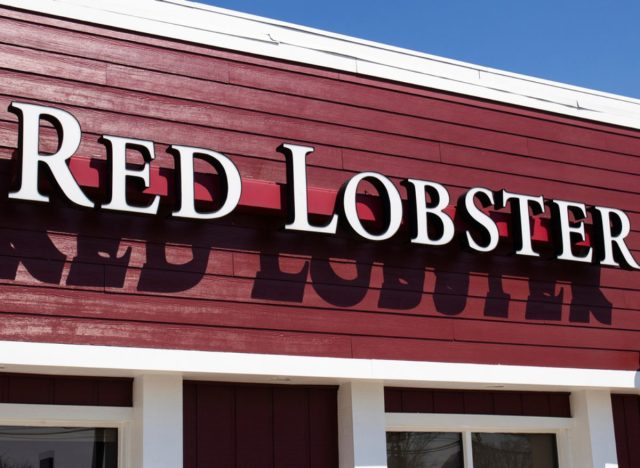 While the ubiquitous chain is in no danger of going under, it did close several underperforming locations at the end of 2022. Restaurant Business reached out to the chain for a comment on the concerning trend, as the seafood chain also closed five units in 2021 and four locations in 2020. A Red Lobster spokesperson responded: "We regularly review our restaurant portfolios as part of the normal course of business… as a result, we have concluded that these locations are no longer viable for Red Lobster."
The chain is in no danger as the recent closures accounted for less than 1% of the 670 locations around the world. At the beginning of 2023, the chain also brought back its beloved  Lobsterfest promotion with a few new entrees fans are sure to love.
You need to eat an inordinate amount of shrimp to get your "Endless Shrimp" money's worth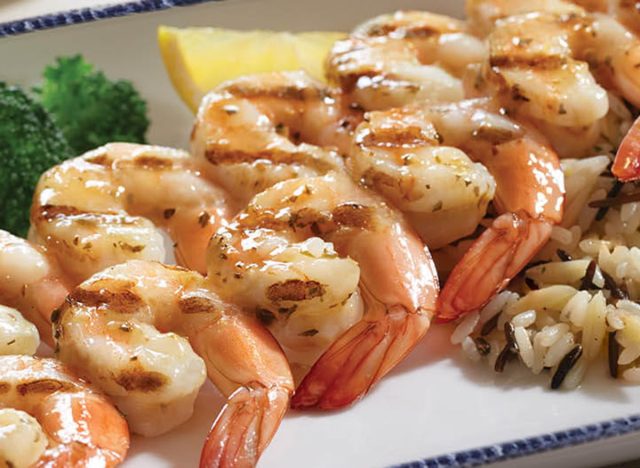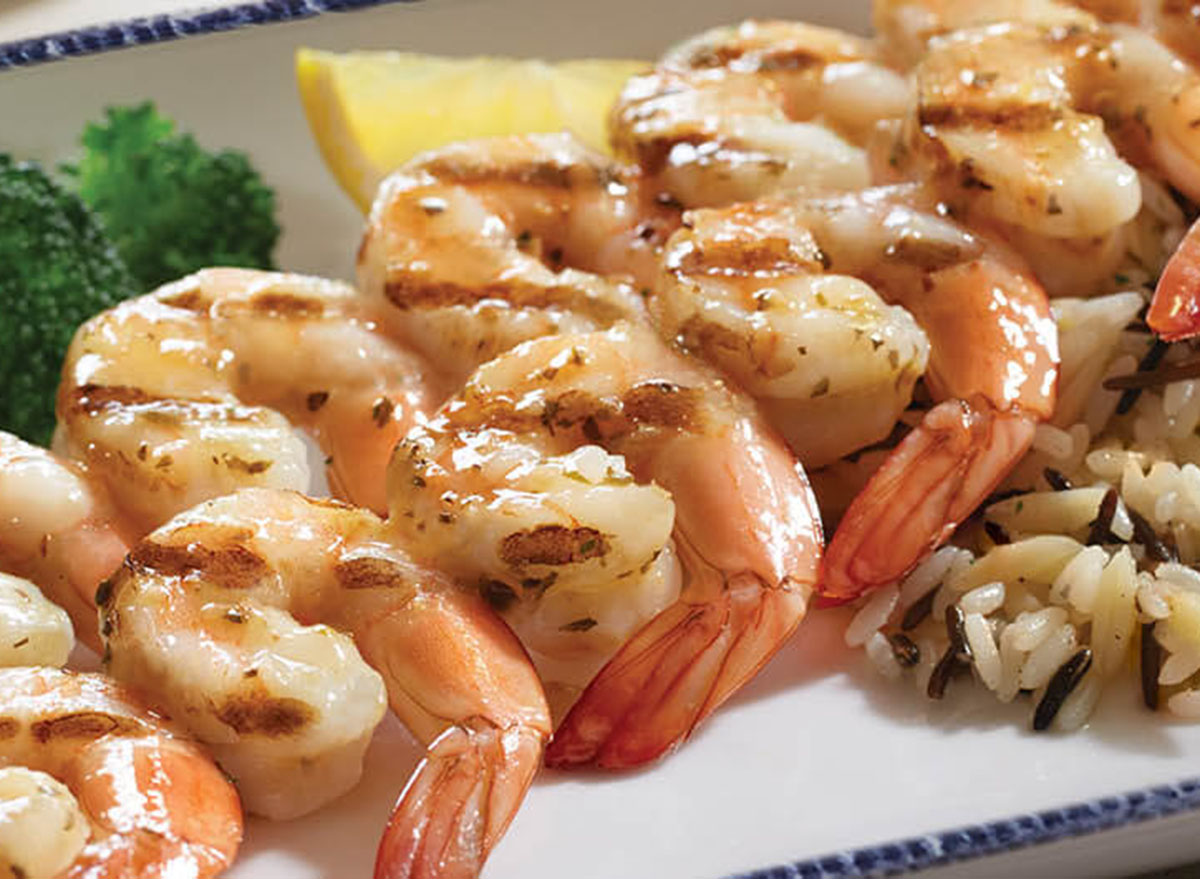 From time to time, Red Lobster rolls out its "Endless Shrimp" promotion wherein a $15.99 price tag gets diners a dish that never ends. Well, until they have had enough shrimp, that is. According to The Travel, you'd need to eat about three pounds of shrimp in order to make it a worthwhile purchase, based on what you'd pay for the same seafood if you bought it yourself. And you're almost assuredly not going to eat three pounds of shrimp in one sitting.
The Endless Crab promotion almost bankrupted the company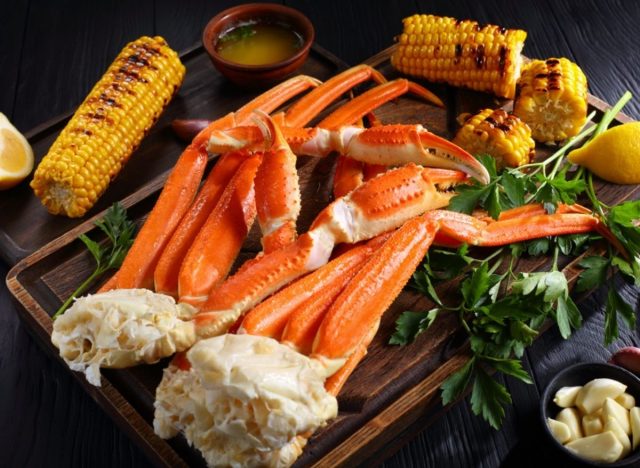 In 2003, then-president Edna Morris created the truly beloved "Endless Crab" promotion. What she didn't anticipate was that the promotion would almost bankrupt the company, leading to her rapid departure. According to Mashed, two things led to the downfall of this promotion: crab suddenly increased in price and people really, really love crab. Additionally, crab isn't as satiating as shrimp. The Endless Shrimp promotion has succeeded because, as mentioned above, cheap shrimp is easier to source and people have trouble fitting in a third and fourth serving of shrimp.
In case you want to try it on your own, check out: 16 Healthy Shrimp Recipes That Take 15 Minutes (or Less!).
The Cheddar Bay Biscuits are fat bombs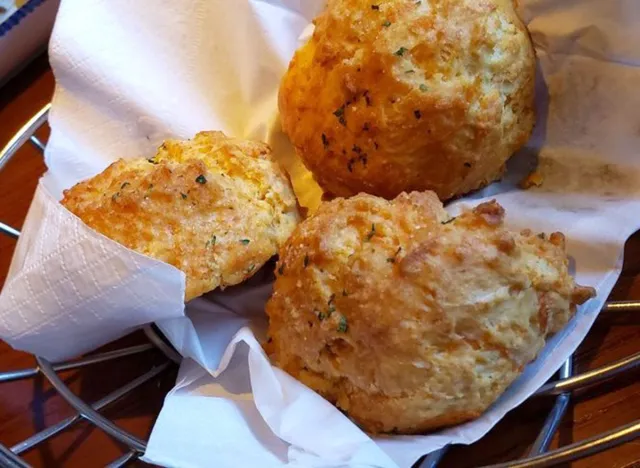 Sure, Red Lobster's Cheddar Bay Biscuits may be delicious but that tastiness comes c/o a lot of fat, we're sorry to report. According to Fast Food Nutrition, a single 160-calorie Cheddar Bay Biscuit derives 90 of said calories from fat, delivering 10 grams of fat (and 4.5 grams of fat per saturate fat) per little bready blob. But if you want you can buy the mix at stores and you can easily find a copycat recipe for the beloved biscuits.
The Lobsterita is insanely unhealthy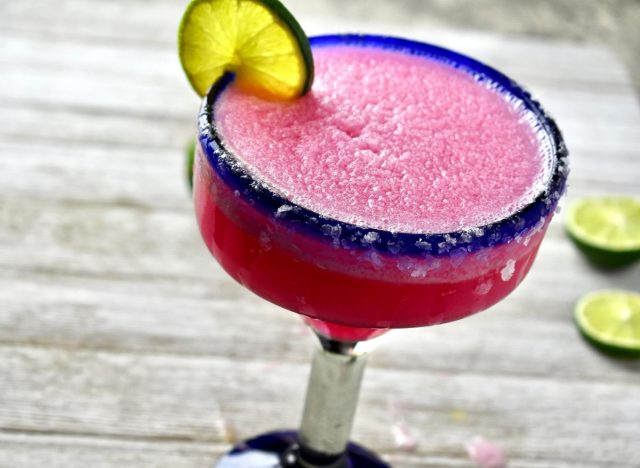 Not that you order a novelty cocktail with a name like "Lobsterita" expecting a healthful libation, but the unhealthy "qualities" of this drink are still pretty amazing. The raspberry and strawberry versions of the Red Lobster Lobsterita each pack in 500 calories, 82 grams of carbs, and 70 and 69 grams of sugar, respectively, according to nutrition info shared by the chain. And that's before you drizzle melted butter over all your food and have three servings of shrimp and biscuits.
The restaurant was founded largely as a test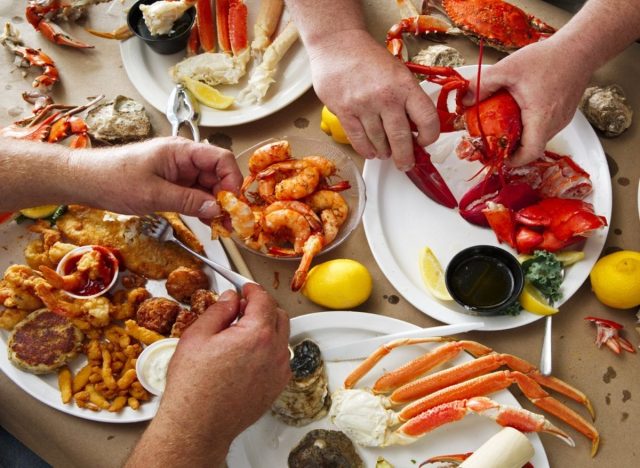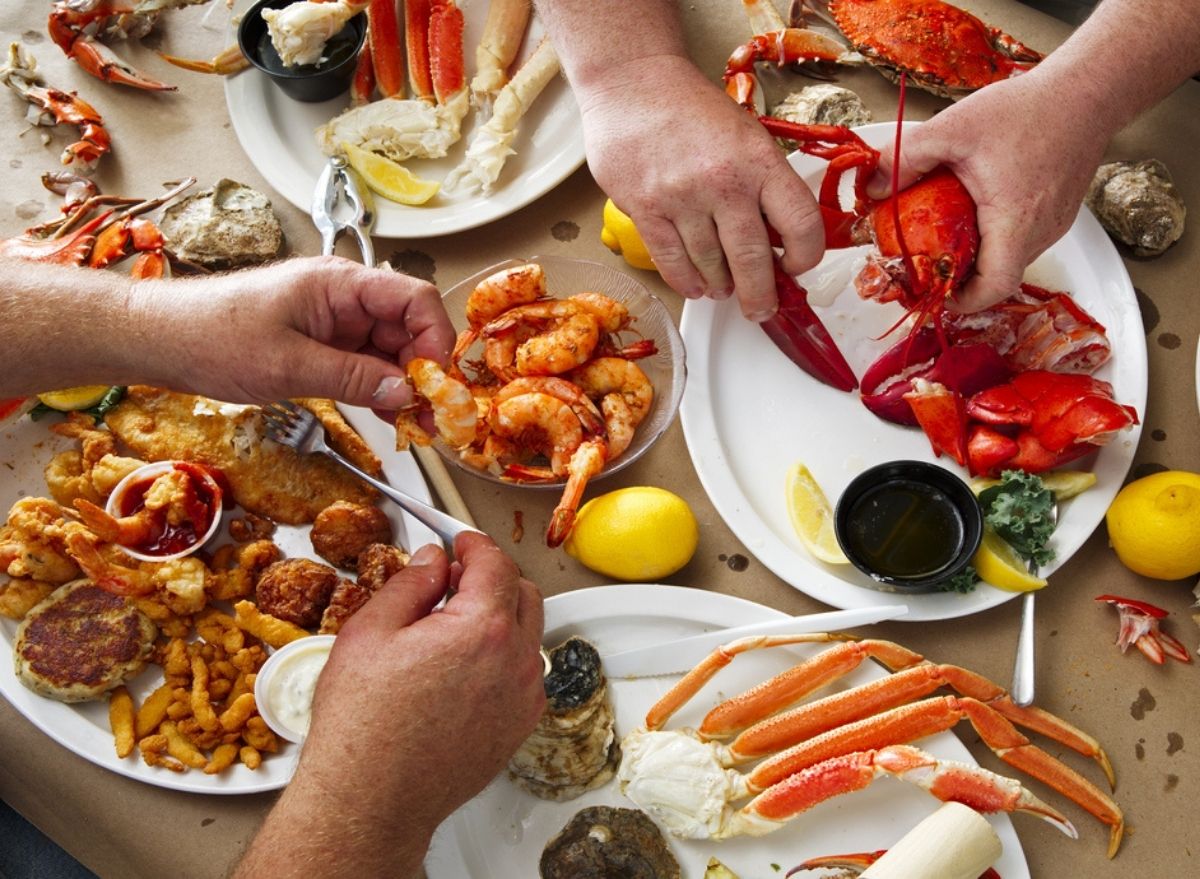 The first Red Lobster location was opened in Lakeland, Florida. Florida is a coastal state, to be sure, but Lakeland is not a coastal city at all. According to The Daily Meal, opening such a restaurant in a land-locked city was a test to see whether or not a seafood-centric restaurant could work so far from the coast. Which, of course, it did, explaining why you can now find seafood chains hundreds of miles from the sea.
The chain has been caught selling imitation lobster
According to Inside Edition, a few years back Red Lobster was caught offering dishes that claimed to contain lobster but actually used other seafood as a substitute. Some of the dishes, the lobster bisque, in particular, had both lobster and other, cheaper seafood, called langostino, while a few lacked lobster completely. And while langostino is technically a type of lobster, it needs to be labeled as langostino lobster when used as the sole fish, according to the FDA.
Bored employees have been known to hold lobster races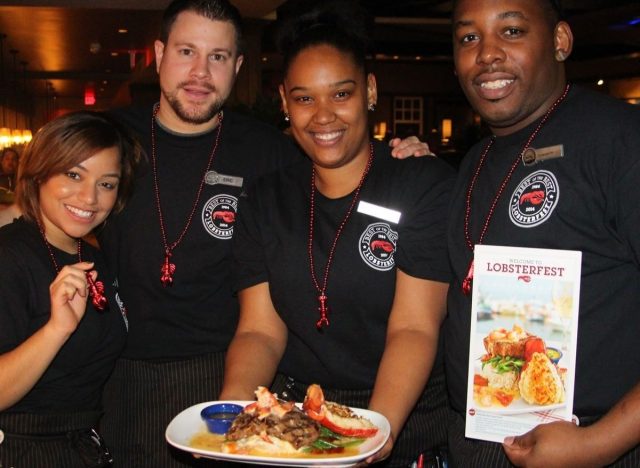 6254a4d1642c605c54bf1cab17d50f1e
Multiple sources cite Red Lobster employees speaking about the holding of so-called lobster races during slow shifts, which is really just adding insult to injury for these condemned crustaceans. Worse still, according to an employee quoted in Oola, some of the lobsters are held in tanks for days and even weeks without food prior to becoming food themselves.
Almost no seafood served at Red Lobster is fresh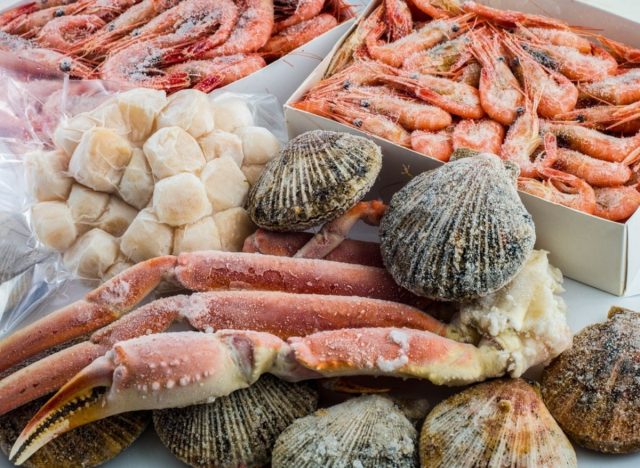 Look, to be fair, this goes well beyond Red Lobster, extending to almost any restaurant at which you'll get fish that's not right there on the coast. While Red Lobster takes pride in where it sources fish, much of the seafood you get at a Red Lobster isn't fresh per se. Even according to the chain's own FAQ page, most of the fish and other seafood served has previously been frozen. The statement reads, "While some seafood can be delivered from the water to our restaurants fresh and never frozen, other seafood is frozen… It is precisely because some of our seafood is flash-frozen at the site of the catch that we are able to serve the highest quality seafood all year round."
A previous version of this article was originally published on May 3, 2022.
Steven John
Steven John is a freelancer writer for
Eat This, Not That!
based just outside New York City.
Read more about Steven