4 Regional Chicken Chains You're About to See Everywhere
If you love chicken, you're going to want to know about these up-and-coming restaurants.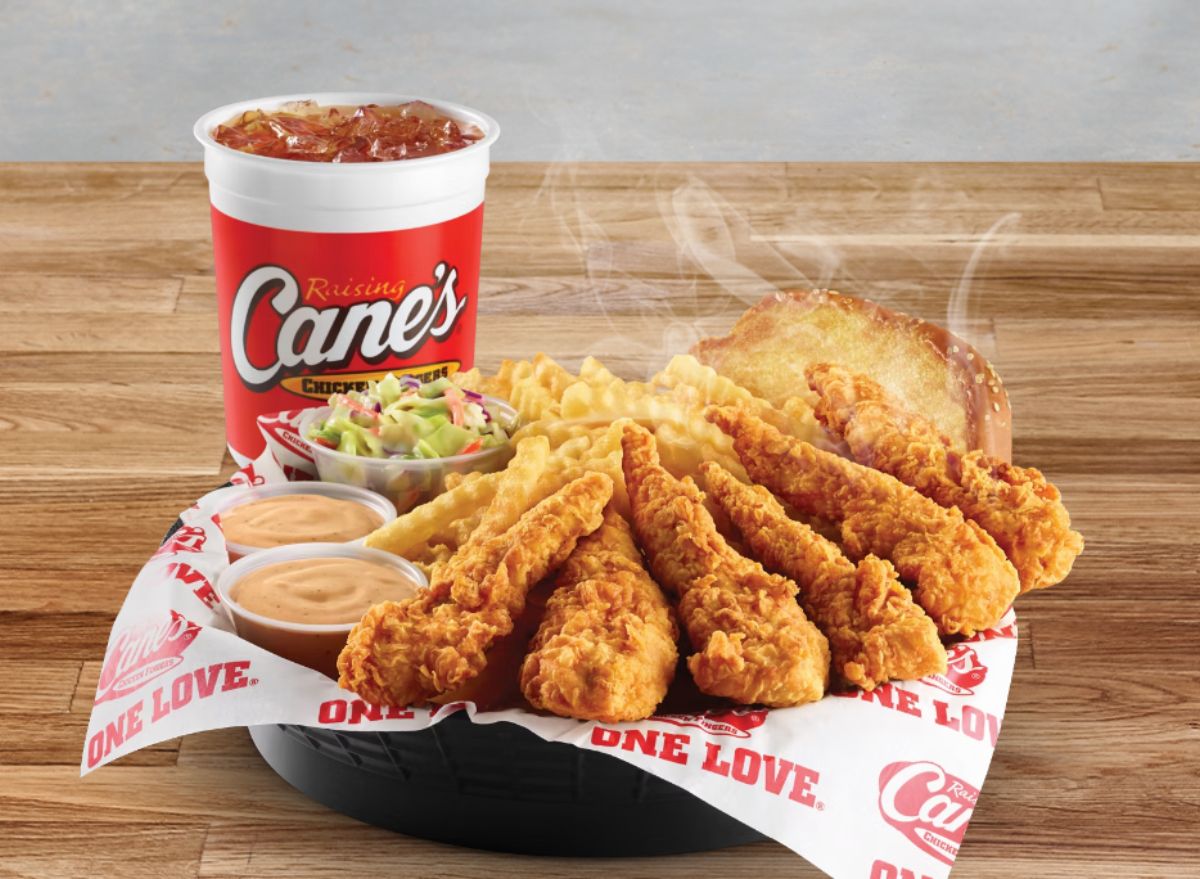 While the topic of classic American cuisine usually conjures up images of burgers and apple pie, chicken is far more ubiquitous across modern eating habits in the U.S. Simply put, we eat a whole lot of poultry in the land of the free.
For example, every Super Bowl weekend over a billion chicken wings are consumed all over the country—and that figure keeps growing every year. Americans ate 88 million more chicken wings over Super Bowl weekend in 2023 in comparison to 2022.
Of course, we certainly don't need a special occasion to grab some strips or a chicken sandwich for dinner. Per the National Chicken Council, the average American will eat over 100 pounds of chicken in 2023. To give an idea of just how much chicken consumption has increased over the years, if we rewind to 1985, the average American was only eating around 50 pounds of chicken annually.
That's a whole lot of nuggets, which also means chicken is a major player in the world of fast food. Powerhouse chicken brands like KFC and Popeyes boast thousands of restaurants all over the country (and world), but plenty of smaller, regional chicken chains are beginning to branch out and prioritize expansion as well.
From grilled or fried to sandwiches or salads, there are near endless ways to prepare, season, and serve chicken. Each of these up-and-coming brands offers a unique and tasty take on quick-service chicken. Here are four regional chains you're about to see everywhere.
Founded in Fayetteville, Arkansas in 2003, Slim Chickens didn't even begin franchising until 2013. Fast forward to more recent times, and the brand generated $265 million in system sales between 2019-2021 and operates over 150 locations.
"There are a lot of things that are the same. I still feel so responsible for all 8,000 people that work for the brand," company co-founder Tom Gordon said recently. "It's nice to be in a position of financial strength versus scrambling for the first decade. That's allowed us to do a lot of great things for our company, our franchisees."
Most Slim Chickens restaurants are located in the South, but the brand is expanding in a major way all over the country. The pandemic didn't slow the chain down either, with 2020 seeing 20 new locations open and the chain's first entry into the Florida market.
The company had said that it was aiming to have 600 locations by the end of this decade a few years ago—but Slim Chickens appears set to smash that target by a considerable margin; there are currently over 1,100 units in development. The chain is quickly branching out to new markets such as Las Vegas, Iowa, South Dakota, New Mexico, Montana, and Maryland.
Slim Chickens offers customers 17 house-made sauces to pair with chicken tenders, sandwiches, wings, and more—and every meal is cooked to order. "If you're talking quick service or fast casual, we set ourselves apart by delivering that fresh quality product," chief operating officer Sam Rothschild told QSR in 2019.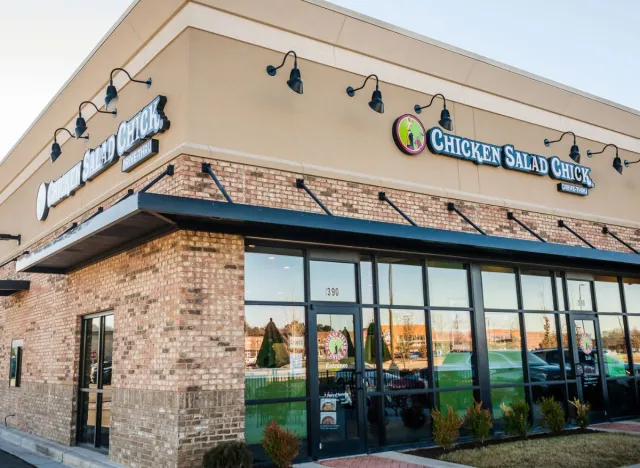 While most chicken chains tend to focus on fried chicken or chicken sandwiches, Chicken Salad Chick has carved out an exciting place for itself in the quick service industry by specializing in chicken salad. Founded in Auburn, Alabama in 2008, the brand currently boasts over 225 locations, but plans to close out 2023 with 250+ restaurants.6254a4d1642c605c54bf1cab17d50f1e
The past year or so has seen the chicken brand pursue aggressive expansion throughout the country. Its first location in Chicago just opened, and last year the chain announced a six-location deal in Virginia Beach. The company is also heading west, having recently opened its first restaurant in Colorado. More and more units are also opening in Indiana, Texas, and North Carolina as well.
"As we continue to grow in size, so does our brand awareness, and that adds to our excitement to bring the menu items that we love to new cities for new communities to experience," Scott Deviney, CEO of Chicken Salad Chick, told QSR last year.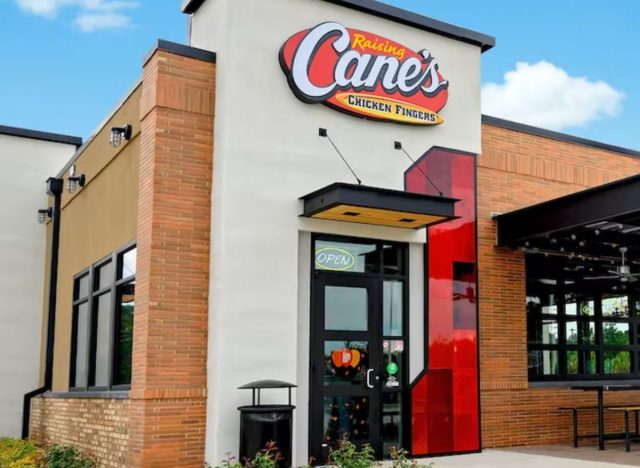 When Raising Cane's founder Todd Graves had an idea for a restaurant that only serves chicken fingers, his college business professor flat out told him it was a bad idea and gave him the lowest grade in the class. Today, it's safe to say Mr. Graves proved his old professor wrong; Raising Cane's opened over 70 new restaurants in 2022 and plans to open over 100 more this year all over the country from New Mexico to NYC.
Founded in Baton Rouge, Louisiana, Raising Cane's is known for its trademark chicken fingers, usually served with Texas toast, coleslaw, and crinkle-cut fries. The chain had relied heavily on its presence in the South (there are 191 Raising Cane's in the state of Texas alone), but in recent years has prioritized expansion.
"We want to be a top 10 U.S. restaurant brand before 2030," Co-CEO/COO AJ Kumaran recently told Restaurant Business. Raising Cane's hopes to hit 1,500 domestic locations by 2030, and the chain isn't wasting any time. New, landmark units in Miami, Nashville, Chicago, and New York City are set to open shortly, and the brand just entered the New Jersey market with plans for multiple locations throughout the state.
The chicken chain has built up a sizable presence in California (78 locations) since entering the state in 2015, and just opened its eighth restaurant in Utah—a special collaboration with rapper Post Malone.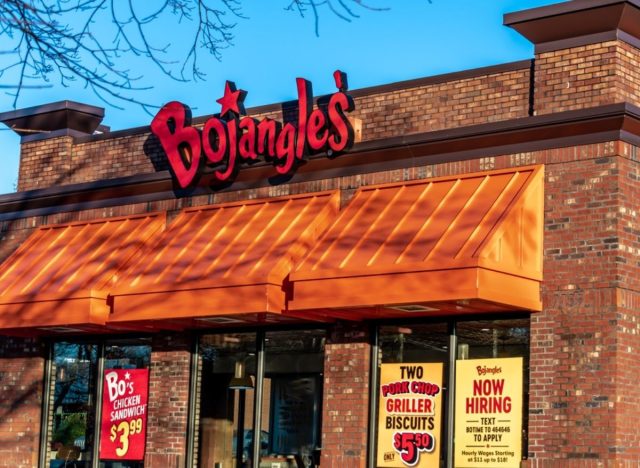 Based out of North Carolina, Bojangles is something of a cult favorite in its home state. In 2017, North Carolina Senator Thom Tillis even defended the brand on Twitter after The Washington Post released a negative review.
Offering customers chicken served with a cajun twist, Bojangles is also especially renowned for its biscuits. "I don't know of anyone that has a better-tasting biscuit," CEO Jose Armario recently told Restaurant Business. "It takes 49 steps to make our biscuit."
Bojangles currently boasts just over 800 restaurants (344 in North Carolina alone) but is looking to increase that number considerably in the years to come. Earlier this year the chain announced numerous franchise development agreements that will see 32 new locations open in key target markets including New York, Maryland, Mississippi, and Tennessee.
In all, there are over 230 restaurants in development throughout the country, including Texas, Ohio, and the Washington, D.C. area. The chain also just entered the Philadelphia market last year, and just announced plans to open locations in Chicago.
Interestingly, Bojangles is adopting a revised menu in new markets that will ditch its traditional bone-in chicken for boneless options. "By going with a more focused menu, we're delivering a better experience and our customers are giving us rave reviews," Armario said.
John Anderer
John Anderer is a writer who specializes in science, health, and lifestyle topics.
Read more about John