6 Chains That Use Real Whole Fish in Their Fish Sandwiches—Not Glorified Fish Sticks
Whole filets and no fillers here.
Fried golden, usually with just a smear of chunk tartar sauce, the fish sandwich is popular all year round. However, it sells in the biggest numbers during the approximately six-week period of Lent. And, while some fast-food and chain restaurant fish sandwiches are essentially glorified fish sticks, a few have perfected the fish sandwich by using real whole fish filets.
This year, Lent falls between Feb. 22 and Apr. 6., so expect lots of seafood to be hitting restaurants during that time. For some perspective on just how much of an effect Lent has on fish sandwich sales in America, consider the McDonald's Filet-O-Fish sandwich. According to Mental Floss, McD's sells about 300 million of these sandwiches per year, with fully a quarter of them—or 75 million—selling during Lent alone. That said, as beloved as the Filet-O-Fish is with many it won't be featured here today because the fish patty used is pollock augmented with multiple ingredients. It's a classic, and delicious, but it isn't cut from a whole fish. Here are seven restaurant chain sandwiches that feature a real slab of fish.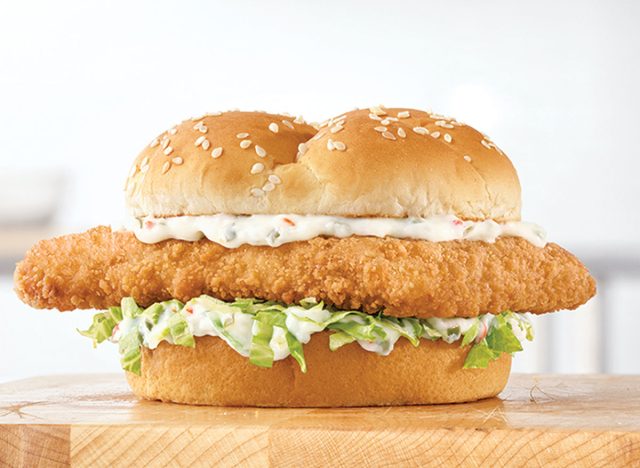 1 sandwich
: 695 calories, 25 g fat (4 g saturated fat), 986mg sodium, 65 g carbs (3 g fiber, 9 g sugar), 20 g protein
Every year for the past number of years, Arby's has rolled out a handful of fish sandwiches in the early winter that it keeps on the menu until early spring, a.k.a. around the time Lent ends. The most celebrated of those sandwiches is the King's Hawaiian Fish Deluxe, so it's on that we'll focus. The sandwich features a solid fillet of crispy breaded fish, cheddar cheese, lettuce, tomato, tartar sauce, and a large, sweet King's Hawaiian roll bun.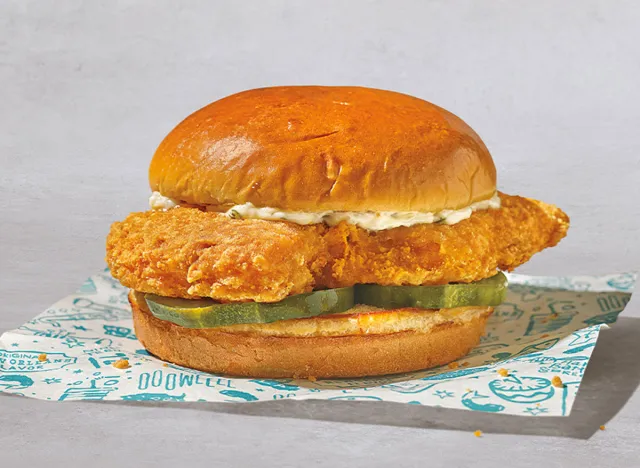 1 Sandwich
: 670 calories, 36 g fat (9 g saturated fat), 1,960mg sodium, 65 g carbs (4 g fiber, 9 g sugar), 25 g protein
Popeyes' Cajun Flounder Sandwich appears annually on the menu just before Lent and then shuffles away shortly thereafter. For those weeks of availability, these sandwiches, featuring huge filets of wild-caught flounder, are a fast-food favorite.
1 Sandwich
: 530 calories, 59 g fat (8g saturated fat), 2,190mg sodium, 43 g carbs (3 g fiber, 8 g sugar), 61 g protein
Red Lobster's Crunch-Fried Flounder Sandwich is made with "hand-breaded wild-caught flounder" and lots of cole slaw and tartar sauce all tucked into a toasted brioche bun. Healthy, this sandwich is not—the fats and sodium are enough to give pause—but it's made with whole pieces of fish unadulterated with added ingredients.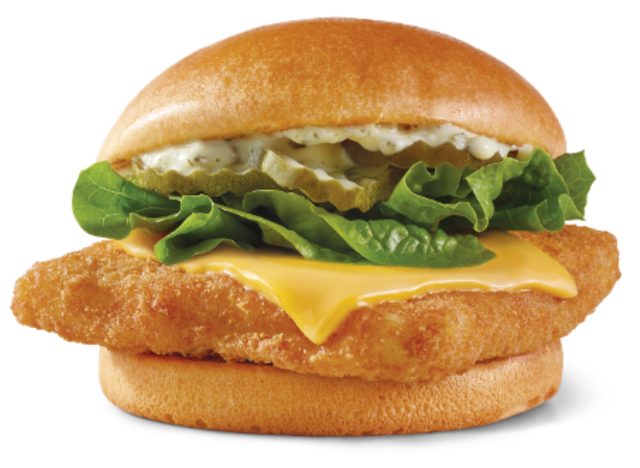 1 sandwich
: 520 calories, 25 g fat (6 g saturated fat), 1,240mg sodium, 51 g carbs (2 g fiber, 5 g sugar), 10 g protein
A couple of years back, Wendy's made the choice to drop their classic cod fish sandwiches and to begin offering a Crispy Panko Fish Sandwich made with nothing but breaded pollock as the fish patty, per the chain's blog. This sandwich is very much a limited-time offer tied to Lent each year, usually appearing on Wendy's menu in late February and swimming off again in early April.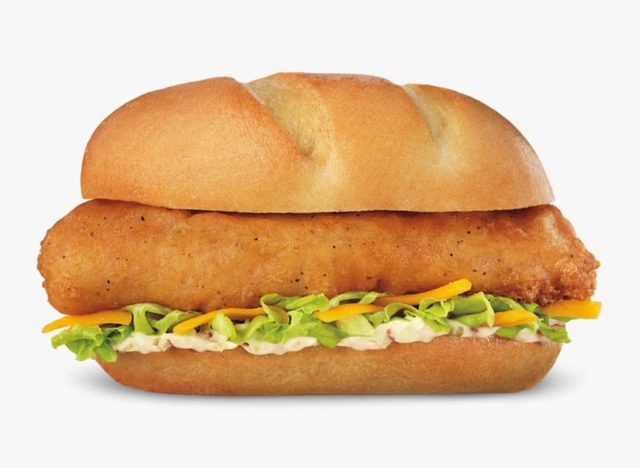 1 Sandwich
: 600 calories, 34 g fat (7.7 g saturated fat), 750mg sodium, 50 g carbs (1 g fiber, 6 g sugar), 26 g protein
Culver's North Atlantic Cod Filet Sandwich is, as the name suggests, made with a filet of Atlantic cod. That's a hand-cut, hand-battered filet without added ingredients, mind you. So intact are these filets that Culver's was the only chain we saw with a prominent warning: "Note: Seafood may contain bones."6254a4d1642c605c54bf1cab17d50f1e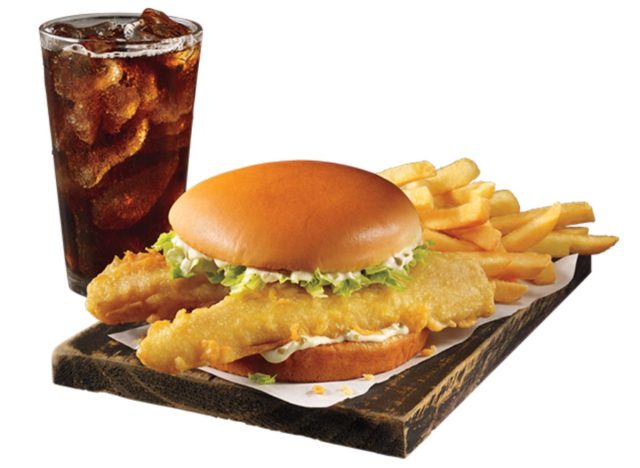 1 Sandwich
: 1,010 calories, 73 g fat (22 g saturated fat), 1,940mg sodium, 59 g carbs (0 g fiber, 9 g sugar), 25 g protein
Captain D's does not, in fact, use a whole fish filet on its Giant Fish Sandwich. No, it uses two fish filets. And those are batter-dipped and served on a bun with classic lettuce and tartar sauce as the accompaniment. Given those twin filets, don't be surprised this is the highest-calorie sandwich we reviewed.
Steven John
Steven John is a freelancer writer for
Eat This, Not That!
based just outside New York City.
Read more about Steven