This Is the Best Healthy Salmon Cake Recipe to Make at Home
Healthy and easy to make? There couldn't be a better combination for a weeknight recipe.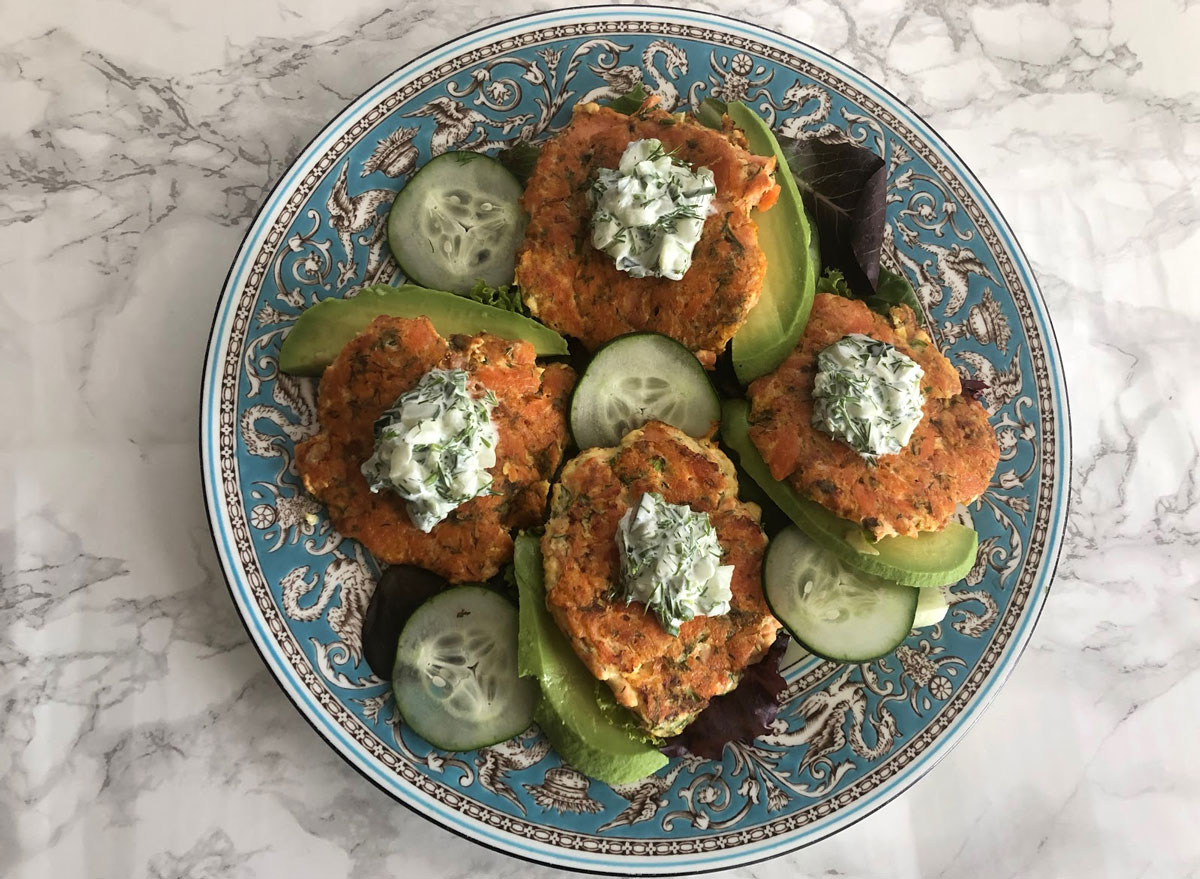 Salmon cakes, also known as salmon croquettes or salmon patties, are a homestyle dish that was particularly popular during the Depression when a pound of canned salmon cost as little at 12 cents.
Healthy, economical, and tasty, salmon cakes were a hit with home cooks who didn't have access to fresh fish from the ocean. Today, canned salmon is sometimes more expensive than fresh, but its convenience can't be beat.
Whether you use canned salmon or leftover cooked salmon, making salmon cakes is a quick and easy way to serve fish on weeknights.
Which type of salmon should you buy for salmon cakes?
Which salmon you buy—Pacific or Atlantic, wild or farmed—for your salmon cakes is mostly up to your preference. To help you make a decision, first, you need to know that Atlantic salmon is not the same species as Pacific salmon.
There are five different species of Pacific salmon, and they are mostly caught wild. Contrarily, most Atlantic salmon is farmed. What are the major differences between farmed and wild fish?
Pacific salmon is generally more expensive than Atlantic salmon, but it also tastes better.
If you have leftover fresh salmon, by all means, use that. For this recipe, we recommend using any of the wild canned varieties, such as pink salmon or sockeye, for making salmon cakes.
Why this salmon cake recipe is so healthy
Eating fresh or canned salmon is a great way to get the weekly allowance of anti-inflammatory, heart-healthy omega fatty acids recommended by the American Heart Association.
While traditional recipes for salmon cakes include both eggs and some kind of binders such as bread crumbs or potato, the binder isn't necessary. By omitting bread crumbs or potatoes and relying on the egg as a binder, not only is this recipe gluten-free, but it's also Whole30, paleo, and keto-friendly as well.
Prior to the advent of nonstick pans, home cooks typically fried salmon cakes in oil; however, you won't need any additional fat to cook the salmon cakes if you have a good-quality nonstick pan. And we promise: they won't stick to the pan.
Top your salmon cakes with a dollop of tartar sauce or a lighter creamy cucumber dill sauce if your diet allows it (the recipe for the salmon cake sauce is below as well).
Healthy Salmon Cake Recipe
Makes 4 servings
Ingredients
2 6-oz. cans wild salmon, drained (or substitute 12 ounces cooked salmon)
2 eggs
1/4 cup finely chopped green onion
2 teaspoons fresh lemon juice
4 teaspoons finely chopped fresh dill
2 teaspoons Dijon mustard
How to Make It
Squeeze the drained salmon in your hands over the sink to remove as much moisture as possible.
Place the salmon in a mixing bowl and add the lemon juice, mustard, green onion, dill, and egg. Mix thoroughly with a folk. Refrigerate for 15-30 minutes.
Heat a nonstick pan over medium heat. When the pan is hot, spoon half of the mixture into four large cakes and flatten them in the pan. Cook on the first side for about 1 1/2 – 2 minutes or until brown, then flip and cook for another minute. Transfer to a serving platter and repeat cooking with the rest of the mixture.
Serve with tartar sauce or cucumber dill sauce, as desired.
Cucumber Dill Sauce
1/2 cup finely diced cucumber
1/4 cup reduced-fat mayonnaise
1/4 cup non-fat Greek yogurt
2 Tablespoons minced fresh dill
2 teaspoons fresh lemon juice
RELATED: Easy, healthy, 350-calorie recipe ideas you can make at home6254a4d1642c605c54bf1cab17d50f1e
Amy Sherman
Amy Sherman is a San Francisco-based food writer, recipe developer, and author of
Wine Passport: Portugal
,
Williams Sonoma New Flavors for Appetizers
, and
A Microwave, A Mug, A Meal
.
Read more about Amy