8 Secrets Domino's Doesn't Want You to Know
We've got the dish from former employees.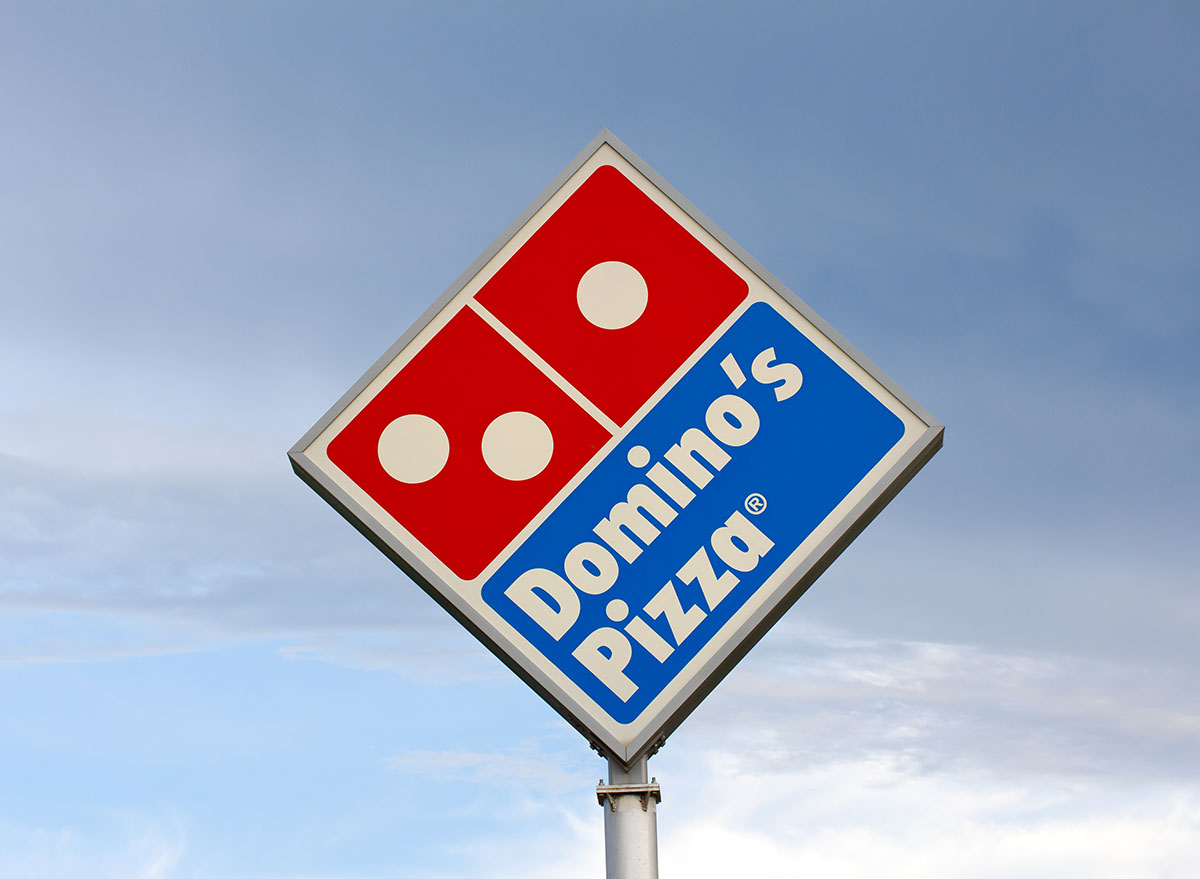 Domino's Pizza has been a mainstay for decades. For anyone who's been too tired to cook or found it tedious after a late night, you're likely hyper-familiar with the fast-food chain. The company really hit its stride in 1985 when it became the fastest-growing pizza restaurant in the U.S. Since then, the chain's popularity has only grown. Domino's pizzas are delivered quickly, the quality is pretty consistent, and when you need a Garlic Twist fix, they're the ones to call.
But there are some things you probably don't know about the pizza chain, secrets the company would like to keep buried in their hand-tossed crust. However, as many former employees tend to do, tea has been spilled over the years, and our cup runneth over with some juicy factoids.
Here are 8 secrets Domino's doesn't want you to know. And for more, check out the Secrets That Wendy's Doesn't Want You to Know.
Employees Keep Tabs On You
For two years during college, writer Kevin Beirne worked for Domino's, including a summer in NYC, and recapped the experience for UK site Joe about four years ago. Beirne writes that it's difficult for Domino's customers to pull any tricks or scams when placing an order. Why? Because the person taking your order can see your order history.
"When you give your number, we can see your last few orders, as well as notes from the previous people who have taken your order to warn us about the s*** you've tried to pull," writes Beirne. Actually, maybe Domino's does want you to know they can see your entire history.
According to UK's The Sun, there's also a special tool that lets employees leave notes about which customers are naughty and which ones are nice. Forget Santa's list… this is the real character test.
It's not exactly rocket science to understand that the more toppings you order, the less toppings of a single ingredient you actually get. A pizza can only hold so much food! "There are three price brackets for toppings: one to two toppings, three to four toppings and five or more toppings," explains Beirne. "You might think that my getting nine toppings, you're ripping Domino's off but really you're just playing yourself because once you go over four toppings, you're actually getting less of every topping."
"When I said the portion sizes start getting smaller after the fourth topping, it's not because Domino's are being cheap. They're actually looking out for you (and also being a little cheap) because once you get past four toppings, the pizza starts to become a gloopy mess."
Related: 100 Unhealthiest Foods on the Planet
Mistakes Are Sometimes Intentional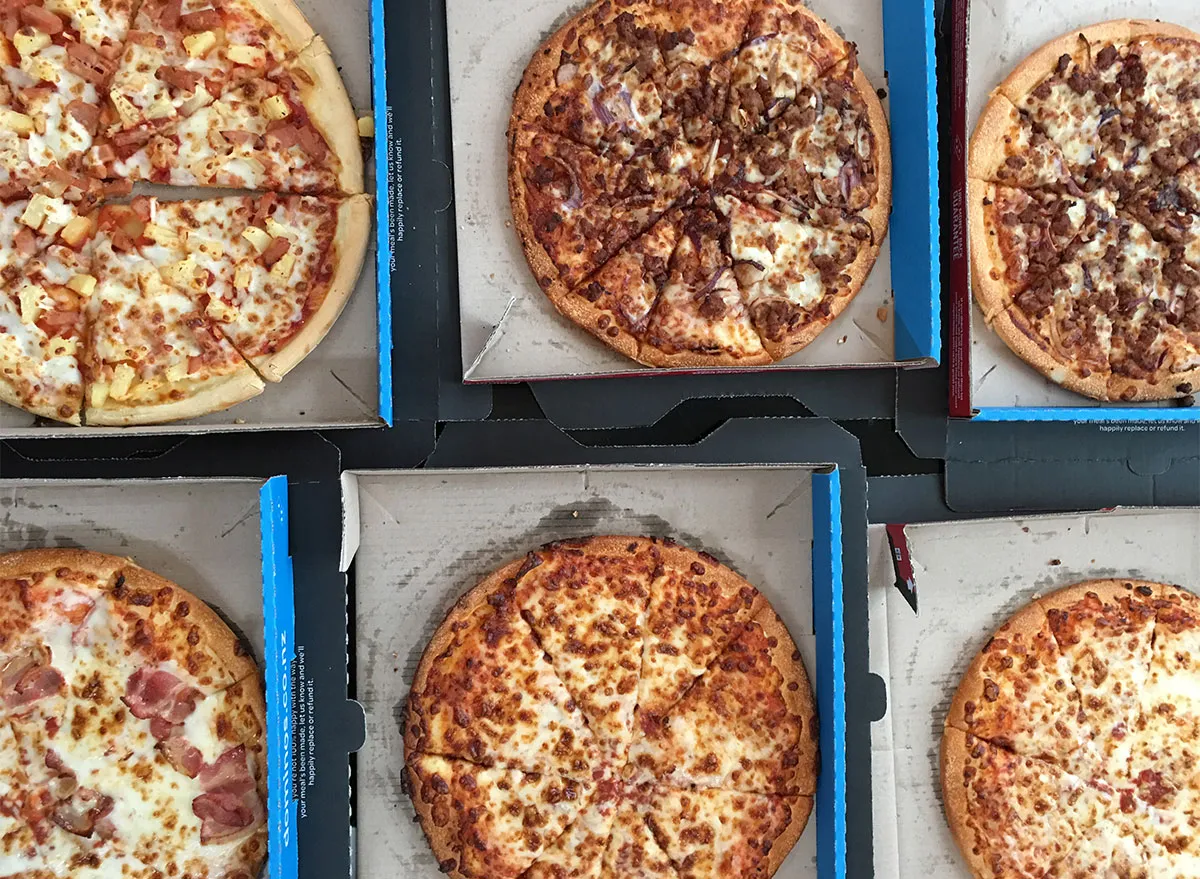 Beirne also writes that Domino's employees can eat food that was made by accident, which (*cough*) isn't always made by accident. "It didn't happen often, but sometimes we'd make an extra pizza if we wanted something to eat. It didn't really work with side orders because an extra garlic pizza bread would quickly find a new home on an upcoming order."
Related: This One Domino's Menu Item Is Actually Healthy
Outlandish Requests Are Sometimes Met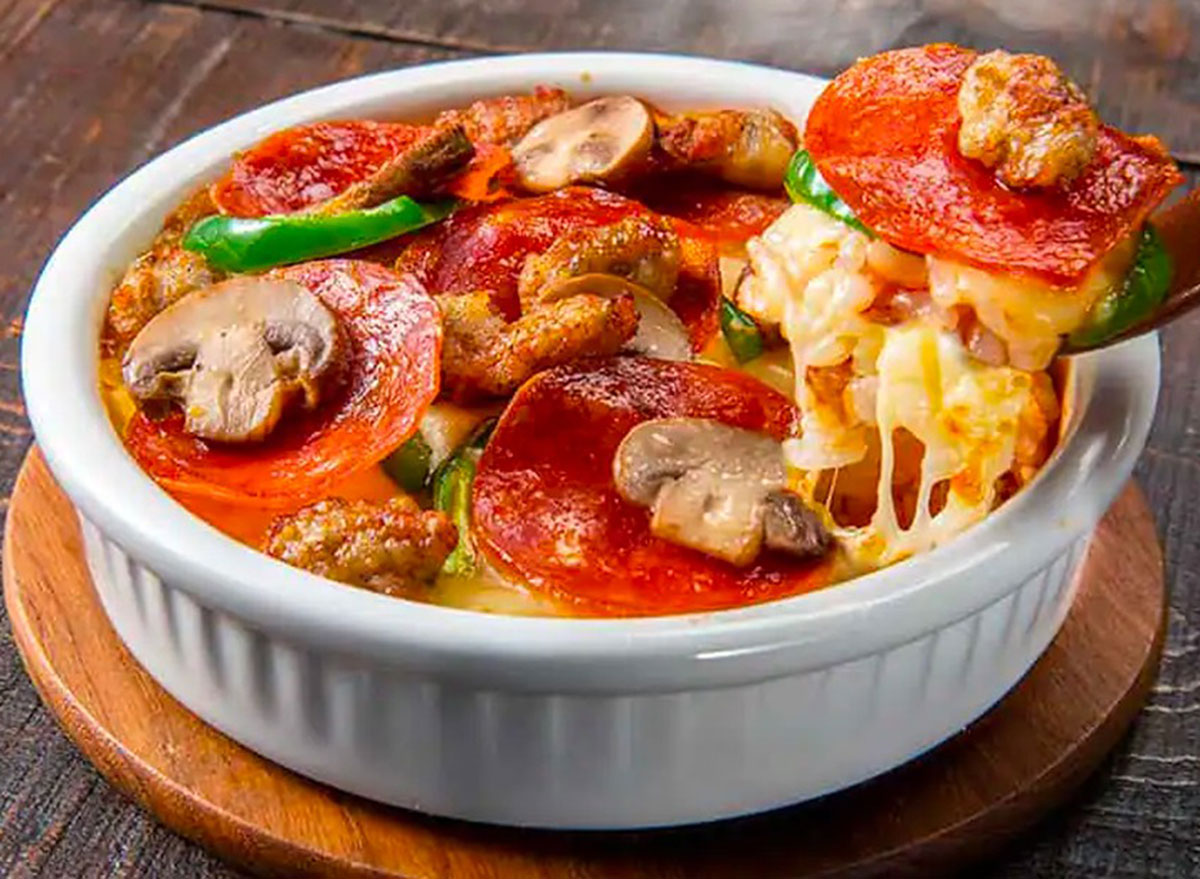 Domino's website gives you space to write specific instructions to leave for your delivery driver, and, to nobody's surprise, some customers take advantage of this by leaving bizarre requests. According to The Sun, staff has been very accommodating over the years. If you want to test the system, try to be nice about it like this customer.
'Plain Pizza' Might Not Mean What You Think It Means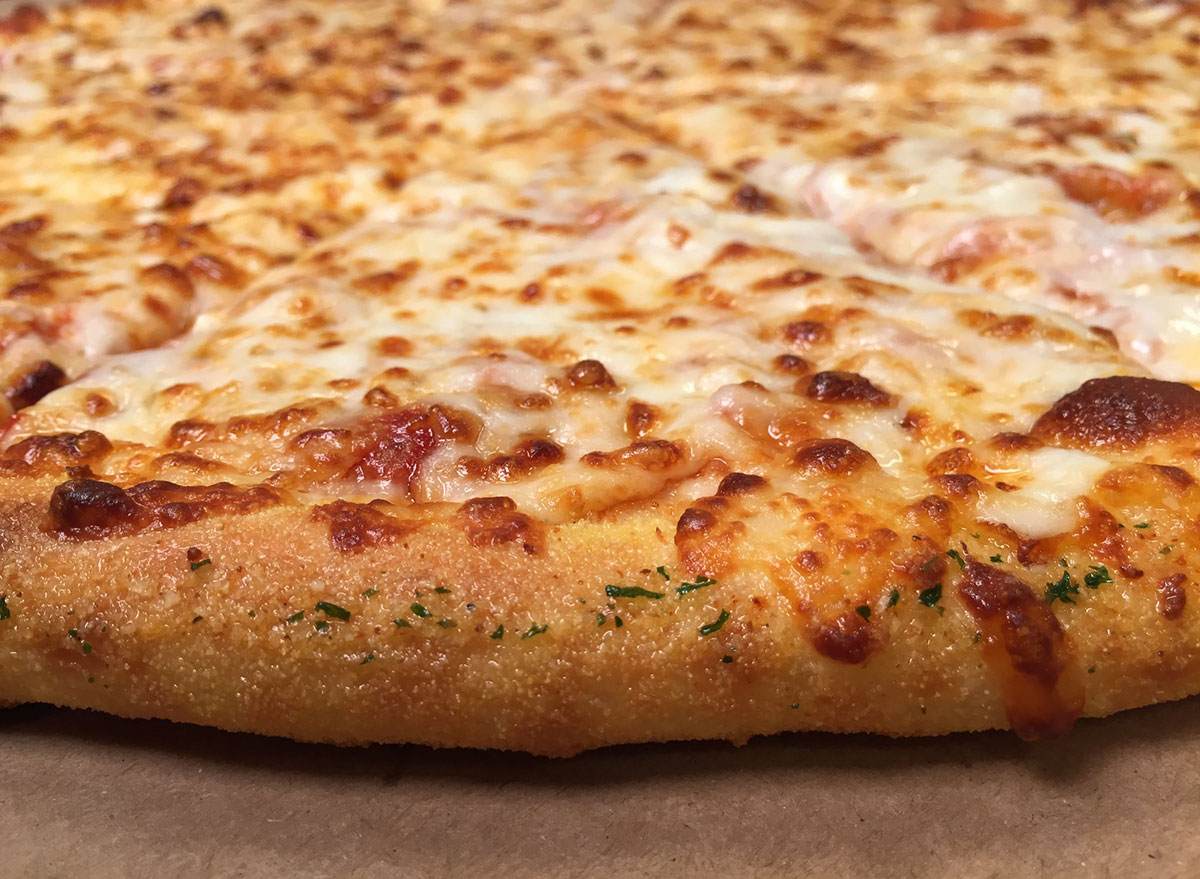 Make sure to specify "cheese" on your plain pizza if that's what you're after. This poor customer learned that lesson the hard way when his sad pizza came topped with only red sauce.
My stepfather is currently in the living room outraged that you need to specify cheese on a plain pizza from dominos pic.twitter.com/awxvirqlj3

— michael ? (@transvampires) July 5, 2021
The Pizza Used To Be Kind Of Terrible
Up until a pizza turnaround in 2009, which the chain documented in the below video, Domino's was basically the kind of stuff you'd find at a kid's birthday party or sports game. It was basic to its core and lacked any refinement. As the video shows, a focus group once punted zingers such as: "Domino's crust is  like cardboard," "totally void of flavor," and "worst excuse for pizza I ever had." The company basically had to start over with a new pizza recipe and now Domino's is one of the most successful U.S. pizza chains. It's an underdog story for the ages.
Related: The Best & Worst Foods at Domino's—Ranked!
Italian Style and Regular Base Are the Same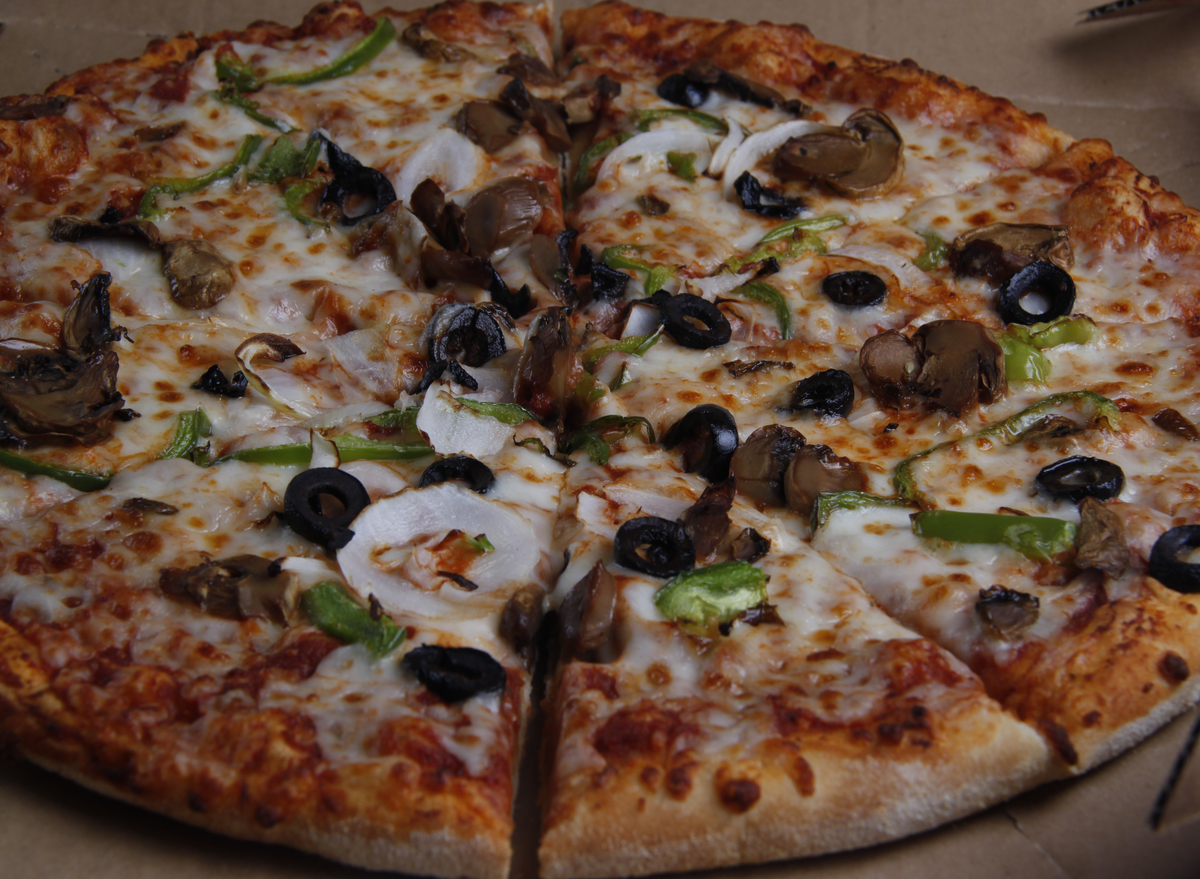 Whether you order the regular base or the Italian style (used on gourmet pizzas), you're getting the exact same dough, explains Beirne. "The only difference is the amount you are getting. An 11.5-inch Italian style pizza just uses the dough for a regular 9.5-inch pizza that's stretched thinner."6254a4d1642c605c54bf1cab17d50f1e
Related: This Is the Healthiest Order at Domino's, According to Dietitians
Some Domino's Employees Go Crazy With Elaborate Off-Menu Creations
But they are not for ordering! Some of the creations mentioned on a Domino's Reddit string sound like they'd take forever to make if a bunch of people ordered them at once, which is likely why Domino's doesn't want you to think there's a "secret menu."
One employee on Reddit described some of the weird foods he's made using Domino's ingredients: "Italian sandwich stuffed cheesy bread, cinnamon rolls, cinna bites, a Thai-style pizza using basic ingredients (mango hab [sic] and garlic parmesan/boneless and onion and green pepper with garlic shake), quesadilla, calzone, stromboli. There are others but I can't remember."
However, according to Secret Menus, Domino's does offer an off-menu pie at most locations. The Super Lot is basically all the meat options piled onto one crust. (That sound is your intestines tensing up.) Here's how Secret Menus describes the pizza: "The Super Lot combines pepperoni with shredded ham, ground beef, mushrooms, red onion, pineapple, mushroom, olives, and oregano. It is a veritable carnivorous feast, reminiscent of some of the items on the Pizza Hut secret menu. So much so that you won't even be able to taste the pineapple, which inexplicably stole its way on there."
For more insider secrets check out:
11 Secrets Arby's Doesn't Want You to Know
11 Secrets Texas Roadhouse Doesn't Want You to Know