Shake Shack Debuting 3 Spicy New Items & a Returning Favorite
Hot chicken fans, rejoice! The popular burger chain is bringing back its own spin, plus three hot new items.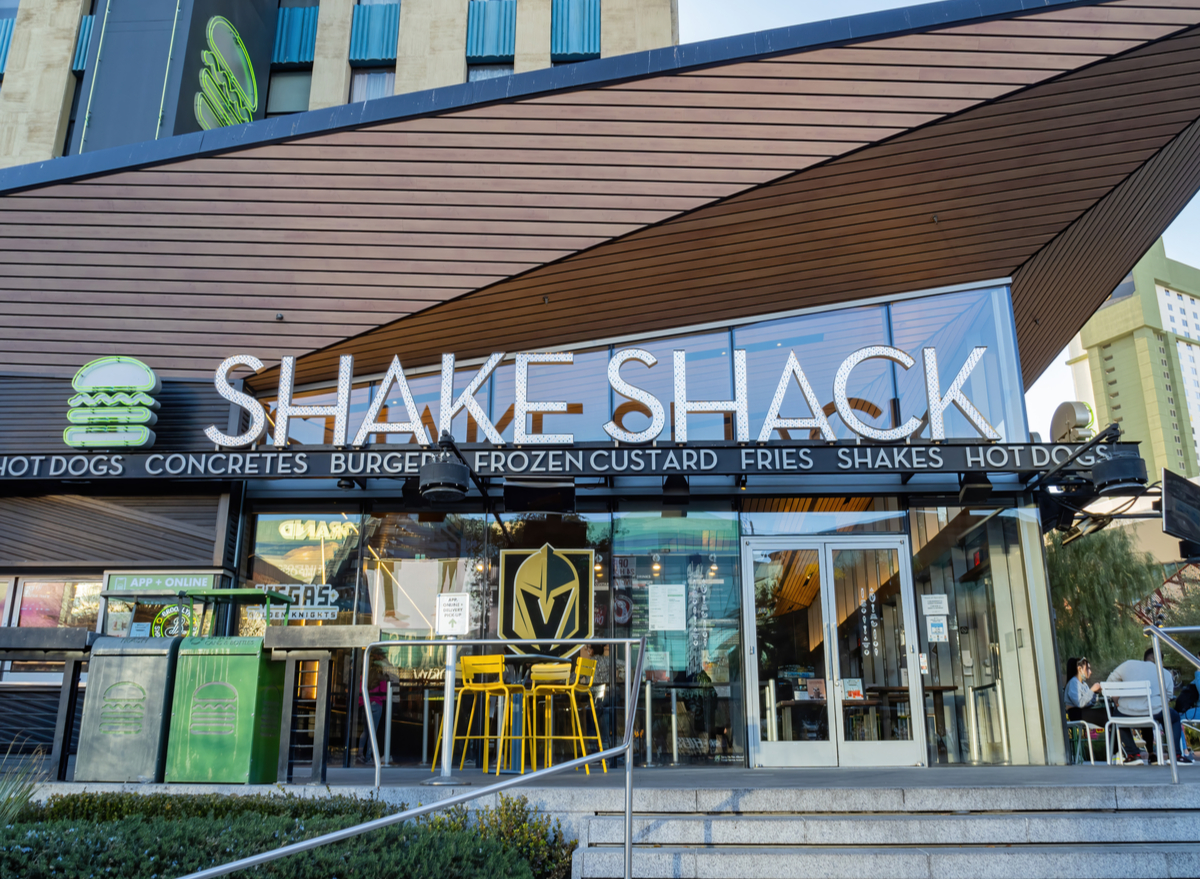 For the first time in three years, Shake Shack is bringing back its version of the ever-popular Nashville-style hot chicken sandwich. The fiery fried chicken reboot comes alongside three other brand-new spicy-themed items, all part of the popular burger chain's new "hot menu" for fall.
"People love hot," says John Karangis, Shake Shack's executive chef and vice president of culinary innovation, citing high customer demand for the returning hot chicken in particular and spicier items in general. "Spicy is what people want, and we wanted to celebrate that and do it in a way that feels good to us."
Karangis served up a preview of the new limited-time menu during an exclusive tasting last week at Shake Shack's Innovation Kitchen in New York City. In addition to the reinstated Hot Chicken, the new options include a Spicy Shackmeister Burger, Spicy Fries with Ranch Sauce, and Spicy Cheese Fries with Ranch Sauce.
Customers can try all four items at locations nationwide beginning this Friday, Sept. 8—though you get an even earlier tongue-tingling taste by ordering today via the Shack's mobile app.
It's not the first time the burgeoning New York-based, fast-casual chain has rolled out a quartet of spicy limited-time options. Just last fall, in fact, the chain also debuted a newfangled burger, chicken sandwich, and selection of tricked-out fries in collaboration with "Hot Ones," the popular hot sauce-taste test video series from First We Feast. Karangis says the newest hot menu attempts to build on the prior collab's success.
Each option comes flavored with a stiff dose of the chain's own top-secret hot pepper seasoning blend. The chef would not divulge the specific ingredients, except to say they include several different chilis, as well as other seasonings to balance the heat and enhance the flavor. "There's a mild sweetness to it, and there's a little bit of smokiness without being too smoky," Karangis says, adding that the heat from the various peppers will your hit your palate from multiple sides.
It's the same blend used on prior incarnations of the Shack's hot chicken sandwich, the chef points out. The chain is now just spreading the peppery reddish powder on more things. Read on for the details on all four of Shake Shack's new offerings, and then check out our story on the 14 Best Fast-Food Chicken Sandwiches in America.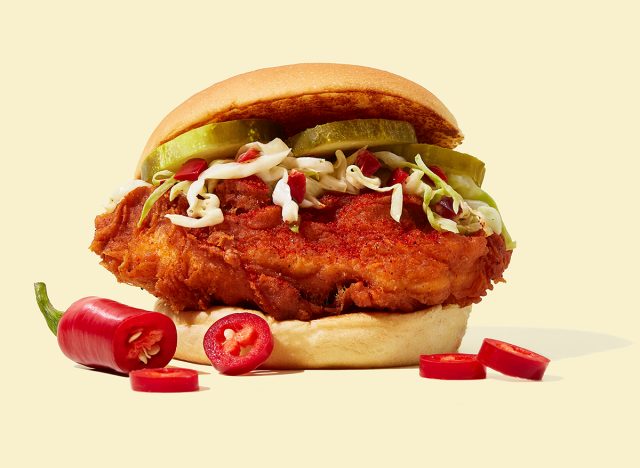 First introduced in 2017, Shake Shack's Hot Chicken made return appearances in both 2018 and 2020 before coming back yet again this fall. "We had tons of requests for it," says Karangis, noting that the newest incarnation is more or less the same as the previous one, albeit with some minor modifications. It begins with the same deep-fried, buttermilk-marinated breast meat as the standard Chick'n Shack sandwich, which then gets heavily sprinkled with hot pepper seasoning. The chili-laden chicken is placed on a toasted potato bun with thick-cut pickles and topped with a tangy mayo-based house-made slaw that includes the added oomph of chopped cherry peppers—"just kind of reinforcing the love for all things chili," the chef says. While perhaps not face-meltingly hot, you will surely notice a palpable burn as you chow down on this crispy chicken sandwich, which starts at $8.39.
Spicy Shackmeister Burger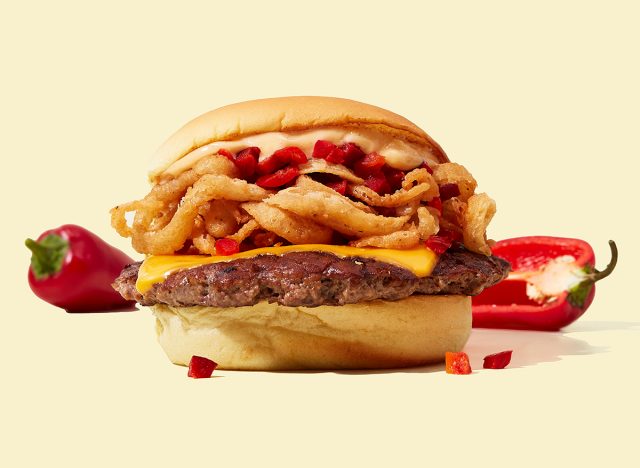 As much as fans may love the Hot Chicken, Shake Shack is a burger joint at heart. So, of course, any new special menu has to include some sort of souped-up beef patty. The all-new Spicy Shackmeister Burger starts with the chain's signature smash burger, which gets topped with cheese and sprinkled with the house's hot pepper blend, then piled high with fried onions and a big scoop of chopped pickled cherry peppers. "We wanted to thoughtfully build a burger that itself was stand-alone delicious but had some crossover with the chicken," Karangis says. The crunchy onions initially counterbalance the acidic heat of the pickled peppers, though the spiciness will ultimately shine through the more you chew. The spicy burger starts at $7.99.
Spicy Fries With Ranch Sauce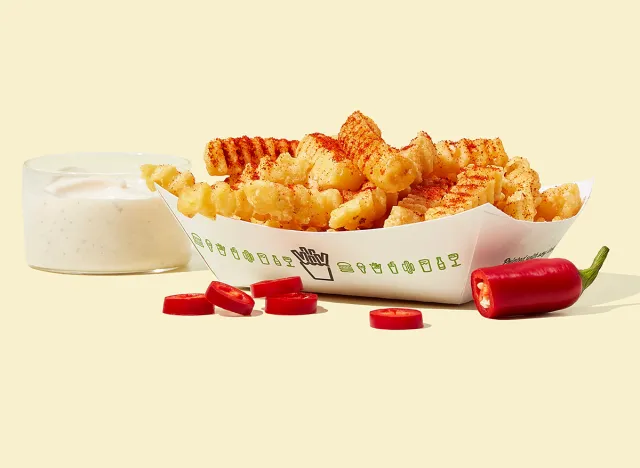 The crinkle cuts at Shake Shack, made from Yukon Gold potatoes, are among the best fries of any fast-food joint. Their shape is especially well-suited to holding sauces or any other topping. The new Spicy Fries take advantage of this design perk by coating the crispy spuds in the chain's hot pepper seasoning. The dish also comes with a side of the Shack's relatively new ranch-style dipping sauce. "There's a nice sort of citrus tang to it," Karangis says of the sauce, noting that the classic combination of buttermilk, sour cream, and mayo gets rounded out with a little extra vinegar. The spicy spuds start at $4.09.
Spicy Cheese Fries with Ranch Sauce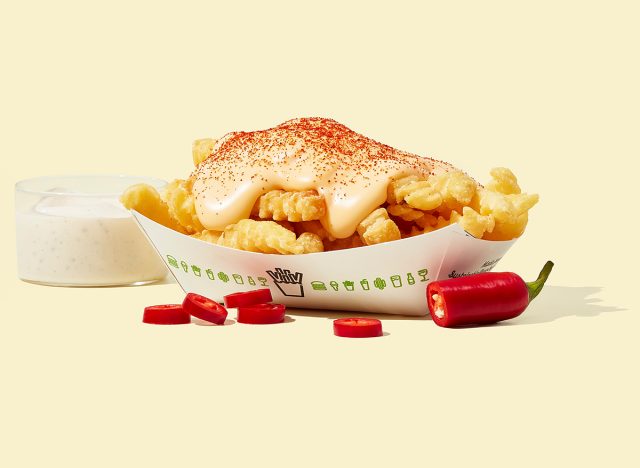 If the heat of the Spicy Fries alone proves too intimidating, you can temper the experience somewhat by adding the Shack's rich, creamy cheese sauce to the mix. The added layer of gooey dairy will cost you an extra buck, bumping the starting price up to $5.09. In my experience, both styles of fries came off a lot hotter than the sandwiches. "The fries are a little more unabashedly spicy heat-forward," the chef admits, noting the lack of squishy bread to "soften that blow." Of course, there are other ways to cool down, too. "Have a beer," Karangis advises. "Or, a shake, if that's your thing."6254a4d1642c605c54bf1cab17d50f1e