I Took a 'Fitcation' & It Was the Perfect Jumpstart to a Healthy Me
It was the ideal balance of fitness, fun, and sun.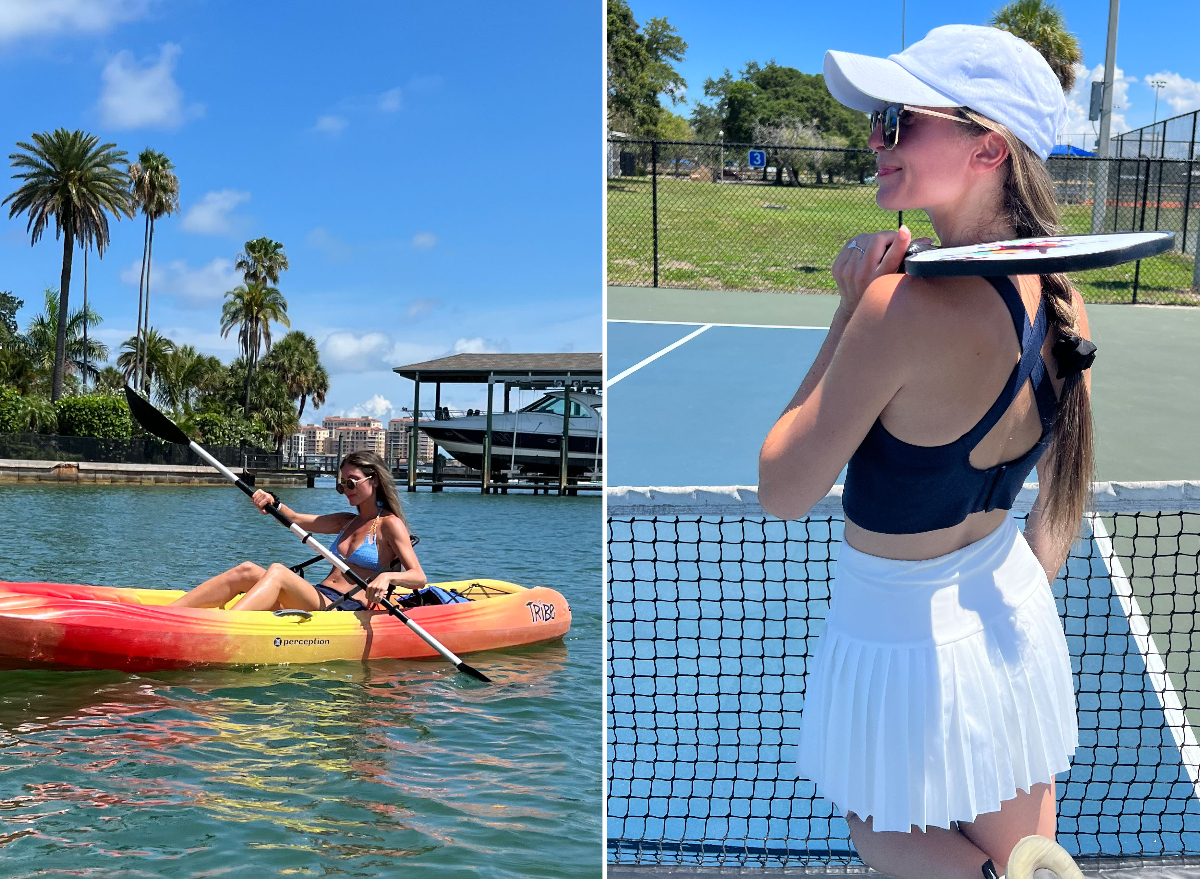 Planning a fitness-inspired vacation—or shall I say, "fitcation"—can be more fun than you'd ever imagine. I know this because I recently had the incredible opportunity to take a vacay to St. Pete/Clearwater, Florida on behalf of Visit St. Pete/Clearwater, and enjoyed the perfect balance of sun, fun, sand, and sweat that every workout enthusiast should add to their bucket list, well, ASAP.
If you're wondering what a fitcation is all about, let me clue you in. When you typically go on vacation, you're away from your regular diet and workout routine. You may even indulge in things that make you stray from your progress. When taking a fitcation, you can still stay on track while having a total blast—maybe even more fun than you normally would! Your fitcation experience may entail working with a personal trainer and/or registered dietitian to help you make the most of your getaway in a healthy, active nature. My St. Pete/Clearwater itinerary, for instance, was jam-packed with endlessly fun outdoor activities like kayaking and pickleball, in addition to rejuvenating wellness experiences and reservations at some of the most unique and healthy places to eat. I stayed active and returned home feeling totally hooked on the fitcation vibe. This trip even inspired me to implement a new favorite hobby—pickleball—into my life!
Whether you're just starting out on your fitness journey or you're a total exercise beast, fitcation-ing will be your new favorite type of travel. I'm letting you in on the absolute best things to do in St. Pete/Clearwater this year and beyond so you can have the ultimate fitcation of your own. So pack up your workout gear and swimsuits, and dive into this adventure with me!
I pedaled on a "Zenride" to a yoga class and sound bath.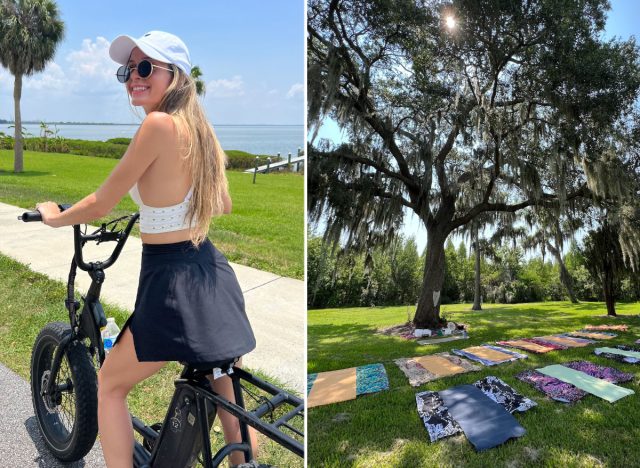 If you're wondering how to spend literally any day of the week on your fitcation getting active, consider taking a Zenride. I met up with Andrea, founder of Bay E-Bikes, and the Zenride group to pedal along the bay through plush nature trails and over scenic wooden bridges to the most serene meadow. (We even stopped along the way to try to spot some alligators in a lagoon!) The best thing about hopping on an e-bike is you can make the ride as challenging as you'd like it to be; it's appealing for all riders from beginners to pros.
Once we reached our destination, the meadow was lined with colorful yoga mats and dream catchers flowing in the breeze. After stretching it out in a vinyasa yoga session led by Jenny from BlissFit Yoga St. Pete, the entire group closed their eyes and relaxed to the soothing vibrations and tones of a sound bath. We wrapped up our relaxation therapy by enjoying lavender compresses and fueling up with trail mix and fresh oranges. Salena with Stars Healing Energy totally helped us restore and find our inner zen before hitting the trails once again for the bike ride back. Sound therapy, according to research, can reduce feelings of depression, anger, fatigue, and tension. Plus, it's such a relaxing way to complement any workout.
I took a pickleball lesson, and it's my new favorite workout.
The pickleball hype is so real, and I don't know why I didn't hop on the court sooner. I had a private lesson with Brian Hartz, an experienced competitive player and coach certified by the Professional Pickleball Registry (PPR), of Sunshine City Tennis. It's safe to say, pickleball is my new favorite workout and sport to play. It's the perfect example of having fun, getting in an excellent total-body workout, and of course, working up a sweat (and suntan)! If you're going to try this, remember I told you to "stay out of the kitchen." Whether you're looking for a private or group pickleball lesson, you're sure to round out your vacay itinerary in such a fun way.
Research not only confirms that pickleball is a stellar cardio workout, but it also boosts muscle strength, hand-eye coordination, and movement. It's a great and simple way to stay social, too, which can lower your risk of heart disease, stroke, and dementia. Grab a paddle, and learn the sport!
1Team Fitness curated an aggressive, yet super fun, workout for me right on the beach.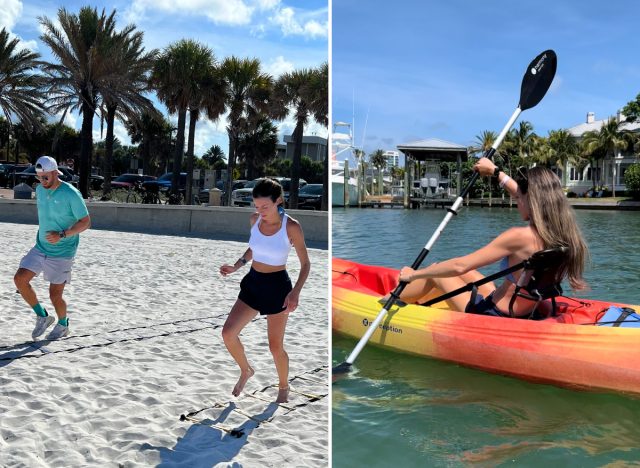 1Team Fitness has collaborated with the stunning and undeniably luxurious Wyndham Grand on Clearwater Beach to offer the ultimate "fitcation" retreat to guests and fitness enthusiasts alike. The Gulf views create the ultimate backdrop for your workout, and it's an ideal Inter-coastal spot to kick back and chill after an invigorating sweat session.
I experienced a private day retreat with Kyle, but you can be part of a small group as well that suits the timeframe of your stay. Kyle started me out with an intense warm-up on the sand—think battle ropes, jump squats in an agility ladder, and kettlebell rope pulls.
It's not just about fitness, either. Diet and exercise go hand in hand, after all! Throughout and following your stay at the Wyndham, the 1 Fitness Team's registered nutritionist works diligently to ensure you're fueling yourself with the healthiest meals and nutrients possible. In fact, after our warm-up and beach walk, we stopped for refreshing green smoothies with protein powder.
After re-charging a bit, we headed to the water for a low-resistance workout: kayaking. There are so many health benefits of kayaking beyond it being a fun time. It's a great cardio workout, and you'll really work your arms and boost your muscle strength when padding. Kayaking is actually considered a low-impact physical activity since it doesn't cause much stress on your joints. And take it from me: It's an amazing way to spend an afternoon in the sun and on the water!
1Team Fitness says it best on its website: "Every aspect of your retreat is carefully planned out and fully executed to exceed your expectations and specific health and fitness goals. From the balcony view of the Gulf of Mexico, chef-inspired meals, and planned-out fun fitness-packed days, our retreat is designed specifically with you in mind!"
I enjoyed the "healing power of the sea" with a Seaweed Detox treatment.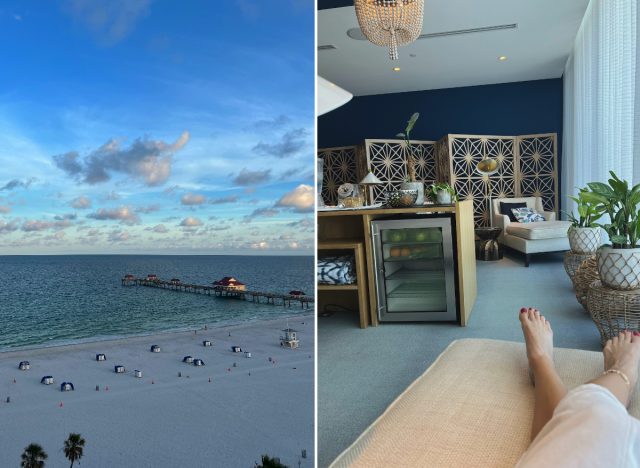 After much physical activity during this getaway, I enjoyed necessary pampering at the Wyndham Grand's Pallavi Luxury Spa. I slipped into a plush bathrobe and slippers and kicked back in the relaxation lounge before my Seaweed Detox treatment, the spa's signature full-body massage. It's a combination of aromatherapy and "the healing power of the sea." During the 100-minute total-body massage, my therapist placed warm sea mud along my spine to release toxins from my body, alleviate tension, and revitalize my skin. Talk about the perfect way to de-stress!
I visited Brick Street Farms and learned all about hydroponic farming.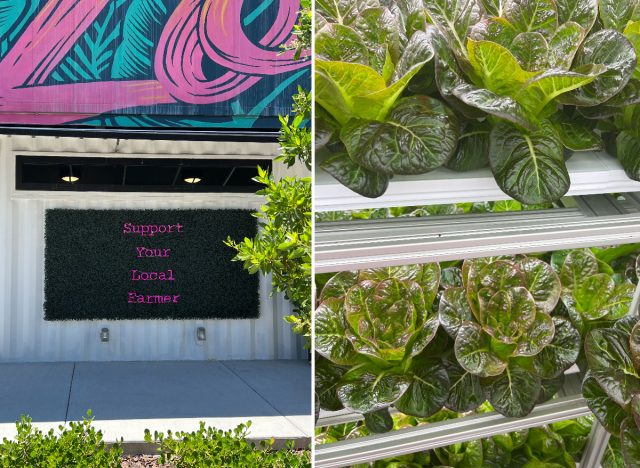 Brick Street Farms in St. Petersburg isn't your typical farm! The brand's mission is to "bring farming back into our community." The team does this by using horticulture LEDs to provide each and every plant with the exact recipe they require for photosynthesis with a total emphasis on energy efficiency. In addition, you may be surprised to hear that Brick Street Farms doesn't use soil to grow their greens, which eliminates bugs and the need for pesticides and the like. The team also recycles their nutrient-filled water via a "closed loop system" and continuously keeps track of the nutrients for their plants.
The coolest part of the tour? All of the plants are grown in temperature-controlled shipping containers. This farm is healthy to the max.
Another fun fact: Many of the restaurants and shops in the area serve and offer greens from Brick Street Farms. Plan a visit soon, and you will be totally mind-blown!
Everything I ate on this fitcation was fresh, healthy, and delicious.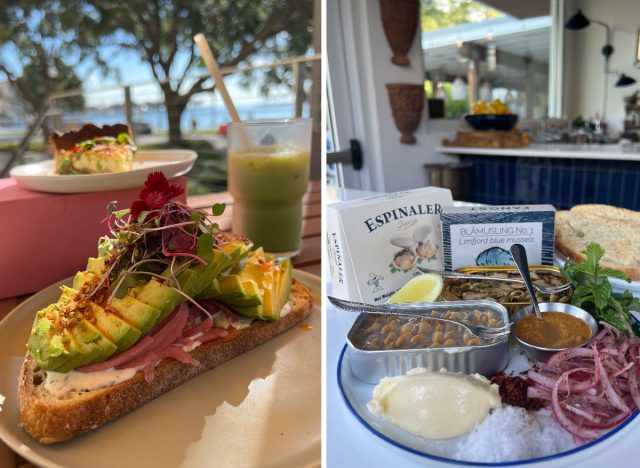 Let's face it: You can work out as much as you want, but if you're not eating healthy, why bother? It's easy to eat well while traveling as long as you make the right choices, without sacrificing flavor, of course. And here's where I'm going to help you out the next time you find yourself on a fitcation in St. Pete/Clearwater.6254a4d1642c605c54bf1cab17d50f1e
The Tides Seafood Market & Provisions is the ultimate place to treat yourself to a healthy, mouthwatering meal. The market offers all-natural meats, top-quality seafood, produce that's sustainably grown, and so much more, so you can do a little bit of shopping while dining there. My favorite menu item was the blackened redfish Caesar salad with Brick Street Farms greens and all the best trimmings. Three words to describe this meal: Fresh, healthy, and delicious!
If you're in the mood for all-vegan cuisine, look no further than Good Intentions, a trendy venue situated in St. Pete's Grand Central District. Whether you check it out for brunch, happy hour, or dinner, you'll be in for a treat. My menu favorites include the whipped ricotta with pistachio pesto and lemon whip; gnocchi with lemon garlic butter and lion's mane; and truffle mac and cheese.
For the most aesthetically pleasing, freshly prepared brunch of your dreams, head over to Café Clementine at St. Pete's Museum of Fine Arts. All of the café's pastries and desserts are beautifully and uniquely designed. Plus, they taste downright heavenly! Of course, I had to get the magic matcha latte, the avocado toast with herbed garlic yogurt and micro greens, and a homemade lemon poppy almond croissant with an orange blossom marshmallow. The sweetest part? The pastries come in the cutest light pink bakery box.
Naturally, wrapping up any night (or starting it off) with some fine cocktails is always a solid idea—without going overboard, of course! Intermezzo Coffee & Cocktails in St. Pete has to be the coolest hangout hot spot in town. They had a really awesome oyster bar pop-up going on while I was there, so I was able to sip a refreshing drink while eating a tray of oysters with fresh strawberry salsa. According to the Cleveland Clinic, oysters are a great choice to indulge in. They have a super low calorie count and are surprisingly full of protein. Plus, they offer nutrients such as iron, vitamin B12, zinc, copper, and vitamin D.
If you're into tinned fish, or if you're game to try it, you absolutely must stop into Barbouni for the tastiest, ultra-unique dining experience. I got the best seat in the house and was totally in love with their extensive variety of tinned fish. The way it works at Barbouni is you can order a selection of tinned fish that's paired with a platter of toast, butter, lemon, sumac onions, Maldon salt, and parsley so you can prepare your toasts with your tinned fish of choice to your liking. I enjoyed the cockles and mussels and have to say this fish is totally hooked—pun intended!
Last but not least, the absolute best way to wrap up a sun-drenched day on the sand is by dining at Ocean Hai for some mouthwatering Asian American fusion. Make a reservation at sunset so you can enjoy unparalleled ocean views and a vibrant-colored skyline while toasting your glass of wine to a trip well-spent. My favorite items on the menu included the shrimp pot stickers and the "crazy rich" sushi roll, which had snow crab, wagyu beef, avocado, asparagus, tempura crunch, and kabayaki. Of course, I just had to order one of the "sweet endings" after dinner—the key lime pie—because I deserved it!
Alexa Mellardo
Alexa is the Mind + Body Deputy Editor of Eat This, Not That!, overseeing the M+B channel and delivering compelling fitness, wellness, and self-care topics to readers.
Read more about Alexa
Sources referenced in this article