I Tried 7 Store-Bought Marinades & This Is the Best One
A good grocery-store marinade is like a genie in a bottle, granting your wish for a succulent meal.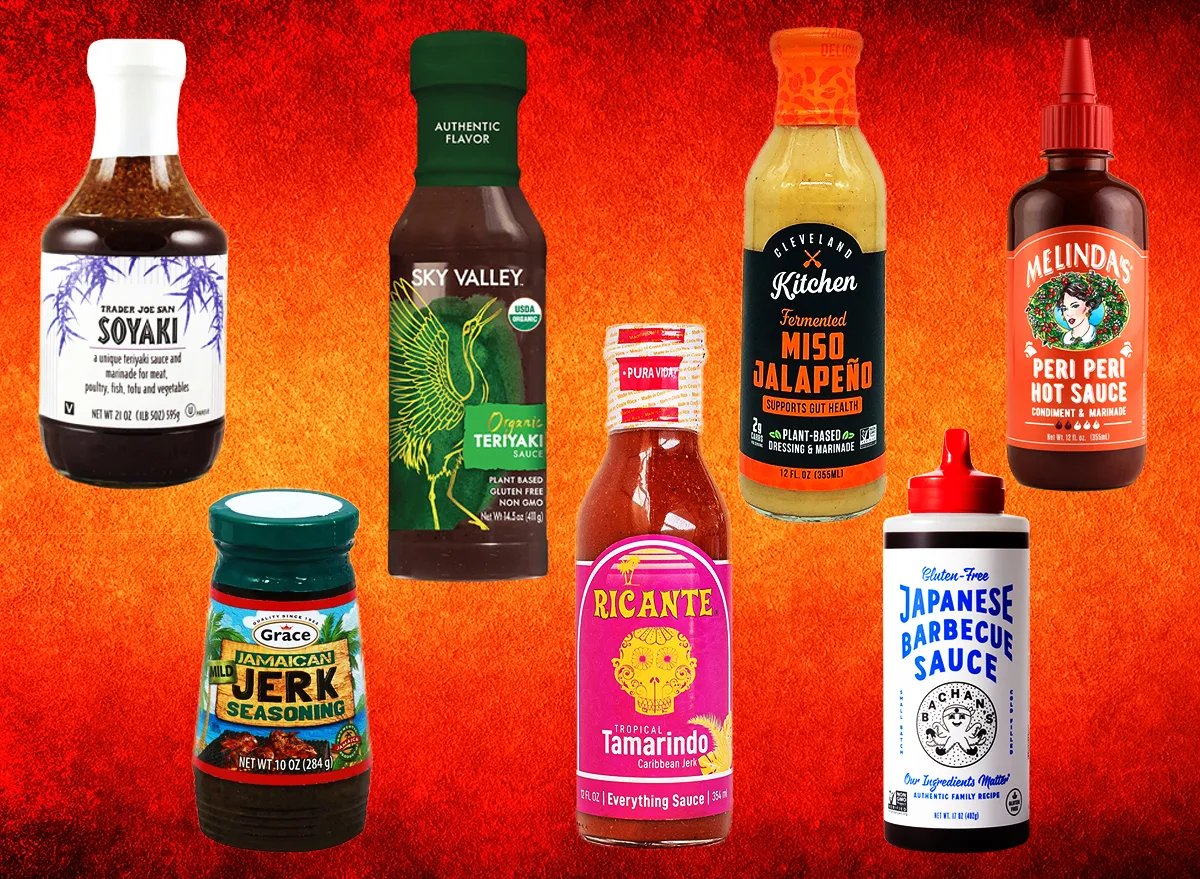 The product recommendations in this post are recommendations by the writer and/or expert(s) interviewed and do not contain affiliate links. Meaning: If you use these links to buy something, we will not earn a commission.
When it's finally time to fire up the ol' grill this summer, hamburgers and hot dogs are the obvious move, but what about other foods?
Chicken, seafood, and veggies are all enticing options for outdoor grilling—and they're usually even better when you marinate them for a good while first. A high-quality marinade adds flavor and makes your grilled proteins more succulent.
If you're lucky, you already have a trusty homemade marinade recipe all ready to go. If not, your local supermarket has a whole aisle of bottled-up possibilities, from traditional American-style barbecue sauces to more worldly, mouth-watering solutions you might not even know about.
I recently rounded up seven intriguing options from local supermarkets and gathered together some of my favorite people to taste-test these flavorful food baths. Since poultry is among of the most conducive meats to marinate, I focused this taste test exclusively on chicken—specifically, chicken wings, which are both small enough to allow for ample sampling and just plain fun to grill in general. I marinated each batch of wings overnight before grilling and sampling.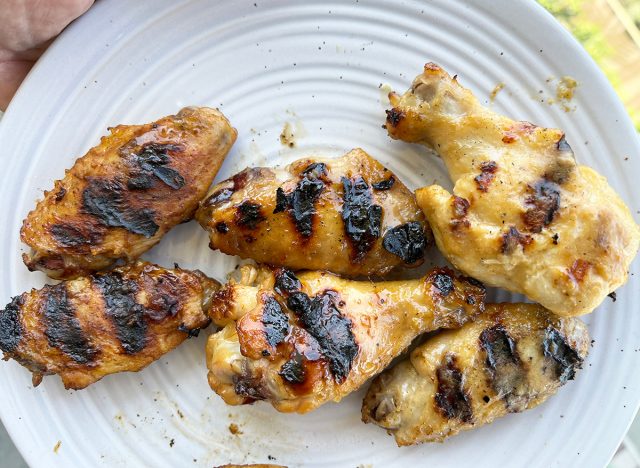 Here's how the various marinades turned out, ranked in descending order from my least favorite to the tastiest of them all.
Ricante Tropical Tamarindo Caribbean Jerk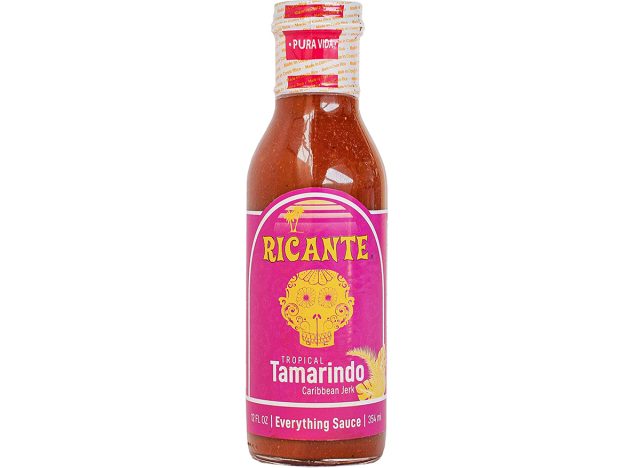 Per Serving (1 tbsp)
: 15 cal, 0 g fat, 100 mg sodium, 4 g carbs, 3 g sugar
Costa Rica's Ricante is best known for its hot sauces, so I was expecting big flavors from this tropical-themed bottle, priced at $7.99 from Whole Foods. I should have known better. Most Caribbean-style jerk sauces come in a very dark, almost black color. This one looks… brownish-orange? According to the label, it's flavored with tamarind, raisins, mustard, chipotle, and lime, among other things. "This sauce will blow your mind when it comes to marinades and reductions," the company claims on its website. Well, not exactly. On the wings, I found it pretty underwhelming, to be honest, with subtle notes of citrus and very mild spice. One taster totally dismissed it as "flavorless." It's hands-down the blandest sauced-wing I tried, which is why it came in dead-last on this list.
Bachan's Gluten-Free Japanese Barbecue Sauce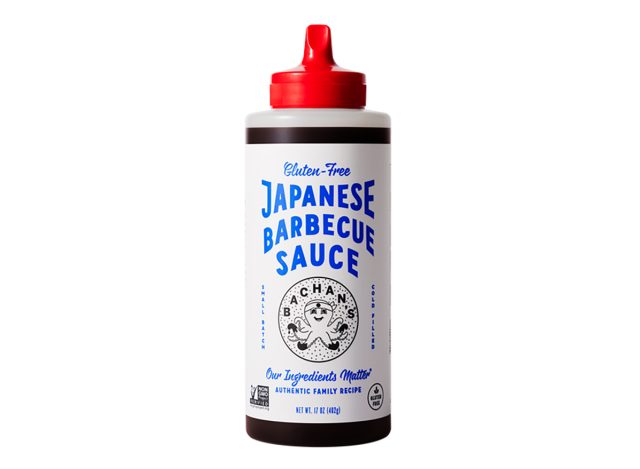 Per Serving (1 tbsp)
: 40 cal, 0 g fat, 550 mg sodium, 9 g carbs, 8 g sugar, <1 g protein
Bachan's is a popular California brand sold at Costco, Whole Foods, and other esteemed retailers. I reached for the gluten-free version of its original Japanese Style Barbecue Sauce because, well, virtually all the other marinades made the same pledge. Plus, one my tasters can't tolerate the other stuff. The only difference in the recipe is the type of soy sauce (the original one contains wheat). Made with non-GMO tamari soy sauce and organic flavorings including garlic, ginger, rice vinegar, and toasted sesame oil, Bachan's GF OG is sticky and savory, but also quite sweet and salty—packing the most sugar and most sodium of any sauce on this list, in fact.
Yet, even with all that added oomph, this self-described "teriyaki-ish" sauce failed to impress my tasters. One called it "so light, it's almost refreshing." Another complained of an unpleasant aftertaste. It's also the highest-priced sauce I tried: $9.39 for a 17-ounce squeeze bottle at Whole Foods. Pricey, lacking punch, and a little off-putting in one case, it ranks toward the bottom, too.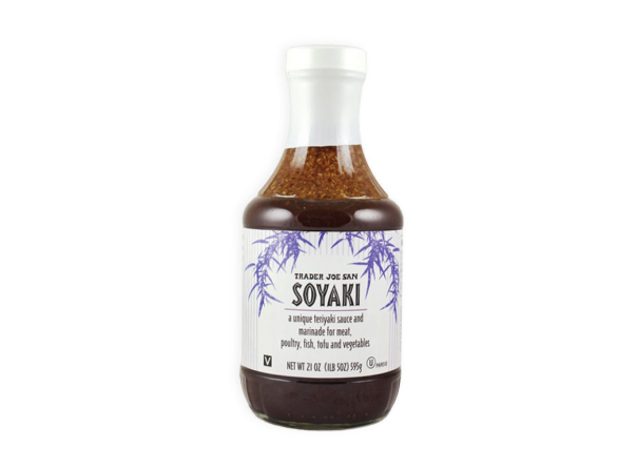 Per Serving (1 tbsp)
: 40 cal, 1 g fat, 490 mg sodium, 7 g carbs, 5 g sugar, 1 g protein
Trader Joe's labels this marinade as "a unique teriyaki sauce." One thing that immediately sets it apart is the massive amount of sesame seeds floating at the top of the jar, which you don't see in the other teriyaki-style sauces I tried. Some of these seeds will cling to the meat both during and after cooking, lending a visual and textural appeal the other marinated wings lacked. More reasonably priced at $3.99, Joe's costs less than half as much as Bachan's soy-based sauce. (Warning to the gluten-averse: this one does contain wheat.) It's also lighter in sugar and sodium, yet much heavier on garlic. The listed ingredients include both garlic purée and dried garlic.
Even so, the Soyaki-soaked wings also sort of sucked. One taster dismissed them as "blah—totally unremarkable." A possible explanation: the liquid looks a lot more watered-down than other, more viscous marinades, so maybe the sauce just didn't stick to the meat. Whatever the reason, TJ's Soyaki ranks on the lower rung, as well.
Cleveland Kitchen Fermented Miso J
alapeño
Per Serving (1 oz)
: 35 cal, 3.5 g fat, 200 mg sodium, 9 g carbs, 8 g sugar, 1 g protein
Ohio's Cleveland Kitchen attracted a lot of attention at this year's Expo West with its intriguing brand of kimchi pickles. The fermentation-minded company also makes gut-healthy salad dressings and marinades, including this Miso Jalapeño variety, which you can find in the refrigerated section at upscale grocers including Wegmans and Whole Foods for about $6.
Flavor-wise, the pungent yellowish sauce skews more jalapeño than miso, delivering a "satisfying kick that leaves a bit of tingle on the lips and the back of the throat," one taster observed. It might be the most unique marinade in this group, but perhaps too unique for traditional wing-lovers. The same taster suggested it might work better as a salad dressing than a marinade. That's why I'm sticking it right here in the middle, stuck between the losers and winners.
Sky Valley Organic Teriyaki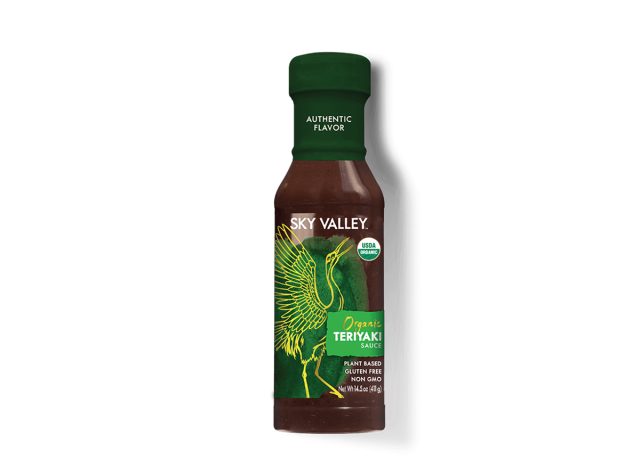 Per Serving (1 tbsp)
: 25 cal, 0 g fat, 250 mg sodium, 5 g carbs, 5 g sugar
Idaho's Sky Valley makes all kinds of sauces, notably including a Sriracha-style chili sauce. Comparatively, the brand's classic teriyaki might seem a little unassuming. Yet, it's deceptively good, with a rich and strikingly sweet flavor that begs for a second helping. "I would happily eat more than one wing," one taster said. At just $3.67 from Whole Foods, it's the most affordable of the teriyaki-style sauces I tried—and the most flavorful, too. Somehow it just tastes sweeter than the others, despite having an equal or even lower amount of sugar. It's also oddly lower in salt. These surprisingly positive results with fewer added ingredients catapult Sky Valley into my Top 3.6254a4d1642c605c54bf1cab17d50f1e
Grace Jamaican Jerk Seasoning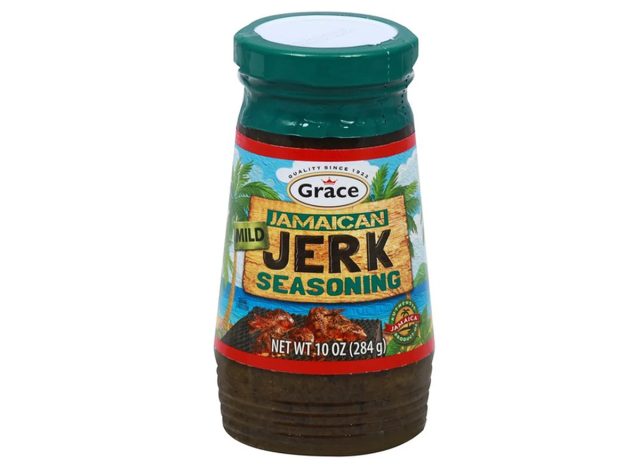 Per Serving (1 tsp)
: 0 cal, 0 g fat, 360 mg sodium, 1 g carbs, <1 g sugar
Unlike the other so-called "jerk" sauce I tried, the Grace brand is legit. Made in Jamaica with a blend of homegrown hot country peppers, Scotch Bonnets, and pimento, according to the company's website, it really packs a wallop, with a bright fruity taste and electrifying heat. Funny enough, this is the "mild" version, yet it is far and away the spiciest marinade among these varied selections. In fact, the fiery flavor might be a little too overpowering for non-pepperheads, which is probably the only reason this intensely flavored product doesn't rise to the top spot.
Melinda's Peri Peri Hot Sauce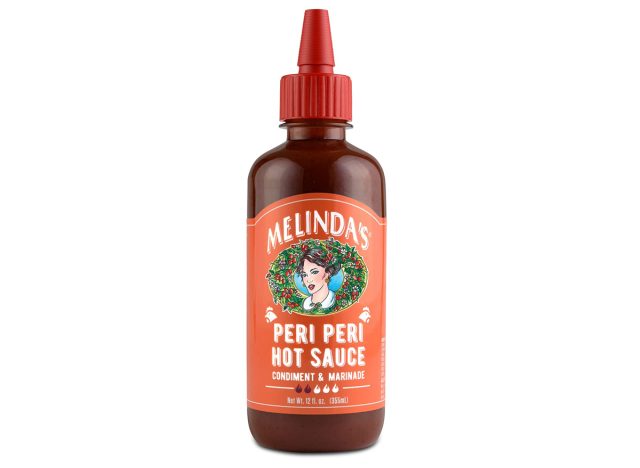 Per Serving (1 tsp)
: 0 cal, 0 g fat, 90 mg sodium, 0 g carbs, 0 g sugar
Texas-based Melinda's Foods promotes this sauce as both a condiment and marinade, which makes sense because you are going to want to put it on everything. Produced in Columbia, the peri-peri-style sauce tastes bright, fruity, and spicy, but not as burning hot as the Jamaican jerk. Mashed tabasco and cayenne peppers give this sauce its sharp piquant quality, according to the label.
Interestingly, though, the first listed ingredient is lemon juice, and the recipe also includes lemon powder. All that acidic citrus seems to have penetrated deep into every muscle fiber in the chicken, which is precisely what you want from a marinade. The wings tasted juicier and more flavorful than any of the others, and that's why Melinda's comes in first place. It's the most well balanced and delicious one of the bunch.
Bonus: it pairs really well with blue cheese, too, just like a good spicy-sauced wing should.