Easy Cinnamon-Roasted Sweet Potato Salad With Wild Rice Recipe
Rethink what you can do with a Mason jar.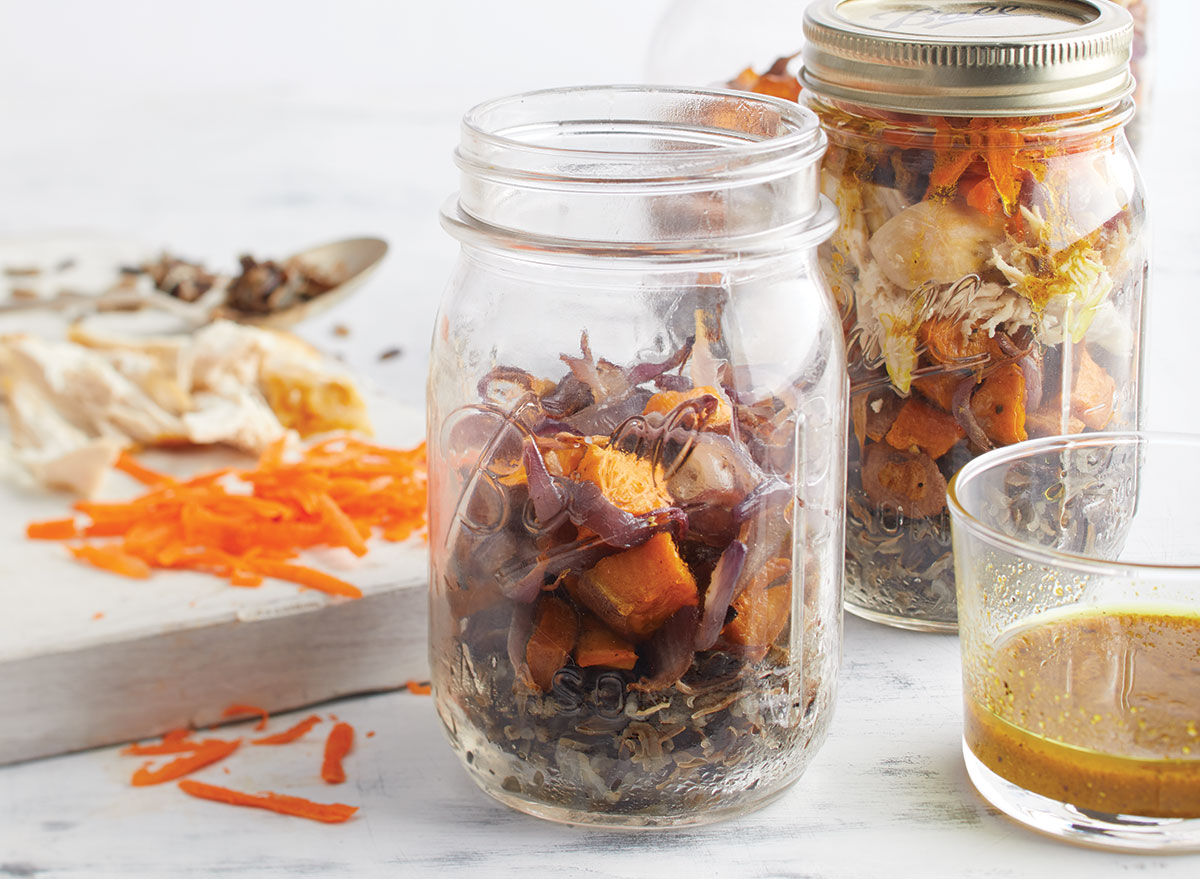 Think Mason jars are just for drinks or packing lettuce-based salads? Think again. This sweet potato salad puts a new spin on the term, layering cinnamon-roasted sweet potato pieces with shredded chicken, carrots, and plenty of seasoning. Combined with a serving of wild rice, this is a full meal in a jar.
If the idea of meal prep doesn't appeal to you, this easy recipe might just change your mind. It will stay fresh in the fridge for up to three days, and it's super easy to pack and carry to work. With seven grams of fiber and 14 grams of protein, this meal is sure to keep you satisfied. And it might just make you wonder what else you can do with a Mason jar, too. Why stop at traditional Mason jar salads, when there's a whole world of possibility?
Nutrition: 403 calories, 16 g fat (3 g saturated), 695 mg sodium, 7 g fiber, 16 g sugar, 14 g protein
Makes 4 servings
Ingredients
Nonstick cooking spray
12 oz sweet potato, scrubbed and cut into 1/2-inch pieces
1 medium red or yellow onion, sliced into wedges
4 Tbsp olive oil
1 tsp salt
1/2 tsp black pepper
1/4 tsp ground cinnamon
2 Tbsp rice wine vinegar
1 Tbsp curry powder
2 tsp honey
1/2 tsp salt
1/4 tsp black pepper
2 cups cooked wild rice
4 oz cooked chicken, shredded
1/4 cup golden or regular raisins
2 medium carrots, shaved
1/4 cup snipped fresh cilantro
How to Make It
Preheat oven to 400°F. Line a baking sheet with foil, and coat with cooking spray.
In a medium bowl, combine sweet potato, onion, 1 Tbsp oil, 1/2 tsp salt, 1/4 tsp pepper, and cinnamon; toss to coat. Transfer potato mixture to prepared baking sheet. Roast about 20 minutes or until tender.
Meanwhile, in a small bowl, combine remaining 3 Tbsp oil, vinegar, curry powder, honey, the remaining 1/2 tsp salt, and the remaining 1/4 tsp pepper. Whisk until smooth.
Divide rice among four pint jars. Top with roasted potatoes, chicken, raisins, and carrots. Drizzle with dressing and top with cilantro. Cover and chill up to 3 days.
Eat This Tip
Wild rice has nearly double the fiber and protein and fewer calories than brown rice.
Eat This, Not That!
Inspired by The New York Times best-selling book series, Eat This, Not That! is a brand that's comprised of an award-winning team of journalists and board-certified experts, doctors, nutritionists, chefs, personal trainers, and dietitians who work together to bring you accurate, timely, informative, and actionable content on food, nutrition, dieting, weight loss, health, wellness, and more.
Read more about Eat This