Taco Bell Is Bringing Back This Menu Item That's Been Missing for a Year
It's been a year of changes and menu cuts for the fast-food chain, but it's making one more addition before 2021.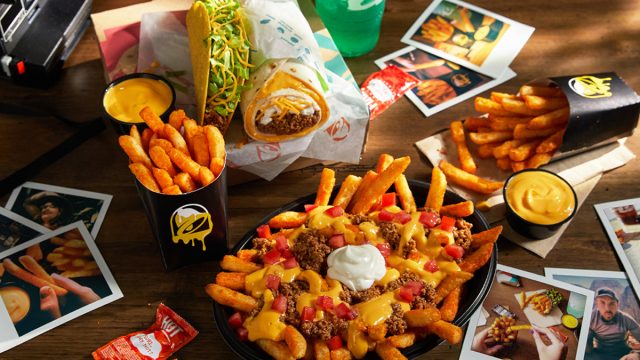 This year has been a big one for Taco Bell's menu. A roller coaster of discontinuations plus huge announcements about new items being added led to fans creatively thinking of ways to save some of their favorites. The ride isn't over quite yet, though, because there's one more item making its way back onto the menu on Dec. 24.
When Nacho Fries made their debut in January 2018, there was no chicken sandwich at Popeyes and Taco Bell wasn't on Grubhub yet. When they were still on the menu in January of 2020, there was no coronavirus pandemic and the Mexican Pizza was still available to order. But the fast-food chain just announced the return of the golden fries covered in Mexican spices and served with warm, melty cheese sauce for $1.39 to help ring in the new year for a limited time starting on Christmas Eve. (Related: The 7 Healthiest Foods to Eat Right Now.)
"In a year as difficult and uncertain as this one was, we know that consumers crave the comforts they love most," says Nikki Lawson, Taco Bell's Chief Global Brand Officer, in a statement given to Eat This, Not That!. "That's why we're excited to bring back Nacho Fries for our passionate fans to close out this year and kick-off 2021 positively and deliciously."
The fries aren't facing a similar fate as some menu favorites thanks to the success of previous years. To date, over 347 million servings of Taco Bell Nacho Fries have been sold. Variations like the Steak Rattlesnake Fries, Reaper Ranch Fries, and Buffalo Chicken Nacho Fries have also been unveiled. Other items coming back with the fries are the $1 Loaded Nacho Taco, the Taco and Burrito Cravings Pack, and the Bacon Club Chalupa.
If you're making a stop at Taco Bell before Dec. 24 and aren't sure what to get, here are The Healthiest Foods on Taco Bell's New Menu, According to a Dietitian.
For more fast-food news delivered right to your email inbox every day, sign up for our newsletter!
Amanda is a staff writer for
Eat This, Not That!
.
Read more