There's Something Wrong With Taco Bell's New Enchirito, Customers Say
Reality hasn't quite lived up to expectations for some customers when it comes to the Enchirito.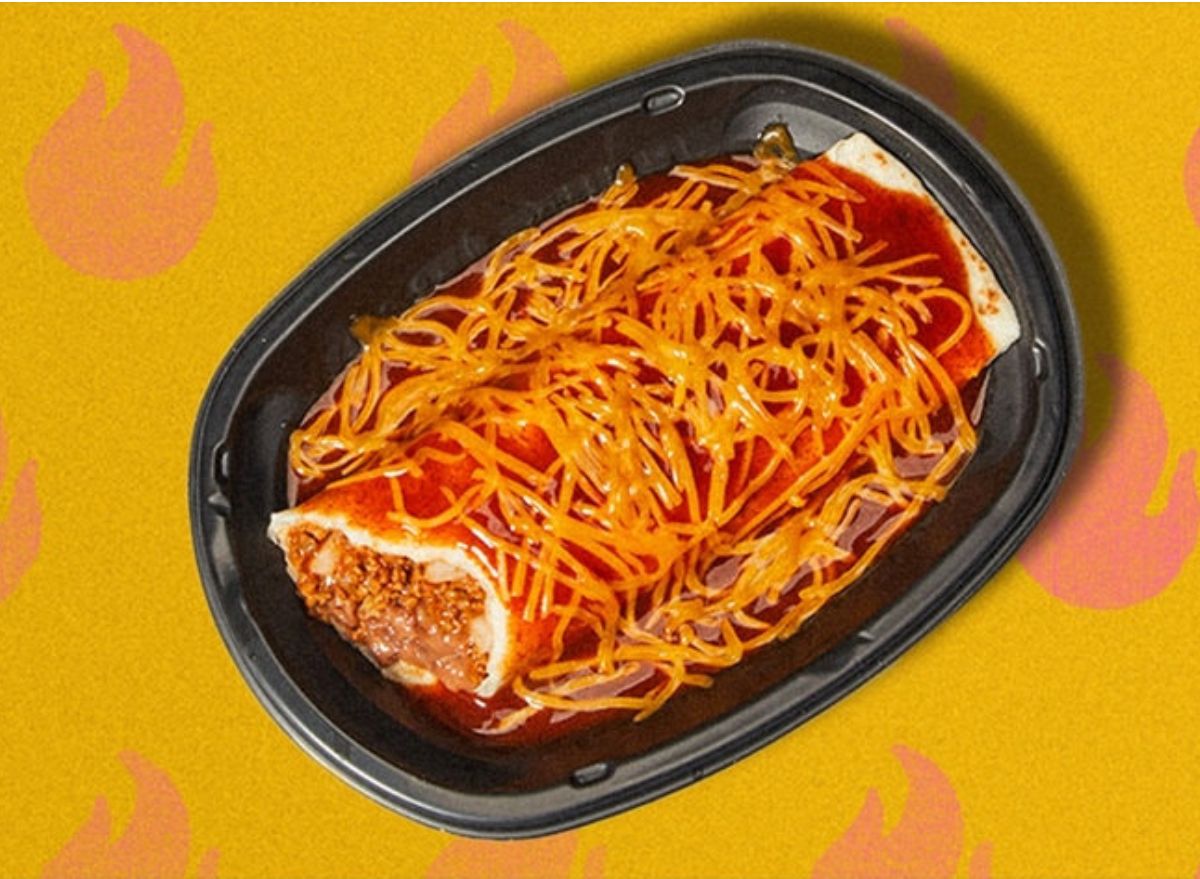 Taco Bell fans received a welcome surprise last week when the chain suddenly brought back the retired yet highly-requested Enchirito. The fan-favorite enchilada-burrito mashup hasn't been seen on Taco Bell menus since it was discontinued in 2013, aside from a very short return in November 2022 for just a few fleeting days.
While many customers are rejoicing now that the Enchirito is finally back again—albeit only for a limited time to the chagrin of some fans—the reality of the menu item hasn't quite lived up to expectations for others.
The Enchirito features seasoned beef, refried beans, and onions wrapped inside a warm flour tortilla that's smothered with red sauce and cheddar cheese. The item was priced at $3.79 at a Taco Bell restaurant in New Jersey, though prices may vary depending on the location.
One Taco Bell customer who decided to try the Enchirito after its grand return took to Reddit this week to report that the item was much smaller than marketing pictures suggested. In addition to the disappointing size, the customer said that the actual taste and contents of the Enchirito didn't live up to the massive hype.
"It's literally a beef and bean soft taco with slop on top, it's not good, and it sure as hell isn't worth $4.19 plus tax," the customer wrote, apparently referring to the price of the menu item at their local restaurant.
The post inspired fellow Taco Bell fans to share their own less-than-perfect experiences with the Enchirito in the last few days, some of whom agreed that Taco Bell was missing the mark on size and execution.
"It was small and wasn't smothered in sauce. [Probably] worth $2, not $4," a customer commented.
"I got it because it looked really good and I was super disappointed. I swapped beef for beans because I don't eat meat, I don't know if that made it taste worse or not. It was also super messy and when I opened it spilled sauce on me," another said.6254a4d1642c605c54bf1cab17d50f1e
Similar comments emerged in a completely separate Reddit thread this week that also centered on the Enchirito. In that discussion, several other customers also complained about receiving Enchiritos that were unexpectedly small and had too little red sauce, too little filling, and unmelted cheese.
"It was unfortunately a big disappointment for me," a customer commented.
"I was so excited to get an Enchirito, but that excitement quickly turned to disappointment when I was handed this small tortilla wrap with barely any sauce or filling," another replied.
Of course, certain stores may prepare Enchiritos better than others and some customers said that they hadn't experienced any issues with the menu item at their local restaurants. However, the number of customer complaints in the last few days indicates that serving up lackluster or disappointing Enchiritos is more than just an anomaly for Taco Bell.
The Enchirito is one of several limited-time items that Taco Bell quietly added to menus last week. The chain also introduced two new burritos and two new loaded fry dishes that all incorporate Taco Bell's Nacho Fries and green chile verde sauce. Taco Bell customers can also look forward to an extra dose of nostalgia this summer with the June 29 return of the fiery Volcano Menu and the early August return of the Beefy Crunch Burrito.
Zoe Strozewski
Zoe Strozewski is a News Writer for Eat This, Not That! A Chicago native who now lives in New Jersey, she graduated from Kean University in 2020 with a bachelor's degree in journalism.
Read more about Zoe