Taco Bell Just Released 4 New Items With a Brand New Sauce
The new limited-time lineup includes a steak stuffed burrito featuring crispy nacho fries.
Taco Bell loves to surprise its adoring fans, whether it's bringing back fan favorites or hosting a tell-all on Reddit with the chain's CMO. For instance, this week the Enchirito made its triumphant return for a limited-time run and with it, Taco Bell quietly added four new menu items with a brand new green chile verde sauce.
The four new menu items, available for a limited time, all incorporate Taco Bell's Nacho Fries and green chile verde sauce. Two new burritos have been added. The Steak Chile Verde Fries Burrito features marinated steak, crispy fiesta strips, chile verde sauce, nacho cheese, and the chain's three cheese blend and a handful of Nacho Fries. The Chile Verde Burrito is a vegetarian take, swapping black beans for steak. The Steak Chile Verde Fries and the Chile Verde Fries have the same toppings as the burritos but instead of wrapping everything in flour tortillas, they are poured over the crispy fries.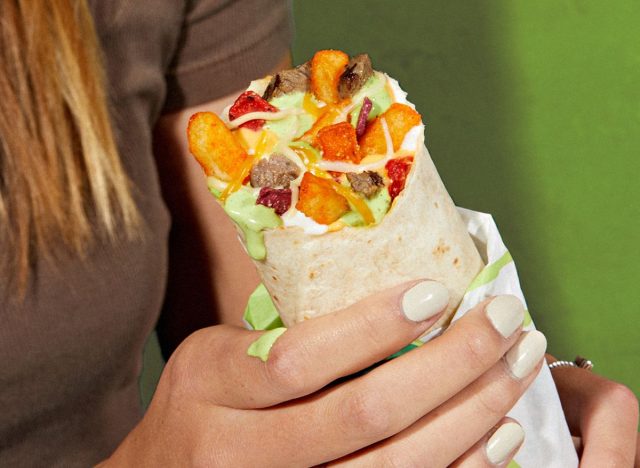 When Taco Bell released the Salsa Verde Grilled Chicken Burrito in late 2022 fans anticipated that the tangy salsa verde sauce would be available in packets. Taco Bell reps said the pined-for sauce, which disappeared in 2016, wouldn't be available in packets, but it could be added to other items. Likewise, this new chile verde sauce isn't in packet form but it can be added to any item, which means its costs a little extra to add it to your favorite menu item, about $.60 depending on location.6254a4d1642c605c54bf1cab17d50f1e
While the sauce isn't back in packets, it does look like Taco Bell is at least reading Reddit comments regarding menu items. A few people wished that the chicken in the Salsa Verde Grilled Chicken Burrito could be swapped for black beans, and Taco Bell has done just that with these new items. Bonus: The burrito is cheaper without the steak, $3.99 vs. $4.79.
As mentioned, along with these four creations, the Enchirito is back after Taylor Montgomery's promise on last week's Reddit AMA (Ask Me Anything) that it would be back "very soon." While fans were excited that the burrito-enchilada hybrid had returned, many expressed that they wanted it to be permanent.
The possibility isn't out of the question. As Montgomey mentioned on the Reddit AMA, what Taco Bell brings back, permanently or otherwise, depends on what's "right for the brand, the business, the team members—all reflective of fan feedback, wrapped in cultural relevancy and, of course, what's uniquely Taco Bell." So nothing, especially if it caused a stir, is gone forever.
The fan-favorite Volcano menu, for one, is set to return at the end of June—Taco Bell rewards members can get a taste starting June 27. Montgomery urged fans to "go buy a lot of it" so Taco Bell has a reason to make it permanent. The Beefy Crunch Burrito will also be back in early August after beating the Cool Ranch Doritos Locos Taco in a customer vote earlier this year.