5 Tips for Cooking a "Legendary" Steak Straight From Texas Roadhouse
The perfect steak is all about the proper technique.
Texas Roadhouse is known for serving "legendary" steaks at lower prices than high-end steakhouses. On the side, they serve up their iconic soft rolls with cinnamon honey butter–which you can now buy as a candle—cheesy appetizers, and country music. They are also the most popular steakhouse in America, beating out bargain chains like LongHorn and Outback, and high-end chains like Ruth's Chris. Suffice it to say they know a thing or two about cooking steaks the right way.
On the Texas Roadhouse Butcher Shop site, they give tips for grilled and pan-seared steaks and conveniently sell their steak for home consumption. So if you're in the mood for an affordable steak—but don't want to get dressed—buy a few steaks from the website and follow their tips and tricks for cooking a legendary steak just like the chefs at Texas Roadhouse. Plus, don't miss I Tried Texas Roadhouse for the First Time Ever—Here's What I Loved.
Start with a room-temperature steak.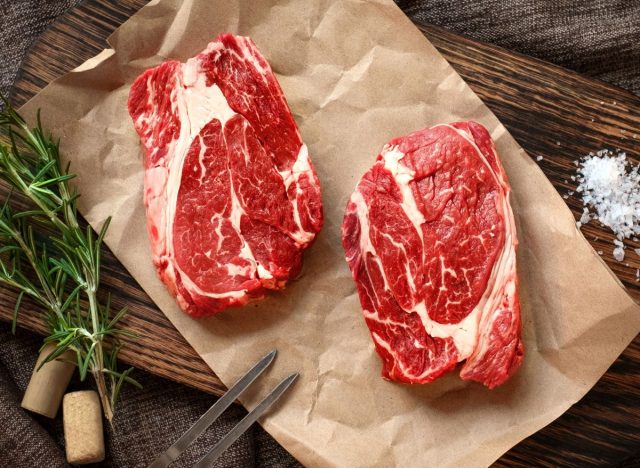 Jason Mennie, Senior Director of Legendary Food, says this is the key step that lots of people omit due to time. Take your steak out well before you plan to cook it—about 30 minutes—so that the middle has a chance to warm up just a bit. Also, pat the steak down with a paper towel to remove moisture from the surface which will prevent browning.6254a4d1642c605c54bf1cab17d50f1e
Preheat the pan or grill.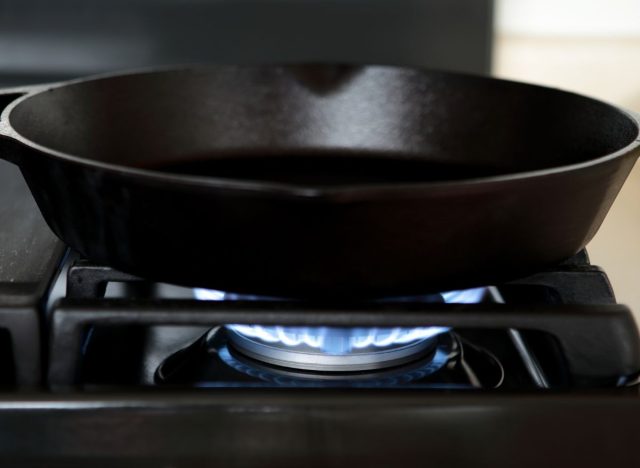 Getting the pan nice and hot, but not too hot, is the key to a good sear. Preheat for about five minutes on medium-high, says Mennie. But don't overdo it. "We don't want it super duper hot," he says. To test it, flick a little water on it. The water should evaporate in seconds. Likewise, you should preheat your grill. Kristina Lisk, Director of Training and Service, says to pre-heat the grill to 500 degrees for 5-10 minutes.
Season 'coast to coast'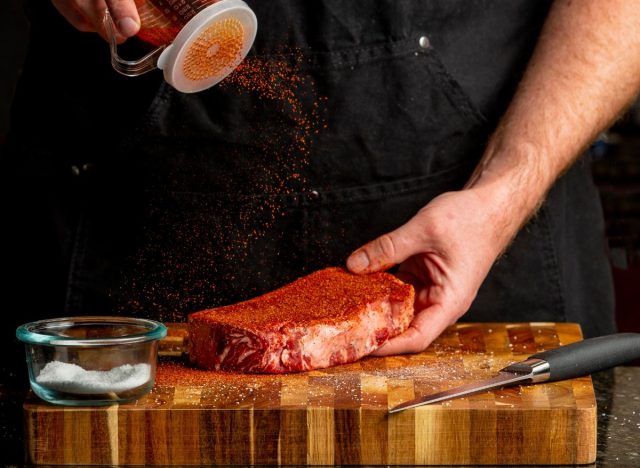 "Don't be afraid to put that delicious seasoning all over the steak," says Lisk, using, of course, Texas Roadhouse seasoning. This appears to be a mantra in the Texas Roadhouse kitchen, as Mennie echos it. This means covering every surface of the steak with a thin layer of seasoning. If you didn't order your steak from the Texas Roadhouse site, which includes their seasoning, you can try a copycat version which typically includes salt, a bit of brown sugar, garlic powder, onion powder, and other spices.
Flip often or follow the '10 and 2' trick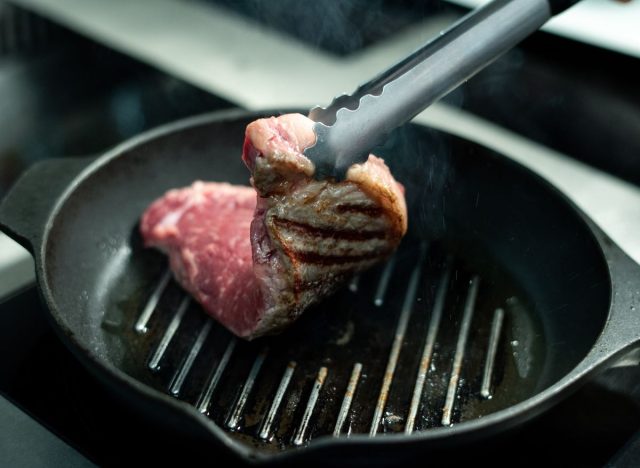 If you are coking on a pan, flip often says Mennie. While traditional wisdom is to leave the steak for half the time on one side and half the time on the other side, Mennie recommends a frequent flip. This will achieve even browning and that delicious crust that everyone craves on a seared steak. You're looking for that "french-toast look," he says.
If you are grilling, Lisk demonstrates the "10 and 2" method for perfect diamond grill marks. Start the steak facing the 2 on an imaginary clock and after 2-3 minutes (depending on the total time for the particular steak and doneness) turn to the 10 position. Then repeat on the other side.
Let the steak rest.
You've let your steak come to room temp, seasoned it "coast to coast," and lovingly flipped it for a perfect sear, please don't ruin it by cutting into it too soon! Let. Your. Steak. Rest. "Never cut into your steak," says Lisk. Use a thermometer for best results and let your steak rest for at least five minutes. "That allows the juices to settle all around the steak so every bite is juicy and legendary," says Lisk.