11 Best Charcuterie Board Ideas Your Thanksgiving Guests Will Love
These festive cheese, meat, and veggie boards will wow your guests before the main course is even served.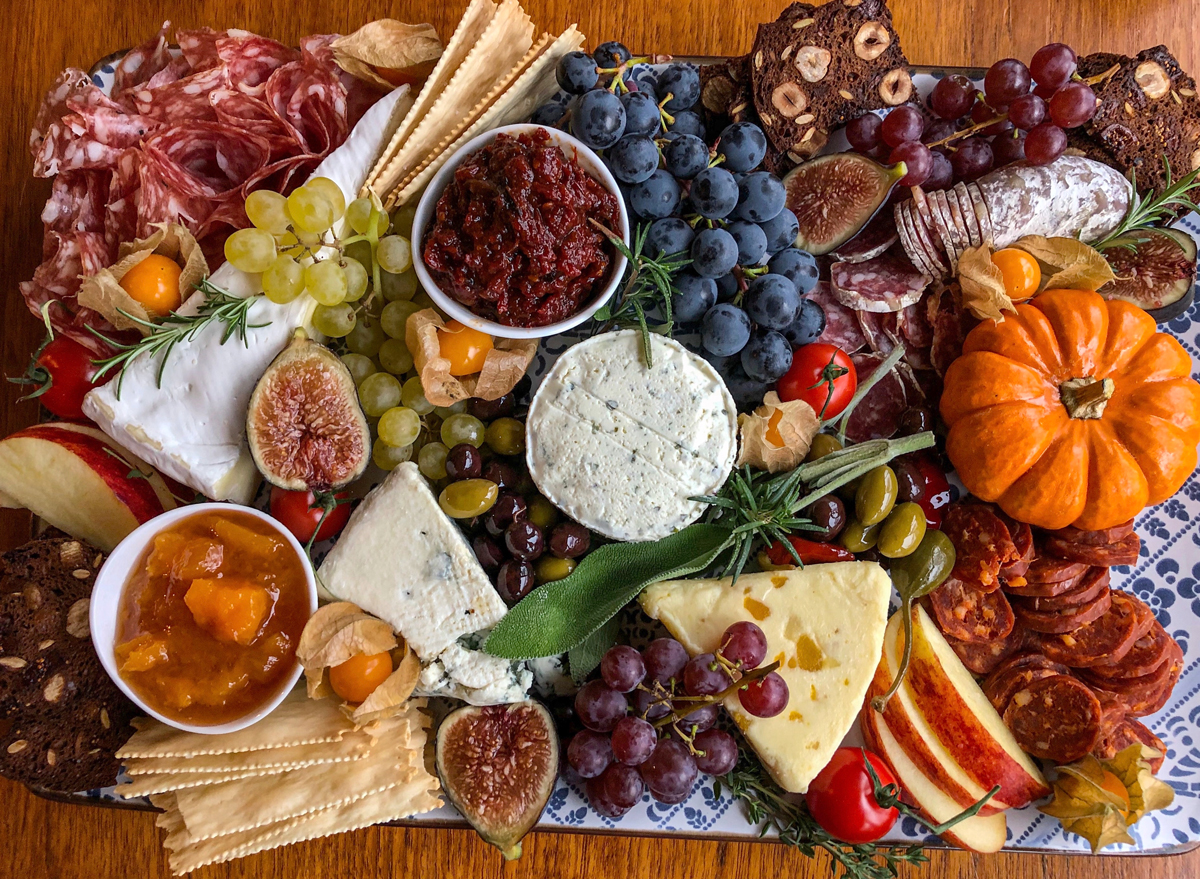 It's a few days before Thanksgiving, which means you may be scrambling and running around trying to finalize your holiday menu. There's so much to think about when you decide to host Thanksgiving, and making sure you have everything set and ready to go can be stressful. If you're feeling the weight of executing the "perfect" feast this year, one way you can make your life a lot easier is by choosing an easy and crowd-pleasing appetizer for your guests, like a charcuterie board.
Charcuterie boards at their core are boards full of cheese and preserved meats, but people often put their own flare to these boards by sometimes adding ingredients like fruit, vegetables, dips, and chocolates. People have also taken the concept of a charcuterie board and made it fully vegan, leaving out the meat and cheese and swapping in their preferred snacks. Whatever you choose to put on your board, the idea is that you'll have your guests gathered around the charcuterie, chatting away and building anticipation of the main course.
If you already have your preferred charcuterie ideas, then go ahead and get to it! But if you need some help and inspiration and want to make something that will really impress your guests, try one of the following 10 charcuterie board ideas for your Thanksgiving dinner.
Read on, and for more hosting tips, check out 40 Thanksgiving Side Dishes That Will Have Everyone Raving.
Thanksgiving Turkey Cheese Board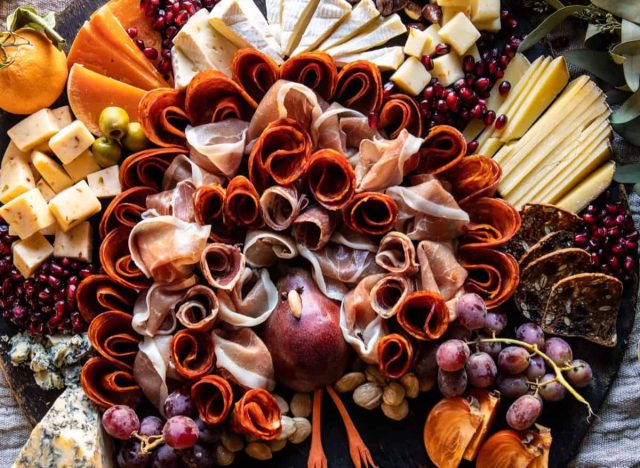 All you need is a red pear, rolled-up meats, and cheese and fruit to fill in the gaps, and you'll have an adorable charcuterie spread shaped like a turkey that will make for a festive appetizer.
Get the recipe from Half-Baked Harvest.
Thanksgiving Cheese Board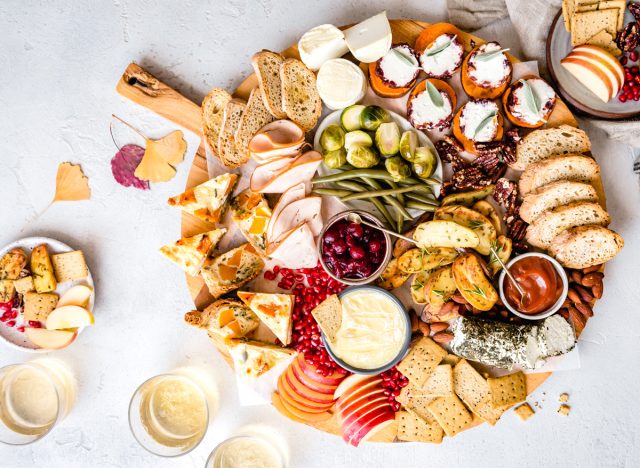 For a little tease of the meal to come or a dish to set up for the day after with your leftovers, try this Thanksgiving Cheese Board from Vermont Creamery that features classic Thanksgiving ingredients such as Brussels sprouts, sliced turkey, and cranberry sauce. To take some prep off your plate, try Vermont Creamery's Cranberry, Orange & Cinnamon Goat Cheese Log, which pairs perfectly with the other cheeseboard components, including apple butter, candied pecans, and sweet potatoes.
Get the recipe from Vermont Creamery.
Holiday Charcuterie Board
This Holiday Charcuterie Board from Half-Baked Harvest features cheeses like brie, goat cheese, and blue cheese, as well as meat, nuts, fruit, vegetables, and crackers. You can follow her step-by-step guide as well, which is helpful for knowing how to build it.
Get the recipe from Half-Baked Harvest.
Thanksgiving Cheese Board
What's Gabby Cooking made a charcuterie board specific to Thanksgiving by sticking to a "darker" color scheme. She used olives, marinated artichokes, persimmons, various meats, crackers, and other tasty ingredients like honeycomb on top of brie cheese.
Get the recipe from What's Gabby Cooking.
Winter Bruschetta Bar
Traditional Bruschetta usually consists of some combination of things like toasted bread, tomatoes, basil, and olive oil. If you love bruschetta and want to turn this classic appetizer up a notch, you can make this Winter Bruschetta Bar for your Thanksgiving guests that includes goat cheese, blue cheese, creme brie, ricotta, pomegranate, apple, red peppers, prosciutto, etc.6254a4d1642c605c54bf1cab17d50f1e
Get the recipe from What's Gabby Cooking.
Turkey Snack Board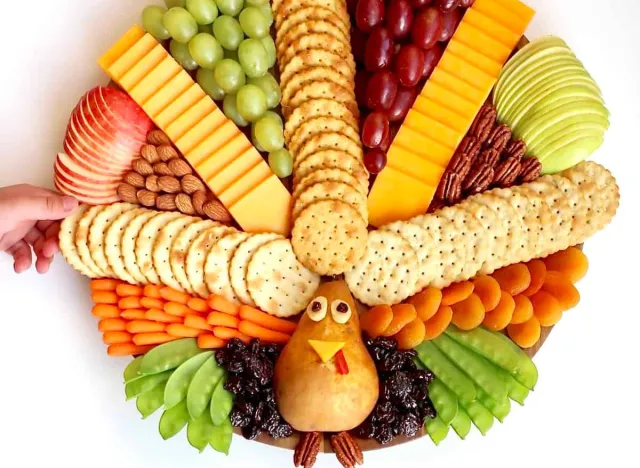 This Turkey Snack Board from The Bakermama is similar to the Thanksgiving Turkey Cheese Board from Half-Baked Harvest, but there's a bit more of a focus on veggies, fruit, and nuts and doesn't use any meat at all. If you want to add meat, you can easily fit some between the other ingredients.
Get the recipe from The Bakermama.
Keto Charcuterie Platter
Chances are you won't have a ton of guests trying to lower their carb intake on Thanksgiving, but if you or any of your family or friends are following a Keto diet or another low-carb eating plan, it's nice to have some ideas for ways you can stick to this while still indulging in your favorite foods. This Keto Charcuterie Platter still uses delicious meats, cheeses, and nuts, but instead of crackers, it calls for cheese whisps.
Get our recipe for Keto Charcuterie Platter.
Trader Joe's Charcuterie Board
We love this Trader Joe's Charcuterie Board from The Bakermama because if you live close to a TJ's, you can run there right now and get all of the ingredients you need for an impressive Thanksgiving appetizer. Along with the convenience of this one, we also appreciate that you can save some money on this board since Trader Joe's is so affordable.
Get the recipe from The Bakermama.
Vegan Charcuterie Board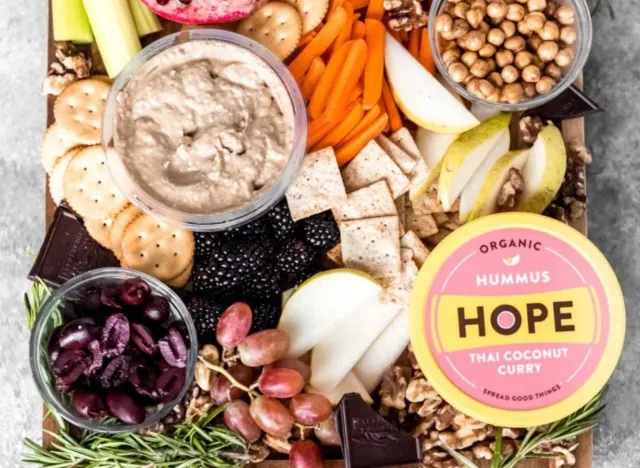 This is another take on a Vegan Charcuterie Board, and it's so delicious that you and your guests won't miss the meat or cheese. The vegan board from Minimalist Baker features a lot of plant-based cheeses and meats, whereas this one from Ambitious Kitchen relies more on naturally plant-based foods like fruit, vegetables, nuts, olives, chickpeas, and dark chocolate.
Get the recipe from Ambitious Kitchen.
Vegetarian Mezze Platter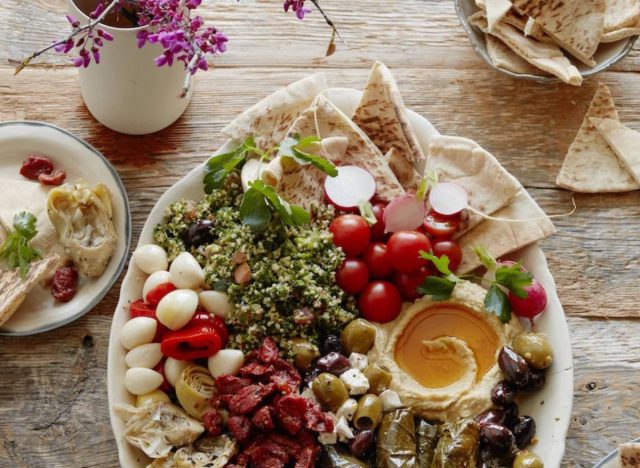 Why not spice up your traditional charcuterie board and surprise your guests with this Mediterranean-inspired app? This Vegetarian Mezze Platter features olives, feta, tomato pesto, artichokes, hummus, tzatziki, and pita chips.
Get the recipe from What's Gabby Cooking.
Vegan Charcuterie Board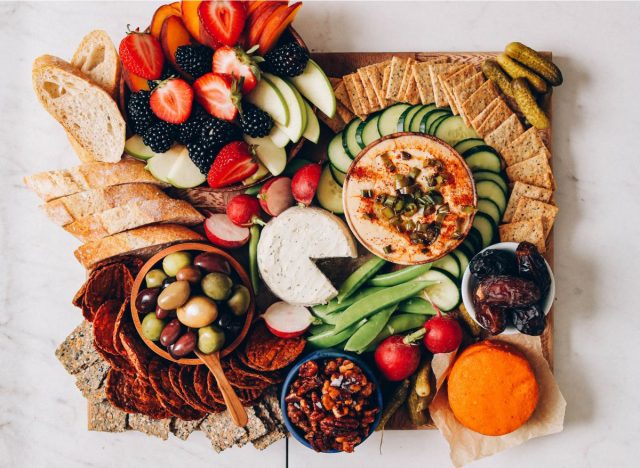 Have some vegan guests coming for Thanksgiving but want to make sure they still have the full holiday experience? You can make this Vegan Charcuterie Board by Minimalist Baker, which features a variety of plant-based snacks like a vegan pimento cheese ball, vegan pepperoni, garlic and herb vegan cheese, hummus, nuts, and chickpeas.
Get the recipe from Minimalist Baker.