I'm a Nutritionist, and This Is the Healthiest Way to Cook Oatmeal
It's a lot more simple than you think!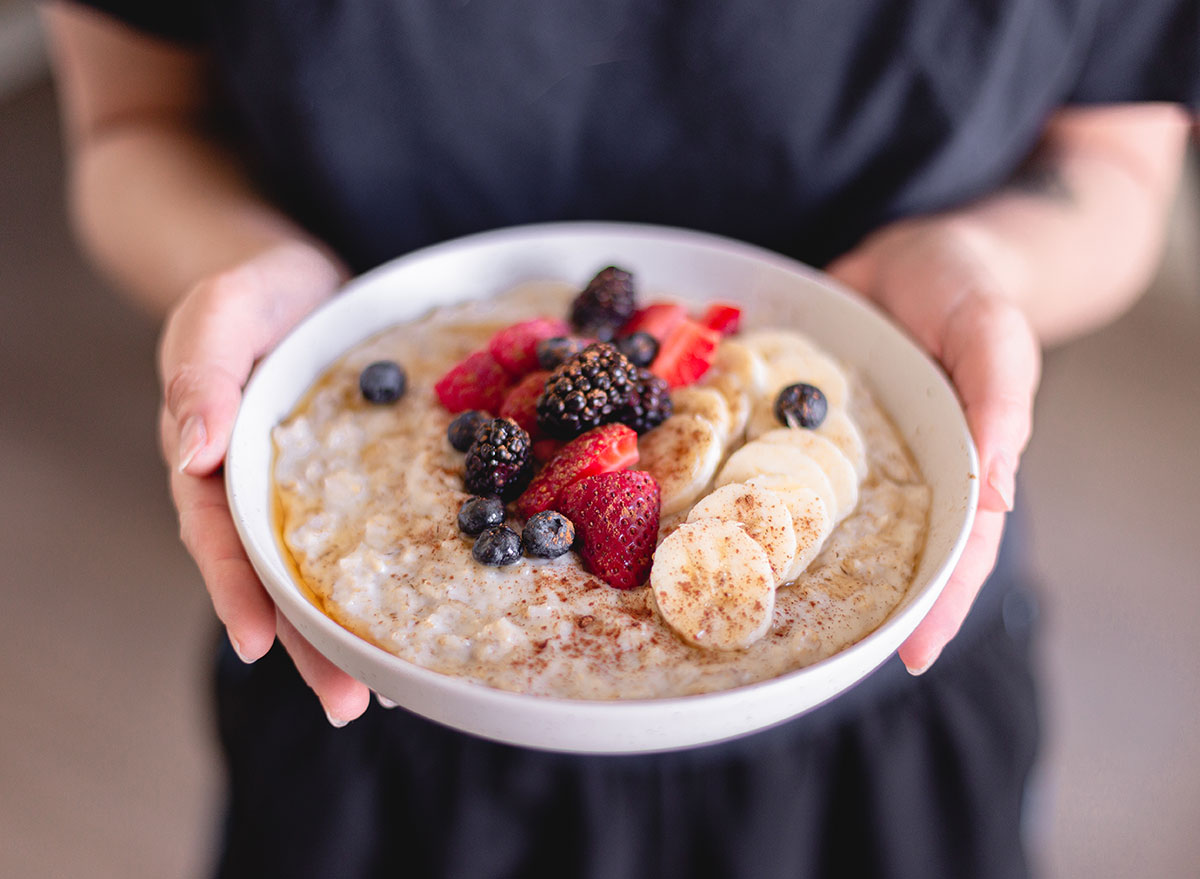 There's no such thing as a perfect breakfast, but if you ask me—as a nutritionist and a food lover—a great bowl of oatmeal comes pretty close. Not only does oatmeal serve as a blank canvas to create your very own morning masterpiece, but it's also got plenty of fiber (and even a little protein) to fill you up until lunch. Its hearty texture and wholesome warmth are pure comfort, especially on chilly mornings.
Meanwhile, its whole grain status offers health benefits galore. Research shows that getting more whole grains in your diet can reduce the risk of heart disease, cancer, and death from any health-related cause. For me, that's reason enough to grab a bowl and get my oats on.
Of course, you can prepare oats any number of ways—from baking them to soaking them overnight to letting them simmer in the slow-cooker—and each of these has its advantages. But my personal favorite cooking method? Microwaving. (I know, surprising, right?) Although the microwave gets vilified for sapping nutrients out of some foods and leaving others crusty and dry, it has no such effects on oats.
In fact, microwaving is a super-simple, lightning-fast way to get breakfast on the table, stat. My personal nutrition philosophy goes that the healthiest food is the kind you'll actually eat. And since I don't always have the time to bake or soak oats ahead of time, a warm dish pulled from the microwave helps me make a healthy choice with minimal fuss.
I start my bowl with the "official" half-cup serving size of quick-cooking oats (but for larger appetites, this can be easily multiplied). And while you can always cook your oats in liquids like cow's milk or almond milk, I find these don't do terribly well in the microwave, so I simply use water—two parts water (1 cup) to one part (1/2 cup) oats.
After a quick sojourn in the microwave, it's time to dress up my oats to my heart's content! I swirl in about a tablespoon of natural, no-sugar-added peanut butter for creaminess, plus a bit of extra protein and healthy fat. Then it's time for a serving of fruit in the form of sliced banana. (Since up-to-the-minute research supports the time-honored advice of eating five servings of fruit and veggies per day, I like to start early to work them in.) For a hint of sweetness, I'll stir a teaspoon or two of maple syrup; it's got fewer carbs and a lower glycemic index than alternatives like honey or brown sugar. Finally, I finish things off with a dusting of cinnamon—and dig in!6254a4d1642c605c54bf1cab17d50f1e
For even more oatmeal tips, read these next:
Sarah Garone, NDTR
Sarah Garone, NDTR, is a registered nutrition and dietetic technician, and a health, nutrition, and food writer.
Read more about Sarah