The Secret Oatmeal Trick For a Flat Belly, Says Dietitian
Talk about a breakfast for champions!
If you had to choose one breakfast food to eat every single morning for the rest of your life, consider oatmeal. While oatmeal may not sound as exciting as say a donut or a box of sugary cereal, it's full of all kinds of good-for-you-nutrients that assist your body with weight loss, lowering your cholesterol, and even your longevity. Plus, when you follow this secret oatmeal trick, this beloved breakfast food can even help give you a flat belly!
However, while eating oatmeal is great for your body's health and longevity, if you're not careful, eating too much oatmeal can cause uncomfortable bloating due to the high amount of fiber in the breakfast dish. That's why the secret oatmeal trick for a flat belly is to properly portion it out and to choose low-sugar toppings.6254a4d1642c605c54bf1cab17d50f1e
Lisa Young, PhD, RDN, and the author of Finally Full, Finally Slim, agrees that oatmeal is a "great breakfast" to have for a flat belly, but "it's super easy to overdo it and eat too much and add too many toppings."
In order to avoid this easy oatmeal pitfall, Young gives a few pointers on how to prepare your oatmeal the right way for a flat belly all day long.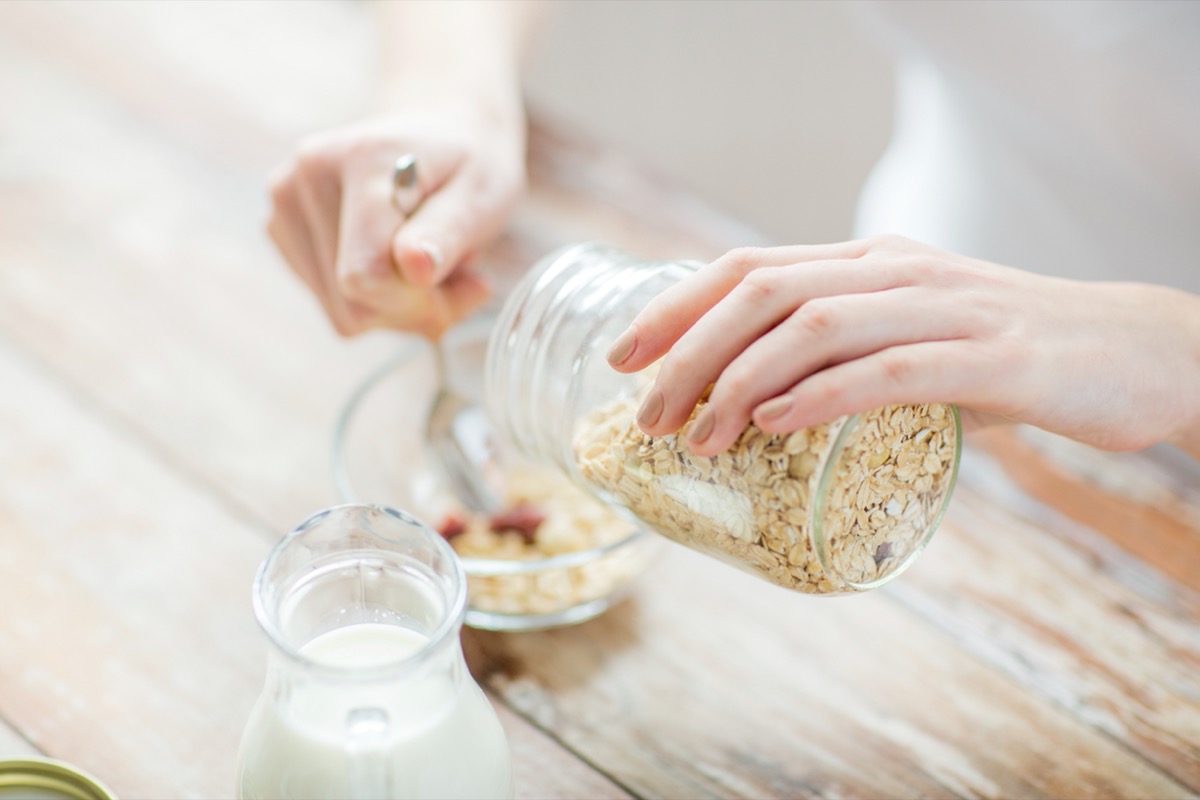 "Pay attention to your portion size," says Young. "Aim for around 1 cup cooked." One cup of cooked oatmeal is usually around 1/2 cup of rolled-cut oats cooked in 1 cup of liquid.
In terms of choosing a liquid, Young says "It's okay to make it with water, low-fat milk, or unsweetened plant milk." She doesn't recommend choosing to cook oatmeal with whole milk or plant milk with added sugar given that it easily adds up the amount of fat in sugar in your oatmeal.
Once the oatmeal is cooked, adding toppings helps to give it some extra flavor. A majority of pre-packaged oatmeals are full of added sugars, which don't give you a ton of nutritional value. Instead, cooking plain oatmeal at home and mixing in healthier oatmeal toppings will ensure that your belly remains flat for the rest of the day.
Young recommends adding fruit to give it a sweeter flavor. "Enjoy fruit like apple and blueberries," says Young. "I love slicing apple and cooking the apple with the oatmeal."
Nuts are also a great option to give your oatmeal an added crunch.
"Enjoy nuts as a topping—walnuts or slivered almonds. Aim for 2 to 3 tablespoons," says Young.
But be careful! Nuts—as well as nut butter—are easy to overdo because they are calorically high.
"While they are healthy, because they are high in fat, calories add up," says Young. "Aim for no more than 1/4 cup."
Lastly, Young recommends sprinkling in cinnamon or adding a dash of vanilla to give your oatmeal extra flavoring without adding more calories or added sugar.
"It's okay to top with cinnamon and vanilla," says Young. "Just skip the table sugar, which is empty calories."
Get even more healthy eating tips straight to your inbox by signing up for our newsletter! After, read these next: