The One Ingredient Everyone's Adding to Their Oatmeal
It's the perfect addition to your morning oats!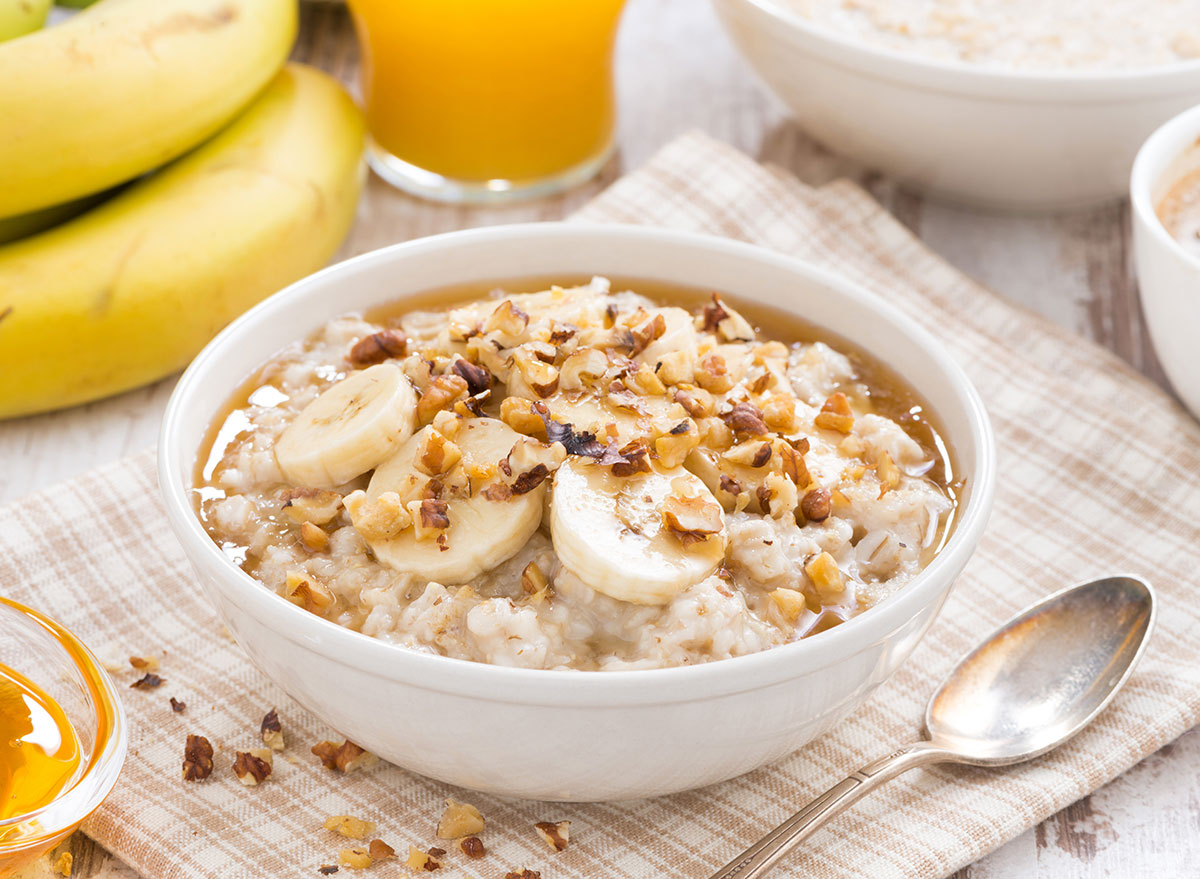 If you've wasted as much time on TikTok as I have during this crazy year, you've probably noticed a new food trend that's been all over—baked oatmeal! While most baked oatmeal recipes online are meant to serve multiple people, these clever baked oat recipes are all created for one serving—making the perfect healthy breakfast for one. After spending countless hours on this app (and realizing I should, yet again, set a boundary and delete it from my phone) I realized a common recipe that people were throwing in their baked oats, and that's mashed banana.
While adding a banana in baked oats isn't uncommon, typically that one banana is spread throughout six or eight servings. But in these special baked oat recipes on TikTok, you're getting all of those amazing health benefits from eating a full banana, all in a single serving bowl of oats! How clever is that?
Here's why you, too, should start throwing an entire banana in your oatmeal. Plus, a special baked oats recipe for you to try! And if you're on the hunt for even more healthy eating tips, be sure to check out our list of The 7 Healthiest Foods to Eat Right Now.6254a4d1642c605c54bf1cab17d50f1e
Why you should add a banana to your oatmeal.
First, let's start with the nutritional value of a banana. Bananas are full of fructose, a natural sugar that comes from fruit. By adding it to your baked oats, you are getting a touch of natural sweetness without having to add any added sugars to your bowl. Let's call this win #1.
Win #2 has to do with the nutritional value of the banana. If you throw in an average 7-inch banana into your oatmeal, you're getting 12% of your daily potassium (422 milligrams) and 3 grams of fiber. Plus, you're getting a generous boost of vitamin C, vitamin B-6, and magnesium. So let's put it this way, if you're looking to add something sweet to your oatmeal, brown sugar can't offer you the same nutritional value, you know?
And this brings us to win #3: Bananas include pectin—a water-soluble fiber that can assist in your baking. Pectin helps to thicken a substance, hence why people love to throw bananas in bread and other baked goods. By adding it to your oatmeal, not only is it sweetening your oatmeal, but it's also thickening it to give it that banana-bread-like texture you love.
How you can add bananas to your oatmeal.
We shared a clever baked oatmeal recipe over on TikTok, but we'll share our recipe for you here as well. The key to the perfect baked oatmeal is to blend your ingredients before baking. Then when your baked oats come out of the oven, it's like a little mini cake for breakfast—but healthy! And who wouldn't want to eat cake for breakfast?
Here are the ingredients you'll need:
1/2 cup oats
1 banana
1 egg
1/4 cup oat milk
2 Tbsp honey
2 Tbsp peanut butter
1 tsp vanilla extract
1/2 tsp baking powder
1/2 tsp cinnamon
Pinch of sea salt
To make the recipe, blend up the ingredients. Pour the mixture into a small oven-safe dish, then bake at 350 degrees for 22 minutes. Top with extra fruit, and enjoy!
More Oatmeal Stories on Eat This, Not That!