Top Chef Richard Blais Swears By These Cooking Tips
The celebrity chef shares his go-to cooking tips with Eat This, Not That!
Professional chef and restaurateur Richard Blais has never been one to shy away from taking risks in the kitchen. While he became well-known for his use of molecular gastronomy (aka food science) by utilizing non-traditional techniques and ingredients—like liquid nitrogen—the Top Chef star and Next Level Chef co-host actually keeps it pretty simple in his own kitchen.
"…There's always a lot of curiosity as to how intense or complicated or intricate professional chefs cook at home," Blais tells Eat This, Not That! in an exclusive interview. "The answer is, spoiler alert…not very complicated."
As he continues to spread his culinary knowledge, the James Beard-nominated cookbook author will be bringing his passion for food to the kitchens of home chefs through a free virtual fall cooking demonstration in partnership with Albertsons Companies. On September 10 at 9 a.m. PT/12:00 p.m. ET, Blais will be whipping up three of his go-to brunch recipes with the help of his two daughters, Riley, 14, and Embry, 11. The menu includes coconut milk mochi banana pancakes, a mushroom, truffle, ham, and cheese omelet, and an avocado toast bar.
Beyond sharing his favorite easy meals, Blais has several expert tips in his back pocket that can elevate even the simplest of dishes. Read on to learn how you can step up your home cooking, and for more, check out How Neil Patrick Harris & David Burtka Conquer Family Mealtime.
Use acid to "wake up" a dish's flavors.
While most people know that adding salt, fat, and spices to a meal can enhance the taste, one lesser-known trick that Blais swears by is incorporating some sort of acid, such as vinegar or citrus.
"A couple drips of vinegar in that pasta sauce, a little squeeze of lemon or lime over that taco really, really takes it…to the next level," he says.
With vinegar being one of his kitchen staples, Blais emphasizes the importance of having different flavors besides the traditional red and white wine varieties. For instance, in his own home, he's been using a strawberry vinegar and notes that this condiment could be used to dress up a beet salad.
Take advantage of seasonal produce.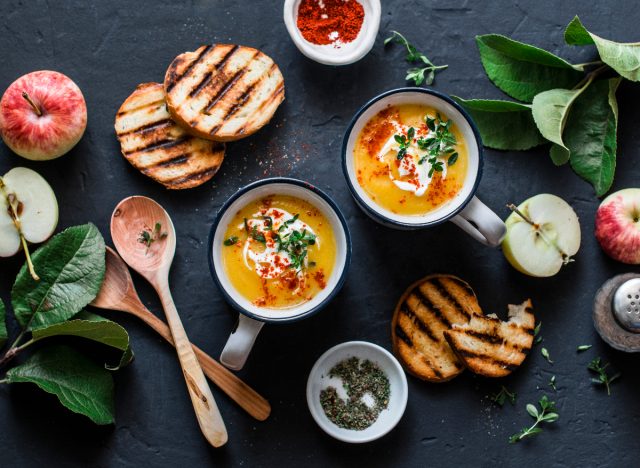 With summer ending in less than two weeks, fall ingredients are about to be in full-force. For Blais, that means cooking up the classics. This includes butternut squash, caramelized apples topped with granola and a scoop of yogurt or whipped cream, and crispy Brussels sprouts tossed in dressing.6254a4d1642c605c54bf1cab17d50f1e
Additionally, while cauliflower may not be thought of as a typical fall food, it's recently had a major presence in the chef's kitchen. Blais explains how he'll roast a whole head of cauliflower in a cast-iron skillet and call it "pot roast," a move that he refers to as "presenting vegetables as if they're the main character—[like a] big roast on the table."
Make simple ingredient swaps to create healthier meals.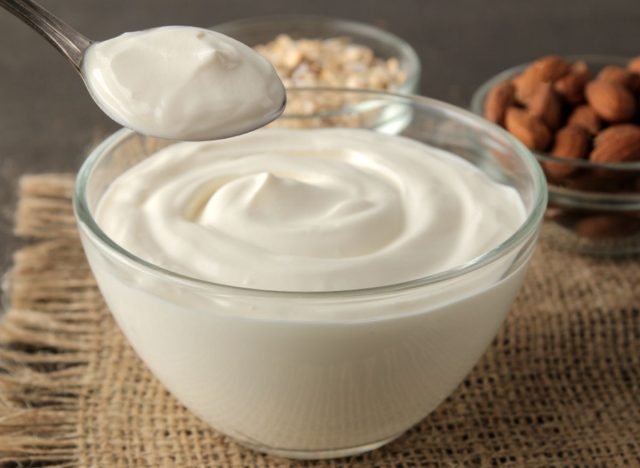 When it comes to healthy eating, Blais is all about making simple recipe swaps. This could mean using plant-based protein instead of animal meat, coconut milk instead of buttermilk, or yogurt instead of milk, heavy cream, sour cream, or mayonnaise, he explains.
"We use cream and we use milk and we use sour cream, but like I said, when we can make that swap-out, we like to," he says. "And then, because it's creative, you get to taste different things and then also, potentially, there are health benefits with some of those."
Another tried-and-true ingredient for the culinary star is ghee—also known as "clarified butter." Unlike traditional butter, ghee is made by heating up butter until the water and milk solids evaporate. In addition to its various health benefits, the slightly nutty-flavored spread has a higher smoke point than butter, which means it can cook at hotter temperatures without burning.
Incorporate natural sweeteners to cut down on sugar.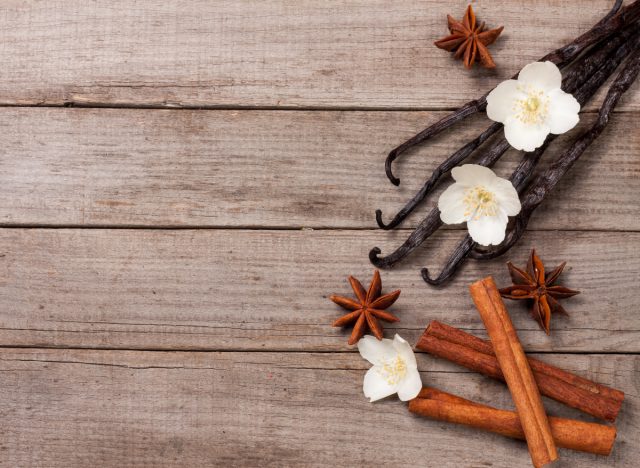 A key element of Blais' family's eating habits is being mindful of their sugar consumption. One way the chef decreases the sugar content in desserts is by using natural ingredients that give off the essence of sweetness, such as vanilla and cinnamon.
"Those things aren't sweet, but when I say 'vanilla,' you probably think 'ice cream.' When I say, 'cinnamon,' you probably think 'donuts,'" Blais says. "But the more of these [foods] that we associate with sweetness can help us back off some sugar in some recipes."
Brianna Ruback
Brianna is a staff writer at Eat This, Not That! She attended Ithaca College, where she graduated with a degree in Journalism and a minor in Communication Studies.
Read more about Brianna