35 Easy Swaps That Make Every Meal Healthier
Employ these tiny diet tweaks that add up to a major difference on the scale.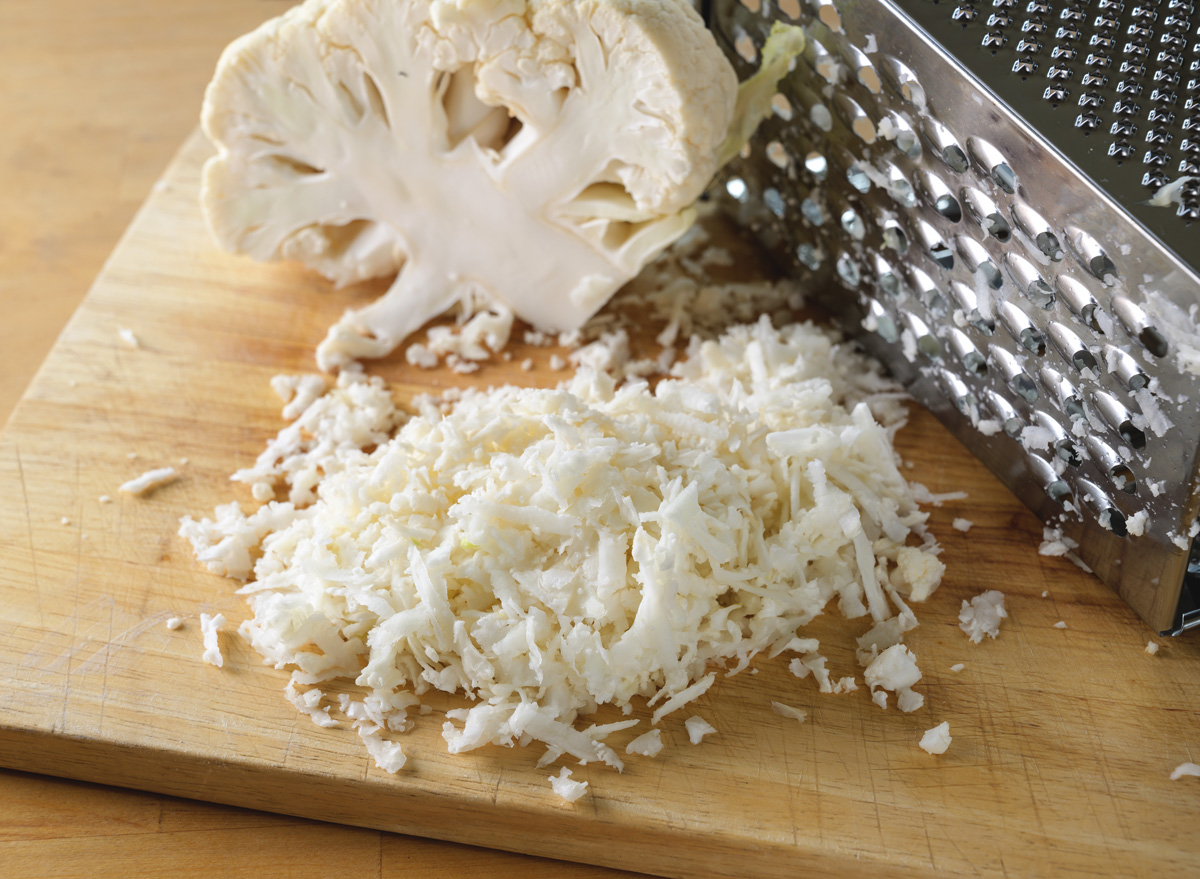 If you love the idea of losing weight and improving your health, but you feel less than enthusiastic about dieting to make it happen, you're definitely not alone. According to data from the market research firm NPD Group, 50 percent of people say that they'd like to lose weight, but only 25 percent of people actually do anything about it (like by dieting). If that sounds familiar, resist the urge to throw in the towel! There are a number of easy swaps you can make throughout the week that will help you eat healthier and save you hundreds and thousands of calories—without leaving you feeling deprived.
These easy, delicious swaps will help you stay on track at breakfast, lunch, and dinner—and during snack and dessert time, too! Not only will you painlessly save tons of calories and see a difference on the scale, but you'll also be taking in more nutrients every time you dine, too. Read on, and for more on how to lose weight, you won't want to miss The Best Ways to Lose Belly Fat for Good, Say Doctors.
Replace Egg Whites with Whole Eggs
To eat the yolk or not to eat the yolk? That's the age-old question. Thanks to recent science, however, we finally know the answer. As it turns out, eating whole eggs is far healthier than sticking to the whites. That's because the yellow contains a fat-fighting nutrient called choline, so opting for whole eggs can actually help you trim down!
Replace Flavored Oatmeal with Unsweetened Oatmeal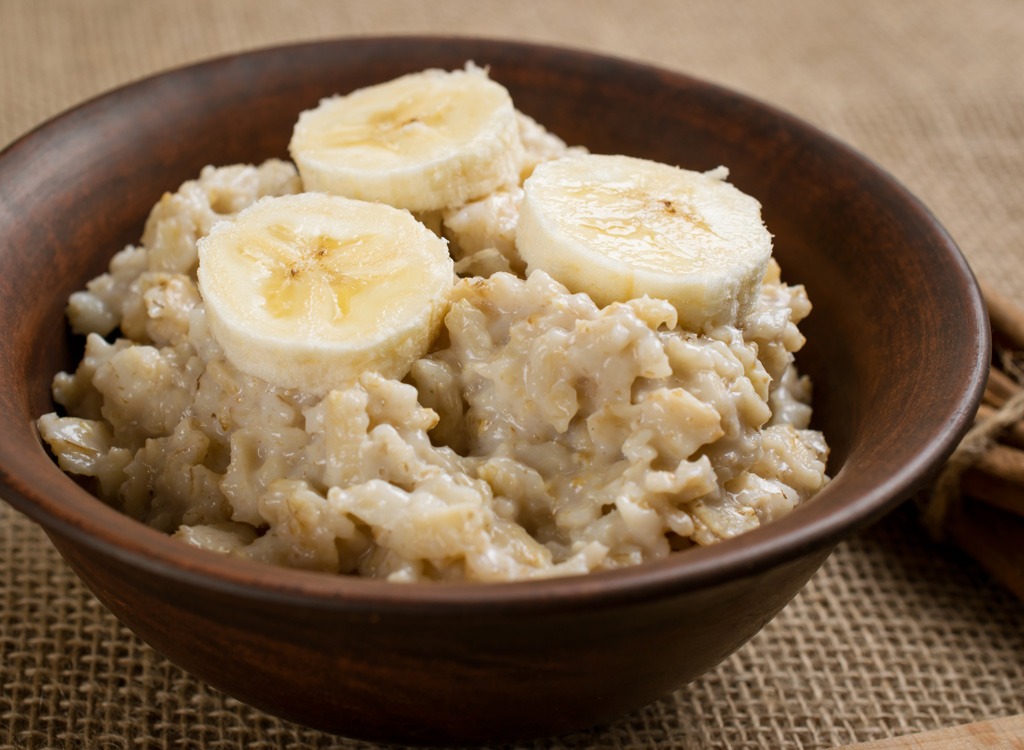 Sure, there are a few exceptions to the rule, but generally speaking, instant, flavored oatmeal is a chemical and calorie landmine—and one that's been stripped of its wholesome nutrients. To dial back on the excess sugar and additives, zap some rolled oats with some water in the microwave and top with some cinnamon, nuts, and light drizzle of honey for added flavor. If you're more of the set-it-and-forget-it type, overnight oats may be an even better solution for you.
Replace Granola with Nuts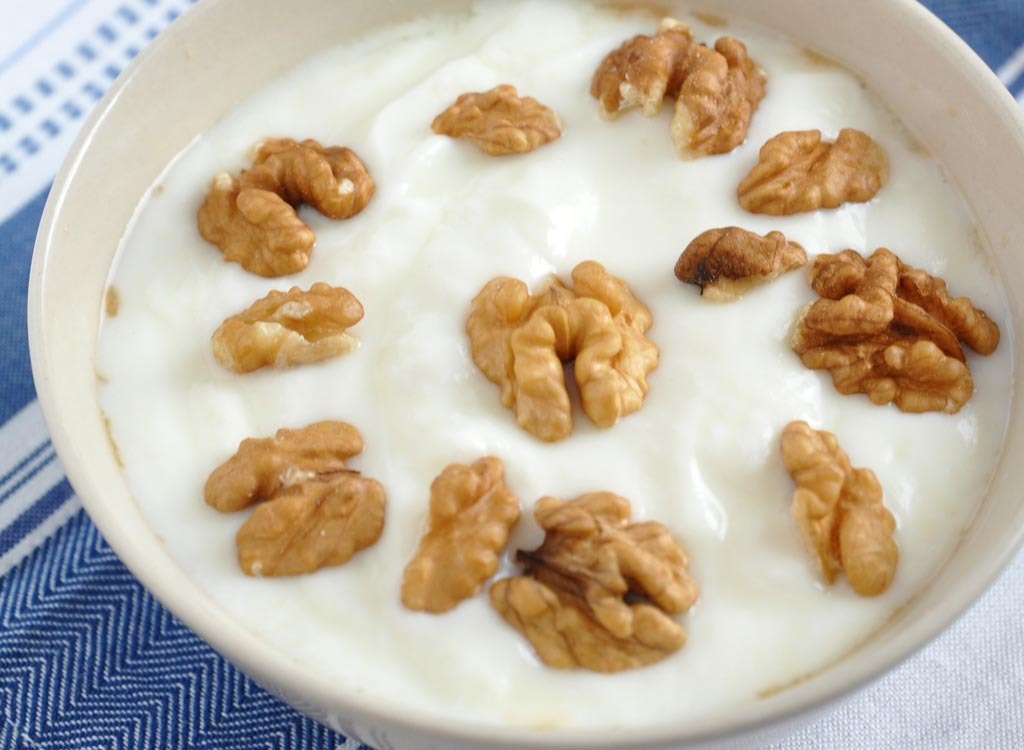 While granola may seem like an innocent yogurt topper, it's almost always loaded with added sugar. To get the crunch you crave without the extra calories and sugar, top your yogurt with some nuts instead. And if you need a bit of added sweetness, drizzle on a teaspoon or two of maple syrup or honey.
Replace Jam with Smashed Avocado
If you typically kick off your day with jam-topped toast, you're missing an opportunity to consume some filling and healthy nutrients. Instead of your go-to fruit spread (which is often filled with added sugar), mash half an avocado on top of your toast, drizzle with some lemon juice, and top it off with a slice of tomato. The green fruit's fiber and cholesterol-lowering monounsaturated healthy fats will keep you full and satisfied well into the afternoon—especially when it's paired with an egg or two.
Replace Cheese with Veggies
Whether you kick off your day with an egg sandwich or an omelet, swapping cheese for veggies is an easy way to dial back on sodium, fat, and calories. Spinach, tomato, and onion fare well on sammies, while just about any combo of veggies will taste great in stove top eggs. To cut back on the time spent slaving in the kitchen before work, chop up the veggies ahead of time so you just need to toss them onto the stove in the a.m. For even more ways to save time when you cook, don't miss these 20 One-Minute Dinner Hacks That Save Tons of Time.
Replace Creamer with Organic Whole Milk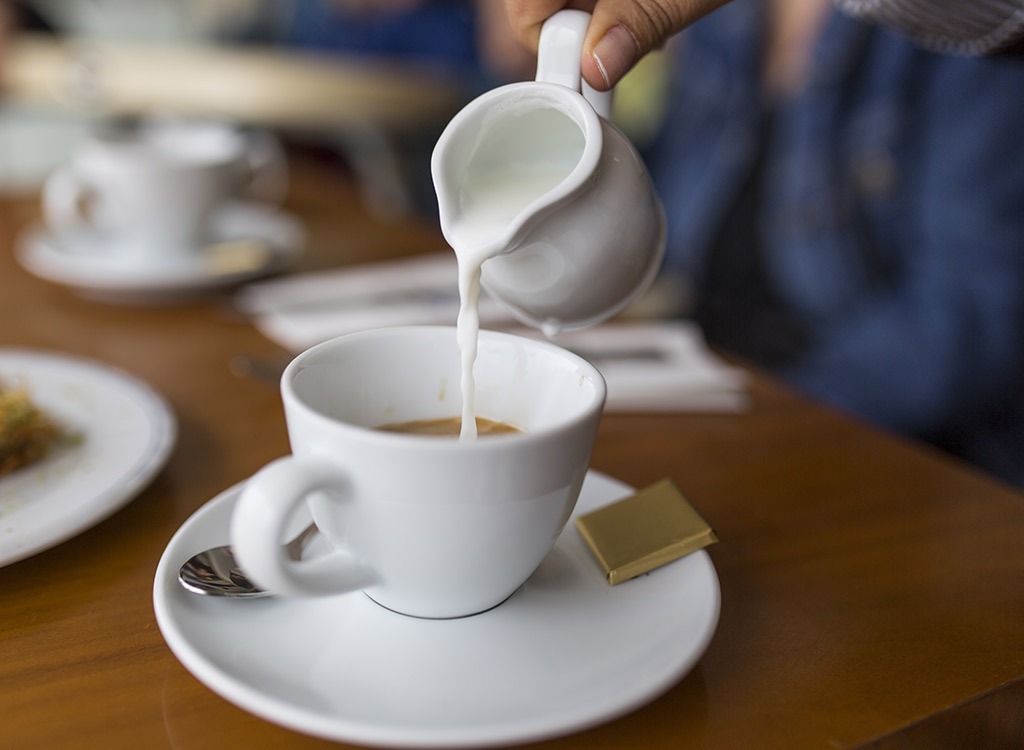 Not only are traditional creamers made with a nasty combination of water, sugar, soybean oil, and corn syrup, they typically contain carrageenan, a stabilizer that's linked to inflammation. The news keeps on getting worse: one serving is considered one tablespoon. An average, unmeasured pour equals four times that amount. So, what you think of as 35 calories, 1.5 grams of fat, and 6 grams of sugar is actually 140 calories, 6 grams of fat, and 24 grams of sugar. Add a second cup, and you've already exceeded the maximum recommended daily sugar intake of 40 grams. The healthier move? Pour in a small amount of a natural creamer or better yet, go with organic whole milk and a bit of cinnamon for flavor. The calcium in it can help counter the calcium-robbing aspects of the caffeine, and it's a great way to get vitamins A, D, and B12 (which are vital for bone health). Just be careful with what you're putting into your coffee: 7 Things You Should Never Add to Your Coffee.
Swap Bagels for English Muffins
Do your best to resist your neighborhood deli; there's nothing smart about this a.m. pick. One bagel is equivalent to roughly four slices of nutrient-void white bread. Not only is this morning staple super caloric, but it's also missing nutrients like fiber and protein to keep you energized through the morning. The healthier pick? Ezekiel 4:9 Sprouted Whole Grain English Muffins—or any whole-grain English muffin, really. They serve up the starchy goodness you crave for a fraction of the calories and come stocked with about 3 grams of fiber and 4 grams of filling protein.
Replace Sausage with Bacon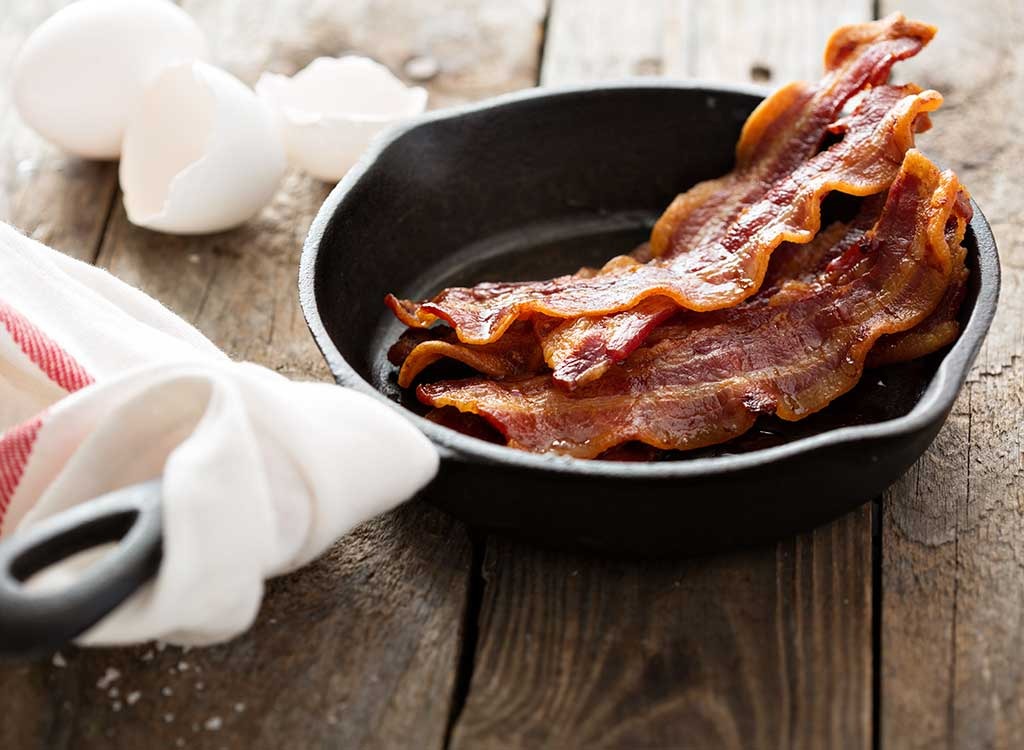 Surprising fact: Gram for gram, sausage is actually healthier than bacon. But since bacon is easier to eat in moderation (it's cut much thinner and absorb less oil than sausage), we suggest swapping your daily serving of processed cylindrical meat for a single strip of pan-fried bacon, which has just 43 calories and 3 grams of fat.
Instead of a Mimosa, Sip a Bloody Mary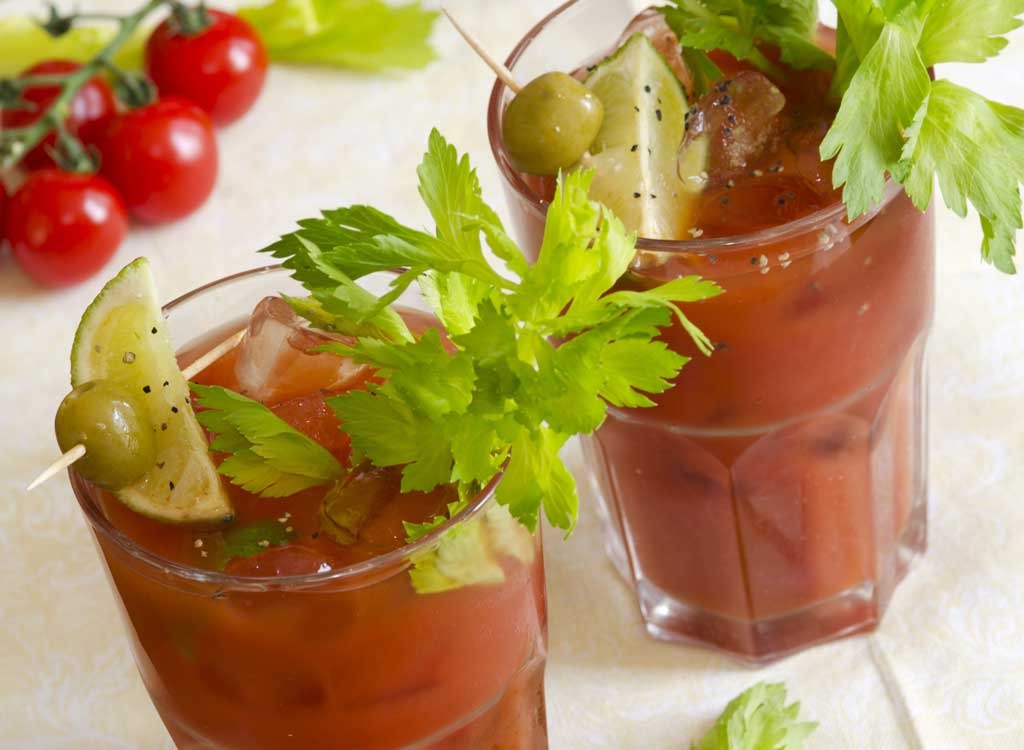 While a mimosa is made with sugary juice, a bloody mary is low in calories and comes with healthy add-ons like celery. "It's a better brunch option than a mimosa because it has around 125 calories, less sugar, and vitamin C, potassium, and vitamin A from the tomato juice," says celebrity nutritionist Lisa DeFazio, MS, RDN. If you're in the mood for a second to wash down your meal, order a virgin bloody. The taste profile is pretty much identical, and you'll save yourself from excess calories and a hangover, too. And while you have breakfast on the mind, find out The 30 Best Breakfast Habits to Drop 5 Pounds!
Replace Creamy Soup with Chili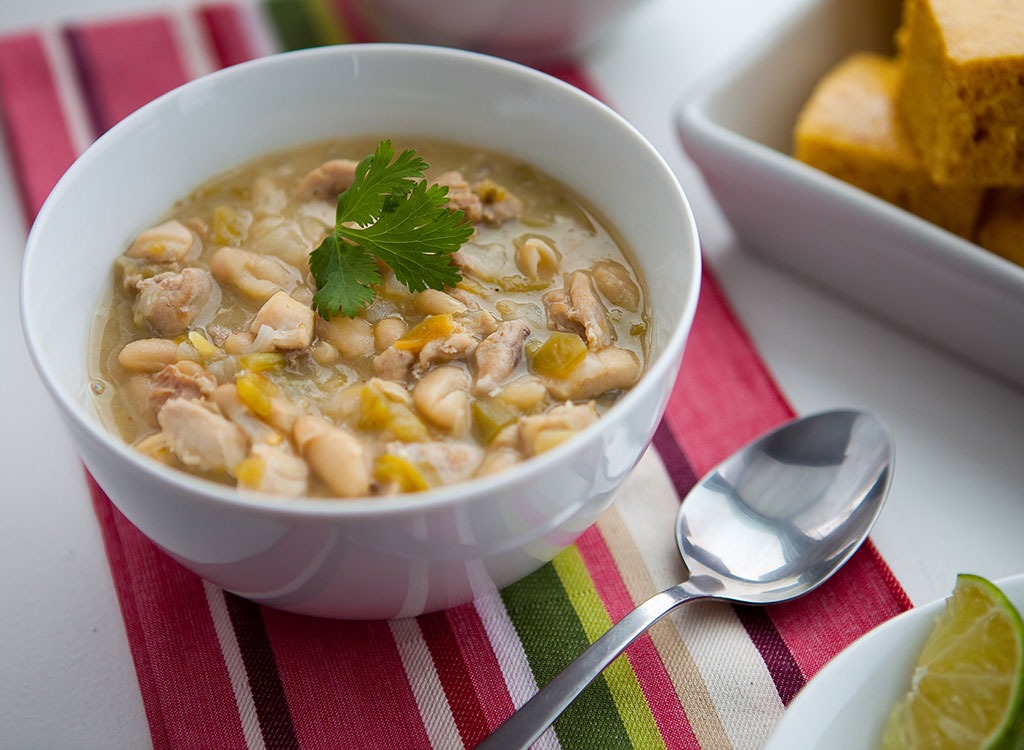 Always avoid soups that are cream-based. Instead, choose recipes and cans that rely on pureed, vegetable, chicken broth, or meat and beans as a base; this will help to cut back fat and possibly even calories, says registered dietitian Isabel Smith. Chili is an ETNT favorite because provides loads of fiber and protein while remaining hearty and comforting. For some of our favorite renditions of the dish, check out these 20 Chili Recipes to Keep You Warm This Season.
Swap Burritos for Bowls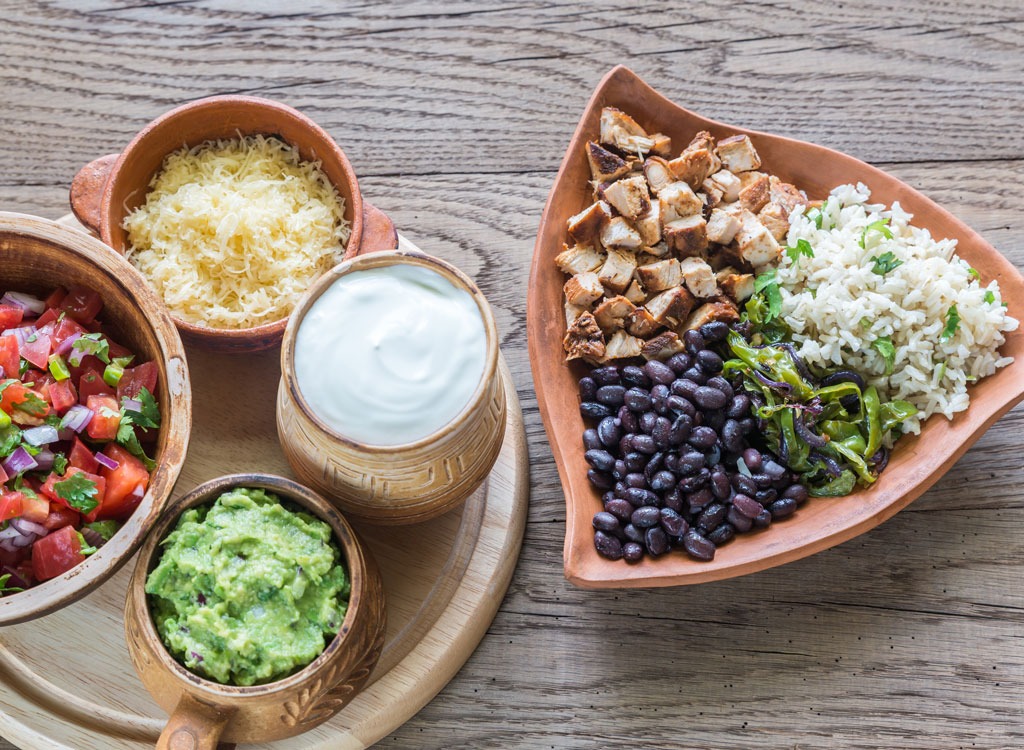 Depending on the size of the tortilla, a flour-based wrap could tack up to 470 calories and 98 grams of carbs on to your order. To get the flavor you crave—without overdoing it—opt for a bowl instead. Load it up with tons of veggies, go light on the rice, and choose salsa over sour cream to ensure a healthy meal.
Instead of a Flour Tortilla, Use a Corn Tortilla
Can't handle the thought of ditching your tortilla? Ask for the corn variety. They have half the calories and twice the fiber of their flour counterparts.
Replace Mayo with Hummus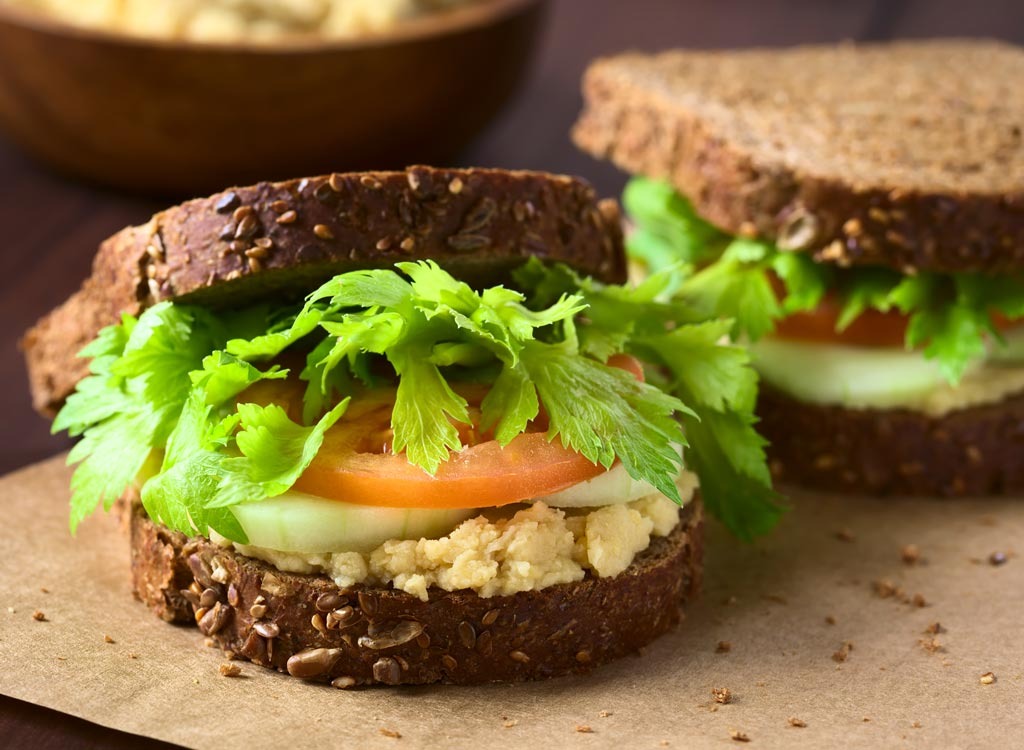 If you typically bring a sandwich from home for your daily lunch, you should seriously consider ditching the mayo. A tablespoon of the stuff has 95 calories and 10 grams of fat. Chickpea-based hummus, however, has 25 calories, 1.4 grams of fat, and 1.2 grams of protein per tablespoon. Plus, it contributes far more flavor to your meal than humdrum mayonnaise.
Swap Fries for a Side Salad
The small order of spuds that you grab with your burger at McDonald's tacks on an extra 230 calories to your meal. Our suggestion? Swap out a side salad dressed with Newman's balsamic to save 180 calories. While the nutritional stats will vary depending on where you're grabbing your lunch, you can be certain grabbing a salad instead of an order of fried spuds will almost always be the smarter choice. Just be sure to go light on the dressing so your bed of greens doesn't transform from a nutrient-packed side into a calorie landmine.
Swap Fat-Free Dressing for Regular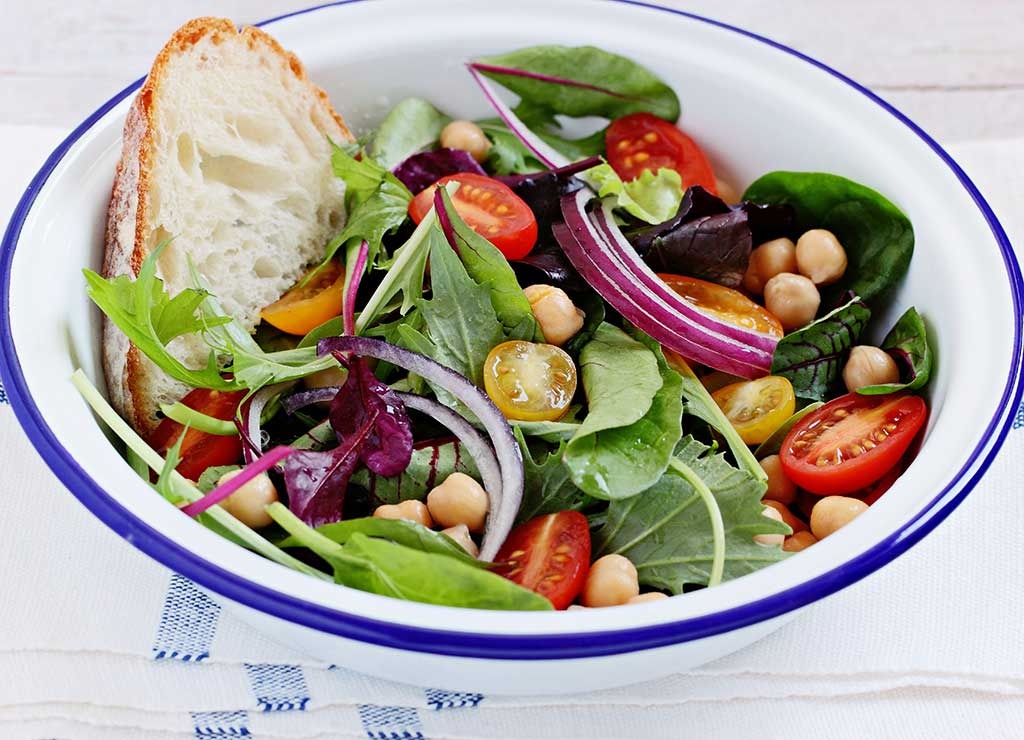 Vitamins A, D, E, and K are all great fat-soluble vitamins commonly found in salads. But your body won't be able to absorb these valuable nutrients unless they're accompanied by a source of healthy fat. That said, you're actually doing your body a disservice by drizzling on fat-free dressings. If you really can't deal with the thought of going for a full-fat dressing, look for one that's low in sugar. When companies strip fat from their products, they tend to add sugar to the recipe to make up for the flavor. Most salad bottles will do, but to make it easier for you to shop, we put together this guide: 10 Healthy Salad Dressing Brands to Buy (and 10 to Avoid).
Replace Chips With Fruit, Veggies or Popcorn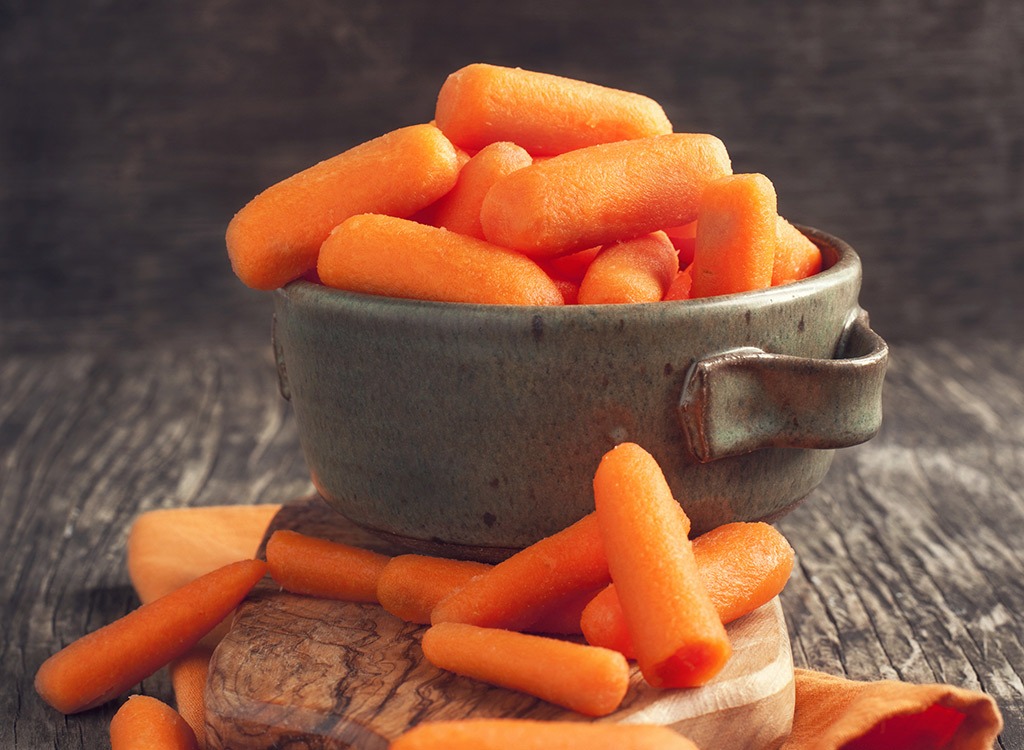 Do you usually pair your sandwich or salad with a snack-sized bag of chips? It's time to drop that habit like it's hot. Nutritionally speaking, chips don't bring much to the table. Plus, there are far healthier and more filling options out there that are just as portable—and pack far fewer calories. Baby carrots, fruit, and popcorn (which is a healthy whole grain) are all better-for-you choices we approve of.
Replace Low-Fat Cheese with Goat Cheese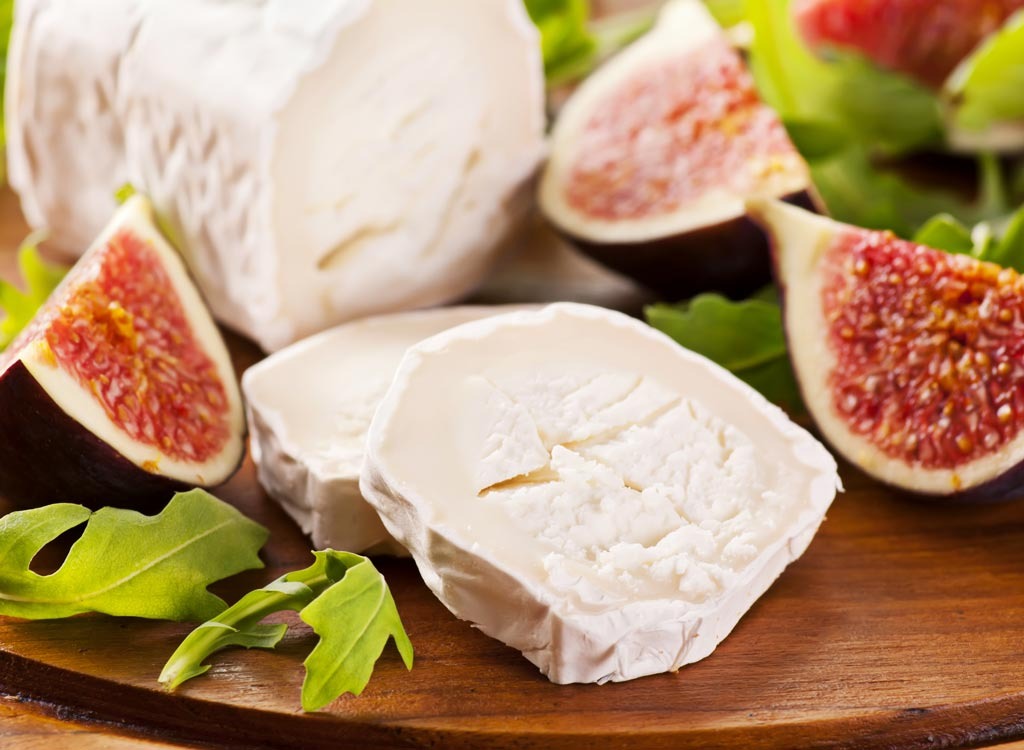 While full-fat dairy is more caloric, it's also more filling. That may help explain why participants who ate the fatty stuff during a study were less likely to be obese than those who stuck to low-fat dairy. Which, by the way, is often filled with additives and preservatives. To get the most bang for your caloric buck, go for fresh goat cheese or feta. They contain conjugated linoleic acid (CLA), a type of fat that reduces heart disease and cancer risk and may help your body burn more fat. Cheese that can make you skinny?! Um, yes, please!
Swap Candy for Homemade Chocolate Trail Mix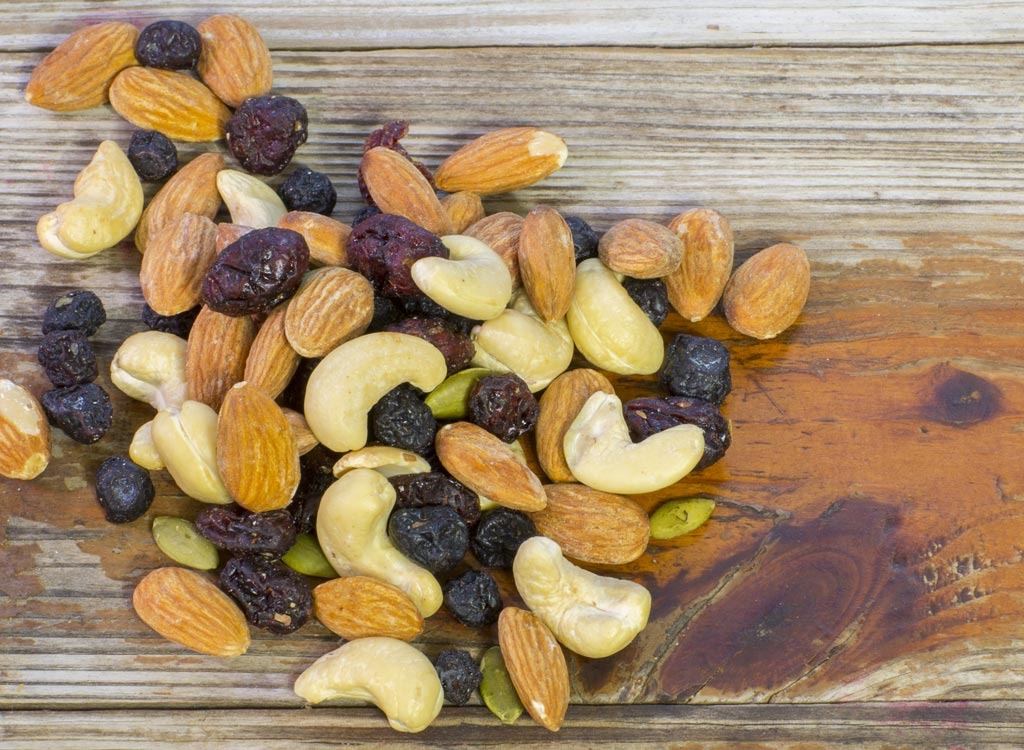 Hungry and craving chocolate? The last thing you should do is grab a Snickers—or any other piece of chocolate for that matter. The key to snacking healthy while satisfying a nagging sweet tooth is to make chocolate one of many ingredients rather than the main event. This allows you to incorporate loads of nutrition while saving calories and still getting the creamy, sweet flavor you crave. At the beginning of the week, combine plain popcorn with raw nuts (we like almonds and cashews), along with unsweetened dried fruit and dark chocolate chips. To ensure you don't overdo it with your homemade trail mix, measure out half-cup servings and store in snack-sized bags in your desk drawer. This ensures you'll have a snack teaming with whole grains, protein, fiber, healthy fats, and chocolate (!) whenever hunger strikes.
Trade Potato Chips for Jicama or Kale Chips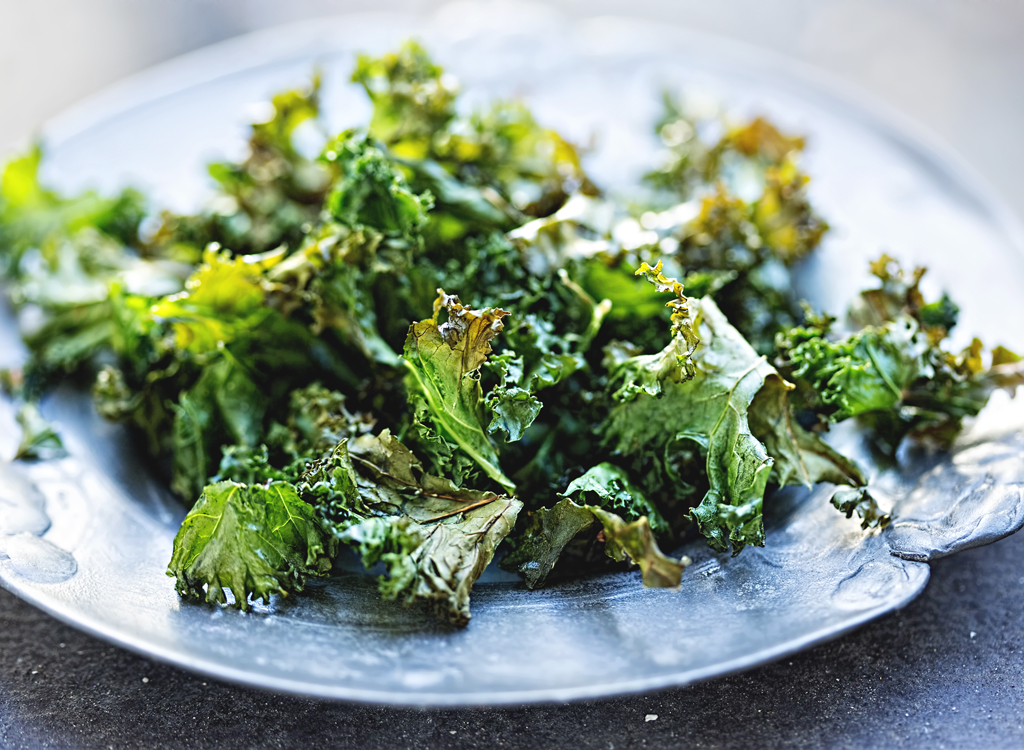 For those with a major salt tooth, giving up chips may seem near impossible. But with so many great chip alternatives out there, this so isn't the case. To put things into perspective, a snack-sized bag of Lay's has 160 calories, 10 grams of fat, 1 gram of fiber, and 2 grams of protein. A similar-sized bag of jicama chips has just 100 calories and 1.5 grams of fat and serves up an impressive 5 grams of fiber and 2 grams of protein, making it the clear winner. Although they don't look anything like a classic potato chip, kale chips are also a smart and tasty alternative.
Replace Hummus & Pita with Hummus & Veggies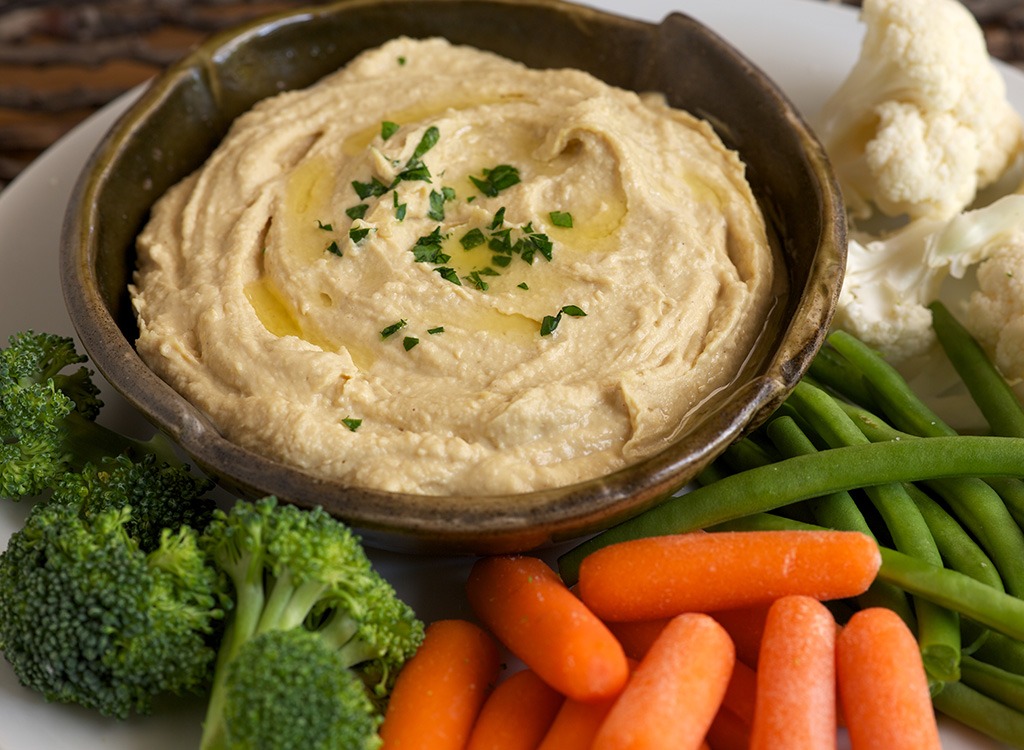 Pita loves to pretend that it's a healthy snack, but all it takes is one look at its nutritional panel to see that it's not all that different from white bread. Ditch the bread and enjoy your snack time hummus with some fresh veggies instead. They are far lower in calories and provide a wide variety of nutrients that your body needs to stay healthy. Pick the right tub: 7 Best Healthy Hummus Brands to Buy, According to Dietitians.
Ditch Muffins for Croissants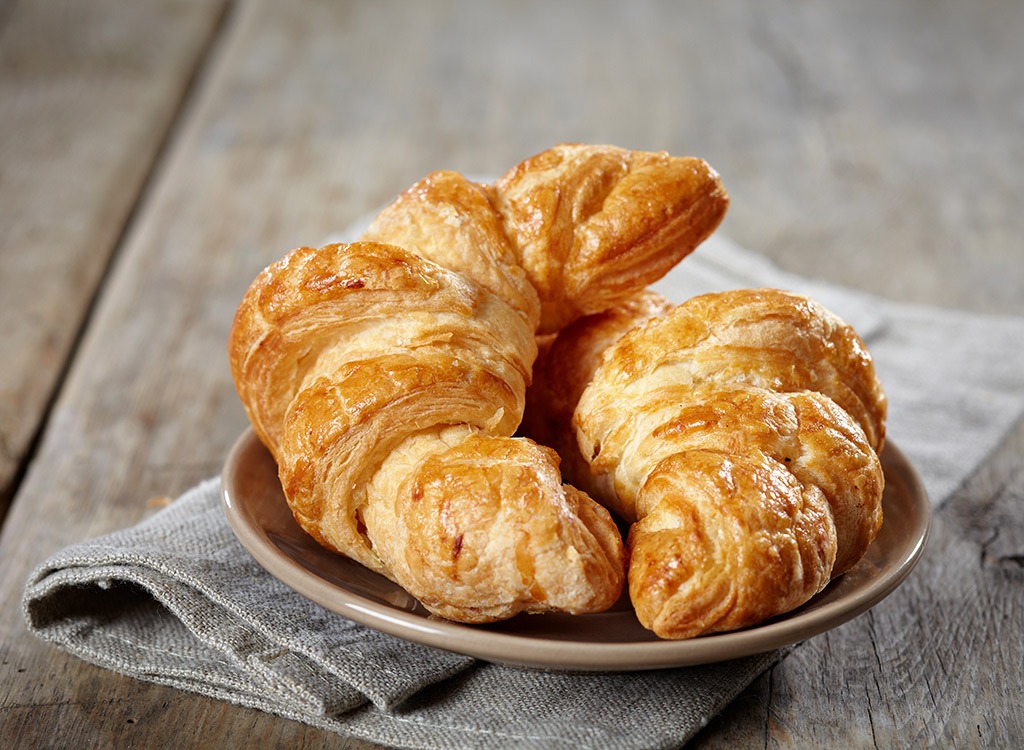 Typically power through the 3 p.m. slump with a cup of green tea and a pastry? Believe it or not, you'll actually save yourself about 250 calories by reaching for a croissant instead of a muffin.
Swap Fruit Drinks for Whole Fruits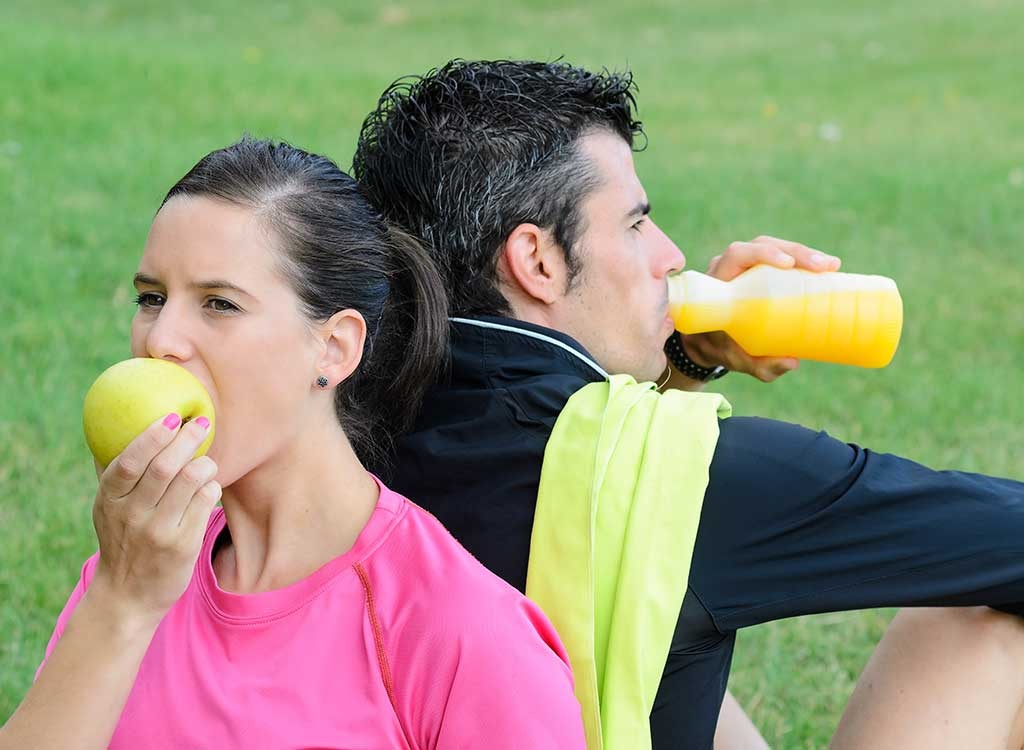 Whole fruit has more fiber (a nutrient that can lower heart disease risk and help control weight) and fewer calories than the juice that's squeezed from it, making it the smarter pick.
Ditch Conventional Beef for Grass Fed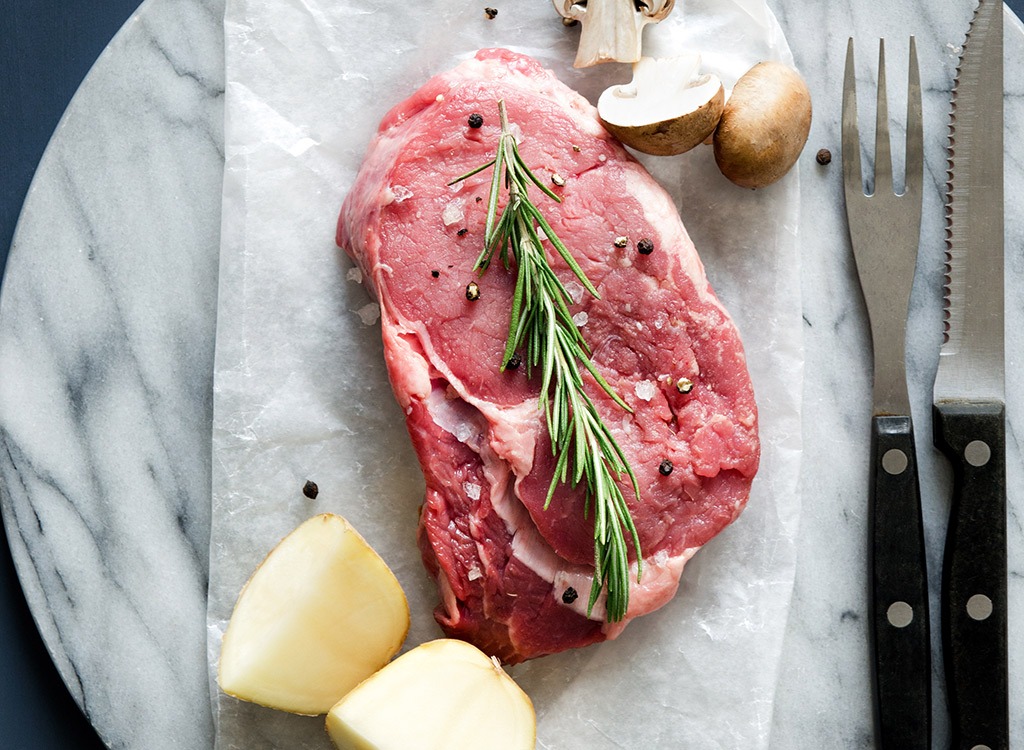 When it comes to steak or burgers, go grass-fed. The reason: Grass-fed beef is naturally leaner and has fewer calories than conventional meat. A lean seven-ounce conventional strip steak, for example, has 386 calories and 16 grams of fat. But a seven-ounce grass-fed strip steak has only 234 calories and five grams of fat. Grass-fed meat also contains higher levels of omega-3 fatty acids, according to a study published in Nutrition Journal, which have been shown to reduce the risk of heart disease.
Replace Pasta with Spaghetti Squash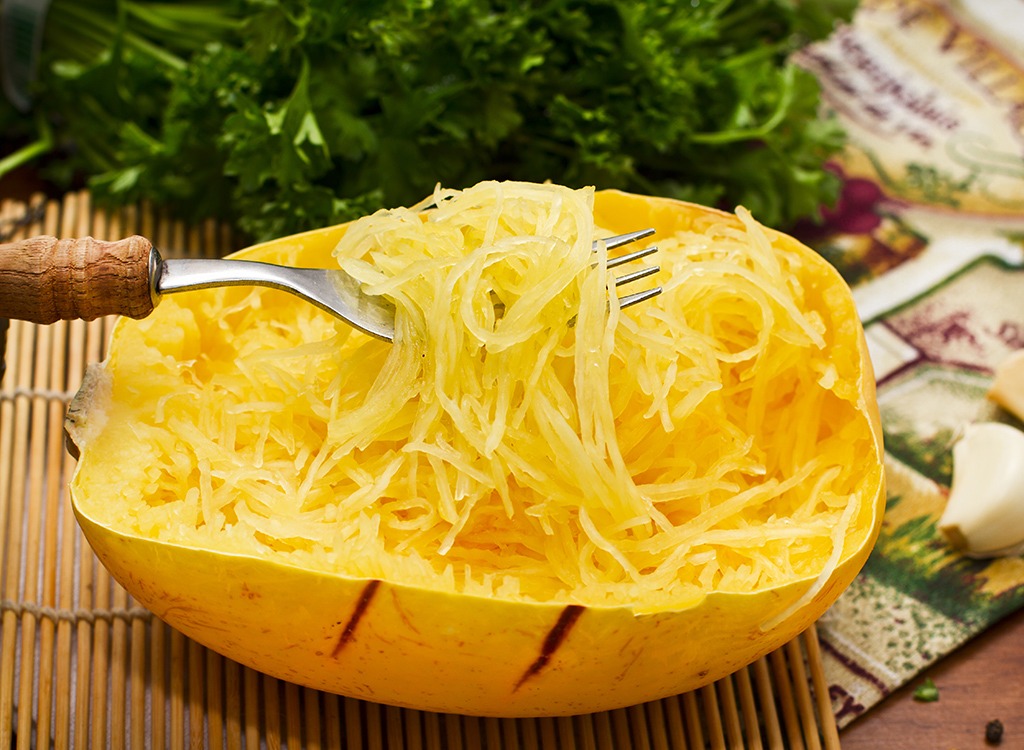 Instead of dumping a box of highly-refined spaghetti into a pot of boiling water, bake up a spaghetti squash. You'll increase the number of veggies you eat and slash calories in the process. The string-like squash has only 31 calories per cup, which is 169 calories fewer than a cup of semolina spaghetti!
Replace Sushi Rolls with Sashimi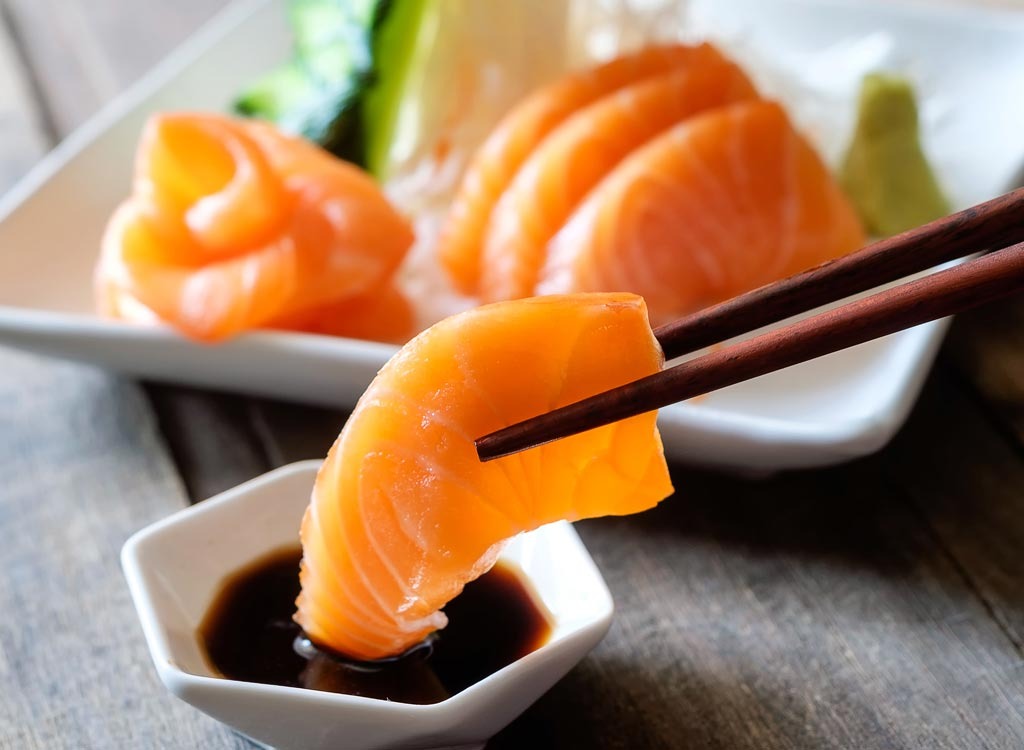 6254a4d1642c605c54bf1cab17d50f1e
By ordering sashimi—raw fish without the rice—you'll slash calories and ditch the empty carbs. Pair buri (wild yellowtail tuna) or wild salmon sashimi with an order of edamame or a seaweed salad for a well-rounded, filling, and flavorful meal.
Replace Rice with Riced Cauliflower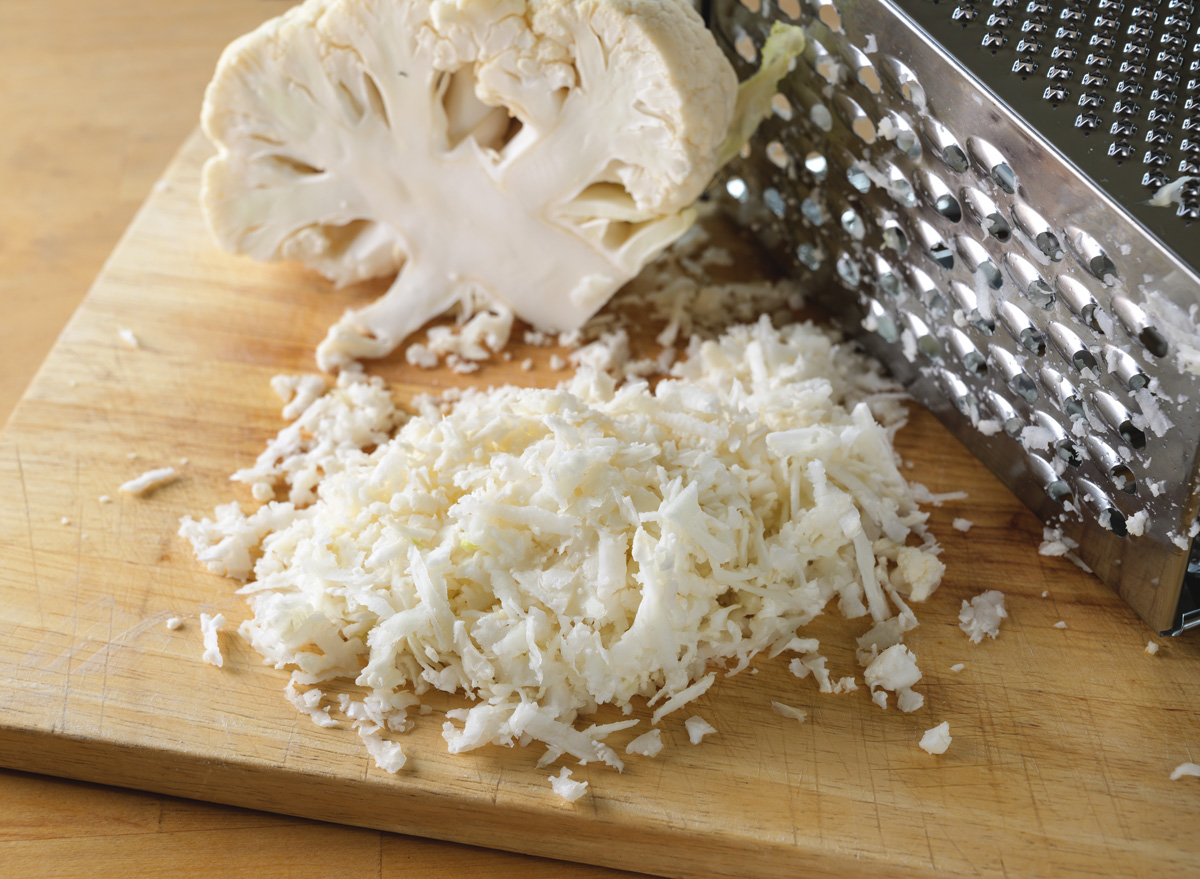 One of the perks of being a cauliflower is being super low-carb and low-calorie. This trending crucifer is making its way into all of your favorite recipes: pizza, mashed potatoes, and even fried rice. Grating a cup of cauliflower to use in your rice recipe instead of using highly-refined and nutrient-deficient white rice will save you 145 calories per cup. Pretty impressive, right? For even more easy ways to slash calories, don't miss our report on 36 Easy Ways to Cut 50+ Calories.
Ditch Sour Cream for Greek Yogurt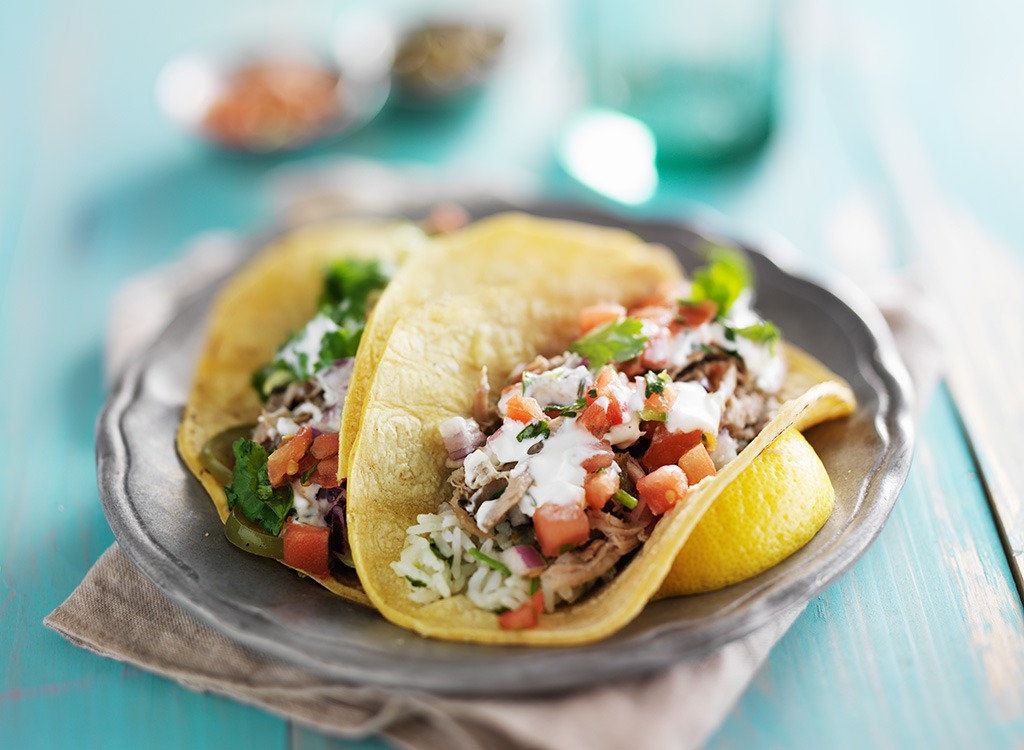 Instead of topping your chili and tacos with sour cream, mix some Greek yogurt with cilantro and taco seasoning for some added flavor and use that instead. It will save you calories and fat and add some additional protein to your plate. That's what we like to call a win-win!
Swap Regular Crust for Thin Crust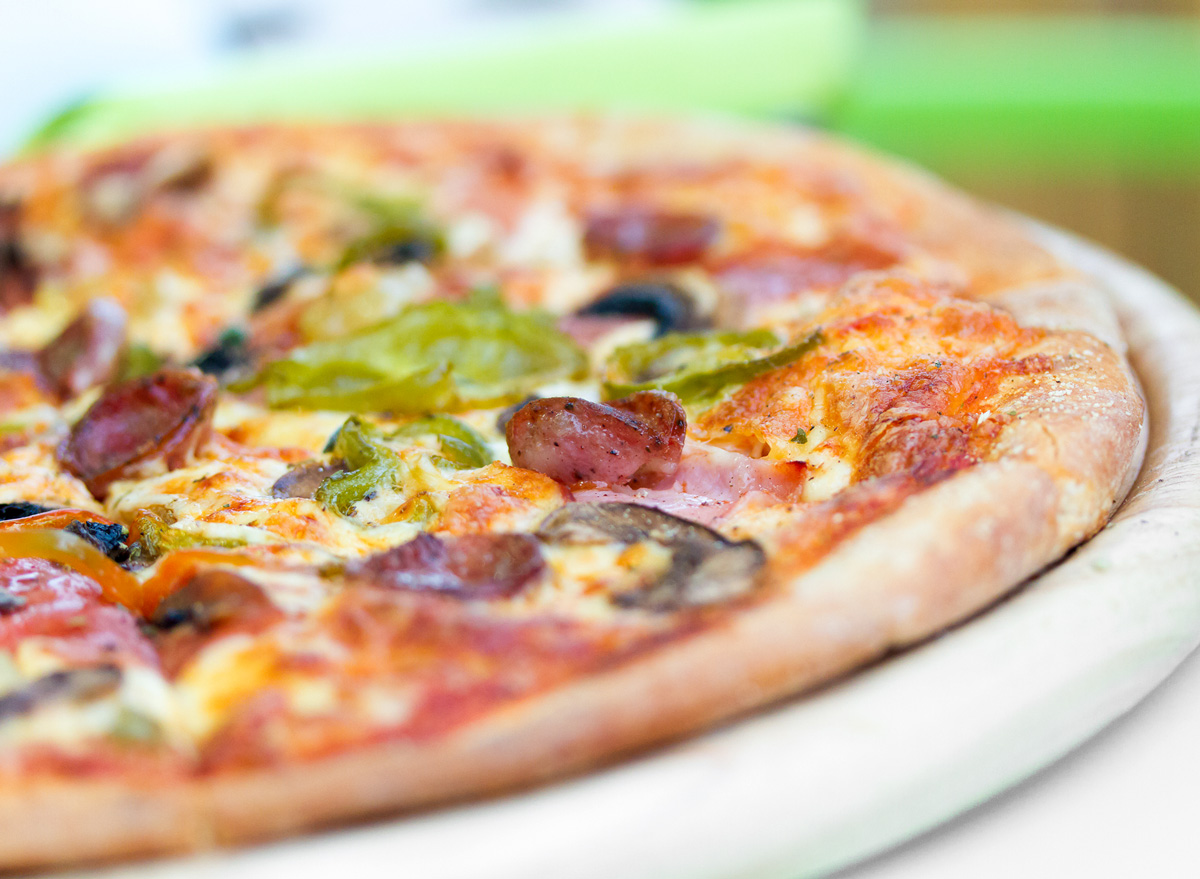 Most of the evils of pizza lie in the crust. Aside from being stacked with calories, pizza crusts are basically void of any nutrients. And that's because most pies are made from refined white flour, which will spike your insulin levels and cause you to crave more and more. The bottom line: The less crust you indulge in, the better, so opt for thin-crust over regular, deep dish, or stuffed crust.
Replace Ice Cream with "Nice" Cream
"Nice cream"—a creamy dessert that resembles ice cream but is made entirely with frozen bananas and any added toppings—is the perfect way to satisfy your sweet tooth while you slim down. To make it, simply add two frozen bananas to a blender with a tablespoon of unsweetened cocoa powder and blend until you reach that creamy consistency of soft-serve ice cream. Spoon into a bowl and freeze for about 15 more minutes. Half of this recipe serves up 110 calories whereas 1/2 cup of Ben & Jerry's chocolate therapy ice cream is 250 calories. Don't feel like rolling up your sleeves and making something from scratch? Get your hands on some of these top-ranking diet ice creams.
Ditch Milk Chocolate for Dark Chocolate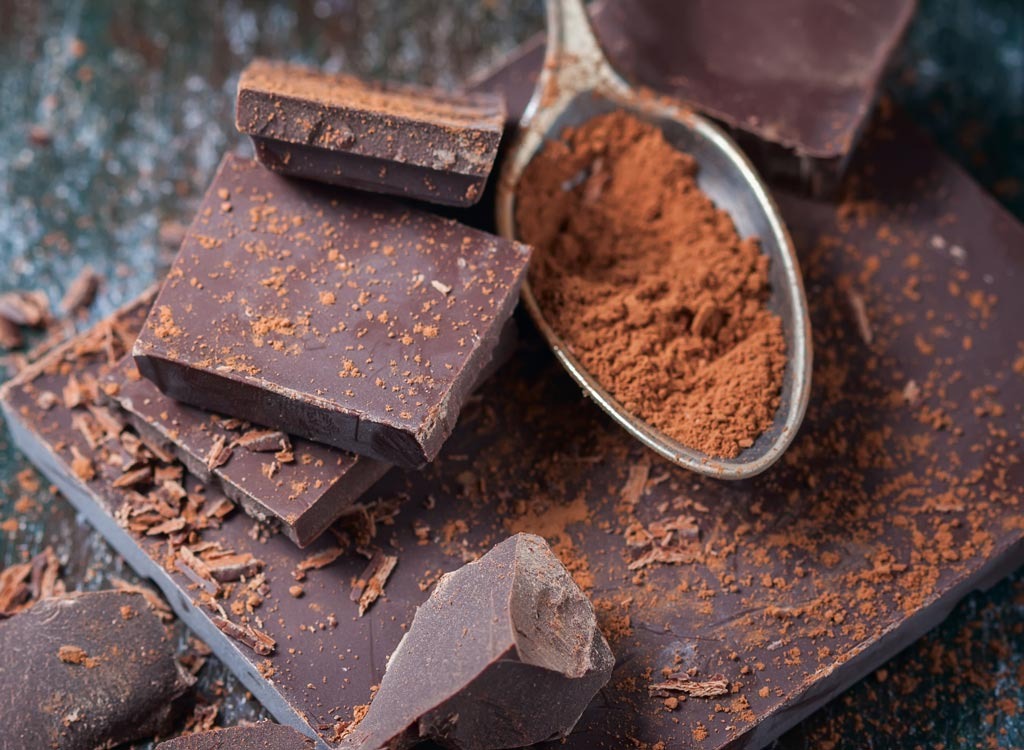 "Flavanols are plant-based nutrients and are more prevalent in dark chocolate than in milk chocolate," explains Maria-Paula Carrillo, MS, RDN, LD. Cocoa flavanols in cocoa have been shown to help lower blood pressure, improve blood flow to the brain and heart, and fight cell damage, according to a Harvard review. However, too much of anything can lead to weight gain, so be very adamant about portion control! "Buy individually-wrapped dark chocolate pieces, and choose to have one or two as a dessert," Smith suggests.
Swap Cake Pans for Muffin Tins
You don't have to give up your favorite desserts in the name of weight loss. You just have to eat them in moderation. And when it comes to portion control, muffin tins are your new best friend. Instead of making a batch of brownies in an 8×8 pan (which you're bound to go fork first into) make them in pre-portioned muffin tins, which will make it far easier to indulge in just one. Better yet, after you've made a batch of muffin tin treats, wait for them to cool, pop them out, and put each one in a small Ziplock bag, and toss them in the freezer. This way, you'll have to put in some work before you can dig into seconds. Which, in most cases, will be enough to deter you from going back for more.
Replace Sugar with Cinnamon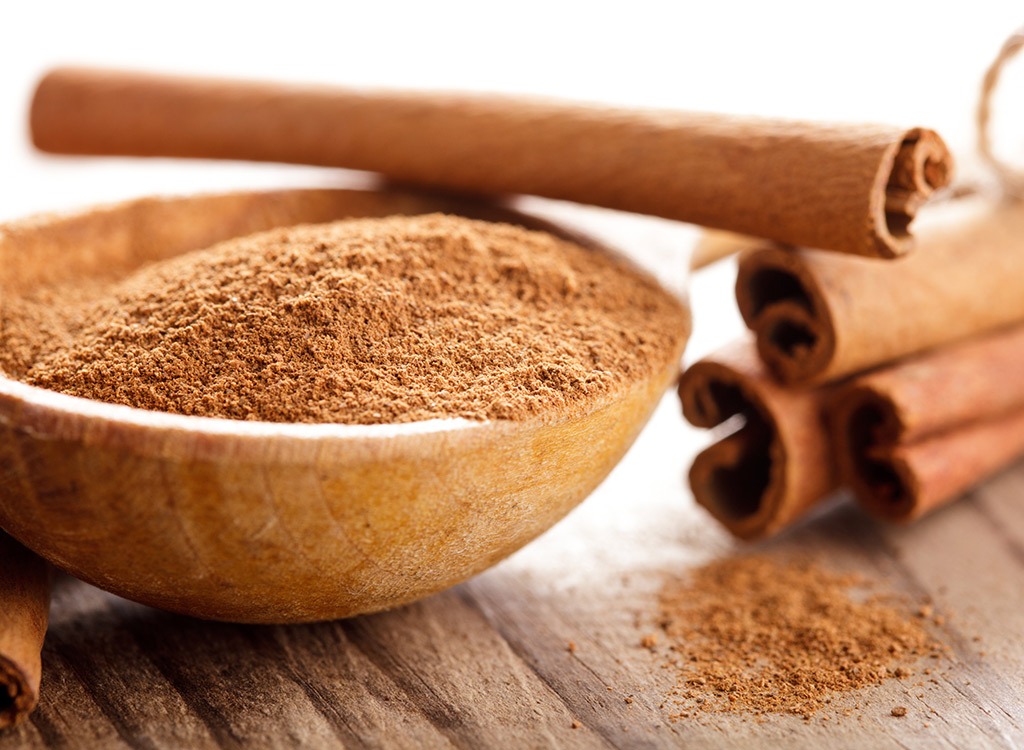 When a recipe calls for sugar, you have to think fast about how you can still get great flavor without all the belt-busting ingredients. Spices are a great way to do just that. Using spices like cinnamon or nutmeg instead of excessive amounts of unnecessary sugar is a great way to get tons of flavor without the extra calories (or the blood-sugar spike). For even more ways to bake your way skinny, don't miss these 16 Hacks and Tips for Healthy Baking.
Swap Cookies for Energy Balls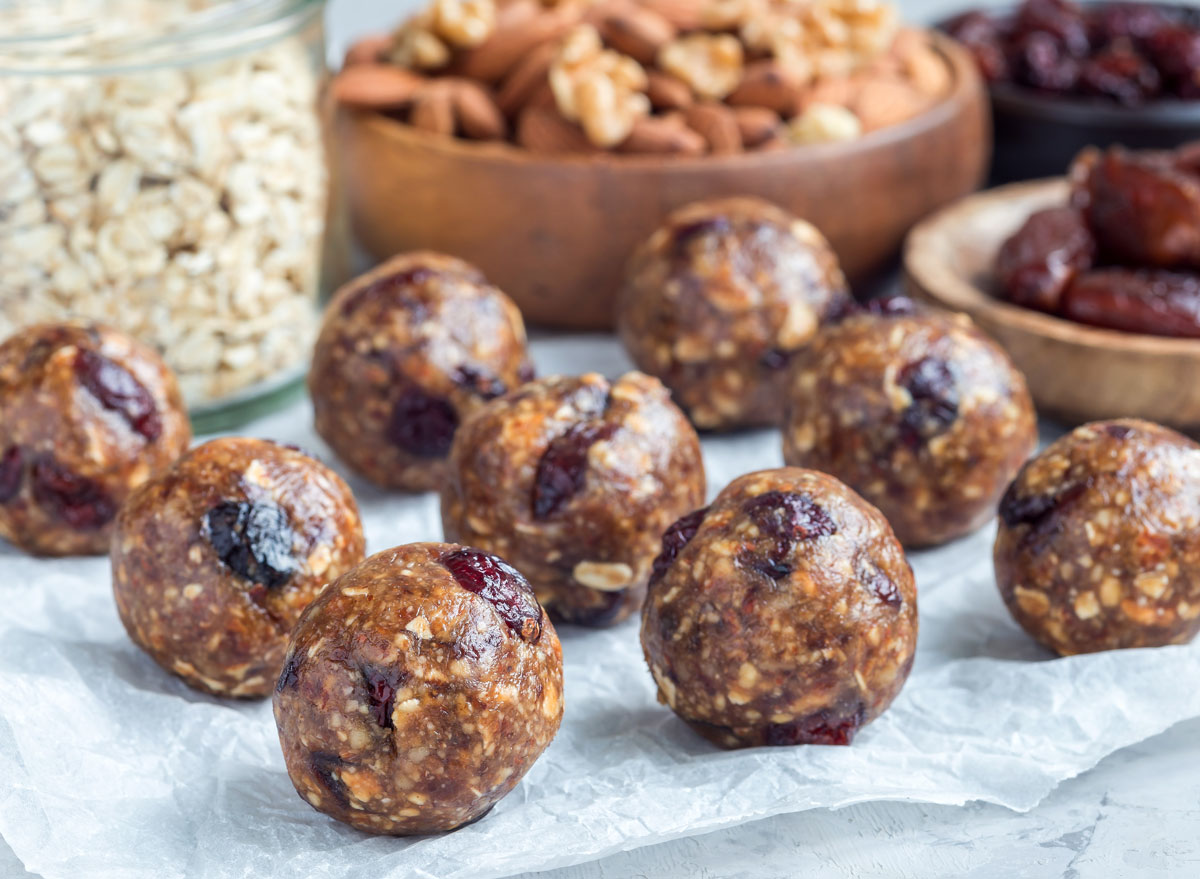 If cookies are your dietary vice, dial back on the calories and refined sugar by whipping up a batch of energy bites instead of your usual sweet treats. The best part? They don't need to be baked! Check out these 25 Recipes for Energy Bites that Live Up to the Hype and give a few of 'em a go.
Replace Sugar with Applesauce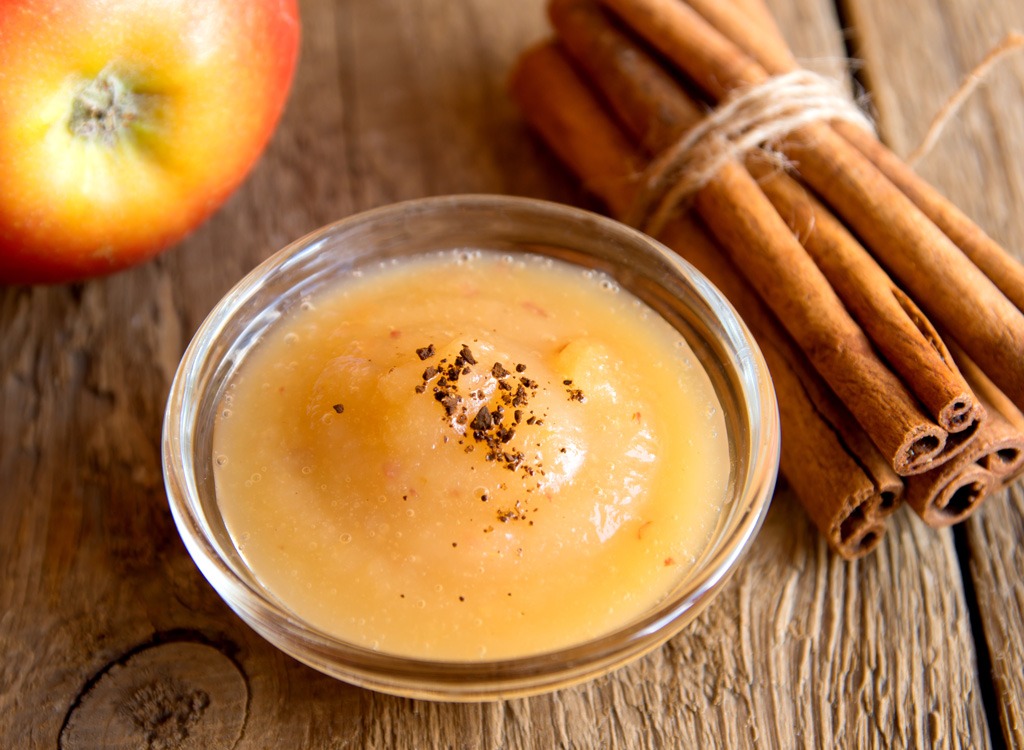 Whether it's in cakes, brownies, or cookies, you can substitute unsweetened applesauce for sugar in a 1:1 ratio in your baking recipe. (Pro tip: You will probably need to reduce the amount of other liquid in your recipe.) One cup of sugar has more than 770 calories whereas the same amount of unsweetened applesauce has only 100. Depending on the serving sizes of what you're making, you could easily save anywhere from 20 to 250 calories.
Swap Gummies for Organic Fruit Leathers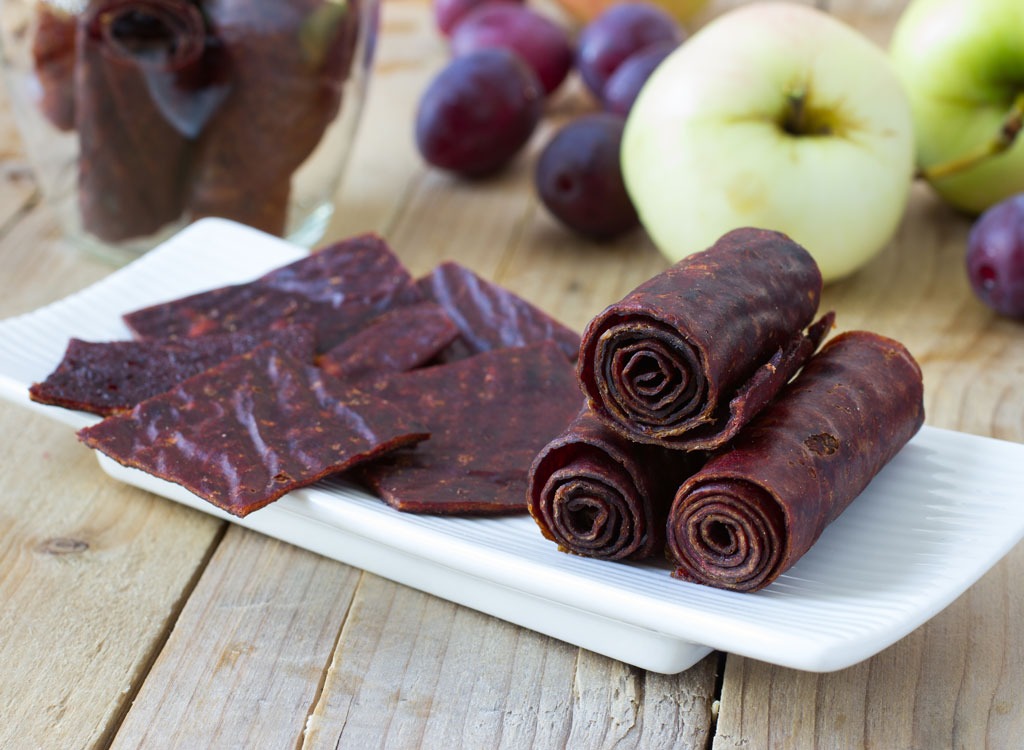 Although we can't deny that they're delicious, store-bought gummies are nothing more than gelatin mixed with sugar and food dye. So, needless to say, they're far from nutritious. Next time you get a hankering for the fruity treat, either make your own gummies (check out our collagen recipes) or get your hands on a fruit leather made solely from fruits and veggies.
Eat This, Not That!
Inspired by The New York Times best-selling book series, Eat This, Not That! is a brand that's comprised of an award-winning team of journalists and board-certified experts, doctors, nutritionists, chefs, personal trainers, and dietitians who work together to bring you accurate, timely, informative, and actionable content on food, nutrition, dieting, weight loss, health, wellness, and more.
Read more about Eat This