17 Fall & Winter Foods That Are Super Good for You
These nutrient-dense foods thrive in cold weather—and they posses powerful nutrients to boost your health.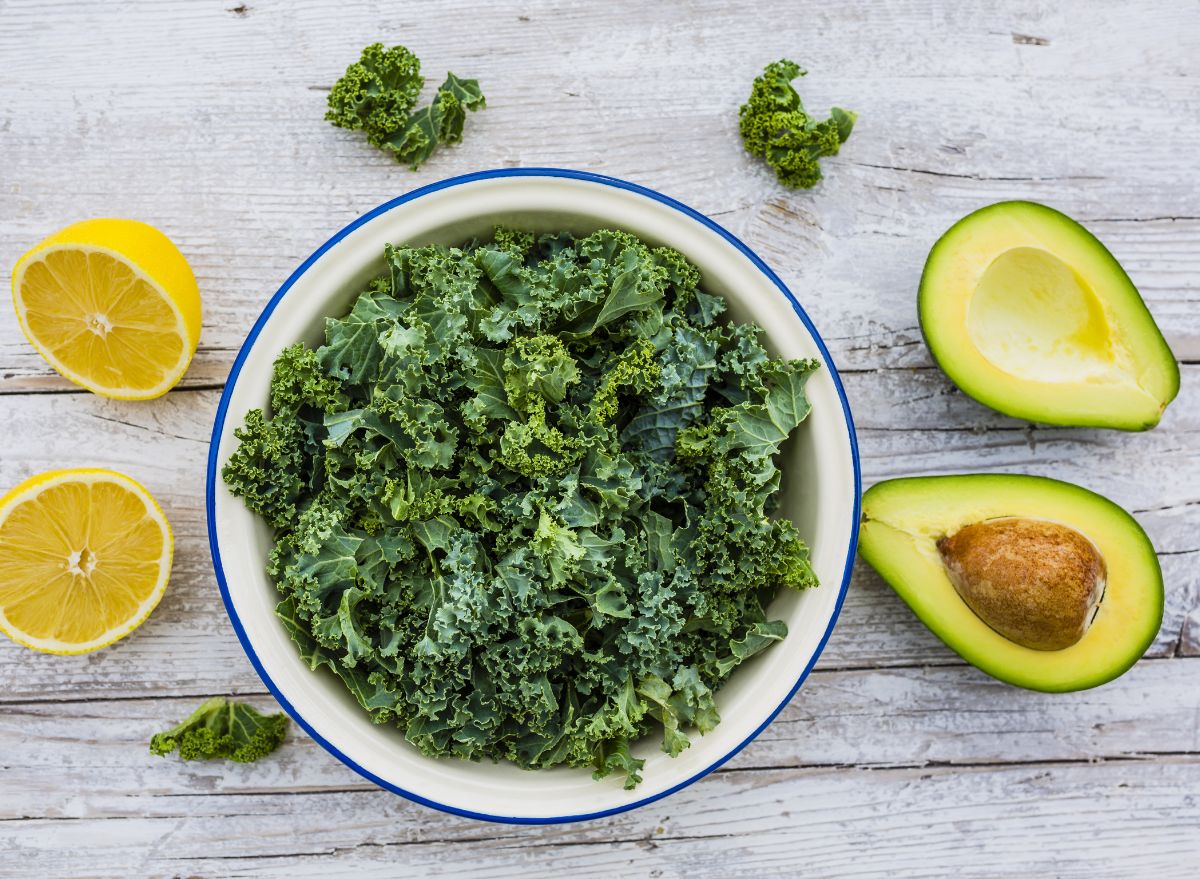 When the cooler months roll around, we lose more than just a few hours of daylight—all the fresh fruits and vegetables of summer disappear, too. If you're mourning the loss of your favorite summer superfoods, we feel your pain (we'll miss you, blueberries and tomatoes). But we do have some good news: the cold season is also full of winter superfoods.
All winter superfoods pack a serious nutritional punch and are just waiting to be worked into your favorite cold-weather recipes.
What is a superfood, anyway?
Let's back up for a sec…what qualifies as a "superfood"? Is there an official definition?
Nope, not really—at least not in any scientific sense. According to registered dietitian Sarah Rueven MS, CDN, founder of Rooted Wellness, the term is basically a marketing buzzword used to get consumers to buy more of the types of foods they should be eating. Never thought of cooking with kale? You might once it's been called a "superfood" instead of a plain ol' leafy green vegetable.
That doesn't mean that superfoods don't deliver on their nutritional promises, though.
"Generally, a food is promoted to superfood star status when it delivers ample amounts of vitamins and minerals with antioxidant power, is linked to the prevention of a disease, or is thought to offer several health benefits," registered dietitian Amy Shapiro, MS, CDN, and founder of Real Nutrition tells us.
How (and why) you should eat more winter superfoods.
Before you assume that superfoods must be obscure, expensive, or hard to find outside of specialty stores, rest assured that's simply not the case.
"Walk down the produce aisle at your local grocery store or shop your local farmers market and you'll find what I consider superfoods: non-processed, whole, plant-based foods [that can] supply us with important nutrients like fiber, phytonutrients, antioxidants, vitamins, and minerals," says Rueven.
And if you want to maximize the power of superfoods, it's as simple as buying in-season ones. Buying seasonal superfoods—even the winter superfoods—means they will be:
cheaper, because they are in abundance;
fresher, because they are often harvested at the peak of ripeness;
more environmentally-friendly, because they're harvested from local sources (which decreases the amount of fuel used to transport your food to the store).
and more nutritious than their out-of-season counterparts. "The longer produce sits on the shelves, [the more] nutrient and antioxidant availability can decrease," says Shapiro. "Long transport times and 'expiring' on grocery store shelves seems to dramatically affect the nutrient density of produce."
What are the healthiest winter superfoods you should buy?
Now that you know what superfoods are—and why you should buy them!—you can go shopping. The following 17 winter superfoods are all in-season during the winter months, just ready and waiting on grocery shelves to share their nutritional benefits.
Winter Squash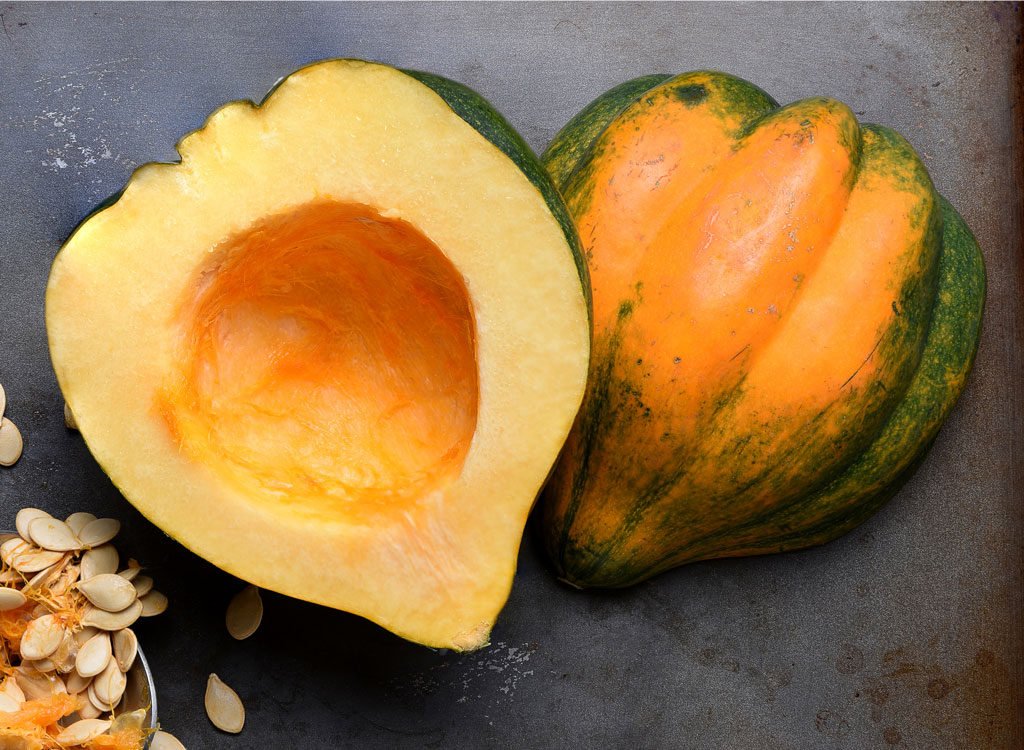 Acorn or butternut, take your pick because both are winter superfoods. Either variety of winter squash is abundant beginning in early fall (and lasts all through winter). Winter squash has plenty of fiber, magnesium, beta carotene, and vitamins C and B6. Plus, eating it may help decrease your blood pressure and cholesterol.
Squash is also super easy to cook with: simply dice, season, and roast in an oven for a flavorful side dish, or use the roasted veggies as a base for a smooth, velvety butternut squash soup spiced with nutmeg and cinnamon.
Ginger
Looking for a natural way to fight off or recover from one of the many nasty viruses that circulate during the winter? Your search ends with ginger, which Shapiro says has been used for centuries to improve digestion, soothe upset stomachs, and boost your immune system. It's often available year-round, but the freshest roots are likely to be those harvested in the winter months.
Ginger is pretty potent when it comes to flavor, so a little goes a long way—but a little also goes great in Asian-inspired dishes like stir fry, or steeped in hot water as a fresh ginger tea.
Kale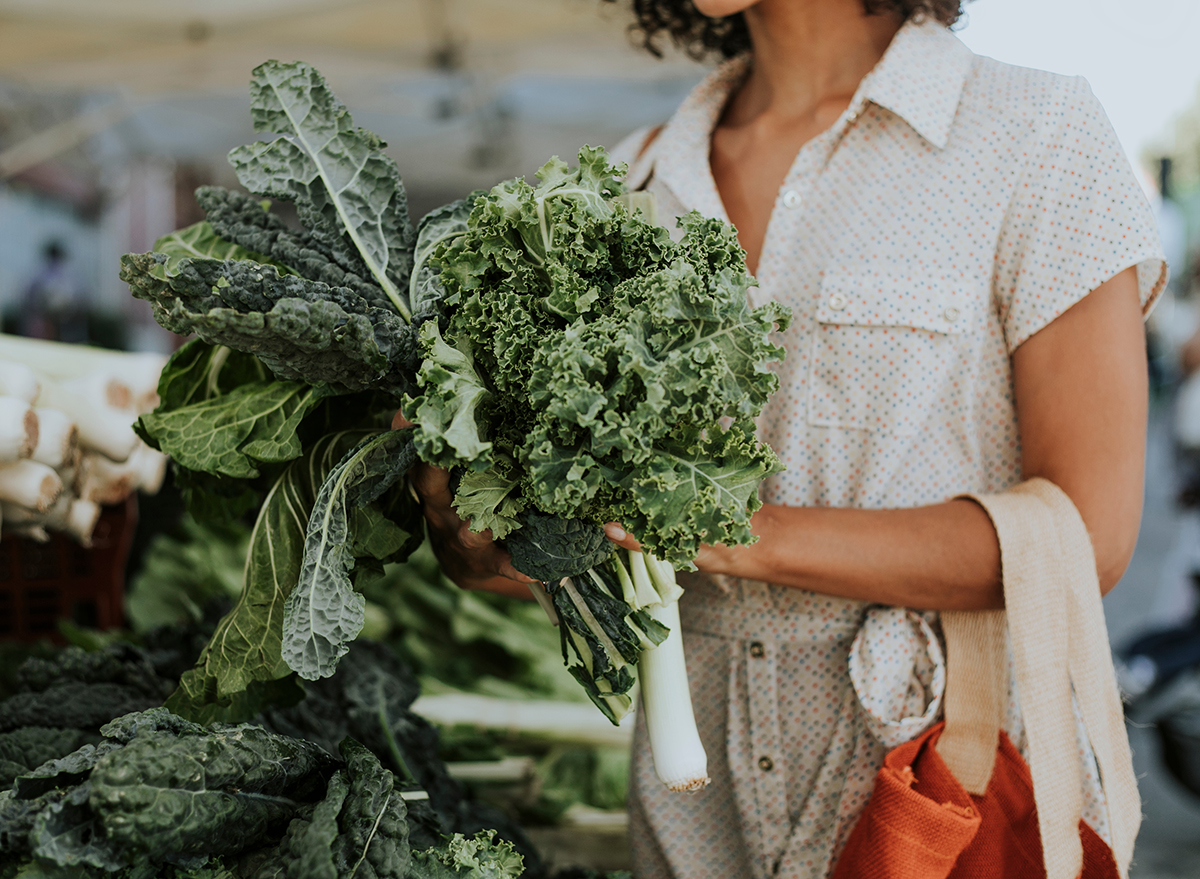 Are you low in potassium? Kale is here to save the day as one of the most versatile winter superfoods.
"Potassium can help reduce blood pressure by removing excess sodium from the body," says Rueven. "In fact, increasing potassium intake might be just as impactful as reducing sodium intake for lowering blood pressure."
Pregnant women should also take note: kale is a great source of folate, a nutrient that helps form the fetal neural tube. A cold-weather plant, it peaks mainly in fall and winter. To add more kale to your diet, swap it out for spinach in your soups, make kale chips, or shred it to make a salad.
Citrus Fruits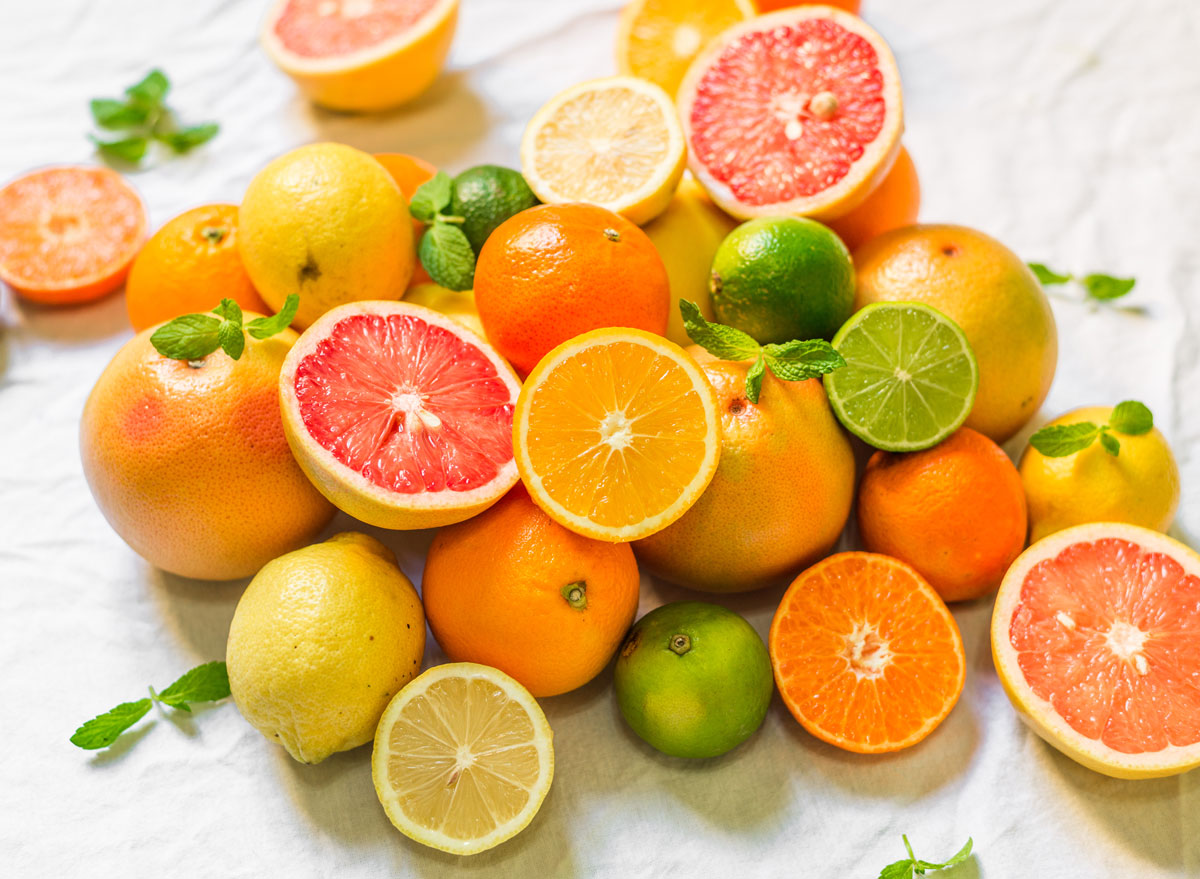 "Citrus fruits are bursting with vitamin C, making them ideal in the winter months when cold and flu season hits," explains Shapiro. She adds that citrus fruits like oranges, grapefruits, and lemons are also high in minerals and phytochemicals, i.e. plant-based chemicals the American Institute for Cancer Research says may help reduce the risk of cancer.6254a4d1642c605c54bf1cab17d50f1e
Navel and blood oranges are ripe during the coldest, snowiest months of the year. Blend the flesh of oranges into your smoothies for a fresh OJ flavor, mix up a grapefruit salad, or add lemon wedges to your afternoon tea.
Apples
Betcha didn't know that apples are a great source of vitamin C, did you? Rueven says that getting adequate vitamin C is key for immune support (super helpful during cold and flu season) and that apples also contain pectin, a soluble fiber that has been shown to help reduce cholesterol levels. Apple season arrives toward the end of summer but often continues well into late fall or early winter, depending on where you live.
"I recommend eating the peel of apples because a large percentage of the fiber and phytonutrients are found within the peel," Rueven says. "My favorite way to eat an apple is as a snack with some almond butter or in a kale salad alongside roasted butternut squash or sweet potato."
Brussels Sprouts
"Brussels sprouts are one of the best winter staples [for both] taste and nutrient density," Shapiro says. These mini cruciferous veggies are high in vitamins K and C, and also contain folate, manganese, potassium, and vitamin B6.
Typically harvested in late fall into winter (you don't see them popping up on Thanksgiving tables for nothing), Shapiro recommends tossing halved Brussels sprouts in avocado oil, sea salt, and pepper, then roasting them in the oven whenever you want a delish but healthy side at dinner.
Fennel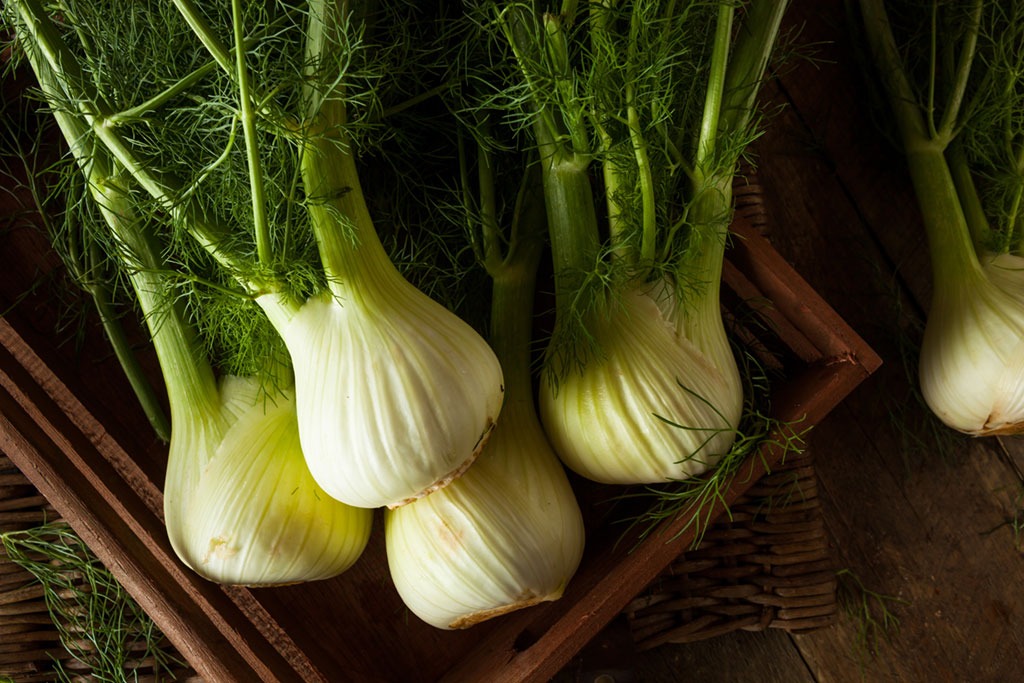 Love it or hate it, you can't deny that fennel is a winter powerhouse. Shapiro says that fennel has a stellar nutrient profile that includes fiber, potassium, manganese, calcium, iron, magnesium, phosphorus, and copper. Peak season is fall through early spring.
If you can stomach (pun intended) fennel's strong licorice flavor, it can be used as a digestive aid and may help improve symptoms of heartburn and IBS. Every part of the fennel plant is edible; you can eat the bulbs raw or braised, and cook the stalks and greens in soups, stuffings, or broths.
Sweet Potatoes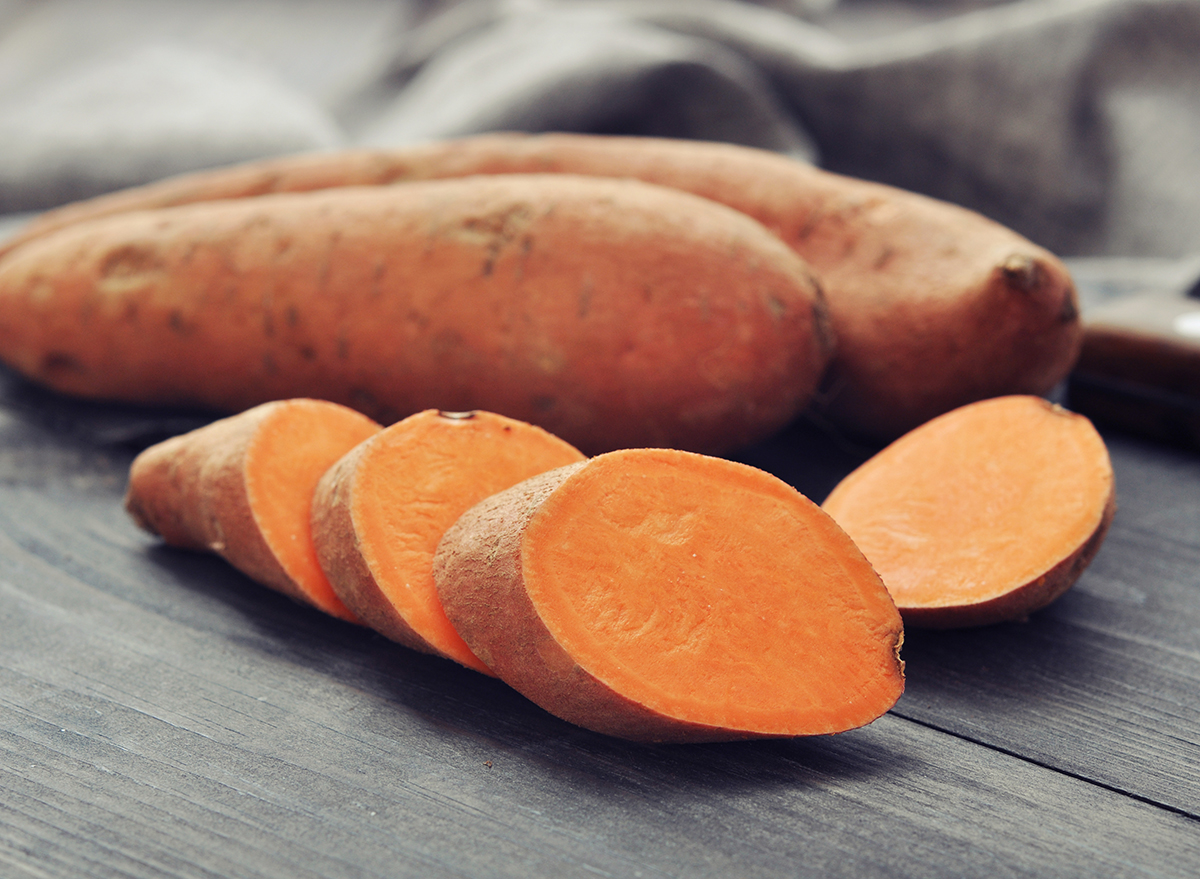 Rueven says that sweet potatoes are one of her favorite cool weather foods, and are also a great source of beta-carotene, an antioxidant that fights free radical damage and inflammation. Their peak season happens from October to December.
Add diced sweet potatoes to soups and chilis whenever you're bored of baking them (although a baked sweet potato is a simple and yummy way to round out a meal). Or, if you're feeling adventurous, try your hand at sweet potato toast for breakfast.
Leeks
Rueven loves leeks as a hefty source of magnesium—a mineral that she says about half of Americans are deficient in, which can lead to anxiety and irritability.
Leeks pair wonderfully with winter soups and salads, like this low-carb cauliflower leek soup. They have a slightly milder taste than their onion relatives and can fit easily into most of your go-to recipes. They're in season beginning in October and last typically through early spring.
Parsnips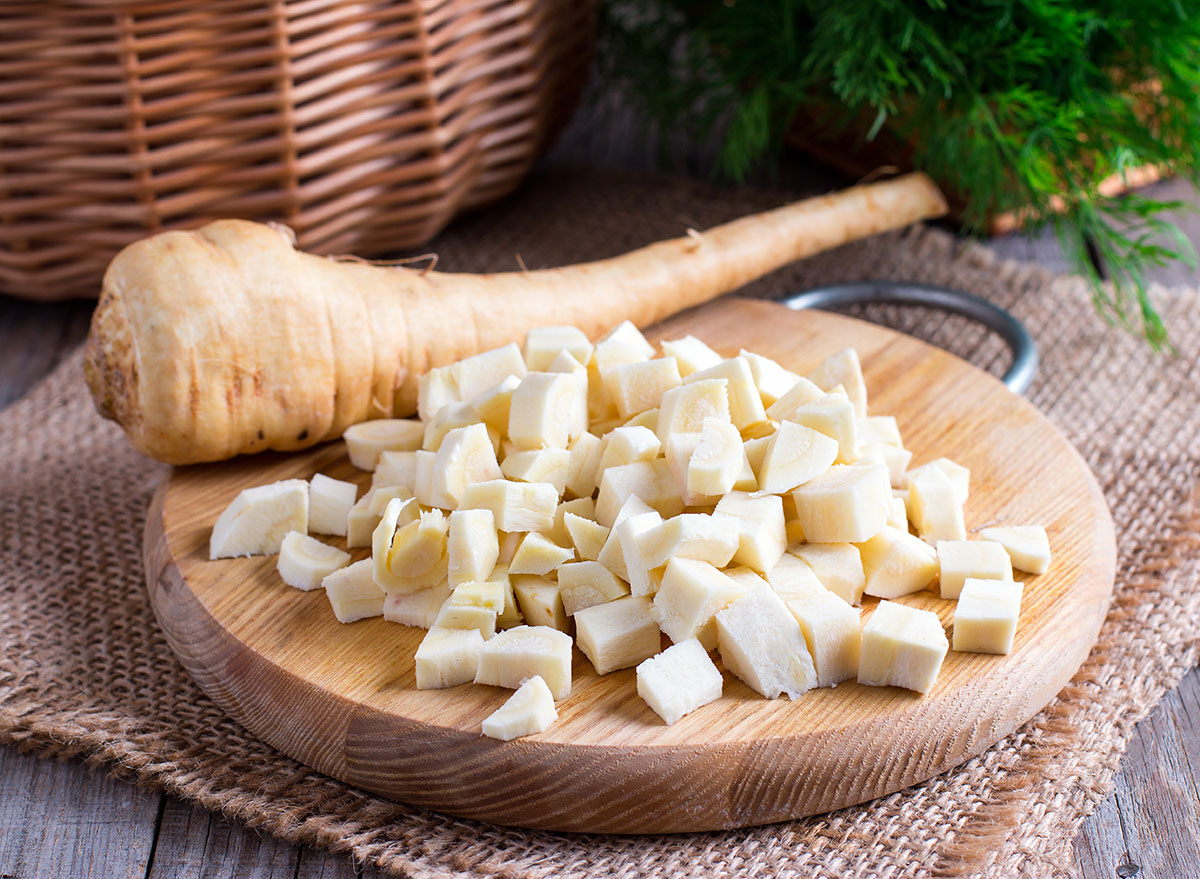 Parsnips are a root vegetable, which Shapiro says provide valuable digestion-improving fiber and folate, which can help build brain cells. They taste like a more flavorful carrot and can be swapped out for carrots in many recipes.
Most root veggies, including parsnips, are in season from fall until early spring. Try them added to soups and stews, roasted on a sheet pan alongside other winter vegetables, or boiled and mashed (like potatoes).
Pomegranates
Yes, harvesting the seeds of a pomegranate is kind of a commitment, but it's one that's totally worth making.
"Pomegranate is high in polyphenols," says Shapiro, "[which are] known to improve heart health, fight infection, and improve memory."
Easy to find from September to February, pomegranates are delicious in recipes. Try them sprinkled on a salad or tossed into yogurt, smoothies, and chia seed pudding.
Broccoli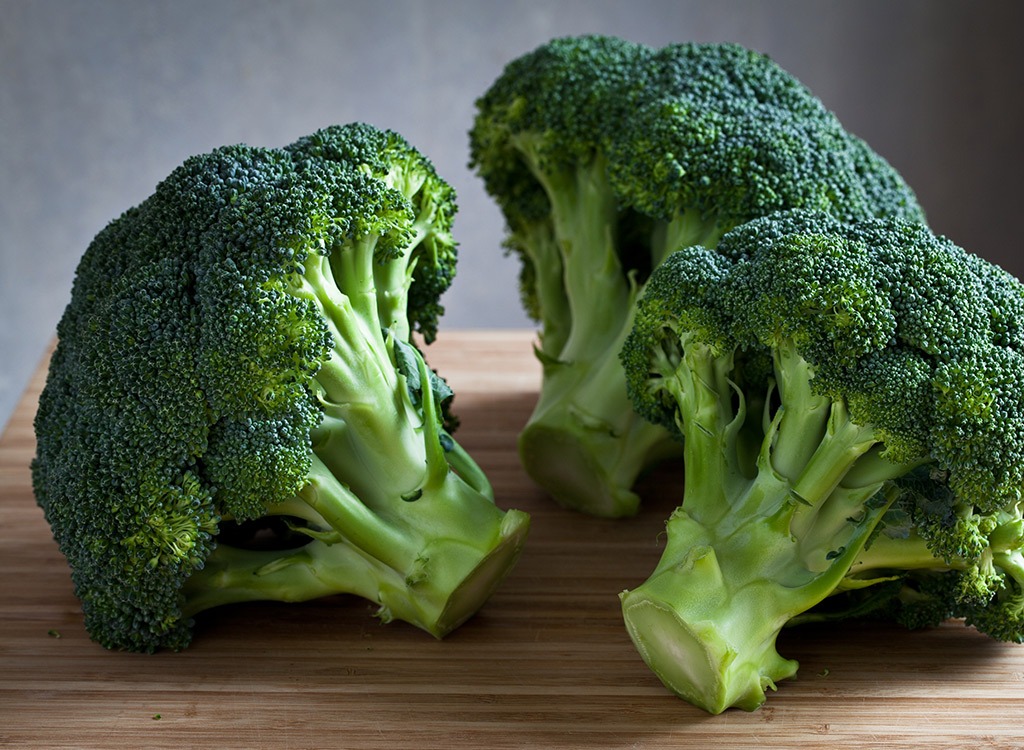 Just like apples, broccoli is a surprising source of vitamin C—one cup contains more than 100% of your daily needs, says Rueven.
She also points to broccoli's potential use in fighting off cancer: "Studies have shown that cruciferous vegetables like broccoli contain compounds which may be protective against cancer…more studies need to be done to determine the relationship between cruciferous vegetables and cancer, but the research that exists is very promising."
Broccoli is easily steamed as a last-minute side dish, but you can also puree it into a cheesy, creamy soup or pair it with beef for a homemade Chinese fake-out meal: Beef and Broccoli. Broccoli's peak season is October to April.
Persimmons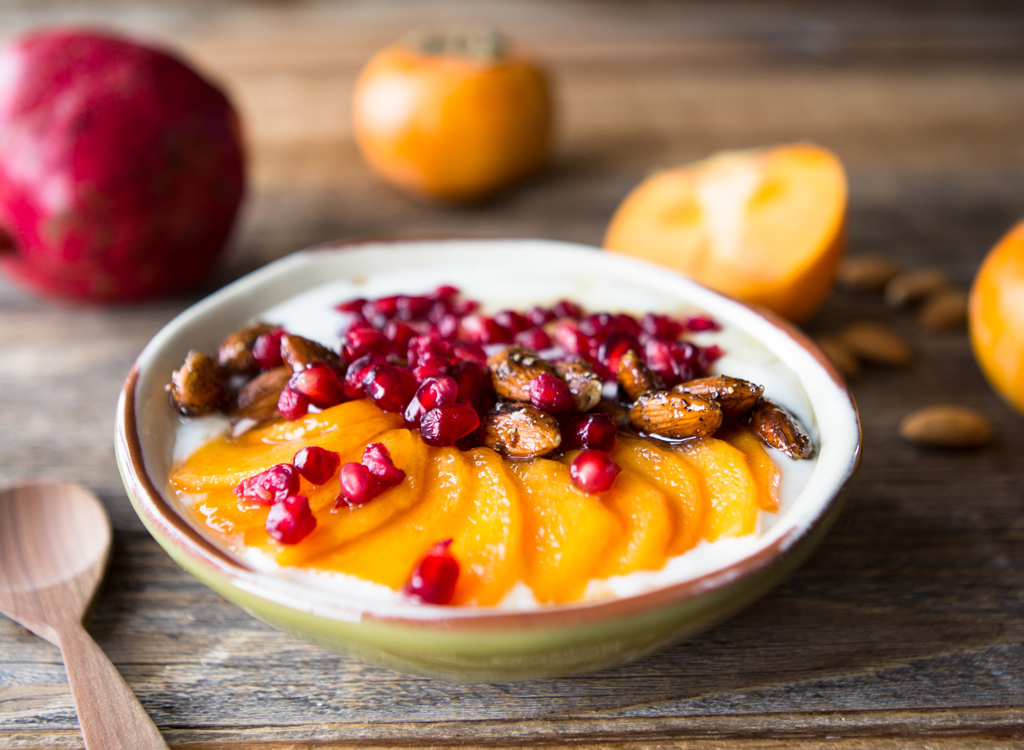 Maybe you've never bought a persimmon before (you're definitely not alone), but you should give this tiny powerhouse a shot. Despite their small size, Rueven says these winter superfoods are incredibly nutrient-dense.
"One persimmon contains half of your daily vitamin A needs, and vitamin A is important for immune function and eye health," she explains. From October to February you can add persimmons to a salad or even reserve one for a sweet treat after dinner, suggests Rueven.
Beets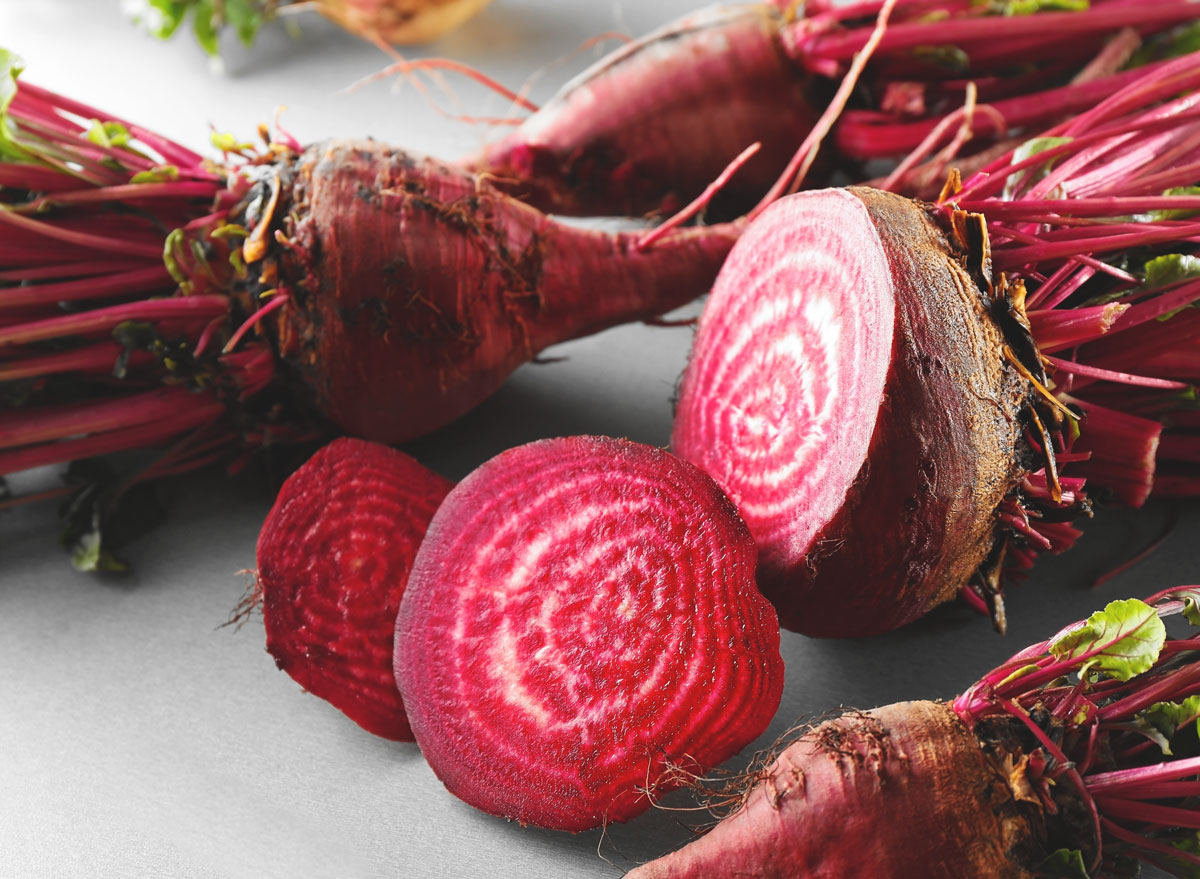 These dark red root veggies are high in folate, potassium, and beta carotene, nutrients making them a unique but nutritious addition to your table from summer to late fall.
They're not the easiest vegetable to cook with—you can't exactly roast them on a sheet pan—but they are a winter salad staple. You can also turn them into a classic Russian-style soup (a.k.a. borscht) or even pickle them for a tangy side dish.
Avocados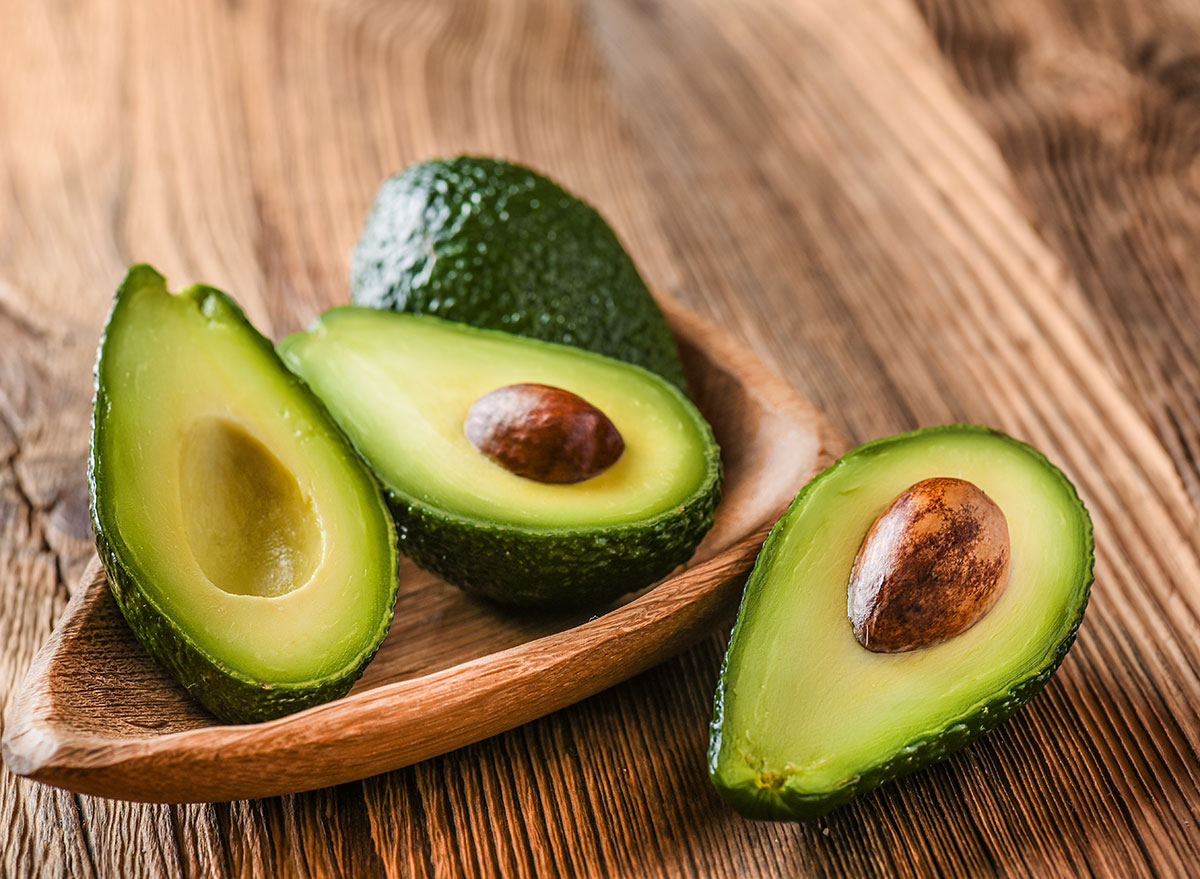 You might associate avocados with summertime tacos and margaritas, but Shapiro says this "near-perfect food" is actually in season in winter (depending on the variety, avocados are ripest between August and December). The long list of avocado benefits includes a healthy fat content of omega-3's, B vitamins such as riboflavin, niacin, folate, pantothenic acid, and B6, and also magnesium, potassium, and vitamins C, E, and K.
Instead of fiesta-ready guacamole, try avocado hummus, a keto-friendly avocado soup, or even sliced avocado alongside warm chicken fajitas.
Cabbage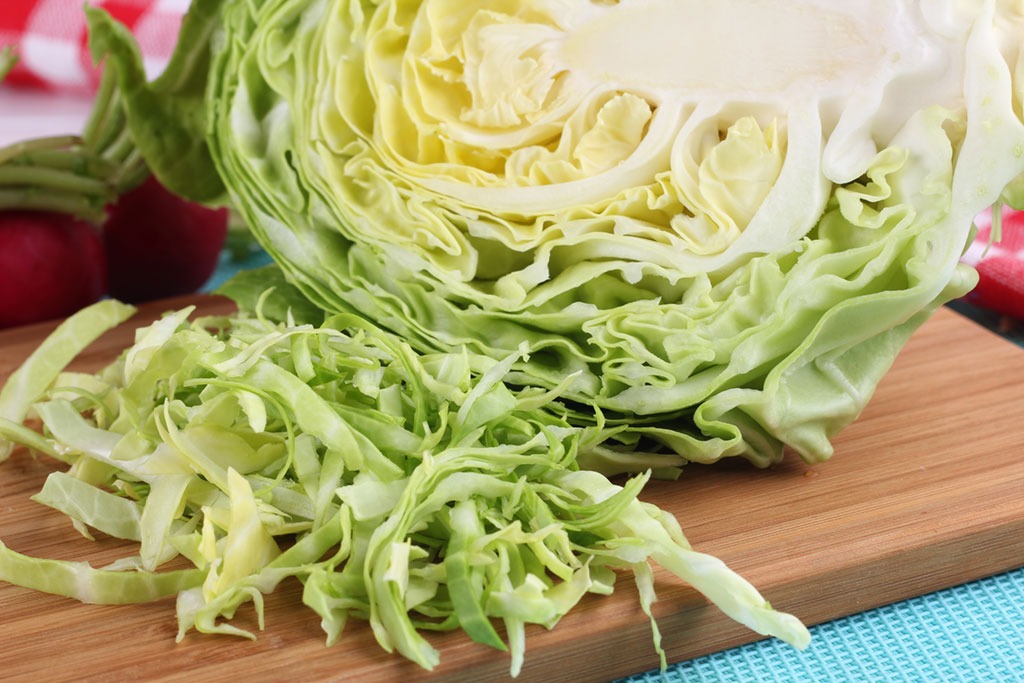 If you're strolling right past heads of cabbage at your local market because it's not St. Patrick's Day, you're missing out on an economical and nutrient-dense winter offering. In season from late fall to early spring, cabbage is a wonder food thanks to high amounts of vitamin C, vitamin K, potassium, and calcium, along with the fact that it's 92% water.
It's easy to incorporate cabbage into meals, too. Stuff it with ground meat and tomato sauce, shred it for homemade egg rolls, or pair it with kielbasa and potatoes for a warm, filling soup.
Endive
You might know endive by one of its other names, like radicchio, escarole, or frisée. It's a hard-to-grow vegetable that's high in fiber, meaning it can boost your digestive health and boasts an impressive amount of potassium, vitamin A, and beta carotene.
You can sauté, braise, or roast endives with olive oil and your seasoning of choice. Endives can even be served raw as a substitution for crackers and chips with your favorite dip. Their peak season is late fall to early spring.
Get more easy recipes to warm you up:
33+ Best Healthy Chicken Recipes for Weight Loss
70+ Best Healthy Egg Recipes for Weight Loss