The Unhealthiest Fast-Food Burgers on the Planet
These burgers are the biggest offenders when it comes to calories, fat, and sodium.
It's no secret that fast food tends to have a bit of a bad reputation—and that's especially true when it comes to burgers. More often than not, burgers from fast-casual places contain a high amount of calories and are loaded in saturated fat and sodium, all of which can wreak havoc on your health. It kind of takes the joy out of treating yourself.
Granted, not every burger on fast-food menus spells trouble. There are some better-for-you options out there—and we decided to help make things easier the next time you hit up the drive-thru by compiling a list of the most caloric burgers from some of the top fast-food restaurants. In most cases, the burgers with the most calories also have the highest total fat, saturated fat, trans fat, and sodium contents.
Ranked from the least unhealthy to the absolute worst of the worst, here are some of the unhealthiest fast-food restaurant burgers out there. Every burger on this list has at least 1,000 calories. (After checking it out, you might feel inclined to stock up on any of The 7 Healthiest Foods to Eat Right Now—go right ahead!)
Whataburger Triple Meat Whataburger
1,075 calories, 20 g fat (3 g saturated fat, 3 g trans fat), 1,720 mg sodium, 62 g carbs (4 g fiber, 12 g sugar), 65 g protein
At Whataburger, this menu option is made up of three 5-inch beef patties layered on top of one another with a slice of American cheese in the middle. While this burger seems the least offensive on the list, it's still not innocent. If you really want to indulge, perhaps just go for the classic Whataburger option that clocks in at 590 calories.
Culver's Bacon Deluxe (Triple)
1,090 calories, 76 g fat (30.5 g saturated fat, 2.1 g trans fat), 1,430 mg sodium, 42 g carbs (1 g fiber, 9 g sugar), 60 g protein
As if the Culver's Deluxe sandwich wasn't already a triple whammy on the menu, made up of three beef patties, the bacon version is even more so. Yes, that's all thanks to the few slices of bacon sandwiched between the bun. Clocking in at a whopping 76 grams of total fat, this sandwich has as much fat as 15 tablespoons of plain cream cheese.
Wendy's Bourbon Bacon Cheeseburger Triple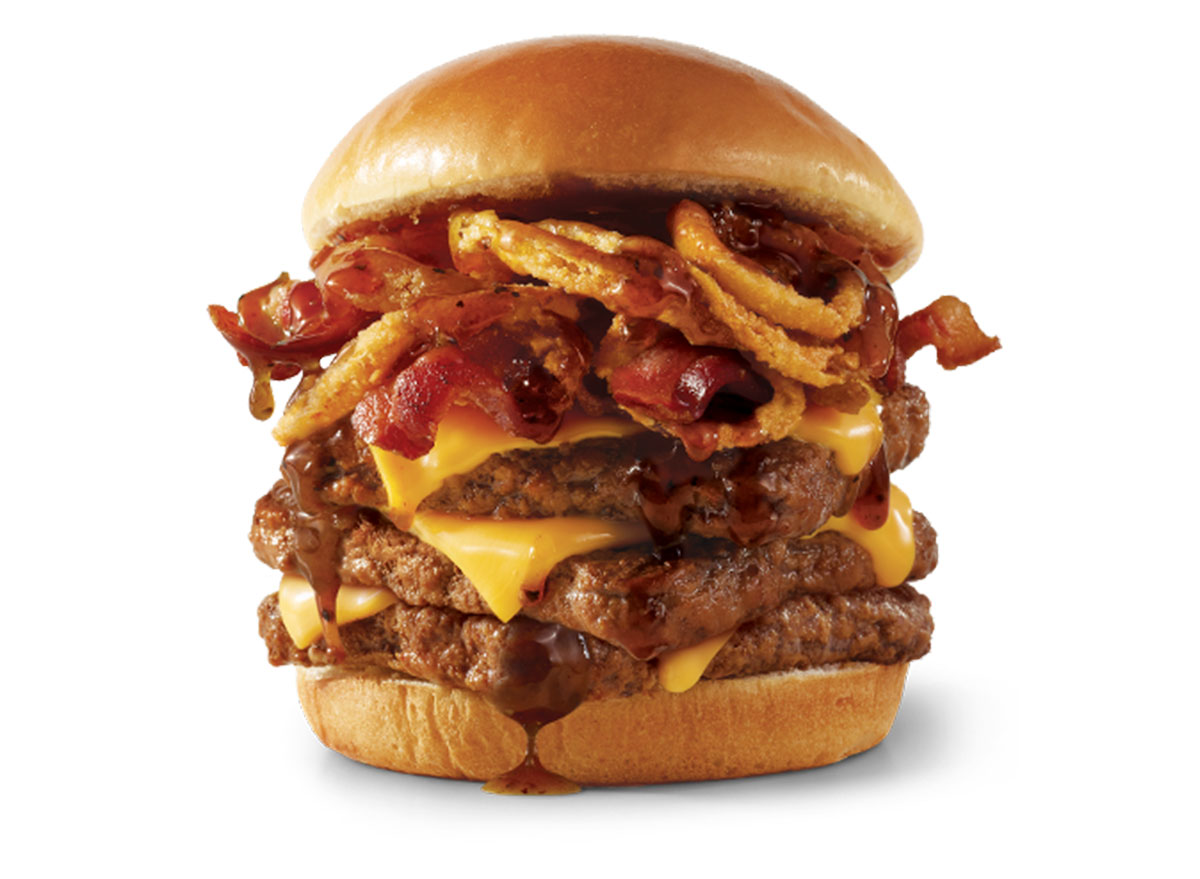 Per burger
: 1,280 calories, 86 g fat (36 g saturated fat, 4.5 g trans fat), 1,940 mg sodium, 52 g carbs (2 g fiber, 16 g sugar), 75 g protein
Wendy's introduced this newer menu item that might seem enticing at first glance, but it should stop you right in your tracks. Here, three patties are topped with smoked bacon, cheese, crispy fried onions, and a bourbon bacon sauce. It's no wonder this monster of a burger has more than 1,200 calories and a whopping 36 grams of artery-clogging saturated fat.
Looking for more tips? Your ultimate restaurant and supermarket survival guide is here!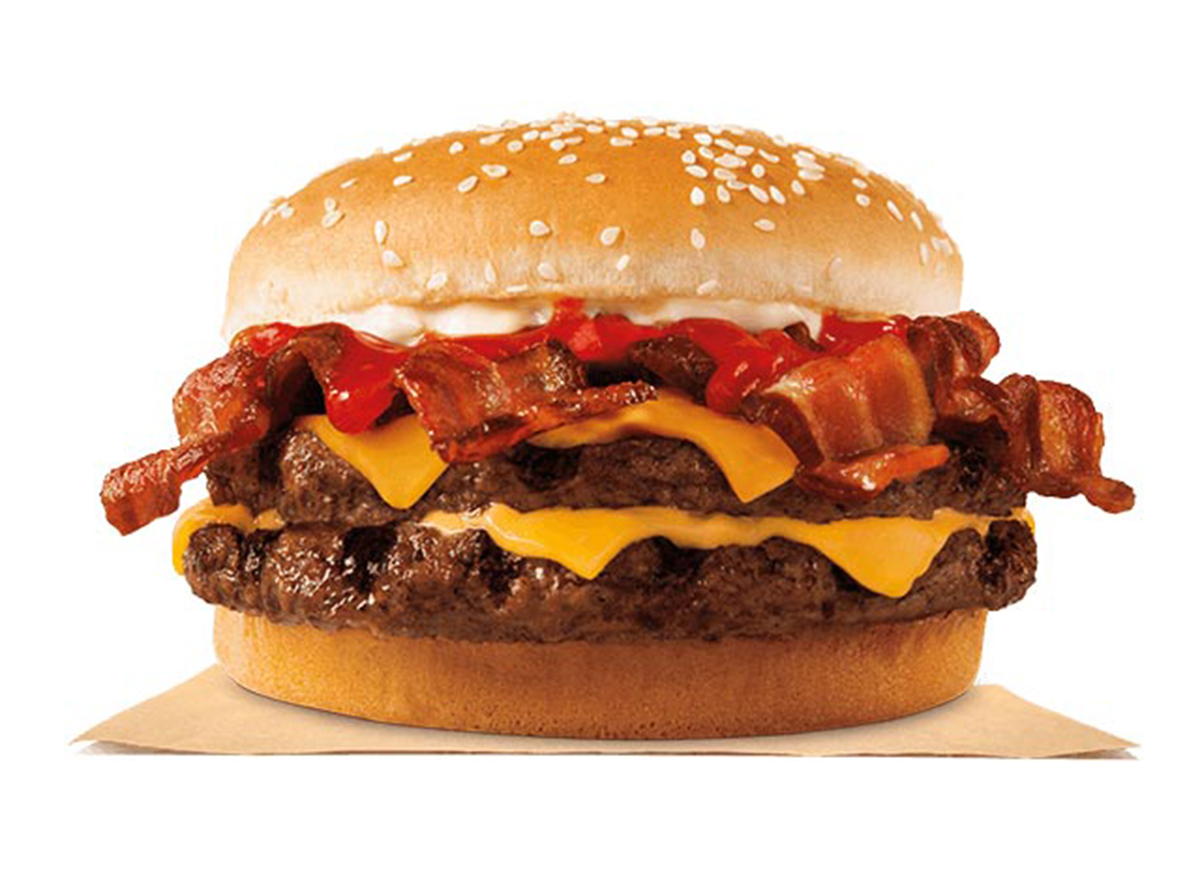 Per burger
: 1,313 calories, 92 g fat (39 g saturated fat, 2.7 g trans fat), 2,865 mg sodium, 50 g carbs (2 g fiber, 11 g sugar), 64 g protein
At Burger King, two quarter-pound flame-grilled beef patties are topped with thick-cut smoked bacon, four slices of cheddar cheese, ketchup, and mayo to make up the Bacon King. It shouldn't really come as much of a surprise as to why this burger is so high in calories, fat, and sodium.
The sodium here is something to note, as this one burger is packing more of the salty stuff than a person should consume in an entire day. The American Heart Association recommends that most adults have no more than 2,300 milligrams of sodium in 24 hours. This one burger blows that limit out of the water!
Carl's Jr Triple Western Bacon Cheeseburger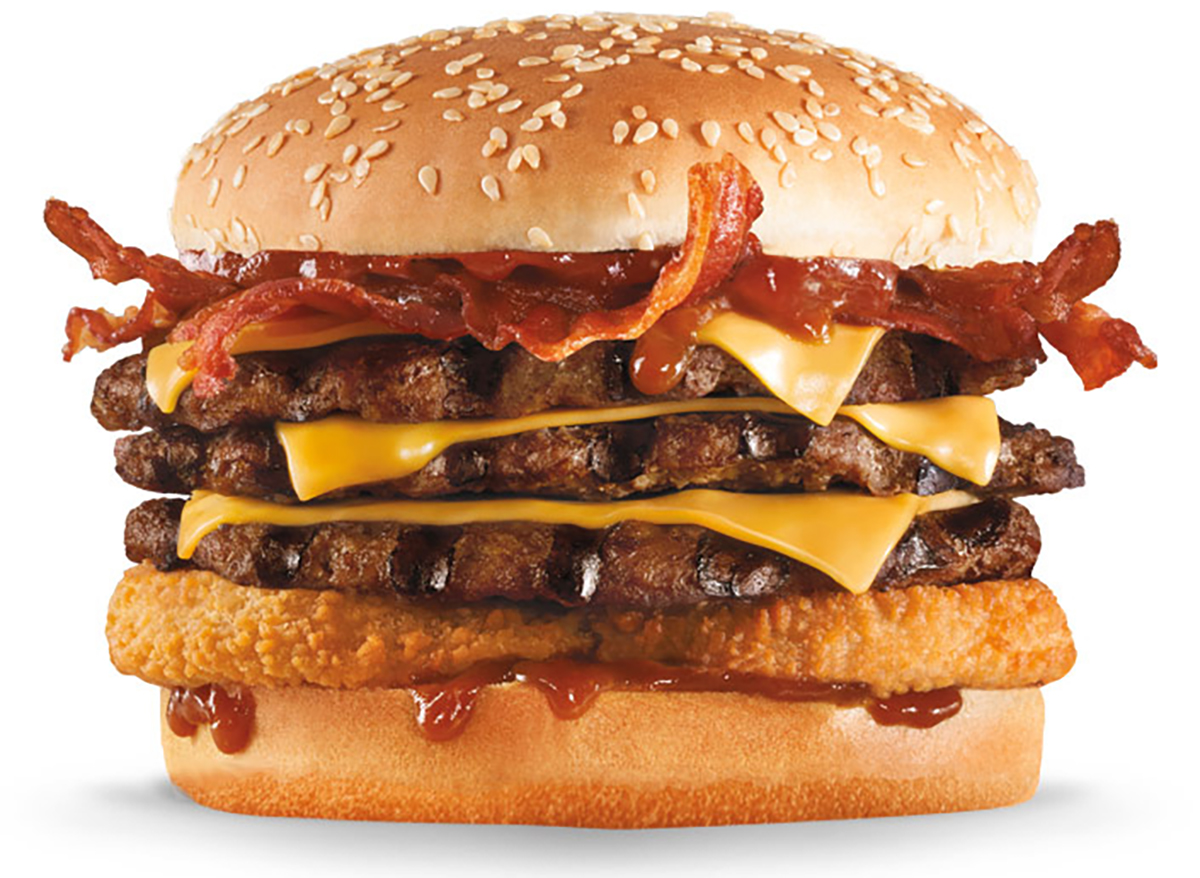 Per burger
: 1,380 calories, 81 g fat (35 g saturated fat, 2.5 g trans fat), 2,750 mg sodium, 80 g carbs (4 g fiber, 17 g sugar), 85 g protein
At Carl's Jr, this burger is made up of three charbroiled all-beef patties, two strips of bacon, melted American cheese, crispy onion rings, and tangy BBQ Sauce on a seeded bun. Without any side dishes, you're already looking at a high-calorie, sodium bomb of a burger!6254a4d1642c605c54bf1cab17d50f1e
Wendy's Pretzel Bacon Pub Triple Cheeseburger
Per burger
: 1,520 calories, 106 g fat (45 g saturated fat, 4 g trans fat), 1,940 mg sodium, 54 g carbs (4 g fiber, 6 g sugar), 89 g protein
Wendy's strikes yet again! This time, it's the Pretzel Bacon Pub Triple Cheeseburger that's screaming trouble. It's made up of three Wendy's patties covered in warm beer cheese sauce, Applewood smoked bacon, smoky honey mustard, crispy fried onions, pickles, and a slice of muenster cheese—all on a soft pretzel bun. This creates a burger that has the most amount of calories out of all of the rest on the menu.
Burger King Texas Double Whopper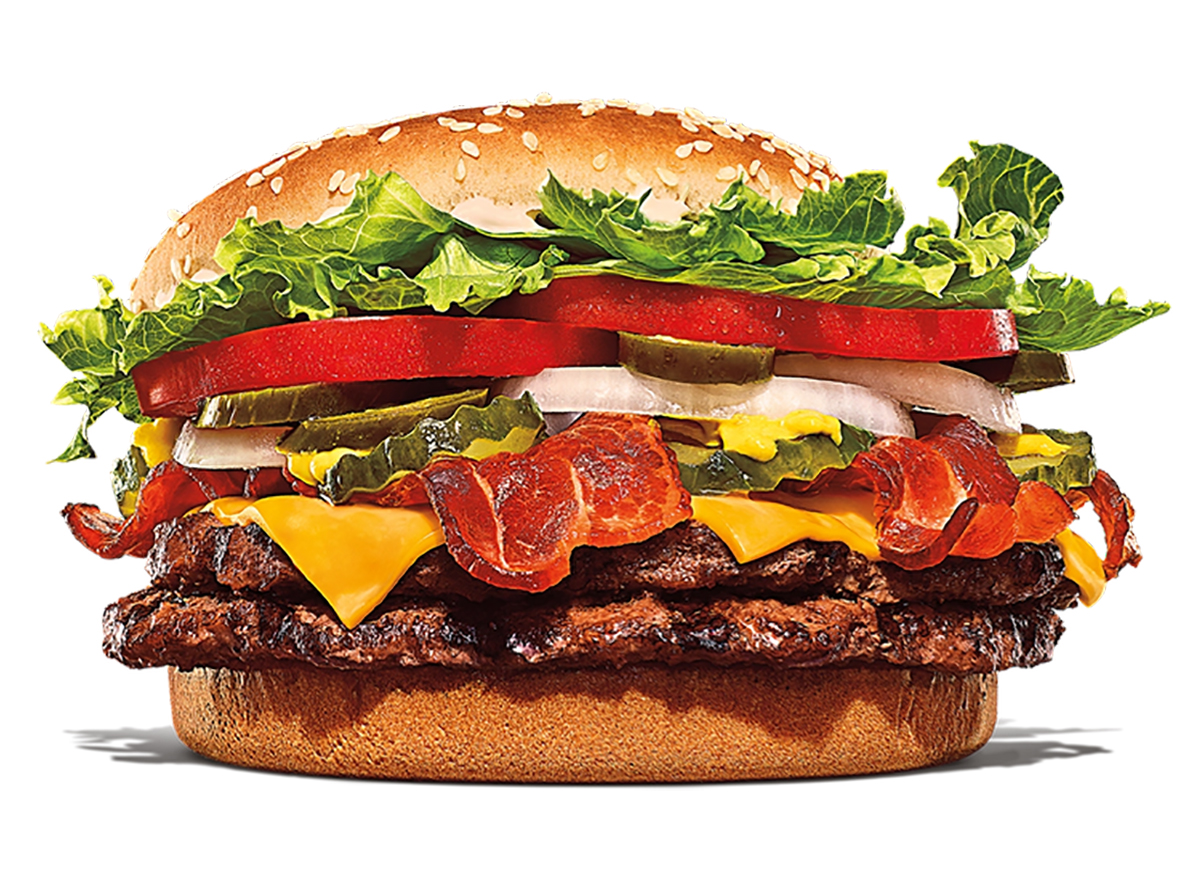 Per burger
: 1,876 calories, 136 g fat (51 g saturated fat, 1.8 g trans fat), 3,080 mg sodium, 58 g carbs (4 g fiber, 13 g sugar), 110 g protein
Burger King has brought the Texas Double Whopper to more locations, but if you happen to see it on the menu at your local BK, proceed with caution. The burger clocks in at more than 1,800 calories. Most people eat 2,000 calories in an entire day!
So what's between those buns? Two quarter-pound flame-grilled beef patties, American cheese, bacon, sliced jalapeños, pickles, sliced white onions, tomatoes, lettuce, mayo, and yellow mustard. Talk about overload! If you want to try this guy, perhaps you could have just a piece of the burger and share it with a few friends.
Steak 'n Shake 7×7 Steakburger
Per burger
: 1,660 calories, 128 g fat (62 g saturated fat, 6 g trans fat), 3,800 mg sodium, 29 g carbs (1 g fiber, 4 g sugar), 95 g protein
Now this burger is truly scary! At Steak 'n Shake, the 7×7 Steakburger stacks seven patties that alternate with seven slices of American cheese in between bun slices. Honestly, we're wondering if you even eat this?!
Besides the perplexity of taking on such a huge burger, it's important to note the astronomically high amount of fat, the day and a half's worth of sodium, and the startling 6 grams of heart-harming trans fat. Remember, trans fat raises LDL, or "bad" cholesterol, and lowers HDL, or "good" cholesterol, which can lead to heart disease and stroke. It's best to eat no trans fat—or to come as close to zero as you can. Sorry, but this burger won't help you do that!
Instead, check out The 5 Healthiest McDonald's Burgers, According to a Dietitian for your next burger run.
Eat This, Not That!
Inspired by The New York Times best-selling book series, Eat This, Not That! is a brand that's comprised of an award-winning team of journalists and board-certified experts, doctors, nutritionists, chefs, personal trainers, and dietitians who work together to bring you accurate, timely, informative, and actionable content on food, nutrition, dieting, weight loss, health, wellness, and more.
Read more about Eat This