13 Unhealthiest Yogurts on Grocery Store Shelves
Yogurt is one of the healthiest breakfast foods you can eat, but it's best to avoid these saturated fat- and sugar-laden containers.
The product recommendations in this post are recommendations by the writer and/or expert(s) interviewed and do not contain affiliate links. Meaning: If you use these links to buy something, we will not earn a commission.
Eating yogurt a few times a week is a delicious and accessible way to help support a healthy gut flora and fuel your body with protein, calcium, and many other nutrients. Add fruit, a sprinkle of chia seeds, and/or a dab of honey to the mix, and you've got yourself a well-balanced option that is delicious to boot. In recent years, more attention has been paid to yogurt's health benefits than ever before, and boy are there many of them.
Dairy-based yogurts "provide nine essential nutrients including high-quality protein, calcium, phosphorus, riboflavin, vitamin B12, iodine, zinc, pantothenic acid, and selenium," explains Toby Amidor, MS, RD, CDN, FAND award-winning nutrition expert and partner with the National Dairy Council. The benefits of eating cow's milk yogurt are wide-reaching and include a reduced risk for cardiovascular disease, type 2 diabetes, and less weight gain over time. Eating yogurt has also been linked to improved markers of bone health in younger and older adults, and emerging evidence indicates that eating yogurt may also reduce markers of inflammation.
The gut-healthy bacteria that ferment the milk into yogurt have been shown to offer a slew of benefits by encouraging the diversification of the natural flora found in your gut, which can provide immune and digestive support. Amidor notes that while all yogurt contains these live bacterial cultures, "only some yogurts have added probiotics (the type of bacteria that provide a proven health benefit)," so it's important to read the ingredient label. "The types of bacteria in yogurt that provide probiotic benefits to help people digest lactose, which is the natural sugar in milk, are either a specific probiotic strain (e.g., B. lactis BB-12) or yogurt containing the live and active cultures L. Bulgaricus and S. Thermophilus," Amidor adds.
Yogurt isn't just offered as a dairy food these days. Thanks to the high demand for lactose-free and plant-based choices, yogurt is now available as a dairy-free food, leaning on coconut, almond, or other milk-free ingredients.
But you can't just grab any old yogurt off of the grocery shelves if you are focused on supporting your overall health. Many yogurt brands—most of which are household names—add absurd amounts of sugar while touting these little cups as "alternatives" to your after-dinner dessert. The thing is, these yogurts can be just as sugar-packed as the cake or pie that they're trying to emulate.
And sometimes, the "diet" yogurts aren't much better. Packed with artificial sweeteners like acesulfame potassium, some (not all) data suggests that overconsumption of some of these nutrients may be linked to alterations in the gut microbiome and weight gain. With all this conflicting information, it can be hard to understand which yogurts to avoid.
We've gone ahead and rounded up 13 of the unhealthiest yogurts lining today's grocery store shelves so that you can simply focus on the good stuff. Yogurt is supposed to be healthy, so don't let those fancy slogans fool you! Read on, and for more, don't miss What Happens to Your Body When You Eat Yogurt Every Day.
Yoplait Light Strawberry / Harvest Peach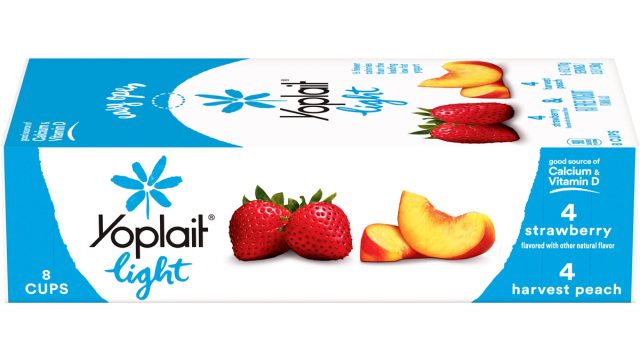 Per 6-oz cup
: 80 calories, 0g fat (0g saturated fat), 75mg sodium, 15g carbs (0g fiber, 7g sugar), 5g protein
At first glance, Yoplait's "Light" yogurt may seem like a good option with its low calorie and sugar counts. However, both the Strawberry and Harvest Peach yogurts use the artificial sweetener, acesulfame potassium. While in recent years, aspartame has taken the heat in terms of the potential dangers of artificial sweeteners, acesulfame potassium may pose its own risks as non-human experiments have shown a correlation between the sweetener and blood sugar control. Although long-term tests have not been conducted, it's best to eat this artificial sweetener in moderation and not as an everyday go-to.
Dannon Creamy Classic Peach Mango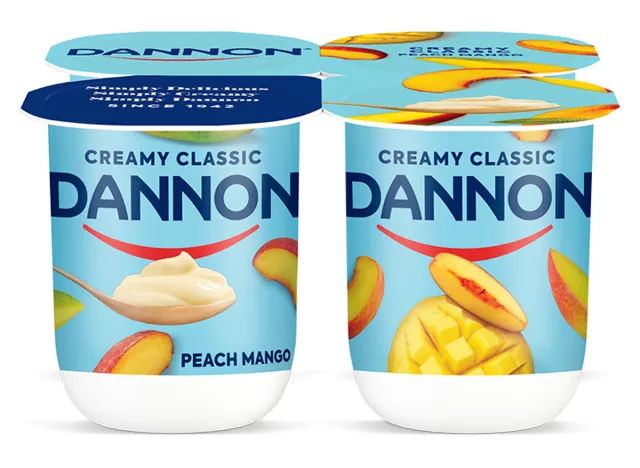 Per 4-oz cup
: 100 calories, 1.5g fat (1g saturated fat), 55mg sodium, 17g carbs (0g fiber, 12g sugar), 4g protein
The sugar content is what gets us when considering this Creamy Classic Peach Mango yogurt from Dannon. While this option is relatively low in calories and fat, it does provide added sugars. And with only 4 grams of protein per serving, it may not do much for you in the satiety department.
So Delicious Key Lime Pie and Coconut Milk Yogurt Alternative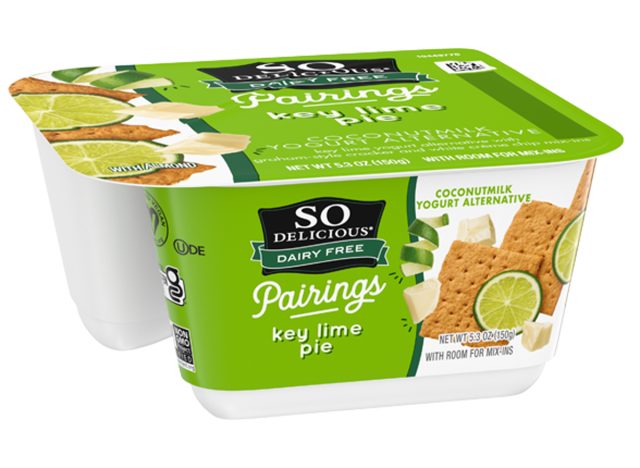 Per 5.3-oz container
: 190 calories, 7g fat (6g saturated fat), 105mg sodium, 30g carbs (2g fiber, 18g sugar), <1g protein
Although dairy alternatives can be a great option for those with dairy sensitivities, the term "dairy-free" has often been incorrectly conflated with "healthy." So Delicious' Key Lime Pie and Coconut Milk Yogurt Alternative directly disproves that misnomer. With less than 1g of protein, you may be left feeling quite hungry after eating this choice.
LALA Piña Colada Yogurt Blend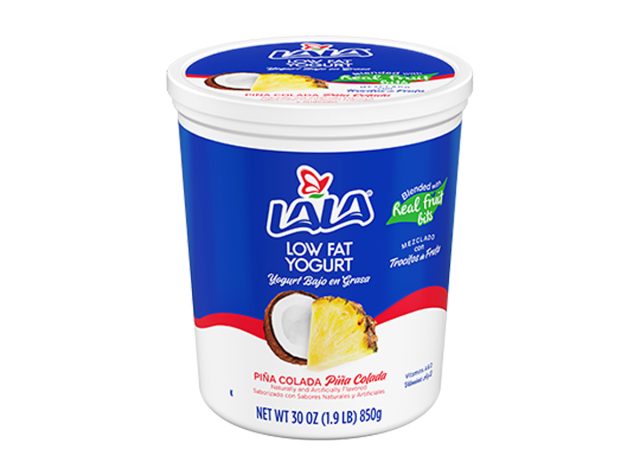 Per ¾ cup
: 150 calories, 1.5g fat (1g  saturated fat), 95mg sodium, 29g carbs (0g fiber, 24g sugar), 5g protein
It may be more nutritionally in your favor to just drink a regular pina colada instead of this sugar-packed Piña Colada Yogurt Blend (sans alcohol, of course) from LALA. Although a serving of this yogurt provides 15% of your daily calcium and vitamin D needs, sugar is the second ingredient on the list (there are 16 grams of added sugars in this option). Additionally, this yogurt includes artificial flavors too. We recommend plain, unsweetened sugar with fruit on top instead.
Yoplait Cherry Cheesecake Whips!
Per 4-oz cup
: 140 calories, 2.5g fat (1.5g saturated fat), 65mg sodium, 25g carbs (0g fiber, 22g sugar), 5g protein
Many consumers have switched from their after-dinner slice of Devil's Food Cake to a cup of sweetened yogurt, such as Yoplait's Cherry Cheesecake Whips! to avoid egregious amounts of sugar and fat. Although a single serving only contains 2.5 grams of fat, these bad boys contain 18 grams of added sugar with sugar as the second ingredient. Although a single serving provides 10% of your daily vitamin D, calcium, and vitamin A needs, you may leave this dessert feeling unsatisfied and craving another. So, it's best to weigh your options here and see which will better curb your sweet tooth fiending.
YoCrunch Low Fat Vanilla with M&M
Per 4-oz container, with toppings
: 130 calories, 3.5 g fat (2 g saturated fat), 55 mg sodium, 23 g carbs (0 g fiber, 19 g sugars), 4 g protein
Real M&Ms on top of yogurt may sound delish, but it is hardly a good-for-you choice for many people. Not only does YoCrunch's LowFat Vanilla with M&M have 15 grams of added sugar (more than what kiddos should be consuming in an entire day per the American Academy of Pediatrics), but it is made with artificial ingredients too. If you enjoy this yogurt, treat it as what it is – a dessert.6254a4d1642c605c54bf1cab17d50f1e
Yoplait French Vanilla Yogurt
Per 6-oz container
: 150 calories, 2 g fat (1.5 g saturated fat), 90 mg sodium, 27 g carbs (0 g fiber, 20 g sugar), 5 g protein
"When searching for a healthy yogurt, the goal is not necessarily no sugar. However, Yoplait's French Vanilla has a significant amount by the dietary guideline standards. With the goal being 25 grams of added sugar or less per day, one serving of this yogurt will deliver over half your daily limit. Since there isn't a lot of protein per serving either, you might find yourself hungry soon after, too," says Caroline Thomason, RD, CDCES, a dietitian in Washington, DC.
Oui French Style Strawberry Whole Milk Yogurt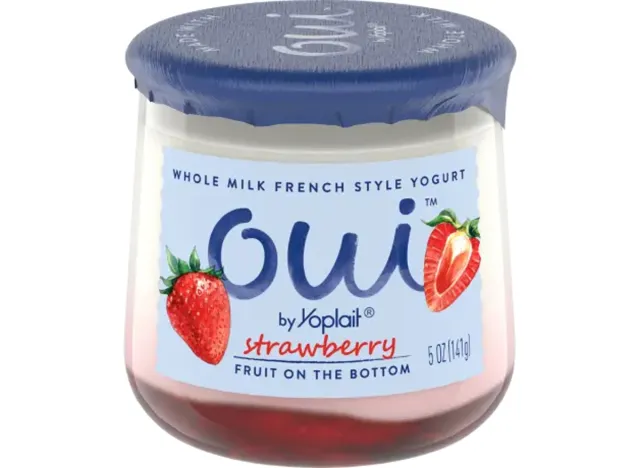 PER 5-oz jar
: 170 calories, 7 g fat (4.5 g saturated fat), 75 mg sodium, 22 g carbs (0 g fiber, 19 g sugar), 5 g protein
"This product appears to be healthier based on the packaging, but when you take a look at the nutrition facts, it's not all that different from other brands that are high in sugar. With 19 grams of sugar, and 14 grams coming from added sugar, this is not my first pick for a healthy yogurt that is going to keep me full for long," says Thomason.
Oui Dairy-Free Coconut Yogurt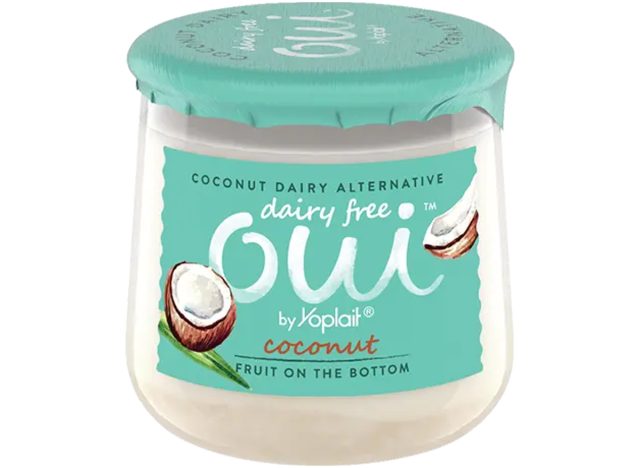 Per 5-oz jar
: 150 calories, 8 grams fat (7 grams saturated fat), 20 mg sodium, 19 g carbs (0 g fiber, 13 g sugar), 1 g protein
Ok, Oui Coconut Yogurt is absolutely delish. But with that much saturated fat, you are well on your way to exceeding the limit the American Heart Association recommends (for those following a 2,000-calorie diet, that is a max of 13 grams per day). Plus, the measly 1 gram of protein this yogurt provides is a far cry from what Greek yogurt can give us.
Yoplait Vanilla Kids Yogurt & Lucky Charms Cereal Snack
Per 4.27-oz container
: 130 calories, 1g fat (0g saturated fat), 105mg sodium, 26g carbs (<1g fiber, 16g sugar), 4g protein
Perhaps this doesn't come as much of a surprise that Yoplait's sugar-packed kid's yogurt has made the cut as one of the unhealthiest yogurts on the market. With 16 grams of sugar—13 of them being added sugar—Yoplait Vanilla Kids Yogurt & Lucky Charms Cereal Snack is certainly not part of a balanced breakfast. And when it comes to kids, the American Academy of Pediatrics recommends that kiddos limit their added sugar to no more than 25 grams per day, and those under the age of two have none. Every once in a while, indulging in a fun breakfast can be a good idea, especially if you have a picky eater above the age of 2. But it may not be the best choice for an everyday occurrence.
Chobani Flip S'more S'mores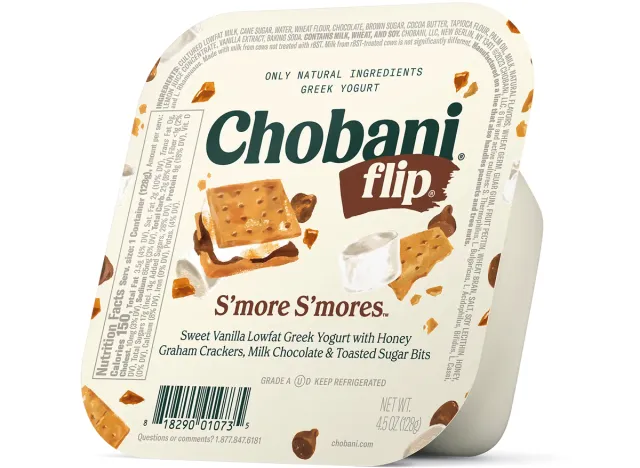 Per 4.5-oz container
: 150 calories, 3.5g fat (2g saturated fat), 65mg sodium, 21g carbs (<1g fiber, 17g sugar), 0g protein
Chobani Flip S'more S'mores has an impressive amount of protein (9 grams per serving). But it also contains quite a bit of added sugars (14 grams per serving). While this yogurt is made with quality ingredients, you can opt for a less-sugary choice, like a plain Greek yogurt, and top it with berries or some dark chocolate chips.
LALA Banana Berry Frusion Yogurt Smoothie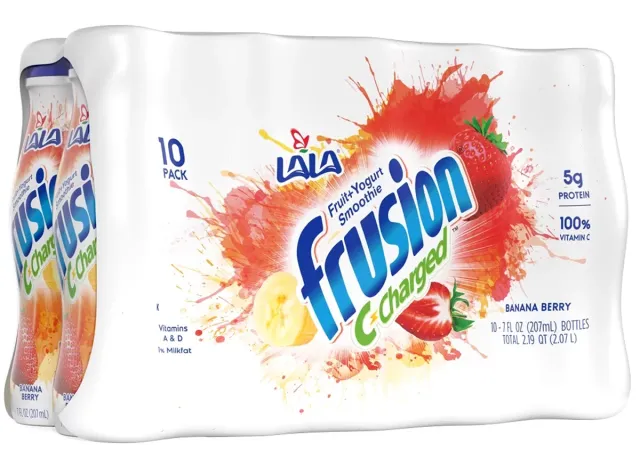 Per 7 fl-oz bottle
: 170 calories, 2.5g fat (1.5g saturated fat), 85mg sodium, 31g carbs (0g fiber, 27g sugar), 5g protein
Yes, LALA's Banana Berry Frusion Yogurt Smoothie is packed with Vitamin C, providing 100% of your daily nutritional needs, but that's about the only thing this yogurt smoothie provides in the nutrition department. This smoothie contains a whopping 27 grams of sugar, which equates to more than 100 calories coming from this sweet stuff. According to the American Heart Association, women should eat no more than 100 calories a day from sugar, so one of these smoothies would have you exceeding that measure.
Danimals Mixed Berry Flavor Pouches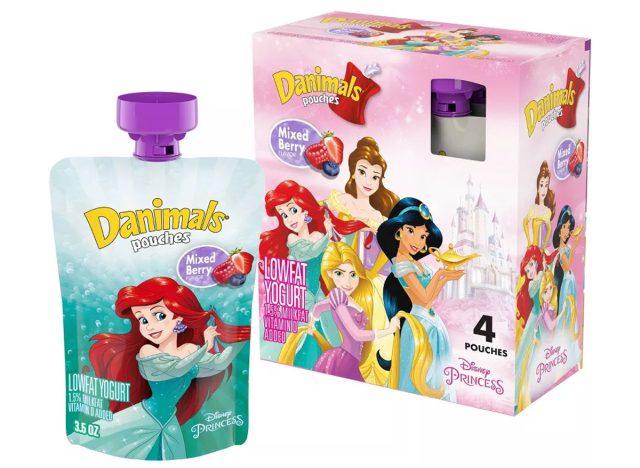 Per 3.5-oz pouch
: 80 calories, 1g fat (1g saturated fat), 55mg sodium, 13g carbs (0g fiber, 11g sugar), 4g protein
Danimals pouches may have pretty Disney princesses on the front of their box, but with 11 grams of sugar (7 grams of added sugar) in only 3.5 ounces of these Mixed Berry Flavor Pouches, it is important to remember that these options do contribute to a child's (or adult's) overall added sugar intake. While we do love that these are colored with beet juice and vegetable juice for color (goodbye artificial coloring!), we aren't too sure what "natural flavors" include, so it may be best to leave this one for a once-in-a-while treat.
Lauren Manaker MS, RDN, LD, CLEC
Lauren Manaker is an award-winning registered dietitian, book author, and recipe developer who has been in practice for almost 20 years.
Read more about Lauren
Sources referenced in this article