9 Best Healthy Cereals on Grocery Shelves, According to Dietitians
Fill your breakfast bowl with these nourishing grains.
This post contains affiliate links. If you use these links to buy something, we may earn a commission.
Everyone has their favorite nostalgic cereal brand, but deep down, we know that these crispy clusters of oats, wheat, or rice often miss the mark when it comes to balanced nutrition. Luckily, gone are the days when breakfast bowls are filled to the brim with empty carbs and sugar. Now, there are plenty of healthy cereals you can stock up on that can fill your body with nourishing nutrients.
These healthy cereals are full of what you do want—whole grains, fiber, and a range of essential vitamins and minerals—and none of what you don't, like too much added sugar. Because it's still tricky to sort out which cereals are actually worth buying and which are better left on the supermarket shelves, we decided to ask registered dietitians for what cereal brands they recommend grabbing next time you're at the grocery store.
How to find the best healthy cereals:
There were a handful of nutrients that dietitians agree are important to look for when scanning the nutrition label.
Whole grains: Most cereals are a source of carbohydrates, and you want to look for whole grains as your primary carbohydrate ingredient. This could be wheat, brown rice, oats, or brand. Whole grains provide more nutrition, vitamins and minerals, and fiber to balance your bowl of cereal.
Fiber: High-fiber cereal can be hard to come by, and it's not always the most flavorful as it is often made with wheat bran and tastes quite hearty. While the daily nutrition target for fiber is 25 grams per day, shooting for at least five grams of fiber in your bowl of cereal is a good start. You can always use a "nutrition by addition" approach to cereal and add some fruit like berries or sliced banana on top for more fiber.
Added sugars: Even healthy cereals can have a significant source of added sugar. On the nutrition label, be sure to take a look at the section under "Total Sugars" that tells you exactly how many added sugars are in the product. The daily goal for added sugars for women is 24 grams and for men is 38 grams. Consider finding low-added-sugar options and then increase the sweetness on your own with fruit on top.
At the end of the day, even if there's something left to be desired nutritionally with your cereal, Amanda Blechman, RD, CDN, Director of Health & Scientific Affairs at Danone North America, explains that you can always add to your bowl to make it better for you. She recommends balancing your bowl "with nutrient-dense milk, non-dairy milk alternatives, or yogurt, plus some berries on top."
Let's find out exactly which brands registered dietitians recommend for the healthiest cereal on grocery store shelves. Read on, and for more, don't miss The 13 Best Yogurt Brands—and 3 To Avoid.
Three Wishes Unsweetened Cereal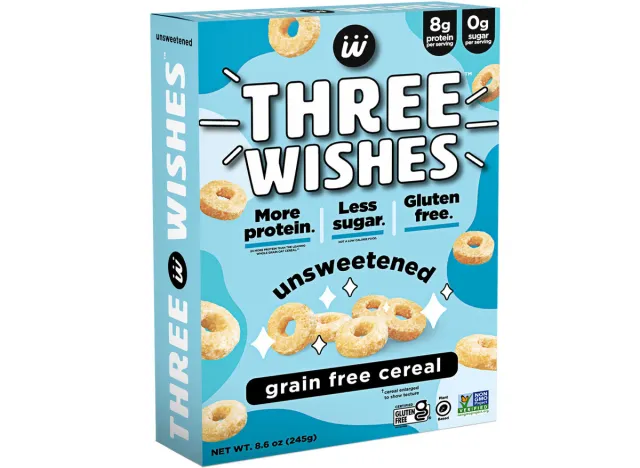 PER SERVING
: 120 calories, 2 g fat (0 g saturated fat), 130 mg sodium, 17 g carbs (3 g fiber, 0 g sugar), 8 g protein
This cereal is a perfect alternative to sugary cereal brands, says Joanna Ayalloore, MS, RD, LDN, owner of Nutrition Kept Simple. "One serving contains 120 calories, 8 grams of protein, 130 milligrams of sodium, no added sugars, and 3 grams of fiber. It can be used as a topping for yogurt parfaits, with a bowl of milk, trail mixes, or simply as a sweet treat," she continues.
365 Bran Flakes
PER 1 CUP SERVING
: 130 calories, 1 g fat (0 g saturated fat), 125 mg sodium, 32 g carbs (7 g fiber, 3 g sugar), 5 g protein
With 130 calories and 7 grams of fiber per serving, these bran flakes are hard to beat when it comes to nutrition. High-fiber cereal has been shown to help with regular bathroom habits, lowering cholesterol, and improving heart health. These bran flakes boast 15% of your daily value of iron to boot—a great addition for kids and plant-forward folks.
Make this a complete meal with some high-protein milk like Fairlife and some berries on top for natural sweetness.
Quaker Oatmeal Squares
PER 1 CUP SERVING
: 210 calories, 3 g fat (0.5 g saturated fat), 190 mg sodium, 44 g carbs (5 g fiber, 9 g sugar), 6 g protein
"One of my favorite cereals to recommend for folks looking to add more whole grains to their eating pattern are Quaker Oatmeal Squares. Squares are not only filling and tasty, but they are packed with nutrition as well, containing 5 grams of fiber and 6 grams of protein per 1 cup of cereal. The brown sugar flavor is my personal favorite," says McKenzie Caldwell, MPH, RDN, a fertility and prenatal dietitian.
Love Bird
PER SERVING
: 110 calories, 1.5 g fat (1.5 g saturated fat), 65 mg sodium, 24 g carbs (4 g fiber, 2 g sugar), 2 g protein
Julie Balsamo, MS, RDN comments on a high-fiber cereal that is also a great option for folks with food allergies or intolerances: "Love Bird is organic, non-GMO, grain-free and a great option for those with dietary restrictions as it's both gluten and dairy free! Looking more specifically at the ingredients, Love Bird utilizes cassava flour which is a good source of prebiotic fiber (to support gut health), and is high in resistant starch to help control blood sugar!"6254a4d1642c605c54bf1cab17d50f1e
Catalina Crunch Cinnamon Toast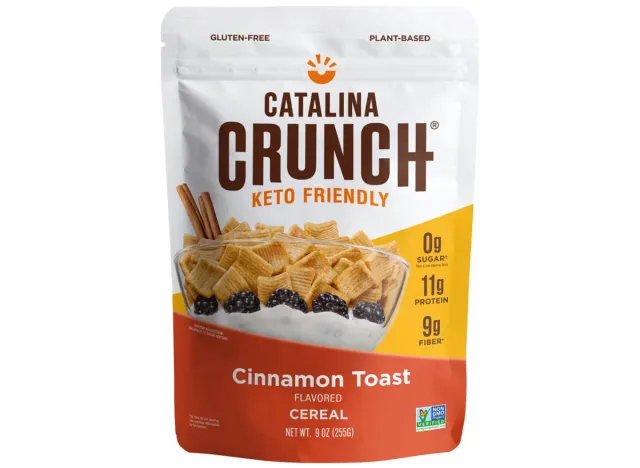 PER SERVING
: 110 calories, 5 g fat (0.5 g saturated fat), 110 mg sodium, 14 g carbs (9 g fiber, 0 g sugar), 11 g protein
Catalina Crunch is a keto-friendly cereal and is a great option for folks who are looking to keep their breakfast low-carb or are watching their blood sugar for health reasons. These cereals are also a good source of protein with 11 g per serving and 9 g of fiber to boot. If you're looking for foods that are low carb but still offer nostalgic flavors like their Cinnamon Toast Crunch, you'll want to check this one out!
Seven Sundays Rise & Shine Keto Nut Granola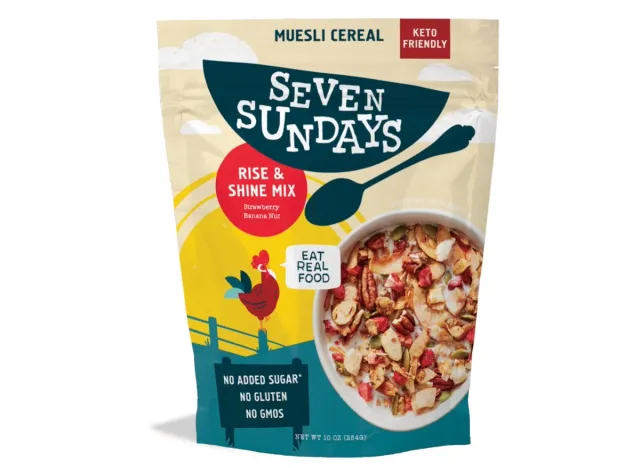 PER ⅓ CUP SERVING
: 170 calories, 14 g fat (4.5 g saturated fat), 5 mg sodium, 9 g carbs (4 g fiber, 4 g sugar), 5 g protein
"Seven Sundays Keto Nut Granola is another great low-carb breakfast option! It has no added sugar, 4 grams of fiber, and just 5 grams of net carbs per serving. Add some low-carb yogurt like Two Good and you'll have a delicious low-carb high protein breakfast ready in no time," adds Lara Clevenger MSH, RDN, CPT.
The serving size here is on the small side, as one-third cup of granola is a pretty standard serving. Consider using this cereal as a topping for yogurt to make it even more balanced and prevent overdoing your portions.
Post Shredded Wheat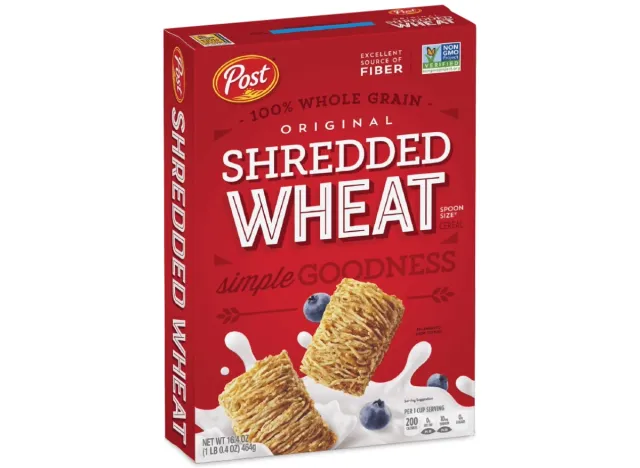 PER 1 ⅓ CUP SERVING
: 210 calories, 1.5 g fat (0 g saturated fat), 0 mg sodium, 49 g carbs (8 g fiber, 7 g sugar), 7 g protein
"Post Shredded Wheat is 100% whole grain wheat and has zero sodium and sugar. It is higher in calories due to the higher carbohydrate content, but I count it as a win in terms of being part of a balanced breakfast. This cereal also has a whopping 8 grams of fiber and 7 grams of protein per serving," says Kiran Campbell, RDN.
Cheerios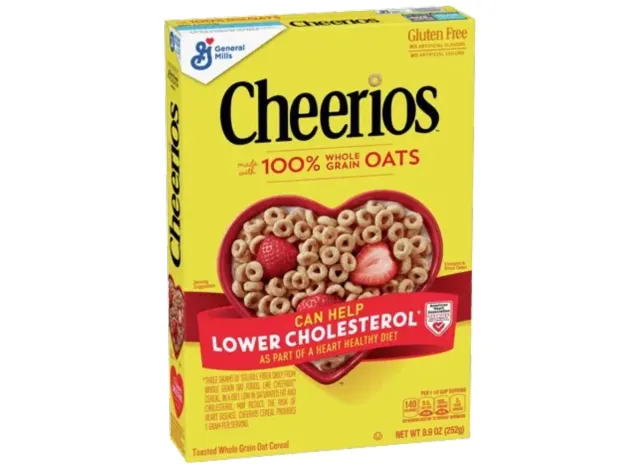 PER 1 ½ CUP SERVING
: 140 calories, 2.5 g fat (0.5 g saturated fat), 190 mg sodium, 29 g carbs (4 g fiber, 2 g sugar), 5 g protein
"There is a reason why Cheerios is a classic. With just 2 grams of added sugar per serving, Cheerios is one of the most popular cereals out there that is actually low in added sugar. Cheerios also does have a lot of fiber compared to other cereal brands. They are made primarily from whole-grain oats which can play a role in lowering cholesterol and even blood sugar levels. Just make sure you're opting for the original flavor and not the others that may be higher in added sugar," Brittany DeLaurentis, MPH, RD, CSO, LD adds.
Cheerios has one of the highest serving sizes on the market with a one-and-one-half cup portion accounting for just 140 calories.
Kashi Go
PER 1 ¼ CUP SERVING
: 180 calories, 1.5 g fat (0 g saturated fat), 170 mg sodium, 31 g carbs (13 g fiber, 8 g sugar), 11 g protein
Kashi makes one of the most balanced cereals on the market with  13 g of fiber and 11 g of protein per serving. Whether you're eating cereal for breakfast or topping off some yogurt for a snack, we love Kashi's focus on a balanced nutrition label. Choosing high-protein breakfast options helps keep you feeling full and satisfied all day and improves your food choices later in the day.
Caroline Thomason, RDN
Caroline is a women's health Registered Dietitian and diabetes educator based in Northern Virginia.
Read more about Caroline