20 Best Breakfasts To Stay Full & Energized All Day
These filling breakfasts have protein and fiber to help keep you satisfied until your lunch break.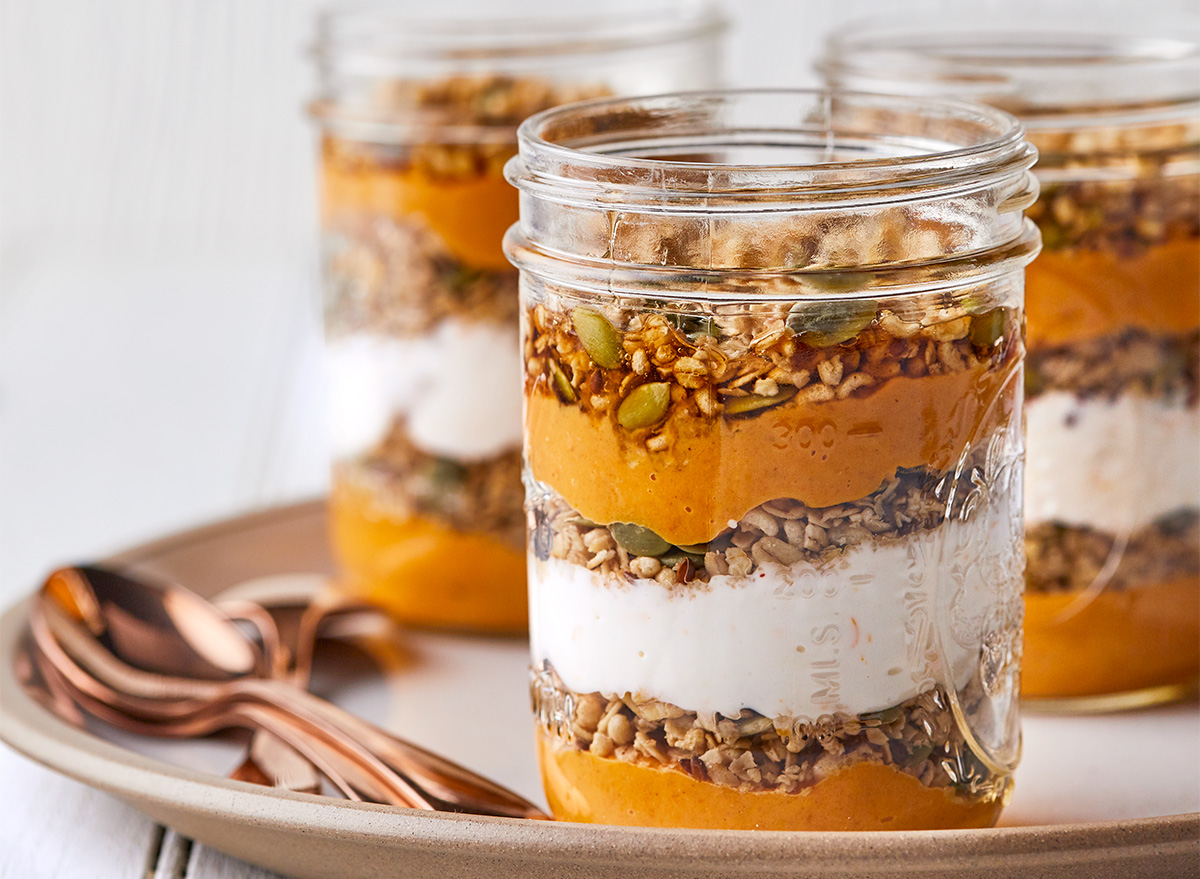 What you eat for breakfast can really make or break how you feel the rest of the day. If you grab nothing but a donut and a sugary iced coffee, you may be left feeling more tired and hungrier before you even make it to lunch. But if you enjoy a more balanced, nutrient-dense breakfast like an omelet, breakfast sandwich, or scramble, you'll have a much better chance of feeling full and energized afterward. But sometimes, the biggest challenge is finding easy recipes for healthy, filling breakfast meals.
What makes a breakfast more filling than others? For one, it needs to contain an adequate amount of protein. According to a study published in Nutrition Journal, eating enough protein at breakfast can help you feel more full and eat fewer calories throughout the rest of your day.
Along with protein, fiber is another important nutrient for a breakfast that is going to keep you feeling full. Foods that contain fiber take longer for your body to digest, which in turn makes your body feel full at a quicker rate than foods that lack fiber.
Many of the breakfast recipes in this article contain foods that are high in protein and fiber to help keep you feeling satiated throughout the morning until your lunch break. Read on, and for more, don't miss 34 High-Protein Breakfasts That Keep You Full.
Vegetarian Black Bean Omelet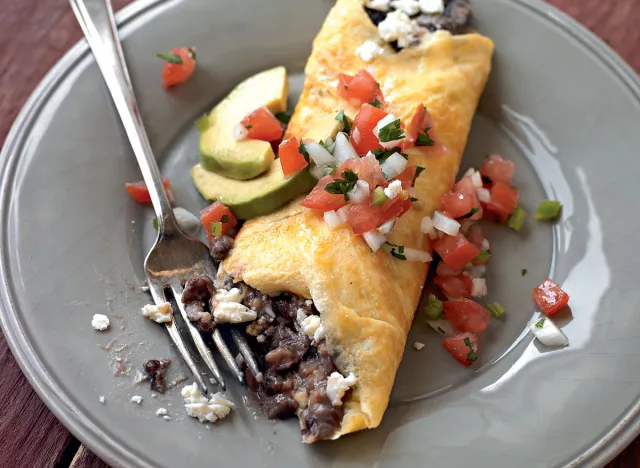 This morning omelet is not only incredibly easy to make, but it comes packed with protein and fiber because of the black beans and eggs. You'll also get a small boost of protein from the feta cheese, and if you choose to top this omelet with avocado, you'll enjoy some healthy fats, too.
Get our recipe for Black Bean Omelet.
Breakfast Hash with Sweet Potatoes and Chicken Sausage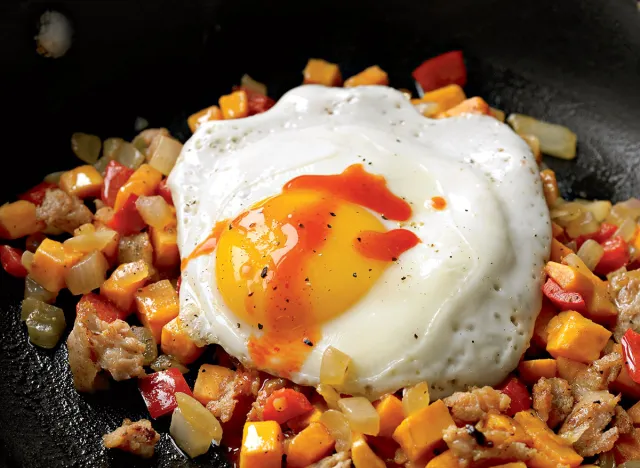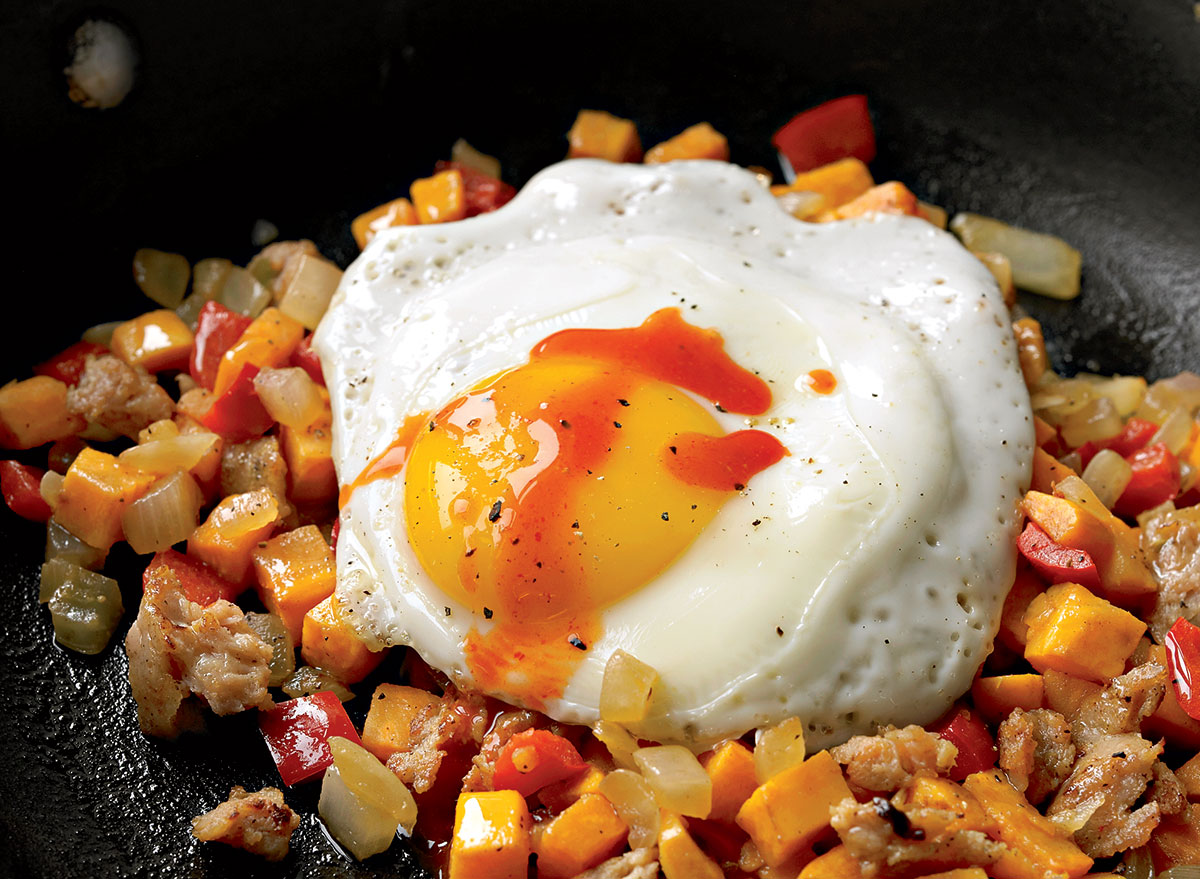 Starting your day off with chicken sausage and sweet potato is the perfect choice when you're in need of something with staying power. Want a ton of flavor added without a ton of calories? Add in as many peppers and onions as you'd like, and top it off with your favorite hot sauce. Your body will be feeling satiated until lunchtime.
Get our recipe for Breakfast Hash.
Oatmeal with Peanut Butter and Banana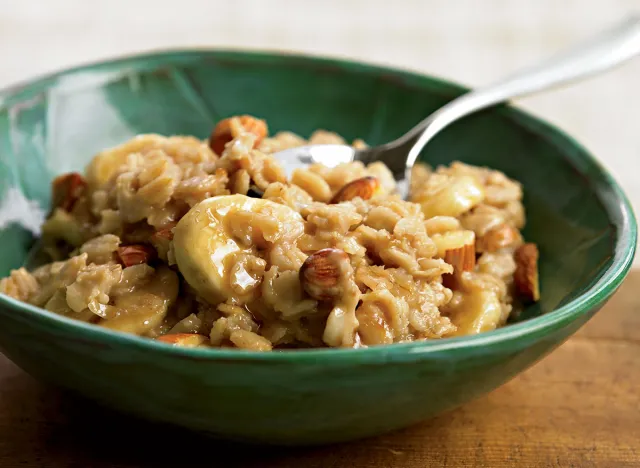 It's easy to make a savory breakfast higher in protein because of common ingredients like eggs and breakfast sausage, but for those who want something on the sweeter side that isn't going to be full of added sugars and empty calories, this bowl of oatmeal with peanut butter, banana, and nuts is an obvious "yes." Not only do you get some protein and healthy fats from the peanut butter and chopped nuts, but the oats will provide your body with both soluble and insoluble fiber to keep you going.
Get our recipe for Peanut Butter and Banana Oatmeal.
Baked Eggs with Mushrooms and Spinach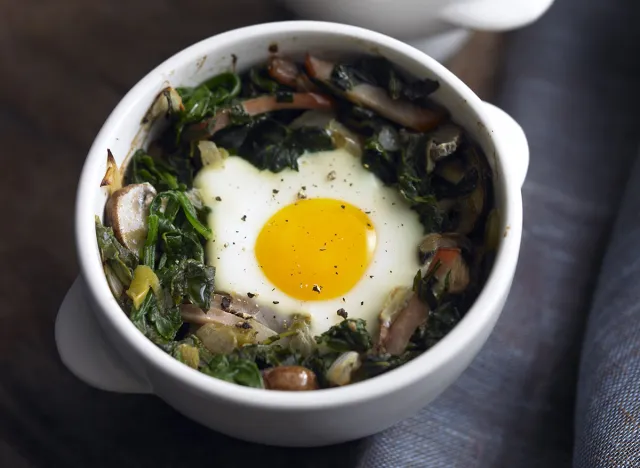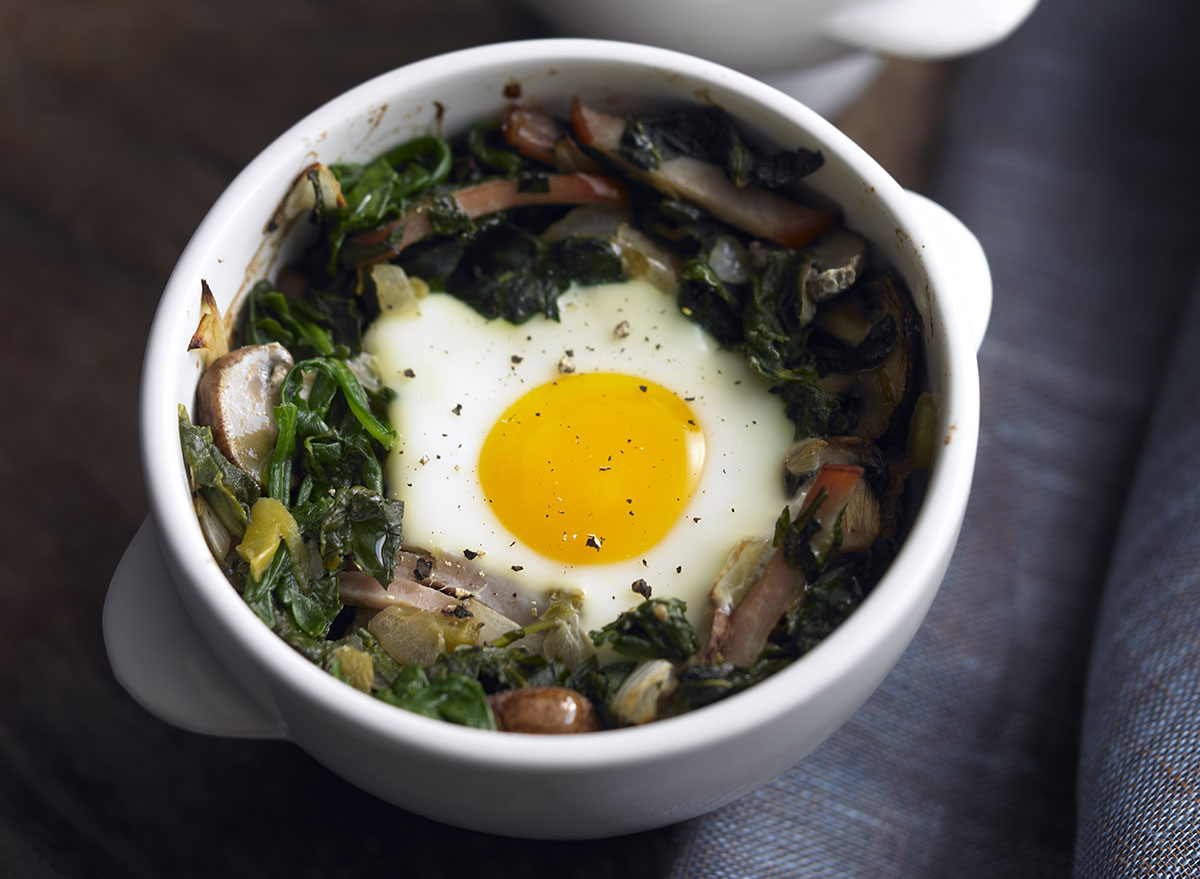 Want something quick and easy that you can make in just one dish? Save yourself time and effort by making these baked eggs with mushroom and spinach, which you can bake and leave in whichever oven-safe container you choose. Want to add more fiber to this meal to help you stay full longer? Choose a whole grain bread to dip directly into your baked eggs.
Get our recipe for Baked Eggs.
Breakfast Pizza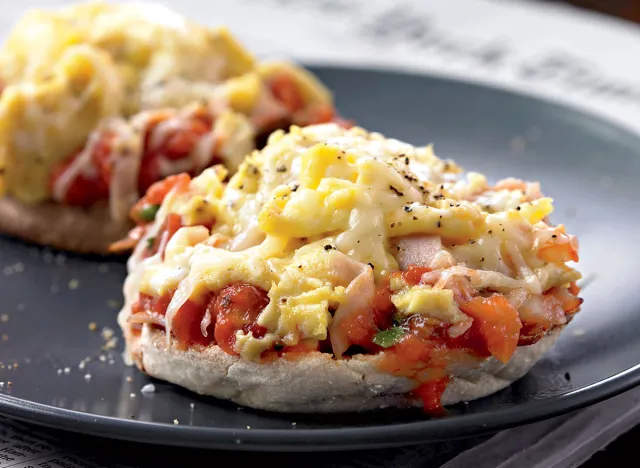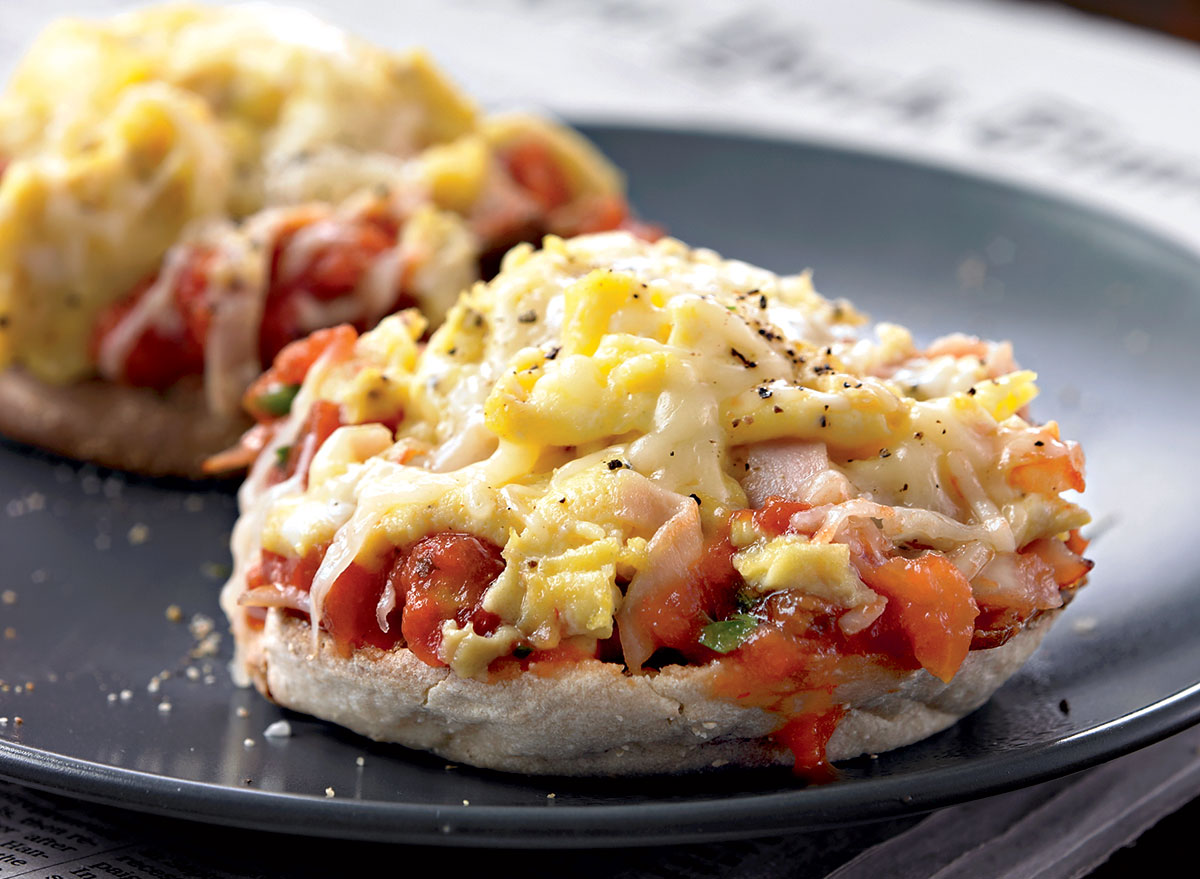 Who says you can't have pizza for breakfast? Granted, these aren't exactly what you might imagine when you think of pizza, but these mini breakfast pizzas will satisfy your cravings and provide a balanced, filling breakfast with meat, vegetables, cheese, and egg on top of an English muffin. To make it an even more balanced meal, find a whole-grain English muffin you like, such as Dave's Killer Rockin Grains Muffins.
Get our recipe for Breakfast Pizza.
Fiber-Filled Breakfast Burrito
Breakfast burritos are a safe choice when you are wanting a meal that's going to fill you up, as most burritos are loaded with protein-heavy ingredients. However, some breakfast burritos are packed full of calories, saturated fat, and sodium, too. If you want a burrito that's a little bit on the lighter side but will still keep you full until lunch, try this Fiber-Filled Breakfast Burrito recipe.
Get our recipe for Breakfast Burrito.
Egg Sandwich with Pastrami and Swiss
If you want a sandwich packed with flavor and protein, this Egg Sandwich with Pastrami and Swiss can make for a satiating morning meal. The only thing to consider when choosing this recipe is that pastrami—and any processed red meat—is more often than not going to be high in sodium.
Get our recipe for Egg Sandwich.
Breakfast Tacos with Bacon and Spinach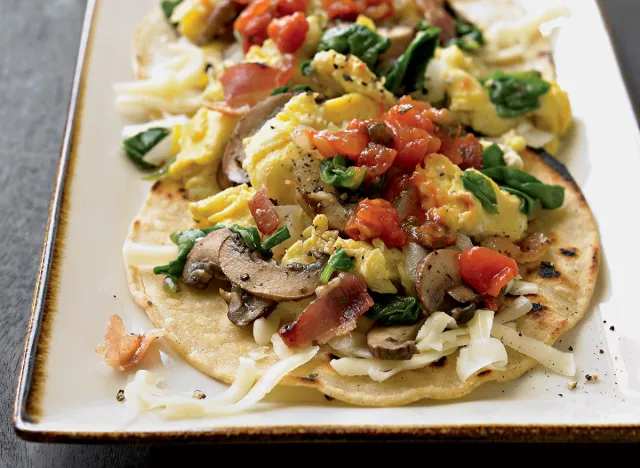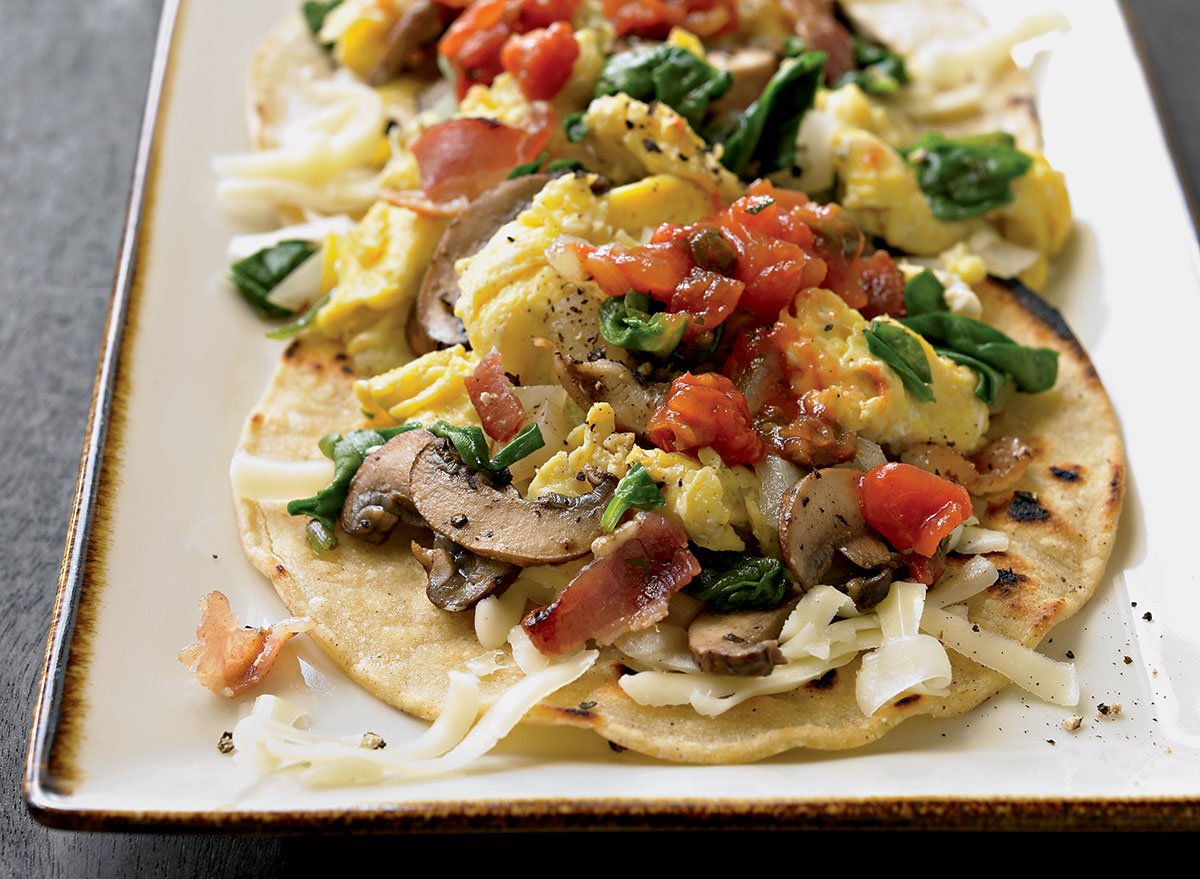 You don't need to leave the house to have taco truck-worthy breakfast tacos in the morning. If you choose this recipe, which features, bacon, spinach, mushrooms, eggs, and cheese, you'll not only be gifting your taste buds with a satisfying breakfast, but you'll be helping your stomach feel full throughout the morning with a boost of protein.
Get our recipe for Breakfast Tacos.
Mouthwatering Huevos Rancheros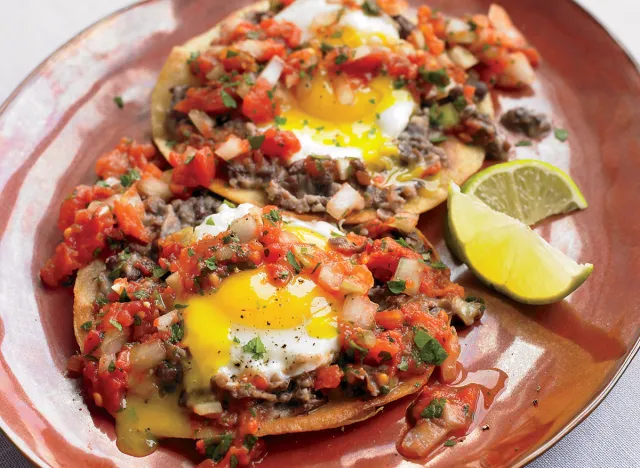 This is a Mexican-inspired breakfast full of flavor, protein, and fiber, all without any meat—making it a fantastic balanced breakfast for those on a vegetarian diet or for those who are trying to lower their intake of meat products.
Get our recipe for Huevos Rancheros.
Easy Spinach and Ham Quiche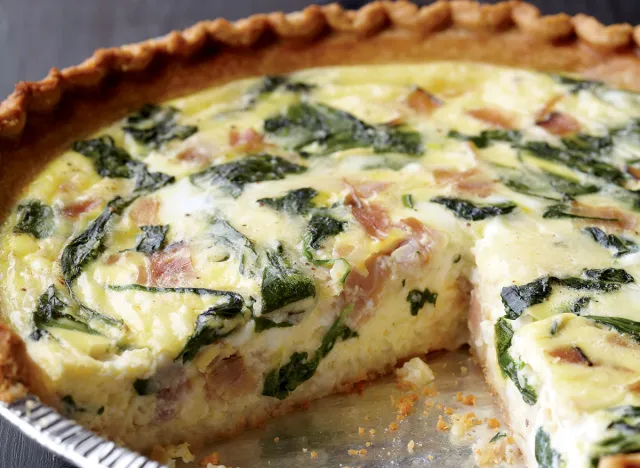 Not only is a quiche great for those needing a little bit of protein in the morning, but it's also an easy breakfast to make ahead of time and keep in the fridge throughout the week. That way, even on your busiest days, you can rest assured that you'll still get a mouthful of nutrients before you head out the door.
Get our recipe for Spinach and Ham Quiche.
Scrambled Eggs with Salmon, Asparagus, and Goat Cheese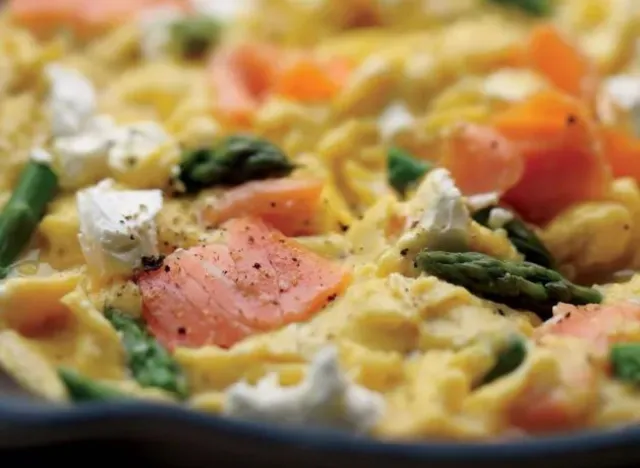 You may be used to a more traditional egg scramble like eggs with bacon and cheddar cheese, but this healthy, filling breakfast recipe of salmon, eggs, asparagus, and goat cheese provides protein and healthy fats in a combination certainly worth giving a try. Want a bit more fiber? Throw a slice of whole-grain bread in the toaster to eat on the side.
Get our recipe for Salmon and Asparagus Scrambled Eggs.
Ham and Cheese Omelet with Mushrooms
Omelets make for the perfect breakfast meal because before you add in any extra ingredients, you're already getting protein and vitamins from the eggs. Once you add in some prosciutto, mushrooms, milk, and cheese, you'll up your total protein count to keep you feeling full and satisfied until your next meal.
Get our recipe for Ham and Cheese Omelet.
Sunrise Sandwich with Turkey, Cheddar, and Guacamole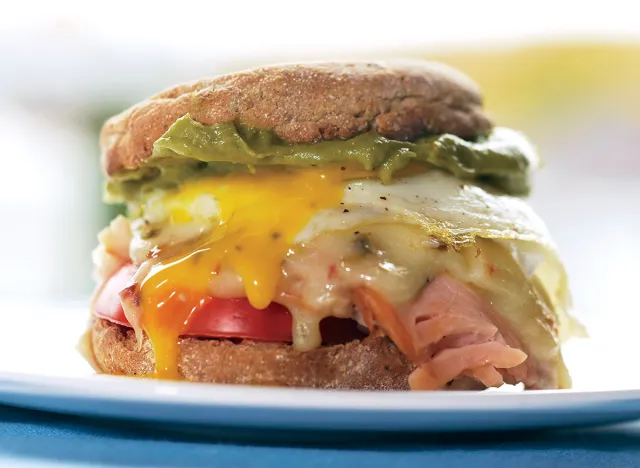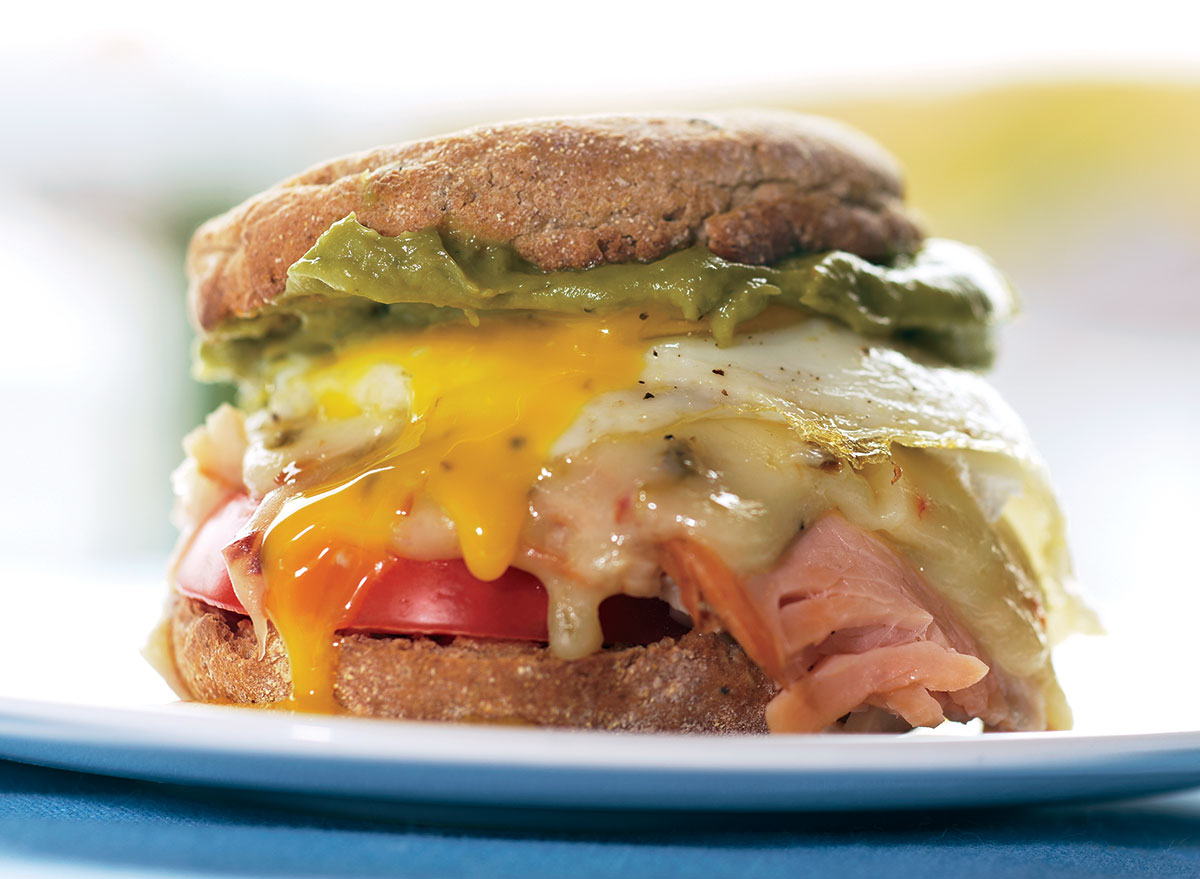 You could always pull into the drive-thru for a fast-food breakfast sandwich, but if you want something you can make at home that is less processed and guaranteed to keep you full until lunch, this Sunrise Sandwich may be a better alternative. Made with an English muffin, turkey, eggs, cheese, tomato, and guacamole, this sandwich provides a balanced, filling breakfast that tastes as satisfying as any you'd buy out of the house.
Get our recipe for Sunrise Sandwich.
Sausage and Mushroom Frittata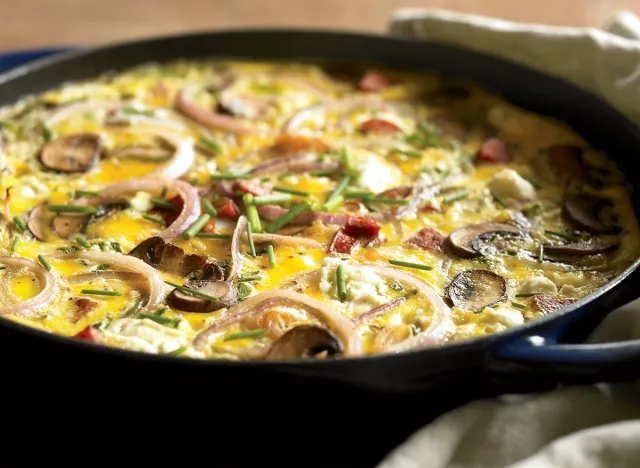 For a breakfast you can make ahead of time and store in the fridge to heat up on busy mornings, this Sausage and Mushroom Frittata is a good recipe to try. The healthy breakfast sausage, eggs, and goat cheese will give you protein to help you stay full throughout the morning, and the mushrooms and herbs will give your body a boost of powerful antioxidants as well.
Get our recipe for Sausage and Mushroom Frittata.
Healthier Denver Omelet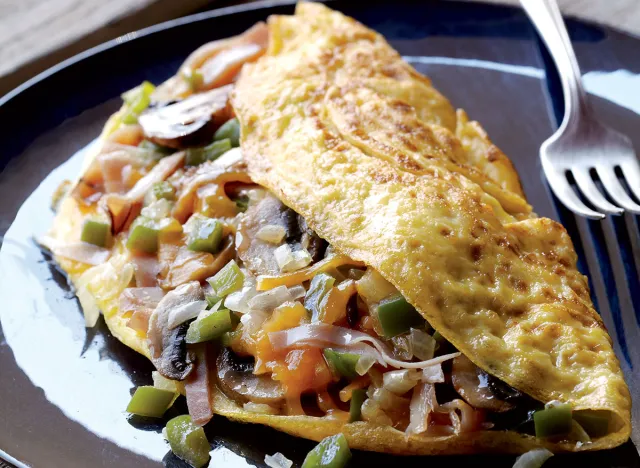 A classic Denver Omelet is filled with ham, peppers, and tons of cheese, which makes it a delicious breakfast but one that is often packed full of calories and fat. This recipe keeps the same flavors and beloved ingredients but lightens up the portions a bit to make it a healthier (and still filling) option.
Get our recipe for Denver Omelet.6254a4d1642c605c54bf1cab17d50f1e
Loaded Vegetable Frittata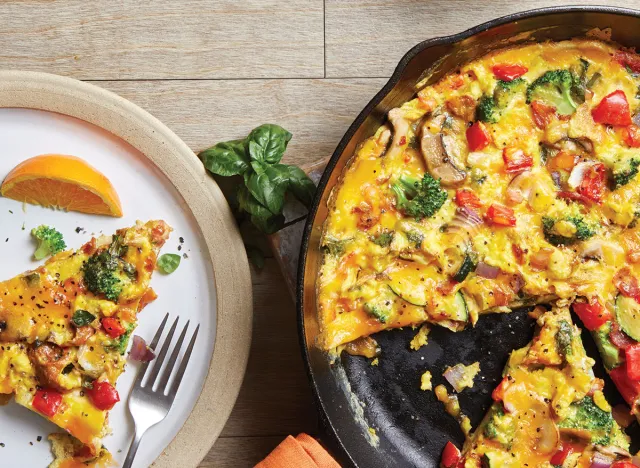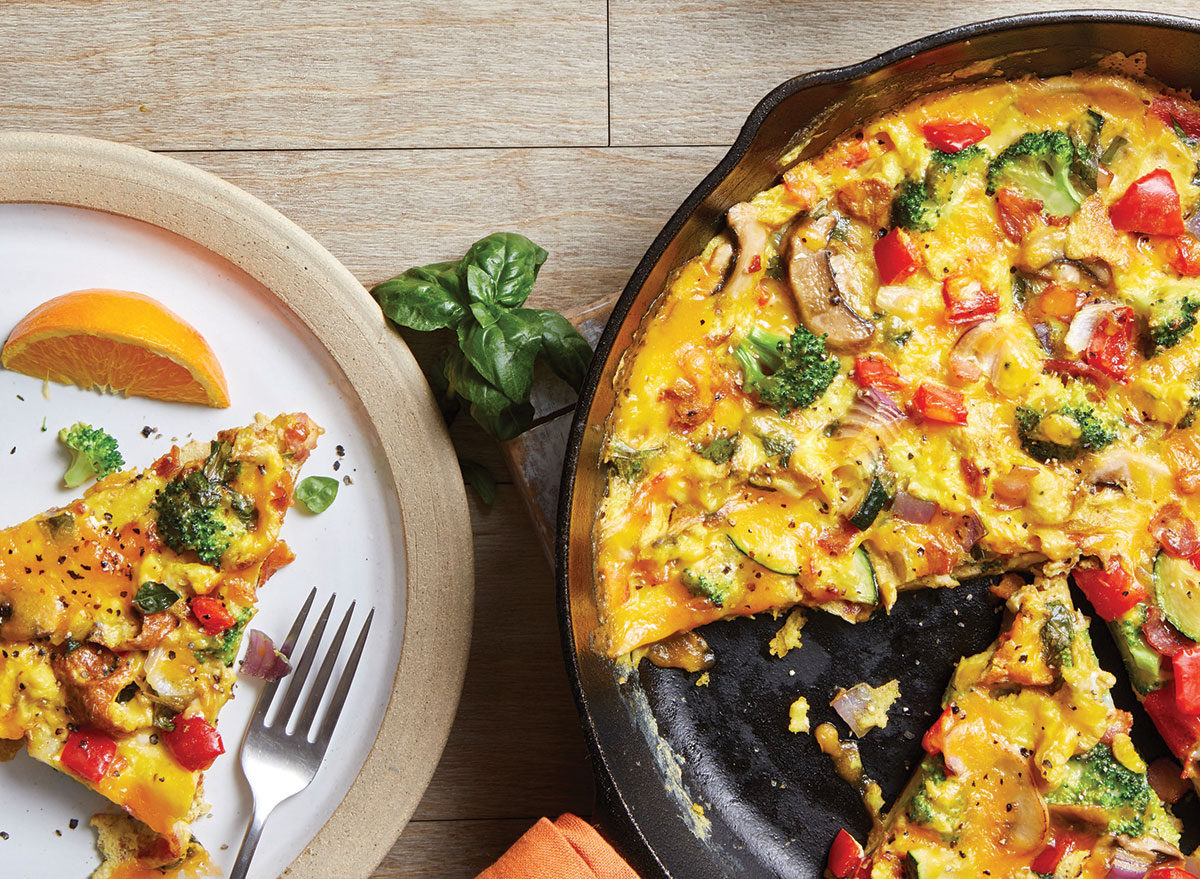 This Vegetable Frittata contains protein from the bacon, cheese, and eggs, as well as helpful fiber from the variety of colorful vegetables, making it a deliciously perfect choice for a healthy, filling breakfast to start your day. If you want to make this one vegetarian-friendly, you can skip the bacon and just enjoy everything else this frittata has to offer.
Get our recipe for Vegetable Frittata.
Veggie Scramble with Mushrooms, Spinach, and Goat Cheese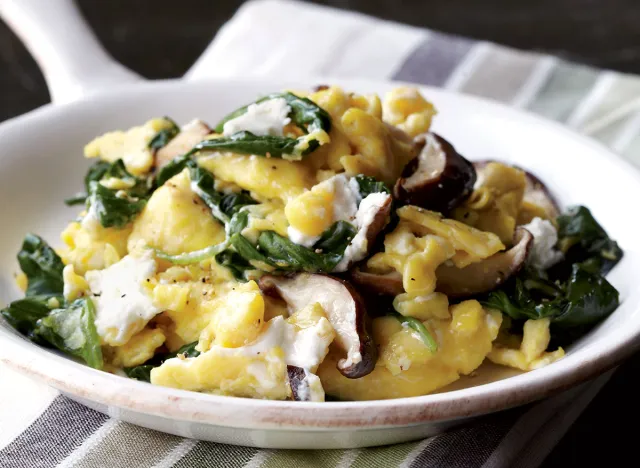 Sometimes the most healthy, filling breakfasts can be the easiest to make, like this easy egg scramble with goat cheese, mushrooms, and spinach. The goat cheese, eggs, and 2% milk provide a hefty amount of protein to this meal, while still keeping the fat levels at a minimum.
Get our recipe for Veggie Scramble.
Cinnamon Roll Overnight Oats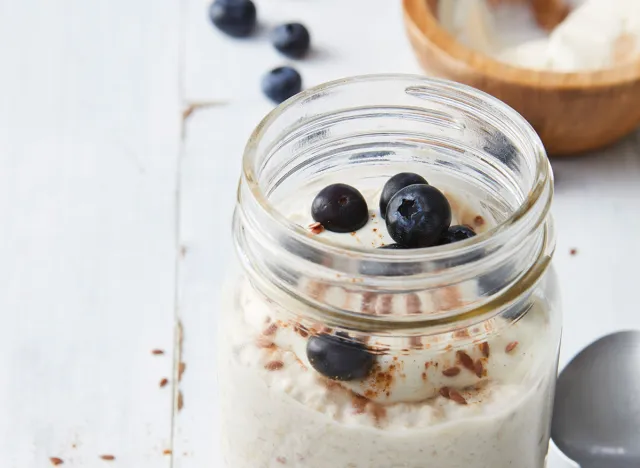 There are mornings when you may be craving something sweet, but you don't want to reach for a donut or muffin because the burst of added sugar, paired with the lack of protein and fiber, will leave you feeling hungry and sluggish throughout the morning. For the days when you want something both sweet and healthy, these overnight oats are the way to go. Aside from the perk of them tasting delicious, they are also perfect to take on the go since you make them the night before.
Get our recipe for Cinnamon Roll Overnight Oats.
Fiery, Protein-Packed Eggs Diablo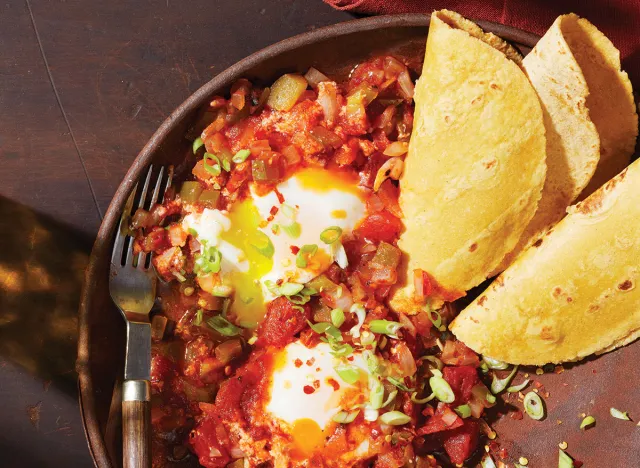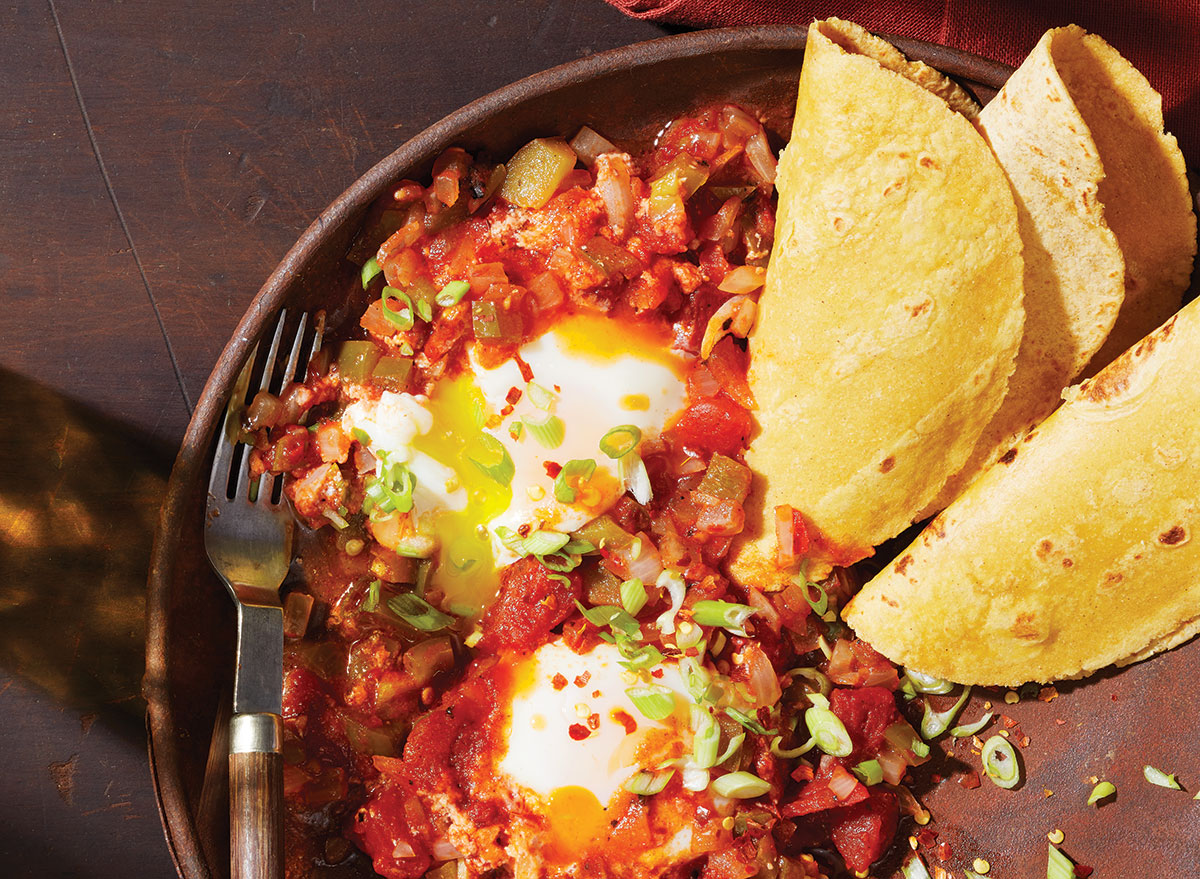 Eggs Diablo—or Huevos El Diablo (the Devil's Eggs)—are made from eggs being cooked in a spicy, flavor-packed salsa and then served with tortillas or another carbohydrate of choice. This recipe looks like it should require a ton of effort, but you'll be surprised just how quick and easy this one really is. It's packed with protein, so it truly makes for a healthy, filling breakfast that will keep you happy until your next meal.
Get our recipe for Eggs Diablo.
Spicy Pumpkin Parfait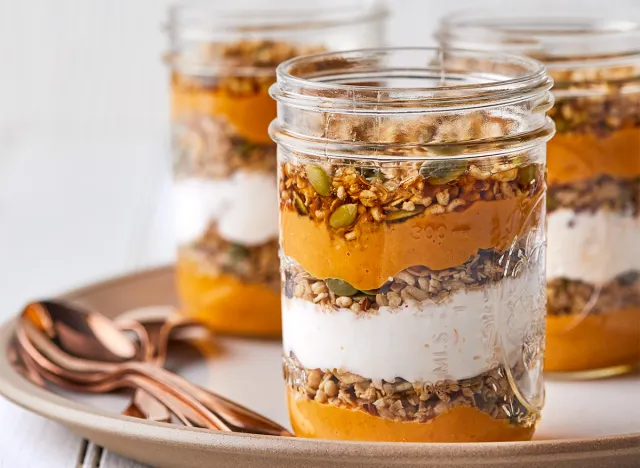 Lastly, the perfect fall recipe for a healthy, filling breakfast is this Spicy Pumpkin Parfait. Make ahead of time to enjoy throughout your week and treat your tastebuds to all of your favorite autumn flavors—all while packing in heaps of protein and fiber.
Get our recipe for Spicy Pumpkin Parfait.
Sources referenced in this article