These Are the Foods No One Is Buying—Even for Quarantine
People are leaning toward comfort food in the time of coronavirus.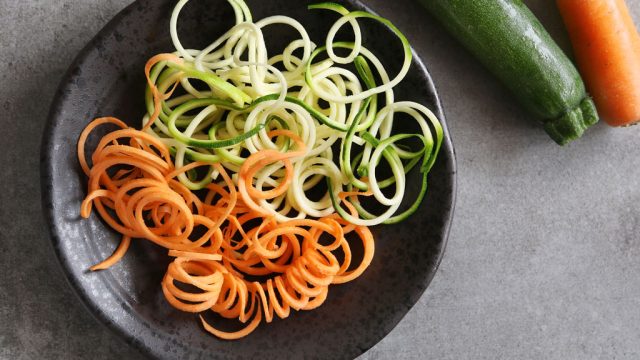 If you've been to a grocery store in the past two weeks, you've probably seen people stockpiling food and other supplies because of the coronavirus scare. Sure, people are hoarding toilet paper, but what about fresh and prepared foods? People are gravitating toward comfort food and leaving certain healthy options on the shelf, even when there's no other food in stock as the coronavirus spreads.
To get a better sense of what foods people don't want to eat while they're in self-quarantine, we looked at social media photos of nearly-empty grocery store aisles. Here are some foods no one seems to be buying, even in quarantine.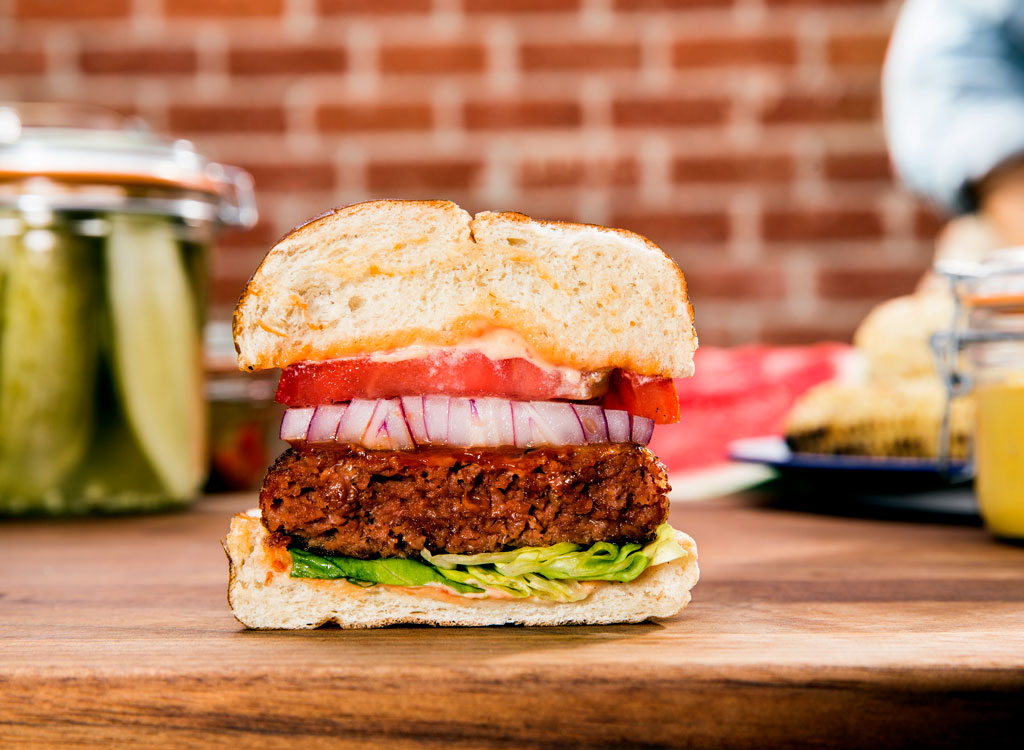 A tweet from a California shopper showed a stark contrast between animal protein and plant-based meat substitutes in his local grocery store. Multiple Beyond Meat products, including sausages and burger patties, were still available, while the animal-based meat was cleared out.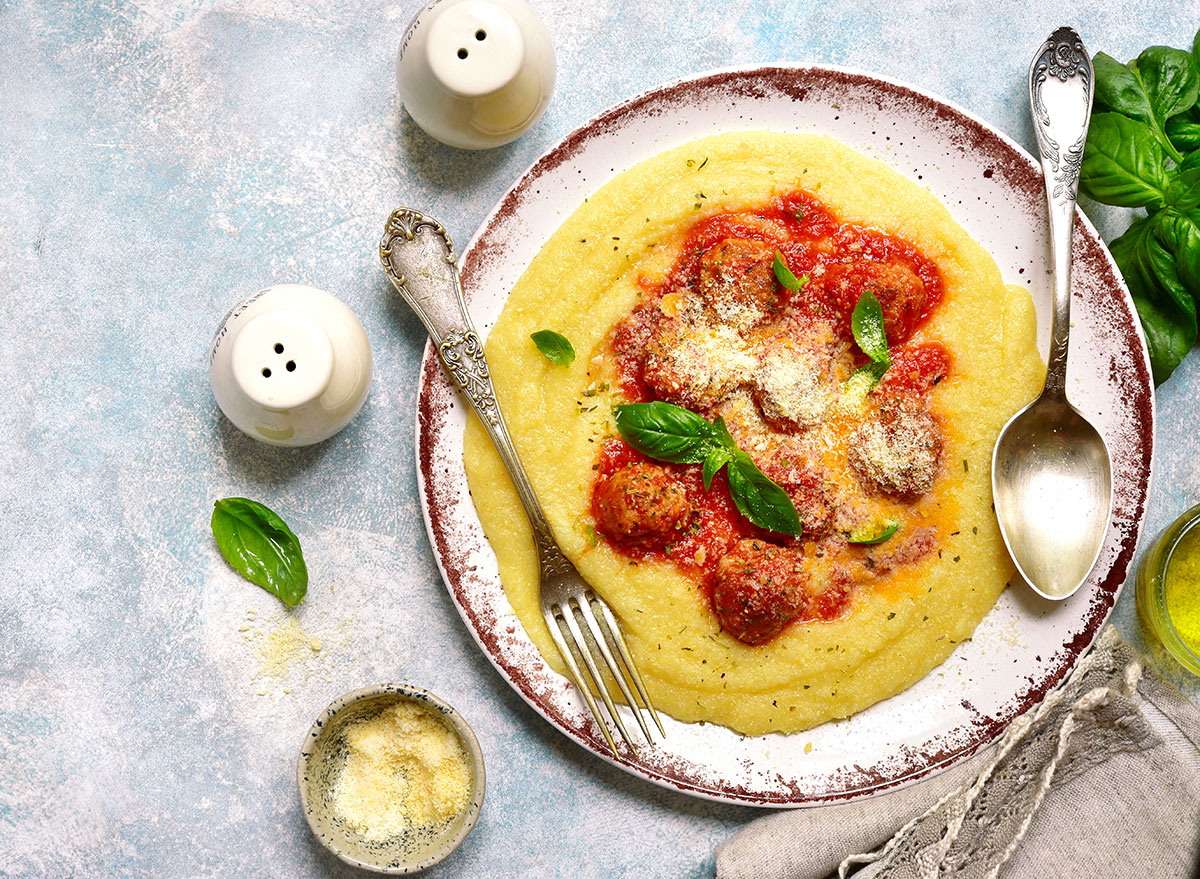 An Instagram photo of an Upper West Side Trader Joe's shows empty shelves where pasta and rice would be stored. The only thing left in that section? Numerous packages of polenta were still available and untouched.
Can't find pasta in your local grocery store? Cooking with polenta is easier than you think! Try our Low-Calorie Meatballs with Polenta Recipe.
Broccoli & Kale Pasta Sauce
For the shoppers who managed to get their hands on those much-coveted boxes of pasta, there's another issue: shortages of pasta sauce. A Whole Foods shopper in New York shared an image of empty shelves where pasta sauce would be, except for one jar of broccoli and kale pasta sauce. "I'd rather starve," one person commented on the photo.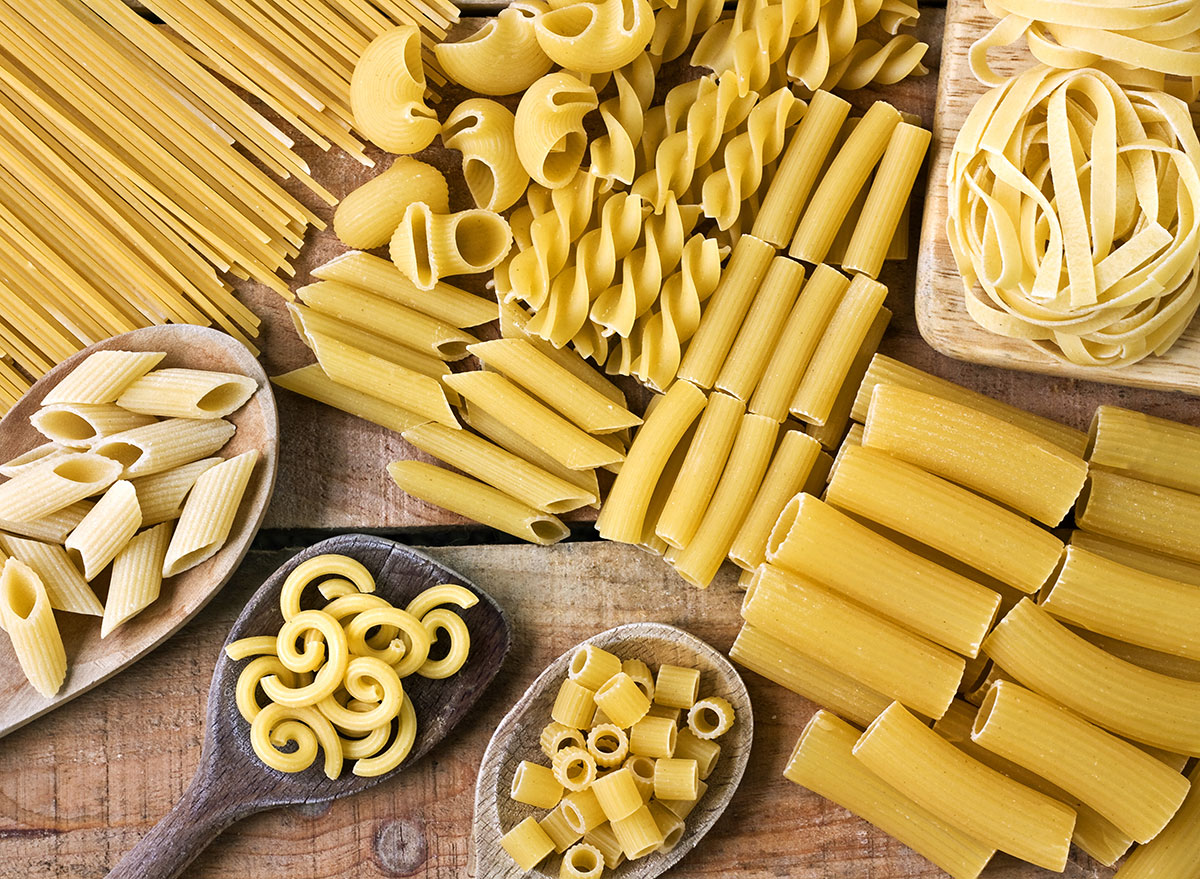 If you're following a gluten-free diet, you're in luck: Chickpea pasta seems to be selling out less quickly than its traditional counterparts. One shopper shared an image of a pasta aisle that's been picked clean, save for a couple of boxes of chickpea pasta.
Speaking of pasta, another type that doesn't seem to be selling is lasagna noodles. One Seattle shopper tweeted a photo of available lasagna noodle boxes at their local Trader Joe's, while all the other pasta options were gone. A similar photo was taken in Florida, so it looks like the hesitance to make lasagna is a nationwide situation.
You shouldn't be afraid of cooking lasagna, though! You can't go wrong with this Easy Chicken Sausage Lasagna Recipe.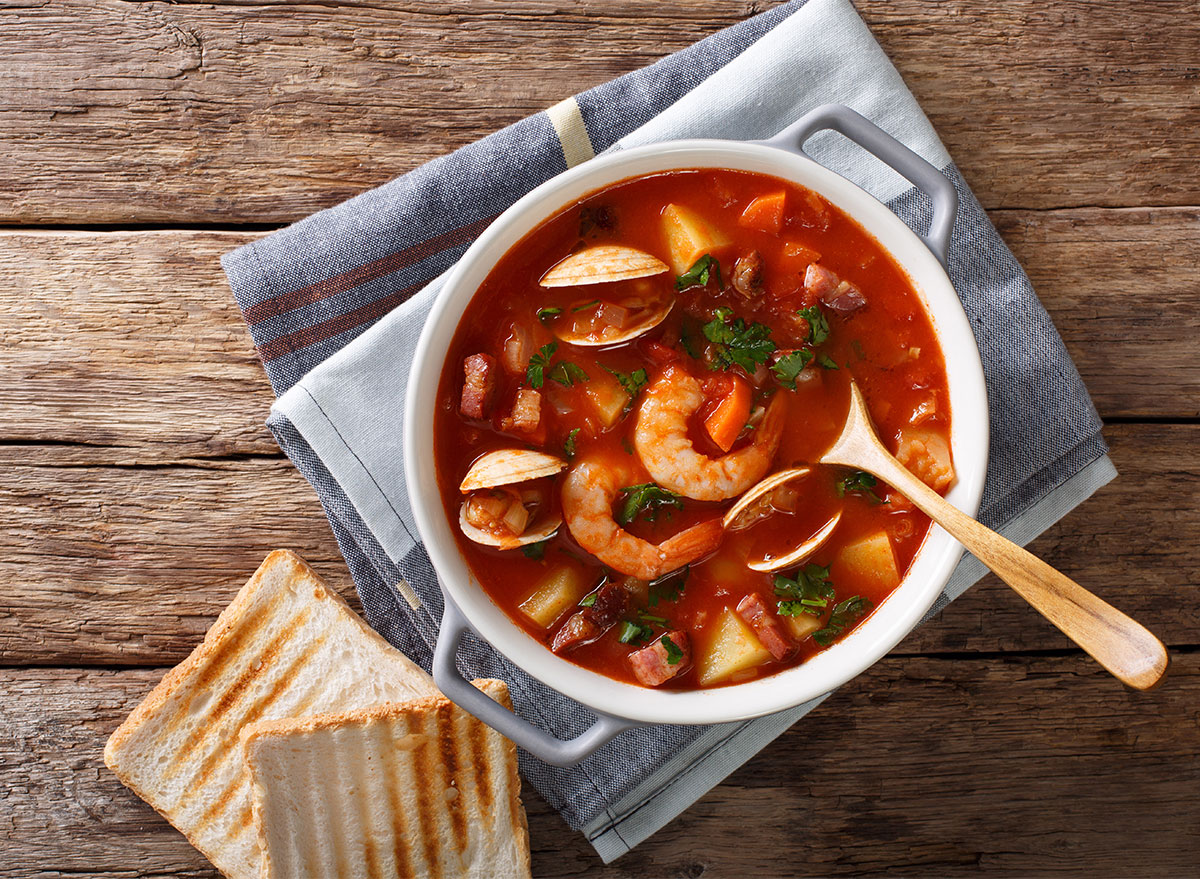 Stocking up on canned soup for the coming weeks? You aren't alone—but there's one soup that's decidedly less popular than its counterparts. A photo of Manhattan clam chowder cans sitting on otherwise-empty shelves garnered more than 460 likes on Twitter—it looks like this chowder style has few fans.
Cauliflower Mac and Cheese
Mac and cheese boxes are classic comfort foods. But cauliflower mac and cheese? Not so much. One shopper posted a photo of Kraft's cauliflower pasta on the shelf, while all of the other boxed mac and cheeses were gone.
RELATED: The easy way to make healthier comfort foods.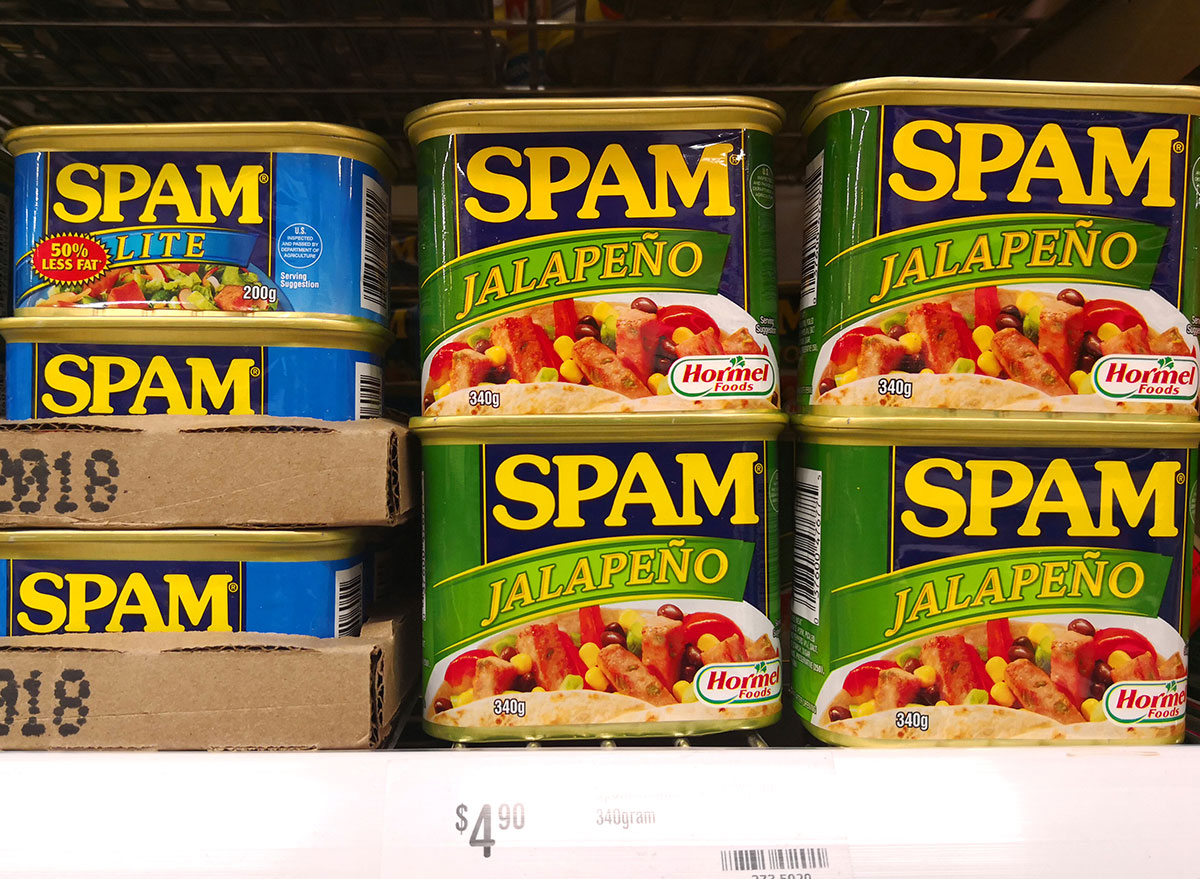 This one may not come as much of a surprise, but Spam doesn't appear to be as popular as other canned foods. Sharing a photo of a stack of Spam cans, one Twitter user wrote, "Every shelf empty but still no love for Spam?"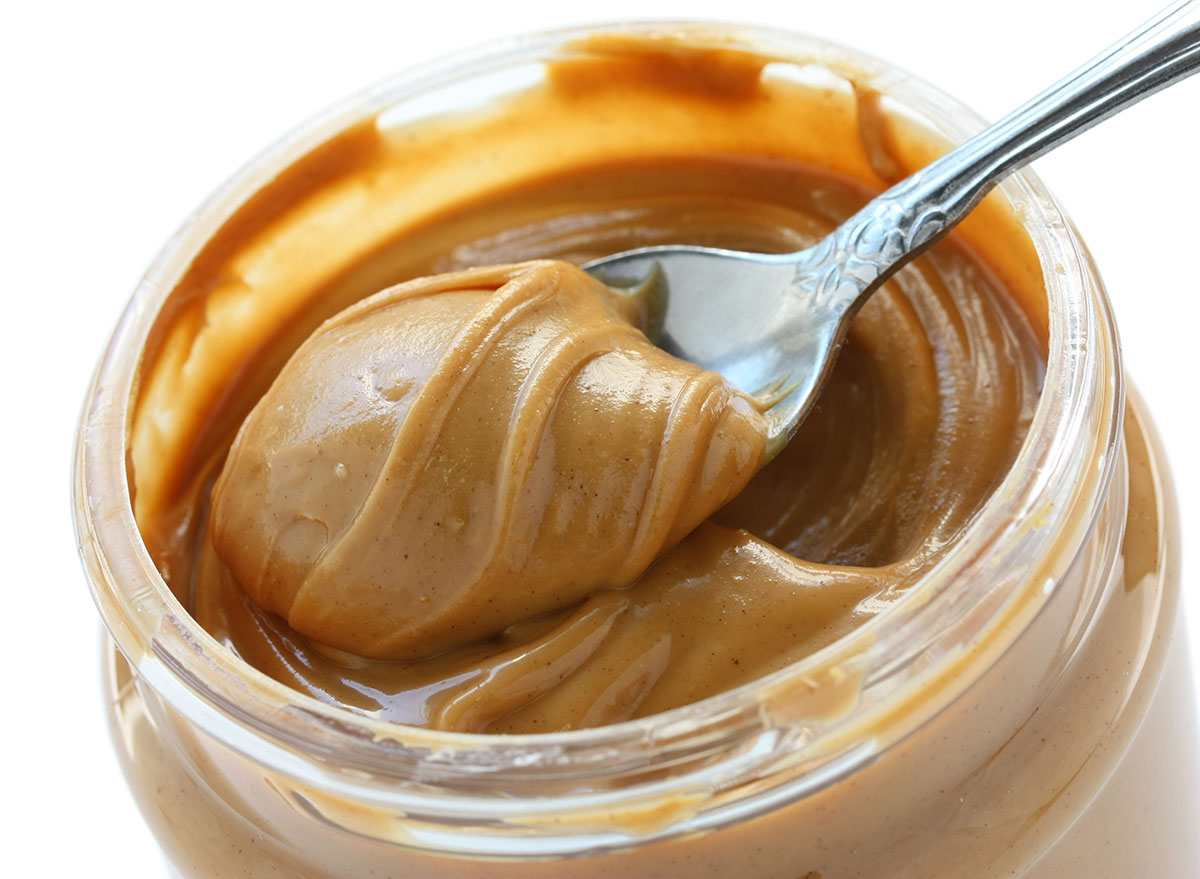 Brand loyalists will understand this one. One shopper shared two photos showing empty peanut butter shelves—but there were still multiple containers of Peter Pan for sale. "No matter how bad things get, we still have standards," they tweeted.
Pre-Cooked Hard-Boiled Eggs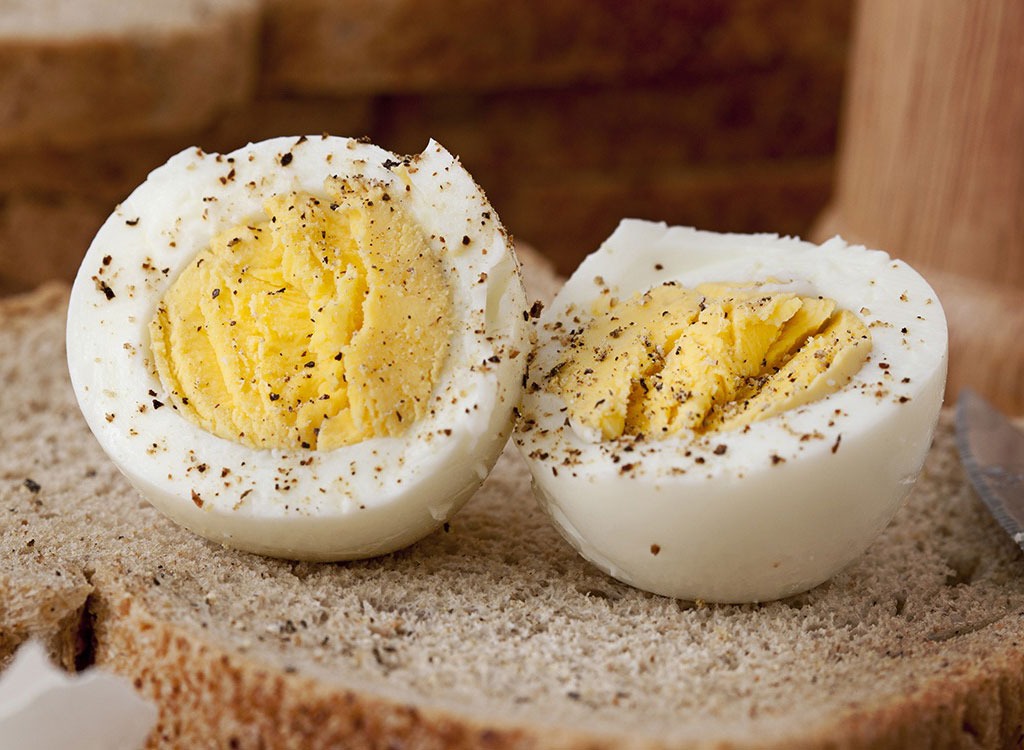 An Instagram photo from the egg section at a Whole Foods in New York shows a completely empty refrigerator—save for multiple boxes of Peckish eggs. Maybe people just realized how easy it is to make hardboiled eggs with this egg cooker?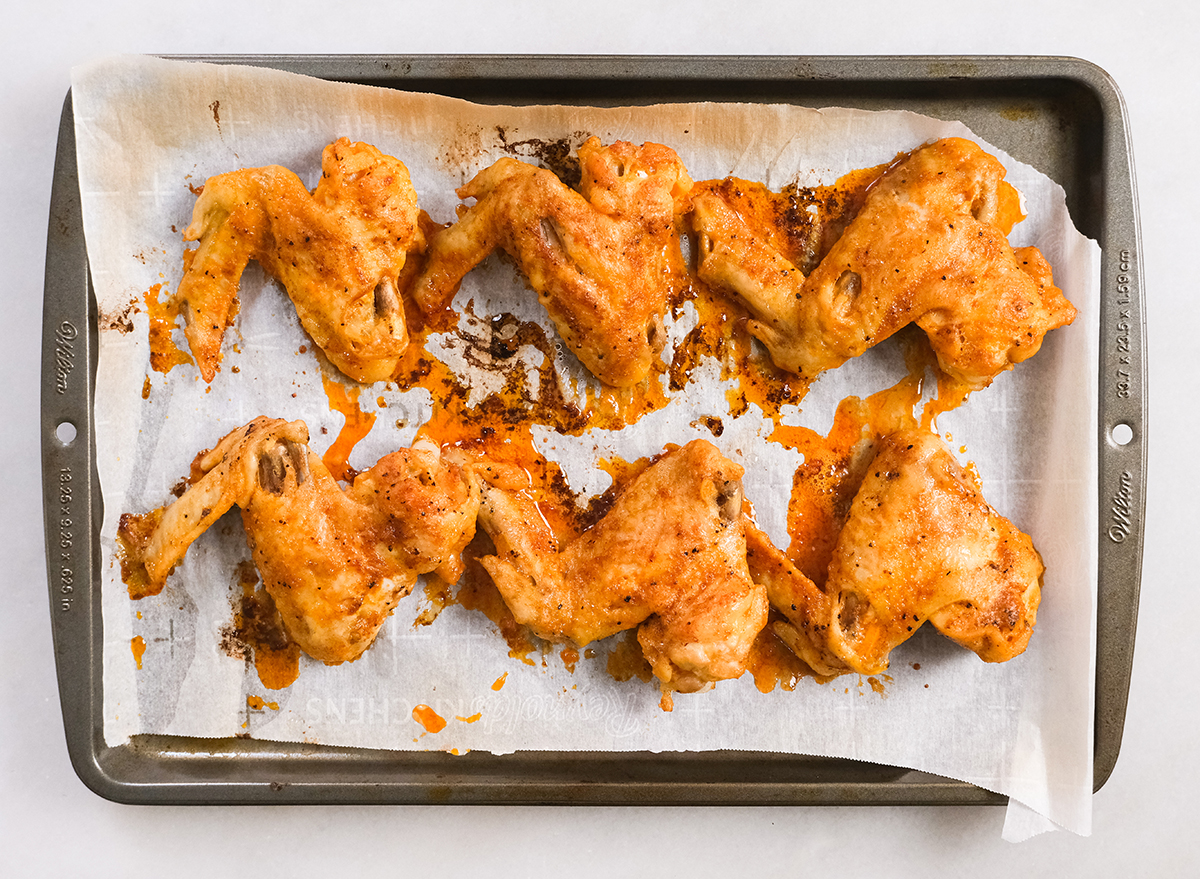 Another Instagram photo from Whole Foods shows that plenty of raw chicken packages were cleared out—but the chicken wings were still on the shelves. Luckily, it's not too difficult to make wings at home! Try this Baked Fiery Buffalo Wings Recipe.
Despite the fact that St. Patrick's Day wasn't long ago, it looks like shoppers aren't feeling Lucky Charms during the quarantine. One Twitter photo shows plenty of boxes of Lucky Charms on store shelves, with no other cereals to be seen.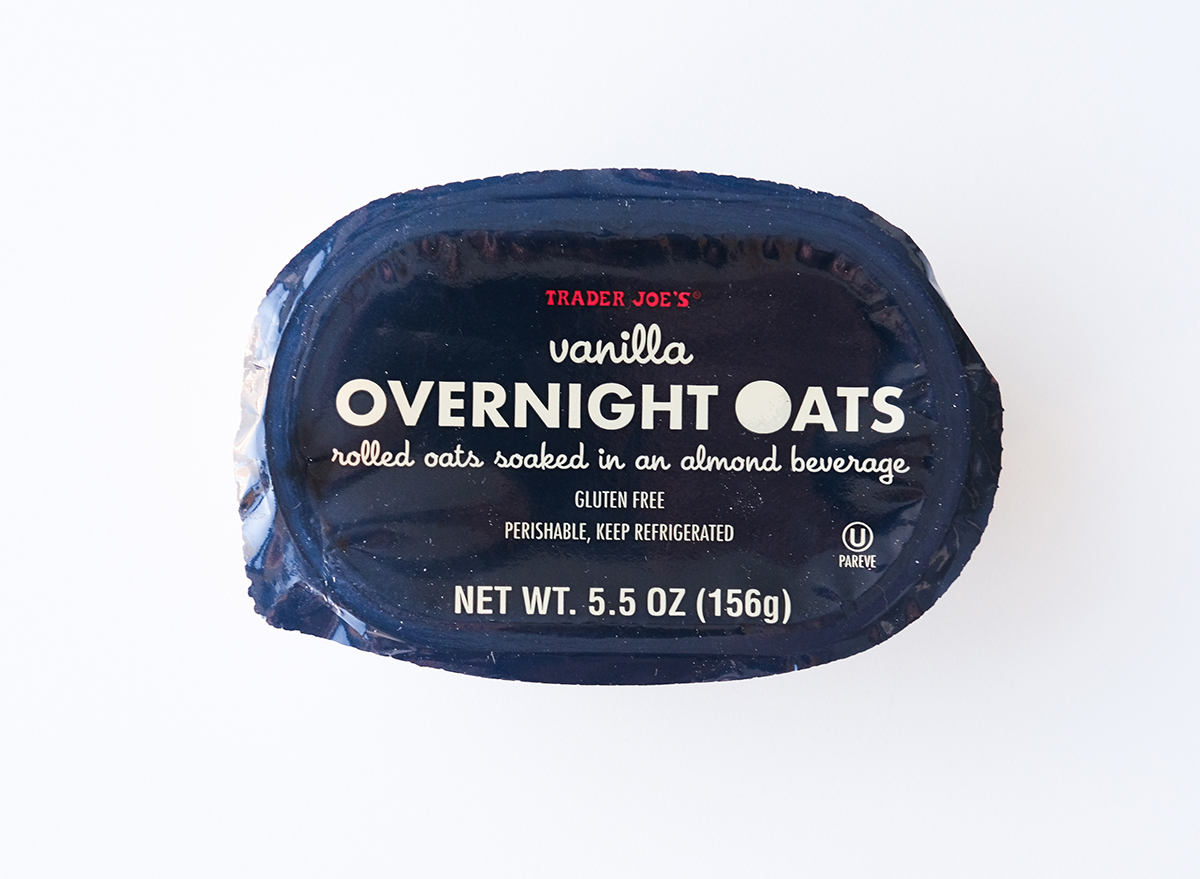 According to one Trader Joe's employee, pre-made overnight oats were still on the shelves when many other refrigerated foods had cleared out from the store. Luckily, you can make your own at home with these 50 Healthy Overnight Oats Recipes.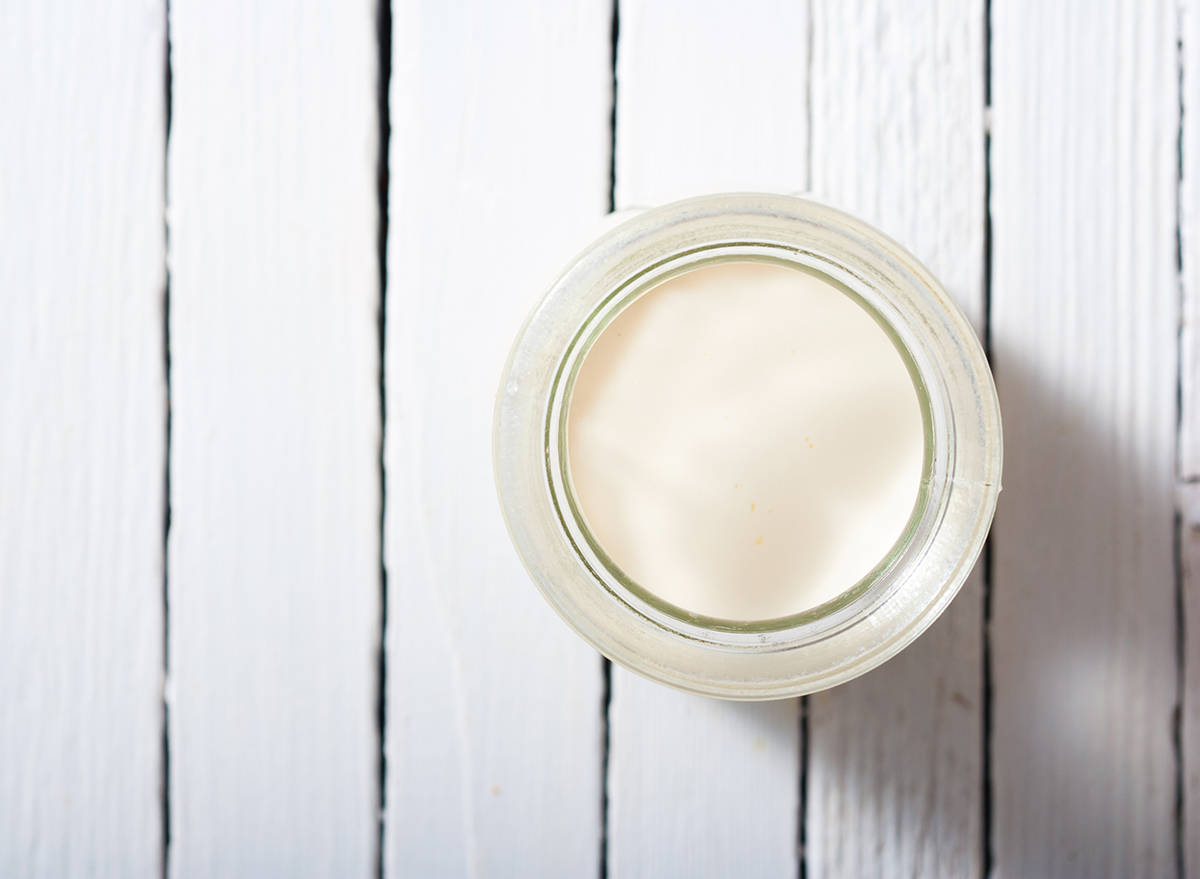 Another photo shows a New York Trader Joe's empty dairy case, save for rows of fresh goat milk. Sorry to these goats.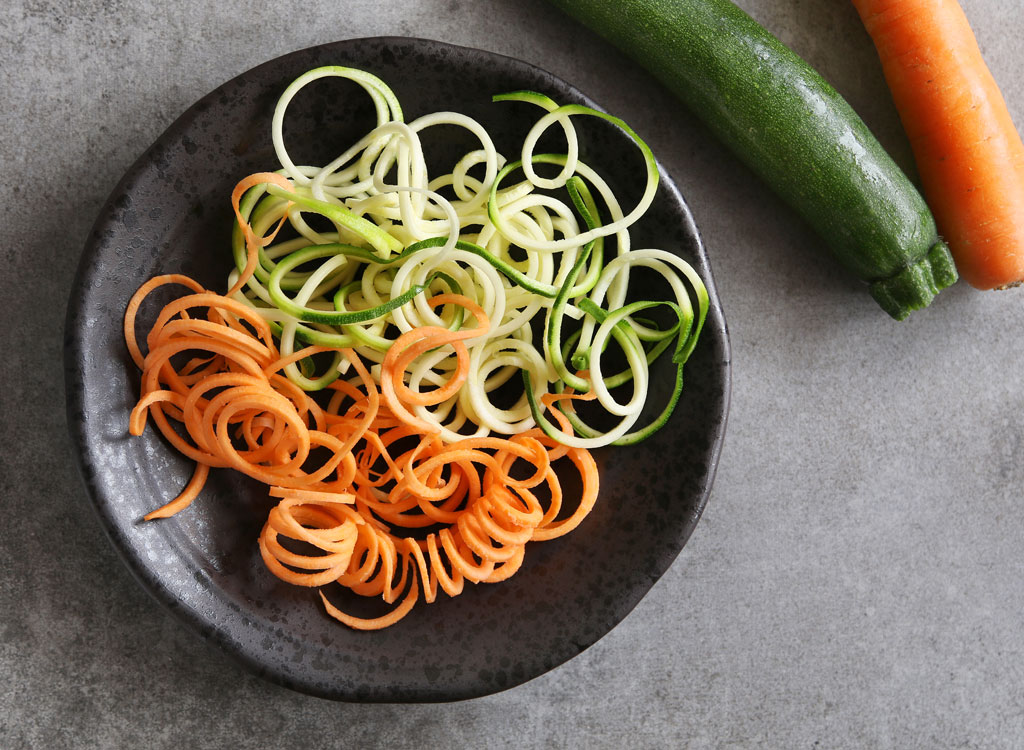 The scene was bleak at one shopper's Trader Joe's, with an empty freezer section except for frozen spiralized carrots. They're versatile and easy to keep, but it looks like TJ's shoppers were hesitant about adding these carrots into their recipes.
Stores are continuing to restock fresh and boxed foods after the initial stockpiling—just be sure to practice safe social distancing while you're at the store. And if your local market is out of what you'd originally intended to buy, you can always use this time to try out some new recipes.
---
Eat This, Not That! is constantly monitoring the latest foods news as it relates to COVID-19 in order to keep you healthy, safe, and informed (and answer your most urgent questions). Here are the precautions you should be taking at the grocery store, the foods you should have on hand, meal delivery services and restaurant chains offering takeout, and ways you can help support those in need. We will continue to update these as new information develops. Click here for all of our COVID-19 coverage, and stay healthy.
Inspired by
The New York Times
best-selling book series,
Eat This, Not That!
is a brand that's comprised of an award-winning team of journalists and board-certified experts, doctors, nutritionists, chefs, personal trainers, and dietitians who work together to bring you accurate, timely, informative, and actionable content on food, nutrition, dieting, weight loss, health, wellness, and more.
Read more